CL RECOMMENDS
USER SUBMITTED
YOGA WITH CATS - September 11, 2018
Tuesday September 11, 2018 07:00 pm EDT
Cost: $20.00
Categories: Yoga, Exercise, Charitable Causes
Join us for a one hour beginner level yoga class at the Good Mews cat shelter in East Cobb. Classes are limited to 15 students so reservations are recommended. Your $20 class fee goes directly to the care of the cats and kittens in the shelter who are waiting for adoption. Bring your mat and share it with a cat or 2! Classes in September are on 9/11, 9/16, 9/25 and 9/30 - weeknights at 7PM and Sundays at 11:30 am. New classes are added every month. You can also have your own private group class - contact Lisa Bass at Good Mews for more info!
More information
The Other 4 Things To Do Today
Wednesday July 8, 2020 06:30 pm EDT
Wednesday night live music with The Murphs on our patio stage. Free show from 6:30 to 8pm, seating is limited [
click here for more
]
Wednesday July 8, 2020 08:00 pm EDT
Catch your favorite flick from new heights at Movies on the Roof! We're playing classics and new favorites every Wednesday evening at 8:30pm, so grab popcorn and settle in — we'll be here all summer. All guests with 9 Mile Station reservations OR unlimited gameplay wristbands for Skyline Park will h... [
click here for more
]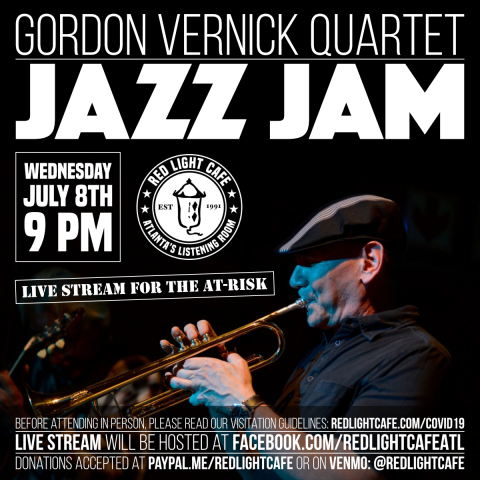 Wednesday July 8, 2020 09:00 pm EDT
Every Wednesday, the Gordon Vernick Quartet perform a few numbers then invite other musicians and singers to join them on stage for a Jazz Jam Session. Whether you're a professional or amateur musician, you're welcome to sit in — everyone who wants to perform will be given a chance to play. The ja... [
click here for more
]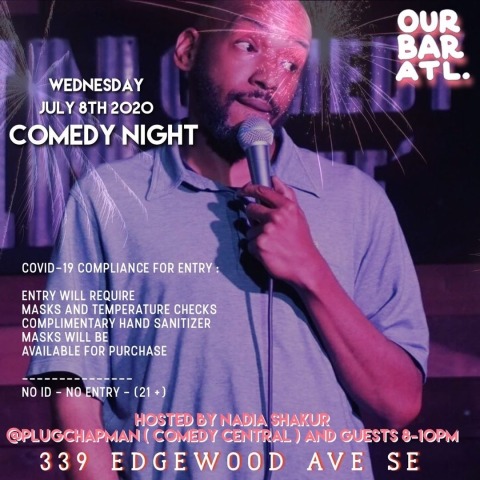 Wednesday July 8, 2020 08:00 pm EDT
Categories: Comedy
Comedy Night w/ Plug Chapman from Comedy Central & Guests!
Come to Our Bar ATL on Wednesday, July 8, for a night of fun and laughter!
Hosted by Nadia Shakur.
Masks + Temperature Checks Required for Entry. Complimentary Hand Sanitizer. Masks will be available for purchase.
... [
click here for more
]
Wednesday July 8, 2020 05:30 pm EDT
Gett ready for Episode 2 of the Georgia Enviro Show! This online series will feature a different environmental organization each week, bringing you the environmental, justice, and climate information that you need to know. This week's episode features Sierra Club Georgia Chapter and its work protect... [
click here for more
]