CL RECOMMENDS
USER SUBMITTED
READ TO CATS! - September 13, 2018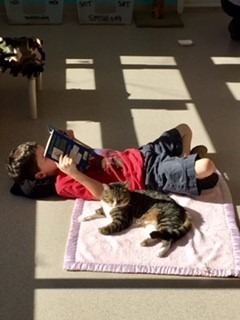 Thursday September 13, 2018 01:00 pm EDT
Cost: Free
Children grades 1 - 8 can come read to our cats at the cat shelter waiting for adoption. Program sharpens childrens reading skills while providing enrichment for the cats. Reservations are required.
More information
The Other 4 Things To Do Today

Music Midtown 2019 - Sunday September 15th
Sunday September 15, 2019 11:00 am EDT
With its initial run from 1994 to 2005, Music Midtown earned a reputation as Atlanta's definitive large music festival. After a six-year hiatus, promoter Peter Conlon's massive music machine has been on a steady run to reach cruising altitude, growing heftier with each successive year. In 2018, Kend... [
click here for more
]
CL RECOMMENDS
Sunday September 15, 2019 08:00 pm EDT
Ritt Momney is the solo project of 19-year-old Salt Lake City native Jack Rutter. Beginning as an indie rock band comprised of high school friends, the project became a personal outlet for Rutter after his bandmates left on Mormon missions and his girlfriend left for college. In his bedroom, he be... [
click here for more
]
Sunday September 15, 2019 01:00 pm EDT
Monster Jam is the most accessible and family-friendly sport in the world today. Unexpected, unscripted and unforgettable, Monster Jam takes center stage in the world's most iconic venues, sporting meticulously manicured dirt tracks created with the sole purpose of pushing these perfectly engineered... [
click here for more
]

Sunday September 15, 2019 05:00 pm EDT
A live presentation of surrealist texts, poems, performances and games by participants in the Polymorph Bodyshop exhibition. [
click here for more
]
Sunday September 15, 2019 02:00 pm EDT
Categories: Comedy
Swing in to Dad's Garage Theatre Company and monkey around with Ruby's Redd Light District and Vavianna Vardot for BANARAMA, a one-of-kind comedy, burlesque and drag extravaganza to benefit Project Chimps, a special sanctuary for former research chimpanzees here in Georgia!
Proj... [
click here for more
]