CL RECOMMENDS
USER SUBMITTED
Steve Martin's WASP and the ZIGZAG WOMAN presented by Ultra Popcorn Theatre Co.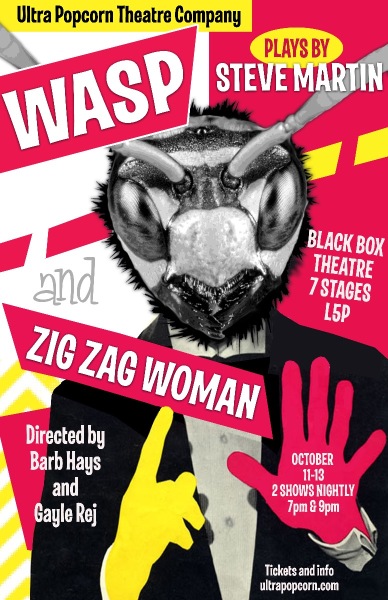 Thursday October 11, 2018 07:00 pm EDT
Cost: $20
Ultra Popcorn Theatre Company presents two one act plays by Steve Martin: WASP and The Zig Zag Woman. Directed by Gayle Rej and Barb Hays. Pushed to amazing lengths to relive profound loneliness, the waitress in The Zig Zag Woman magically separates herself into three parts to facilitate her quest for a man. In the fractured landscape of 50s suburbia, WASP's prototypical, but perverse nuclear family exists in a dark limbo of expectation and routine.. Steve Martin has been renowned for 50 years as a comedian, actor, musician, writer, and playwright. Martin began publishing plays in the late 1990s and are an interesting examination of the identity politics of the 90s and the author's own contribution to the cultural landscape. The two one act plays share a cast portraying multiple roles: Christina Leidel (2017 Suzi Bass Award winner), Michael A. Cook, Jared Nipper, Elizabeth Hammontree, Melanie Parker, and Michael Malone.
More information
The Other 4 Things To Do Today

Lonnie Holley and Mary Lattimore at the Bakery
Monday December 17, 2018 08:00 pm EST
Face of Knives Productions and Grocery on Home Presents: Lonnie Holley: Lonnie Holley is a visual artist and musician whose artwork has been displayed in museums and institutions around the country, from the Metropolitan Museum of Art, The National Gallery of Art, The United Nations, to the White ... [
click here for more
]
CL RECOMMENDS
Monday December 17, 2018 07:00 pm EST
Take your holiday in outer space.
Glitz up in your most holiday-metallic, intergalactic, Griswolds-meet-the-Jetsons, rocket ship Santa-inspired outfits and join us at the Garage as it transforms into an interstellar, brew-fueled beacon for one night only.
This Monday Night style Christmas party ... [
click here for more
]
USER SUBMITTED
Monday December 17, 2018 06:00 pm EST
Some people have a calling that is undeniable and Avery*Sunshine is no exception. Yet the former church pianist/musical director, who scored a #1 Billboard chart hit, was at once a reluctant warrior. ?I had no idea that my work in the church would prepare me to do what I do.? Bringing people togethe... [
click here for more
]
Monday December 17, 2018 07:00 pm EST
Doesn't your PET deserve their own PORTRAIT- painted by you! 
We pre-sketch your canvas to make it easy to get a great result! DEADLINE for photo submission is Thursday Dec 13th.
[
click here for more
]
Monday December 17, 2018 06:30 pm EST
We are collecting holiday items for the Atlanta Ronald McDonald House Charities at this event! Link for items list at bottom of the description! Let's all have a festive Christmas Lights Run! Big Peach Running Co. Midtown and BRU want to hang out with all of you, and we're gonna do that in Grant P... [
click here for more
]