USER SUBMITTED
Georgia Philharmonic Concerto Competition Showcase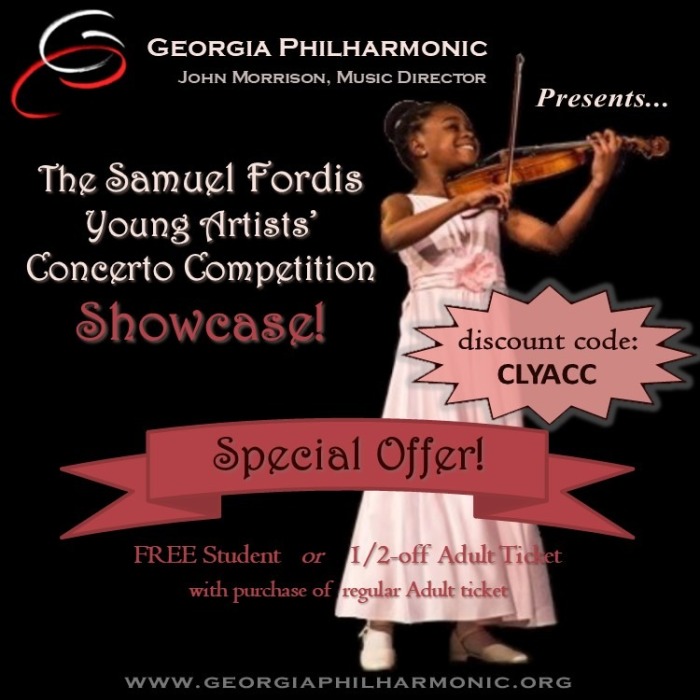 Saturday February 16, 2019 07:00 pm EST
Cost: $10-$50
Join us for a thrilling concert sure to throw off winter's chill!
The Samuel Fordis Young Artists Concerto Competition, the first and by far the largest of its kind in the South, draws more than 40 musicians ages 9-24 competing for the opportunity to solo with the Georgia Philharmonic. We bring you the cream of the crop performing amazing solos with the accompaniment of the full orchestra.
This year, we have 5 outstanding violinists chosen as performance laureates. On the program will be Bruch's Scottish Fantasy, Lalo's Symphonie Espagnole, Paganini's Violin Concerto No. 2, Sibelius' Violin Concerto, and Vieuxtemps' Violin Concerto No. 5. Also on the program will be Wagner's Overture to Rienzi.
Without a doubt, this is one not to miss!
Use promo code CLYACC for a FREE student ticket or HALF-PRICE Adult ticket with your purchase of a regular-price Adult ticket.
Tickets available online or at door
More information