Atlanta Jazz Festival 2019 – Saturday May 25th
Saturday May 25, 2019 12:00 PM EDT
Cost: Free,

CL RECOMMENDS
From the venue:
The Atlanta Jazz Festival celebrates its 42nd anniversary with 31 Days of Jazz, featuring established and up-and-coming acts, culminating on Memorial Day weekend with two full days of performances in Piedmont Park. This year's lineup brings an adventurous mix of artists to the stage including composer and trombone virtuoso Delfeayo Marsalis, gospel vocalist Lizz Wright, and rising Chicago-based percussionist, beat maker, producer, and sound collage artist Makaya McCraven. On Sunday, the Meadow stage features a lineup dedicated entirely to Atlanta artists, headlined by Russell Gunn and the Royal Krunk Jazz Orkestra performing a piece inspired by the pyramids of Egypt. Boasting everything from international jazz superstars to hometown acts looking to make a name for themselves, the Atlanta Jazz Fest is one of the best free tickets in the city. More information
Featuring
Praised by the New York Times as "a singer with a strong and luscious tone and an amiably regal presence on stage", Alicia Olatuja has been astounding audiences with her exquisite vocals, artistic versatility and captivating demeanor. She first came into the national spotlight in 2013, whilst perfor... |
more...
Vibraphonist-composer Stefon Harris is heralded as "one of the most important young artists in jazz (The Los Angeles Times)." He is unquestionably developing what will be a long and extraordinary career. Stefon Harris' passionate artistry, energetic stage presence, and astonishing virtuosity have ... |
more...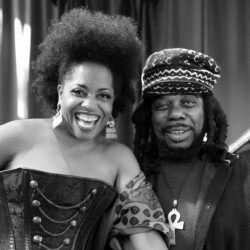 Rhonda Ross has been described as a cross between Jill Scott and Nina Simone. Video, however, only begins to capture how much her poetic compositions and profound performances sizzle! Similar to her legendary mother, Diana Ross, Rhonda holds audiences in the palm of her hand. She writes and performs... |
more...
Saxophonist, composer, and bandleader Marcus Strickland is a charter member of the 21st century jazz vanguard. Similar to the torrent of artists that appeared on the jazz landscape in the early '80s to pull jazz out of the grasp of the Fusion Era, Strickland, his identical twin brother E.J. Strickla... |
more...
Acclaimed vocalist Lizz Wright is a steward of American music bringing brilliant color and vibrancy to singular original works and compositions by some of the greatest songwriters of our time. Wright has garnered widespread attention as one of the most venerable popular singers of her generation thr... |
more...