Lucky's Brookhaven 5th Year Anniversary Event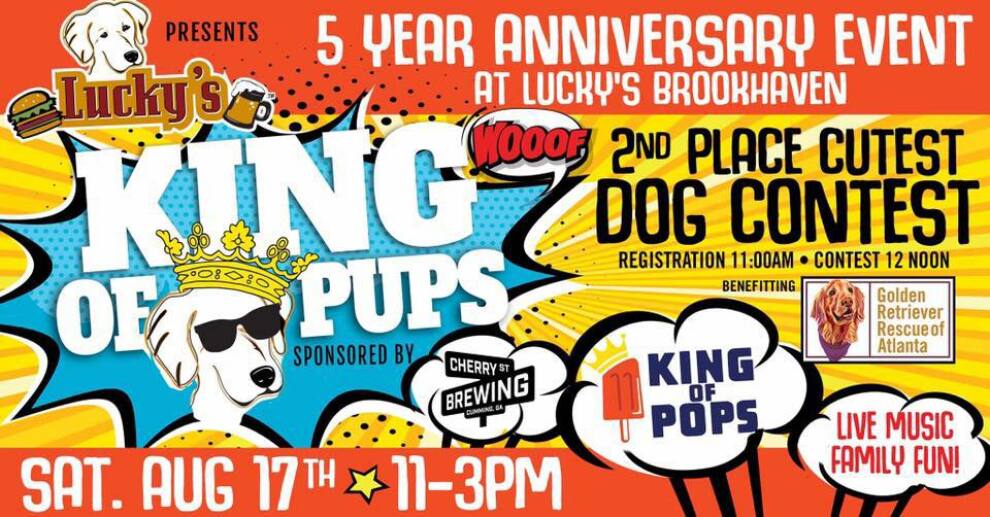 Saturday August 17, 2019 11:00 am EDT
Cost: Event is Free! Everyone is Welcome!
Calling all Pups! Does your pup have what it takes to win the 2nd Cutest Pup Contest?
Lucky's Burger & Brew Brookhaven celebrates our 5th year anniversary event on Sat. Aug. 17, from 11am-3pm, to benefit our pals at Golden Retriever Rescue of Atlanta. We are excited to partner with our sponsor, Atlanta's own King of Pops, and our pals Cherry Street Brewing.
    305 Brookhaven Ave #1250, Atlanta, Georgia 30319 
- Dress Up Your Pup for our annual Dog Contest as we crown the 2nd Cutest Pup (next to reigning Lucky, standing in first place KING of PUPS).  Lucky's Dog Contest is sponsored by Citydog Market.
- Live Rock Music by a local favorite, P.O.E.
- Food & Bar Specials 
- Lots of goodies and giveaways for all dogs entering from our local business supporters.
More information
No venue found