Elton Tribute Holiday Concert
Sunday December 15, 2019 07:00 pm EST
Cost: $15
Beyond the Yellow Brick Road to perform special Christmas show
Legendary Elton John tribute band, Beyond the Yellow Brick Road, brings Elton John's greatest hits to the Masquerade for a special Syd Howell holiday production on Sunday, December 15th at 7:00 p.m. Tickets are $15 in advance or $20 at the door. Ticket on sale now at: https://bit.ly/32gWSUB
"Playing at the Masquerade is a true honor," says band founder and lead singer, Steven Dodd. "We can't wait to get up on stage and give Atlanta the ultimate Elton John experience!"
With the recent massive success of the Elton John biographical film, "Rocket Man," and now the best-selling biography, Beyond the Yellow Brick Road continues to sell out venues as they recreate the Elton John concert experience. The band promises to deliver "the most authentic Elton John live show," which showcases signature harmonies and intricate musical interludes. Donning genuine costumes, lead vocalist Steven Dodd recaptures the live energy and precision for the ultimate Elton John experience. 
The full ensemble band has magnetic on-stage chemistry and includes former Elton John background vocalist L'Tonya "Sugarlips" Shields. An amazing troupe of veteran musicians, the band takes great pride in giving fans and audiences an authentic stage show from start to finish. As well as raising money for charity events.
Nominated for Best Concert Venue & Best Local Rock Hangout in 2018's Best of Atlanta, the Masquerade has played host to a number of unforgettable live performances and features three indoor venues. The Masquerade is located in the heart of downtown Atlanta. In Kenny's Alley at the Underground Atlanta at 75 MLK Jr. Drive, SW Atlanta, 30303 For more information, contact the Masquerade at 404=577-8178 or via email at info at masqueradeatlanta.com
Order tickets online at https://bit.ly/32gWSUB
More information
Featuring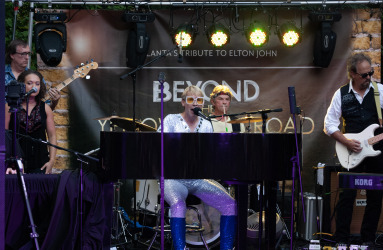 Beyond the Yellow Brick Road is the premier musical tribute band to Elton John and stars singer and performer Steven Dodd. The ensemble band captures the energetic sound and vibe for an authentic Elton John experience. With impeccable attention to detail, the band recreates an uncanny, yet respectfu... |
more...