Big Dreams Concert 2020
Sunday April 19, 2020 06:00 pm EDT
Cost: $15 in advance $20 day of show
Big Dreams Concert w/Dana Rice and Students
April 19, 2020 6:00 PM 
Doors Open: 5:00 PM
General Admission
$15 in advance ($20 day of show)
Join Singer/Songwriter Dana Rice for an evening of soulful music featuring some of Metro Atlanta's finest young talent and special guest artists. Get ready to bob your head, tap your toes, sing along and laugh out loud! You will laugh and you may even cry, but most of all you will be inspired to go after YOUR BIG DREAMS. 
About Dana Rice:
Dana Rice is a local singer/songwriter and music educator who specializes in piano and voice at Dana Rice Music's FAME Studio in Buford, GA. She knows all about being a kid with Big Dreams and is dedicated to encouraging young people to dream and pursue big dreams. Having started learning to play the piano at the age of 5, she has continuously honed her skills in performance and writing to this day and her music can be heard on all digital outlets. Her music has taken her from a little girl playing in church in her native Mississippi to presenting original music for children at the Gospel Music Workshop of America National Convention all the way to touring and teaching music in Japan. Her students have appeared on National Public Radio as well as prestigious area venues including the Smoky Mountain Opry, Georgia State University's Rialto Theater, Kopleff Recital Hall, and The Porter Sanford Performing Arts and Community Center. Please join them for for an amazing experience at The Red Clay Music Foundry.
Links: www.DanaRiceMusic.com
Facebook.com/DanaRiceMusic
YouTube.com/DanaRiceMusic
Instagram.com/DanaRiceMusic
More information
Featuring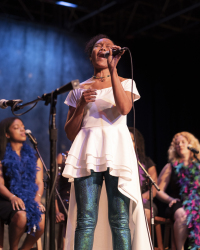 Serving up Jazz, Pop, and Soul music
more...