>>

archives

>>

Legacy: Women Poets of the Harlem Renaissance-- Nikki Grimes in conversation with Susana Morris
Legacy: Women Poets of the Harlem Renaissance-- Nikki Grimes in conversation with Susana Morris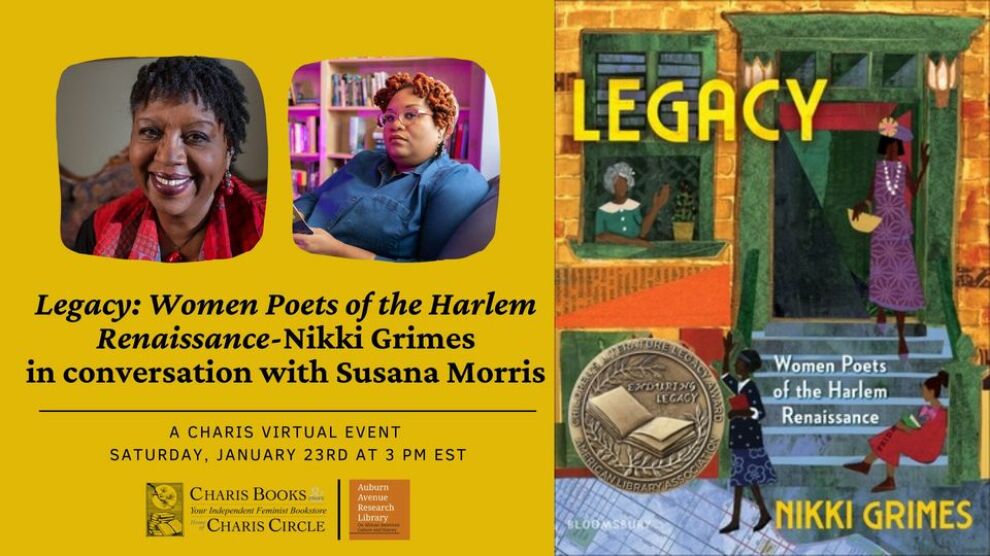 Saturday January 23, 2021 03:00 PM EST
Cost: Free
From the venue:
The Charis Black Feminist Book Club welcomes Nikki Grimes in conversation with Susana Morris for a celebration of Grimes' young adult poetry collection, Legacy: Women Poets of the Harlem Renaissance. This all-ages event is co-hosted by the Auburn Avenue Research Library on African American Culture and History. We encourage adults to watch this event with a young feminist or poet in their lives.
From Children's Literature Legacy Award-winning author Nikki Grimes comes a feminist collection of poetry celebrating the little-known women poets of the Harlem Renaissance--paired with full-color, original art from today's most talented female African-American illustrators.
For centuries, accomplished womenof all raceshave fallen out of the historical records. The same is true for gifted, prolific, women poets of the Harlem Renaissance who are little known, especially as compared to their male counterparts.
In this poetry collection, bestselling author Nikki Grimes uses "The Golden Shovel" poetic method to create wholly original poems based on the works of these groundbreaking women-and to introduce readers to their work.
More information