Event Scheduled
Movements
Wednesday September 28, 2022 06:00 PM EDT
Cost: $25 ADV / All Ages,
From the venue:
Heaven More information
Featuring
Bio Music and emotion share a timeless physiological, psychological, and spiritual bond. A chord, a melody, or a lyric can lift spirits and inspire. Movements achieve that sort of reaction on their full-length debut, Feel Something Fearless Records. Threading together spacey guitars, evocative and... |
more...
Bio Justice Tripp, vocalist/guitarist for Baltimore, Maryland's Angel Du$t, has never been one for making rock albums, at least not in the traditional sense. For Tripp, an album is not a singular, rigidly defined work, but rather an ever-evolving experience, a grab bag of creative tricks and treat... |
more...
Bio "Everything sort of lined up, but I don't believe in coincidences." Chlo White could be talking about any of the several key moments in her musical history: meeting best friend and bassist Riley Hall on the first day at a new school while they both wore the same pair of obscure Vans, being soo... |
more...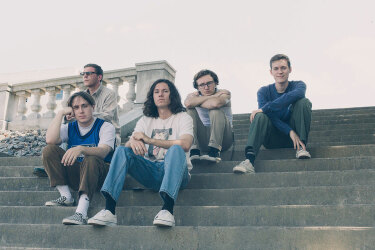 Bio One Step Closer vocalist Ryan Savitski cries out this declaration just over halfway through the opening track on the band's debut full-length, the aptly titled This Place You Know. Home can be a comforting place, a safe grounding that you can always return to; but when you begin to lose the re... |
more...