Event Scheduled
Shadow Of Intent
Friday October 28, 2022 06:00 PM EDT
Cost: $18 ADV,
From the venue:
Hell More information
Featuring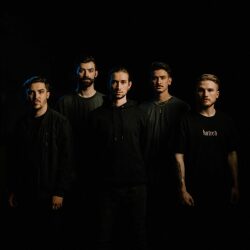 Bio ENTERPRISE EARTH WAS FORMED BY DAN WATSON (FORMER INFANT ANNIHILATOR VOCALIST) AND BJ SAMPSON IN THE LATE SUMMER OF 2014. QUICKLY AFTER THEIR INCEPTION, THE BAND BEGAN PICKING UP A LARGE INTERNET FOLLOWING. IMMEDIATELY THEY RELEASED THEIR FIRST SINGLE 'MASQUERADE OF ANGELS' WHICH WAS WELCOME W... |
more...
Bio Since its formation in 2015 in Baltimore, Maryland, WORMHOLE has been spearheading the tech slam movement, introducing strong melodies, technical prowess, and virtuosity to hard-hitting brutal death metal. In October 2015, and in 2016 WORMHOLE released their aptly titled debut album "Genesis" ... |
more...