Event Scheduled
Ceramic Animal
Saturday October 1, 2022 07:00 PM EDT
Cost: $15 ADV / All Ages,
From the venue:
Purgatory at The Masquerade More information
Featuring
Bio Strutting out of the historic town of Doylestown, Pennsylvania, Ceramic Animal forge an original and exciting new sound from glam, post-punk, psych rock, '70s pop, and so much more. Just as crucially, this band of brothers–Chris Regan (vocals, guitar), Erik Regan (drums), and Elliott Regan (vo... |
more...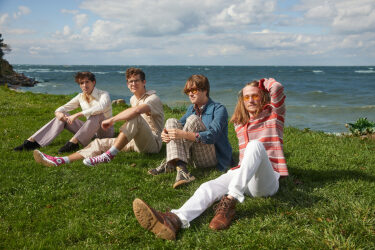 Bio SPIRIT OF THE BEAR quickly became one of the most fresh and exciting bands to emerge in the Northeast Ohio indie scene with their unique blend of indie rock, pop, and electronic sensibilities coupled with their affinity for pop song writing. Spirit of the Bear's years of musical experience are... |
more...
Bio Trash Panda began in 2015 as the pet recording project of songwriter/producer/multi-instrumentalist Patrick Taylor, expanding into a duo then a trio in 2016. Pulling influences as wide as neopsychedelia, soul, indie rock and pop music, the band considers themselves somewhat post-genre. Darling... |
more...