Event Scheduled
Pop Off Wednesdays Jam Session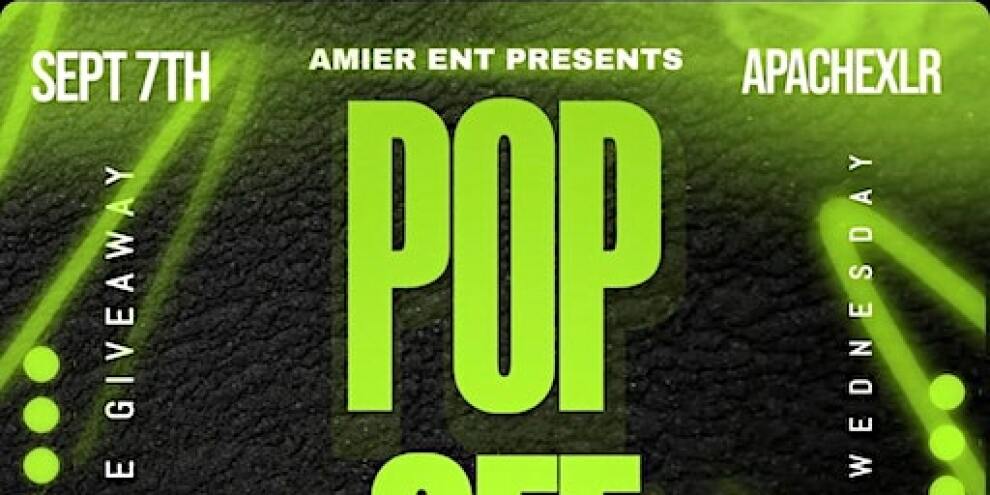 Wednesday October 5, 2022 09:00 PM EDT
Cost: $15 - $50,
From the venue:
Pop Off Wednesdays | Hosted by AmierAbout this event Pop Off Wednesday All Genre Jam Session
WHO: Hosted by Amier + Live Music by thriving, local artists
WHAT: An All Genre Open Mic with a Live Band
WHEN: EVERY 1st Wednesday
WHERE: Apache XLR, the home of Fine Vibing
WHY: We know not everyone likes the club but everybody loves live music!
HOW MUCH: $15 here on Eventbrite | $20 at the door - less than a trip to Starbucks! To Feature, Go to Pop_Off_Wednesdays for more information.
#AtlantaEvents
#ApacheXLR

Vending Opportunities Available.
*ADMISSION AND TABLE RESERVATIONS ARE SEPARATE!!!
VIDEO-TAPING: You may not tape or film with any professional cameras without written consent from the owner of the restaurant and a cash deposit to be returned to you when you return the edited and raw footage to the restaurant.
PARKING: We are not responsible nor do we own either parking lot across the street. Please make sure to pay to park or you will get a boot and/or towed at your own expense.
TABLE RESERVATIONS: Table reservations are generally held until one (1) hour after doors open. IF YOU HAVEN'T REDEEMED YOUR TABLE RESERVATION BY THE SPECIFIED TIME, YOU WILL LOSE YOUR RESERVATION AND YOUR TABLE WILL BE MADE AVAILABLE TO OTHERS WITHOUT A REFUND.
(2) Table reservations aren't required to attend, but they are recommended for guaranteed table seating. Try arriving early to be seated at an open free table
(3) All reserved and walk-up tables have a (1) entree or (2) drink min.
(4) A table ticket entitles you to the entire table with the described number of chairs. Do not purchase a table ticket for each person sitting with you at this table.
(5) General admission ticket is required per person to enter the venue. Purchasing a table reservation does not include the price of admission. Admission may be purchased by selecting General Admission tickets or at the venue upon arrival.
(6) Table reservation fees do not go towards food or beverage, admission or gratuity.
(7) There are no refunds on table reservations (except event cancellations) additionally, seating/table arrangements or changes to them are non-negotiable and provide no cause for a refund.
(8) When you enter the venue, please see the Hostess to be seated and be prepared to show your reservation purchase credit card and picture ID before you are seated.
TagsUnited States EventsGeorgia EventsThings to do in Atlanta, GAAtlanta PartiesAtlanta Food & Drink Parties#dinner#openmic#livemusic#jamsession#liveentertainment#southernfood#jam_session#allgenreopenmicShare with friendsShare on FacebookShare on Facebook MessengerShare on LinkedinShare on TwitterShare by Email
More information