Event Scheduled
Death Cabaret: A Benefit For Angel Action Atlanta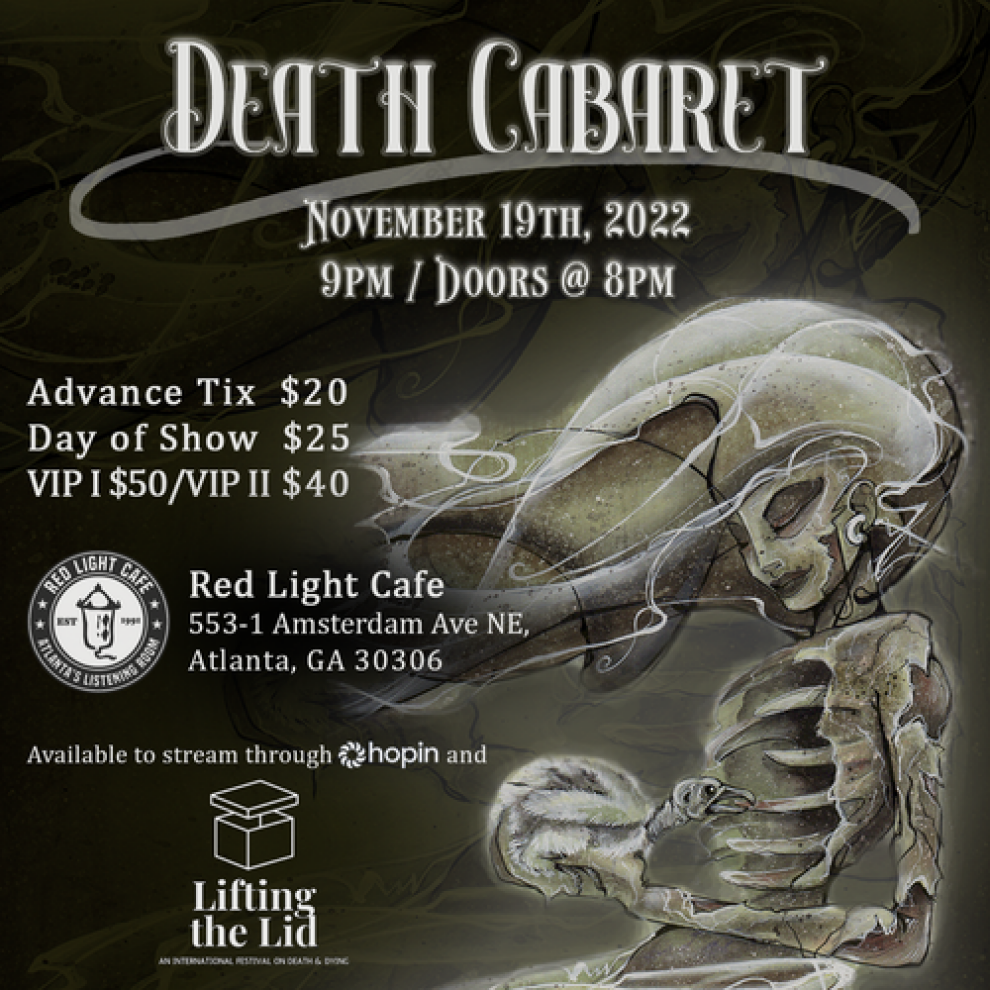 Saturday November 19, 2022 09:00 PM EST
Cost: $20 Adv - $25 Doors,
From the venue:
The first annual Death Cabaret is a benefit for Angel Action Atlanta's Your Legacy project, and the group into a 501(c)3. For over a decade, Angel Action Atlanta has stood as a symbol of compassion against queer-phobia. Now, they are reaching out into their community to assist with their dying and death care, specifically focusing on transgender folx during and post incarceration, with the goal of becoming the queer centric Planned Parenthood of dying and death care. Tonight, local artists will tell their personal stories through their works: music, spoken word, burlesque, dance... After the intermission, there will be an open discussion with the artists and audience on their performances, digging into the stages of grief and their understandings of death.
Our community partners in the Death Positive Movement will be joining us with small information tables. We will also have a facilitator on site if anyone needs a safe space during the show, this includes the artists.
VIP tickets are limited and include near-stage seats and more!
***IMPORTANT NOTICE FOR VIRTUAL TICKETS ONLY***
This event will be live-streamed as part of the Lifting The Lid International Festival of Death and Dying 2022. In order to participate in the livestream, you will need to Register on HopIn. Please make sure you register on HopIn with the same email address you use for Eventbrite.
UPDATE: Lifting The Lid has reached their capacity of free audience tickets. In order to keep registration on HopIn open, they have had to make the decision to add a small charge of £2.50 per ticket to additional registrations. They hope you understand that this is the only way they can increase their capacity to cover the costs they are charged.
We apologize for the additional step, but without your free registration you will not be able to view the livestream.
— • — • — • — • — • — • — • — • — • — • — • — • — • — • —
$20 Adv – $25 Doors
$50 VIP 1st Row
$40 VIP 2nd Row
$10 Virtual (Livestream Only)
Doors @ 8 PM (masks are strongly encouraged, but not required; ages 18+)
More information