Explore Atlanta Dining
---

Atlanta's food and dining scene reflects the City's status as a melting pot for the South and a new Americans from around the world. The distinct "New South" food in Atlanta has allowed some of Atlanta's finest Chefs to be recognized by foodies around the US and globe. Try this in Atlanta's best restaurants.
Our annual Best of Atlanta is always a treasured guide to the City's finest food options. Finally, follow our food reviews and features from Atlanta's best critics and writers as we explore the freshest food trends and restaurant hotspots in Atlanta.
Explore Atlanta Dining
Wednesday October 16, 2019 04:50 pm EDT
Where to go when you want to drink the good stuff |
more...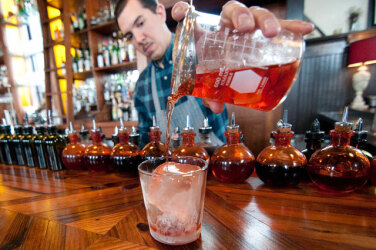 Thursday October 17, 2019 12:53 pm EDT
Explore restaurant recommendations that the locals swear by. |
more...
Friday October 18, 2019 12:23 pm EDT
Where to eat well and please your inner foodie |
more...
Wednesday April 1, 2020 06:00 pm EDT
Community, Food and Drink
Get to shuckin' with Oak Steakhouse this spring! On Wednesday, April 1, from 6 to 9 p.m., Oak Steakhouse will be hosting their annual Patio Oyster Roast on Avalon's Plaza greenspace. Guests can purchase $5 tickets to enjoy four oysters or select beer, wine and cocktails.
[
click here for more
]
---