Explore Atlanta Dining
---

Atlanta's food and dining scene reflects the City's status as a melting pot for the South and a new Americans from around the world. The distinct "New South" food in Atlanta has allowed some of Atlanta's finest Chefs to be recognized by foodies around the US and globe. Try this in Atlanta's best restaurants.
Our annual Best of Atlanta is always a treasured guide to the City's finest food options. Finally, follow our food reviews and features from Atlanta's best critics and writers as we explore the freshest food trends and restaurant hotspots in Atlanta.
Explore Atlanta Dining
Wednesday October 16, 2019 04:50 pm EDT
Where to go when you want to drink the good stuff |
more...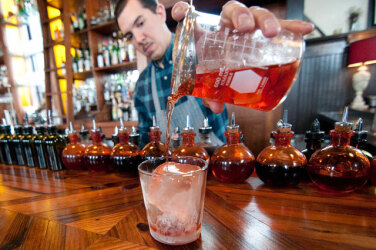 Thursday October 17, 2019 12:53 pm EDT
Explore restaurant recommendations that the locals swear by. |
more...
Friday October 18, 2019 12:23 pm EDT
Where to eat well and please your inner foodie |
more...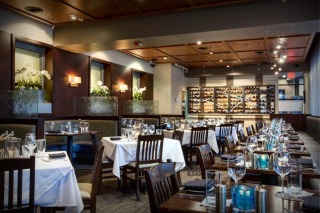 Thursday October 1, 2020 04:00 pm EDT
Food and Drink
Join Ray's in the City for a socially distant happy hour, Monday through Friday from 4 to 7 p.m. Located in the bar and lounge, guests can enjoy $1.50 oysters on the half shell, alongside half-priced house wines by the glass, $5 rotating beer specials and half-priced bar bites – including Ray's New ... [
click here for more
]
Thursday October 1, 2020 04:30 pm EDT
Food and Drink
Join Ray's on the River for a socially distant happy hour, Monday through Friday from 4:30 to 7 p.m. Located in the bar and lounge, guests can enjoy $1.50 oysters on the half shell, alongside $8 house wines by the glass and half-priced bar bites – including Ray's New Orleans BBQ Shrimp, Goat Cheese ... [
click here for more
]
Thursday October 1, 2020 02:00 pm EDT
Food and Drink
Categories: Halloween For $35, a kit includes one medium-sized pumpkin, tools for carving, a 4-pack of Southern Tier Brewing Co.'s Pumking Imperial Pumpkin Ale, a 4-pack of Bold Rock Carolina Apple Cider, two Koozies, and a Halloween Candy Goodie Bag. There's no better way to ring in the Fall season... [
click here for more
]