East Atlanta
With its bars, music venues and restaurants and pop-up bistros, East Atlanta is the hub of Atlanta's underground nightlife and the city's trendsetting counterculture. It's also where many people who live OTP choose to go ITP on the weekends. But don't despair, there is a high-enough concentration of hipsters for it to maintain its hip quotient. Lyft or Uber your way there, because parking is scarce - and who wants to be behind the where after drinking all night at the Earl, Argosy, 529, or the Flatiron when no amount of Delia's Sausage will sober you up!
Live Music Events In East Atlanta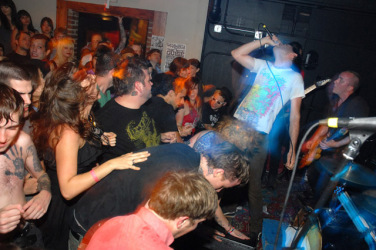 In the central East Atlanta spot formerly occupied by retro soul bar the Village, you'll find 529 — a tiny, smoky space that oozes cool. Despite being the size of a Manhattan apartment, there's a closed-circuit TV above the bar on which you can watch the band playing on the stage behind you. The fro... |
more...
object(Search_ResultSet)#2212 (10) {
  ["count":"Search_ResultSet":private]=>
  int(160)
  ["estimate":"Search_ResultSet":private]=>
  int(160)
  ["offset":"Search_ResultSet":private]=>
  int(0)
  ["maxRecords":"Search_ResultSet":private]=>
  int(100)
  ["highlightHelper":"Search_ResultSet":private]=>
  NULL
  ["filters":"Search_ResultSet":private]=>
  array(0) {
  }
  ["id":"Search_ResultSet":private]=>
  string(8) "wplist-8"
  ["tsOn":"Search_ResultSet":private]=>
  bool(false)
  ["tsettings":"Search_ResultSet":private]=>
  NULL
  ["storage":"ArrayObject":private]=>
  array(100) {
    [0]=>
    array(94) {
      ["title"]=>
      string(7) "Banshee"
      ["modification_date"]=>
      string(25) "2019-04-27T13:55:30+00:00"
      ["creation_date"]=>
      string(25) "2019-04-04T17:39:06+00:00"
      ["contributors"]=>
      array(2) {
        [0]=>
        string(29) "ben.eason@creativeloafing.com"
        [1]=>
        string(18) "jonny@nospaces.net"
      }
      ["date"]=>
      string(25) "2019-04-04T17:39:06+00:00"
      ["tracker_status"]=>
      string(1) "o"
      ["tracker_id"]=>
      string(1) "1"
      ["view_permission"]=>
      string(13) "view_trackers"
      ["tracker_field_businessName"]=>
      string(7) "Banshee"
      ["tracker_field_businessAddress"]=>
      string(22) "1271 Glenwood Ave S.E."
      ["tracker_field_businessCity"]=>
      string(7) "Atlanta"
      ["tracker_field_businessState"]=>
      string(2) "GA"
      ["tracker_field_businessZip"]=>
      string(5) "30316"
      ["tracker_field_businessWebsite"]=>
      string(28) "https://www.banshee-atl.com/"
      ["tracker_field_businessPhone"]=>
      string(14) "(470) 428-2034"
      ["tracker_field_businessRepresentative"]=>
      array(0) {
      }
      ["tracker_field_businessLocation"]=>
      string(40) "-84.34811590000017,33.739961800000096,16"
      ["tracker_field_businessLocationRadius"]=>
      int(0)
      ["tracker_field_businessIcon"]=>
      string(9) "display26"
      ["tracker_field_description"]=>
      string(444) "From Bahshee:
In the summer of 2017, two guys and two gals decided that they were ready to open a restaurant of their own. Agreements were made regarding the use of locally sourced ingredients, sustainable practices, and a desire to create an atmosphere that was unique to their city. Banshee was selected as the name to remind them that if there is something you really want to achieve, there is no better time than now to make it a reality. "
      ["tracker_field_description_raw"]=>
      string(448) "__From Bahshee:__
In the summer of 2017, two guys and two gals decided that they were ready to open a restaurant of their own. Agreements were made regarding the use of locally sourced ingredients, sustainable practices, and a desire to create an atmosphere that was unique to their city. Banshee was selected as the name to remind them that if there is something you really want to achieve, there is no better time than now to make it a reality. "
      ["tracker_field_photos"]=>
      string(5) "16036"
      ["tracker_field_businessPhotoCredit"]=>
      string(16) "Courtesy Banshee"
      ["tracker_field_businessClassifieds"]=>
      array(0) {
      }
      ["tracker_field_businessTypes"]=>
      array(1) {
        [0]=>
        string(3) "934"
      }
      ["tracker_field_businessTypes_text"]=>
      string(3) "934"
      ["tracker_field_scene"]=>
      array(0) {
      }
      ["tracker_field_businessNeighborhoods"]=>
      array(1) {
        [0]=>
        string(3) "100"
      }
      ["tracker_field_businessNeighborhoods_text"]=>
      string(3) "100"
      ["tracker_field_businessPriceRange"]=>
      array(1) {
        [0]=>
        string(3) "174"
      }
      ["tracker_field_businessPriceRange_text"]=>
      string(3) "174"
      ["tracker_field_businessMiscCategories"]=>
      array(0) {
      }
      ["tracker_field_businessCLAcctNum"]=>
      int(0)
      ["tracker_field_business_121CurrentChit"]=>
      string(1) "n"
      ["tracker_field_121MobileClientID"]=>
      int(0)
      ["tracker_field_121MobileCampaignData"]=>
      array(0) {
      }
      ["tracker_field_121MobileCampaignData_json"]=>
      array(0) {
      }
      ["tracker_field_google_placeid"]=>
      string(27) "ChIJeTP7sxsB9YgRxlN9qnOSUgE"
      ["tracker_field_googlePlaceData"]=>
      array(0) {
      }
      ["tracker_field_googlePlaceData_json"]=>
      array(0) {
      }
      ["tracker_field_googleOverallRating"]=>
      int(0)
      ["tracker_field_businessYelpBusinessData"]=>
      array(0) {
      }
      ["tracker_field_businessYelpBusinessData_json"]=>
      array(0) {
      }
      ["tracker_field_businessFacebookData"]=>
      array(0) {
      }
      ["tracker_field_businessFacebookData_json"]=>
      array(0) {
      }
      ["tracker_field_businessAccountExecutive"]=>
      string(1) "0"
      ["tracker_field_businessCLDistributionLocation"]=>
      string(1) "n"
      ["tracker_field_businessAudience"]=>
      array(0) {
      }
      ["tracker_field_businessLegacyID"]=>
      int(0)
      ["language"]=>
      string(7) "unknown"
      ["attachments"]=>
      array(1) {
        [0]=>
        string(5) "16036"
      }
      ["comment_count"]=>
      int(0)
      ["categories"]=>
      array(3) {
        [0]=>
        int(100)
        [1]=>
        int(174)
        [2]=>
        int(934)
      }
      ["deep_categories"]=>
      array(8) {
        [0]=>
        int(1)
        [1]=>
        int(149)
        [2]=>
        int(100)
        [3]=>
        int(171)
        [4]=>
        int(174)
        [5]=>
        int(28)
        [6]=>
        int(85)
        [7]=>
        int(934)
      }
      ["categories_under_28"]=>
      array(0) {
      }
      ["deep_categories_under_28"]=>
      array(2) {
        [0]=>
        int(85)
        [1]=>
        int(934)
      }
      ["categories_under_1"]=>
      array(0) {
      }
      ["deep_categories_under_1"]=>
      array(2) {
        [0]=>
        int(149)
        [1]=>
        int(100)
      }
      ["categories_under_177"]=>
      array(0) {
      }
      ["deep_categories_under_177"]=>
      array(0) {
      }
      ["categories_under_209"]=>
      array(0) {
      }
      ["deep_categories_under_209"]=>
      array(0) {
      }
      ["categories_under_163"]=>
      array(0) {
      }
      ["deep_categories_under_163"]=>
      array(0) {
      }
      ["categories_under_171"]=>
      array(1) {
        [0]=>
        int(174)
      }
      ["deep_categories_under_171"]=>
      array(1) {
        [0]=>
        int(174)
      }
      ["categories_under_153"]=>
      array(0) {
      }
      ["deep_categories_under_153"]=>
      array(0) {
      }
      ["categories_under_242"]=>
      array(0) {
      }
      ["deep_categories_under_242"]=>
      array(0) {
      }
      ["categories_under_564"]=>
      array(0) {
      }
      ["deep_categories_under_564"]=>
      array(0) {
      }
      ["freetags"]=>
      array(0) {
      }
      ["geo_located"]=>
      string(1) "y"
      ["geo_location"]=>
      string(40) "-84.34811590000017,33.739961800000096,16"
      ["geo_point"]=>
      object(stdClass)#975 (2) {
        ["lat"]=>
        float(33.7399618)
        ["lon"]=>
        float(-84.3481159)
      }
      ["allowed_groups"]=>
      array(2) {
        [0]=>
        string(6) "Admins"
        [1]=>
        string(9) "Anonymous"
      }
      ["allowed_users"]=>
      array(0) {
      }
      ["relations"]=>
      array(1) {
        [0]=>
        string(27) "tiki.file.attach:file:16036"
      }
      ["relation_objects"]=>
      array(0) {
      }
      ["relation_types"]=>
      array(1) {
        [0]=>
        string(16) "tiki.file.attach"
      }
      ["relation_count"]=>
      array(1) {
        [0]=>
        string(18) "tiki.file.attach:1"
      }
      ["title_initial"]=>
      string(1) "B"
      ["title_firstword"]=>
      string(7) "Banshee"
      ["searchable"]=>
      string(1) "y"
      ["url"]=>
      string(10) "item425012"
      ["object_type"]=>
      string(11) "trackeritem"
      ["object_id"]=>
      string(6) "425012"
      ["contents"]=>
      string(776) " Banshee Atlanta  2019-04-04T17:36:40+00:00 Banshee Atlanta.jpg     Banshee 1271 Glenwood Ave S.E.  Atlanta GA 30316 https://www.banshee-atl.com/   (470) 428-2034  -84.34811590000017,33.739961800000096,16 display26  From Bahshee:
In the summer of 2017, two guys and two gals decided that they were ready to open a restaurant of their own. Agreements were made regarding the use of locally sourced ingredients, sustainable practices, and a desire to create an atmosphere that was unique to their city. Banshee was selected as the name to remind them that if there is something you really want to achieve, there is no better time than now to make it a reality.     16036  Courtesy Banshee         n  ChIJeTP7sxsB9YgRxlN9qnOSUgE             n  2019-04-04T17:39:06+00:00 Banshee "
      ["score"]=>
      float(0)
      ["_index"]=>
      string(21) "atlantawiki_tiki_main"
      ["objectlink"]=>
      string(312) "Banshee"
      ["image"]=>
      string(39) "

File not found.

"
      ["areaLocation"]=>
      string(34) "-84.3503813,33.7391182,15"
    }
    [1]=>
    array(97) {
      ["title"]=>
      string(13) "Patria Cocina"
      ["modification_date"]=>
      string(25) "2019-09-03T00:58:03+00:00"
      ["creation_date"]=>
      string(25) "2019-09-02T14:44:13+00:00"
      ["contributors"]=>
      array(1) {
        [0]=>
        string(29) "ben.eason@creativeloafing.com"
      }
      ["date"]=>
      string(25) "2019-09-02T14:44:13+00:00"
      ["tracker_status"]=>
      string(1) "o"
      ["tracker_id"]=>
      string(1) "1"
      ["view_permission"]=>
      string(13) "view_trackers"
      ["tracker_field_businessName"]=>
      string(13) "Patria Cocina"
      ["tracker_field_businessAddress"]=>
      string(18) "1039 Grant St S.E."
      ["tracker_field_businessCity"]=>
      string(7) "Atlanta"
      ["tracker_field_businessState"]=>
      string(2) "GA"
      ["tracker_field_businessZip"]=>
      string(5) "30315"
      ["tracker_field_businessWebsite"]=>
      string(32) "https://www.patriacocinaatl.com/"
      ["tracker_field_businessPhone"]=>
      string(14) "(404) 622-3501"
      ["tracker_field_businessRepresentative"]=>
      array(0) {
      }
      ["tracker_field_businessLocation"]=>
      string(25) "-84.3770894,33.7255493,12"
      ["tracker_field_businessLocationRadius"]=>
      int(0)
      ["tracker_field_businessIcon"]=>
      string(9) "display26"
      ["tracker_field_description"]=>
      string(324) "From Patria Cocina's website: We are excited to offer you a Mexican dining experience like no other. Fresh, authentic high-quality ingredients are our specialty. You will be transported to different regions of Mexico through our food, ambiance, and drinks. Are you ready, Atlanta, to experience authentic Mexican gastronomy?"
      ["tracker_field_description_raw"]=>
      string(328) "__From Patria Cocina's website:__ We are excited to offer you a Mexican dining experience like no other. Fresh, authentic high-quality ingredients are our specialty. You will be transported to different regions of Mexico through our food, ambiance, and drinks. Are you ready, Atlanta, to experience authentic Mexican gastronomy?"
      ["tracker_field_photos"]=>
      string(5) "22679"
      ["tracker_field_businessPhotoCredit"]=>
      string(22) "Courtesy Patria Cocina"
      ["tracker_field_businessClassifieds"]=>
      array(0) {
      }
      ["tracker_field_businessTypes"]=>
      array(1) {
        [0]=>
        string(3) "934"
      }
      ["tracker_field_businessTypes_text"]=>
      string(3) "934"
      ["tracker_field_scene"]=>
      array(0) {
      }
      ["tracker_field_businessNeighborhoods"]=>
      array(1) {
        [0]=>
        string(3) "100"
      }
      ["tracker_field_businessNeighborhoods_text"]=>
      string(3) "100"
      ["tracker_field_businessPriceRange"]=>
      array(1) {
        [0]=>
        string(3) "175"
      }
      ["tracker_field_businessPriceRange_text"]=>
      string(3) "175"
      ["tracker_field_businessMiscCategories"]=>
      array(1) {
        [0]=>
        string(4) "1001"
      }
      ["tracker_field_businessMiscCategories_text"]=>
      string(4) "1001"
      ["tracker_field_businessFreeTags"]=>
      string(7) "mexican"
      ["tracker_field_businessCLAcctNum"]=>
      int(0)
      ["tracker_field_business_121CurrentChit"]=>
      string(1) "n"
      ["tracker_field_121MobileClientID"]=>
      int(0)
      ["tracker_field_121MobileCampaignData"]=>
      array(0) {
      }
      ["tracker_field_121MobileCampaignData_json"]=>
      array(0) {
      }
      ["tracker_field_google_placeid"]=>
      string(27) "ChIJjbsuutQD9YgRfC6HZOIDBHc"
      ["tracker_field_googlePlaceData"]=>
      array(0) {
      }
      ["tracker_field_googlePlaceData_json"]=>
      array(0) {
      }
      ["tracker_field_googleOverallRating"]=>
      int(0)
      ["tracker_field_businessYelpBusinessData"]=>
      array(0) {
      }
      ["tracker_field_businessYelpBusinessData_json"]=>
      array(0) {
      }
      ["tracker_field_businessFacebookData"]=>
      array(0) {
      }
      ["tracker_field_businessFacebookData_json"]=>
      array(0) {
      }
      ["tracker_field_businessAccountExecutive"]=>
      string(1) "0"
      ["tracker_field_businessCLDistributionLocation"]=>
      string(1) "n"
      ["tracker_field_businessAudience"]=>
      array(0) {
      }
      ["tracker_field_businessLegacyID"]=>
      int(0)
      ["language"]=>
      string(7) "unknown"
      ["attachments"]=>
      array(1) {
        [0]=>
        string(5) "22679"
      }
      ["comment_count"]=>
      int(0)
      ["categories"]=>
      array(4) {
        [0]=>
        int(100)
        [1]=>
        int(175)
        [2]=>
        int(934)
        [3]=>
        int(1001)
      }
      ["deep_categories"]=>
      array(10) {
        [0]=>
        int(1)
        [1]=>
        int(149)
        [2]=>
        int(100)
        [3]=>
        int(171)
        [4]=>
        int(175)
        [5]=>
        int(28)
        [6]=>
        int(85)
        [7]=>
        int(934)
        [8]=>
        int(996)
        [9]=>
        int(1001)
      }
      ["categories_under_28"]=>
      array(0) {
      }
      ["deep_categories_under_28"]=>
      array(2) {
        [0]=>
        int(85)
        [1]=>
        int(934)
      }
      ["categories_under_1"]=>
      array(0) {
      }
      ["deep_categories_under_1"]=>
      array(2) {
        [0]=>
        int(149)
        [1]=>
        int(100)
      }
      ["categories_under_177"]=>
      array(0) {
      }
      ["deep_categories_under_177"]=>
      array(0) {
      }
      ["categories_under_209"]=>
      array(0) {
      }
      ["deep_categories_under_209"]=>
      array(0) {
      }
      ["categories_under_163"]=>
      array(0) {
      }
      ["deep_categories_under_163"]=>
      array(0) {
      }
      ["categories_under_171"]=>
      array(1) {
        [0]=>
        int(175)
      }
      ["deep_categories_under_171"]=>
      array(1) {
        [0]=>
        int(175)
      }
      ["categories_under_153"]=>
      array(0) {
      }
      ["deep_categories_under_153"]=>
      array(0) {
      }
      ["categories_under_242"]=>
      array(0) {
      }
      ["deep_categories_under_242"]=>
      array(0) {
      }
      ["categories_under_564"]=>
      array(0) {
      }
      ["deep_categories_under_564"]=>
      array(0) {
      }
      ["freetags"]=>
      array(1) {
        [0]=>
        string(3) "798"
      }
      ["freetags_text"]=>
      string(7) "mexican"
      ["geo_located"]=>
      string(1) "y"
      ["geo_location"]=>
      string(25) "-84.3770894,33.7255493,12"
      ["geo_point"]=>
      object(stdClass)#837 (2) {
        ["lat"]=>
        float(33.7255493)
        ["lon"]=>
        float(-84.3770894)
      }
      ["allowed_groups"]=>
      array(2) {
        [0]=>
        string(6) "Admins"
        [1]=>
        string(9) "Anonymous"
      }
      ["allowed_users"]=>
      array(0) {
      }
      ["relations"]=>
      array(1) {
        [0]=>
        string(27) "tiki.file.attach:file:22679"
      }
      ["relation_objects"]=>
      array(0) {
      }
      ["relation_types"]=>
      array(1) {
        [0]=>
        string(16) "tiki.file.attach"
      }
      ["relation_count"]=>
      array(1) {
        [0]=>
        string(18) "tiki.file.attach:1"
      }
      ["title_initial"]=>
      string(1) "P"
      ["title_firstword"]=>
      string(6) "Patria"
      ["searchable"]=>
      string(1) "y"
      ["url"]=>
      string(10) "item440239"
      ["object_type"]=>
      string(11) "trackeritem"
      ["object_id"]=>
      string(6) "440239"
      ["contents"]=>
      string(669) " Patria Cocina  2019-09-02T14:43:14+00:00 Patria-Cocina.jpg    mexican Patria Cocina 1039 Grant St S.E.  Atlanta GA 30315 https://www.patriacocinaatl.com/   (404) 622-3501  -84.3770894,33.7255493,12 display26  From Patria Cocina's website: We are excited to offer you a Mexican dining experience like no other. Fresh, authentic high-quality ingredients are our specialty. You will be transported to different regions of Mexico through our food, ambiance, and drinks. Are you ready, Atlanta, to experience authentic Mexican gastronomy?    22679  Courtesy Patria Cocina       mexican  n  ChIJjbsuutQD9YgRfC6HZOIDBHc             n  2019-09-02T14:44:13+00:00 Patria Cocina "
      ["score"]=>
      float(0)
      ["_index"]=>
      string(21) "atlantawiki_tiki_main"
      ["objectlink"]=>
      string(303) "Patria Cocina"
      ["image"]=>
      string(39) "

File not found.

"
      ["areaLocation"]=>
      string(34) "-84.3503813,33.7391182,15"
    }
    [2]=>
    array(104) {
      ["title"]=>
      string(9) "Holy Taco"
      ["modification_date"]=>
      string(25) "2019-04-18T20:36:46+00:00"
      ["creation_date"]=>
      string(25) "2017-06-26T13:07:15+00:00"
      ["contributors"]=>
      array(2) {
        [0]=>
        NULL
        [1]=>
        string(30) "jim.harris@creativeloafing.com"
      }
      ["date"]=>
      string(25) "2017-06-26T13:07:15+00:00"
      ["tracker_status"]=>
      string(1) "o"
      ["tracker_id"]=>
      string(1) "1"
      ["view_permission"]=>
      string(13) "view_trackers"
      ["tracker_field_businessName"]=>
      string(9) "Holy Taco"
      ["tracker_field_businessAddress"]=>
      string(23) "1314 Glenwood Ave. S.E."
      ["tracker_field_businessCity"]=>
      string(7) "Atlanta"
      ["tracker_field_businessState"]=>
      string(2) "GA"
      ["tracker_field_businessZip"]=>
      string(5) "30316"
      ["tracker_field_businessWebsite"]=>
      string(25) "http://www.holy-taco.com/"
      ["tracker_field_businessEmail"]=>
      string(18) "info@holy-taco.com"
      ["tracker_field_businessEmail_text"]=>
      string(18) "info@holy-taco.com"
      ["tracker_field_businessPhone"]=>
      string(14) "(404) 230-6177"
      ["tracker_field_businessRepresentative"]=>
      array(1) {
        [0]=>
        string(19) "zoe@holytacoeav.com"
      }
      ["tracker_field_businessRepresentative_text"]=>
      string(3) "zoe"
      ["tracker_field_businessLocation"]=>
      string(24) "-84.3446322,33.740317,16"
      ["tracker_field_businessLocationRadius"]=>
      int(0)
      ["tracker_field_businessIcon"]=>
      string(9) "display26"
      ["tracker_field_description"]=>
      string(157) "Holy Taco is an incredibly cool neighborhood eatery that's going places with its food that even some of the most daring high-end chefs in town wouldn't dare."
      ["tracker_field_description_raw"]=>
      string(157) "Holy Taco is an incredibly cool neighborhood eatery that's going places with its food that even some of the most daring high-end chefs in town wouldn't dare."
      ["tracker_field_photos"]=>
      string(5) "16585"
      ["tracker_field_businessClassifieds"]=>
      array(0) {
      }
      ["tracker_field_businessTypes"]=>
      array(1) {
        [0]=>
        string(3) "934"
      }
      ["tracker_field_businessTypes_text"]=>
      string(3) "934"
      ["tracker_field_scene"]=>
      array(0) {
      }
      ["tracker_field_businessNeighborhoods"]=>
      array(1) {
        [0]=>
        string(3) "100"
      }
      ["tracker_field_businessNeighborhoods_text"]=>
      string(3) "100"
      ["tracker_field_businessPriceRange"]=>
      array(1) {
        [0]=>
        string(3) "176"
      }
      ["tracker_field_businessPriceRange_text"]=>
      string(3) "176"
      ["tracker_field_businessMiscCategories"]=>
      array(0) {
      }
      ["tracker_field_businessFreeTags"]=>
      string(39) ""Mexican" "Ecuadorian" "South American""
      ["tracker_field_businessCLAcctNum"]=>
      int(0)
      ["tracker_field_business_121CurrentChit"]=>
      string(1) "n"
      ["tracker_field_121MobileClientID"]=>
      int(0)
      ["tracker_field_121MobileCampaignData"]=>
      array(0) {
      }
      ["tracker_field_121MobileCampaignData_json"]=>
      array(0) {
      }
      ["tracker_field_googlePlaceData"]=>
      array(0) {
      }
      ["tracker_field_googlePlaceData_json"]=>
      array(0) {
      }
      ["tracker_field_googleOverallRating"]=>
      int(4)
      ["tracker_field_businessYelpBusinessData"]=>
      array(0) {
      }
      ["tracker_field_businessYelpBusinessData_json"]=>
      array(0) {
      }
      ["tracker_field_businessFacebook"]=>
      string(9) "Holy Taco"
      ["tracker_field_businessFacebookID"]=>
      string(11) "37637809271"
      ["tracker_field_businessFacebookData"]=>
      array(0) {
      }
      ["tracker_field_businessFacebookData_json"]=>
      array(0) {
      }
      ["tracker_field_businessLoafingID"]=>
      string(24) "573f3d4e1e3ee4dfcf660750"
      ["tracker_field_businessAccountExecutive"]=>
      string(3) "300"
      ["tracker_field_businessAccountExecutive_text"]=>
      string(12) "Julie Romano"
      ["tracker_field_businessInternalNotes"]=>
      string(27) "ChIJXW0GW1sB9YgRAg8Pv7ekF-g"
      ["tracker_field_businessInternalNotes_raw"]=>
      string(27) "ChIJXW0GW1sB9YgRAg8Pv7ekF-g"
      ["tracker_field_businessStatusField"]=>
      string(4) "Done"
      ["tracker_field_businessCLDistributionLocation"]=>
      string(1) "n"
      ["tracker_field_businessAudience"]=>
      array(0) {
      }
      ["tracker_field_businessLegacyID"]=>
      int(1303784)
      ["language"]=>
      string(7) "unknown"
      ["attachments"]=>
      array(1) {
        [0]=>
        string(5) "16585"
      }
      ["comment_count"]=>
      int(0)
      ["categories"]=>
      array(3) {
        [0]=>
        int(100)
        [1]=>
        int(176)
        [2]=>
        int(934)
      }
      ["deep_categories"]=>
      array(8) {
        [0]=>
        int(1)
        [1]=>
        int(149)
        [2]=>
        int(100)
        [3]=>
        int(171)
        [4]=>
        int(176)
        [5]=>
        int(28)
        [6]=>
        int(85)
        [7]=>
        int(934)
      }
      ["categories_under_28"]=>
      array(0) {
      }
      ["deep_categories_under_28"]=>
      array(2) {
        [0]=>
        int(85)
        [1]=>
        int(934)
      }
      ["categories_under_1"]=>
      array(0) {
      }
      ["deep_categories_under_1"]=>
      array(2) {
        [0]=>
        int(149)
        [1]=>
        int(100)
      }
      ["categories_under_177"]=>
      array(0) {
      }
      ["deep_categories_under_177"]=>
      array(0) {
      }
      ["categories_under_209"]=>
      array(0) {
      }
      ["deep_categories_under_209"]=>
      array(0) {
      }
      ["categories_under_163"]=>
      array(0) {
      }
      ["deep_categories_under_163"]=>
      array(0) {
      }
      ["categories_under_171"]=>
      array(1) {
        [0]=>
        int(176)
      }
      ["deep_categories_under_171"]=>
      array(1) {
        [0]=>
        int(176)
      }
      ["categories_under_153"]=>
      array(0) {
      }
      ["deep_categories_under_153"]=>
      array(0) {
      }
      ["categories_under_242"]=>
      array(0) {
      }
      ["deep_categories_under_242"]=>
      array(0) {
      }
      ["categories_under_564"]=>
      array(0) {
      }
      ["deep_categories_under_564"]=>
      array(0) {
      }
      ["freetags"]=>
      array(3) {
        [0]=>
        string(3) "798"
        [1]=>
        string(4) "1130"
        [2]=>
        string(4) "1131"
      }
      ["freetags_text"]=>
      string(33) "mexican ecuadorian south american"
      ["geo_located"]=>
      string(1) "y"
      ["geo_location"]=>
      string(24) "-84.3446322,33.740317,16"
      ["geo_point"]=>
      object(stdClass)#918 (2) {
        ["lat"]=>
        float(33.740317)
        ["lon"]=>
        float(-84.3446322)
      }
      ["allowed_groups"]=>
      array(2) {
        [0]=>
        string(6) "Admins"
        [1]=>
        string(9) "Anonymous"
      }
      ["allowed_users"]=>
      array(1) {
        [0]=>
        string(19) "zoe@holytacoeav.com"
      }
      ["relations"]=>
      array(1) {
        [0]=>
        string(27) "tiki.file.attach:file:16585"
      }
      ["relation_objects"]=>
      array(0) {
      }
      ["relation_types"]=>
      array(1) {
        [0]=>
        string(16) "tiki.file.attach"
      }
      ["relation_count"]=>
      array(1) {
        [0]=>
        string(18) "tiki.file.attach:1"
      }
      ["title_initial"]=>
      string(1) "H"
      ["title_firstword"]=>
      string(4) "Holy"
      ["searchable"]=>
      string(1) "y"
      ["url"]=>
      string(8) "item1764"
      ["object_type"]=>
      string(11) "trackeritem"
      ["object_id"]=>
      string(4) "1764"
      ["contents"]=>
      string(644) " Holytaco Business Hero  2019-04-18T20:36:42+00:00 holytaco_business_hero.jpg    mexican ecuadorian south american Holy Taco 1314 Glenwood Ave. S.E.  Atlanta GA 30316 http://www.holy-taco.com/ info@holy-taco.com info@holy-taco.com (404) 230-6177 zoe -84.3446322,33.740317,16 display26  Holy Taco is an incredibly cool neighborhood eatery that's going places with its food that even some of the most daring high-end chefs in town wouldn't dare.    16585         "Mexican" "Ecuadorian" "South American"  n    Holy Taco 37637809271 573f3d4e1e3ee4dfcf660750 Julie Romano     ChIJXW0GW1sB9YgRAg8Pv7ekF-g Done  n  2017-06-26T13:07:15+00:00 Holy Taco "
      ["score"]=>
      float(0)
      ["_index"]=>
      string(21) "atlantawiki_tiki_main"
      ["objectlink"]=>
      string(294) "Holy Taco"
      ["image"]=>
      string(39) "

File not found.

"
      ["areaLocation"]=>
      string(34) "-84.3503813,33.7391182,15"
    }
    [3]=>
    array(100) {
      ["title"]=>
      string(15) "Gaja Korean Bar"
      ["modification_date"]=>
      string(25) "2019-09-03T01:53:52+00:00"
      ["creation_date"]=>
      string(25) "2017-06-19T12:58:54+00:00"
      ["contributors"]=>
      array(2) {
        [0]=>
        NULL
        [1]=>
        string(29) "ben.eason@creativeloafing.com"
      }
      ["date"]=>
      string(25) "2017-06-19T12:58:54+00:00"
      ["tracker_status"]=>
      string(1) "o"
      ["tracker_id"]=>
      string(1) "1"
      ["view_permission"]=>
      string(13) "view_trackers"
      ["tracker_field_businessName"]=>
      string(15) "Gaja Korean Bar"
      ["tracker_field_businessAddress"]=>
      string(27) "491-A Flat Shoals Ave. S.E."
      ["tracker_field_businessCity"]=>
      string(7) "Atlanta"
      ["tracker_field_businessState"]=>
      string(2) "GA"
      ["tracker_field_businessZip"]=>
      string(5) "30316"
      ["tracker_field_businessWebsite"]=>
      string(23) "http://www.gajaeav.com/"
      ["tracker_field_businessEmail"]=>
      string(16) "info@gajaeav.com"
      ["tracker_field_businessEmail_text"]=>
      string(16) "info@gajaeav.com"
      ["tracker_field_businessPhone"]=>
      string(14) "(404) 835-2126"
      ["tracker_field_businessRepresentative"]=>
      array(0) {
      }
      ["tracker_field_businessLocation"]=>
      string(25) "-84.3463107,33.7405527,12"
      ["tracker_field_businessLocationRadius"]=>
      int(0)
      ["tracker_field_businessIcon"]=>
      string(9) "display26"
      ["tracker_field_description"]=>
      string(215) "Previously operated as a pop-up at Mother, Gaja is chef Allen Suh's Korean restaurant in East Atlanta Village. The menu, composed of items all less than $15, features appetizers, soups, ssam wraps, and main courses."
      ["tracker_field_description_raw"]=>
      string(215) "Previously operated as a pop-up at Mother, Gaja is chef Allen Suh's Korean restaurant in East Atlanta Village. The menu, composed of items all less than $15, features appetizers, soups, ssam wraps, and main courses."
      ["tracker_field_legacyImageURL"]=>
      string(76) "http://dev.creativeloafing.com/image/2016/03/320w/0418ed_acg_gaja_magnum.jpg"
      ["tracker_field_businessClassifieds"]=>
      array(0) {
      }
      ["tracker_field_businessTypes"]=>
      array(1) {
        [0]=>
        string(3) "934"
      }
      ["tracker_field_businessTypes_text"]=>
      string(3) "934"
      ["tracker_field_scene"]=>
      array(0) {
      }
      ["tracker_field_businessNeighborhoods"]=>
      array(1) {
        [0]=>
        string(3) "100"
      }
      ["tracker_field_businessNeighborhoods_text"]=>
      string(3) "100"
      ["tracker_field_businessPriceRange"]=>
      array(0) {
      }
      ["tracker_field_businessMiscCategories"]=>
      array(1) {
        [0]=>
        string(4) "1001"
      }
      ["tracker_field_businessMiscCategories_text"]=>
      string(4) "1001"
      ["tracker_field_businessFreeTags"]=>
      string(6) "korean"
      ["tracker_field_businessCLAcctNum"]=>
      int(0)
      ["tracker_field_business_121CurrentChit"]=>
      string(1) "n"
      ["tracker_field_121MobileClientID"]=>
      int(0)
      ["tracker_field_121MobileCampaignData"]=>
      array(0) {
      }
      ["tracker_field_121MobileCampaignData_json"]=>
      array(0) {
      }
      ["tracker_field_google_placeid"]=>
      string(27) "ChIJDesFeFsB9YgRwTS98Pt3F-g"
      ["tracker_field_googlePlaceData"]=>
      array(0) {
      }
      ["tracker_field_googlePlaceData_json"]=>
      array(0) {
      }
      ["tracker_field_googleOverallRating"]=>
      float(4.5)
      ["tracker_field_businessYelpBusinessData"]=>
      array(0) {
      }
      ["tracker_field_businessYelpBusinessData_json"]=>
      array(0) {
      }
      ["tracker_field_businessFacebook"]=>
      string(15) "Gaja Korean Bar"
      ["tracker_field_businessFacebookData"]=>
      array(0) {
      }
      ["tracker_field_businessFacebookData_json"]=>
      array(0) {
      }
      ["tracker_field_businessLoafingID"]=>
      string(24) "573f3cd81e3ee4dfcf65f541"
      ["tracker_field_businessAccountExecutive"]=>
      string(1) "0"
      ["tracker_field_businessStatusField"]=>
      string(14) "Needs Facebook"
      ["tracker_field_businessCLDistributionLocation"]=>
      string(1) "n"
      ["tracker_field_businessAudience"]=>
      array(0) {
      }
      ["tracker_field_businessLegacyID"]=>
      int(16152588)
      ["language"]=>
      string(7) "unknown"
      ["attachments"]=>
      array(0) {
      }
      ["comment_count"]=>
      int(0)
      ["categories"]=>
      array(3) {
        [0]=>
        int(100)
        [1]=>
        int(934)
        [2]=>
        int(1001)
      }
      ["deep_categories"]=>
      array(8) {
        [0]=>
        int(1)
        [1]=>
        int(149)
        [2]=>
        int(100)
        [3]=>
        int(28)
        [4]=>
        int(85)
        [5]=>
        int(934)
        [6]=>
        int(996)
        [7]=>
        int(1001)
      }
      ["categories_under_28"]=>
      array(0) {
      }
      ["deep_categories_under_28"]=>
      array(2) {
        [0]=>
        int(85)
        [1]=>
        int(934)
      }
      ["categories_under_1"]=>
      array(0) {
      }
      ["deep_categories_under_1"]=>
      array(2) {
        [0]=>
        int(149)
        [1]=>
        int(100)
      }
      ["categories_under_177"]=>
      array(0) {
      }
      ["deep_categories_under_177"]=>
      array(0) {
      }
      ["categories_under_209"]=>
      array(0) {
      }
      ["deep_categories_under_209"]=>
      array(0) {
      }
      ["categories_under_163"]=>
      array(0) {
      }
      ["deep_categories_under_163"]=>
      array(0) {
      }
      ["categories_under_171"]=>
      array(0) {
      }
      ["deep_categories_under_171"]=>
      array(0) {
      }
      ["categories_under_153"]=>
      array(0) {
      }
      ["deep_categories_under_153"]=>
      array(0) {
      }
      ["categories_under_242"]=>
      array(0) {
      }
      ["deep_categories_under_242"]=>
      array(0) {
      }
      ["categories_under_564"]=>
      array(0) {
      }
      ["deep_categories_under_564"]=>
      array(0) {
      }
      ["freetags"]=>
      array(1) {
        [0]=>
        string(3) "790"
      }
      ["freetags_text"]=>
      string(6) "korean"
      ["geo_located"]=>
      string(1) "y"
      ["geo_location"]=>
      string(25) "-84.3463107,33.7405527,12"
      ["geo_point"]=>
      object(stdClass)#1098 (2) {
        ["lat"]=>
        float(33.7405527)
        ["lon"]=>
        float(-84.3463107)
      }
      ["allowed_groups"]=>
      array(2) {
        [0]=>
        string(6) "Admins"
        [1]=>
        string(9) "Anonymous"
      }
      ["allowed_users"]=>
      array(0) {
      }
      ["relations"]=>
      array(1) {
        [0]=>
        string(42) "clatl.boa.winner.invert:trackeritem:139829"
      }
      ["relation_objects"]=>
      array(0) {
      }
      ["relation_types"]=>
      array(1) {
        [0]=>
        string(23) "clatl.boa.winner.invert"
      }
      ["relation_count"]=>
      array(1) {
        [0]=>
        string(25) "clatl.boa.winner.invert:1"
      }
      ["title_initial"]=>
      string(1) "G"
      ["title_firstword"]=>
      string(4) "Gaja"
      ["searchable"]=>
      string(1) "y"
      ["url"]=>
      string(7) "item382"
      ["object_type"]=>
      string(11) "trackeritem"
      ["object_id"]=>
      string(3) "382"
      ["contents"]=>
      string(636) "   korean Gaja Korean Bar 491-A Flat Shoals Ave. S.E.  Atlanta GA 30316 http://www.gajaeav.com/ info@gajaeav.com info@gajaeav.com (404) 835-2126  -84.3463107,33.7405527,12 display26  Previously operated as a pop-up at Mother, Gaja is chef Allen Suh's Korean restaurant in East Atlanta Village. The menu, composed of items all less than $15, features appetizers, soups, ssam wraps, and main courses.       http://dev.creativeloafing.com/image/2016/03/320w/0418ed_acg_gaja_magnum.jpg      korean  n  ChIJDesFeFsB9YgRwTS98Pt3F-g  Gaja Korean Bar  573f3cd81e3ee4dfcf65f541       Needs Facebook  n  2017-06-19T12:58:54+00:00 Gaja Korean Bar "
      ["score"]=>
      float(0)
      ["_index"]=>
      string(21) "atlantawiki_tiki_main"
      ["objectlink"]=>
      string(299) "Gaja Korean Bar"
      ["image"]=>
      string(39) "

File not found.

"
      ["areaLocation"]=>
      string(34) "-84.3503813,33.7391182,15"
    }
    [4]=>
    array(89) {
      ["title"]=>
      string(34) "Ponder Wonder Gallery and Boutique"
      ["modification_date"]=>
      string(25) "2018-03-08T16:51:20+00:00"
      ["creation_date"]=>
      string(25) "2017-07-16T21:30:40+00:00"
      ["contributors"]=>
      array(1) {
        [0]=>
        string(29) "ben.eason@creativeloafing.com"
      }
      ["date"]=>
      string(25) "2017-07-16T21:30:40+00:00"
      ["tracker_status"]=>
      string(1) "o"
      ["tracker_id"]=>
      string(1) "1"
      ["view_permission"]=>
      string(13) "view_trackers"
      ["tracker_field_businessName"]=>
      string(34) "Ponder Wonder Gallery and Boutique"
      ["tracker_field_businessAddress"]=>
      string(27) "1287 Glenwood Ave., Suite C"
      ["tracker_field_businessAddress2"]=>
      string(1) " "
      ["tracker_field_businessCity"]=>
      string(7) "Atlanta"
      ["tracker_field_businessState"]=>
      string(2) "GA"
      ["tracker_field_businessZip"]=>
      string(5) "30316"
      ["tracker_field_businessWebsite"]=>
      string(1) " "
      ["tracker_field_businessPhone"]=>
      string(12) "404-941-7050"
      ["tracker_field_businessRepresentative"]=>
      array(0) {
      }
      ["tracker_field_businessLocationRadius"]=>
      int(0)
      ["tracker_field_description"]=>
      string(69) "An art gallery and consignment store located in East Atlanta Village."
      ["tracker_field_description_raw"]=>
      string(69) "An art gallery and consignment store located in East Atlanta Village."
      ["tracker_field_businessClassifieds"]=>
      array(0) {
      }
      ["tracker_field_businessTypes"]=>
      array(2) {
        [0]=>
        string(2) "89"
        [1]=>
        string(2) "84"
      }
      ["tracker_field_businessTypes_text"]=>
      string(5) "89 84"
      ["tracker_field_scene"]=>
      array(0) {
      }
      ["tracker_field_businessNeighborhoods"]=>
      array(2) {
        [0]=>
        string(3) "100"
        [1]=>
        string(3) "149"
      }
      ["tracker_field_businessNeighborhoods_text"]=>
      string(7) "100 149"
      ["tracker_field_businessPriceRange"]=>
      array(0) {
      }
      ["tracker_field_businessMiscCategories"]=>
      array(0) {
      }
      ["tracker_field_businessCLAcctNum"]=>
      int(0)
      ["tracker_field_business_121CurrentChit"]=>
      string(1) "n"
      ["tracker_field_121MobileClientID"]=>
      int(0)
      ["tracker_field_121MobileCampaignData"]=>
      array(0) {
      }
      ["tracker_field_121MobileCampaignData_json"]=>
      array(0) {
      }
      ["tracker_field_googlePlaceData"]=>
      array(0) {
      }
      ["tracker_field_googlePlaceData_json"]=>
      array(0) {
      }
      ["tracker_field_googleOverallRating"]=>
      int(0)
      ["tracker_field_businessYelpBusinessData"]=>
      array(0) {
      }
      ["tracker_field_businessYelpBusinessData_json"]=>
      array(0) {
      }
      ["tracker_field_businessFacebookData"]=>
      array(0) {
      }
      ["tracker_field_businessFacebookData_json"]=>
      array(0) {
      }
      ["tracker_field_businessLoafingID"]=>
      string(24) "573f3d4a1e3ee4dfcf6602b2"
      ["tracker_field_businessAccountExecutive"]=>
      string(1) "0"
      ["tracker_field_businessStatusField"]=>
      string(18) "Permanently Closed"
      ["tracker_field_businessCLDistributionLocation"]=>
      string(1) "n"
      ["tracker_field_businessAudience"]=>
      array(0) {
      }
      ["tracker_field_businessLegacyID"]=>
      int(1820149)
      ["language"]=>
      string(7) "unknown"
      ["attachments"]=>
      array(0) {
      }
      ["comment_count"]=>
      int(0)
      ["categories"]=>
      array(3) {
        [0]=>
        int(84)
        [1]=>
        int(89)
        [2]=>
        int(100)
      }
      ["deep_categories"]=>
      array(8) {
        [0]=>
        int(28)
        [1]=>
        int(876)
        [2]=>
        int(88)
        [3]=>
        int(84)
        [4]=>
        int(89)
        [5]=>
        int(1)
        [6]=>
        int(149)
        [7]=>
        int(100)
      }
      ["categories_under_28"]=>
      array(1) {
        [0]=>
        int(89)
      }
      ["deep_categories_under_28"]=>
      array(4) {
        [0]=>
        int(876)
        [1]=>
        int(88)
        [2]=>
        int(84)
        [3]=>
        int(89)
      }
      ["categories_under_1"]=>
      array(0) {
      }
      ["deep_categories_under_1"]=>
      array(2) {
        [0]=>
        int(149)
        [1]=>
        int(100)
      }
      ["categories_under_177"]=>
      array(0) {
      }
      ["deep_categories_under_177"]=>
      array(0) {
      }
      ["categories_under_209"]=>
      array(0) {
      }
      ["deep_categories_under_209"]=>
      array(0) {
      }
      ["categories_under_163"]=>
      array(0) {
      }
      ["deep_categories_under_163"]=>
      array(0) {
      }
      ["categories_under_171"]=>
      array(0) {
      }
      ["deep_categories_under_171"]=>
      array(0) {
      }
      ["categories_under_153"]=>
      array(0) {
      }
      ["deep_categories_under_153"]=>
      array(0) {
      }
      ["categories_under_242"]=>
      array(0) {
      }
      ["deep_categories_under_242"]=>
      array(0) {
      }
      ["categories_under_564"]=>
      array(0) {
      }
      ["deep_categories_under_564"]=>
      array(0) {
      }
      ["freetags"]=>
      array(0) {
      }
      ["geo_located"]=>
      string(1) "n"
      ["allowed_groups"]=>
      array(2) {
        [0]=>
        string(6) "Admins"
        [1]=>
        string(9) "Anonymous"
      }
      ["allowed_users"]=>
      array(0) {
      }
      ["relations"]=>
      array(0) {
      }
      ["relation_objects"]=>
      array(0) {
      }
      ["relation_types"]=>
      array(0) {
      }
      ["relation_count"]=>
      array(0) {
      }
      ["title_initial"]=>
      string(1) "P"
      ["title_firstword"]=>
      string(6) "Ponder"
      ["searchable"]=>
      string(1) "y"
      ["url"]=>
      string(8) "item8723"
      ["object_type"]=>
      string(11) "trackeritem"
      ["object_id"]=>
      string(4) "8723"
      ["contents"]=>
      string(313) "    Ponder Wonder Gallery and Boutique 1287 Glenwood Ave., Suite C   Atlanta GA 30316     404-941-7050     An art gallery and consignment store located in East Atlanta Village.               n      573f3d4a1e3ee4dfcf6602b2       Permanently Closed  n  2017-07-16T21:30:40+00:00 Ponder Wonder Gallery and Boutique "
      ["score"]=>
      float(0)
      ["_index"]=>
      string(21) "atlantawiki_tiki_main"
      ["objectlink"]=>
      string(212) "Ponder Wonder Gallery and Boutique"
      ["image"]=>
      string(39) "

File not found.

"
      ["areaLocation"]=>
      string(34) "-84.3503813,33.7391182,15"
    }
    [5]=>
    array(89) {
      ["title"]=>
      string(19) "New Skool Sanctuary"
      ["modification_date"]=>
      string(25) "2018-03-08T16:51:20+00:00"
      ["creation_date"]=>
      string(25) "2017-07-16T21:30:40+00:00"
      ["contributors"]=>
      array(1) {
        [0]=>
        string(29) "ben.eason@creativeloafing.com"
      }
      ["date"]=>
      string(25) "2017-07-16T21:30:40+00:00"
      ["tracker_status"]=>
      string(1) "o"
      ["tracker_id"]=>
      string(1) "1"
      ["view_permission"]=>
      string(13) "view_trackers"
      ["tracker_field_businessName"]=>
      string(19) "New Skool Sanctuary"
      ["tracker_field_businessAddress"]=>
      string(11) "360 Oak Dr."
      ["tracker_field_businessAddress2"]=>
      string(1) " "
      ["tracker_field_businessCity"]=>
      string(10) "East Point"
      ["tracker_field_businessState"]=>
      string(7) "Georgia"
      ["tracker_field_businessZip"]=>
      string(5) "30354"
      ["tracker_field_businessWebsite"]=>
      string(1) " "
      ["tracker_field_businessPhone"]=>
      string(12) "404-507-6284"
      ["tracker_field_businessRepresentative"]=>
      array(0) {
      }
      ["tracker_field_businessLocationRadius"]=>
      int(0)
      ["tracker_field_description"]=>
      string(1) " "
      ["tracker_field_description_raw"]=>
      string(1) " "
      ["tracker_field_businessClassifieds"]=>
      array(0) {
      }
      ["tracker_field_businessTypes"]=>
      array(2) {
        [0]=>
        string(2) "89"
        [1]=>
        string(2) "84"
      }
      ["tracker_field_businessTypes_text"]=>
      string(5) "89 84"
      ["tracker_field_scene"]=>
      array(0) {
      }
      ["tracker_field_businessNeighborhoods"]=>
      array(2) {
        [0]=>
        string(3) "100"
        [1]=>
        string(3) "149"
      }
      ["tracker_field_businessNeighborhoods_text"]=>
      string(7) "100 149"
      ["tracker_field_businessPriceRange"]=>
      array(0) {
      }
      ["tracker_field_businessMiscCategories"]=>
      array(0) {
      }
      ["tracker_field_businessCLAcctNum"]=>
      int(0)
      ["tracker_field_business_121CurrentChit"]=>
      string(1) "n"
      ["tracker_field_121MobileClientID"]=>
      int(0)
      ["tracker_field_121MobileCampaignData"]=>
      array(0) {
      }
      ["tracker_field_121MobileCampaignData_json"]=>
      array(0) {
      }
      ["tracker_field_googlePlaceData"]=>
      array(0) {
      }
      ["tracker_field_googlePlaceData_json"]=>
      array(0) {
      }
      ["tracker_field_googleOverallRating"]=>
      int(0)
      ["tracker_field_businessYelpBusinessData"]=>
      array(0) {
      }
      ["tracker_field_businessYelpBusinessData_json"]=>
      array(0) {
      }
      ["tracker_field_businessFacebookData"]=>
      array(0) {
      }
      ["tracker_field_businessFacebookData_json"]=>
      array(0) {
      }
      ["tracker_field_businessLoafingID"]=>
      string(24) "573f3d491e3ee4dfcf660112"
      ["tracker_field_businessAccountExecutive"]=>
      string(1) "0"
      ["tracker_field_businessStatusField"]=>
      string(10) "NoGoogleID"
      ["tracker_field_businessCLDistributionLocation"]=>
      string(1) "n"
      ["tracker_field_businessAudience"]=>
      array(0) {
      }
      ["tracker_field_businessLegacyID"]=>
      int(2973470)
      ["language"]=>
      string(7) "unknown"
      ["attachments"]=>
      array(0) {
      }
      ["comment_count"]=>
      int(0)
      ["categories"]=>
      array(3) {
        [0]=>
        int(84)
        [1]=>
        int(89)
        [2]=>
        int(100)
      }
      ["deep_categories"]=>
      array(8) {
        [0]=>
        int(28)
        [1]=>
        int(876)
        [2]=>
        int(88)
        [3]=>
        int(84)
        [4]=>
        int(89)
        [5]=>
        int(1)
        [6]=>
        int(149)
        [7]=>
        int(100)
      }
      ["categories_under_28"]=>
      array(1) {
        [0]=>
        int(89)
      }
      ["deep_categories_under_28"]=>
      array(4) {
        [0]=>
        int(876)
        [1]=>
        int(88)
        [2]=>
        int(84)
        [3]=>
        int(89)
      }
      ["categories_under_1"]=>
      array(0) {
      }
      ["deep_categories_under_1"]=>
      array(2) {
        [0]=>
        int(149)
        [1]=>
        int(100)
      }
      ["categories_under_177"]=>
      array(0) {
      }
      ["deep_categories_under_177"]=>
      array(0) {
      }
      ["categories_under_209"]=>
      array(0) {
      }
      ["deep_categories_under_209"]=>
      array(0) {
      }
      ["categories_under_163"]=>
      array(0) {
      }
      ["deep_categories_under_163"]=>
      array(0) {
      }
      ["categories_under_171"]=>
      array(0) {
      }
      ["deep_categories_under_171"]=>
      array(0) {
      }
      ["categories_under_153"]=>
      array(0) {
      }
      ["deep_categories_under_153"]=>
      array(0) {
      }
      ["categories_under_242"]=>
      array(0) {
      }
      ["deep_categories_under_242"]=>
      array(0) {
      }
      ["categories_under_564"]=>
      array(0) {
      }
      ["deep_categories_under_564"]=>
      array(0) {
      }
      ["freetags"]=>
      array(0) {
      }
      ["geo_located"]=>
      string(1) "n"
      ["allowed_groups"]=>
      array(2) {
        [0]=>
        string(6) "Admins"
        [1]=>
        string(9) "Anonymous"
      }
      ["allowed_users"]=>
      array(0) {
      }
      ["relations"]=>
      array(0) {
      }
      ["relation_objects"]=>
      array(0) {
      }
      ["relation_types"]=>
      array(0) {
      }
      ["relation_count"]=>
      array(0) {
      }
      ["title_initial"]=>
      string(1) "N"
      ["title_firstword"]=>
      string(3) "New"
      ["searchable"]=>
      string(1) "y"
      ["url"]=>
      string(8) "item8724"
      ["object_type"]=>
      string(11) "trackeritem"
      ["object_id"]=>
      string(4) "8724"
      ["contents"]=>
      string(199) "    New Skool Sanctuary 360 Oak Dr.   East Point Georgia 30354     404-507-6284                     n      573f3d491e3ee4dfcf660112       NoGoogleID  n  2017-07-16T21:30:40+00:00 New Skool Sanctuary "
      ["score"]=>
      float(0)
      ["_index"]=>
      string(21) "atlantawiki_tiki_main"
      ["objectlink"]=>
      string(197) "New Skool Sanctuary"
      ["image"]=>
      string(39) "

File not found.

"
      ["areaLocation"]=>
      string(34) "-84.3503813,33.7391182,15"
    }
    [6]=>
    array(94) {
      ["title"]=>
      string(19) "Flavaz Hair Gallery"
      ["modification_date"]=>
      string(25) "2019-04-25T15:42:30+00:00"
      ["creation_date"]=>
      string(25) "2017-06-26T22:34:43+00:00"
      ["contributors"]=>
      array(2) {
        [0]=>
        NULL
        [1]=>
        string(18) "jonny@nospaces.net"
      }
      ["date"]=>
      string(25) "2017-06-26T22:34:43+00:00"
      ["tracker_status"]=>
      string(1) "o"
      ["tracker_id"]=>
      string(1) "1"
      ["view_permission"]=>
      string(13) "view_trackers"
      ["tracker_field_businessName"]=>
      string(19) "Flavaz Hair Gallery"
      ["tracker_field_businessAddress"]=>
      string(17) "752 Moreland Ave."
      ["tracker_field_businessAddress2"]=>
      string(7) "Suite 9"
      ["tracker_field_businessCity"]=>
      string(7) "Atlanta"
      ["tracker_field_businessState"]=>
      string(2) "GA"
      ["tracker_field_businessRepresentative"]=>
      array(0) {
      }
      ["tracker_field_businessLocation"]=>
      string(38) "-84.34916400000031,33.7338981999999,12"
      ["tracker_field_businessLocationRadius"]=>
      int(0)
      ["tracker_field_description"]=>
      string(11) "Barber shop"
      ["tracker_field_description_raw"]=>
      string(11) "Barber shop"
      ["tracker_field_businessClassifieds"]=>
      array(0) {
      }
      ["tracker_field_businessTypes"]=>
      array(1) {
        [0]=>
        string(2) "89"
      }
      ["tracker_field_businessTypes_text"]=>
      string(2) "89"
      ["tracker_field_scene"]=>
      array(0) {
      }
      ["tracker_field_businessNeighborhoods"]=>
      array(2) {
        [0]=>
        string(3) "100"
        [1]=>
        string(3) "149"
      }
      ["tracker_field_businessNeighborhoods_text"]=>
      string(7) "100 149"
      ["tracker_field_businessPriceRange"]=>
      array(0) {
      }
      ["tracker_field_businessMiscCategories"]=>
      array(0) {
      }
      ["tracker_field_businessCLAcctNum"]=>
      int(0)
      ["tracker_field_business_121CurrentChit"]=>
      string(1) "n"
      ["tracker_field_121MobileClientID"]=>
      int(0)
      ["tracker_field_121MobileCampaignData"]=>
      array(0) {
      }
      ["tracker_field_121MobileCampaignData_json"]=>
      array(0) {
      }
      ["tracker_field_google_placeid"]=>
      string(27) "ChIJIwezrWAB9YgReTPe1WSC2sU"
      ["tracker_field_googlePlaceData"]=>
      array(14) {
        [0]=>
        string(216) "

542 Moreland Industrial Blvd SE

, 

Atlanta

, 

GA

 

30316

, 

USA

"
        [1]=>
        string(55) "542 Moreland Industrial Blvd SE, Atlanta, GA 30316, USA"
        [2]=>
        string(14) "(678) 612-0407"
        [3]=>
        string(73) "https://maps.gstatic.com/mapfiles/place_api/icons/generic_business-71.png"
        [4]=>
        string(40) "fe9e5ed5b38ca739c0d537641d0da2e4b8af2055"
        [5]=>
        string(15) "+1 678-612-0407"
        [6]=>
        string(19) "Flavaz Hair Gallery"
        [7]=>
        string(27) "ChIJIwezrWAB9YgReTPe1WSC2sU"
        [8]=>
        string(3) "4.9"
        [9]=>
        string(190) "CmRSAAAAA8E8Pt1-UyDSG29ro0D895csX6AIYGX571H22bSMCgMBe7s_LIOi9biOQx-ewPKfv_VeONTKeqdFBZZsHaoViLyHEPmtJ_SQox9u4XhGM1HO59B7JjaEaGqOZ9sjXx-FEhDOzs_9SVvT-wW1Q3TM22fNGhTEIfkA7pgRmLlSDYg1x0gbqUUT_A"
        [10]=>
        string(6) "GOOGLE"
        [11]=>
        string(49) "https://maps.google.com/?cid=14256850939991176057"
        [12]=>
        string(4) "-300"
        [13]=>
        string(52) "542 Moreland Industrial Boulevard Southeast, Atlanta"
      }
      ["tracker_field_googlePlaceData_text"]=>
      string(615) "542 Moreland Industrial Blvd SE, Atlanta, GA 30316, USA 542 Moreland Industrial Blvd SE, Atlanta, GA 30316, USA (678) 612-0407 https://maps.gstatic.com/mapfiles/place_api/icons/generic_business-71.png fe9e5ed5b38ca739c0d537641d0da2e4b8af2055 +1 678-612-0407 Flavaz Hair Gallery ChIJIwezrWAB9YgReTPe1WSC2sU 4.9 CmRSAAAAA8E8Pt1-UyDSG29ro0D895csX6AIYGX571H22bSMCgMBe7s_LIOi9biOQx-ewPKfv_VeONTKeqdFBZZsHaoViLyHEPmtJ_SQox9u4XhGM1HO59B7JjaEaGqOZ9sjXx-FEhDOzs_9SVvT-wW1Q3TM22fNGhTEIfkA7pgRmLlSDYg1x0gbqUUT_A GOOGLE https://maps.google.com/?cid=14256850939991176057 -300 542 Moreland Industrial Boulevard Southeast, Atlanta"
      ["tracker_field_googlePlaceData_json"]=>
      object(stdClass)#955 (20) {
        ["address_components"]=>
        array(8) {
          [0]=>
          object(stdClass)#1030 (3) {
            ["long_name"]=>
            string(3) "542"
            ["short_name"]=>
            string(3) "542"
            ["types"]=>
            array(1) {
              [0]=>
              string(13) "street_number"
            }
          }
          [1]=>
          object(stdClass)#566 (3) {
            ["long_name"]=>
            string(39) "Moreland Industrial Boulevard Southeast"
            ["short_name"]=>
            string(27) "Moreland Industrial Blvd SE"
            ["types"]=>
            array(1) {
              [0]=>
              string(5) "route"
            }
          }
          [2]=>
          object(stdClass)#929 (3) {
            ["long_name"]=>
            string(12) "East Atlanta"
            ["short_name"]=>
            string(12) "East Atlanta"
            ["types"]=>
            array(2) {
              [0]=>
              string(12) "neighborhood"
              [1]=>
              string(9) "political"
            }
          }
          [3]=>
          object(stdClass)#1103 (3) {
            ["long_name"]=>
            string(7) "Atlanta"
            ["short_name"]=>
            string(7) "Atlanta"
            ["types"]=>
            array(2) {
              [0]=>
              string(8) "locality"
              [1]=>
              string(9) "political"
            }
          }
          [4]=>
          object(stdClass)#1174 (3) {
            ["long_name"]=>
            string(13) "DeKalb County"
            ["short_name"]=>
            string(13) "Dekalb County"
            ["types"]=>
            array(2) {
              [0]=>
              string(27) "administrative_area_level_2"
              [1]=>
              string(9) "political"
            }
          }
          [5]=>
          object(stdClass)#1158 (3) {
            ["long_name"]=>
            string(7) "Georgia"
            ["short_name"]=>
            string(2) "GA"
            ["types"]=>
            array(2) {
              [0]=>
              string(27) "administrative_area_level_1"
              [1]=>
              string(9) "political"
            }
          }
          [6]=>
          object(stdClass)#939 (3) {
            ["long_name"]=>
            string(13) "United States"
            ["short_name"]=>
            string(2) "US"
            ["types"]=>
            array(2) {
              [0]=>
              string(7) "country"
              [1]=>
              string(9) "political"
            }
          }
          [7]=>
          object(stdClass)#926 (3) {
            ["long_name"]=>
            string(5) "30316"
            ["short_name"]=>
            string(5) "30316"
            ["types"]=>
            array(1) {
              [0]=>
              string(11) "postal_code"
            }
          }
        }
        ["adr_address"]=>
        string(216) "

542 Moreland Industrial Blvd SE

, 

Atlanta

, 

GA

 

30316

, 

USA

"
        ["formatted_address"]=>
        string(55) "542 Moreland Industrial Blvd SE, Atlanta, GA 30316, USA"
        ["formatted_phone_number"]=>
        string(14) "(678) 612-0407"
        ["geometry"]=>
        object(stdClass)#973 (2) {
          ["location"]=>
          object(stdClass)#843 (2) {
            ["lat"]=>
            string(10) "33.7338982"
            ["lng"]=>
            string(10) "-84.349164"
          }
          ["viewport"]=>
          object(stdClass)#966 (2) {
            ["northeast"]=>
            object(stdClass)#852 (2) {
              ["lat"]=>
              string(15) "33.735247180291"
              ["lng"]=>
              string(16) "-84.347815019708"
            }
            ["southwest"]=>
            object(stdClass)#1067 (2) {
              ["lat"]=>
              string(15) "33.732549219709"
              ["lng"]=>
              string(16) "-84.350512980291"
            }
          }
        }
        ["icon"]=>
        string(73) "https://maps.gstatic.com/mapfiles/place_api/icons/generic_business-71.png"
        ["id"]=>
        string(40) "fe9e5ed5b38ca739c0d537641d0da2e4b8af2055"
        ["international_phone_number"]=>
        string(15) "+1 678-612-0407"
        ["name"]=>
        string(19) "Flavaz Hair Gallery"
        ["opening_hours"]=>
        object(stdClass)#840 (3) {
          ["open_now"]=>
          string(1) "1"
          ["periods"]=>
          array(6) {
            [0]=>
            object(stdClass)#844 (2) {
              ["close"]=>
              object(stdClass)#1122 (2) {
                ["day"]=>
                string(1) "1"
                ["time"]=>
                string(4) "2100"
              }
              ["open"]=>
              object(stdClass)#1044 (2) {
                ["day"]=>
                string(1) "1"
                ["time"]=>
                string(4) "0900"
              }
            }
            [1]=>
            object(stdClass)#832 (2) {
              ["close"]=>
              object(stdClass)#841 (2) {
                ["day"]=>
                string(1) "2"
                ["time"]=>
                string(4) "2100"
              }
              ["open"]=>
              object(stdClass)#858 (2) {
                ["day"]=>
                string(1) "2"
                ["time"]=>
                string(4) "0900"
              }
            }
            [2]=>
            object(stdClass)#838 (2) {
              ["close"]=>
              object(stdClass)#853 (2) {
                ["day"]=>
                string(1) "3"
                ["time"]=>
                string(4) "2100"
              }
              ["open"]=>
              object(stdClass)#859 (2) {
                ["day"]=>
                string(1) "3"
                ["time"]=>
                string(4) "0900"
              }
            }
            [3]=>
            object(stdClass)#867 (2) {
              ["close"]=>
              object(stdClass)#991 (2) {
                ["day"]=>
                string(1) "4"
                ["time"]=>
                string(4) "2100"
              }
              ["open"]=>
              object(stdClass)#847 (2) {
                ["day"]=>
                string(1) "4"
                ["time"]=>
                string(4) "0900"
              }
            }
            [4]=>
            object(stdClass)#856 (2) {
              ["close"]=>
              object(stdClass)#861 (2) {
                ["day"]=>
                string(1) "5"
                ["time"]=>
                string(4) "2100"
              }
              ["open"]=>
              object(stdClass)#855 (2) {
                ["day"]=>
                string(1) "5"
                ["time"]=>
                string(4) "0900"
              }
            }
            [5]=>
            object(stdClass)#850 (2) {
              ["close"]=>
              object(stdClass)#828 (2) {
                ["day"]=>
                string(1) "6"
                ["time"]=>
                string(4) "2100"
              }
              ["open"]=>
              object(stdClass)#823 (2) {
                ["day"]=>
                string(1) "6"
                ["time"]=>
                string(4) "0900"
              }
            }
          }
          ["weekday_text"]=>
          array(7) {
            [0]=>
            string(27) "Monday: 9:00 AM – 9:00 PM"
            [1]=>
            string(28) "Tuesday: 9:00 AM – 9:00 PM"
            [2]=>
            string(30) "Wednesday: 9:00 AM – 9:00 PM"
            [3]=>
            string(29) "Thursday: 9:00 AM – 9:00 PM"
            [4]=>
            string(27) "Friday: 9:00 AM – 9:00 PM"
            [5]=>
            string(29) "Saturday: 9:00 AM – 9:00 PM"
            [6]=>
            string(14) "Sunday: Closed"
          }
        }
        ["photos"]=>
        array(1) {
          [0]=>
          object(stdClass)#846 (4) {
            ["height"]=>
            int(2592)
            ["html_attributions"]=>
            array(1) {
              [0]=>
              string(89) "Bo Warren"
            }
            ["photo_reference"]=>
            string(190) "CmRaAAAArrgcqe1bWRckbDQMXG5xis84FUUyqz3tuBM53rn2B97ldbcI7LrIO7XES2BoEp6LCwCJ718ICqSh24DOctt6IQ7SXctDmKuV_GmKWTfnO_TTeHSgVsw0g57RWUPbhcmFEhDCd_y_OU2G50Fdj0r-SJz1GhSn0o_6mv5S6Szxn0I5_txKRDIqQw"
            ["width"]=>
            int(1944)
          }
        }
        ["place_id"]=>
        string(27) "ChIJIwezrWAB9YgReTPe1WSC2sU"
        ["rating"]=>
        string(3) "4.9"
        ["reference"]=>
        string(190) "CmRSAAAAA8E8Pt1-UyDSG29ro0D895csX6AIYGX571H22bSMCgMBe7s_LIOi9biOQx-ewPKfv_VeONTKeqdFBZZsHaoViLyHEPmtJ_SQox9u4XhGM1HO59B7JjaEaGqOZ9sjXx-FEhDOzs_9SVvT-wW1Q3TM22fNGhTEIfkA7pgRmLlSDYg1x0gbqUUT_A"
        ["reviews"]=>
        array(5) {
          [0]=>
          object(stdClass)#822 (8) {
            ["author_name"]=>
            string(11) "C.R. RHODES"
            ["author_url"]=>
            string(65) "https://www.google.com/maps/contrib/113047962824637858147/reviews"
            ["language"]=>
            string(2) "en"
            ["profile_photo_url"]=>
            string(118) "https://lh3.googleusercontent.com/-MO1CYFq3pD8/AAAAAAAAAAI/AAAAAAAAE-c/bny1FCNdmxs/s128-c0x00000000-cc-rp-mo/photo.jpg"
            ["rating"]=>
            string(1) "5"
            ["relative_time_description"]=>
            string(10) "a week ago"
            ["text"]=>
            string(45) "One of a Kind Cutz,  for that Specialize look"
            ["time"]=>
            int(1519650533)
          }
          [1]=>
          object(stdClass)#816 (8) {
            ["author_name"]=>
            string(12) "Cheryl Bland"
            ["author_url"]=>
            string(65) "https://www.google.com/maps/contrib/107744251692221937395/reviews"
            ["language"]=>
            string(2) "en"
            ["profile_photo_url"]=>
            string(122) "https://lh4.googleusercontent.com/-vwI7kQfwS5I/AAAAAAAAAAI/AAAAAAAAEz0/zWrkttZjuag/s128-c0x00000000-cc-rp-mo-ba2/photo.jpg"
            ["rating"]=>
            string(1) "5"
            ["relative_time_description"]=>
            string(12) "9 months ago"
            ["text"]=>
            string(58) "Very talented barbers here. 1 of the best shops in Atlanta"
            ["time"]=>
            int(1496326344)
          }
          [2]=>
          object(stdClass)#985 (8) {
            ["author_name"]=>
            string(11) "Keron Lynch"
            ["author_url"]=>
            string(65) "https://www.google.com/maps/contrib/104168408627929131000/reviews"
            ["language"]=>
            string(2) "en"
            ["profile_photo_url"]=>
            string(122) "https://lh5.googleusercontent.com/-No2WDsQdRh8/AAAAAAAAAAI/AAAAAAAAAFY/OIcJ35bnl-I/s128-c0x00000000-cc-rp-mo-ba2/photo.jpg"
            ["rating"]=>
            string(1) "5"
            ["relative_time_description"]=>
            string(13) "11 months ago"
            ["text"]=>
            string(71) "Great barbers excellent service fun environment awesome conversation..."
            ["time"]=>
            int(1491144572)
          }
          [3]=>
          object(stdClass)#897 (8) {
            ["author_name"]=>
            string(14) "Natalie Morgan"
            ["author_url"]=>
            string(65) "https://www.google.com/maps/contrib/102716381253790366274/reviews"
            ["language"]=>
            string(2) "en"
            ["profile_photo_url"]=>
            string(122) "https://lh5.googleusercontent.com/-iKfM8HGwfYE/AAAAAAAAAAI/AAAAAAAAES0/_ybARRs8VMQ/s128-c0x00000000-cc-rp-mo-ba3/photo.jpg"
            ["rating"]=>
            string(1) "5"
            ["relative_time_description"]=>
            string(10) "a year ago"
            ["text"]=>
            string(55) "Best Barbershop in Town!! Right across from Azio Pizza "
            ["time"]=>
            int(1487619817)
          }
          [4]=>
          object(stdClass)#851 (8) {
            ["author_name"]=>
            string(13) "Valerie Jones"
            ["author_url"]=>
            string(65) "https://www.google.com/maps/contrib/110425596281977585950/reviews"
            ["language"]=>
            string(2) "en"
            ["profile_photo_url"]=>
            string(122) "https://lh6.googleusercontent.com/-og2KUvIRkWI/AAAAAAAAAAI/AAAAAAAAV9E/sq4rxL0_3bY/s128-c0x00000000-cc-rp-mo-ba2/photo.jpg"
            ["rating"]=>
            string(1) "5"
            ["relative_time_description"]=>
            string(12) "5 months ago"
            ["text"]=>
            string(11) "My favorite"
            ["time"]=>
            int(1505669999)
          }
        }
        ["scope"]=>
        string(6) "GOOGLE"
        ["types"]=>
        array(3) {
          [0]=>
          string(9) "hair_care"
          [1]=>
          string(17) "point_of_interest"
          [2]=>
          string(13) "establishment"
        }
        ["url"]=>
        string(49) "https://maps.google.com/?cid=14256850939991176057"
        ["utc_offset"]=>
        string(4) "-300"
        ["vicinity"]=>
        string(52) "542 Moreland Industrial Boulevard Southeast, Atlanta"
      }
      ["tracker_field_googleOverallRating"]=>
      int(5)
      ["tracker_field_businessYelpBusinessData"]=>
      array(0) {
      }
      ["tracker_field_businessYelpBusinessData_json"]=>
      array(0) {
      }
      ["tracker_field_businessFacebook"]=>
      string(19) "Flavaz Styling Team"
      ["tracker_field_businessFacebookID"]=>
      string(15) "640850955948358"
      ["tracker_field_businessFacebookData"]=>
      array(2) {
        [0]=>
        string(15) "640850955948358"
        [1]=>
        string(19) "Flavaz Styling Team"
      }
      ["tracker_field_businessFacebookData_text"]=>
      string(35) "640850955948358 Flavaz Styling Team"
      ["tracker_field_businessFacebookData_json"]=>
      object(stdClass)#711 (3) {
        ["id"]=>
        string(15) "640850955948358"
        ["name"]=>
        string(19) "Flavaz Styling Team"
        ["feed"]=>
        object(stdClass)#954 (2) {
          ["data"]=>
          array(12) {
            [0]=>
            object(stdClass)#1142 (3) {
              ["message"]=>
              string(11) "Larsz Woody"
              ["created_time"]=>
              string(24) "2017-09-15T15:20:32+0000"
              ["id"]=>
              string(32) "640850955948358_1718351344864975"
            }
            [1]=>
            object(stdClass)#797 (3) {
              ["message"]=>
              string(62) "Thanks to Douglas Thompkins the boys will be fresh for school."
              ["created_time"]=>
              string(24) "2017-08-05T23:07:03+0000"
              ["id"]=>
              string(32) "640850955948358_1674988599201250"
            }
            [2]=>
            object(stdClass)#1165 (3) {
              ["message"]=>
              string(5) "After"
              ["created_time"]=>
              string(24) "2017-02-18T20:41:47+0000"
              ["id"]=>
              string(33) "640850955948358_10211768022016620"
            }
            [3]=>
            object(stdClass)#984 (3) {
              ["message"]=>
              string(6) "Before"
              ["created_time"]=>
              string(24) "2017-02-18T20:41:30+0000"
              ["id"]=>
              string(33) "640850955948358_10211768020616585"
            }
            [4]=>
            object(stdClass)#948 (2) {
              ["created_time"]=>
              string(24) "2017-02-18T20:41:09+0000"
              ["id"]=>
              string(33) "640850955948358_10211768018336528"
            }
            [5]=>
            object(stdClass)#1129 (3) {
              ["message"]=>
              string(38) "Definetly have to check this place out"
              ["created_time"]=>
              string(24) "2016-07-25T17:45:29+0000"
              ["id"]=>
              string(32) "640850955948358_1253292444704203"
            }
            [6]=>
            object(stdClass)#885 (3) {
              ["story"]=>
              string(38) "Flavaz Styling Team added a new photo."
              ["created_time"]=>
              string(24) "2016-06-24T20:49:49+0000"
              ["id"]=>
              string(32) "640850955948358_1228334467200001"
            }
            [7]=>
            object(stdClass)#884 (3) {
              ["message"]=>
              string(9) "At FLAVAZ"
              ["created_time"]=>
              string(24) "2016-03-27T19:40:42+0000"
              ["id"]=>
              string(32) "640850955948358_1308459035837714"
            }
            [8]=>
            object(stdClass)#717 (3) {
              ["message"]=>
              string(177) "intervenoushttps://zoom.us/activate?code=ub2-5rhG440w5q6Kh1gyz1bOsusnpoIba6bOfl125Ds.BQUAAAFPtksEZgAnjQAaRG9tZXRyaUNyYWRkb2NrMUBnbWFpbC5jb20BAGQAABZySEZkYUpUMlN2NjA5RVV2RDB3Q1lR"
              ["created_time"]=>
              string(24) "2015-10-28T09:43:29+0000"
              ["id"]=>
              string(32) "640850955948358_1075864205780362"
            }
            [9]=>
            object(stdClass)#903 (3) {
              ["message"]=>
              string(131) "As a reputable agency,  We would like to help you with your next group trip. Please feel free to contact us  www.showtimetravel.com"
              ["created_time"]=>
              string(24) "2015-10-25T22:17:28+0000"
              ["id"]=>
              string(33) "640850955948358_10153049118417890"
            }
            [10]=>
            object(stdClass)#708 (3) {
              ["story"]=>
              string(46) "Flavaz Styling Team updated their cover photo."
              ["created_time"]=>
              string(24) "2015-10-08T15:48:07+0000"
              ["id"]=>
              string(32) "640850955948358_1066561016710681"
            }
            [11]=>
            object(stdClass)#1059 (3) {
              ["story"]=>
              string(50) "Flavaz Styling Team updated their profile picture."
              ["created_time"]=>
              string(24) "2015-10-08T15:47:41+0000"
              ["id"]=>
              string(32) "640850955948358_1066560843377365"
            }
          }
          ["paging"]=>
          object(stdClass)#1072 (2) {
            ["previous"]=>
            string(283) "https://graph.facebook.com/v2.8/640850955948358/feed?since=1505488832&access_token=284346488083|StUmZexEo-ODM_s_RzrK8IoefW0&limit=25&__paging_token=enc_AdA4N7qGvkTCsKrVHKVhiHm5miNIxtMyD32ZAxLg8XLZCV60ehEtce4LGD74a7e5HzWtzmnwGVzrldvTyElyskMU3rZCr4wNZC9Cg7t8hpcBSsvNNwZDZD&__previous=1"
            ["next"]=>
            string(273) "https://graph.facebook.com/v2.8/640850955948358/feed?access_token=284346488083|StUmZexEo-ODM_s_RzrK8IoefW0&limit=25&until=1444319261&__paging_token=enc_AdD4LRYusJYRXMgZCwPgyezgeQQH7tTcMPZCsEMjlQlkluPS4fZBalodECoy3hCqDgDZCbZCGoo4AOPNAe1Tp6YU2e6gZBxTEqB0C7t1ORkAZB6W4NV5QZDZD"
          }
        }
      }
      ["tracker_field_businessLoafingID"]=>
      string(24) "573f3d5a1e3ee4dfcf66129b"
      ["tracker_field_businessAccountExecutive"]=>
      string(1) "0"
      ["tracker_field_businessStatusField"]=>
      string(4) "Done"
      ["tracker_field_businessCLDistributionLocation"]=>
      string(1) "n"
      ["tracker_field_businessAudience"]=>
      array(0) {
      }
      ["tracker_field_businessLegacyID"]=>
      int(1295758)
      ["language"]=>
      string(7) "unknown"
      ["attachments"]=>
      array(0) {
      }
      ["comment_count"]=>
      int(0)
      ["categories"]=>
      array(3) {
        [0]=>
        int(89)
        [1]=>
        int(100)
        [2]=>
        int(149)
      }
      ["deep_categories"]=>
      array(5) {
        [0]=>
        int(28)
        [1]=>
        int(89)
        [2]=>
        int(1)
        [3]=>
        int(149)
        [4]=>
        int(100)
      }
      ["categories_under_28"]=>
      array(1) {
        [0]=>
        int(89)
      }
      ["deep_categories_under_28"]=>
      array(1) {
        [0]=>
        int(89)
      }
      ["categories_under_1"]=>
      array(1) {
        [0]=>
        int(149)
      }
      ["deep_categories_under_1"]=>
      array(2) {
        [0]=>
        int(149)
        [1]=>
        int(100)
      }
      ["categories_under_177"]=>
      array(0) {
      }
      ["deep_categories_under_177"]=>
      array(0) {
      }
      ["categories_under_209"]=>
      array(0) {
      }
      ["deep_categories_under_209"]=>
      array(0) {
      }
      ["categories_under_163"]=>
      array(0) {
      }
      ["deep_categories_under_163"]=>
      array(0) {
      }
      ["categories_under_171"]=>
      array(0) {
      }
      ["deep_categories_under_171"]=>
      array(0) {
      }
      ["categories_under_153"]=>
      array(0) {
      }
      ["deep_categories_under_153"]=>
      array(0) {
      }
      ["categories_under_242"]=>
      array(0) {
      }
      ["deep_categories_under_242"]=>
      array(0) {
      }
      ["categories_under_564"]=>
      array(0) {
      }
      ["deep_categories_under_564"]=>
      array(0) {
      }
      ["freetags"]=>
      array(0) {
      }
      ["geo_located"]=>
      string(1) "y"
      ["geo_location"]=>
      string(38) "-84.34916400000031,33.7338981999999,12"
      ["geo_point"]=>
      object(stdClass)#1022 (2) {
        ["lat"]=>
        float(33.7338982)
        ["lon"]=>
        float(-84.349164)
      }
      ["allowed_groups"]=>
      array(2) {
        [0]=>
        string(6) "Admins"
        [1]=>
        string(9) "Anonymous"
      }
      ["allowed_users"]=>
      array(0) {
      }
      ["relations"]=>
      array(0) {
      }
      ["relation_objects"]=>
      array(0) {
      }
      ["relation_types"]=>
      array(0) {
      }
      ["relation_count"]=>
      array(0) {
      }
      ["title_initial"]=>
      string(1) "F"
      ["title_firstword"]=>
      string(6) "Flavaz"
      ["searchable"]=>
      string(1) "y"
      ["url"]=>
      string(8) "item3064"
      ["object_type"]=>
      string(11) "trackeritem"
      ["object_id"]=>
      string(4) "3064"
      ["contents"]=>
      string(288) "    Flavaz Hair Gallery 752 Moreland Ave. Suite 9 Atlanta GA       -84.34916400000031,33.7338981999999,12   Barber shop               n  ChIJIwezrWAB9YgReTPe1WSC2sU  Flavaz Styling Team 640850955948358 573f3d5a1e3ee4dfcf66129b       Done  n  2017-06-26T22:34:43+00:00 Flavaz Hair Gallery "
      ["score"]=>
      float(0)
      ["_index"]=>
      string(21) "atlantawiki_tiki_main"
      ["objectlink"]=>
      string(292) "Flavaz Hair Gallery"
      ["image"]=>
      string(39) "

File not found.

"
      ["areaLocation"]=>
      string(34) "-84.3503813,33.7391182,15"
    }
    [7]=>
    array(82) {
      ["title"]=>
      string(30) "Wayfield Foods Shopping Center"
      ["modification_date"]=>
      string(25) "2018-03-08T16:47:31+00:00"
      ["creation_date"]=>
      string(25) "2017-07-16T16:20:45+00:00"
      ["contributors"]=>
      array(1) {
        [0]=>
        string(29) "ben.eason@creativeloafing.com"
      }
      ["date"]=>
      string(25) "2017-07-16T16:20:45+00:00"
      ["tracker_status"]=>
      string(1) "o"
      ["tracker_id"]=>
      string(1) "1"
      ["view_permission"]=>
      string(13) "view_trackers"
      ["tracker_field_businessName"]=>
      string(30) "Wayfield Foods Shopping Center"
      ["tracker_field_businessRepresentative"]=>
      array(0) {
      }
      ["tracker_field_businessLocationRadius"]=>
      int(0)
      ["tracker_field_description"]=>
      string(1) " "
      ["tracker_field_description_raw"]=>
      string(1) " "
      ["tracker_field_businessClassifieds"]=>
      array(0) {
      }
      ["tracker_field_businessTypes"]=>
      array(1) {
        [0]=>
        string(2) "89"
      }
      ["tracker_field_businessTypes_text"]=>
      string(2) "89"
      ["tracker_field_scene"]=>
      array(0) {
      }
      ["tracker_field_businessNeighborhoods"]=>
      array(2) {
        [0]=>
        string(3) "100"
        [1]=>
        string(3) "149"
      }
      ["tracker_field_businessNeighborhoods_text"]=>
      string(7) "100 149"
      ["tracker_field_businessPriceRange"]=>
      array(0) {
      }
      ["tracker_field_businessMiscCategories"]=>
      array(0) {
      }
      ["tracker_field_businessCLAcctNum"]=>
      int(0)
      ["tracker_field_business_121CurrentChit"]=>
      string(1) "n"
      ["tracker_field_121MobileClientID"]=>
      int(0)
      ["tracker_field_121MobileCampaignData"]=>
      array(0) {
      }
      ["tracker_field_121MobileCampaignData_json"]=>
      array(0) {
      }
      ["tracker_field_googlePlaceData"]=>
      array(0) {
      }
      ["tracker_field_googlePlaceData_json"]=>
      array(0) {
      }
      ["tracker_field_googleOverallRating"]=>
      int(0)
      ["tracker_field_businessYelpBusinessData"]=>
      array(0) {
      }
      ["tracker_field_businessYelpBusinessData_json"]=>
      array(0) {
      }
      ["tracker_field_businessFacebookData"]=>
      array(0) {
      }
      ["tracker_field_businessFacebookData_json"]=>
      array(0) {
      }
      ["tracker_field_businessLoafingID"]=>
      string(24) "573f3d4f1e3ee4dfcf6608bd"
      ["tracker_field_businessAccountExecutive"]=>
      string(1) "0"
      ["tracker_field_businessStatusField"]=>
      string(20) "Multiple Differences"
      ["tracker_field_businessCLDistributionLocation"]=>
      string(1) "n"
      ["tracker_field_businessAudience"]=>
      array(0) {
      }
      ["tracker_field_businessLegacyID"]=>
      int(1302400)
      ["language"]=>
      string(7) "unknown"
      ["attachments"]=>
      array(0) {
      }
      ["comment_count"]=>
      int(0)
      ["categories"]=>
      array(2) {
        [0]=>
        int(89)
        [1]=>
        int(100)
      }
      ["deep_categories"]=>
      array(5) {
        [0]=>
        int(28)
        [1]=>
        int(89)
        [2]=>
        int(1)
        [3]=>
        int(149)
        [4]=>
        int(100)
      }
      ["categories_under_28"]=>
      array(1) {
        [0]=>
        int(89)
      }
      ["deep_categories_under_28"]=>
      array(1) {
        [0]=>
        int(89)
      }
      ["categories_under_1"]=>
      array(0) {
      }
      ["deep_categories_under_1"]=>
      array(2) {
        [0]=>
        int(149)
        [1]=>
        int(100)
      }
      ["categories_under_177"]=>
      array(0) {
      }
      ["deep_categories_under_177"]=>
      array(0) {
      }
      ["categories_under_209"]=>
      array(0) {
      }
      ["deep_categories_under_209"]=>
      array(0) {
      }
      ["categories_under_163"]=>
      array(0) {
      }
      ["deep_categories_under_163"]=>
      array(0) {
      }
      ["categories_under_171"]=>
      array(0) {
      }
      ["deep_categories_under_171"]=>
      array(0) {
      }
      ["categories_under_153"]=>
      array(0) {
      }
      ["deep_categories_under_153"]=>
      array(0) {
      }
      ["categories_under_242"]=>
      array(0) {
      }
      ["deep_categories_under_242"]=>
      array(0) {
      }
      ["categories_under_564"]=>
      array(0) {
      }
      ["deep_categories_under_564"]=>
      array(0) {
      }
      ["freetags"]=>
      array(0) {
      }
      ["geo_located"]=>
      string(1) "n"
      ["allowed_groups"]=>
      array(2) {
        [0]=>
        string(6) "Admins"
        [1]=>
        string(9) "Anonymous"
      }
      ["allowed_users"]=>
      array(0) {
      }
      ["relations"]=>
      array(0) {
      }
      ["relation_objects"]=>
      array(0) {
      }
      ["relation_types"]=>
      array(0) {
      }
      ["relation_count"]=>
      array(0) {
      }
      ["title_initial"]=>
      string(1) "W"
      ["title_firstword"]=>
      string(8) "Wayfield"
      ["searchable"]=>
      string(1) "y"
      ["url"]=>
      string(8) "item4838"
      ["object_type"]=>
      string(11) "trackeritem"
      ["object_id"]=>
      string(4) "4838"
      ["contents"]=>
      string(184) "    Wayfield Foods Shopping Center                              n      573f3d4f1e3ee4dfcf6608bd       Multiple Differences  n  2017-07-16T16:20:45+00:00 Wayfield Foods Shopping Center "
      ["score"]=>
      float(0)
      ["_index"]=>
      string(21) "atlantawiki_tiki_main"
      ["objectlink"]=>
      string(208) "Wayfield Foods Shopping Center"
      ["image"]=>
      string(39) "

File not found.

"
      ["areaLocation"]=>
      string(34) "-84.3503813,33.7391182,15"
    }
    [8]=>
    array(89) {
      ["title"]=>
      string(19) "East Atlanta Tattoo"
      ["modification_date"]=>
      string(25) "2018-03-08T16:47:31+00:00"
      ["creation_date"]=>
      string(25) "2017-07-16T21:30:40+00:00"
      ["contributors"]=>
      array(1) {
        [0]=>
        string(29) "ben.eason@creativeloafing.com"
      }
      ["date"]=>
      string(25) "2017-07-16T21:30:40+00:00"
      ["tracker_status"]=>
      string(1) "o"
      ["tracker_id"]=>
      string(1) "1"
      ["view_permission"]=>
      string(13) "view_trackers"
      ["tracker_field_businessName"]=>
      string(19) "East Atlanta Tattoo"
      ["tracker_field_businessAddress"]=>
      string(18) "1188 Glenwood Ave."
      ["tracker_field_businessAddress2"]=>
      string(7) "Suite C"
      ["tracker_field_businessCity"]=>
      string(7) "Atlanta"
      ["tracker_field_businessState"]=>
      string(2) "GA"
      ["tracker_field_businessZip"]=>
      string(5) "30316"
      ["tracker_field_businessWebsite"]=>
      string(32) "http://www.eastatlantatattoo.com"
      ["tracker_field_businessPhone"]=>
      string(12) "404-622-5688"
      ["tracker_field_businessRepresentative"]=>
      array(0) {
      }
      ["tracker_field_businessLocationRadius"]=>
      int(0)
      ["tracker_field_description"]=>
      string(48) "A tattoo parlor located in East Atlanta Village."
      ["tracker_field_description_raw"]=>
      string(48) "A tattoo parlor located in East Atlanta Village."
      ["tracker_field_businessClassifieds"]=>
      array(0) {
      }
      ["tracker_field_businessTypes"]=>
      array(1) {
        [0]=>
        string(2) "89"
      }
      ["tracker_field_businessTypes_text"]=>
      string(2) "89"
      ["tracker_field_scene"]=>
      array(0) {
      }
      ["tracker_field_businessNeighborhoods"]=>
      array(2) {
        [0]=>
        string(3) "100"
        [1]=>
        string(3) "149"
      }
      ["tracker_field_businessNeighborhoods_text"]=>
      string(7) "100 149"
      ["tracker_field_businessPriceRange"]=>
      array(0) {
      }
      ["tracker_field_businessMiscCategories"]=>
      array(0) {
      }
      ["tracker_field_businessCLAcctNum"]=>
      int(0)
      ["tracker_field_business_121CurrentChit"]=>
      string(1) "n"
      ["tracker_field_121MobileClientID"]=>
      int(0)
      ["tracker_field_121MobileCampaignData"]=>
      array(0) {
      }
      ["tracker_field_121MobileCampaignData_json"]=>
      array(0) {
      }
      ["tracker_field_googlePlaceData"]=>
      array(0) {
      }
      ["tracker_field_googlePlaceData_json"]=>
      array(0) {
      }
      ["tracker_field_googleOverallRating"]=>
      int(0)
      ["tracker_field_businessYelpBusinessData"]=>
      array(0) {
      }
      ["tracker_field_businessYelpBusinessData_json"]=>
      array(0) {
      }
      ["tracker_field_businessFacebookData"]=>
      array(0) {
      }
      ["tracker_field_businessFacebookData_json"]=>
      array(0) {
      }
      ["tracker_field_businessLoafingID"]=>
      string(24) "573f3d501e3ee4dfcf6608e1"
      ["tracker_field_businessAccountExecutive"]=>
      string(1) "0"
      ["tracker_field_businessStatusField"]=>
      string(10) "NoGoogleID"
      ["tracker_field_businessCLDistributionLocation"]=>
      string(1) "n"
      ["tracker_field_businessAudience"]=>
      array(0) {
      }
      ["tracker_field_businessLegacyID"]=>
      int(1302324)
      ["language"]=>
      string(7) "unknown"
      ["attachments"]=>
      array(0) {
      }
      ["comment_count"]=>
      int(0)
      ["categories"]=>
      array(2) {
        [0]=>
        int(89)
        [1]=>
        int(100)
      }
      ["deep_categories"]=>
      array(5) {
        [0]=>
        int(28)
        [1]=>
        int(89)
        [2]=>
        int(1)
        [3]=>
        int(149)
        [4]=>
        int(100)
      }
      ["categories_under_28"]=>
      array(1) {
        [0]=>
        int(89)
      }
      ["deep_categories_under_28"]=>
      array(1) {
        [0]=>
        int(89)
      }
      ["categories_under_1"]=>
      array(0) {
      }
      ["deep_categories_under_1"]=>
      array(2) {
        [0]=>
        int(149)
        [1]=>
        int(100)
      }
      ["categories_under_177"]=>
      array(0) {
      }
      ["deep_categories_under_177"]=>
      array(0) {
      }
      ["categories_under_209"]=>
      array(0) {
      }
      ["deep_categories_under_209"]=>
      array(0) {
      }
      ["categories_under_163"]=>
      array(0) {
      }
      ["deep_categories_under_163"]=>
      array(0) {
      }
      ["categories_under_171"]=>
      array(0) {
      }
      ["deep_categories_under_171"]=>
      array(0) {
      }
      ["categories_under_153"]=>
      array(0) {
      }
      ["deep_categories_under_153"]=>
      array(0) {
      }
      ["categories_under_242"]=>
      array(0) {
      }
      ["deep_categories_under_242"]=>
      array(0) {
      }
      ["categories_under_564"]=>
      array(0) {
      }
      ["deep_categories_under_564"]=>
      array(0) {
      }
      ["freetags"]=>
      array(0) {
      }
      ["geo_located"]=>
      string(1) "n"
      ["allowed_groups"]=>
      array(2) {
        [0]=>
        string(6) "Admins"
        [1]=>
        string(9) "Anonymous"
      }
      ["allowed_users"]=>
      array(0) {
      }
      ["relations"]=>
      array(0) {
      }
      ["relation_objects"]=>
      array(0) {
      }
      ["relation_types"]=>
      array(0) {
      }
      ["relation_count"]=>
      array(0) {
      }
      ["title_initial"]=>
      string(1) "E"
      ["title_firstword"]=>
      string(4) "East"
      ["searchable"]=>
      string(1) "y"
      ["url"]=>
      string(8) "item8711"
      ["object_type"]=>
      string(11) "trackeritem"
      ["object_id"]=>
      string(4) "8711"
      ["contents"]=>
      string(282) "    East Atlanta Tattoo 1188 Glenwood Ave. Suite C Atlanta GA 30316 http://www.eastatlantatattoo.com   404-622-5688     A tattoo parlor located in East Atlanta Village.               n      573f3d501e3ee4dfcf6608e1       NoGoogleID  n  2017-07-16T21:30:40+00:00 East Atlanta Tattoo "
      ["score"]=>
      float(0)
      ["_index"]=>
      string(21) "atlantawiki_tiki_main"
      ["objectlink"]=>
      string(197) "East Atlanta Tattoo"
      ["image"]=>
      string(39) "

File not found.

"
      ["areaLocation"]=>
      string(34) "-84.3503813,33.7391182,15"
    }
    [9]=>
    array(89) {
      ["title"]=>
      string(16) "Pieces of Adrene"
      ["modification_date"]=>
      string(25) "2018-03-08T16:41:28+00:00"
      ["creation_date"]=>
      string(25) "2017-07-16T21:30:40+00:00"
      ["contributors"]=>
      array(1) {
        [0]=>
        string(29) "ben.eason@creativeloafing.com"
      }
      ["date"]=>
      string(25) "2017-07-16T21:30:40+00:00"
      ["tracker_status"]=>
      string(1) "o"
      ["tracker_id"]=>
      string(1) "1"
      ["view_permission"]=>
      string(13) "view_trackers"
      ["tracker_field_businessName"]=>
      string(16) "Pieces of Adrene"
      ["tracker_field_businessAddress"]=>
      string(20) "493 Flat Shoals Ave."
      ["tracker_field_businessAddress2"]=>
      string(1) " "
      ["tracker_field_businessCity"]=>
      string(7) "Atlanta"
      ["tracker_field_businessState"]=>
      string(2) "GA"
      ["tracker_field_businessZip"]=>
      string(5) "30316"
      ["tracker_field_businessWebsite"]=>
      string(29) "http://www.piecesofadrene.com"
      ["tracker_field_businessPhone"]=>
      string(1) " "
      ["tracker_field_businessRepresentative"]=>
      array(0) {
      }
      ["tracker_field_businessLocationRadius"]=>
      int(0)
      ["tracker_field_description"]=>
      string(1) " "
      ["tracker_field_description_raw"]=>
      string(1) " "
      ["tracker_field_businessClassifieds"]=>
      array(0) {
      }
      ["tracker_field_businessTypes"]=>
      array(1) {
        [0]=>
        string(2) "89"
      }
      ["tracker_field_businessTypes_text"]=>
      string(2) "89"
      ["tracker_field_scene"]=>
      array(0) {
      }
      ["tracker_field_businessNeighborhoods"]=>
      array(2) {
        [0]=>
        string(3) "100"
        [1]=>
        string(3) "149"
      }
      ["tracker_field_businessNeighborhoods_text"]=>
      string(7) "100 149"
      ["tracker_field_businessPriceRange"]=>
      array(0) {
      }
      ["tracker_field_businessMiscCategories"]=>
      array(0) {
      }
      ["tracker_field_businessCLAcctNum"]=>
      int(0)
      ["tracker_field_business_121CurrentChit"]=>
      string(1) "n"
      ["tracker_field_121MobileClientID"]=>
      int(0)
      ["tracker_field_121MobileCampaignData"]=>
      array(0) {
      }
      ["tracker_field_121MobileCampaignData_json"]=>
      array(0) {
      }
      ["tracker_field_googlePlaceData"]=>
      array(0) {
      }
      ["tracker_field_googlePlaceData_json"]=>
      array(0) {
      }
      ["tracker_field_googleOverallRating"]=>
      int(0)
      ["tracker_field_businessYelpBusinessData"]=>
      array(0) {
      }
      ["tracker_field_businessYelpBusinessData_json"]=>
      array(0) {
      }
      ["tracker_field_businessFacebookData"]=>
      array(0) {
      }
      ["tracker_field_businessFacebookData_json"]=>
      array(0) {
      }
      ["tracker_field_businessLoafingID"]=>
      string(24) "573f3d551e3ee4dfcf660e13"
      ["tracker_field_businessAccountExecutive"]=>
      string(1) "0"
      ["tracker_field_businessStatusField"]=>
      string(10) "NoGoogleID"
      ["tracker_field_businessCLDistributionLocation"]=>
      string(1) "n"
      ["tracker_field_businessAudience"]=>
      array(0) {
      }
      ["tracker_field_businessLegacyID"]=>
      int(1298796)
      ["language"]=>
      string(7) "unknown"
      ["attachments"]=>
      array(0) {
      }
      ["comment_count"]=>
      int(0)
      ["categories"]=>
      array(2) {
        [0]=>
        int(89)
        [1]=>
        int(100)
      }
      ["deep_categories"]=>
      array(5) {
        [0]=>
        int(28)
        [1]=>
        int(89)
        [2]=>
        int(1)
        [3]=>
        int(149)
        [4]=>
        int(100)
      }
      ["categories_under_28"]=>
      array(1) {
        [0]=>
        int(89)
      }
      ["deep_categories_under_28"]=>
      array(1) {
        [0]=>
        int(89)
      }
      ["categories_under_1"]=>
      array(0) {
      }
      ["deep_categories_under_1"]=>
      array(2) {
        [0]=>
        int(149)
        [1]=>
        int(100)
      }
      ["categories_under_177"]=>
      array(0) {
      }
      ["deep_categories_under_177"]=>
      array(0) {
      }
      ["categories_under_209"]=>
      array(0) {
      }
      ["deep_categories_under_209"]=>
      array(0) {
      }
      ["categories_under_163"]=>
      array(0) {
      }
      ["deep_categories_under_163"]=>
      array(0) {
      }
      ["categories_under_171"]=>
      array(0) {
      }
      ["deep_categories_under_171"]=>
      array(0) {
      }
      ["categories_under_153"]=>
      array(0) {
      }
      ["deep_categories_under_153"]=>
      array(0) {
      }
      ["categories_under_242"]=>
      array(0) {
      }
      ["deep_categories_under_242"]=>
      array(0) {
      }
      ["categories_under_564"]=>
      array(0) {
      }
      ["deep_categories_under_564"]=>
      array(0) {
      }
      ["freetags"]=>
      array(0) {
      }
      ["geo_located"]=>
      string(1) "n"
      ["allowed_groups"]=>
      array(2) {
        [0]=>
        string(6) "Admins"
        [1]=>
        string(9) "Anonymous"
      }
      ["allowed_users"]=>
      array(0) {
      }
      ["relations"]=>
      array(0) {
      }
      ["relation_objects"]=>
      array(0) {
      }
      ["relation_types"]=>
      array(0) {
      }
      ["relation_count"]=>
      array(0) {
      }
      ["title_initial"]=>
      string(1) "P"
      ["title_firstword"]=>
      string(6) "Pieces"
      ["searchable"]=>
      string(1) "y"
      ["url"]=>
      string(8) "item8716"
      ["object_type"]=>
      string(11) "trackeritem"
      ["object_id"]=>
      string(4) "8716"
      ["contents"]=>
      string(211) "    Pieces of Adrene 493 Flat Shoals Ave.   Atlanta GA 30316 http://www.piecesofadrene.com                         n      573f3d551e3ee4dfcf660e13       NoGoogleID  n  2017-07-16T21:30:40+00:00 Pieces of Adrene "
      ["score"]=>
      float(0)
      ["_index"]=>
      string(21) "atlantawiki_tiki_main"
      ["objectlink"]=>
      string(194) "Pieces of Adrene"
      ["image"]=>
      string(39) "

File not found.

"
      ["areaLocation"]=>
      string(34) "-84.3503813,33.7391182,15"
    }
    [10]=>
    array(89) {
      ["title"]=>
      string(14) "Sugar Britches"
      ["modification_date"]=>
      string(25) "2018-03-08T16:44:04+00:00"
      ["creation_date"]=>
      string(25) "2017-07-16T21:30:40+00:00"
      ["contributors"]=>
      array(1) {
        [0]=>
        string(29) "ben.eason@creativeloafing.com"
      }
      ["date"]=>
      string(25) "2017-07-16T21:30:40+00:00"
      ["tracker_status"]=>
      string(1) "o"
      ["tracker_id"]=>
      string(1) "1"
      ["view_permission"]=>
      string(13) "view_trackers"
      ["tracker_field_businessName"]=>
      string(14) "Sugar Britches"
      ["tracker_field_businessAddress"]=>
      string(20) "491 Flat Shoals Ave."
      ["tracker_field_businessAddress2"]=>
      string(1) " "
      ["tracker_field_businessCity"]=>
      string(7) "Atlanta"
      ["tracker_field_businessState"]=>
      string(2) "GA"
      ["tracker_field_businessZip"]=>
      string(5) "30316"
      ["tracker_field_businessWebsite"]=>
      string(31) "http://www.sugarbritchesatl.com"
      ["tracker_field_businessPhone"]=>
      string(12) "404-522-9098"
      ["tracker_field_businessRepresentative"]=>
      array(0) {
      }
      ["tracker_field_businessLocationRadius"]=>
      int(0)
      ["tracker_field_description"]=>
      string(1) " "
      ["tracker_field_description_raw"]=>
      string(1) " "
      ["tracker_field_businessClassifieds"]=>
      array(0) {
      }
      ["tracker_field_businessTypes"]=>
      array(1) {
        [0]=>
        string(2) "89"
      }
      ["tracker_field_businessTypes_text"]=>
      string(2) "89"
      ["tracker_field_scene"]=>
      array(0) {
      }
      ["tracker_field_businessNeighborhoods"]=>
      array(2) {
        [0]=>
        string(3) "100"
        [1]=>
        string(3) "149"
      }
      ["tracker_field_businessNeighborhoods_text"]=>
      string(7) "100 149"
      ["tracker_field_businessPriceRange"]=>
      array(0) {
      }
      ["tracker_field_businessMiscCategories"]=>
      array(0) {
      }
      ["tracker_field_businessCLAcctNum"]=>
      int(0)
      ["tracker_field_business_121CurrentChit"]=>
      string(1) "n"
      ["tracker_field_121MobileClientID"]=>
      int(0)
      ["tracker_field_121MobileCampaignData"]=>
      array(0) {
      }
      ["tracker_field_121MobileCampaignData_json"]=>
      array(0) {
      }
      ["tracker_field_googlePlaceData"]=>
      array(0) {
      }
      ["tracker_field_googlePlaceData_json"]=>
      array(0) {
      }
      ["tracker_field_googleOverallRating"]=>
      int(0)
      ["tracker_field_businessYelpBusinessData"]=>
      array(0) {
      }
      ["tracker_field_businessYelpBusinessData_json"]=>
      array(0) {
      }
      ["tracker_field_businessFacebookData"]=>
      array(0) {
      }
      ["tracker_field_businessFacebookData_json"]=>
      array(0) {
      }
      ["tracker_field_businessLoafingID"]=>
      string(24) "573f3d521e3ee4dfcf660b1a"
      ["tracker_field_businessAccountExecutive"]=>
      string(1) "0"
      ["tracker_field_businessStatusField"]=>
      string(10) "NoGoogleID"
      ["tracker_field_businessCLDistributionLocation"]=>
      string(1) "n"
      ["tracker_field_businessAudience"]=>
      array(0) {
      }
      ["tracker_field_businessLegacyID"]=>
      int(1300797)
      ["language"]=>
      string(7) "unknown"
      ["attachments"]=>
      array(0) {
      }
      ["comment_count"]=>
      int(0)
      ["categories"]=>
      array(2) {
        [0]=>
        int(89)
        [1]=>
        int(100)
      }
      ["deep_categories"]=>
      array(5) {
        [0]=>
        int(28)
        [1]=>
        int(89)
        [2]=>
        int(1)
        [3]=>
        int(149)
        [4]=>
        int(100)
      }
      ["categories_under_28"]=>
      array(1) {
        [0]=>
        int(89)
      }
      ["deep_categories_under_28"]=>
      array(1) {
        [0]=>
        int(89)
      }
      ["categories_under_1"]=>
      array(0) {
      }
      ["deep_categories_under_1"]=>
      array(2) {
        [0]=>
        int(149)
        [1]=>
        int(100)
      }
      ["categories_under_177"]=>
      array(0) {
      }
      ["deep_categories_under_177"]=>
      array(0) {
      }
      ["categories_under_209"]=>
      array(0) {
      }
      ["deep_categories_under_209"]=>
      array(0) {
      }
      ["categories_under_163"]=>
      array(0) {
      }
      ["deep_categories_under_163"]=>
      array(0) {
      }
      ["categories_under_171"]=>
      array(0) {
      }
      ["deep_categories_under_171"]=>
      array(0) {
      }
      ["categories_under_153"]=>
      array(0) {
      }
      ["deep_categories_under_153"]=>
      array(0) {
      }
      ["categories_under_242"]=>
      array(0) {
      }
      ["deep_categories_under_242"]=>
      array(0) {
      }
      ["categories_under_564"]=>
      array(0) {
      }
      ["deep_categories_under_564"]=>
      array(0) {
      }
      ["freetags"]=>
      array(0) {
      }
      ["geo_located"]=>
      string(1) "n"
      ["allowed_groups"]=>
      array(2) {
        [0]=>
        string(6) "Admins"
        [1]=>
        string(9) "Anonymous"
      }
      ["allowed_users"]=>
      array(0) {
      }
      ["relations"]=>
      array(0) {
      }
      ["relation_objects"]=>
      array(0) {
      }
      ["relation_types"]=>
      array(0) {
      }
      ["relation_count"]=>
      array(0) {
      }
      ["title_initial"]=>
      string(1) "S"
      ["title_firstword"]=>
      string(5) "Sugar"
      ["searchable"]=>
      string(1) "y"
      ["url"]=>
      string(8) "item8718"
      ["object_type"]=>
      string(11) "trackeritem"
      ["object_id"]=>
      string(4) "8718"
      ["contents"]=>
      string(220) "    Sugar Britches 491 Flat Shoals Ave.   Atlanta GA 30316 http://www.sugarbritchesatl.com   404-522-9098                     n      573f3d521e3ee4dfcf660b1a       NoGoogleID  n  2017-07-16T21:30:40+00:00 Sugar Britches "
      ["score"]=>
      float(0)
      ["_index"]=>
      string(21) "atlantawiki_tiki_main"
      ["objectlink"]=>
      string(192) "Sugar Britches"
      ["image"]=>
      string(39) "

File not found.

"
      ["areaLocation"]=>
      string(34) "-84.3503813,33.7391182,15"
    }
    [11]=>
    array(93) {
      ["title"]=>
      string(44) "Memorial Tattoo - East Atlanta/Ormewood Park"
      ["modification_date"]=>
      string(25) "2018-03-08T16:51:20+00:00"
      ["creation_date"]=>
      string(25) "2017-06-19T12:58:54+00:00"
      ["contributors"]=>
      array(2) {
        [0]=>
        NULL
        [1]=>
        string(29) "ben.eason@creativeloafing.com"
      }
      ["date"]=>
      string(25) "2017-06-19T12:58:54+00:00"
      ["tracker_status"]=>
      string(1) "o"
      ["tracker_id"]=>
      string(1) "1"
      ["view_permission"]=>
      string(13) "view_trackers"
      ["tracker_field_businessName"]=>
      string(44) "Memorial Tattoo - East Atlanta/Ormewood Park"
      ["tracker_field_businessCity"]=>
      string(7) "Atlanta"
      ["tracker_field_businessState"]=>
      string(2) "GA"
      ["tracker_field_businessZip"]=>
      string(5) "30316"
      ["tracker_field_businessWebsite"]=>
      string(33) "http://www.memorialtattooatl.com/"
      ["tracker_field_businessEmail"]=>
      string(3) "4.2"
      ["tracker_field_businessEmail_text"]=>
      string(3) "4.2"
      ["tracker_field_businessPhone"]=>
      string(14) "(404) 622-9222"
      ["tracker_field_businessRepresentative"]=>
      array(0) {
      }
      ["tracker_field_businessLocation"]=>
      string(15) "Memorial Tattoo"
      ["tracker_field_businessLocationRadius"]=>
      int(0)
      ["tracker_field_description"]=>
      string(301) "With a staff boasting more than 80 years of combined experience, this shop is diverse in both styles and schools of thought as it pertains to ink. The result is a place where one can go and not feel overwhelmed by limited options. Something that lasts forever should come with more than a few choices."
      ["tracker_field_description_raw"]=>
      string(301) "With a staff boasting more than 80 years of combined experience, this shop is diverse in both styles and schools of thought as it pertains to ink. The result is a place where one can go and not feel overwhelmed by limited options. Something that lasts forever should come with more than a few choices."
      ["tracker_field_businessClassifieds"]=>
      array(0) {
      }
      ["tracker_field_businessTypes"]=>
      array(1) {
        [0]=>
        string(2) "89"
      }
      ["tracker_field_businessTypes_text"]=>
      string(2) "89"
      ["tracker_field_scene"]=>
      array(0) {
      }
      ["tracker_field_businessNeighborhoods"]=>
      array(2) {
        [0]=>
        string(3) "100"
        [1]=>
        string(3) "149"
      }
      ["tracker_field_businessNeighborhoods_text"]=>
      string(7) "100 149"
      ["tracker_field_businessPriceRange"]=>
      array(0) {
      }
      ["tracker_field_businessMiscCategories"]=>
      array(0) {
      }
      ["tracker_field_businessCLAcctNum"]=>
      int(0)
      ["tracker_field_business_121CurrentChit"]=>
      string(1) "n"
      ["tracker_field_121MobileClientID"]=>
      int(0)
      ["tracker_field_121MobileCampaignData"]=>
      array(0) {
      }
      ["tracker_field_121MobileCampaignData_json"]=>
      array(0) {
      }
      ["tracker_field_googlePlaceData"]=>
      array(0) {
      }
      ["tracker_field_googlePlaceData_json"]=>
      array(0) {
      }
      ["tracker_field_googleOverallRating"]=>
      float(33.7322993)
      ["tracker_field_businessYelpBusinessData"]=>
      array(0) {
      }
      ["tracker_field_businessYelpBusinessData_json"]=>
      array(0) {
      }
      ["tracker_field_businessFacebook"]=>
      string(12) "151143877643"
      ["tracker_field_businessFacebookData"]=>
      array(0) {
      }
      ["tracker_field_businessFacebookData_json"]=>
      array(0) {
      }
      ["tracker_field_businessLoafingID"]=>
      string(24) "573f3d4b1e3ee4dfcf66039e"
      ["tracker_field_businessAccountExecutive"]=>
      string(1) "0"
      ["tracker_field_businessInternalNotes"]=>
      string(20) "809 Moreland Ave. Se"
      ["tracker_field_businessInternalNotes_raw"]=>
      string(20) "809 Moreland Ave. Se"
      ["tracker_field_businessStatusField"]=>
      string(4) "Done"
      ["tracker_field_businessCLDistributionLocation"]=>
      string(1) "n"
      ["tracker_field_businessAudience"]=>
      array(0) {
      }
      ["tracker_field_businessLegacyID"]=>
      int(1390524)
      ["language"]=>
      string(7) "unknown"
      ["attachments"]=>
      array(0) {
      }
      ["comment_count"]=>
      int(0)
      ["categories"]=>
      array(2) {
        [0]=>
        int(89)
        [1]=>
        int(100)
      }
      ["deep_categories"]=>
      array(5) {
        [0]=>
        int(28)
        [1]=>
        int(89)
        [2]=>
        int(1)
        [3]=>
        int(149)
        [4]=>
        int(100)
      }
      ["categories_under_28"]=>
      array(1) {
        [0]=>
        int(89)
      }
      ["deep_categories_under_28"]=>
      array(1) {
        [0]=>
        int(89)
      }
      ["categories_under_1"]=>
      array(0) {
      }
      ["deep_categories_under_1"]=>
      array(2) {
        [0]=>
        int(149)
        [1]=>
        int(100)
      }
      ["categories_under_177"]=>
      array(0) {
      }
      ["deep_categories_under_177"]=>
      array(0) {
      }
      ["categories_under_209"]=>
      array(0) {
      }
      ["deep_categories_under_209"]=>
      array(0) {
      }
      ["categories_under_163"]=>
      array(0) {
      }
      ["deep_categories_under_163"]=>
      array(0) {
      }
      ["categories_under_171"]=>
      array(0) {
      }
      ["deep_categories_under_171"]=>
      array(0) {
      }
      ["categories_under_153"]=>
      array(0) {
      }
      ["deep_categories_under_153"]=>
      array(0) {
      }
      ["categories_under_242"]=>
      array(0) {
      }
      ["deep_categories_under_242"]=>
      array(0) {
      }
      ["categories_under_564"]=>
      array(0) {
      }
      ["deep_categories_under_564"]=>
      array(0) {
      }
      ["freetags"]=>
      array(0) {
      }
      ["geo_located"]=>
      string(1) "n"
      ["allowed_groups"]=>
      array(2) {
        [0]=>
        string(6) "Admins"
        [1]=>
        string(9) "Anonymous"
      }
      ["allowed_users"]=>
      array(0) {
      }
      ["relations"]=>
      array(0) {
      }
      ["relation_objects"]=>
      array(0) {
      }
      ["relation_types"]=>
      array(0) {
      }
      ["relation_count"]=>
      array(0) {
      }
      ["title_initial"]=>
      string(1) "M"
      ["title_firstword"]=>
      string(8) "Memorial"
      ["searchable"]=>
      string(1) "y"
      ["url"]=>
      string(7) "item708"
      ["object_type"]=>
      string(11) "trackeritem"
      ["object_id"]=>
      string(3) "708"
      ["contents"]=>
      string(610) "    Memorial Tattoo - East Atlanta/Ormewood Park   Atlanta GA 30316 http://www.memorialtattooatl.com/ 4.2 4.2 (404) 622-9222  Memorial Tattoo   With a staff boasting more than 80 years of combined experience, this shop is diverse in both styles and schools of thought as it pertains to ink. The result is a place where one can go and not feel overwhelmed by limited options. Something that lasts forever should come with more than a few choices.               n    151143877643  573f3d4b1e3ee4dfcf66039e      809 Moreland Ave. Se Done  n  2017-06-19T12:58:54+00:00 Memorial Tattoo - East Atlanta/Ormewood Park "
      ["score"]=>
      float(0)
      ["_index"]=>
      string(21) "atlantawiki_tiki_main"
      ["objectlink"]=>
      string(220) "Memorial Tattoo - East Atlanta/Ormewood Park"
      ["image"]=>
      string(39) "

File not found.

"
      ["areaLocation"]=>
      string(34) "-84.3503813,33.7391182,15"
    }
    [12]=>
    array(97) {
      ["title"]=>
      string(18) "Earthshaking Music"
      ["modification_date"]=>
      string(25) "2019-03-10T04:57:13+00:00"
      ["creation_date"]=>
      string(25) "2017-06-19T12:58:54+00:00"
      ["contributors"]=>
      array(2) {
        [0]=>
        NULL
        [1]=>
        string(5) "admin"
      }
      ["date"]=>
      string(25) "2017-06-19T12:58:54+00:00"
      ["tracker_status"]=>
      string(1) "o"
      ["tracker_id"]=>
      string(1) "1"
      ["view_permission"]=>
      string(13) "view_trackers"
      ["tracker_field_businessName"]=>
      string(18) "Earthshaking Music"
      ["tracker_field_businessAddress"]=>
      string(24) "648 McDonough Blvd. S.E."
      ["tracker_field_businessCity"]=>
      string(7) "Atlanta"
      ["tracker_field_businessState"]=>
      string(2) "GA"
      ["tracker_field_businessZip"]=>
      string(5) "30315"
      ["tracker_field_businessWebsite"]=>
      string(29) "http://earthshakingmusic.com/"
      ["tracker_field_businessPhone"]=>
      string(14) "(404) 577-0707"
      ["tracker_field_businessRepresentative"]=>
      array(0) {
      }
      ["tracker_field_businessLocation"]=>
      string(38) "-84.3663751000001,33.71343470000012,17"
      ["tracker_field_businessLocationRadius"]=>
      int(0)
      ["tracker_field_description"]=>
      string(138) "Along with the usual amps, mixers, and DJ turntables, this offbeat music shop carries a range of exotic drums and world-music instruments."
      ["tracker_field_description_raw"]=>
      string(138) "Along with the usual amps, mixers, and DJ turntables, this offbeat music shop carries a range of exotic drums and world-music instruments."
      ["tracker_field_legacyImageURL"]=>
      string(85) "http://dev.creativeloafing.com/image/2014/03/320w/357a8_earthshaking_music_magnum.jpg"
      ["tracker_field_businessClassifieds"]=>
      array(0) {
      }
      ["tracker_field_businessTypes"]=>
      array(1) {
        [0]=>
        string(2) "89"
      }
      ["tracker_field_businessTypes_text"]=>
      string(2) "89"
      ["tracker_field_scene"]=>
      array(0) {
      }
      ["tracker_field_businessNeighborhoods"]=>
      array(2) {
        [0]=>
        string(3) "100"
        [1]=>
        string(3) "149"
      }
      ["tracker_field_businessNeighborhoods_text"]=>
      string(7) "100 149"
      ["tracker_field_businessPriceRange"]=>
      array(0) {
      }
      ["tracker_field_businessMiscCategories"]=>
      array(0) {
      }
      ["tracker_field_businessCLAcctNum"]=>
      int(0)
      ["tracker_field_business_121CurrentChit"]=>
      string(1) "n"
      ["tracker_field_121MobileClientID"]=>
      int(0)
      ["tracker_field_121MobileCampaignData"]=>
      array(0) {
      }
      ["tracker_field_121MobileCampaignData_json"]=>
      array(0) {
      }
      ["tracker_field_google_placeid"]=>
      string(27) "ChIJQT4epVwB9YgR5ZGa4Ao4kkI"
      ["tracker_field_googlePlaceData"]=>
      array(15) {
        [0]=>
        string(206) "

648 McDonough Blvd SE

, 

Atlanta

, 

GA

 

30315

, 

USA

"
        [1]=>
        string(45) "648 McDonough Blvd SE, Atlanta, GA 30315, USA"
        [2]=>
        string(14) "(404) 577-0707"
        [3]=>
        string(65) "https://maps.gstatic.com/mapfiles/place_api/icons/shopping-71.png"
        [4]=>
        string(40) "0e9177b9bd65cbd0790a725be363261d4948a1d2"
        [5]=>
        string(15) "+1 404-577-0707"
        [6]=>
        string(18) "Earthshaking Music"
        [7]=>
        string(27) "ChIJQT4epVwB9YgR5ZGa4Ao4kkI"
        [8]=>
        string(3) "4.8"
        [9]=>
        string(190) "CmRRAAAA35Cjiw-knpEsncnaY0OjnEzJRUjfMZWB3tUvwFT74G6s1EcIapoFnbDjyu-zMvSV85OtWmmDJb_W2aV59CgaKPvuiqEppvcMwSqA4eH2b5Wb5Hf961s6iTcGmpzsK-_gEhAVYZ2oufh6rFJy8xWJtVG7GhSzGDVD_Kl2_DUCFqpptKadpbic-Q"
        [10]=>
        string(6) "GOOGLE"
        [11]=>
        string(48) "https://maps.google.com/?cid=4796958172472054245"
        [12]=>
        string(4) "-240"
        [13]=>
        string(42) "648 McDonough Boulevard Southeast, Atlanta"
        [14]=>
        string(29) "http://earthshakingmusic.com/"
      }
      ["tracker_field_googlePlaceData_text"]=>
      string(605) "648 McDonough Blvd SE, Atlanta, GA 30315, USA 648 McDonough Blvd SE, Atlanta, GA 30315, USA (404) 577-0707 https://maps.gstatic.com/mapfiles/place_api/icons/shopping-71.png 0e9177b9bd65cbd0790a725be363261d4948a1d2 +1 404-577-0707 Earthshaking Music ChIJQT4epVwB9YgR5ZGa4Ao4kkI 4.8 CmRRAAAA35Cjiw-knpEsncnaY0OjnEzJRUjfMZWB3tUvwFT74G6s1EcIapoFnbDjyu-zMvSV85OtWmmDJb_W2aV59CgaKPvuiqEppvcMwSqA4eH2b5Wb5Hf961s6iTcGmpzsK-_gEhAVYZ2oufh6rFJy8xWJtVG7GhSzGDVD_Kl2_DUCFqpptKadpbic-Q GOOGLE https://maps.google.com/?cid=4796958172472054245 -240 648 McDonough Boulevard Southeast, Atlanta http://earthshakingmusic.com/"
      ["tracker_field_googlePlaceData_json"]=>
      object(stdClass)#763 (22) {
        ["address_components"]=>
        array(8) {
          [0]=>
          object(stdClass)#712 (3) {
            ["long_name"]=>
            string(3) "648"
            ["short_name"]=>
            string(3) "648"
            ["types"]=>
            array(1) {
              [0]=>
              string(13) "street_number"
            }
          }
          [1]=>
          object(stdClass)#796 (3) {
            ["long_name"]=>
            string(29) "McDonough Boulevard Southeast"
            ["short_name"]=>
            string(17) "McDonough Blvd SE"
            ["types"]=>
            array(1) {
              [0]=>
              string(5) "route"
            }
          }
          [2]=>
          object(stdClass)#688 (3) {
            ["long_name"]=>
            string(7) "Benteen"
            ["short_name"]=>
            string(7) "Benteen"
            ["types"]=>
            array(2) {
              [0]=>
              string(12) "neighborhood"
              [1]=>
              string(9) "political"
            }
          }
          [3]=>
          object(stdClass)#762 (3) {
            ["long_name"]=>
            string(7) "Atlanta"
            ["short_name"]=>
            string(7) "Atlanta"
            ["types"]=>
            array(2) {
              [0]=>
              string(8) "locality"
              [1]=>
              string(9) "political"
            }
          }
          [4]=>
          object(stdClass)#795 (3) {
            ["long_name"]=>
            string(13) "Fulton County"
            ["short_name"]=>
            string(13) "Fulton County"
            ["types"]=>
            array(2) {
              [0]=>
              string(27) "administrative_area_level_2"
              [1]=>
              string(9) "political"
            }
          }
          [5]=>
          object(stdClass)#683 (3) {
            ["long_name"]=>
            string(7) "Georgia"
            ["short_name"]=>
            string(2) "GA"
            ["types"]=>
            array(2) {
              [0]=>
              string(27) "administrative_area_level_1"
              [1]=>
              string(9) "political"
            }
          }
          [6]=>
          object(stdClass)#785 (3) {
            ["long_name"]=>
            string(13) "United States"
            ["short_name"]=>
            string(2) "US"
            ["types"]=>
            array(2) {
              [0]=>
              string(7) "country"
              [1]=>
              string(9) "political"
            }
          }
          [7]=>
          object(stdClass)#715 (3) {
            ["long_name"]=>
            string(5) "30315"
            ["short_name"]=>
            string(5) "30315"
            ["types"]=>
            array(1) {
              [0]=>
              string(11) "postal_code"
            }
          }
        }
        ["adr_address"]=>
        string(206) "

648 McDonough Blvd SE

, 

Atlanta

, 

GA

 

30315

, 

USA

"
        ["formatted_address"]=>
        string(45) "648 McDonough Blvd SE, Atlanta, GA 30315, USA"
        ["formatted_phone_number"]=>
        string(14) "(404) 577-0707"
        ["geometry"]=>
        object(stdClass)#687 (2) {
          ["location"]=>
          object(stdClass)#714 (2) {
            ["lat"]=>
            string(10) "33.7134347"
            ["lng"]=>
            string(11) "-84.3663751"
          }
          ["viewport"]=>
          object(stdClass)#724 (2) {
            ["northeast"]=>
            object(stdClass)#713 (2) {
              ["lat"]=>
              string(15) "33.714647280292"
              ["lng"]=>
              string(16) "-84.365090619708"
            }
            ["southwest"]=>
            object(stdClass)#718 (2) {
              ["lat"]=>
              string(15) "33.711949319709"
              ["lng"]=>
              string(16) "-84.367788580292"
            }
          }
        }
        ["icon"]=>
        string(65) "https://maps.gstatic.com/mapfiles/place_api/icons/shopping-71.png"
        ["id"]=>
        string(40) "0e9177b9bd65cbd0790a725be363261d4948a1d2"
        ["international_phone_number"]=>
        string(15) "+1 404-577-0707"
        ["name"]=>
        string(18) "Earthshaking Music"
        ["opening_hours"]=>
        object(stdClass)#719 (3) {
          ["open_now"]=>
          bool(false)
          ["periods"]=>
          array(7) {
            [0]=>
            object(stdClass)#722 (2) {
              ["close"]=>
              object(stdClass)#723 (2) {
                ["day"]=>
                int(0)
                ["time"]=>
                string(4) "1700"
              }
              ["open"]=>
              object(stdClass)#731 (2) {
                ["day"]=>
                int(0)
                ["time"]=>
                string(4) "1200"
              }
            }
            [1]=>
            object(stdClass)#726 (2) {
              ["close"]=>
              object(stdClass)#721 (2) {
                ["day"]=>
                string(1) "1"
                ["time"]=>
                string(4) "1900"
              }
              ["open"]=>
              object(stdClass)#720 (2) {
                ["day"]=>
                string(1) "1"
                ["time"]=>
                string(4) "1100"
              }
            }
            [2]=>
            object(stdClass)#725 (2) {
              ["close"]=>
              object(stdClass)#729 (2) {
                ["day"]=>
                string(1) "2"
                ["time"]=>
                string(4) "1900"
              }
              ["open"]=>
              object(stdClass)#728 (2) {
                ["day"]=>
                string(1) "2"
                ["time"]=>
                string(4) "1100"
              }
            }
            [3]=>
            object(stdClass)#727 (2) {
              ["close"]=>
              object(stdClass)#730 (2) {
                ["day"]=>
                string(1) "3"
                ["time"]=>
                string(4) "1900"
              }
              ["open"]=>
              object(stdClass)#738 (2) {
                ["day"]=>
                string(1) "3"
                ["time"]=>
                string(4) "1100"
              }
            }
            [4]=>
            object(stdClass)#733 (2) {
              ["close"]=>
              object(stdClass)#732 (2) {
                ["day"]=>
                string(1) "4"
                ["time"]=>
                string(4) "1900"
              }
              ["open"]=>
              object(stdClass)#737 (2) {
                ["day"]=>
                string(1) "4"
                ["time"]=>
                string(4) "1100"
              }
            }
            [5]=>
            object(stdClass)#745 (2) {
              ["close"]=>
              object(stdClass)#736 (2) {
                ["day"]=>
                string(1) "5"
                ["time"]=>
                string(4) "1900"
              }
              ["open"]=>
              object(stdClass)#735 (2) {
                ["day"]=>
                string(1) "5"
                ["time"]=>
                string(4) "1100"
              }
            }
            [6]=>
            object(stdClass)#734 (2) {
              ["close"]=>
              object(stdClass)#740 (2) {
                ["day"]=>
                string(1) "6"
                ["time"]=>
                string(4) "1900"
              }
              ["open"]=>
              object(stdClass)#743 (2) {
                ["day"]=>
                string(1) "6"
                ["time"]=>
                string(4) "1000"
              }
            }
          }
          ["weekday_text"]=>
          array(7) {
            [0]=>
            string(28) "Monday: 11:00 AM – 7:00 PM"
            [1]=>
            string(29) "Tuesday: 11:00 AM – 7:00 PM"
            [2]=>
            string(31) "Wednesday: 11:00 AM – 7:00 PM"
            [3]=>
            string(30) "Thursday: 11:00 AM – 7:00 PM"
            [4]=>
            string(28) "Friday: 11:00 AM – 7:00 PM"
            [5]=>
            string(30) "Saturday: 10:00 AM – 7:00 PM"
            [6]=>
            string(25) "Sunday: 12:00 – 5:00 PM"
          }
        }
        ["photos"]=>
        array(10) {
          [0]=>
          object(stdClass)#739 (4) {
            ["height"]=>
            int(1936)
            ["html_attributions"]=>
            array(1) {
              [0]=>
              string(98) "Earthshaking Music"
            }
            ["photo_reference"]=>
            string(190) "CmRaAAAAv7pAHtR8WfoSWbC8xKwaJ4DMbSoHz2QtsLpvNrAAHdMBuFA6fYjy4ll0C1f9C7NLEpppDYPkQv5qyG9R7sqdPd1YQ3ZWzXcXKMKAVdOVZspvJwim1uQ35_R9NHAw3Tw1EhC_Dc5Lyx_uKmQr1QY9cHM2GhTo7cEkqdLVMpK2qX98TqseJJ-nLQ"
            ["width"]=>
            int(2592)
          }
          [1]=>
          object(stdClass)#742 (4) {
            ["height"]=>
            int(1936)
            ["html_attributions"]=>
            array(1) {
              [0]=>
              string(98) "Earthshaking Music"
            }
            ["photo_reference"]=>
            string(190) "CmRaAAAAC4Y1RzKGSP02QdaE7DLpMQkQ4k-129EiOSABvQUq4XsInyH9uFacjO2M10xy8QESTQZy5Pmu-ScFyLlgeGviMvvL6dOmChhGealnNJRSQffekk6bFvrK3NJnv83ABeNhEhDDoP7mfkoGMayyRjBHE9YKGhS4wnmqVXAfvBretBaqKob_-1hF0g"
            ["width"]=>
            int(2592)
          }
          [2]=>
          object(stdClass)#744 (4) {
            ["height"]=>
            int(1936)
            ["html_attributions"]=>
            array(1) {
              [0]=>
              string(98) "Earthshaking Music"
            }
            ["photo_reference"]=>
            string(190) "CmRaAAAAiz_wksXaO5Wwl1vSWMlioQAap-0FuRz3KQbb-jGg3mYGoxnnhIi6L0uDr5TIfWGMlHZpEKvWX0ljRMITu9-4zDtw5Y0fX1uT2V43Qz3mEmgNUw5KTTqjlBQVASn-H00iEhBczYT7Mnbv-2QMYDSrvUeyGhSH25dYpvifRDcP_fyQ4kfQQckWiw"
            ["width"]=>
            int(2592)
          }
          [3]=>
          object(stdClass)#741 (4) {
            ["height"]=>
            int(1936)
            ["html_attributions"]=>
            array(1) {
              [0]=>
              string(98) "Earthshaking Music"
            }
            ["photo_reference"]=>
            string(190) "CmRaAAAAy9WgO9bRZ6DUm_4BFEUDkE4KscUDqpWgWoa4LZLkKsnGiwKjE0NQaoPzO0pMCOUJAWAd1Pomk92Q2LWNFSd3civcDRJH6AJRigHAHNsv20wk_bYQJ47cJh4aq5lIf2D3EhC2uJR8xRQ9-Z0Y3j0WUGl3GhQdNTS7CsgWlbA4jfWXUEZrZb-aHg"
            ["width"]=>
            int(2592)
          }
          [4]=>
          object(stdClass)#752 (4) {
            ["height"]=>
            int(1936)
            ["html_attributions"]=>
            array(1) {
              [0]=>
              string(98) "Earthshaking Music"
            }
            ["photo_reference"]=>
            string(190) "CmRaAAAAnLw-u8-VvoS4alMLsJN3XyqW2w3XIv6_FdnYIXeteI4YB1gP9_lmBXG-XzR9qgG_hzrEzh7Vv87uPcP6-2PSDvOMcp-rwkBfFr4__NUi2U9-KKQ_WRVsgIPy7nW6nxeREhBoDAsJWT6zW6Kj-mC1dmUOGhQq91cXtJJvIe7Fc1as_2CHB5EP2A"
            ["width"]=>
            int(2592)
          }
          [5]=>
          object(stdClass)#746 (4) {
            ["height"]=>
            int(1936)
            ["html_attributions"]=>
            array(1) {
              [0]=>
              string(98) "Earthshaking Music"
            }
            ["photo_reference"]=>
            string(190) "CmRaAAAA8SY31bwdyIM1a5UdXbnGCgZuyWzgvi3Qj7ANWJ9lJ2T4dfcZcy-5Ka3Hl75wzYagqrBB-xszSGlFOsWCG5Vqvmlwm0ZES2XOHTrqzMDAkCz36RVkKRkQNCw9E4zEknkVEhBRUEV6O03sGPUWIb8d48VsGhQ7G21y1hhi1AVA4u_4nsti6Ed5-g"
            ["width"]=>
            int(2592)
          }
          [6]=>
          object(stdClass)#747 (4) {
            ["height"]=>
            int(1936)
            ["html_attributions"]=>
            array(1) {
              [0]=>
              string(98) "Earthshaking Music"
            }
            ["photo_reference"]=>
            string(190) "CmRaAAAAQboOOlgDlHbAbAY1yicK9ye22HiValaoXokb-QDKLQ4-jsLWIvU8ncXRdo4Y-Q4Zc2-thh2ZbCzbi0zId1yVShWzhSKwOJALJxBPhU22m_GMUWFVoxLXUoek1-JP6icCEhB5rxtHPJ_pMrk_92lQspc5GhSCQeBxJs_ijkXcqFQhT8e8m3g2Jw"
            ["width"]=>
            int(2592)
          }
          [7]=>
          object(stdClass)#751 (4) {
            ["height"]=>
            int(1936)
            ["html_attributions"]=>
            array(1) {
              [0]=>
              string(98) "Earthshaking Music"
            }
            ["photo_reference"]=>
            string(190) "CmRaAAAA6qH2ZnjXQSib7tPW9um606VzspGAhCvatnQwXLah--Z0YnV5JCwO-YDSVwvYzJQRzRzuA74i205F-mA8LYoiAEPKgaT0D9ddtVkewcHt1pGhKiDJgd5LQ42qkDBI6VB4EhDFlUZ_7FjdCpy982CgSIAaGhSzyenVG98XKM_rgQjgfLLQWBsaEQ"
            ["width"]=>
            int(2592)
          }
          [8]=>
          object(stdClass)#750 (4) {
            ["height"]=>
            int(1936)
            ["html_attributions"]=>
            array(1) {
              [0]=>
              string(98) "Earthshaking Music"
            }
            ["photo_reference"]=>
            string(190) "CmRaAAAAtdv_Dk87iH_eNcfmzpCwO6lUGJU3x93cvZldpQIw40wHa9q-Haph78hQZH8fLHeq6EjFzeBQJ-ZbRyeAIb_oNQvUevSumAUORsn_T8iteB3imIOvRCDTQsQ9KOnRbqkREhDGn5h7c99hswj-Hz16g5rBGhTAgtm41SCJI5Ft2WH5KNTtSG1PZg"
            ["width"]=>
            int(2592)
          }
          [9]=>
          object(stdClass)#759 (4) {
            ["height"]=>
            int(1936)
            ["html_attributions"]=>
            array(1) {
              [0]=>
              string(98) "Earthshaking Music"
            }
            ["photo_reference"]=>
            string(190) "CmRaAAAASaTCXF8mOQzHYHQzDLsK5ppsn6bwU2N6Pi-LuGSBf-NjHKsn0etHrPb-_gZfpMxARMwllDN-hfd146vc505WIFMcKyDnr_JKcxtHLiSqhbCUDIWly8bDRMpKdKiE7e5eEhC6zeWzFTINQ9R4JHS7-9b4GhSntkHuYiGdmUeqCKi8eN-5BMl6Jg"
            ["width"]=>
            int(2592)
          }
        }
        ["place_id"]=>
        string(27) "ChIJQT4epVwB9YgR5ZGa4Ao4kkI"
        ["plus_code"]=>
        object(stdClass)#749 (2) {
          ["compound_code"]=>
          string(39) "PJ7M+9C Atlanta, Georgia, United States"
          ["global_code"]=>
          string(11) "865QPJ7M+9C"
        }
        ["rating"]=>
        string(3) "4.8"
        ["reference"]=>
        string(190) "CmRRAAAA35Cjiw-knpEsncnaY0OjnEzJRUjfMZWB3tUvwFT74G6s1EcIapoFnbDjyu-zMvSV85OtWmmDJb_W2aV59CgaKPvuiqEppvcMwSqA4eH2b5Wb5Hf961s6iTcGmpzsK-_gEhAVYZ2oufh6rFJy8xWJtVG7GhSzGDVD_Kl2_DUCFqpptKadpbic-Q"
        ["reviews"]=>
        array(5) {
          [0]=>
          object(stdClass)#754 (6) {
            ["author_name"]=>
            string(13) "A Google User"
            ["language"]=>
            string(2) "en"
            ["rating"]=>
            string(1) "4"
            ["relative_time_description"]=>
            string(11) "a month ago"
            ["text"]=>
            string(1921) "Been shopping here for about 7 years, since they were at the old location in Edgewood. Consistently good customer service and bought an excellent Woodsong guitar from here. I went in a couple of days ago and got one of the worst cases of "mansplaining" ever handed to me.✋ I usually have a light and candid conversation about music with Charlie (who was not in but my favorite employee)or whoever else is working the counter. Employees are always nice. But that day, a simple question about preference on guitar strings turned into the "Master Luthier" proceeding to baby talk to me and try to explain to me what a guitar string was 😑. I'm sure he is great at repairing and making guitars, but customer service aficionado he is NOT. His rude and arrogant response almost lost a longtime customer. Instead of helping me to find what I needed, he turned me off to the usual "Earthshaking experience." After I informed him that I was no longer interested in talking strings with him but that I did intend to buy the regular strings that I use, I walked away from the counter to look around some more. I heard him grumble something rude behind me but paid it no attention. Thankfully, a very nice associate, who unfortunately I can not remember his name, ran behind me to apologize and assure me that he could help me. ( Dark hair, ponytail, beard ) He was EXTREMELY helpful, answered my simple question and his input led me to buy a string set that I didn't even know existed. He also helped us find several other items that we needed and the transaction ended in a smile and without a hitch. The coated D'Addario custom lights are amazing and my guitar sounds better than ever! Thanks again for YOUR help and I will definitely keep coming here as I have done for the past 7 years! Thanks again for the excellent customer service that I've come to expect from your shop. It is always a better time than a Guitar Center."
            ["time"]=>
            int(1533217517)
          }
          [1]=>
          object(stdClass)#748 (6) {
            ["author_name"]=>
            string(13) "A Google User"
            ["language"]=>
            string(2) "en"
            ["rating"]=>
            string(1) "5"
            ["relative_time_description"]=>
            string(11) "a month ago"
            ["text"]=>
            string(148) "Just visited this store bought a guitar cord and some mandolin strings.Resonable prices and plenty of parking all ways courteous & friendly service."
            ["time"]=>
            int(1532190607)
          }
          [2]=>
          object(stdClass)#757 (6) {
            ["author_name"]=>
            string(13) "A Google User"
            ["language"]=>
            string(2) "en"
            ["rating"]=>
            string(1) "5"
            ["relative_time_description"]=>
            string(12) "4 months ago"
            ["text"]=>
            string(54) "they real cool and friendly" recomended " 🤘🤘🤘"
            ["time"]=>
            int(1524780807)
          }
          [3]=>
          object(stdClass)#753 (6) {
            ["author_name"]=>
            string(13) "A Google User"
            ["language"]=>
            string(2) "en"
            ["rating"]=>
            string(1) "5"
            ["relative_time_description"]=>
            string(12) "4 months ago"
            ["text"]=>
            string(76) "The burrito tasted like cardboard and the waitress was really mean and rude."
            ["time"]=>
            int(1525550371)
          }
          [4]=>
          object(stdClass)#756 (6) {
            ["author_name"]=>
            string(13) "A Google User"
            ["language"]=>
            string(2) "en"
            ["rating"]=>
            string(1) "5"
            ["relative_time_description"]=>
            string(10) "a year ago"
            ["text"]=>
            string(98) "What a lovely staff and selection! Helpful without being pushy. I will absolutely be coming back. "
            ["time"]=>
            int(1485710792)
          }
        }
        ["scope"]=>
        string(6) "GOOGLE"
        ["types"]=>
        array(6) {
          [0]=>
          string(17) "electronics_store"
          [1]=>
          string(16) "home_goods_store"
          [2]=>
          string(5) "store"
          [3]=>
          string(6) "school"
          [4]=>
          string(17) "point_of_interest"
          [5]=>
          string(13) "establishment"
        }
        ["url"]=>
        string(48) "https://maps.google.com/?cid=4796958172472054245"
        ["utc_offset"]=>
        string(4) "-240"
        ["vicinity"]=>
        string(42) "648 McDonough Boulevard Southeast, Atlanta"
        ["website"]=>
        string(29) "http://earthshakingmusic.com/"
      }
      ["tracker_field_googleOverallRating"]=>
      float(4.9)
      ["tracker_field_businessYelpBusinessData"]=>
      array(0) {
      }
      ["tracker_field_businessYelpBusinessData_json"]=>
      array(0) {
      }
      ["tracker_field_businessFacebook"]=>
      string(18) "Earthshaking Music"
      ["tracker_field_businessFacebookID"]=>
      string(15) "118237158236680"
      ["tracker_field_businessFacebookData"]=>
      array(2) {
        [0]=>
        string(15) "118237158236680"
        [1]=>
        string(18) "Earthshaking Music"
      }
      ["tracker_field_businessFacebookData_text"]=>
      string(34) "118237158236680 Earthshaking Music"
      ["tracker_field_businessFacebookData_json"]=>
      object(stdClass)#758 (3) {
        ["id"]=>
        string(15) "118237158236680"
        ["name"]=>
        string(18) "Earthshaking Music"
        ["feed"]=>
        object(stdClass)#1451 (2) {
          ["data"]=>
          array(25) {
            [0]=>
            object(stdClass)#755 (3) {
              ["message"]=>
              string(241) "It's great to have you as a MusicNomad Equipment Care Dealer of our premium polishes and instrument care products. Thanks for the support. Follow us on Facebook for product updates, videos, care tips and more. http://www.musicnomadcare.com"
              ["created_time"]=>
              string(24) "2018-08-13T18:16:01+0000"
              ["id"]=>
              string(32) "118237158236680_1953906694669708"
            }
            [1]=>
            object(stdClass)#766 (3) {
              ["story"]=>
              string(49) "Earthshaking Music updated their profile picture."
              ["created_time"]=>
              string(24) "2018-08-11T13:43:39+0000"
              ["id"]=>
              string(32) "118237158236680_1949970531729991"
            }
            [2]=>
            object(stdClass)#765 (3) {
              ["story"]=>
              string(37) "Earthshaking Music added a new photo."
              ["created_time"]=>
              string(24) "2018-08-11T13:42:20+0000"
              ["id"]=>
              string(32) "118237158236680_1949968255063552"
            }
            [3]=>
            object(stdClass)#761 (3) {
              ["message"]=>
              string(13) "Hood ornament"
              ["created_time"]=>
              string(24) "2018-08-09T21:44:52+0000"
              ["id"]=>
              string(32) "118237158236680_1947068375353540"
            }
            [4]=>
            object(stdClass)#760 (3) {
              ["story"]=>
              string(79) "Earthshaking Music added 7 new photos — with Eric Belt at Earthshaking Music."
              ["created_time"]=>
              string(24) "2018-08-04T13:49:54+0000"
              ["id"]=>
              string(32) "118237158236680_1937721376288240"
            }
            [5]=>
            object(stdClass)#764 (3) {
              ["message"]=>
              string(81) "Just got our @korgofficial and @voxamplification order in today, come in to play!"
              ["created_time"]=>
              string(24) "2018-07-25T21:32:45+0000"
              ["id"]=>
              string(32) "118237158236680_1921558067904571"
            }
            [6]=>
            object(stdClass)#1432 (4) {
              ["message"]=>
              string(20) "Smooth and subtle..."
              ["story"]=>
              string(50) "Earthshaking Music shared Dust-to-Digital's video."
              ["created_time"]=>
              string(24) "2018-07-24T23:08:48+0000"
              ["id"]=>
              string(32) "118237158236680_1919979211395790"
            }
            [7]=>
            object(stdClass)#1433 (3) {
              ["message"]=>
              string(126) "Got a kick out of this today! Whatcha think y'all who is the most metal at earthshaking? 😂#metal #brutal #blastbeats #shred"
              ["created_time"]=>
              string(24) "2018-07-18T16:56:36+0000"
              ["id"]=>
              string(32) "118237158236680_1909443925782652"
            }
            [8]=>
            object(stdClass)#1434 (4) {
              ["message"]=>
              string(126) "We just got in 4 amazing Pro quality djembes from Guinea. Stunning wood and carving. They sound amazing. $399 while they last."
              ["story"]=>
              string(38) "Earthshaking Music added 4 new photos."
              ["created_time"]=>
              string(24) "2018-07-16T22:09:08+0000"
              ["id"]=>
              string(32) "118237158236680_1906656819394696"
            }
            [9]=>
            object(stdClass)#1435 (3) {
              ["story"]=>
              string(49) "Earthshaking Music updated their profile picture."
              ["created_time"]=>
              string(24) "2018-07-06T16:42:54+0000"
              ["id"]=>
              string(32) "118237158236680_1890475611012817"
            }
            [10]=>
            object(stdClass)#1436 (3) {
              ["story"]=>
              string(49) "Earthshaking Music updated their profile picture."
              ["created_time"]=>
              string(24) "2018-07-06T16:41:25+0000"
              ["id"]=>
              string(32) "118237158236680_1890473807679664"
            }
            [11]=>
            object(stdClass)#1437 (3) {
              ["message"]=>
              string(107) "HaPpy 4th of July! Earthshaking Music will be CLOSED today. We will resume regular business hours July 5th."
              ["created_time"]=>
              string(24) "2018-07-04T11:03:10+0000"
              ["id"]=>
              string(32) "118237158236680_1886797041380674"
            }
            [12]=>
            object(stdClass)#1438 (3) {
              ["message"]=>
              string(120) "Come in to test drive pedals from brands you love and trust! Here's some new and old favs from @ehx and @earthquakerdev."
              ["created_time"]=>
              string(24) "2018-06-19T17:59:00+0000"
              ["id"]=>
              string(32) "118237158236680_1862779203782458"
            }
            [13]=>
            object(stdClass)#1439 (3) {
              ["message"]=>
              string(230) "Hi PMP Studio members! Welcome and I hope you are enjoying practicing in our new spaces. We have one large size room available for $540 per month. Please contact us at pmp@earthshakingmusic.com for more details.

Keep rockin'
Dave"
              ["created_time"]=>
              string(24) "2018-05-01T18:38:52+0000"
              ["id"]=>
              string(32) "118237158236680_1807618922631820"
            }
            [14]=>
            object(stdClass)#1440 (3) {
              ["message"]=>
              string(196) "Just got a new @earthquakerdev shipment in today, along with some cool stickers and totes! Come by and hear em y'all! #earthquakerdevices #pedalsandeffects #earthshakingmusic #atlanta #musiclovers"
              ["created_time"]=>
              string(24) "2018-04-25T19:46:00+0000"
              ["id"]=>
              string(32) "118237158236680_1801420226585023"
            }
            [15]=>
            object(stdClass)#1441 (3) {
              ["message"]=>
              string(158) "I love happy customers! Today I heard a great southern expression. 
Jared: "How are you doing today sir?"
Customer: "Oh, Hangin' on like a hair in a biscuit!""
              ["created_time"]=>
              string(24) "2018-04-24T17:14:56+0000"
              ["id"]=>
              string(32) "118237158236680_1800181946708851"
            }
            [16]=>
            object(stdClass)#1442 (3) {
              ["message"]=>
              string(171) "PMP Rehearsal Spaces update 4-20-18
I have CO and Member Agreements in hand. If you have a hold deposit on a space, please drop by the store to sign the agreement and pay."
              ["created_time"]=>
              string(24) "2018-04-20T19:45:22+0000"
              ["id"]=>
              string(32) "118237158236680_1796078070452572"
            }
            [17]=>
            object(stdClass)#1443 (3) {
              ["message"]=>
              string(99) "Featured Alvarez of the day RF26SSB-AGP includes a Gig bag, tuner, strap and polish cloth for $199!"
              ["created_time"]=>
              string(24) "2018-04-17T23:03:30+0000"
              ["id"]=>
              string(32) "118237158236680_1792973810762998"
            }
            [18]=>
            object(stdClass)#1444 (3) {
              ["message"]=>
              string(517) "Studio Update Friday the 13th April! 
We passed our final building inspection. CO will be issued next week. I'll have Practice Makes Perfect @ Earthshaking Music membership agreements (hopefully) by Wednesday. 
So- If you have a deposit on a space and would like to drop by the studios today or over the weekend and stake your claim on a spot- feel free. First come, first served. 
Also, now is a good time to check with your insurance company so you have proper coverage. Any questions, hit me in the comments below."
              ["created_time"]=>
              string(24) "2018-04-13T15:20:09+0000"
              ["id"]=>
              string(32) "118237158236680_1788283114565401"
            }
            [19]=>
            object(stdClass)#1445 (3) {
              ["message"]=>
              string(179) "Do you guys still have any kind of Saturday night jam like you did in the past? Am I just outta the loop?
I'm looking for a percussionist & hoping to find one NOT thru craigslist."
              ["created_time"]=>
              string(24) "2018-04-10T01:32:22+0000"
              ["id"]=>
              string(32) "118237158236680_1784398994953813"
            }
            [20]=>
            object(stdClass)#1446 (4) {
              ["message"]=>
              string(147) "Rehearsal Studios Update 4/9/18
As you can see we are pretty close! Still waiting on final 2 inspections. And insurance. Keep your fingers crossed!"
              ["story"]=>
              string(38) "Earthshaking Music added 2 new photos."
              ["created_time"]=>
              string(24) "2018-04-09T18:35:53+0000"
              ["id"]=>
              string(32) "118237158236680_1784111451649234"
            }
            [21]=>
            object(stdClass)#1447 (3) {
              ["message"]=>
              string(36) "www.atlantafilmshow.com check us out"
              ["created_time"]=>
              string(24) "2018-04-09T15:41:19+0000"
              ["id"]=>
              string(32) "118237158236680_1783959524997760"
            }
            [22]=>
            object(stdClass)#1448 (3) {
              ["message"]=>
              string(112) "HaPpy Easter! Earthshaking Music is closed today. We will open tomorrow at 11am and resume our regular schedule."
              ["created_time"]=>
              string(24) "2018-04-01T15:32:51+0000"
              ["id"]=>
              string(32) "118237158236680_1775012819225764"
            }
            [23]=>
            object(stdClass)#1449 (3) {
              ["message"]=>
              string(678) "Rehearsal Studio Update. It's Friday, March 30th and we finally got our electric meter installed. This is a big deal as all final inspections require the power to be ON. Due to communication breakdowns, storms, and "reasons", it took roughly 3 weeks from when we were supposed to get it until today. Now we are on a holiday weekend, so nothing will happen.

Many of you are asking "when can we move in"? All I can say is we are getting very close. At the start of the build, the contractor confidently said "it's a 6 week job". We're at week 12 now, so your guess is as good as mine! 

Thanks for you patience and understanding. I'll update again as soon as I have more details."
              ["created_time"]=>
              string(24) "2018-03-30T21:39:46+0000"
              ["id"]=>
              string(32) "118237158236680_1773173579409688"
            }
            [24]=>
            object(stdClass)#1450 (3) {
              ["message"]=>
              string(56) "Looks nice, but how does it sound? Come in and find out."
              ["created_time"]=>
              string(24) "2018-03-20T14:55:47+0000"
              ["id"]=>
              string(32) "118237158236680_1761315393928840"
            }
          }
          ["paging"]=>
          object(stdClass)#1452 (2) {
            ["previous"]=>
            string(285) "https://graph.facebook.com/v2.8/118237158236680/feed?since=1534184161&access_token=284346488083|StUmZexEo-ODM_s_RzrK8IoefW0&limit=25&__paging_token=enc_AdCKyT5Qc4a5DzykMEJZAAoCAn8jIQZAmPjCl961O2brxcjDA8oY0eIPbjZBnyeNeZALHxSd85V0v3QOpKCLBLt0zDmZCFPIKX2IZAjAI1kMb8oQFiqQZDZD&__previous=1"
            ["next"]=>
            string(269) "https://graph.facebook.com/v2.8/118237158236680/feed?access_token=284346488083|StUmZexEo-ODM_s_RzrK8IoefW0&limit=25&until=1521557747&__paging_token=enc_AdDTIc4TjZACzeJpxNlIBapJ3sDy0VANu3IV2WqQTAtOj3rMOomRoUBk0yMxjT1D71kBlPiMSsUU5bFCmAZBCEqWZCzsCxATqJ2xbbaptVKH4HENwZDZD"
          }
        }
      }
      ["tracker_field_businessLoafingID"]=>
      string(24) "573f3d5b1e3ee4dfcf661356"
      ["tracker_field_businessAccountExecutive"]=>
      string(1) "0"
      ["tracker_field_businessStatusField"]=>
      string(4) "Done"
      ["tracker_field_businessCLDistributionLocation"]=>
      string(1) "n"
      ["tracker_field_businessAudience"]=>
      array(0) {
      }
      ["tracker_field_businessLegacyID"]=>
      int(1294799)
      ["language"]=>
      string(7) "unknown"
      ["attachments"]=>
      array(0) {
      }
      ["comment_count"]=>
      int(0)
      ["categories"]=>
      array(2) {
        [0]=>
        int(89)
        [1]=>
        int(100)
      }
      ["deep_categories"]=>
      array(5) {
        [0]=>
        int(28)
        [1]=>
        int(89)
        [2]=>
        int(1)
        [3]=>
        int(149)
        [4]=>
        int(100)
      }
      ["categories_under_28"]=>
      array(1) {
        [0]=>
        int(89)
      }
      ["deep_categories_under_28"]=>
      array(1) {
        [0]=>
        int(89)
      }
      ["categories_under_1"]=>
      array(0) {
      }
      ["deep_categories_under_1"]=>
      array(2) {
        [0]=>
        int(149)
        [1]=>
        int(100)
      }
      ["categories_under_177"]=>
      array(0) {
      }
      ["deep_categories_under_177"]=>
      array(0) {
      }
      ["categories_under_209"]=>
      array(0) {
      }
      ["deep_categories_under_209"]=>
      array(0) {
      }
      ["categories_under_163"]=>
      array(0) {
      }
      ["deep_categories_under_163"]=>
      array(0) {
      }
      ["categories_under_171"]=>
      array(0) {
      }
      ["deep_categories_under_171"]=>
      array(0) {
      }
      ["categories_under_153"]=>
      array(0) {
      }
      ["deep_categories_under_153"]=>
      array(0) {
      }
      ["categories_under_242"]=>
      array(0) {
      }
      ["deep_categories_under_242"]=>
      array(0) {
      }
      ["categories_under_564"]=>
      array(0) {
      }
      ["deep_categories_under_564"]=>
      array(0) {
      }
      ["freetags"]=>
      array(0) {
      }
      ["geo_located"]=>
      string(1) "y"
      ["geo_location"]=>
      string(38) "-84.3663751000001,33.71343470000012,17"
      ["geo_point"]=>
      object(stdClass)#1453 (2) {
        ["lat"]=>
        float(33.7134347)
        ["lon"]=>
        float(-84.3663751)
      }
      ["allowed_groups"]=>
      array(2) {
        [0]=>
        string(6) "Admins"
        [1]=>
        string(9) "Anonymous"
      }
      ["allowed_users"]=>
      array(0) {
      }
      ["relations"]=>
      array(0) {
      }
      ["relation_objects"]=>
      array(0) {
      }
      ["relation_types"]=>
      array(0) {
      }
      ["relation_count"]=>
      array(0) {
      }
      ["title_initial"]=>
      string(1) "E"
      ["title_firstword"]=>
      string(12) "Earthshaking"
      ["searchable"]=>
      string(1) "y"
      ["url"]=>
      string(7) "item930"
      ["object_type"]=>
      string(11) "trackeritem"
      ["object_id"]=>
      string(3) "930"
      ["contents"]=>
      string(545) "    Earthshaking Music 648 McDonough Blvd. S.E.  Atlanta GA 30315 http://earthshakingmusic.com/   (404) 577-0707  -84.3663751000001,33.71343470000012,17   Along with the usual amps, mixers, and DJ turntables, this offbeat music shop carries a range of exotic drums and world-music instruments.       http://dev.creativeloafing.com/image/2014/03/320w/357a8_earthshaking_music_magnum.jpg        n  ChIJQT4epVwB9YgR5ZGa4Ao4kkI  Earthshaking Music 118237158236680 573f3d5b1e3ee4dfcf661356       Done  n  2017-06-19T12:58:54+00:00 Earthshaking Music "
      ["score"]=>
      float(0)
      ["_index"]=>
      string(21) "atlantawiki_tiki_main"
      ["objectlink"]=>
      string(289) "Earthshaking Music"
      ["image"]=>
      string(39) "

File not found.

"
      ["areaLocation"]=>
      string(34) "-84.3503813,33.7391182,15"
    }
    [13]=>
    array(82) {
      ["title"]=>
      string(13) "Rockstar Gold"
      ["modification_date"]=>
      string(25) "2018-03-08T16:44:04+00:00"
      ["creation_date"]=>
      string(25) "2017-07-16T16:20:45+00:00"
      ["contributors"]=>
      array(1) {
        [0]=>
        string(29) "ben.eason@creativeloafing.com"
      }
      ["date"]=>
      string(25) "2017-07-16T16:20:45+00:00"
      ["tracker_status"]=>
      string(1) "o"
      ["tracker_id"]=>
      string(1) "1"
      ["view_permission"]=>
      string(13) "view_trackers"
      ["tracker_field_businessName"]=>
      string(13) "Rockstar Gold"
      ["tracker_field_businessRepresentative"]=>
      array(0) {
      }
      ["tracker_field_businessLocationRadius"]=>
      int(0)
      ["tracker_field_description"]=>
      string(1) " "
      ["tracker_field_description_raw"]=>
      string(1) " "
      ["tracker_field_businessClassifieds"]=>
      array(0) {
      }
      ["tracker_field_businessTypes"]=>
      array(1) {
        [0]=>
        string(2) "89"
      }
      ["tracker_field_businessTypes_text"]=>
      string(2) "89"
      ["tracker_field_scene"]=>
      array(0) {
      }
      ["tracker_field_businessNeighborhoods"]=>
      array(2) {
        [0]=>
        string(3) "100"
        [1]=>
        string(3) "149"
      }
      ["tracker_field_businessNeighborhoods_text"]=>
      string(7) "100 149"
      ["tracker_field_businessPriceRange"]=>
      array(0) {
      }
      ["tracker_field_businessMiscCategories"]=>
      array(0) {
      }
      ["tracker_field_businessCLAcctNum"]=>
      int(0)
      ["tracker_field_business_121CurrentChit"]=>
      string(1) "n"
      ["tracker_field_121MobileClientID"]=>
      int(0)
      ["tracker_field_121MobileCampaignData"]=>
      array(0) {
      }
      ["tracker_field_121MobileCampaignData_json"]=>
      array(0) {
      }
      ["tracker_field_googlePlaceData"]=>
      array(0) {
      }
      ["tracker_field_googlePlaceData_json"]=>
      array(0) {
      }
      ["tracker_field_googleOverallRating"]=>
      int(0)
      ["tracker_field_businessYelpBusinessData"]=>
      array(0) {
      }
      ["tracker_field_businessYelpBusinessData_json"]=>
      array(0) {
      }
      ["tracker_field_businessFacebookData"]=>
      array(0) {
      }
      ["tracker_field_businessFacebookData_json"]=>
      array(0) {
      }
      ["tracker_field_businessLoafingID"]=>
      string(24) "573f3d521e3ee4dfcf660ae0"
      ["tracker_field_businessAccountExecutive"]=>
      string(1) "0"
      ["tracker_field_businessStatusField"]=>
      string(20) "Multiple Differences"
      ["tracker_field_businessCLDistributionLocation"]=>
      string(1) "n"
      ["tracker_field_businessAudience"]=>
      array(0) {
      }
      ["tracker_field_businessLegacyID"]=>
      int(1300946)
      ["language"]=>
      string(7) "unknown"
      ["attachments"]=>
      array(0) {
      }
      ["comment_count"]=>
      int(0)
      ["categories"]=>
      array(2) {
        [0]=>
        int(89)
        [1]=>
        int(100)
      }
      ["deep_categories"]=>
      array(5) {
        [0]=>
        int(28)
        [1]=>
        int(89)
        [2]=>
        int(1)
        [3]=>
        int(149)
        [4]=>
        int(100)
      }
      ["categories_under_28"]=>
      array(1) {
        [0]=>
        int(89)
      }
      ["deep_categories_under_28"]=>
      array(1) {
        [0]=>
        int(89)
      }
      ["categories_under_1"]=>
      array(0) {
      }
      ["deep_categories_under_1"]=>
      array(2) {
        [0]=>
        int(149)
        [1]=>
        int(100)
      }
      ["categories_under_177"]=>
      array(0) {
      }
      ["deep_categories_under_177"]=>
      array(0) {
      }
      ["categories_under_209"]=>
      array(0) {
      }
      ["deep_categories_under_209"]=>
      array(0) {
      }
      ["categories_under_163"]=>
      array(0) {
      }
      ["deep_categories_under_163"]=>
      array(0) {
      }
      ["categories_under_171"]=>
      array(0) {
      }
      ["deep_categories_under_171"]=>
      array(0) {
      }
      ["categories_under_153"]=>
      array(0) {
      }
      ["deep_categories_under_153"]=>
      array(0) {
      }
      ["categories_under_242"]=>
      array(0) {
      }
      ["deep_categories_under_242"]=>
      array(0) {
      }
      ["categories_under_564"]=>
      array(0) {
      }
      ["deep_categories_under_564"]=>
      array(0) {
      }
      ["freetags"]=>
      array(0) {
      }
      ["geo_located"]=>
      string(1) "n"
      ["allowed_groups"]=>
      array(2) {
        [0]=>
        string(6) "Admins"
        [1]=>
        string(9) "Anonymous"
      }
      ["allowed_users"]=>
      array(0) {
      }
      ["relations"]=>
      array(0) {
      }
      ["relation_objects"]=>
      array(0) {
      }
      ["relation_types"]=>
      array(0) {
      }
      ["relation_count"]=>
      array(0) {
      }
      ["title_initial"]=>
      string(1) "R"
      ["title_firstword"]=>
      string(8) "Rockstar"
      ["searchable"]=>
      string(1) "y"
      ["url"]=>
      string(8) "item4840"
      ["object_type"]=>
      string(11) "trackeritem"
      ["object_id"]=>
      string(4) "4840"
      ["contents"]=>
      string(150) "    Rockstar Gold                              n      573f3d521e3ee4dfcf660ae0       Multiple Differences  n  2017-07-16T16:20:45+00:00 Rockstar Gold "
      ["score"]=>
      float(0)
      ["_index"]=>
      string(21) "atlantawiki_tiki_main"
      ["objectlink"]=>
      string(191) "Rockstar Gold"
      ["image"]=>
      string(39) "

File not found.

"
      ["areaLocation"]=>
      string(34) "-84.3503813,33.7391182,15"
    }
    [14]=>
    array(89) {
      ["title"]=>
      string(25) "East Atlanta Ace Hardware"
      ["modification_date"]=>
      string(25) "2018-03-08T16:41:28+00:00"
      ["creation_date"]=>
      string(25) "2017-07-16T21:30:40+00:00"
      ["contributors"]=>
      array(1) {
        [0]=>
        string(29) "ben.eason@creativeloafing.com"
      }
      ["date"]=>
      string(25) "2017-07-16T21:30:40+00:00"
      ["tracker_status"]=>
      string(1) "o"
      ["tracker_id"]=>
      string(1) "1"
      ["view_permission"]=>
      string(13) "view_trackers"
      ["tracker_field_businessName"]=>
      string(25) "East Atlanta Ace Hardware"
      ["tracker_field_businessAddress"]=>
      string(18) "1231 Glenwood Ave."
      ["tracker_field_businessAddress2"]=>
      string(1) " "
      ["tracker_field_businessCity"]=>
      string(7) "Atlanta"
      ["tracker_field_businessState"]=>
      string(2) "GA"
      ["tracker_field_businessZip"]=>
      string(5) "30316"
      ["tracker_field_businessWebsite"]=>
      string(65) "http://www.eastatlantavillage.net/east_atlanta_ace_hardware.phtml"
      ["tracker_field_businessPhone"]=>
      string(12) "404-627-5757"
      ["tracker_field_businessRepresentative"]=>
      array(0) {
      }
      ["tracker_field_businessLocationRadius"]=>
      int(0)
      ["tracker_field_description"]=>
      string(108) "You've got to appreciate any neighborhood hardware store that sells T-shirts featuring its own retro logo."
      ["tracker_field_description_raw"]=>
      string(108) "You've got to appreciate any neighborhood hardware store that sells T-shirts featuring its own retro logo."
      ["tracker_field_businessClassifieds"]=>
      array(0) {
      }
      ["tracker_field_businessTypes"]=>
      array(1) {
        [0]=>
        string(2) "89"
      }
      ["tracker_field_businessTypes_text"]=>
      string(2) "89"
      ["tracker_field_scene"]=>
      array(0) {
      }
      ["tracker_field_businessNeighborhoods"]=>
      array(2) {
        [0]=>
        string(3) "100"
        [1]=>
        string(3) "149"
      }
      ["tracker_field_businessNeighborhoods_text"]=>
      string(7) "100 149"
      ["tracker_field_businessPriceRange"]=>
      array(0) {
      }
      ["tracker_field_businessMiscCategories"]=>
      array(0) {
      }
      ["tracker_field_businessCLAcctNum"]=>
      int(0)
      ["tracker_field_business_121CurrentChit"]=>
      string(1) "n"
      ["tracker_field_121MobileClientID"]=>
      int(0)
      ["tracker_field_121MobileCampaignData"]=>
      array(0) {
      }
      ["tracker_field_121MobileCampaignData_json"]=>
      array(0) {
      }
      ["tracker_field_googlePlaceData"]=>
      array(0) {
      }
      ["tracker_field_googlePlaceData_json"]=>
      array(0) {
      }
      ["tracker_field_googleOverallRating"]=>
      int(0)
      ["tracker_field_businessYelpBusinessData"]=>
      array(0) {
      }
      ["tracker_field_businessYelpBusinessData_json"]=>
      array(0) {
      }
      ["tracker_field_businessFacebookData"]=>
      array(0) {
      }
      ["tracker_field_businessFacebookData_json"]=>
      array(0) {
      }
      ["tracker_field_businessLoafingID"]=>
      string(24) "573f3d571e3ee4dfcf660fbf"
      ["tracker_field_businessAccountExecutive"]=>
      string(1) "0"
      ["tracker_field_businessStatusField"]=>
      string(10) "NoGoogleID"
      ["tracker_field_businessCLDistributionLocation"]=>
      string(1) "n"
      ["tracker_field_businessAudience"]=>
      array(0) {
      }
      ["tracker_field_businessLegacyID"]=>
      int(1297694)
      ["language"]=>
      string(7) "unknown"
      ["attachments"]=>
      array(0) {
      }
      ["comment_count"]=>
      int(0)
      ["categories"]=>
      array(2) {
        [0]=>
        int(89)
        [1]=>
        int(100)
      }
      ["deep_categories"]=>
      array(5) {
        [0]=>
        int(28)
        [1]=>
        int(89)
        [2]=>
        int(1)
        [3]=>
        int(149)
        [4]=>
        int(100)
      }
      ["categories_under_28"]=>
      array(1) {
        [0]=>
        int(89)
      }
      ["deep_categories_under_28"]=>
      array(1) {
        [0]=>
        int(89)
      }
      ["categories_under_1"]=>
      array(0) {
      }
      ["deep_categories_under_1"]=>
      array(2) {
        [0]=>
        int(149)
        [1]=>
        int(100)
      }
      ["categories_under_177"]=>
      array(0) {
      }
      ["deep_categories_under_177"]=>
      array(0) {
      }
      ["categories_under_209"]=>
      array(0) {
      }
      ["deep_categories_under_209"]=>
      array(0) {
      }
      ["categories_under_163"]=>
      array(0) {
      }
      ["deep_categories_under_163"]=>
      array(0) {
      }
      ["categories_under_171"]=>
      array(0) {
      }
      ["deep_categories_under_171"]=>
      array(0) {
      }
      ["categories_under_153"]=>
      array(0) {
      }
      ["deep_categories_under_153"]=>
      array(0) {
      }
      ["categories_under_242"]=>
      array(0) {
      }
      ["deep_categories_under_242"]=>
      array(0) {
      }
      ["categories_under_564"]=>
      array(0) {
      }
      ["deep_categories_under_564"]=>
      array(0) {
      }
      ["freetags"]=>
      array(0) {
      }
      ["geo_located"]=>
      string(1) "n"
      ["allowed_groups"]=>
      array(2) {
        [0]=>
        string(6) "Admins"
        [1]=>
        string(9) "Anonymous"
      }
      ["allowed_users"]=>
      array(0) {
      }
      ["relations"]=>
      array(0) {
      }
      ["relation_objects"]=>
      array(0) {
      }
      ["relation_types"]=>
      array(0) {
      }
      ["relation_count"]=>
      array(0) {
      }
      ["title_initial"]=>
      string(1) "E"
      ["title_firstword"]=>
      string(4) "East"
      ["searchable"]=>
      string(1) "y"
      ["url"]=>
      string(8) "item8709"
      ["object_type"]=>
      string(11) "trackeritem"
      ["object_id"]=>
      string(4) "8709"
      ["contents"]=>
      string(381) "    East Atlanta Ace Hardware 1231 Glenwood Ave.   Atlanta GA 30316 http://www.eastatlantavillage.net/east_atlanta_ace_hardware.phtml   404-627-5757     You've got to appreciate any neighborhood hardware store that sells T-shirts featuring its own retro logo.               n      573f3d571e3ee4dfcf660fbf       NoGoogleID  n  2017-07-16T21:30:40+00:00 East Atlanta Ace Hardware "
      ["score"]=>
      float(0)
      ["_index"]=>
      string(21) "atlantawiki_tiki_main"
      ["objectlink"]=>
      string(203) "East Atlanta Ace Hardware"
      ["image"]=>
      string(39) "

File not found.

"
      ["areaLocation"]=>
      string(34) "-84.3503813,33.7391182,15"
    }
    [15]=>
    array(95) {
      ["title"]=>
      string(22) "Nail Shack Salon & Spa"
      ["modification_date"]=>
      string(25) "2018-07-27T14:23:31+00:00"
      ["creation_date"]=>
      string(25) "2017-06-04T15:23:07+00:00"
      ["contributors"]=>
      array(2) {
        [0]=>
        NULL
        [1]=>
        string(29) "ben.eason@creativeloafing.com"
      }
      ["date"]=>
      string(25) "2017-06-04T15:23:07+00:00"
      ["tracker_status"]=>
      string(1) "o"
      ["tracker_id"]=>
      string(1) "1"
      ["view_permission"]=>
      string(13) "view_trackers"
      ["tracker_field_businessName"]=>
      string(22) "Nail Shack Salon & Spa"
      ["tracker_field_businessAddress"]=>
      string(25) "484 Flat Shoals Ave. S.E."
      ["tracker_field_businessCity"]=>
      string(7) "Atlanta"
      ["tracker_field_businessState"]=>
      string(2) "GA"
      ["tracker_field_businessZip"]=>
      string(5) "30316"
      ["tracker_field_businessWebsite"]=>
      string(27) "http://www.nailshackeav.net"
      ["tracker_field_businessPhone"]=>
      string(14) "(404) 524-1500"
      ["tracker_field_businessRepresentative"]=>
      array(0) {
      }
      ["tracker_field_businessLocationRadius"]=>
      int(0)
      ["tracker_field_businessIcon"]=>
      string(9) "display26"
      ["tracker_field_description"]=>
      string(275) "Nail Shack Salon & Spa has the serious nail game on lock, offering an array of exquisite art designs as well as the newly popular SNS nail treatment. SNS (Signature Nail Systems) is basically a hybrid between gel and acrylic. Eyelash treatments and waxing are also available."
      ["tracker_field_description_raw"]=>
      string(275) "Nail Shack Salon & Spa has the serious nail game on lock, offering an array of exquisite art designs as well as the newly popular SNS nail treatment. SNS (Signature Nail Systems) is basically a hybrid between gel and acrylic. Eyelash treatments and waxing are also available."
      ["tracker_field_legacyImageURL"]=>
      string(82) "http://dev.creativeloafing.com/image/2016/04/320w/05135b_acg_nail_shack_magnum.jpg"
      ["tracker_field_businessClassifieds"]=>
      array(0) {
      }
      ["tracker_field_businessTypes"]=>
      array(1) {
        [0]=>
        string(2) "89"
      }
      ["tracker_field_businessTypes_text"]=>
      string(2) "89"
      ["tracker_field_scene"]=>
      array(0) {
      }
      ["tracker_field_businessNeighborhoods"]=>
      array(2) {
        [0]=>
        string(3) "100"
        [1]=>
        string(3) "149"
      }
      ["tracker_field_businessNeighborhoods_text"]=>
      string(7) "100 149"
      ["tracker_field_businessPriceRange"]=>
      array(0) {
      }
      ["tracker_field_businessMiscCategories"]=>
      array(0) {
      }
      ["tracker_field_businessCLAcctNum"]=>
      int(0)
      ["tracker_field_business_121CurrentChit"]=>
      string(1) "n"
      ["tracker_field_121MobileClientID"]=>
      int(0)
      ["tracker_field_121MobileCampaignData"]=>
      array(0) {
      }
      ["tracker_field_121MobileCampaignData_json"]=>
      array(0) {
      }
      ["tracker_field_google_placeid"]=>
      string(27) "ChIJ-2V2c1sB9YgRnVYahkAQrsM"
      ["tracker_field_googlePlaceData"]=>
      array(15) {
        [0]=>
        string(207) "

484 Flat Shoals Ave SE

, 

Atlanta

, 

GA

 

30316

, 

USA

"
        [1]=>
        string(46) "484 Flat Shoals Ave SE, Atlanta, GA 30316, USA"
        [2]=>
        string(14) "(404) 524-1500"
        [3]=>
        string(73) "https://maps.gstatic.com/mapfiles/place_api/icons/generic_business-71.png"
        [4]=>
        string(40) "95afc26c7e9abfa9614955ab99314307dcb70521"
        [5]=>
        string(15) "+1 404-524-1500"
        [6]=>
        string(22) "Nail Shack Salon & Spa"
        [7]=>
        string(27) "ChIJ-2V2c1sB9YgRnVYahkAQrsM"
        [8]=>
        string(3) "4.2"
        [9]=>
        string(190) "CmRSAAAAYgWZdk8dRngE3aLPnzEJcsSi4IM0MJOjM0Q9GC_Mg3La1THTO9atYdPo-O1aB_1SfB4OYLrjpbVBtFFwK3iNLlmReX_QvCqJ9LkftYTWNry9ovStHOZJorQtpv6R4kqpEhBEkx7w-mIxm_uT2xfHqlH3GhThJrgj_5-xyDX_IlbUFjItN-QCcA"
        [10]=>
        string(6) "GOOGLE"
        [11]=>
        string(49) "https://maps.google.com/?cid=14100225352657426077"
        [12]=>
        string(4) "-240"
        [13]=>
        string(41) "484 Flat Shoals Avenue Southeast, Atlanta"
        [14]=>
        string(28) "http://www.nailshackeav.net/"
      }
      ["tracker_field_googlePlaceData_text"]=>
      string(618) "484 Flat Shoals Ave SE, Atlanta, GA 30316, USA 484 Flat Shoals Ave SE, Atlanta, GA 30316, USA (404) 524-1500 https://maps.gstatic.com/mapfiles/place_api/icons/generic_business-71.png 95afc26c7e9abfa9614955ab99314307dcb70521 +1 404-524-1500 Nail Shack Salon & Spa ChIJ-2V2c1sB9YgRnVYahkAQrsM 4.2 CmRSAAAAYgWZdk8dRngE3aLPnzEJcsSi4IM0MJOjM0Q9GC_Mg3La1THTO9atYdPo-O1aB_1SfB4OYLrjpbVBtFFwK3iNLlmReX_QvCqJ9LkftYTWNry9ovStHOZJorQtpv6R4kqpEhBEkx7w-mIxm_uT2xfHqlH3GhThJrgj_5-xyDX_IlbUFjItN-QCcA GOOGLE https://maps.google.com/?cid=14100225352657426077 -240 484 Flat Shoals Avenue Southeast, Atlanta http://www.nailshackeav.net/"
      ["tracker_field_googlePlaceData_json"]=>
      object(stdClass)#1468 (22) {
        ["address_components"]=>
        array(8) {
          [0]=>
          object(stdClass)#1460 (3) {
            ["long_name"]=>
            string(3) "484"
            ["short_name"]=>
            string(3) "484"
            ["types"]=>
            array(1) {
              [0]=>
              string(13) "street_number"
            }
          }
          [1]=>
          object(stdClass)#1461 (3) {
            ["long_name"]=>
            string(28) "Flat Shoals Avenue Southeast"
            ["short_name"]=>
            string(18) "Flat Shoals Ave SE"
            ["types"]=>
            array(1) {
              [0]=>
              string(5) "route"
            }
          }
          [2]=>
          object(stdClass)#1462 (3) {
            ["long_name"]=>
            string(12) "East Atlanta"
            ["short_name"]=>
            string(12) "East Atlanta"
            ["types"]=>
            array(2) {
              [0]=>
              string(12) "neighborhood"
              [1]=>
              string(9) "political"
            }
          }
          [3]=>
          object(stdClass)#1463 (3) {
            ["long_name"]=>
            string(7) "Atlanta"
            ["short_name"]=>
            string(7) "Atlanta"
            ["types"]=>
            array(2) {
              [0]=>
              string(8) "locality"
              [1]=>
              string(9) "political"
            }
          }
          [4]=>
          object(stdClass)#1464 (3) {
            ["long_name"]=>
            string(13) "DeKalb County"
            ["short_name"]=>
            string(13) "Dekalb County"
            ["types"]=>
            array(2) {
              [0]=>
              string(27) "administrative_area_level_2"
              [1]=>
              string(9) "political"
            }
          }
          [5]=>
          object(stdClass)#1465 (3) {
            ["long_name"]=>
            string(7) "Georgia"
            ["short_name"]=>
            string(2) "GA"
            ["types"]=>
            array(2) {
              [0]=>
              string(27) "administrative_area_level_1"
              [1]=>
              string(9) "political"
            }
          }
          [6]=>
          object(stdClass)#1466 (3) {
            ["long_name"]=>
            string(13) "United States"
            ["short_name"]=>
            string(2) "US"
            ["types"]=>
            array(2) {
              [0]=>
              string(7) "country"
              [1]=>
              string(9) "political"
            }
          }
          [7]=>
          object(stdClass)#1467 (3) {
            ["long_name"]=>
            string(5) "30316"
            ["short_name"]=>
            string(5) "30316"
            ["types"]=>
            array(1) {
              [0]=>
              string(11) "postal_code"
            }
          }
        }
        ["adr_address"]=>
        string(207) "

484 Flat Shoals Ave SE

, 

Atlanta

, 

GA

 

30316

, 

USA

"
        ["formatted_address"]=>
        string(46) "484 Flat Shoals Ave SE, Atlanta, GA 30316, USA"
        ["formatted_phone_number"]=>
        string(14) "(404) 524-1500"
        ["geometry"]=>
        object(stdClass)#1470 (2) {
          ["location"]=>
          object(stdClass)#1469 (2) {
            ["lat"]=>
            string(10) "33.7410693"
            ["lng"]=>
            string(11) "-84.3461569"
          }
          ["viewport"]=>
          object(stdClass)#1472 (2) {
            ["northeast"]=>
            object(stdClass)#1471 (2) {
              ["lat"]=>
              string(15) "33.742358830291"
              ["lng"]=>
              string(16) "-84.344884319708"
            }
            ["southwest"]=>
            object(stdClass)#1473 (2) {
              ["lat"]=>
              string(15) "33.739660869708"
              ["lng"]=>
              string(16) "-84.347582280291"
            }
          }
        }
        ["icon"]=>
        string(73) "https://maps.gstatic.com/mapfiles/place_api/icons/generic_business-71.png"
        ["id"]=>
        string(40) "95afc26c7e9abfa9614955ab99314307dcb70521"
        ["international_phone_number"]=>
        string(15) "+1 404-524-1500"
        ["name"]=>
        string(22) "Nail Shack Salon & Spa"
        ["opening_hours"]=>
        object(stdClass)#1474 (3) {
          ["open_now"]=>
          string(1) "1"
          ["periods"]=>
          array(6) {
            [0]=>
            object(stdClass)#1476 (2) {
              ["close"]=>
              object(stdClass)#1475 (2) {
                ["day"]=>
                string(1) "1"
                ["time"]=>
                string(4) "1900"
              }
              ["open"]=>
              object(stdClass)#1477 (2) {
                ["day"]=>
                string(1) "1"
                ["time"]=>
                string(4) "1000"
              }
            }
            [1]=>
            object(stdClass)#1479 (2) {
              ["close"]=>
              object(stdClass)#1478 (2) {
                ["day"]=>
                string(1) "2"
                ["time"]=>
                string(4) "1900"
              }
              ["open"]=>
              object(stdClass)#1480 (2) {
                ["day"]=>
                string(1) "2"
                ["time"]=>
                string(4) "1000"
              }
            }
            [2]=>
            object(stdClass)#1482 (2) {
              ["close"]=>
              object(stdClass)#1481 (2) {
                ["day"]=>
                string(1) "3"
                ["time"]=>
                string(4) "1900"
              }
              ["open"]=>
              object(stdClass)#1483 (2) {
                ["day"]=>
                string(1) "3"
                ["time"]=>
                string(4) "1000"
              }
            }
            [3]=>
            object(stdClass)#1485 (2) {
              ["close"]=>
              object(stdClass)#1484 (2) {
                ["day"]=>
                string(1) "4"
                ["time"]=>
                string(4) "1900"
              }
              ["open"]=>
              object(stdClass)#1486 (2) {
                ["day"]=>
                string(1) "4"
                ["time"]=>
                string(4) "1000"
              }
            }
            [4]=>
            object(stdClass)#1488 (2) {
              ["close"]=>
              object(stdClass)#1487 (2) {
                ["day"]=>
                string(1) "5"
                ["time"]=>
                string(4) "1900"
              }
              ["open"]=>
              object(stdClass)#1489 (2) {
                ["day"]=>
                string(1) "5"
                ["time"]=>
                string(4) "1000"
              }
            }
            [5]=>
            object(stdClass)#1491 (2) {
              ["close"]=>
              object(stdClass)#1490 (2) {
                ["day"]=>
                string(1) "6"
                ["time"]=>
                string(4) "1900"
              }
              ["open"]=>
              object(stdClass)#1492 (2) {
                ["day"]=>
                string(1) "6"
                ["time"]=>
                string(4) "1000"
              }
            }
          }
          ["weekday_text"]=>
          array(7) {
            [0]=>
            string(28) "Monday: 10:00 AM – 7:00 PM"
            [1]=>
            string(29) "Tuesday: 10:00 AM – 7:00 PM"
            [2]=>
            string(31) "Wednesday: 10:00 AM – 7:00 PM"
            [3]=>
            string(30) "Thursday: 10:00 AM – 7:00 PM"
            [4]=>
            string(28) "Friday: 10:00 AM – 7:00 PM"
            [5]=>
            string(30) "Saturday: 10:00 AM – 7:00 PM"
            [6]=>
            string(14) "Sunday: Closed"
          }
        }
        ["photos"]=>
        array(10) {
          [0]=>
          object(stdClass)#1493 (4) {
            ["height"]=>
            int(1536)
            ["html_attributions"]=>
            array(1) {
              [0]=>
              string(106) "Nail Shack Salon & Spa"
            }
            ["photo_reference"]=>
            string(190) "CmRaAAAALlVEfoqlylGEasOkyQevEaZHRHaLg4x1eFxNRFbCdAjUuR5u23d4MpyHW7Ap2jTrYyK0IqqIidQ1dhdAu2lSEx4GMY38RmCNWj12aO3WU1MLV-3xQUp0H4NUZAto2UAOEhB9XvJxNhdm1lcWuE1yavsfGhRBC7GcbPRAz7gIKNz0Lxe_MaKvaA"
            ["width"]=>
            int(2048)
          }
          [1]=>
          object(stdClass)#1494 (4) {
            ["height"]=>
            int(1426)
            ["html_attributions"]=>
            array(1) {
              [0]=>
              string(106) "Nail Shack Salon & Spa"
            }
            ["photo_reference"]=>
            string(190) "CmRaAAAA0-HfqjVsY-5w0juaj0ErBSFeglpI2aPBAF-vyMwwiMXROTKingHlSXmOHIkFfkjGJbuFYOq6HW_HDB_hSodYvzIcO0JyNFAJsPrWRkBF_5nXT1YCgncc-2eDexPzKxL9EhCft7FIh1fH6sKrqrlqEn8KGhSn6cQUOaJdXeYJL50wijyXErspbw"
            ["width"]=>
            int(2048)
          }
          [2]=>
          object(stdClass)#1495 (4) {
            ["height"]=>
            int(1280)
            ["html_attributions"]=>
            array(1) {
              [0]=>
              string(106) "Nail Shack Salon & Spa"
            }
            ["photo_reference"]=>
            string(190) "CmRaAAAAZvQ8q6g_TmjN4HGbQJXXaf-xXpsfN6cpc8A8-o5KfTWEErBJF2F4-NEJB18gusOYIQZZ9L00zj3Qc5Ltzc8M9IRjLFCel_XwQB0oZx6OMuYmxluL74XqmIvDY4W3ayaJEhBxhKTmc548giyRJb8MvAmFGhRG12ow5jVM_FvlaYjGhonvp1uGfQ"
            ["width"]=>
            int(960)
          }
          [3]=>
          object(stdClass)#1496 (4) {
            ["height"]=>
            int(2620)
            ["html_attributions"]=>
            array(1) {
              [0]=>
              string(98) "Cynthia Lynn Adams"
            }
            ["photo_reference"]=>
            string(190) "CmRaAAAAKuppYcb_SwqNRZPE3gYhgIGsVDSMpszgde-ma1rRopbX3K_K1DvY-_aoRWQG9kRUFgVFYAVOlcl3eVYkdn6GdG-9IB79s8SXfdE5Rz3giBpcKSK4vjwwf6G81ZOc0pFoEhDEoxHrF_M5sh-dHz8Frw_TGhRzH8k7NNfpMU3Lc-2qjugEPwOyDw"
            ["width"]=>
            int(4656)
          }
          [4]=>
          object(stdClass)#1497 (4) {
            ["height"]=>
            int(4160)
            ["html_attributions"]=>
            array(1) {
              [0]=>
              string(92) "Whitney Page"
            }
            ["photo_reference"]=>
            string(190) "CmRaAAAAqljT7g2WEamz_oZQbbjEzwmCtjEU1l424SkqXE3Jq2xdiXr305hQXafMEuGU25J_83bRZGAymNaYZLMkeU3-DeS3SXvP7MdVlHWf-EalFxRgSpv8-VOeeMX9jT6H-QalEhD9UNIbvXmGHNOlkyyPpNA_GhQVplbyLJlylIsWpOWys5q3yJlWiQ"
            ["width"]=>
            int(2340)
          }
          [5]=>
          object(stdClass)#1498 (4) {
            ["height"]=>
            int(1920)
            ["html_attributions"]=>
            array(1) {
              [0]=>
              string(92) "Jessica Nova"
            }
            ["photo_reference"]=>
            string(190) "CmRaAAAAyVjSZsGoiN_KJTH3SmO8D8ojME0sCHjlcH_R8H-220UUbmMUc9sVDIlfYUFj1WkLyOEyFNnkTKZPPsSJNUWwYf_mIY1YNxvqotQFrRhcbD9vzibiW_w6Arn5xC3F58qqEhClYD3Pj1ip_E_p92UaXk6AGhSBj1LvEL-5fXOCVPXc_wxfxnYcRQ"
            ["width"]=>
            int(1080)
          }
          [6]=>
          object(stdClass)#1499 (4) {
            ["height"]=>
            int(1536)
            ["html_attributions"]=>
            array(1) {
              [0]=>
              string(106) "Nail Shack Salon & Spa"
            }
            ["photo_reference"]=>
            string(190) "CmRaAAAACtgqj65TgB18kv0vWVyz_nuRUzbiHzM0GwD3lJA4axe58M6IgcKsCzHgX2YlcMoTaHV0sNsm3GT0NiqnLTSIJJ5_rFotocU_yaH7hinKRRRWO9C-DvJ16o6wlNw9aedNEhCKGKbNYB0qd0IxVTURN8zKGhSfBAgESFykNW_SmiBYBQNwvZgnhQ"
            ["width"]=>
            int(2048)
          }
          [7]=>
          object(stdClass)#1500 (4) {
            ["height"]=>
            int(640)
            ["html_attributions"]=>
            array(1) {
              [0]=>
              string(96) "Kitty Killington"
            }
            ["photo_reference"]=>
            string(190) "CmRaAAAAhfWi3zsPxR-fuHvpVm6IM6bXv7ZsIEfr5M1FKZxM3rmIdn7NpV983lIHIU0WhTz-Q_5ykpgm7zInpSt7OEYw1w_J_z4hEsYkIqEytHhFOpYKQFcUBBS3Q-UmqP-DMVeaEhAgjyLeuY-F_rqQiD_LQIsIGhQ3JReLgoNtl16vnHF869HMahre_w"
            ["width"]=>
            int(480)
          }
          [8]=>
          object(stdClass)#1501 (4) {
            ["height"]=>
            int(1920)
            ["html_attributions"]=>
            array(1) {
              [0]=>
              string(92) "Jessica Nova"
            }
            ["photo_reference"]=>
            string(190) "CmRaAAAAoKswDJbggX7blI1WXT2YaFs9hTlSUJwTxkTvg1jk2kgpHv9tNjWKTk77Dn13eTEBh6HO7qp08thGqet4ziP_5gg55-G83ykg-fN6Scr1lB5Z2ENXD4zVP3o7YqLR537XEhDfKoXAxhaCqW9VWiqe75hvGhSXMFKgpZYuVxD85MwP6KZqgJkPEw"
            ["width"]=>
            int(1080)
          }
          [9]=>
          object(stdClass)#1502 (4) {
            ["height"]=>
            int(3264)
            ["html_attributions"]=>
            array(1) {
              [0]=>
              string(91) "judith rose"
            }
            ["photo_reference"]=>
            string(190) "CmRaAAAABE7IdXtf1OIBeag9IbdBjkue7Tg98J6Rb03FSOB7DKhHU5m7mv0BeYIwlaDgR8c3pgq6MVC1WvF1jBV8GjVC8R1LgjY7jasFBWWyKFwNeTzbBFUnjOSnmV-NbPZts_6AEhDP70U7E4dWhRpr8fg6iHj-GhSGpnL0CFlF58YPmSnw9S33xqQYXA"
            ["width"]=>
            int(2448)
          }
        }
        ["place_id"]=>
        string(27) "ChIJ-2V2c1sB9YgRnVYahkAQrsM"
        ["plus_code"]=>
        object(stdClass)#1503 (2) {
          ["compound_code"]=>
          string(39) "PMR3+CG Atlanta, Georgia, United States"
          ["global_code"]=>
          string(11) "865QPMR3+CG"
        }
        ["rating"]=>
        string(3) "4.2"
        ["reference"]=>
        string(190) "CmRSAAAAYgWZdk8dRngE3aLPnzEJcsSi4IM0MJOjM0Q9GC_Mg3La1THTO9atYdPo-O1aB_1SfB4OYLrjpbVBtFFwK3iNLlmReX_QvCqJ9LkftYTWNry9ovStHOZJorQtpv6R4kqpEhBEkx7w-mIxm_uT2xfHqlH3GhThJrgj_5-xyDX_IlbUFjItN-QCcA"
        ["reviews"]=>
        array(5) {
          [0]=>
          object(stdClass)#1504 (8) {
            ["author_name"]=>
            string(12) "Kenya Morgan"
            ["author_url"]=>
            string(65) "https://www.google.com/maps/contrib/106535311490105101254/reviews"
            ["language"]=>
            string(2) "en"
            ["profile_photo_url"]=>
            string(118) "https://lh5.googleusercontent.com/-2XmqxrF9zC4/AAAAAAAAAAI/AAAAAAAAAAw/96J72rcVhIA/s128-c0x00000000-cc-rp-mo/photo.jpg"
            ["rating"]=>
            string(1) "5"
            ["relative_time_description"]=>
            string(11) "a month ago"
            ["text"]=>
            string(684) "Small but mighty salon! I really appreciate the automated text appointment reminders and how uncluttered and tidy the shop is. No cheesy 1980s nail posters, no raggedy paper sign-in sheets, no TVs blaring mindless daytime shows when you're trying to relax. In fact, on my 1st visit, the nail techs were having lively conversations with clients about the World Cup. 
For sure, book online or call ahead because walk-ins are hard to come by. 
True, it may be challenging to book an appointment because they stay busy, but it's worth it. The staff is helpful, thorough and attentive. Thanks to Alan and CeeCee for making my appointment thoroughly enjoyable. I've found a new salon!"
            ["time"]=>
            int(1529689795)
          }
          [1]=>
          object(stdClass)#1505 (8) {
            ["author_name"]=>
            string(10) "Thisis Tip"
            ["author_url"]=>
            string(65) "https://www.google.com/maps/contrib/114578866075057353084/reviews"
            ["language"]=>
            string(2) "en"
            ["profile_photo_url"]=>
            string(145) "https://lh3.googleusercontent.com/-nIziqxDJQSg/AAAAAAAAAAI/AAAAAAAAAAA/AAnnY7pbrVWsGvnQMv1p3XFsDwRucr9AqQ/s128-c0x00000000-cc-rp-mo-ba4/photo.jpg"
            ["rating"]=>
            string(1) "4"
            ["relative_time_description"]=>
            string(12) "2 months ago"
            ["text"]=>
            string(149) "Good service, great color selection, great prices. Often booked up especially on Saturday. Definitely call ahead or go online to make an appointment."
            ["time"]=>
            int(1525131400)
          }
          [2]=>
          object(stdClass)#1506 (8) {
            ["author_name"]=>
            string(14) "T. Nicole Webb"
            ["author_url"]=>
            string(65) "https://www.google.com/maps/contrib/113666098596144326273/reviews"
            ["language"]=>
            string(2) "en"
            ["profile_photo_url"]=>
            string(122) "https://lh5.googleusercontent.com/-YE-6Z6Bgbes/AAAAAAAAAAI/AAAAAAAABgQ/qA_8mBJE95I/s128-c0x00000000-cc-rp-mo-ba3/photo.jpg"
            ["rating"]=>
            string(1) "5"
            ["relative_time_description"]=>
            string(12) "5 months ago"
            ["text"]=>
            string(359) "I love coming to EAV nail shack! They have great service and a convenient parking lot. I personally go routinely to get their SNS manicure (dip powder system) - they do amazing work! I also love the vast array of colors to choose from, everything from glow in the dark to mood color changing to metallic! I've even matched a color to my favorite red lipstick!"
            ["time"]=>
            int(1517432823)
          }
          [3]=>
          object(stdClass)#1507 (8) {
            ["author_name"]=>
            string(10) "Kasie Slay"
            ["author_url"]=>
            string(65) "https://www.google.com/maps/contrib/111302699052766075390/reviews"
            ["language"]=>
            string(2) "en"
            ["profile_photo_url"]=>
            string(141) "https://lh5.googleusercontent.com/-U4IsqUpbRJ4/AAAAAAAAAAI/AAAAAAAAAAA/AAnnY7pa6Pbh1CLUgGSPYBmD6eHt_VtnZg/s128-c0x00000000-cc-rp-mo/photo.jpg"
            ["rating"]=>
            string(1) "5"
            ["relative_time_description"]=>
            string(12) "3 months ago"
            ["text"]=>
            string(106) "Super friendly, and will work with first timers to figure out how nails work, lol. Great location for SNS."
            ["time"]=>
            int(1522734326)
          }
          [4]=>
          object(stdClass)#1508 (8) {
            ["author_name"]=>
            string(13) "Jessica White"
            ["author_url"]=>
            string(65) "https://www.google.com/maps/contrib/103018505682972374960/reviews"
            ["language"]=>
            string(2) "en"
            ["profile_photo_url"]=>
            string(122) "https://lh5.googleusercontent.com/-8xWUWYCHHKw/AAAAAAAAAAI/AAAAAAAAFko/s0bHkzWZ5K8/s128-c0x00000000-cc-rp-mo-ba3/photo.jpg"
            ["rating"]=>
            string(1) "5"
            ["relative_time_description"]=>
            string(12) "4 months ago"
            ["text"]=>
            string(182) "Best salon in ATL. I rave about this place. Best prices, best SNS choices, best pedicures. It's appointment only, but I usually make mine a couple of days ahead of time. Ask for Tim."
            ["time"]=>
            int(1520273905)
          }
        }
        ["scope"]=>
        string(6) "GOOGLE"
        ["types"]=>
        array(3) {
          [0]=>
          string(12) "beauty_salon"
          [1]=>
          string(17) "point_of_interest"
          [2]=>
          string(13) "establishment"
        }
        ["url"]=>
        string(49) "https://maps.google.com/?cid=14100225352657426077"
        ["utc_offset"]=>
        string(4) "-240"
        ["vicinity"]=>
        string(41) "484 Flat Shoals Avenue Southeast, Atlanta"
        ["website"]=>
        string(28) "http://www.nailshackeav.net/"
      }
      ["tracker_field_googleOverallRating"]=>
      float(4.1)
      ["tracker_field_businessYelpBusinessData"]=>
      array(0) {
      }
      ["tracker_field_businessYelpBusinessData_json"]=>
      array(0) {
      }
      ["tracker_field_businessFacebook"]=>
      string(14) "Nail Shack EAV"
      ["tracker_field_businessFacebookID"]=>
      string(15) "150915041703499"
      ["tracker_field_businessFacebookData"]=>
      array(2) {
        [0]=>
        string(15) "150915041703499"
        [1]=>
        string(14) "Nail Shack EAV"
      }
      ["tracker_field_businessFacebookData_text"]=>
      string(30) "150915041703499 Nail Shack EAV"
      ["tracker_field_businessFacebookData_json"]=>
      object(stdClass)#1509 (3) {
        ["id"]=>
        string(15) "150915041703499"
        ["name"]=>
        string(14) "Nail Shack EAV"
        ["feed"]=>
        object(stdClass)#1535 (2) {
          ["data"]=>
          array(25) {
            [0]=>
            object(stdClass)#1510 (3) {
              ["message"]=>
              string(54) "This is our 5 year old teenager. He thinks he is grown"
              ["created_time"]=>
              string(24) "2018-06-03T02:27:23+0000"
              ["id"]=>
              string(32) "150915041703499_1492131770915146"
            }
            [1]=>
            object(stdClass)#1511 (3) {
              ["message"]=>
              string(54) "Alan saying HELLO from the cliffs of the Grand Canyon!"
              ["created_time"]=>
              string(24) "2018-05-05T21:18:35+0000"
              ["id"]=>
              string(32) "150915041703499_1467255773402746"
            }
            [2]=>
            object(stdClass)#1512 (3) {
              ["message"]=>
              string(47) "Hi Chase !! #vacation #arizona #nevercominghome"
              ["created_time"]=>
              string(24) "2018-05-04T17:02:50+0000"
              ["id"]=>
              string(32) "150915041703499_1466237896837867"
            }
            [3]=>
            object(stdClass)#1513 (4) {
              ["message"]=>
              string(82) "The New and Refined NAIL SHACK! #6yearanniversary #itsbeenawhile  @ Nail Shack EAV"
              ["story"]=>
              string(31) "Nail Shack EAV posted 7 photos."
              ["created_time"]=>
              string(24) "2018-04-28T13:55:03+0000"
              ["id"]=>
              string(32) "150915041703499_1460670127394644"
            }
            [4]=>
            object(stdClass)#1514 (3) {
              ["message"]=>
              string(91) "Linh done it again! #marblenails #nails #nailart #sns #atlantanails #nailshackeav #naillove"
              ["created_time"]=>
              string(24) "2018-04-27T00:59:36+0000"
              ["id"]=>
              string(32) "150915041703499_1459329787528678"
            }
            [5]=>
            object(stdClass)#1515 (3) {
              ["message"]=>
              string(18) "Where is Tiffany ?"
              ["created_time"]=>
              string(24) "2018-04-23T15:03:11+0000"
              ["id"]=>
              string(32) "150915041703499_1456281027833554"
            }
            [6]=>
            object(stdClass)#1516 (3) {
              ["message"]=>
              string(18) "Where is Tiffany ?"
              ["created_time"]=>
              string(24) "2018-04-23T15:00:43+0000"
              ["id"]=>
              string(32) "150915041703499_1456279294500394"
            }
            [7]=>
            object(stdClass)#1517 (4) {
              ["message"]=>
              string(49) "Almost done !!! I hope we can get done today #DIY"
              ["story"]=>
              string(31) "Nail Shack EAV posted 2 photos."
              ["created_time"]=>
              string(24) "2018-04-23T14:16:20+0000"
              ["id"]=>
              string(32) "150915041703499_1456249511170039"
            }
            [8]=>
            object(stdClass)#1518 (3) {
              ["message"]=>
              string(140) "Marble design does not get old #marble #marblenails #nailart #nail #fashion #beautiful #atlantanails #art #nailpolish #snsnails #sns #beauty"
              ["created_time"]=>
              string(24) "2018-04-21T16:12:48+0000"
              ["id"]=>
              string(32) "150915041703499_1454535754674748"
            }
            [9]=>
            object(stdClass)#1519 (4) {
              ["message"]=>
              string(242) "Very excited to try more combination.... this is #glowing #sns #nails with #marble #naildesign #nailsofinstagram #nailfashion #atlantanails #art #artwork #nailart #snsnails #nailpro #glow #nailsbyalan #nails2inspire #nailsalon #fashion #color"
              ["story"]=>
              string(31) "Nail Shack EAV posted 2 photos."
              ["created_time"]=>
              string(24) "2018-04-14T18:23:52+0000"
              ["id"]=>
              string(32) "150915041703499_1448450118616645"
            }
            [10]=>
            object(stdClass)#1520 (3) {
              ["message"]=>
              string(162) "Experimenting with more colors with #marble #sns #nailart  #artwork #nailtech #nailshackeav #nails #naildesigns #naturalnails #snsnails #atlantanails #nailsbyalan"
              ["created_time"]=>
              string(24) "2018-04-13T00:34:53+0000"
              ["id"]=>
              string(32) "150915041703499_1446797072115283"
            }
            [11]=>
            object(stdClass)#1521 (3) {
              ["message"]=>
              string(111) "Add #glitter to any #SNS color to get rid of the #mondayblues #nailart #snsd #snsnails #nail #artwork #naillife"
              ["created_time"]=>
              string(24) "2018-04-09T23:57:47+0000"
              ["id"]=>
              string(32) "150915041703499_1443994052395585"
            }
            [12]=>
            object(stdClass)#1522 (4) {
              ["message"]=>
              string(135) "Just did the #marble #sns #naildesigns . Book your appointment soon while we're still in the mood! #nailart #nails #artwork #nailshop"
              ["story"]=>
              string(31) "Nail Shack EAV posted 3 photos."
              ["created_time"]=>
              string(24) "2018-04-09T22:10:08+0000"
              ["id"]=>
              string(32) "150915041703499_1443940919067565"
            }
            [13]=>
            object(stdClass)#1523 (2) {
              ["created_time"]=>
              string(24) "2018-03-24T23:41:04+0000"
              ["id"]=>
              string(32) "150915041703499_1429255650536092"
            }
            [14]=>
            object(stdClass)#1524 (3) {
              ["message"]=>
              string(301) "From our family to yours, we wish everyone a happy, safe, and prosperous New Year. 2017 was an amazing year and we greatly appreciate all our patrons. You guys are like an extended part of our family. Thank you for supporting us and making us who we are. Cheers🥂 to a New Year! 2018...here we come!"
              ["created_time"]=>
              string(24) "2017-12-31T17:47:26+0000"
              ["id"]=>
              string(32) "150915041703499_1352549194873405"
            }
            [15]=>
            object(stdClass)#1525 (3) {
              ["message"]=>
              string(39) "It's snowing! ....but YES, we are open!"
              ["created_time"]=>
              string(24) "2017-12-09T14:45:02+0000"
              ["id"]=>
              string(32) "150915041703499_1334142576714067"
            }
            [16]=>
            object(stdClass)#1526 (3) {
              ["message"]=>
              string(114) "From our family to yours, have a happy happy holiday season! Safe travels, safe shopping, and eat all you can eat!"
              ["created_time"]=>
              string(24) "2017-11-23T15:48:08+0000"
              ["id"]=>
              string(32) "150915041703499_1320114534783538"
            }
            [17]=>
            object(stdClass)#1527 (3) {
              ["message"]=>
              string(187) "Hey guys! Don't forget to go ahead and book your appointment to get your nails beautified for this Thanksgiving! We still have a lot of openings left so go ahead online or give us a call!"
              ["created_time"]=>
              string(24) "2017-11-13T16:04:30+0000"
              ["id"]=>
              string(32) "150915041703499_1311697425625249"
            }
            [18]=>
            object(stdClass)#1528 (3) {
              ["message"]=>
              string(509) "Nail Shack family and friends! Can I please ask that everyone look into making this as successful as possible. I am a Bert Show listener and annually they have a big Thank You event where they send out 'Thank you' letters to the men and women in our military located all around the world. This year the deadline is this Thursday but they are only at 60% completion. Please help by letting these heros know how much they are appreciated for their service. #bertsbigthankyou #nailshackeav 
Thank you in advance."
              ["created_time"]=>
              string(24) "2017-11-06T17:34:24+0000"
              ["id"]=>
              string(32) "150915041703499_1306071429521182"
            }
            [19]=>
            object(stdClass)#1529 (3) {
              ["message"]=>
              string(296) "HAPPY HALLOWEEN! Remember folks @EAV is holding our annual EAV-O-WEEN from 5-9pm today. Come out for some fun! There will be face painting, costume contest, trickORTreating with the local businesses. Also, Nail Shack as over 600 goody bags we need to hand out!!! #EAV #trickORTreating #EAV-O-WEEN"
              ["created_time"]=>
              string(24) "2017-10-31T12:14:26+0000"
              ["id"]=>
              string(32) "150915041703499_1301029933358665"
            }
            [20]=>
            object(stdClass)#1530 (3) {
              ["message"]=>
              string(117) "For all of those affected last night, our hearts are with you. You will be in our thoughts and prayers. #PRAYFORVEGAS"
              ["created_time"]=>
              string(24) "2017-10-02T13:25:32+0000"
              ["id"]=>
              string(32) "150915041703499_1277333185728340"
            }
            [21]=>
            object(stdClass)#1531 (4) {
              ["message"]=>
              string(32) "YES WE ARE OPEN!!!! 👍👍👍"
              ["story"]=>
              string(34) "Nail Shack EAV is feeling blessed."
              ["created_time"]=>
              string(24) "2017-09-12T14:21:56+0000"
              ["id"]=>
              string(32) "150915041703499_1260389960755996"
            }
            [22]=>
            object(stdClass)#1532 (3) {
              ["message"]=>
              string(332) "Hey family and friends...Nail Shack will be closed today in preparation for this crazy weather. We did not want to risk the safety of our techs and definitely now the safety of our clients either. We look forward to reopening tomorrow Tuesday September 12 if weather/electricity permits. I will do my best to keep everyone informed."
              ["created_time"]=>
              string(24) "2017-09-11T15:20:57+0000"
              ["id"]=>
              string(32) "150915041703499_1259738750821117"
            }
            [23]=>
            object(stdClass)#1533 (3) {
              ["message"]=>
              string(97) "We wish everyone a happy and safe Labor Day weekend! See everyone again on Wednesday September 6!"
              ["created_time"]=>
              string(24) "2017-09-02T21:01:29+0000"
              ["id"]=>
              string(32) "150915041703499_1253334114794914"
            }
            [24]=>
            object(stdClass)#1534 (3) {
              ["message"]=>
              string(53) "As always, you guys take great care of me. Thank you!"
              ["created_time"]=>
              string(24) "2017-07-25T18:25:48+0000"
              ["id"]=>
              string(32) "150915041703499_1220490324745960"
            }
          }
          ["paging"]=>
          object(stdClass)#1536 (2) {
            ["previous"]=>
            string(286) "https://graph.facebook.com/v2.8/150915041703499/feed?since=1527992843&access_token=284346488083|StUmZexEo-ODM_s_RzrK8IoefW0&limit=25&__paging_token=enc_AdAF8TKpPN2C1zYEJvxtSfpHzM6HHl4k3PU1oiLMNYkY1qpZAfSUzFu9vZATRUv6xZADta9YzkuHwZASZAz0VPAZAf5kgIY5gZBdM8joqbUVJIWqBLJtgZDZD&__previous=1"
            ["next"]=>
            string(269) "https://graph.facebook.com/v2.8/150915041703499/feed?access_token=284346488083|StUmZexEo-ODM_s_RzrK8IoefW0&limit=25&until=1501007148&__paging_token=enc_AdDfEZAjnlhQCI85Ge5eqDMfUSTiAxrSdacnXTbFREE4hHICwYKFS78VJvLQZAokRDHV8OHzmiBfA86AeJdfORszoC5FEZBd2zaD7Hoh7C37pRMMwZDZD"
          }
        }
      }
      ["tracker_field_businessLoafingID"]=>
      string(24) "573f3cd91e3ee4dfcf65f664"
      ["tracker_field_businessAccountExecutive"]=>
      string(1) "0"
      ["tracker_field_businessStatusField"]=>
      string(4) "Done"
      ["tracker_field_businessCLDistributionLocation"]=>
      string(1) "n"
      ["tracker_field_businessAudience"]=>
      array(0) {
      }
      ["tracker_field_businessLegacyID"]=>
      int(14991355)
      ["language"]=>
      string(7) "unknown"
      ["attachments"]=>
      array(0) {
      }
      ["comment_count"]=>
      int(0)
      ["categories"]=>
      array(2) {
        [0]=>
        int(89)
        [1]=>
        int(100)
      }
      ["deep_categories"]=>
      array(5) {
        [0]=>
        int(28)
        [1]=>
        int(89)
        [2]=>
        int(1)
        [3]=>
        int(149)
        [4]=>
        int(100)
      }
      ["categories_under_28"]=>
      array(1) {
        [0]=>
        int(89)
      }
      ["deep_categories_under_28"]=>
      array(1) {
        [0]=>
        int(89)
      }
      ["categories_under_1"]=>
      array(0) {
      }
      ["deep_categories_under_1"]=>
      array(2) {
        [0]=>
        int(149)
        [1]=>
        int(100)
      }
      ["categories_under_177"]=>
      array(0) {
      }
      ["deep_categories_under_177"]=>
      array(0) {
      }
      ["categories_under_209"]=>
      array(0) {
      }
      ["deep_categories_under_209"]=>
      array(0) {
      }
      ["categories_under_163"]=>
      array(0) {
      }
      ["deep_categories_under_163"]=>
      array(0) {
      }
      ["categories_under_171"]=>
      array(0) {
      }
      ["deep_categories_under_171"]=>
      array(0) {
      }
      ["categories_under_153"]=>
      array(0) {
      }
      ["deep_categories_under_153"]=>
      array(0) {
      }
      ["categories_under_242"]=>
      array(0) {
      }
      ["deep_categories_under_242"]=>
      array(0) {
      }
      ["categories_under_564"]=>
      array(0) {
      }
      ["deep_categories_under_564"]=>
      array(0) {
      }
      ["freetags"]=>
      array(0) {
      }
      ["geo_located"]=>
      string(1) "n"
      ["allowed_groups"]=>
      array(2) {
        [0]=>
        string(6) "Admins"
        [1]=>
        string(9) "Anonymous"
      }
      ["allowed_users"]=>
      array(0) {
      }
      ["relations"]=>
      array(0) {
      }
      ["relation_objects"]=>
      array(0) {
      }
      ["relation_types"]=>
      array(0) {
      }
      ["relation_count"]=>
      array(0) {
      }
      ["title_initial"]=>
      string(1) "N"
      ["title_firstword"]=>
      string(4) "Nail"
      ["searchable"]=>
      string(1) "y"
      ["url"]=>
      string(7) "item331"
      ["object_type"]=>
      string(11) "trackeritem"
      ["object_id"]=>
      string(3) "331"
      ["contents"]=>
      string(653) "    Nail Shack Salon & Spa 484 Flat Shoals Ave. S.E.  Atlanta GA 30316 http://www.nailshackeav.net   (404) 524-1500   display26  Nail Shack Salon & Spa has the serious nail game on lock, offering an array of exquisite art designs as well as the newly popular SNS nail treatment. SNS (Signature Nail Systems) is basically a hybrid between gel and acrylic. Eyelash treatments and waxing are also available.       http://dev.creativeloafing.com/image/2016/04/320w/05135b_acg_nail_shack_magnum.jpg        n  ChIJ-2V2c1sB9YgRnVYahkAQrsM  Nail Shack EAV 150915041703499 573f3cd91e3ee4dfcf65f664       Done  n  2017-06-04T15:23:07+00:00 Nail Shack Salon & Spa "
      ["score"]=>
      float(0)
      ["_index"]=>
      string(21) "atlantawiki_tiki_main"
      ["objectlink"]=>
      string(228) "Nail Shack Salon & Spa"
      ["image"]=>
      string(39) "

File not found.

"
      ["areaLocation"]=>
      string(34) "-84.3503813,33.7391182,15"
    }
    [16]=>
    array(89) {
      ["title"]=>
      string(15) "ATLast Clothing"
      ["modification_date"]=>
      string(25) "2018-03-08T17:00:38+00:00"
      ["creation_date"]=>
      string(25) "2017-07-16T21:30:40+00:00"
      ["contributors"]=>
      array(1) {
        [0]=>
        string(29) "ben.eason@creativeloafing.com"
      }
      ["date"]=>
      string(25) "2017-07-16T21:30:40+00:00"
      ["tracker_status"]=>
      string(1) "o"
      ["tracker_id"]=>
      string(1) "1"
      ["view_permission"]=>
      string(13) "view_trackers"
      ["tracker_field_businessName"]=>
      string(15) "ATLast Clothing"
      ["tracker_field_businessAddress"]=>
      string(20) "493 Flat Shoals Road"
      ["tracker_field_businessAddress2"]=>
      string(1) " "
      ["tracker_field_businessCity"]=>
      string(7) "Atlanta"
      ["tracker_field_businessState"]=>
      string(2) "GA"
      ["tracker_field_businessZip"]=>
      string(5) "30316"
      ["tracker_field_businessWebsite"]=>
      string(38) "http://www.facebook.com/atlastclothing"
      ["tracker_field_businessPhone"]=>
      string(12) "678-387-8354"
      ["tracker_field_businessRepresentative"]=>
      array(0) {
      }
      ["tracker_field_businessLocationRadius"]=>
      int(0)
      ["tracker_field_description"]=>
      string(232) "The T-shirt brand has become an incubator for the small Atlanta-based labels that it carries on consignment, including Lyfted, Leighterz, and Life Junkie. And its own line of affordable tees and tanks swell with "I heart ATL" pride."
      ["tracker_field_description_raw"]=>
      string(232) "The T-shirt brand has become an incubator for the small Atlanta-based labels that it carries on consignment, including Lyfted, Leighterz, and Life Junkie. And its own line of affordable tees and tanks swell with "I heart ATL" pride."
      ["tracker_field_businessClassifieds"]=>
      array(0) {
      }
      ["tracker_field_businessTypes"]=>
      array(1) {
        [0]=>
        string(2) "89"
      }
      ["tracker_field_businessTypes_text"]=>
      string(2) "89"
      ["tracker_field_scene"]=>
      array(0) {
      }
      ["tracker_field_businessNeighborhoods"]=>
      array(2) {
        [0]=>
        string(3) "100"
        [1]=>
        string(3) "149"
      }
      ["tracker_field_businessNeighborhoods_text"]=>
      string(7) "100 149"
      ["tracker_field_businessPriceRange"]=>
      array(0) {
      }
      ["tracker_field_businessMiscCategories"]=>
      array(0) {
      }
      ["tracker_field_businessCLAcctNum"]=>
      int(0)
      ["tracker_field_business_121CurrentChit"]=>
      string(1) "n"
      ["tracker_field_121MobileClientID"]=>
      int(0)
      ["tracker_field_121MobileCampaignData"]=>
      array(0) {
      }
      ["tracker_field_121MobileCampaignData_json"]=>
      array(0) {
      }
      ["tracker_field_googlePlaceData"]=>
      array(0) {
      }
      ["tracker_field_googlePlaceData_json"]=>
      array(0) {
      }
      ["tracker_field_googleOverallRating"]=>
      int(0)
      ["tracker_field_businessYelpBusinessData"]=>
      array(0) {
      }
      ["tracker_field_businessYelpBusinessData_json"]=>
      array(0) {
      }
      ["tracker_field_businessFacebookData"]=>
      array(0) {
      }
      ["tracker_field_businessFacebookData_json"]=>
      array(0) {
      }
      ["tracker_field_businessLoafingID"]=>
      string(24) "573f3cd91e3ee4dfcf65f740"
      ["tracker_field_businessAccountExecutive"]=>
      string(1) "0"
      ["tracker_field_businessStatusField"]=>
      string(10) "NoGoogleID"
      ["tracker_field_businessCLDistributionLocation"]=>
      string(1) "n"
      ["tracker_field_businessAudience"]=>
      array(0) {
      }
      ["tracker_field_businessLegacyID"]=>
      int(13336793)
      ["language"]=>
      string(7) "unknown"
      ["attachments"]=>
      array(0) {
      }
      ["comment_count"]=>
      int(0)
      ["categories"]=>
      array(2) {
        [0]=>
        int(89)
        [1]=>
        int(100)
      }
      ["deep_categories"]=>
      array(5) {
        [0]=>
        int(28)
        [1]=>
        int(89)
        [2]=>
        int(1)
        [3]=>
        int(149)
        [4]=>
        int(100)
      }
      ["categories_under_28"]=>
      array(1) {
        [0]=>
        int(89)
      }
      ["deep_categories_under_28"]=>
      array(1) {
        [0]=>
        int(89)
      }
      ["categories_under_1"]=>
      array(0) {
      }
      ["deep_categories_under_1"]=>
      array(2) {
        [0]=>
        int(149)
        [1]=>
        int(100)
      }
      ["categories_under_177"]=>
      array(0) {
      }
      ["deep_categories_under_177"]=>
      array(0) {
      }
      ["categories_under_209"]=>
      array(0) {
      }
      ["deep_categories_under_209"]=>
      array(0) {
      }
      ["categories_under_163"]=>
      array(0) {
      }
      ["deep_categories_under_163"]=>
      array(0) {
      }
      ["categories_under_171"]=>
      array(0) {
      }
      ["deep_categories_under_171"]=>
      array(0) {
      }
      ["categories_under_153"]=>
      array(0) {
      }
      ["deep_categories_under_153"]=>
      array(0) {
      }
      ["categories_under_242"]=>
      array(0) {
      }
      ["deep_categories_under_242"]=>
      array(0) {
      }
      ["categories_under_564"]=>
      array(0) {
      }
      ["deep_categories_under_564"]=>
      array(0) {
      }
      ["freetags"]=>
      array(0) {
      }
      ["geo_located"]=>
      string(1) "n"
      ["allowed_groups"]=>
      array(2) {
        [0]=>
        string(6) "Admins"
        [1]=>
        string(9) "Anonymous"
      }
      ["allowed_users"]=>
      array(0) {
      }
      ["relations"]=>
      array(0) {
      }
      ["relation_objects"]=>
      array(0) {
      }
      ["relation_types"]=>
      array(0) {
      }
      ["relation_count"]=>
      array(0) {
      }
      ["title_initial"]=>
      string(1) "A"
      ["title_firstword"]=>
      string(6) "ATLast"
      ["searchable"]=>
      string(1) "y"
      ["url"]=>
      string(8) "item8707"
      ["object_type"]=>
      string(11) "trackeritem"
      ["object_id"]=>
      string(4) "8707"
      ["contents"]=>
      string(460) "    ATLast Clothing 493 Flat Shoals Road   Atlanta GA 30316 http://www.facebook.com/atlastclothing   678-387-8354     The T-shirt brand has become an incubator for the small Atlanta-based labels that it carries on consignment, including Lyfted, Leighterz, and Life Junkie. And its own line of affordable tees and tanks swell with "I heart ATL" pride.               n      573f3cd91e3ee4dfcf65f740       NoGoogleID  n  2017-07-16T21:30:40+00:00 ATLast Clothing "
      ["score"]=>
      float(0)
      ["_index"]=>
      string(21) "atlantawiki_tiki_main"
      ["objectlink"]=>
      string(193) "ATLast Clothing"
      ["image"]=>
      string(39) "

File not found.

"
      ["areaLocation"]=>
      string(34) "-84.3503813,33.7391182,15"
    }
    [17]=>
    array(89) {
      ["title"]=>
      string(14) "Rewind Records"
      ["modification_date"]=>
      string(25) "2018-03-08T16:44:04+00:00"
      ["creation_date"]=>
      string(25) "2017-07-16T21:30:40+00:00"
      ["contributors"]=>
      array(1) {
        [0]=>
        string(29) "ben.eason@creativeloafing.com"
      }
      ["date"]=>
      string(25) "2017-07-16T21:30:40+00:00"
      ["tracker_status"]=>
      string(1) "o"
      ["tracker_id"]=>
      string(1) "1"
      ["view_permission"]=>
      string(13) "view_trackers"
      ["tracker_field_businessName"]=>
      string(14) "Rewind Records"
      ["tracker_field_businessAddress"]=>
      string(20) "484 Flat Shoals Road"
      ["tracker_field_businessAddress2"]=>
      string(1) " "
      ["tracker_field_businessCity"]=>
      string(7) "Atlanta"
      ["tracker_field_businessState"]=>
      string(2) "GA"
      ["tracker_field_businessZip"]=>
      string(5) "30316"
      ["tracker_field_businessWebsite"]=>
      string(1) " "
      ["tracker_field_businessPhone"]=>
      string(12) "404-522-7227"
      ["tracker_field_businessRepresentative"]=>
      array(0) {
      }
      ["tracker_field_businessLocationRadius"]=>
      int(0)
      ["tracker_field_description"]=>
      string(1) " "
      ["tracker_field_description_raw"]=>
      string(1) " "
      ["tracker_field_businessClassifieds"]=>
      array(0) {
      }
      ["tracker_field_businessTypes"]=>
      array(1) {
        [0]=>
        string(2) "89"
      }
      ["tracker_field_businessTypes_text"]=>
      string(2) "89"
      ["tracker_field_scene"]=>
      array(0) {
      }
      ["tracker_field_businessNeighborhoods"]=>
      array(2) {
        [0]=>
        string(3) "100"
        [1]=>
        string(3) "149"
      }
      ["tracker_field_businessNeighborhoods_text"]=>
      string(7) "100 149"
      ["tracker_field_businessPriceRange"]=>
      array(0) {
      }
      ["tracker_field_businessMiscCategories"]=>
      array(0) {
      }
      ["tracker_field_businessCLAcctNum"]=>
      int(0)
      ["tracker_field_business_121CurrentChit"]=>
      string(1) "n"
      ["tracker_field_121MobileClientID"]=>
      int(0)
      ["tracker_field_121MobileCampaignData"]=>
      array(0) {
      }
      ["tracker_field_121MobileCampaignData_json"]=>
      array(0) {
      }
      ["tracker_field_googlePlaceData"]=>
      array(0) {
      }
      ["tracker_field_googlePlaceData_json"]=>
      array(0) {
      }
      ["tracker_field_googleOverallRating"]=>
      int(0)
      ["tracker_field_businessYelpBusinessData"]=>
      array(0) {
      }
      ["tracker_field_businessYelpBusinessData_json"]=>
      array(0) {
      }
      ["tracker_field_businessFacebookData"]=>
      array(0) {
      }
      ["tracker_field_businessFacebookData_json"]=>
      array(0) {
      }
      ["tracker_field_businessLoafingID"]=>
      string(24) "573f3d521e3ee4dfcf660b95"
      ["tracker_field_businessAccountExecutive"]=>
      string(1) "0"
      ["tracker_field_businessStatusField"]=>
      string(10) "NoGoogleID"
      ["tracker_field_businessCLDistributionLocation"]=>
      string(1) "n"
      ["tracker_field_businessAudience"]=>
      array(0) {
      }
      ["tracker_field_businessLegacyID"]=>
      int(1300467)
      ["language"]=>
      string(7) "unknown"
      ["attachments"]=>
      array(0) {
      }
      ["comment_count"]=>
      int(0)
      ["categories"]=>
      array(2) {
        [0]=>
        int(89)
        [1]=>
        int(100)
      }
      ["deep_categories"]=>
      array(5) {
        [0]=>
        int(28)
        [1]=>
        int(89)
        [2]=>
        int(1)
        [3]=>
        int(149)
        [4]=>
        int(100)
      }
      ["categories_under_28"]=>
      array(1) {
        [0]=>
        int(89)
      }
      ["deep_categories_under_28"]=>
      array(1) {
        [0]=>
        int(89)
      }
      ["categories_under_1"]=>
      array(0) {
      }
      ["deep_categories_under_1"]=>
      array(2) {
        [0]=>
        int(149)
        [1]=>
        int(100)
      }
      ["categories_under_177"]=>
      array(0) {
      }
      ["deep_categories_under_177"]=>
      array(0) {
      }
      ["categories_under_209"]=>
      array(0) {
      }
      ["deep_categories_under_209"]=>
      array(0) {
      }
      ["categories_under_163"]=>
      array(0) {
      }
      ["deep_categories_under_163"]=>
      array(0) {
      }
      ["categories_under_171"]=>
      array(0) {
      }
      ["deep_categories_under_171"]=>
      array(0) {
      }
      ["categories_under_153"]=>
      array(0) {
      }
      ["deep_categories_under_153"]=>
      array(0) {
      }
      ["categories_under_242"]=>
      array(0) {
      }
      ["deep_categories_under_242"]=>
      array(0) {
      }
      ["categories_under_564"]=>
      array(0) {
      }
      ["deep_categories_under_564"]=>
      array(0) {
      }
      ["freetags"]=>
      array(0) {
      }
      ["geo_located"]=>
      string(1) "n"
      ["allowed_groups"]=>
      array(2) {
        [0]=>
        string(6) "Admins"
        [1]=>
        string(9) "Anonymous"
      }
      ["allowed_users"]=>
      array(0) {
      }
      ["relations"]=>
      array(0) {
      }
      ["relation_objects"]=>
      array(0) {
      }
      ["relation_types"]=>
      array(0) {
      }
      ["relation_count"]=>
      array(0) {
      }
      ["title_initial"]=>
      string(1) "R"
      ["title_firstword"]=>
      string(6) "Rewind"
      ["searchable"]=>
      string(1) "y"
      ["url"]=>
      string(8) "item8717"
      ["object_type"]=>
      string(11) "trackeritem"
      ["object_id"]=>
      string(4) "8717"
      ["contents"]=>
      string(190) "    Rewind Records 484 Flat Shoals Road   Atlanta GA 30316     404-522-7227                     n      573f3d521e3ee4dfcf660b95       NoGoogleID  n  2017-07-16T21:30:40+00:00 Rewind Records "
      ["score"]=>
      float(0)
      ["_index"]=>
      string(21) "atlantawiki_tiki_main"
      ["objectlink"]=>
      string(192) "Rewind Records"
      ["image"]=>
      string(39) "

File not found.

"
      ["areaLocation"]=>
      string(34) "-84.3503813,33.7391182,15"
    }
    [18]=>
    array(89) {
      ["title"]=>
      string(15) "Thread Zeppelin"
      ["modification_date"]=>
      string(25) "2018-03-08T16:44:04+00:00"
      ["creation_date"]=>
      string(25) "2017-07-16T21:30:40+00:00"
      ["contributors"]=>
      array(1) {
        [0]=>
        string(29) "ben.eason@creativeloafing.com"
      }
      ["date"]=>
      string(25) "2017-07-16T21:30:40+00:00"
      ["tracker_status"]=>
      string(1) "o"
      ["tracker_id"]=>
      string(1) "1"
      ["view_permission"]=>
      string(13) "view_trackers"
      ["tracker_field_businessName"]=>
      string(15) "Thread Zeppelin"
      ["tracker_field_businessAddress"]=>
      string(20) "504 Flat Shoals Ave."
      ["tracker_field_businessAddress2"]=>
      string(1) " "
      ["tracker_field_businessCity"]=>
      string(7) "Atlanta"
      ["tracker_field_businessState"]=>
      string(2) "GA"
      ["tracker_field_businessZip"]=>
      string(5) "30316"
      ["tracker_field_businessWebsite"]=>
      string(29) "http://www.threadzeppelin.com"
      ["tracker_field_businessPhone"]=>
      string(12) "404-584-2200"
      ["tracker_field_businessRepresentative"]=>
      array(0) {
      }
      ["tracker_field_businessLocationRadius"]=>
      int(0)
      ["tracker_field_description"]=>
      string(1) " "
      ["tracker_field_description_raw"]=>
      string(1) " "
      ["tracker_field_businessClassifieds"]=>
      array(0) {
      }
      ["tracker_field_businessTypes"]=>
      array(1) {
        [0]=>
        string(2) "89"
      }
      ["tracker_field_businessTypes_text"]=>
      string(2) "89"
      ["tracker_field_scene"]=>
      array(0) {
      }
      ["tracker_field_businessNeighborhoods"]=>
      array(2) {
        [0]=>
        string(3) "100"
        [1]=>
        string(3) "149"
      }
      ["tracker_field_businessNeighborhoods_text"]=>
      string(7) "100 149"
      ["tracker_field_businessPriceRange"]=>
      array(0) {
      }
      ["tracker_field_businessMiscCategories"]=>
      array(0) {
      }
      ["tracker_field_businessCLAcctNum"]=>
      int(0)
      ["tracker_field_business_121CurrentChit"]=>
      string(1) "n"
      ["tracker_field_121MobileClientID"]=>
      int(0)
      ["tracker_field_121MobileCampaignData"]=>
      array(0) {
      }
      ["tracker_field_121MobileCampaignData_json"]=>
      array(0) {
      }
      ["tracker_field_googlePlaceData"]=>
      array(0) {
      }
      ["tracker_field_googlePlaceData_json"]=>
      array(0) {
      }
      ["tracker_field_googleOverallRating"]=>
      int(0)
      ["tracker_field_businessYelpBusinessData"]=>
      array(0) {
      }
      ["tracker_field_businessYelpBusinessData_json"]=>
      array(0) {
      }
      ["tracker_field_businessFacebookData"]=>
      array(0) {
      }
      ["tracker_field_businessFacebookData_json"]=>
      array(0) {
      }
      ["tracker_field_businessLoafingID"]=>
      string(24) "573f3d531e3ee4dfcf660c42"
      ["tracker_field_businessAccountExecutive"]=>
      string(1) "0"
      ["tracker_field_businessStatusField"]=>
      string(10) "NoGoogleID"
      ["tracker_field_businessCLDistributionLocation"]=>
      string(1) "n"
      ["tracker_field_businessAudience"]=>
      array(0) {
      }
      ["tracker_field_businessLegacyID"]=>
      int(1300021)
      ["language"]=>
      string(7) "unknown"
      ["attachments"]=>
      array(0) {
      }
      ["comment_count"]=>
      int(0)
      ["categories"]=>
      array(2) {
        [0]=>
        int(89)
        [1]=>
        int(100)
      }
      ["deep_categories"]=>
      array(5) {
        [0]=>
        int(28)
        [1]=>
        int(89)
        [2]=>
        int(1)
        [3]=>
        int(149)
        [4]=>
        int(100)
      }
      ["categories_under_28"]=>
      array(1) {
        [0]=>
        int(89)
      }
      ["deep_categories_under_28"]=>
      array(1) {
        [0]=>
        int(89)
      }
      ["categories_under_1"]=>
      array(0) {
      }
      ["deep_categories_under_1"]=>
      array(2) {
        [0]=>
        int(149)
        [1]=>
        int(100)
      }
      ["categories_under_177"]=>
      array(0) {
      }
      ["deep_categories_under_177"]=>
      array(0) {
      }
      ["categories_under_209"]=>
      array(0) {
      }
      ["deep_categories_under_209"]=>
      array(0) {
      }
      ["categories_under_163"]=>
      array(0) {
      }
      ["deep_categories_under_163"]=>
      array(0) {
      }
      ["categories_under_171"]=>
      array(0) {
      }
      ["deep_categories_under_171"]=>
      array(0) {
      }
      ["categories_under_153"]=>
      array(0) {
      }
      ["deep_categories_under_153"]=>
      array(0) {
      }
      ["categories_under_242"]=>
      array(0) {
      }
      ["deep_categories_under_242"]=>
      array(0) {
      }
      ["categories_under_564"]=>
      array(0) {
      }
      ["deep_categories_under_564"]=>
      array(0) {
      }
      ["freetags"]=>
      array(0) {
      }
      ["geo_located"]=>
      string(1) "n"
      ["allowed_groups"]=>
      array(2) {
        [0]=>
        string(6) "Admins"
        [1]=>
        string(9) "Anonymous"
      }
      ["allowed_users"]=>
      array(0) {
      }
      ["relations"]=>
      array(0) {
      }
      ["relation_objects"]=>
      array(0) {
      }
      ["relation_types"]=>
      array(0) {
      }
      ["relation_count"]=>
      array(0) {
      }
      ["title_initial"]=>
      string(1) "T"
      ["title_firstword"]=>
      string(6) "Thread"
      ["searchable"]=>
      string(1) "y"
      ["url"]=>
      string(8) "item8719"
      ["object_type"]=>
      string(11) "trackeritem"
      ["object_id"]=>
      string(4) "8719"
      ["contents"]=>
      string(220) "    Thread Zeppelin 504 Flat Shoals Ave.   Atlanta GA 30316 http://www.threadzeppelin.com   404-584-2200                     n      573f3d531e3ee4dfcf660c42       NoGoogleID  n  2017-07-16T21:30:40+00:00 Thread Zeppelin "
      ["score"]=>
      float(0)
      ["_index"]=>
      string(21) "atlantawiki_tiki_main"
      ["objectlink"]=>
      string(193) "Thread Zeppelin"
      ["image"]=>
      string(39) "

File not found.

"
      ["areaLocation"]=>
      string(34) "-84.3503813,33.7391182,15"
    }
    [19]=>
    array(89) {
      ["title"]=>
      string(12) "Rare Footage"
      ["modification_date"]=>
      string(25) "2018-03-08T16:41:28+00:00"
      ["creation_date"]=>
      string(25) "2017-07-16T21:30:40+00:00"
      ["contributors"]=>
      array(1) {
        [0]=>
        string(29) "ben.eason@creativeloafing.com"
      }
      ["date"]=>
      string(25) "2017-07-16T21:30:40+00:00"
      ["tracker_status"]=>
      string(1) "o"
      ["tracker_id"]=>
      string(1) "1"
      ["view_permission"]=>
      string(13) "view_trackers"
      ["tracker_field_businessName"]=>
      string(12) "Rare Footage"
      ["tracker_field_businessAddress"]=>
      string(22) "493-C Flat Shoals Ave."
      ["tracker_field_businessAddress2"]=>
      string(1) " "
      ["tracker_field_businessCity"]=>
      string(7) "Atlanta"
      ["tracker_field_businessState"]=>
      string(2) "GA"
      ["tracker_field_businessZip"]=>
      string(5) "30316"
      ["tracker_field_businessWebsite"]=>
      string(1) " "
      ["tracker_field_businessPhone"]=>
      string(12) "404-215-2188"
      ["tracker_field_businessRepresentative"]=>
      array(0) {
      }
      ["tracker_field_businessLocationRadius"]=>
      int(0)
      ["tracker_field_description"]=>
      string(1) " "
      ["tracker_field_description_raw"]=>
      string(1) " "
      ["tracker_field_businessClassifieds"]=>
      array(0) {
      }
      ["tracker_field_businessTypes"]=>
      array(1) {
        [0]=>
        string(2) "89"
      }
      ["tracker_field_businessTypes_text"]=>
      string(2) "89"
      ["tracker_field_scene"]=>
      array(0) {
      }
      ["tracker_field_businessNeighborhoods"]=>
      array(2) {
        [0]=>
        string(3) "100"
        [1]=>
        string(3) "149"
      }
      ["tracker_field_businessNeighborhoods_text"]=>
      string(7) "100 149"
      ["tracker_field_businessPriceRange"]=>
      array(0) {
      }
      ["tracker_field_businessMiscCategories"]=>
      array(0) {
      }
      ["tracker_field_businessCLAcctNum"]=>
      int(0)
      ["tracker_field_business_121CurrentChit"]=>
      string(1) "n"
      ["tracker_field_121MobileClientID"]=>
      int(0)
      ["tracker_field_121MobileCampaignData"]=>
      array(0) {
      }
      ["tracker_field_121MobileCampaignData_json"]=>
      array(0) {
      }
      ["tracker_field_googlePlaceData"]=>
      array(0) {
      }
      ["tracker_field_googlePlaceData_json"]=>
      array(0) {
      }
      ["tracker_field_googleOverallRating"]=>
      int(0)
      ["tracker_field_businessYelpBusinessData"]=>
      array(0) {
      }
      ["tracker_field_businessYelpBusinessData_json"]=>
      array(0) {
      }
      ["tracker_field_businessFacebookData"]=>
      array(0) {
      }
      ["tracker_field_businessFacebookData_json"]=>
      array(0) {
      }
      ["tracker_field_businessLoafingID"]=>
      string(24) "573f3d571e3ee4dfcf660fa7"
      ["tracker_field_businessAccountExecutive"]=>
      string(1) "0"
      ["tracker_field_businessStatusField"]=>
      string(15) "Possibly Closed"
      ["tracker_field_businessCLDistributionLocation"]=>
      string(1) "n"
      ["tracker_field_businessAudience"]=>
      array(0) {
      }
      ["tracker_field_businessLegacyID"]=>
      int(1297764)
      ["language"]=>
      string(7) "unknown"
      ["attachments"]=>
      array(0) {
      }
      ["comment_count"]=>
      int(0)
      ["categories"]=>
      array(2) {
        [0]=>
        int(89)
        [1]=>
        int(100)
      }
      ["deep_categories"]=>
      array(5) {
        [0]=>
        int(28)
        [1]=>
        int(89)
        [2]=>
        int(1)
        [3]=>
        int(149)
        [4]=>
        int(100)
      }
      ["categories_under_28"]=>
      array(1) {
        [0]=>
        int(89)
      }
      ["deep_categories_under_28"]=>
      array(1) {
        [0]=>
        int(89)
      }
      ["categories_under_1"]=>
      array(0) {
      }
      ["deep_categories_under_1"]=>
      array(2) {
        [0]=>
        int(149)
        [1]=>
        int(100)
      }
      ["categories_under_177"]=>
      array(0) {
      }
      ["deep_categories_under_177"]=>
      array(0) {
      }
      ["categories_under_209"]=>
      array(0) {
      }
      ["deep_categories_under_209"]=>
      array(0) {
      }
      ["categories_under_163"]=>
      array(0) {
      }
      ["deep_categories_under_163"]=>
      array(0) {
      }
      ["categories_under_171"]=>
      array(0) {
      }
      ["deep_categories_under_171"]=>
      array(0) {
      }
      ["categories_under_153"]=>
      array(0) {
      }
      ["deep_categories_under_153"]=>
      array(0) {
      }
      ["categories_under_242"]=>
      array(0) {
      }
      ["deep_categories_under_242"]=>
      array(0) {
      }
      ["categories_under_564"]=>
      array(0) {
      }
      ["deep_categories_under_564"]=>
      array(0) {
      }
      ["freetags"]=>
      array(0) {
      }
      ["geo_located"]=>
      string(1) "n"
      ["allowed_groups"]=>
      array(2) {
        [0]=>
        string(6) "Admins"
        [1]=>
        string(9) "Anonymous"
      }
      ["allowed_users"]=>
      array(0) {
      }
      ["relations"]=>
      array(0) {
      }
      ["relation_objects"]=>
      array(0) {
      }
      ["relation_types"]=>
      array(0) {
      }
      ["relation_count"]=>
      array(0) {
      }
      ["title_initial"]=>
      string(1) "R"
      ["title_firstword"]=>
      string(4) "Rare"
      ["searchable"]=>
      string(1) "y"
      ["url"]=>
      string(8) "item8720"
      ["object_type"]=>
      string(11) "trackeritem"
      ["object_id"]=>
      string(4) "8720"
      ["contents"]=>
      string(193) "    Rare Footage 493-C Flat Shoals Ave.   Atlanta GA 30316     404-215-2188                     n      573f3d571e3ee4dfcf660fa7       Possibly Closed  n  2017-07-16T21:30:40+00:00 Rare Footage "
      ["score"]=>
      float(0)
      ["_index"]=>
      string(21) "atlantawiki_tiki_main"
      ["objectlink"]=>
      string(190) "Rare Footage"
      ["image"]=>
      string(39) "

File not found.

"
      ["areaLocation"]=>
      string(34) "-84.3503813,33.7391182,15"
    }
    [20]=>
    array(96) {
      ["title"]=>
      string(26) "East Atlanta Animal Clinic"
      ["modification_date"]=>
      string(25) "2018-07-27T14:23:31+00:00"
      ["creation_date"]=>
      string(25) "2017-06-26T13:07:15+00:00"
      ["contributors"]=>
      array(2) {
        [0]=>
        NULL
        [1]=>
        string(29) "ben.eason@creativeloafing.com"
      }
      ["date"]=>
      string(25) "2017-06-26T13:07:15+00:00"
      ["tracker_status"]=>
      string(1) "o"
      ["tracker_id"]=>
      string(1) "1"
      ["view_permission"]=>
      string(13) "view_trackers"
      ["tracker_field_businessName"]=>
      string(26) "East Atlanta Animal Clinic"
      ["tracker_field_businessAddress"]=>
      string(25) "461 Flat Shoals Ave. S.E."
      ["tracker_field_businessCity"]=>
      string(7) "Atlanta"
      ["tracker_field_businessState"]=>
      string(2) "GA"
      ["tracker_field_businessZip"]=>
      string(5) "30316"
      ["tracker_field_businessWebsite"]=>
      string(39) "http://www.eastatlantaanimalclinic.com/"
      ["tracker_field_businessPhone"]=>
      string(14) "(404) 523-8765"
      ["tracker_field_businessRepresentative"]=>
      array(0) {
      }
      ["tracker_field_businessLocation"]=>
      string(37) "-84.3468688999999,33.7413866999999,12"
      ["tracker_field_businessLocationRadius"]=>
      int(0)
      ["tracker_field_description"]=>
      string(37) "A pet clinic located in East Atlanta."
      ["tracker_field_description_raw"]=>
      string(37) "A pet clinic located in East Atlanta."
      ["tracker_field_businessClassifieds"]=>
      array(0) {
      }
      ["tracker_field_businessTypes"]=>
      array(1) {
        [0]=>
        string(2) "89"
      }
      ["tracker_field_businessTypes_text"]=>
      string(2) "89"
      ["tracker_field_scene"]=>
      array(0) {
      }
      ["tracker_field_businessNeighborhoods"]=>
      array(2) {
        [0]=>
        string(3) "100"
        [1]=>
        string(3) "149"
      }
      ["tracker_field_businessNeighborhoods_text"]=>
      string(7) "100 149"
      ["tracker_field_businessPriceRange"]=>
      array(0) {
      }
      ["tracker_field_businessMiscCategories"]=>
      array(0) {
      }
      ["tracker_field_businessCLAcctNum"]=>
      int(0)
      ["tracker_field_business_121CurrentChit"]=>
      string(1) "n"
      ["tracker_field_121MobileClientID"]=>
      int(0)
      ["tracker_field_121MobileCampaignData"]=>
      array(0) {
      }
      ["tracker_field_121MobileCampaignData_json"]=>
      array(0) {
      }
      ["tracker_field_google_placeid"]=>
      string(27) "ChIJU-frolsB9YgRC5i9hAZciEg"
      ["tracker_field_googlePlaceData"]=>
      array(15) {
        [0]=>
        string(207) "

461 Flat Shoals Ave SE

, 

Atlanta

, 

GA

 

30316

, 

USA

"
        [1]=>
        string(46) "461 Flat Shoals Ave SE, Atlanta, GA 30316, USA"
        [2]=>
        string(14) "(404) 523-8765"
        [3]=>
        string(73) "https://maps.gstatic.com/mapfiles/place_api/icons/generic_business-71.png"
        [4]=>
        string(40) "28c74bfe0cf30dc421b4a41046d7e809144a4a8c"
        [5]=>
        string(15) "+1 404-523-8765"
        [6]=>
        string(26) "East Atlanta Animal Clinic"
        [7]=>
        string(27) "ChIJU-frolsB9YgRC5i9hAZciEg"
        [8]=>
        string(3) "4.5"
        [9]=>
        string(190) "CmRRAAAAggGR-t0uPda4quZVI1OwJB2D4yx0S2Tta1p7KOSA4oO22-c-1yQ6r1Phwt4cI9gTr0OsFwfTiZHMWCSYrt8AeLEZ68RDaVRqlFOqPTTRfGotTOh4G2Z0WZBQZoBLjdi8EhBfYrqucDvIqzw21nvAUppJGhSlAcnzQGhBuiKzdpCaLCNg9Src0g"
        [10]=>
        string(6) "GOOGLE"
        [11]=>
        string(48) "https://maps.google.com/?cid=5226528550630037515"
        [12]=>
        string(4) "-240"
        [13]=>
        string(41) "461 Flat Shoals Avenue Southeast, Atlanta"
        [14]=>
        string(39) "http://www.eastatlantaanimalclinic.com/"
      }
      ["tracker_field_googlePlaceData_text"]=>
      string(632) "461 Flat Shoals Ave SE, Atlanta, GA 30316, USA 461 Flat Shoals Ave SE, Atlanta, GA 30316, USA (404) 523-8765 https://maps.gstatic.com/mapfiles/place_api/icons/generic_business-71.png 28c74bfe0cf30dc421b4a41046d7e809144a4a8c +1 404-523-8765 East Atlanta Animal Clinic ChIJU-frolsB9YgRC5i9hAZciEg 4.5 CmRRAAAAggGR-t0uPda4quZVI1OwJB2D4yx0S2Tta1p7KOSA4oO22-c-1yQ6r1Phwt4cI9gTr0OsFwfTiZHMWCSYrt8AeLEZ68RDaVRqlFOqPTTRfGotTOh4G2Z0WZBQZoBLjdi8EhBfYrqucDvIqzw21nvAUppJGhSlAcnzQGhBuiKzdpCaLCNg9Src0g GOOGLE https://maps.google.com/?cid=5226528550630037515 -240 461 Flat Shoals Avenue Southeast, Atlanta http://www.eastatlantaanimalclinic.com/"
      ["tracker_field_googlePlaceData_json"]=>
      object(stdClass)#1555 (22) {
        ["address_components"]=>
        array(8) {
          [0]=>
          object(stdClass)#1547 (3) {
            ["long_name"]=>
            string(3) "461"
            ["short_name"]=>
            string(3) "461"
            ["types"]=>
            array(1) {
              [0]=>
              string(13) "street_number"
            }
          }
          [1]=>
          object(stdClass)#1548 (3) {
            ["long_name"]=>
            string(28) "Flat Shoals Avenue Southeast"
            ["short_name"]=>
            string(18) "Flat Shoals Ave SE"
            ["types"]=>
            array(1) {
              [0]=>
              string(5) "route"
            }
          }
          [2]=>
          object(stdClass)#1549 (3) {
            ["long_name"]=>
            string(12) "East Atlanta"
            ["short_name"]=>
            string(12) "East Atlanta"
            ["types"]=>
            array(2) {
              [0]=>
              string(12) "neighborhood"
              [1]=>
              string(9) "political"
            }
          }
          [3]=>
          object(stdClass)#1550 (3) {
            ["long_name"]=>
            string(7) "Atlanta"
            ["short_name"]=>
            string(7) "Atlanta"
            ["types"]=>
            array(2) {
              [0]=>
              string(8) "locality"
              [1]=>
              string(9) "political"
            }
          }
          [4]=>
          object(stdClass)#1551 (3) {
            ["long_name"]=>
            string(13) "DeKalb County"
            ["short_name"]=>
            string(13) "Dekalb County"
            ["types"]=>
            array(2) {
              [0]=>
              string(27) "administrative_area_level_2"
              [1]=>
              string(9) "political"
            }
          }
          [5]=>
          object(stdClass)#1552 (3) {
            ["long_name"]=>
            string(7) "Georgia"
            ["short_name"]=>
            string(2) "GA"
            ["types"]=>
            array(2) {
              [0]=>
              string(27) "administrative_area_level_1"
              [1]=>
              string(9) "political"
            }
          }
          [6]=>
          object(stdClass)#1553 (3) {
            ["long_name"]=>
            string(13) "United States"
            ["short_name"]=>
            string(2) "US"
            ["types"]=>
            array(2) {
              [0]=>
              string(7) "country"
              [1]=>
              string(9) "political"
            }
          }
          [7]=>
          object(stdClass)#1554 (3) {
            ["long_name"]=>
            string(5) "30316"
            ["short_name"]=>
            string(5) "30316"
            ["types"]=>
            array(1) {
              [0]=>
              string(11) "postal_code"
            }
          }
        }
        ["adr_address"]=>
        string(207) "

461 Flat Shoals Ave SE

, 

Atlanta

, 

GA

 

30316

, 

USA

"
        ["formatted_address"]=>
        string(46) "461 Flat Shoals Ave SE, Atlanta, GA 30316, USA"
        ["formatted_phone_number"]=>
        string(14) "(404) 523-8765"
        ["geometry"]=>
        object(stdClass)#1557 (2) {
          ["location"]=>
          object(stdClass)#1556 (2) {
            ["lat"]=>
            string(10) "33.7413272"
            ["lng"]=>
            string(11) "-84.3470212"
          }
          ["viewport"]=>
          object(stdClass)#1559 (2) {
            ["northeast"]=>
            object(stdClass)#1558 (2) {
              ["lat"]=>
              string(15) "33.742742180292"
              ["lng"]=>
              string(16) "-84.345572519709"
            }
            ["southwest"]=>
            object(stdClass)#1560 (2) {
              ["lat"]=>
              string(15) "33.740044219709"
              ["lng"]=>
              string(16) "-84.348270480292"
            }
          }
        }
        ["icon"]=>
        string(73) "https://maps.gstatic.com/mapfiles/place_api/icons/generic_business-71.png"
        ["id"]=>
        string(40) "28c74bfe0cf30dc421b4a41046d7e809144a4a8c"
        ["international_phone_number"]=>
        string(15) "+1 404-523-8765"
        ["name"]=>
        string(26) "East Atlanta Animal Clinic"
        ["opening_hours"]=>
        object(stdClass)#1561 (3) {
          ["open_now"]=>
          string(1) "1"
          ["periods"]=>
          array(5) {
            [0]=>
            object(stdClass)#1563 (2) {
              ["close"]=>
              object(stdClass)#1562 (2) {
                ["day"]=>
                string(1) "1"
                ["time"]=>
                string(4) "1900"
              }
              ["open"]=>
              object(stdClass)#1564 (2) {
                ["day"]=>
                string(1) "1"
                ["time"]=>
                string(4) "0700"
              }
            }
            [1]=>
            object(stdClass)#1566 (2) {
              ["close"]=>
              object(stdClass)#1565 (2) {
                ["day"]=>
                string(1) "2"
                ["time"]=>
                string(4) "1900"
              }
              ["open"]=>
              object(stdClass)#1567 (2) {
                ["day"]=>
                string(1) "2"
                ["time"]=>
                string(4) "0700"
              }
            }
            [2]=>
            object(stdClass)#1569 (2) {
              ["close"]=>
              object(stdClass)#1568 (2) {
                ["day"]=>
                string(1) "3"
                ["time"]=>
                string(4) "1900"
              }
              ["open"]=>
              object(stdClass)#1570 (2) {
                ["day"]=>
                string(1) "3"
                ["time"]=>
                string(4) "0700"
              }
            }
            [3]=>
            object(stdClass)#1572 (2) {
              ["close"]=>
              object(stdClass)#1571 (2) {
                ["day"]=>
                string(1) "4"
                ["time"]=>
                string(4) "1900"
              }
              ["open"]=>
              object(stdClass)#1573 (2) {
                ["day"]=>
                string(1) "4"
                ["time"]=>
                string(4) "0700"
              }
            }
            [4]=>
            object(stdClass)#1575 (2) {
              ["close"]=>
              object(stdClass)#1574 (2) {
                ["day"]=>
                string(1) "5"
                ["time"]=>
                string(4) "1900"
              }
              ["open"]=>
              object(stdClass)#1576 (2) {
                ["day"]=>
                string(1) "5"
                ["time"]=>
                string(4) "0700"
              }
            }
          }
          ["weekday_text"]=>
          array(7) {
            [0]=>
            string(27) "Monday: 7:00 AM – 7:00 PM"
            [1]=>
            string(28) "Tuesday: 7:00 AM – 7:00 PM"
            [2]=>
            string(30) "Wednesday: 7:00 AM – 7:00 PM"
            [3]=>
            string(29) "Thursday: 7:00 AM – 7:00 PM"
            [4]=>
            string(27) "Friday: 7:00 AM – 7:00 PM"
            [5]=>
            string(16) "Saturday: Closed"
            [6]=>
            string(14) "Sunday: Closed"
          }
        }
        ["photos"]=>
        array(6) {
          [0]=>
          object(stdClass)#1577 (4) {
            ["height"]=>
            int(1367)
            ["html_attributions"]=>
            array(1) {
              [0]=>
              string(106) "East Atlanta Animal Clinic"
            }
            ["photo_reference"]=>
            string(190) "CmRaAAAAbnHBwy2GS4m9WZhGcdhBrQ3eovrcJGmJwyBDhnvtPXDOaKkyz8t0o--BndnM_fLtN-laUmPBjWm0s5DGrLDaz1KrGEEGZNleiApLvF4ls6fszcm1JkbvB0sI5EiMtMWXEhBdTW0tm0pFB4ztBGvFWuXdGhQVHhLQRbEmXfqQ3nOBxz_o0r1s3Q"
            ["width"]=>
            int(2048)
          }
          [1]=>
          object(stdClass)#1578 (4) {
            ["height"]=>
            int(1367)
            ["html_attributions"]=>
            array(1) {
              [0]=>
              string(106) "East Atlanta Animal Clinic"
            }
            ["photo_reference"]=>
            string(190) "CmRaAAAAk830ZJ5HjHdm7H1d9HsR_3-NOAYz1HoxkM_d9R3UrTjusNxKmqw7Bs98CGU-eeChuYuqJaGFaPMD5TzyOM0NX9gxFWErSXblFPNiAwFuAtYc2YrHJBnJZRn4p2RdddSfEhBCRTlmWDXOf4kBKPT_BtQOGhRf8h8O4DXqazJQwPvZXJrpaTDi1A"
            ["width"]=>
            int(2048)
          }
          [2]=>
          object(stdClass)#1579 (4) {
            ["height"]=>
            int(1367)
            ["html_attributions"]=>
            array(1) {
              [0]=>
              string(106) "East Atlanta Animal Clinic"
            }
            ["photo_reference"]=>
            string(190) "CmRaAAAAIfy4BXuwW1L_HRj2PigLQofnOwzQMclypSmc19VYHLD4tXNDWfrhThdu8_caoAvUnUF97fUwpr-PtDdDhayyWQrsaqUxvJ2CZz6kzY7u_9mcwhLuCOUQ54QuMzJ1al8REhALJb8txPi-IDJHv1SDJxxvGhQoXOqclkak3GGj9rkyUJLOD8o-tA"
            ["width"]=>
            int(2048)
          }
          [3]=>
          object(stdClass)#1580 (4) {
            ["height"]=>
            int(2048)
            ["html_attributions"]=>
            array(1) {
              [0]=>
              string(106) "East Atlanta Animal Clinic"
            }
            ["photo_reference"]=>
            string(190) "CmRaAAAACQMk1fSwqOoXvNrN-YWNNwuG5rIEuFbwAk6MwvkztGTytYDifVb3B61i38dSnuCJSdFRVhpSN4KcbmcqJBEd7QVWAXKwk0TwH9Eb8eyyqLy-aUMqI2Sxdb2QTB8Rx78uEhCqnA2hg7ToPQ8Gb87DAbAFGhQ9jgg5d9Ovg05P-zVJfkBQjoVREA"
            ["width"]=>
            int(1367)
          }
          [4]=>
          object(stdClass)#1581 (4) {
            ["height"]=>
            int(2048)
            ["html_attributions"]=>
            array(1) {
              [0]=>
              string(91) "Cabot Lerue"
            }
            ["photo_reference"]=>
            string(190) "CmRaAAAA7VlMuA-s347B_HkI_c0JGCcaZHM0UEf6QVZY3dwx1ivuWo6NfOj1idooCjhQo1eme4AM2BYP35j0I6p2Qaubv3f-ryY1bDqG0RVHu8lnGXycTf6lLSRyZmLSG3pB-7muEhDGLJJvBDKU7hAi3druc8f7GhSHpHGC5sSzV1E6H9IkAiH0UQoGPg"
            ["width"]=>
            int(1152)
          }
          [5]=>
          object(stdClass)#1582 (4) {
            ["height"]=>
            string(3) "250"
            ["html_attributions"]=>
            array(1) {
              [0]=>
              string(106) "East Atlanta Animal Clinic"
            }
            ["photo_reference"]=>
            string(190) "CmRaAAAArPfy-yzuAIs2LbhbEihlD3jjNVp_bw0HVwxFU6W1vVJmh6l5rVsM2wnZmyqEi_VtHcR_eaAL1euZu3SDItSE0R6hiw09Rfarv4iXeFUZMpqGCu0p2KgAVoMTT2m91uI1EhC3JFyvHxAOmpdsAc990dTiGhSJsBOfc5K_L9OlUpg3_xDl_9gZMw"
            ["width"]=>
            string(3) "250"
          }
        }
        ["place_id"]=>
        string(27) "ChIJU-frolsB9YgRC5i9hAZciEg"
        ["plus_code"]=>
        object(stdClass)#1583 (2) {
          ["compound_code"]=>
          string(39) "PMR3+G5 Atlanta, Georgia, United States"
          ["global_code"]=>
          string(11) "865QPMR3+G5"
        }
        ["rating"]=>
        string(3) "4.5"
        ["reference"]=>
        string(190) "CmRRAAAAggGR-t0uPda4quZVI1OwJB2D4yx0S2Tta1p7KOSA4oO22-c-1yQ6r1Phwt4cI9gTr0OsFwfTiZHMWCSYrt8AeLEZ68RDaVRqlFOqPTTRfGotTOh4G2Z0WZBQZoBLjdi8EhBfYrqucDvIqzw21nvAUppJGhSlAcnzQGhBuiKzdpCaLCNg9Src0g"
        ["reviews"]=>
        array(5) {
          [0]=>
          object(stdClass)#1584 (8) {
            ["author_name"]=>
            string(14) "Khurram Hassan"
            ["author_url"]=>
            string(65) "https://www.google.com/maps/contrib/103527133452753856424/reviews"
            ["language"]=>
            string(2) "en"
            ["profile_photo_url"]=>
            string(122) "https://lh4.googleusercontent.com/-ApwIxHxXo7Q/AAAAAAAAAAI/AAAAAAAAAAA/t_ekfXM8qWM/s128-c0x00000000-cc-rp-mo-ba4/photo.jpg"
            ["rating"]=>
            string(1) "5"
            ["relative_time_description"]=>
            string(12) "2 months ago"
            ["text"]=>
            string(132) "One of the best in the city.  Great space, clean and we'll organized. Truly care about the animals and extremely professional staff."
            ["time"]=>
            int(1526898075)
          }
          [1]=>
          object(stdClass)#1585 (8) {
            ["author_name"]=>
            string(6) "F Dean"
            ["author_url"]=>
            string(65) "https://www.google.com/maps/contrib/102840493574318512942/reviews"
            ["language"]=>
            string(2) "en"
            ["profile_photo_url"]=>
            string(118) "https://lh6.googleusercontent.com/-X7KwETMgWMU/AAAAAAAAAAI/AAAAAAAACys/rByEN95tDZ4/s128-c0x00000000-cc-rp-mo/photo.jpg"
            ["rating"]=>
            string(1) "5"
            ["relative_time_description"]=>
            string(12) "5 months ago"
            ["text"]=>
            string(84) "Amazingly caring clinic.  Shots.  They loved my cat. We felt good after our service."
            ["time"]=>
            int(1519169543)
          }
          [2]=>
          object(stdClass)#1586 (8) {
            ["author_name"]=>
            string(18) "Brigid Cappelletti"
            ["author_url"]=>
            string(65) "https://www.google.com/maps/contrib/111637521140154446640/reviews"
            ["language"]=>
            string(2) "en"
            ["profile_photo_url"]=>
            string(141) "https://lh5.googleusercontent.com/-1gw8sCvOZAI/AAAAAAAAAAI/AAAAAAAAAAA/AAnnY7p6oh5Gsr5ljSnBqMs_9UaoNAu2QQ/s128-c0x00000000-cc-rp-mo/photo.jpg"
            ["rating"]=>
            string(1) "5"
            ["relative_time_description"]=>
            string(12) "2 months ago"
            ["text"]=>
            string(57) "They are loving people, and always take care of my kitty."
            ["time"]=>
            int(1525101718)
          }
          [3]=>
          object(stdClass)#1587 (8) {
            ["author_name"]=>
            string(6) "Alan G"
            ["author_url"]=>
            string(65) "https://www.google.com/maps/contrib/101148442802693205895/reviews"
            ["language"]=>
            string(2) "en"
            ["profile_photo_url"]=>
            string(122) "https://lh3.googleusercontent.com/-5FlZbSkQHuE/AAAAAAAAAAI/AAAAAAAAaiU/sUkel1cMsbE/s128-c0x00000000-cc-rp-mo-ba2/photo.jpg"
            ["rating"]=>
            string(1) "5"
            ["relative_time_description"]=>
            string(10) "a year ago"
            ["text"]=>
            string(75) "Great doctors and nurses! They care and always take care of my little baby!"
            ["time"]=>
            int(1496509249)
          }
          [4]=>
          object(stdClass)#1588 (8) {
            ["author_name"]=>
            string(10) "Fred Curry"
            ["author_url"]=>
            string(65) "https://www.google.com/maps/contrib/105871162338079318489/reviews"
            ["language"]=>
            string(2) "en"
            ["profile_photo_url"]=>
            string(122) "https://lh5.googleusercontent.com/-Rkmk7kFIheI/AAAAAAAAAAI/AAAAAAAABCI/U489bQ5iZnQ/s128-c0x00000000-cc-rp-mo-ba2/photo.jpg"
            ["rating"]=>
            string(1) "5"
            ["relative_time_description"]=>
            string(10) "a year ago"
            ["text"]=>
            string(92) "Great service. Staff is very friendly. EAV is a lot more affordable than most large clinics "
            ["time"]=>
            int(1491233179)
          }
        }
        ["scope"]=>
        string(6) "GOOGLE"
        ["types"]=>
        array(3) {
          [0]=>
          string(15) "veterinary_care"
          [1]=>
          string(17) "point_of_interest"
          [2]=>
          string(13) "establishment"
        }
        ["url"]=>
        string(48) "https://maps.google.com/?cid=5226528550630037515"
        ["utc_offset"]=>
        string(4) "-240"
        ["vicinity"]=>
        string(41) "461 Flat Shoals Avenue Southeast, Atlanta"
        ["website"]=>
        string(39) "http://www.eastatlantaanimalclinic.com/"
      }
      ["tracker_field_googleOverallRating"]=>
      float(4.4)
      ["tracker_field_businessYelpBusinessData"]=>
      array(0) {
      }
      ["tracker_field_businessYelpBusinessData_json"]=>
      array(0) {
      }
      ["tracker_field_businessFacebook"]=>
      string(26) "East Atlanta Animal Clinic"
      ["tracker_field_businessFacebookID"]=>
      string(15) "103589769679542"
      ["tracker_field_businessFacebookData"]=>
      array(2) {
        [0]=>
        string(15) "103589769679542"
        [1]=>
        string(26) "East Atlanta Animal Clinic"
      }
      ["tracker_field_businessFacebookData_text"]=>
      string(42) "103589769679542 East Atlanta Animal Clinic"
      ["tracker_field_businessFacebookData_json"]=>
      object(stdClass)#1589 (4) {
        ["id"]=>
        string(15) "103589769679542"
        ["name"]=>
        string(26) "East Atlanta Animal Clinic"
        ["events"]=>
        object(stdClass)#1593 (2) {
          ["data"]=>
          array(1) {
            [0]=>
            object(stdClass)#1590 (6) {
              ["description"]=>
              string(460) "Join us as we celebrate 12 years in East Atlanta! 

East Atlanta Animal Clinic turns 12 in May. We would like to celebrate with our clients, patients and the community. Please stop by the clinic during the week of May 12–16, 2014 from 10:00am – 5:00pm (you can even bring your pets). We will be offering pet portraits, snacks for pets and humans, and other free goodies! 

Learn more: http://eastatlantaanimalclinic.com/2014/04/27/eaac-celebrates-12-years/"
              ["end_time"]=>
              string(24) "2014-05-16T17:00:00-0400"
              ["name"]=>
              string(28) "EAAC Anniversary Celebration"
              ["place"]=>
              object(stdClass)#1591 (3) {
                ["name"]=>
                string(26) "East Atlanta Animal Clinic"
                ["location"]=>
                object(stdClass)#1592 (7) {
                  ["city"]=>
                  string(7) "Atlanta"
                  ["country"]=>
                  string(13) "United States"
                  ["latitude"]=>
                  string(10) "33.7413909"
                  ["longitude"]=>
                  string(12) "-84.34689125"
                  ["state"]=>
                  string(2) "GA"
                  ["street"]=>
                  string(22) "461 Flat Shoals Ave SE"
                  ["zip"]=>
                  string(5) "30316"
                }
                ["id"]=>
                string(15) "103589769679542"
              }
              ["start_time"]=>
              string(24) "2014-05-12T10:00:00-0400"
              ["id"]=>
              string(15) "226566397541155"
            }
          }
          ["paging"]=>
          object(stdClass)#1595 (1) {
            ["cursors"]=>
            object(stdClass)#1594 (2) {
              ["before"]=>
              string(123) "QVFIUnBlUnFtVFhCMmRyNXhSMDM0WkZAfYWVYWlVselQ1R3lSQmExdnJvSmI4cjliWDlKYnhTUk1feXEzN0ZA0aUFUcFNleUE3N1V0V1J1UlRPQ1ZARX2VzUk9R"
              ["after"]=>
              string(123) "QVFIUnBlUnFtVFhCMmRyNXhSMDM0WkZAfYWVYWlVselQ1R3lSQmExdnJvSmI4cjliWDlKYnhTUk1feXEzN0ZA0aUFUcFNleUE3N1V0V1J1UlRPQ1ZARX2VzUk9R"
            }
          }
        }
        ["feed"]=>
        object(stdClass)#1621 (2) {
          ["data"]=>
          array(25) {
            [0]=>
            object(stdClass)#1596 (4) {
              ["message"]=>
              string(22) "More pet food recalls:"
              ["story"]=>
              string(87) "East Atlanta Animal Clinic shared Georgia Veterinary Medical Association - GVMA's post."
              ["created_time"]=>
              string(24) "2018-03-05T21:47:48+0000"
              ["id"]=>
              string(32) "103589769679542_1631231080248729"
            }
            [1]=>
            object(stdClass)#1597 (3) {
              ["story"]=>
              string(55) "East Atlanta Animal Clinic shared 97.5 WQBE-FM's photo."
              ["created_time"]=>
              string(24) "2018-03-02T03:19:51+0000"
              ["id"]=>
              string(32) "103589769679542_1627338610637976"
            }
            [2]=>
            object(stdClass)#1598 (4) {
              ["message"]=>
              string(32) "Winnie reminds us of a bear cub!"
              ["story"]=>
              string(46) "East Atlanta Animal Clinic added 2 new photos."
              ["created_time"]=>
              string(24) "2018-02-26T16:39:41+0000"
              ["id"]=>
              string(32) "103589769679542_1624095894295581"
            }
            [3]=>
            object(stdClass)#1599 (3) {
              ["message"]=>
              string(53) "Digby is just chilling prior to dental surgery today."
              ["created_time"]=>
              string(24) "2018-02-26T16:38:29+0000"
              ["id"]=>
              string(32) "103589769679542_1624094167629087"
            }
            [4]=>
            object(stdClass)#1600 (3) {
              ["message"]=>
              string(75) "Cats LOVE to walk on our stuff 🐾🐾🐾  and we adore them anyway. 😻"
              ["created_time"]=>
              string(24) "2018-02-23T01:31:14+0000"
              ["id"]=>
              string(32) "103589769679542_1620481701323667"
            }
            [5]=>
            object(stdClass)#1601 (3) {
              ["message"]=>
              string(109) "Several pet foods and treats have been recalled due to salmonella contamination. Please see link for details."
              ["created_time"]=>
              string(24) "2018-02-21T21:37:45+0000"
              ["id"]=>
              string(32) "103589769679542_1619290908109413"
            }
            [6]=>
            object(stdClass)#1602 (3) {
              ["message"]=>
              string(89) "Ava is being a very brave girl for her first laser treatment today. What a trooper!! 🐾"
              ["created_time"]=>
              string(24) "2018-02-20T21:33:03+0000"
              ["id"]=>
              string(32) "103589769679542_1618359708202533"
            }
            [7]=>
            object(stdClass)#1603 (3) {
              ["story"]=>
              string(41) "East Atlanta Animal Clinic shared a link."
              ["created_time"]=>
              string(24) "2018-02-17T19:58:19+0000"
              ["id"]=>
              string(32) "103589769679542_1615224328516071"
            }
            [8]=>
            object(stdClass)#1604 (3) {
              ["message"]=>
              string(40) "Happy Valentine's Day ❤️❤️❤️"
              ["created_time"]=>
              string(24) "2018-02-14T17:24:44+0000"
              ["id"]=>
              string(32) "103589769679542_1612066012165236"
            }
            [9]=>
            object(stdClass)#1605 (4) {
              ["message"]=>
              string(129) "For dental month, we wanted to show you some great before and after photos taken during a dental cleaning of one of our patients."
              ["story"]=>
              string(46) "East Atlanta Animal Clinic added 2 new photos."
              ["created_time"]=>
              string(24) "2018-02-12T13:52:44+0000"
              ["id"]=>
              string(32) "103589769679542_1609915825713588"
            }
            [10]=>
            object(stdClass)#1606 (3) {
              ["story"]=>
              string(41) "East Atlanta Animal Clinic shared a link."
              ["created_time"]=>
              string(24) "2018-02-08T13:30:43+0000"
              ["id"]=>
              string(32) "103589769679542_1605528399485664"
            }
            [11]=>
            object(stdClass)#1607 (3) {
              ["message"]=>
              string(145) "February is pet dental health month. Here is an informative video explaining why home dental care is necessary and HOW to brush your pet's teeth."
              ["created_time"]=>
              string(24) "2018-02-07T15:51:37+0000"
              ["id"]=>
              string(32) "103589769679542_1605274819511022"
            }
            [12]=>
            object(stdClass)#1608 (3) {
              ["message"]=>
              string(343) "We giggle at the photos of signs next to our beloved pets called "dog and cat shaming" because they are cute, clever, and funny. We have probably shared a few of these here on our own page. But, animal behaviorists say this may have a negative effect on our human animal bonds when we do it to our own pets. Read this short article to see why."
              ["created_time"]=>
              string(24) "2018-02-05T20:54:59+0000"
              ["id"]=>
              string(32) "103589769679542_1603687119669792"
            }
            [13]=>
            object(stdClass)#1609 (3) {
              ["message"]=>
              string(110) "https://www.mnn.com/family/pets/blogs/kids-who-grow-up-with-dogs-and-cats-are-more-emotionally-intelligent-and"
              ["created_time"]=>
              string(24) "2018-02-03T15:09:18+0000"
              ["id"]=>
              string(32) "103589769679542_1601451103226727"
            }
            [14]=>
            object(stdClass)#1610 (3) {
              ["message"]=>
              string(75) "http://www.sciencealert.com/we-might-finally-know-why-dogs-love-to-eat-poop"
              ["created_time"]=>
              string(24) "2018-02-02T13:26:45+0000"
              ["id"]=>
              string(32) "103589769679542_1600394946665676"
            }
            [15]=>
            object(stdClass)#1611 (3) {
              ["story"]=>
              string(52) "East Atlanta Animal Clinic shared Food Envy's video."
              ["created_time"]=>
              string(24) "2018-02-01T21:19:39+0000"
              ["id"]=>
              string(32) "103589769679542_1599720376733133"
            }
            [16]=>
            object(stdClass)#1612 (4) {
              ["message"]=>
              string(31) "Oh, McMenamin. You are a cutie!"
              ["story"]=>
              string(41) "East Atlanta Animal Clinic shared a post."
              ["created_time"]=>
              string(24) "2018-01-26T18:22:56+0000"
              ["id"]=>
              string(32) "103589769679542_1593688194003018"
            }
            [17]=>
            object(stdClass)#1613 (3) {
              ["message"]=>
              string(96) "Some of our surgery patients go home with a personalized medication bag made lovingly by Emilly."
              ["created_time"]=>
              string(24) "2018-01-26T10:15:36+0000"
              ["id"]=>
              string(32) "103589769679542_1593289277376243"
            }
            [18]=>
            object(stdClass)#1614 (3) {
              ["message"]=>
              string(30) "Art History Wednesday.....🐾"
              ["created_time"]=>
              string(24) "2018-01-24T13:21:42+0000"
              ["id"]=>
              string(32) "103589769679542_1591400180898486"
            }
            [19]=>
            object(stdClass)#1615 (4) {
              ["message"]=>
              string(135) "This older female spayed dog was found on the I-20 ramp at Glenwood about noon today. Please call us if you recognize her. 404-523-8765"
              ["story"]=>
              string(46) "East Atlanta Animal Clinic added 2 new photos."
              ["created_time"]=>
              string(24) "2018-01-22T18:58:03+0000"
              ["id"]=>
              string(32) "103589769679542_1589702791068225"
            }
            [20]=>
            object(stdClass)#1616 (3) {
              ["message"]=>
              string(27) "Very cute you are, Sal 🐾"
              ["created_time"]=>
              string(24) "2018-01-18T18:14:54+0000"
              ["id"]=>
              string(32) "103589769679542_1585866938118477"
            }
            [21]=>
            object(stdClass)#1617 (3) {
              ["story"]=>
              string(54) "East Atlanta Animal Clinic shared Mental Floss's post."
              ["created_time"]=>
              string(24) "2018-01-17T16:54:46+0000"
              ["id"]=>
              string(32) "103589769679542_1584856558219515"
            }
            [22]=>
            object(stdClass)#1618 (3) {
              ["story"]=>
              string(91) "East Atlanta Animal Clinic shared Saint Francis Veterinary Specialists & Emergency's photo."
              ["created_time"]=>
              string(24) "2018-01-17T04:21:02+0000"
              ["id"]=>
              string(32) "103589769679542_1584380341600470"
            }
            [23]=>
            object(stdClass)#1619 (3) {
              ["story"]=>
              string(55) "East Atlanta Animal Clinic shared Chris J Carr's video."
              ["created_time"]=>
              string(24) "2018-01-14T22:35:58+0000"
              ["id"]=>
              string(32) "103589769679542_1582440785127759"
            }
            [24]=>
            object(stdClass)#1620 (3) {
              ["message"]=>
              string(286) "Bonnie Blue did great for her first puppy visit. What a cutie pie! And smart, too. Already ringing the bell to go outside. Her doggie brother, Baxter, adores her and grooms her. Her cat brother, Charlie, has set boundaries but was recently caught sleeping close to her. Precious family."
              ["created_time"]=>
              string(24) "2018-01-11T14:27:47+0000"
              ["id"]=>
              string(32) "103589769679542_1579334548771716"
            }
          }
          ["paging"]=>
          object(stdClass)#1622 (2) {
            ["previous"]=>
            string(282) "https://graph.facebook.com/v2.8/103589769679542/feed?since=1520286468&access_token=284346488083|StUmZexEo-ODM_s_RzrK8IoefW0&limit=25&__paging_token=enc_AdDLEwOUJsQMxJIN4gsW74cLYqCfx2RX3ZBA1UIchWUzbuaLvt2va0T7yLFaZCFYqpCc41TDJcpDjstx2KyjIBqMT1Tnp9uMfFyAYJB8aXJ9ZAsGQZDZD&__previous=1"
            ["next"]=>
            string(269) "https://graph.facebook.com/v2.8/103589769679542/feed?access_token=284346488083|StUmZexEo-ODM_s_RzrK8IoefW0&limit=25&until=1515680867&__paging_token=enc_AdCjqk4QQEym38vdNjFfssnKAF0EqCgsnJm6vduAYOMVeoZBy2IRFOBIXRZAUCu5XXH7KyPZACOSESo6jJeOPfKdwx1pgGaJvyuDc0AKnri5cB2mwZDZD"
          }
        }
      }
      ["tracker_field_businessLoafingID"]=>
      string(24) "573f3d471e3ee4dfcf65ff8b"
      ["tracker_field_businessAccountExecutive"]=>
      string(1) "0"
      ["tracker_field_businessStatusField"]=>
      string(4) "Done"
      ["tracker_field_businessCLDistributionLocation"]=>
      string(1) "n"
      ["tracker_field_businessAudience"]=>
      array(0) {
      }
      ["tracker_field_businessLegacyID"]=>
      int(3925269)
      ["language"]=>
      string(7) "unknown"
      ["attachments"]=>
      array(0) {
      }
      ["comment_count"]=>
      int(0)
      ["categories"]=>
      array(2) {
        [0]=>
        int(89)
        [1]=>
        int(100)
      }
      ["deep_categories"]=>
      array(5) {
        [0]=>
        int(28)
        [1]=>
        int(89)
        [2]=>
        int(1)
        [3]=>
        int(149)
        [4]=>
        int(100)
      }
      ["categories_under_28"]=>
      array(1) {
        [0]=>
        int(89)
      }
      ["deep_categories_under_28"]=>
      array(1) {
        [0]=>
        int(89)
      }
      ["categories_under_1"]=>
      array(0) {
      }
      ["deep_categories_under_1"]=>
      array(2) {
        [0]=>
        int(149)
        [1]=>
        int(100)
      }
      ["categories_under_177"]=>
      array(0) {
      }
      ["deep_categories_under_177"]=>
      array(0) {
      }
      ["categories_under_209"]=>
      array(0) {
      }
      ["deep_categories_under_209"]=>
      array(0) {
      }
      ["categories_under_163"]=>
      array(0) {
      }
      ["deep_categories_under_163"]=>
      array(0) {
      }
      ["categories_under_171"]=>
      array(0) {
      }
      ["deep_categories_under_171"]=>
      array(0) {
      }
      ["categories_under_153"]=>
      array(0) {
      }
      ["deep_categories_under_153"]=>
      array(0) {
      }
      ["categories_under_242"]=>
      array(0) {
      }
      ["deep_categories_under_242"]=>
      array(0) {
      }
      ["categories_under_564"]=>
      array(0) {
      }
      ["deep_categories_under_564"]=>
      array(0) {
      }
      ["freetags"]=>
      array(0) {
      }
      ["geo_located"]=>
      string(1) "y"
      ["geo_location"]=>
      string(37) "-84.3468688999999,33.7413866999999,12"
      ["geo_point"]=>
      object(stdClass)#1623 (2) {
        ["lat"]=>
        float(33.7413867)
        ["lon"]=>
        float(-84.3468689)
      }
      ["allowed_groups"]=>
      array(2) {
        [0]=>
        string(6) "Admins"
        [1]=>
        string(9) "Anonymous"
      }
      ["allowed_users"]=>
      array(0) {
      }
      ["relations"]=>
      array(0) {
      }
      ["relation_objects"]=>
      array(0) {
      }
      ["relation_types"]=>
      array(0) {
      }
      ["relation_count"]=>
      array(0) {
      }
      ["title_initial"]=>
      string(1) "E"
      ["title_firstword"]=>
      string(4) "East"
      ["searchable"]=>
      string(1) "y"
      ["url"]=>
      string(8) "item1521"
      ["object_type"]=>
      string(11) "trackeritem"
      ["object_id"]=>
      string(4) "1521"
      ["contents"]=>
      string(393) "    East Atlanta Animal Clinic 461 Flat Shoals Ave. S.E.  Atlanta GA 30316 http://www.eastatlantaanimalclinic.com/   (404) 523-8765  -84.3468688999999,33.7413866999999,12   A pet clinic located in East Atlanta.               n  ChIJU-frolsB9YgRC5i9hAZciEg  East Atlanta Animal Clinic 103589769679542 573f3d471e3ee4dfcf65ff8b       Done  n  2017-06-26T13:07:15+00:00 East Atlanta Animal Clinic "
      ["score"]=>
      float(0)
      ["_index"]=>
      string(21) "atlantawiki_tiki_main"
      ["objectlink"]=>
      string(298) "East Atlanta Animal Clinic"
      ["image"]=>
      string(39) "

File not found.

"
      ["areaLocation"]=>
      string(34) "-84.3503813,33.7391182,15"
    }
    [21]=>
    array(94) {
      ["title"]=>
      string(19) "Park Pet Supply Inc"
      ["modification_date"]=>
      string(25) "2018-03-08T16:41:28+00:00"
      ["creation_date"]=>
      string(25) "2017-06-19T12:58:54+00:00"
      ["contributors"]=>
      array(2) {
        [0]=>
        NULL
        [1]=>
        string(29) "ben.eason@creativeloafing.com"
      }
      ["date"]=>
      string(25) "2017-06-19T12:58:54+00:00"
      ["tracker_status"]=>
      string(1) "o"
      ["tracker_id"]=>
      string(1) "1"
      ["view_permission"]=>
      string(13) "view_trackers"
      ["tracker_field_businessName"]=>
      string(19) "Park Pet Supply Inc"
      ["tracker_field_businessAddress"]=>
      string(1) "A"
      ["tracker_field_businessCity"]=>
      string(7) "Atlanta"
      ["tracker_field_businessState"]=>
      string(2) "GA"
      ["tracker_field_businessZip"]=>
      string(5) "30316"
      ["tracker_field_businessWebsite"]=>
      string(29) "http://www.parkpetsupply.com/"
      ["tracker_field_businessEmail"]=>
      string(1) "5"
      ["tracker_field_businessEmail_text"]=>
      string(1) "5"
      ["tracker_field_businessPhone"]=>
      string(14) "(404) 588-0140"
      ["tracker_field_businessRepresentative"]=>
      array(0) {
      }
      ["tracker_field_businessLocation"]=>
      string(15) "Park Pet Supply"
      ["tracker_field_businessLocationRadius"]=>
      int(0)
      ["tracker_field_description"]=>
      string(313) "Known for its helpful staff and its well-stocked supply of organic treats, high-end food and accessories of all sorts. Adjoining the shop is a self-service dog wash.

 
A varied selection of premium pet foods, toys and accessories — even homeopathic meds — staffed by friendly and knowledgeable animal lovers."
      ["tracker_field_description_raw"]=>
      string(313) "Known for its helpful staff and its well-stocked supply of organic treats, high-end food and accessories of all sorts. Adjoining the shop is a self-service dog wash.

 
A varied selection of premium pet foods, toys and accessories — even homeopathic meds — staffed by friendly and knowledgeable animal lovers."
      ["tracker_field_businessClassifieds"]=>
      array(0) {
      }
      ["tracker_field_businessTypes"]=>
      array(1) {
        [0]=>
        string(2) "89"
      }
      ["tracker_field_businessTypes_text"]=>
      string(2) "89"
      ["tracker_field_scene"]=>
      array(0) {
      }
      ["tracker_field_businessNeighborhoods"]=>
      array(2) {
        [0]=>
        string(3) "100"
        [1]=>
        string(3) "149"
      }
      ["tracker_field_businessNeighborhoods_text"]=>
      string(7) "100 149"
      ["tracker_field_businessPriceRange"]=>
      array(0) {
      }
      ["tracker_field_businessMiscCategories"]=>
      array(0) {
      }
      ["tracker_field_businessCLAcctNum"]=>
      int(0)
      ["tracker_field_business_121CurrentChit"]=>
      string(1) "n"
      ["tracker_field_121MobileClientID"]=>
      int(0)
      ["tracker_field_121MobileCampaignData"]=>
      array(0) {
      }
      ["tracker_field_121MobileCampaignData_json"]=>
      array(0) {
      }
      ["tracker_field_googlePlaceData"]=>
      array(0) {
      }
      ["tracker_field_googlePlaceData_json"]=>
      array(0) {
      }
      ["tracker_field_googleOverallRating"]=>
      float(33.7409074)
      ["tracker_field_businessYelpBusinessData"]=>
      array(0) {
      }
      ["tracker_field_businessYelpBusinessData_json"]=>
      array(0) {
      }
      ["tracker_field_businessFacebook"]=>
      string(11) "63904844184"
      ["tracker_field_businessFacebookData"]=>
      array(0) {
      }
      ["tracker_field_businessFacebookData_json"]=>
      array(0) {
      }
      ["tracker_field_businessLoafingID"]=>
      string(24) "573f3d561e3ee4dfcf660e71"
      ["tracker_field_businessAccountExecutive"]=>
      string(1) "0"
      ["tracker_field_businessInternalNotes"]=>
      string(23) "479 Flat Shoals Ave. SE"
      ["tracker_field_businessInternalNotes_raw"]=>
      string(23) "479 Flat Shoals Ave. SE"
      ["tracker_field_businessStatusField"]=>
      string(12) "Sent to Edit"
      ["tracker_field_businessCLDistributionLocation"]=>
      string(1) "n"
      ["tracker_field_businessAudience"]=>
      array(0) {
      }
      ["tracker_field_businessLegacyID"]=>
      int(1298527)
      ["language"]=>
      string(7) "unknown"
      ["attachments"]=>
      array(0) {
      }
      ["comment_count"]=>
      int(0)
      ["categories"]=>
      array(2) {
        [0]=>
        int(89)
        [1]=>
        int(100)
      }
      ["deep_categories"]=>
      array(5) {
        [0]=>
        int(28)
        [1]=>
        int(89)
        [2]=>
        int(1)
        [3]=>
        int(149)
        [4]=>
        int(100)
      }
      ["categories_under_28"]=>
      array(1) {
        [0]=>
        int(89)
      }
      ["deep_categories_under_28"]=>
      array(1) {
        [0]=>
        int(89)
      }
      ["categories_under_1"]=>
      array(0) {
      }
      ["deep_categories_under_1"]=>
      array(2) {
        [0]=>
        int(149)
        [1]=>
        int(100)
      }
      ["categories_under_177"]=>
      array(0) {
      }
      ["deep_categories_under_177"]=>
      array(0) {
      }
      ["categories_under_209"]=>
      array(0) {
      }
      ["deep_categories_under_209"]=>
      array(0) {
      }
      ["categories_under_163"]=>
      array(0) {
      }
      ["deep_categories_under_163"]=>
      array(0) {
      }
      ["categories_under_171"]=>
      array(0) {
      }
      ["deep_categories_under_171"]=>
      array(0) {
      }
      ["categories_under_153"]=>
      array(0) {
      }
      ["deep_categories_under_153"]=>
      array(0) {
      }
      ["categories_under_242"]=>
      array(0) {
      }
      ["deep_categories_under_242"]=>
      array(0) {
      }
      ["categories_under_564"]=>
      array(0) {
      }
      ["deep_categories_under_564"]=>
      array(0) {
      }
      ["freetags"]=>
      array(0) {
      }
      ["geo_located"]=>
      string(1) "n"
      ["allowed_groups"]=>
      array(2) {
        [0]=>
        string(6) "Admins"
        [1]=>
        string(9) "Anonymous"
      }
      ["allowed_users"]=>
      array(0) {
      }
      ["relations"]=>
      array(0) {
      }
      ["relation_objects"]=>
      array(0) {
      }
      ["relation_types"]=>
      array(0) {
      }
      ["relation_count"]=>
      array(0) {
      }
      ["title_initial"]=>
      string(1) "P"
      ["title_firstword"]=>
      string(4) "Park"
      ["searchable"]=>
      string(1) "y"
      ["url"]=>
      string(7) "item862"
      ["object_type"]=>
      string(11) "trackeritem"
      ["object_id"]=>
      string(3) "862"
      ["contents"]=>
      string(575) "    Park Pet Supply Inc A  Atlanta GA 30316 http://www.parkpetsupply.com/ 5 5 (404) 588-0140  Park Pet Supply   Known for its helpful staff and its well-stocked supply of organic treats, high-end food and accessories of all sorts. Adjoining the shop is a self-service dog wash.

 
A varied selection of premium pet foods, toys and accessories — even homeopathic meds — staffed by friendly and knowledgeable animal lovers.               n    63904844184  573f3d561e3ee4dfcf660e71      479 Flat Shoals Ave. SE Sent to Edit  n  2017-06-19T12:58:54+00:00 Park Pet Supply Inc "
      ["score"]=>
      float(0)
      ["_index"]=>
      string(21) "atlantawiki_tiki_main"
      ["objectlink"]=>
      string(195) "Park Pet Supply Inc"
      ["image"]=>
      string(39) "

File not found.

"
      ["areaLocation"]=>
      string(34) "-84.3503813,33.7391182,15"
    }
    [22]=>
    array(82) {
      ["title"]=>
      string(12) "3 Parks Wine"
      ["modification_date"]=>
      string(25) "2018-03-08T16:58:02+00:00"
      ["creation_date"]=>
      string(25) "2017-07-16T16:20:45+00:00"
      ["contributors"]=>
      array(1) {
        [0]=>
        string(29) "ben.eason@creativeloafing.com"
      }
      ["date"]=>
      string(25) "2017-07-16T16:20:45+00:00"
      ["tracker_status"]=>
      string(1) "o"
      ["tracker_id"]=>
      string(1) "1"
      ["view_permission"]=>
      string(13) "view_trackers"
      ["tracker_field_businessName"]=>
      string(12) "3 Parks Wine"
      ["tracker_field_businessRepresentative"]=>
      array(0) {
      }
      ["tracker_field_businessLocationRadius"]=>
      int(0)
      ["tracker_field_description"]=>
      string(109) "Located in the Glenwood Park development, the local wine shop offers approachable wines and friendly service."
      ["tracker_field_description_raw"]=>
      string(109) "Located in the Glenwood Park development, the local wine shop offers approachable wines and friendly service."
      ["tracker_field_businessClassifieds"]=>
      array(0) {
      }
      ["tracker_field_businessTypes"]=>
      array(1) {
        [0]=>
        string(2) "89"
      }
      ["tracker_field_businessTypes_text"]=>
      string(2) "89"
      ["tracker_field_scene"]=>
      array(0) {
      }
      ["tracker_field_businessNeighborhoods"]=>
      array(2) {
        [0]=>
        string(3) "100"
        [1]=>
        string(3) "149"
      }
      ["tracker_field_businessNeighborhoods_text"]=>
      string(7) "100 149"
      ["tracker_field_businessPriceRange"]=>
      array(0) {
      }
      ["tracker_field_businessMiscCategories"]=>
      array(0) {
      }
      ["tracker_field_businessCLAcctNum"]=>
      int(0)
      ["tracker_field_business_121CurrentChit"]=>
      string(1) "n"
      ["tracker_field_121MobileClientID"]=>
      int(0)
      ["tracker_field_121MobileCampaignData"]=>
      array(0) {
      }
      ["tracker_field_121MobileCampaignData_json"]=>
      array(0) {
      }
      ["tracker_field_googlePlaceData"]=>
      array(0) {
      }
      ["tracker_field_googlePlaceData_json"]=>
      array(0) {
      }
      ["tracker_field_googleOverallRating"]=>
      int(0)
      ["tracker_field_businessYelpBusinessData"]=>
      array(0) {
      }
      ["tracker_field_businessYelpBusinessData_json"]=>
      array(0) {
      }
      ["tracker_field_businessFacebookData"]=>
      array(0) {
      }
      ["tracker_field_businessFacebookData_json"]=>
      array(0) {
      }
      ["tracker_field_businessLoafingID"]=>
      string(24) "573f3cdb1e3ee4dfcf65f996"
      ["tracker_field_businessAccountExecutive"]=>
      string(1) "0"
      ["tracker_field_businessStatusField"]=>
      string(20) "Multiple Differences"
      ["tracker_field_businessCLDistributionLocation"]=>
      string(1) "n"
      ["tracker_field_businessAudience"]=>
      array(0) {
      }
      ["tracker_field_businessLegacyID"]=>
      int(9405331)
      ["language"]=>
      string(7) "unknown"
      ["attachments"]=>
      array(0) {
      }
      ["comment_count"]=>
      int(0)
      ["categories"]=>
      array(2) {
        [0]=>
        int(89)
        [1]=>
        int(100)
      }
      ["deep_categories"]=>
      array(5) {
        [0]=>
        int(28)
        [1]=>
        int(89)
        [2]=>
        int(1)
        [3]=>
        int(149)
        [4]=>
        int(100)
      }
      ["categories_under_28"]=>
      array(1) {
        [0]=>
        int(89)
      }
      ["deep_categories_under_28"]=>
      array(1) {
        [0]=>
        int(89)
      }
      ["categories_under_1"]=>
      array(0) {
      }
      ["deep_categories_under_1"]=>
      array(2) {
        [0]=>
        int(149)
        [1]=>
        int(100)
      }
      ["categories_under_177"]=>
      array(0) {
      }
      ["deep_categories_under_177"]=>
      array(0) {
      }
      ["categories_under_209"]=>
      array(0) {
      }
      ["deep_categories_under_209"]=>
      array(0) {
      }
      ["categories_under_163"]=>
      array(0) {
      }
      ["deep_categories_under_163"]=>
      array(0) {
      }
      ["categories_under_171"]=>
      array(0) {
      }
      ["deep_categories_under_171"]=>
      array(0) {
      }
      ["categories_under_153"]=>
      array(0) {
      }
      ["deep_categories_under_153"]=>
      array(0) {
      }
      ["categories_under_242"]=>
      array(0) {
      }
      ["deep_categories_under_242"]=>
      array(0) {
      }
      ["categories_under_564"]=>
      array(0) {
      }
      ["deep_categories_under_564"]=>
      array(0) {
      }
      ["freetags"]=>
      array(0) {
      }
      ["geo_located"]=>
      string(1) "n"
      ["allowed_groups"]=>
      array(2) {
        [0]=>
        string(6) "Admins"
        [1]=>
        string(9) "Anonymous"
      }
      ["allowed_users"]=>
      array(0) {
      }
      ["relations"]=>
      array(0) {
      }
      ["relation_objects"]=>
      array(0) {
      }
      ["relation_types"]=>
      array(0) {
      }
      ["relation_count"]=>
      array(0) {
      }
      ["title_initial"]=>
      string(1) "3"
      ["title_firstword"]=>
      string(1) "3"
      ["searchable"]=>
      string(1) "y"
      ["url"]=>
      string(8) "item4835"
      ["object_type"]=>
      string(11) "trackeritem"
      ["object_id"]=>
      string(4) "4835"
      ["contents"]=>
      string(256) "    3 Parks Wine              Located in the Glenwood Park development, the local wine shop offers approachable wines and friendly service.               n      573f3cdb1e3ee4dfcf65f996       Multiple Differences  n  2017-07-16T16:20:45+00:00 3 Parks Wine "
      ["score"]=>
      float(0)
      ["_index"]=>
      string(21) "atlantawiki_tiki_main"
      ["objectlink"]=>
      string(190) "3 Parks Wine"
      ["image"]=>
      string(39) "

File not found.

"
      ["areaLocation"]=>
      string(34) "-84.3503813,33.7391182,15"
    }
    [23]=>
    array(96) {
      ["title"]=>
      string(12) "Relish Salon"
      ["modification_date"]=>
      string(25) "2019-04-27T13:56:04+00:00"
      ["creation_date"]=>
      string(25) "2017-06-26T22:34:43+00:00"
      ["contributors"]=>
      array(2) {
        [0]=>
        NULL
        [1]=>
        string(18) "jonny@nospaces.net"
      }
      ["date"]=>
      string(25) "2017-06-26T22:34:43+00:00"
      ["tracker_status"]=>
      string(1) "o"
      ["tracker_id"]=>
      string(1) "1"
      ["view_permission"]=>
      string(13) "view_trackers"
      ["tracker_field_businessName"]=>
      string(12) "Relish Salon"
      ["tracker_field_businessAddress"]=>
      string(35) "924 Garrett St. S.E. Suites F and G"
      ["tracker_field_businessCity"]=>
      string(7) "Atlanta"
      ["tracker_field_businessState"]=>
      string(2) "GA"
      ["tracker_field_businessZip"]=>
      string(5) "30316"
      ["tracker_field_businessWebsite"]=>
      string(23) "http://relishsalon.net/"
      ["tracker_field_businessPhone"]=>
      string(14) "(404) 248-1009"
      ["tracker_field_businessRepresentative"]=>
      array(0) {
      }
      ["tracker_field_businessLocation"]=>
      string(40) "-84.35773900000012,33.740689999999915,13"
      ["tracker_field_businessLocationRadius"]=>
      int(0)
      ["tracker_field_description"]=>
      string(1) " "
      ["tracker_field_description_raw"]=>
      string(1) " "
      ["tracker_field_businessClassifieds"]=>
      array(0) {
      }
      ["tracker_field_businessTypes"]=>
      array(1) {
        [0]=>
        string(2) "89"
      }
      ["tracker_field_businessTypes_text"]=>
      string(2) "89"
      ["tracker_field_scene"]=>
      array(0) {
      }
      ["tracker_field_businessNeighborhoods"]=>
      array(2) {
        [0]=>
        string(3) "100"
        [1]=>
        string(3) "149"
      }
      ["tracker_field_businessNeighborhoods_text"]=>
      string(7) "100 149"
      ["tracker_field_businessPriceRange"]=>
      array(0) {
      }
      ["tracker_field_businessMiscCategories"]=>
      array(0) {
      }
      ["tracker_field_businessCLAcctNum"]=>
      int(0)
      ["tracker_field_business_121CurrentChit"]=>
      string(1) "n"
      ["tracker_field_121MobileClientID"]=>
      int(0)
      ["tracker_field_121MobileCampaignData"]=>
      array(0) {
      }
      ["tracker_field_121MobileCampaignData_json"]=>
      array(0) {
      }
      ["tracker_field_google_placeid"]=>
      string(27) "ChIJpf0KKj4G9YgRvjEXmGUPACs"
      ["tracker_field_googlePlaceData"]=>
      array(15) {
        [0]=>
        string(179) "924 Garrtt St Suites F & G, 

Atlanta

, 

GA

 

30316

, 

USA

"
        [1]=>
        string(50) "924 Garrtt St Suites F & G, Atlanta, GA 30316, USA"
        [2]=>
        string(14) "(404) 248-1009"
        [3]=>
        string(73) "https://maps.gstatic.com/mapfiles/place_api/icons/generic_business-71.png"
        [4]=>
        string(40) "4cacbee5346ed17e590c2f832c88b9d87e6a2884"
        [5]=>
        string(15) "+1 404-248-1009"
        [6]=>
        string(12) "Relish Salon"
        [7]=>
        string(27) "ChIJpf0KKj4G9YgRvjEXmGUPACs"
        [8]=>
        string(3) "4.7"
        [9]=>
        string(190) "CmRRAAAAUp5uEhHOlxk79PVvNrvtzLciHbQG042fUKBS0sjpx9SE88e7zRA2Wz2WquJ7wMP0iobs-fxREuwNlzK7Cnlwi1xaCTPTtpPllnQ2aI4twMER2VNk70CU0eswlsQ9nrhxEhAZGNvdzRuL4TCkIaTFWHVEGhRU_wnD6ArTrrngaoZyswMBR5pgyg"
        [10]=>
        string(6) "GOOGLE"
        [11]=>
        string(48) "https://maps.google.com/?cid=3098493472648671678"
        [12]=>
        string(4) "-300"
        [13]=>
        string(35) "924 Garrtt St Suites F & G, Atlanta"
        [14]=>
        string(23) "http://relishsalon.net/"
      }
      ["tracker_field_googlePlaceData_text"]=>
      string(608) "924 Garrtt St Suites F & G, Atlanta, GA 30316, USA 924 Garrtt St Suites F & G, Atlanta, GA 30316, USA (404) 248-1009 https://maps.gstatic.com/mapfiles/place_api/icons/generic_business-71.png 4cacbee5346ed17e590c2f832c88b9d87e6a2884 +1 404-248-1009 Relish Salon ChIJpf0KKj4G9YgRvjEXmGUPACs 4.7 CmRRAAAAUp5uEhHOlxk79PVvNrvtzLciHbQG042fUKBS0sjpx9SE88e7zRA2Wz2WquJ7wMP0iobs-fxREuwNlzK7Cnlwi1xaCTPTtpPllnQ2aI4twMER2VNk70CU0eswlsQ9nrhxEhAZGNvdzRuL4TCkIaTFWHVEGhRU_wnD6ArTrrngaoZyswMBR5pgyg GOOGLE https://maps.google.com/?cid=3098493472648671678 -300 924 Garrtt St Suites F & G, Atlanta http://relishsalon.net/"
      ["tracker_field_googlePlaceData_json"]=>
      object(stdClass)#1636 (21) {
        ["address_components"]=>
        array(6) {
          [0]=>
          object(stdClass)#1630 (3) {
            ["long_name"]=>
            string(7) "Atlanta"
            ["short_name"]=>
            string(7) "Atlanta"
            ["types"]=>
            array(2) {
              [0]=>
              string(8) "locality"
              [1]=>
              string(9) "political"
            }
          }
          [1]=>
          object(stdClass)#1631 (3) {
            ["long_name"]=>
            string(13) "Glenwood Park"
            ["short_name"]=>
            string(13) "Glenwood Park"
            ["types"]=>
            array(2) {
              [0]=>
              string(12) "neighborhood"
              [1]=>
              string(9) "political"
            }
          }
          [2]=>
          object(stdClass)#1632 (3) {
            ["long_name"]=>
            string(13) "Fulton County"
            ["short_name"]=>
            string(13) "Fulton County"
            ["types"]=>
            array(2) {
              [0]=>
              string(27) "administrative_area_level_2"
              [1]=>
              string(9) "political"
            }
          }
          [3]=>
          object(stdClass)#1633 (3) {
            ["long_name"]=>
            string(7) "Georgia"
            ["short_name"]=>
            string(2) "GA"
            ["types"]=>
            array(2) {
              [0]=>
              string(27) "administrative_area_level_1"
              [1]=>
              string(9) "political"
            }
          }
          [4]=>
          object(stdClass)#1634 (3) {
            ["long_name"]=>
            string(13) "United States"
            ["short_name"]=>
            string(2) "US"
            ["types"]=>
            array(2) {
              [0]=>
              string(7) "country"
              [1]=>
              string(9) "political"
            }
          }
          [5]=>
          object(stdClass)#1635 (3) {
            ["long_name"]=>
            string(5) "30316"
            ["short_name"]=>
            string(5) "30316"
            ["types"]=>
            array(1) {
              [0]=>
              string(11) "postal_code"
            }
          }
        }
        ["adr_address"]=>
        string(179) "924 Garrtt St Suites F & G, 

Atlanta

, 

GA

 

30316

, 

USA

"
        ["formatted_address"]=>
        string(50) "924 Garrtt St Suites F & G, Atlanta, GA 30316, USA"
        ["formatted_phone_number"]=>
        string(14) "(404) 248-1009"
        ["geometry"]=>
        object(stdClass)#1638 (2) {
          ["location"]=>
          object(stdClass)#1637 (2) {
            ["lat"]=>
            string(8) "33.74069"
            ["lng"]=>
            string(10) "-84.357739"
          }
          ["viewport"]=>
          object(stdClass)#1640 (2) {
            ["northeast"]=>
            object(stdClass)#1639 (2) {
              ["lat"]=>
              string(15) "33.742038980291"
              ["lng"]=>
              string(16) "-84.356390019708"
            }
            ["southwest"]=>
            object(stdClass)#1641 (2) {
              ["lat"]=>
              string(15) "33.739341019708"
              ["lng"]=>
              string(16) "-84.359087980292"
            }
          }
        }
        ["icon"]=>
        string(73) "https://maps.gstatic.com/mapfiles/place_api/icons/generic_business-71.png"
        ["id"]=>
        string(40) "4cacbee5346ed17e590c2f832c88b9d87e6a2884"
        ["international_phone_number"]=>
        string(15) "+1 404-248-1009"
        ["name"]=>
        string(12) "Relish Salon"
        ["opening_hours"]=>
        object(stdClass)#1642 (3) {
          ["open_now"]=>
          string(1) "1"
          ["periods"]=>
          array(6) {
            [0]=>
            object(stdClass)#1644 (2) {
              ["close"]=>
              object(stdClass)#1643 (2) {
                ["day"]=>
                int(0)
                ["time"]=>
                string(4) "1600"
              }
              ["open"]=>
              object(stdClass)#1645 (2) {
                ["day"]=>
                int(0)
                ["time"]=>
                string(4) "0900"
              }
            }
            [1]=>
            object(stdClass)#1647 (2) {
              ["close"]=>
              object(stdClass)#1646 (2) {
                ["day"]=>
                string(1) "2"
                ["time"]=>
                string(4) "2000"
              }
              ["open"]=>
              object(stdClass)#1648 (2) {
                ["day"]=>
                string(1) "2"
                ["time"]=>
                string(4) "1200"
              }
            }
            [2]=>
            object(stdClass)#1650 (2) {
              ["close"]=>
              object(stdClass)#1649 (2) {
                ["day"]=>
                string(1) "3"
                ["time"]=>
                string(4) "2000"
              }
              ["open"]=>
              object(stdClass)#1651 (2) {
                ["day"]=>
                string(1) "3"
                ["time"]=>
                string(4) "1000"
              }
            }
            [3]=>
            object(stdClass)#1653 (2) {
              ["close"]=>
              object(stdClass)#1652 (2) {
                ["day"]=>
                string(1) "4"
                ["time"]=>
                string(4) "2000"
              }
              ["open"]=>
              object(stdClass)#1654 (2) {
                ["day"]=>
                string(1) "4"
                ["time"]=>
                string(4) "1000"
              }
            }
            [4]=>
            object(stdClass)#1656 (2) {
              ["close"]=>
              object(stdClass)#1655 (2) {
                ["day"]=>
                string(1) "5"
                ["time"]=>
                string(4) "1800"
              }
              ["open"]=>
              object(stdClass)#1657 (2) {
                ["day"]=>
                string(1) "5"
                ["time"]=>
                string(4) "1100"
              }
            }
            [5]=>
            object(stdClass)#1659 (2) {
              ["close"]=>
              object(stdClass)#1658 (2) {
                ["day"]=>
                string(1) "6"
                ["time"]=>
                string(4) "1800"
              }
              ["open"]=>
              object(stdClass)#1660 (2) {
                ["day"]=>
                string(1) "6"
                ["time"]=>
                string(4) "0900"
              }
            }
          }
          ["weekday_text"]=>
          array(7) {
            [0]=>
            string(14) "Monday: Closed"
            [1]=>
            string(26) "Tuesday: 12:00 – 8:00 PM"
            [2]=>
            string(31) "Wednesday: 10:00 AM – 8:00 PM"
            [3]=>
            string(30) "Thursday: 10:00 AM – 8:00 PM"
            [4]=>
            string(28) "Friday: 11:00 AM – 6:00 PM"
            [5]=>
            string(29) "Saturday: 9:00 AM – 6:00 PM"
            [6]=>
            string(27) "Sunday: 9:00 AM – 4:00 PM"
          }
        }
        ["photos"]=>
        array(10) {
          [0]=>
          object(stdClass)#1661 (4) {
            ["height"]=>
            int(1536)
            ["html_attributions"]=>
            array(1) {
              [0]=>
              string(92) "Relish Salon"
            }
            ["photo_reference"]=>
            string(190) "CmRaAAAARsrqG5ohEbOnzqcr6SoH4kQVBjskuEIX2wtZUPSAGJMeYIUss9anQeSwCD6lRBc4xnWafg4GECNJvFljnzNzifZRWWvjIbbOo8TRmku4_O0F0ZcjcDnxdPqW7xRoxotZEhDdNT4TTeEehl2JaKV9NpW9GhT-UlhPnd1xZi3MHspHDP_4r7IMxQ"
            ["width"]=>
            int(2048)
          }
          [1]=>
          object(stdClass)#1662 (4) {
            ["height"]=>
            int(540)
            ["html_attributions"]=>
            array(1) {
              [0]=>
              string(92) "Relish Salon"
            }
            ["photo_reference"]=>
            string(190) "CmRaAAAAu70imDKJyGlMicDu8iPZYvWKGItQKVT3vOaqIelm-bDV3ITg9El9ceTRpWDQDV4Rl8tsIsiInx4GAQ_AF1Uli8ljeSdyFb8gzYaHOvFATdUYI5UhmjXrXy9dOCbOVy4YEhAArdPKsXsnSmMsNxHMhmuUGhQkBlytJ32xU7yD4MuQ-24sez-LOA"
            ["width"]=>
            int(960)
          }
          [2]=>
          object(stdClass)#1663 (4) {
            ["height"]=>
            int(2700)
            ["html_attributions"]=>
            array(1) {
              [0]=>
              string(92) "Relish Salon"
            }
            ["photo_reference"]=>
            string(190) "CmRaAAAAqSptQVpBabssxU4DcBaBcTIbvm-7M7X7MvdCumnIw8xCLFGmIw_W4OVg8vKsG7Yxz7SprfxpWayJCekzX3Px1ZjTxGDwnUDQePNprFT0le5ptO2tDCbSAhfRgVoB0iO4EhATWyi1RNDN35qG74cinG9yGhSs8tIGO87oSbbtH9mAqsvqlIeohg"
            ["width"]=>
            int(3600)
          }
          [3]=>
          object(stdClass)#1664 (4) {
            ["height"]=>
            int(1536)
            ["html_attributions"]=>
            array(1) {
              [0]=>
              string(92) "Relish Salon"
            }
            ["photo_reference"]=>
            string(190) "CmRaAAAABbhFarlMkspCPexFSVr9hWi6P52ZkYZ6J1fwn5IJMjNJ9mzkRQuYgVLEOrHsS9jnqfppg2mMhajHZym5tvzksrtQySMG3ykno2dZgAEDYeYfwpZt8u3zTB3ahUqGnoUgEhCFQN5eLKSXWdZ3lFHuua8FGhQs5vdpbYrXCCwISuQ_9GnIfus3sg"
            ["width"]=>
            int(1540)
          }
          [4]=>
          object(stdClass)#1665 (4) {
            ["height"]=>
            int(540)
            ["html_attributions"]=>
            array(1) {
              [0]=>
              string(92) "Relish Salon"
            }
            ["photo_reference"]=>
            string(190) "CmRaAAAA-EPBzdSvU3tbqc8VhMJMty8dXjRkLiZCe0KBb7I5X7CovyDt7P9sSsl8IpSyikThcmQSo9Tve5fFH2egO9yWXOSpZ5TVfflx1o62B26w4hBc2hQEjq_0o-RoVGkCA9PQEhBICSqj6_hbnqaC46f5Z-uOGhQvt16gU7cZwol5st34Pj9RZm86Vg"
            ["width"]=>
            int(960)
          }
          [5]=>
          object(stdClass)#1666 (4) {
            ["height"]=>
            int(960)
            ["html_attributions"]=>
            array(1) {
              [0]=>
              string(92) "Relish Salon"
            }
            ["photo_reference"]=>
            string(190) "CmRaAAAA38TWSSA8JCY3Ml0YkJPL6iFxitPgV2Q-xK2Y1lXvjMNd1DuUtppwcKEo87NHyBID2edZ1D8oEuddBVXAJxGLrkgYhc-cYchx58iAEt1X184LgCB-mx3wfyLt2vAogJttEhBQqI2Lk2R2_LrjiARCpnLtGhRQnugpOn8KesPi10tUECjpJpUwjw"
            ["width"]=>
            int(1280)
          }
          [6]=>
          object(stdClass)#1667 (4) {
            ["height"]=>
            int(960)
            ["html_attributions"]=>
            array(1) {
              [0]=>
              string(92) "Relish Salon"
            }
            ["photo_reference"]=>
            string(190) "CmRaAAAAT-r3VZZhNK1phc16sO-Xitvvemj4n5uqvrB59Ms4-44urYHgoqK-52cPAoMFqfYqSJT5Lueb8hcjhUUc72Kmv0JhhnHbLfwPO0mO-pzLlhshbMYQPi1lrVf7K-oEAyA8EhDWqU_dT1wlEKv11FXhPGslGhQ2jRus91Uaf9-yQPdSyLW63-3uPw"
            ["width"]=>
            int(707)
          }
          [7]=>
          object(stdClass)#1668 (4) {
            ["height"]=>
            int(640)
            ["html_attributions"]=>
            array(1) {
              [0]=>
              string(92) "Relish Salon"
            }
            ["photo_reference"]=>
            string(190) "CmRaAAAAZbwreizlQYL18BhnIQcP-sg3jWSmKPW8rzEfU7265uOEesBkUeVzOMeRWNLUB5tSWxUzvjSHmIpeaUOfXRThF-oVTOHd9RzASVXqYCha0Uy-8uz54OrZrs3dzvvgqTcREhCKeVgel6UmHU1jyYr6eE8QGhQOWxB0bKaQkOhRoHJjIEc_qrKxRw"
            ["width"]=>
            int(480)
          }
          [8]=>
          object(stdClass)#1669 (4) {
            ["height"]=>
            int(960)
            ["html_attributions"]=>
            array(1) {
              [0]=>
              string(92) "Relish Salon"
            }
            ["photo_reference"]=>
            string(190) "CmRaAAAAdPncLhqlWxz9Hgb-8ZNvUPVxfq3BLxFrpIjKXUXfKS0cRMIW3fW84CEMDJCNhRae-EjMcdDyLcxOn20sBl5Spt0HCppAKthJrIuPLufEc1Yeto5mJ0IqSRlUNgs-wa-WEhCW-ZgvlO9Ibwk9GyCNu-t6GhQ0V-K0kcPlZe9w4on1uT2qn2Cnrg"
            ["width"]=>
            int(714)
          }
          [9]=>
          object(stdClass)#1670 (4) {
            ["height"]=>
            int(960)
            ["html_attributions"]=>
            array(1) {
              [0]=>
              string(92) "Relish Salon"
            }
            ["photo_reference"]=>
            string(190) "CmRaAAAA4-7O9ILhBooxn682iAq9Z1PRCx40fESrDHQpgcmWfV2Oy3O6CfAA8g5gVpt3_5RcnM7U00ZNXq8Idw1UUBqUeXecAklNywYqH9nmSb-CJulXyTSK4u_cUoizC3cneNLvEhDAc52hHxV8mjugocXhYhi4GhRnw8ZsC-QVmQ44bph9-VcRdIqiBQ"
            ["width"]=>
            int(686)
          }
        }
        ["place_id"]=>
        string(27) "ChIJpf0KKj4G9YgRvjEXmGUPACs"
        ["rating"]=>
        string(3) "4.7"
        ["reference"]=>
        string(190) "CmRRAAAAUp5uEhHOlxk79PVvNrvtzLciHbQG042fUKBS0sjpx9SE88e7zRA2Wz2WquJ7wMP0iobs-fxREuwNlzK7Cnlwi1xaCTPTtpPllnQ2aI4twMER2VNk70CU0eswlsQ9nrhxEhAZGNvdzRuL4TCkIaTFWHVEGhRU_wnD6ArTrrngaoZyswMBR5pgyg"
        ["reviews"]=>
        array(5) {
          [0]=>
          object(stdClass)#1671 (8) {
            ["author_name"]=>
            string(15) "Miranda Dillard"
            ["author_url"]=>
            string(65) "https://www.google.com/maps/contrib/104862909972413293697/reviews"
            ["language"]=>
            string(2) "en"
            ["profile_photo_url"]=>
            string(118) "https://lh5.googleusercontent.com/-g4lWpGk6kNo/AAAAAAAAAAI/AAAAAAAAAh4/k_YYg1yvV68/s128-c0x00000000-cc-rp-mo/photo.jpg"
            ["rating"]=>
            string(1) "5"
            ["relative_time_description"]=>
            string(11) "2 weeks ago"
            ["text"]=>
            string(275) "Erin has been highlighting and cutting my hair for many years and I always walk out loving my hair. She listens to what I want and makes it look amazing.  I have trouble resting my neck against the wash basin and they continue to be patient and careful as they rinse my hair."
            ["time"]=>
            int(1519144746)
          }
          [1]=>
          object(stdClass)#1672 (8) {
            ["author_name"]=>
            string(18) "Eva-Maria Connolly"
            ["author_url"]=>
            string(65) "https://www.google.com/maps/contrib/108258041901150102662/reviews"
            ["language"]=>
            string(2) "en"
            ["profile_photo_url"]=>
            string(141) "https://lh3.googleusercontent.com/-kCJnJACdRSU/AAAAAAAAAAI/AAAAAAAAAAA/AGi4gfx8YEpMd5k8r8K0z3s5aFKmRHTzdw/s128-c0x00000000-cc-rp-mo/photo.jpg"
            ["rating"]=>
            string(1) "5"
            ["relative_time_description"]=>
            string(12) "3 months ago"
            ["text"]=>
            string(278) "Ascher had his first haircut today. Dexter was amazing. He sat him on the yellow car seat and engadged him from beginning to end... Ascher enjoyed it, no cries, no wiggling. Dexter even said goodbye with blowing bubbles! Aschers haircut looks awsome.  Great place!🎨😀❤️"
            ["time"]=>
            int(1512083842)
          }
          [2]=>
          object(stdClass)#1673 (8) {
            ["author_name"]=>
            string(16) "Kelley Rodriguez"
            ["author_url"]=>
            string(65) "https://www.google.com/maps/contrib/102520181513344623139/reviews"
            ["language"]=>
            string(2) "en"
            ["profile_photo_url"]=>
            string(122) "https://lh4.googleusercontent.com/-ioblmERCJ_8/AAAAAAAAAAI/AAAAAAAALVg/LTS9G9lHDqg/s128-c0x00000000-cc-rp-mo-ba2/photo.jpg"
            ["rating"]=>
            string(1) "5"
            ["relative_time_description"]=>
            string(12) "7 months ago"
            ["text"]=>
            string(167) "Sarah is amazing. My hair is super fine and hard to cut but she tailors the cut for my hair type rather they the standard blunt cut.  She is also wonderful with color."
            ["time"]=>
            int(1502023345)
          }
          [3]=>
          object(stdClass)#1674 (8) {
            ["author_name"]=>
            string(14) "Anderson Price"
            ["author_url"]=>
            string(65) "https://www.google.com/maps/contrib/109777466351459293503/reviews"
            ["language"]=>
            string(2) "en"
            ["profile_photo_url"]=>
            string(141) "https://lh3.googleusercontent.com/-Y3-nSVqcjqs/AAAAAAAAAAI/AAAAAAAAAAA/AGi4gfxRGxVOsoYN3WhU55HIc29bt4ljZg/s128-c0x00000000-cc-rp-mo/photo.jpg"
            ["rating"]=>
            string(1) "5"
            ["relative_time_description"]=>
            string(12) "4 months ago"
            ["text"]=>
            string(131) "Very clean, friendly, professional environment. Took me a while to find the right salon in Atlanta but this is definitely a winner!"
            ["time"]=>
            int(1507665828)
          }
          [4]=>
          object(stdClass)#1675 (8) {
            ["author_name"]=>
            string(11) "Hannah Webb"
            ["author_url"]=>
            string(65) "https://www.google.com/maps/contrib/107140456472592355980/reviews"
            ["language"]=>
            string(2) "en"
            ["profile_photo_url"]=>
            string(118) "https://lh6.googleusercontent.com/-e7qhlMkQoD4/AAAAAAAAAAI/AAAAAAAAAFM/jmrghGsuzPc/s128-c0x00000000-cc-rp-mo/photo.jpg"
            ["rating"]=>
            string(1) "5"
            ["relative_time_description"]=>
            string(13) "10 months ago"
            ["text"]=>
            string(207) "Went to Relish Jr. next door and my 2 year old got a haircut by Dexter. He was awesome and so sweet to her, very fast and educated me about how to take care of her hairstyle. Great experience! I'll be back. "
            ["time"]=>
            int(1494524172)
          }
        }
        ["scope"]=>
        string(6) "GOOGLE"
        ["types"]=>
        array(3) {
          [0]=>
          string(9) "hair_care"
          [1]=>
          string(17) "point_of_interest"
          [2]=>
          string(13) "establishment"
        }
        ["url"]=>
        string(48) "https://maps.google.com/?cid=3098493472648671678"
        ["utc_offset"]=>
        string(4) "-300"
        ["vicinity"]=>
        string(35) "924 Garrtt St Suites F & G, Atlanta"
        ["website"]=>
        string(23) "http://relishsalon.net/"
      }
      ["tracker_field_googleOverallRating"]=>
      float(4.7)
      ["tracker_field_businessYelpBusinessData"]=>
      array(0) {
      }
      ["tracker_field_businessYelpBusinessData_json"]=>
      array(0) {
      }
      ["tracker_field_businessFacebook"]=>
      string(12) "Relish Salon"
      ["tracker_field_businessFacebookID"]=>
      string(12) "131183519644"
      ["tracker_field_businessFacebookData"]=>
      array(2) {
        [0]=>
        string(12) "131183519644"
        [1]=>
        string(12) "Relish Salon"
      }
      ["tracker_field_businessFacebookData_text"]=>
      string(25) "131183519644 Relish Salon"
      ["tracker_field_businessFacebookData_json"]=>
      object(stdClass)#1676 (3) {
        ["id"]=>
        string(12) "131183519644"
        ["name"]=>
        string(12) "Relish Salon"
        ["feed"]=>
        object(stdClass)#1702 (2) {
          ["data"]=>
          array(25) {
            [0]=>
            object(stdClass)#1677 (3) {
              ["message"]=>
              string(42) "Coppery micro foil  and blunt cut by Reina"
              ["created_time"]=>
              string(24) "2019-03-02T21:13:27+0000"
              ["id"]=>
              string(30) "131183519644_10157376507829645"
            }
            [1]=>
            object(stdClass)#1678 (3) {
              ["message"]=>
              string(44) "Phones and email are back on!! We apologize!"
              ["created_time"]=>
              string(24) "2019-02-28T17:43:53+0000"
              ["id"]=>
              string(30) "131183519644_10157369106694645"
            }
            [2]=>
            object(stdClass)#1679 (3) {
              ["message"]=>
              string(202) "Attention relish guest!!
Our phone lines/internet are down at the moment, we are addressing the problem as quickly as possible. We apologize for any inconvenience and will update with any changes asap!!"
              ["created_time"]=>
              string(24) "2019-02-28T17:36:54+0000"
              ["id"]=>
              string(30) "131183519644_10157369093544645"
            }
            [3]=>
            object(stdClass)#1680 (3) {
              ["message"]=>
              string(18) "Balayage by Reina!"
              ["created_time"]=>
              string(24) "2019-02-21T00:28:35+0000"
              ["id"]=>
              string(30) "131183519644_10157345865774645"
            }
            [4]=>
            object(stdClass)#1681 (2) {
              ["created_time"]=>
              string(24) "2019-02-03T17:30:45+0000"
              ["id"]=>
              string(30) "131183519644_10157291204214645"
            }
            [5]=>
            object(stdClass)#1682 (2) {
              ["created_time"]=>
              string(24) "2019-02-03T01:23:00+0000"
              ["id"]=>
              string(30) "131183519644_10157289308859645"
            }
            [6]=>
            object(stdClass)#1683 (3) {
              ["message"]=>
              string(129) "Give the Gift of Beautiful Hair this Valentine's Day with a Relish Gift Certificate.
Purchase $100 and receive an additional $20."
              ["created_time"]=>
              string(24) "2019-01-31T14:35:52+0000"
              ["id"]=>
              string(30) "131183519644_10157281382859645"
            }
            [7]=>
            object(stdClass)#1684 (3) {
              ["message"]=>
              string(126) "Over the past nine years, Relish's very own Dexter has created and perfected this signature look for the lovely Stacey Abrams."
              ["created_time"]=>
              string(24) "2019-01-29T17:43:09+0000"
              ["id"]=>
              string(30) "131183519644_10157276108539645"
            }
            [8]=>
            object(stdClass)#1685 (3) {
              ["message"]=>
              string(38) "Springtime highlights and cut by Reina"
              ["created_time"]=>
              string(24) "2019-01-27T22:19:01+0000"
              ["id"]=>
              string(30) "131183519644_10157272069724645"
            }
            [9]=>
            object(stdClass)#1686 (3) {
              ["message"]=>
              string(117) "Taking a break from prelightened fashion colors. Before and after of this new, shiny brunette. Color and cut by Reina"
              ["created_time"]=>
              string(24) "2019-01-26T21:25:03+0000"
              ["id"]=>
              string(30) "131183519644_10157269427104645"
            }
            [10]=>
            object(stdClass)#1687 (3) {
              ["message"]=>
              string(31) "Dark to light balayage by Reina"
              ["created_time"]=>
              string(24) "2019-01-25T23:53:10+0000"
              ["id"]=>
              string(30) "131183519644_10157265600959645"
            }
            [11]=>
            object(stdClass)#1688 (3) {
              ["message"]=>
              string(142) "Relish is proudly displaying the art of  Greg Crimmins. Check out the thought-provoking works of this talented young artist.

Gregcrimmins.com"
              ["created_time"]=>
              string(24) "2019-01-25T01:44:56+0000"
              ["id"]=>
              string(30) "131183519644_10157263082049645"
            }
            [12]=>
            object(stdClass)#1689 (3) {
              ["message"]=>
              string(465) "Head for dry terrain with Badlands. One part dry shampoo, one part styling paste, 100% badass. Use when you want to extend the life of a blow-out or add volumizing texture.
Good for: Adding amazing second-day texture and absorbing oil. Its matte finish and reworkable hold mean no build up, just serious style.
Fragrance: RELATIVE PARADISE - A bright, earthy composition. Sicilian Lemon, Tangerine, Eucalyptus, Green Tea, Tree Moss, Crisp Amber
Vegan + Cruelty Free"
              ["created_time"]=>
              string(24) "2019-01-22T16:28:47+0000"
              ["id"]=>
              string(30) "131183519644_10157255463309645"
            }
            [13]=>
            object(stdClass)#1690 (3) {
              ["story"]=>
              string(39) "Relish Salon updated their cover photo."
              ["created_time"]=>
              string(24) "2019-01-21T13:58:01+0000"
              ["id"]=>
              string(30) "131183519644_10151312293634645"
            }
            [14]=>
            object(stdClass)#1691 (3) {
              ["message"]=>
              string(39) "Before and after cut and color by Reina"
              ["created_time"]=>
              string(24) "2019-01-13T17:33:19+0000"
              ["id"]=>
              string(30) "131183519644_10157229423354645"
            }
            [15]=>
            object(stdClass)#1692 (3) {
              ["message"]=>
              string(83) "Before and after cut and color. Cool toned babylights on a structured bob by Reina!"
              ["created_time"]=>
              string(24) "2019-01-12T21:16:17+0000"
              ["id"]=>
              string(30) "131183519644_10157227096194645"
            }
            [16]=>
            object(stdClass)#1693 (3) {
              ["message"]=>
              string(17) "Balayage by Reina"
              ["created_time"]=>
              string(24) "2019-01-05T20:31:03+0000"
              ["id"]=>
              string(30) "131183519644_10157208857604645"
            }
            [17]=>
            object(stdClass)#1694 (3) {
              ["message"]=>
              string(25) "Looking back at the past."
              ["created_time"]=>
              string(24) "2018-12-28T15:00:01+0000"
              ["id"]=>
              string(30) "131183519644_10157186248414645"
            }
            [18]=>
            object(stdClass)#1695 (3) {
              ["message"]=>
              string(32) "Dark to Light Foilayage by Reina"
              ["created_time"]=>
              string(24) "2018-12-28T02:37:34+0000"
              ["id"]=>
              string(30) "131183519644_10157186957454645"
            }
            [19]=>
            object(stdClass)#1696 (3) {
              ["message"]=>
              string(22) "The work of an artist."
              ["created_time"]=>
              string(24) "2018-12-27T20:52:00+0000"
              ["id"]=>
              string(30) "131183519644_10157186357469645"
            }
            [20]=>
            object(stdClass)#1697 (3) {
              ["message"]=>
              string(28) "Textured blonde bob by Reina"
              ["created_time"]=>
              string(24) "2018-12-12T21:59:49+0000"
              ["id"]=>
              string(30) "131183519644_10157147258929645"
            }
            [21]=>
            object(stdClass)#1698 (3) {
              ["message"]=>
              string(35) "Babylights and root shadow by Reina"
              ["created_time"]=>
              string(24) "2018-12-09T22:13:35+0000"
              ["id"]=>
              string(30) "131183519644_10157138749939645"
            }
            [22]=>
            object(stdClass)#1699 (3) {
              ["message"]=>
              string(33) "Holiday balayage and cut by Reina"
              ["created_time"]=>
              string(24) "2018-12-09T22:12:18+0000"
              ["id"]=>
              string(30) "131183519644_10157138747099645"
            }
            [23]=>
            object(stdClass)#1700 (3) {
              ["story"]=>
              string(39) "Relish Salon updated their cover photo."
              ["created_time"]=>
              string(24) "2018-12-07T20:47:55+0000"
              ["id"]=>
              string(30) "131183519644_10157132681979645"
            }
            [24]=>
            object(stdClass)#1701 (3) {
              ["story"]=>
              string(39) "Relish Salon updated their cover photo."
              ["created_time"]=>
              string(24) "2018-12-06T23:40:38+0000"
              ["id"]=>
              string(30) "131183519644_10156926710009645"
            }
          }
          ["paging"]=>
          object(stdClass)#1703 (2) {
            ["previous"]=>
            string(280) "https://graph.facebook.com/v2.8/131183519644/feed?since=1551561207&access_token=284346488083|StUmZexEo-ODM_s_RzrK8IoefW0&limit=25&__paging_token=enc_AdCuX4Nnsyz5O5EFP9teYMBv5i0qOZBvLeWmd7gqcv4lESBXqiXqc1XXZAA77DpEBmbZC0oxG6nYV785e9gZARt2iwCiXc3842G4zzXFHtDo8oB7IgZDZD&__previous=1"
            ["next"]=>
            string(269) "https://graph.facebook.com/v2.8/131183519644/feed?access_token=284346488083|StUmZexEo-ODM_s_RzrK8IoefW0&limit=25&until=1544139638&__paging_token=enc_AdAtE9bgYhKRImE8MmCfvCt1eZBZAMvH6ZBV7KsUzW0CeMUxZBtnxijIJlD4ECuLf2YkMKTfZAFiS0cstNhxBE4gwqEemai9gUlRlF3n9ZC7uFIEyVYAZDZD"
          }
        }
      }
      ["tracker_field_businessLoafingID"]=>
      string(24) "573f3cd91e3ee4dfcf65f5f0"
      ["tracker_field_businessAccountExecutive"]=>
      string(1) "0"
      ["tracker_field_businessStatusField"]=>
      string(4) "Done"
      ["tracker_field_businessCLDistributionLocation"]=>
      string(1) "n"
      ["tracker_field_businessAudience"]=>
      array(0) {
      }
      ["tracker_field_businessLegacyID"]=>
      int(15424768)
      ["language"]=>
      string(7) "unknown"
      ["attachments"]=>
      array(0) {
      }
      ["comment_count"]=>
      int(0)
      ["categories"]=>
      array(3) {
        [0]=>
        int(89)
        [1]=>
        int(100)
        [2]=>
        int(149)
      }
      ["deep_categories"]=>
      array(5) {
        [0]=>
        int(28)
        [1]=>
        int(89)
        [2]=>
        int(1)
        [3]=>
        int(149)
        [4]=>
        int(100)
      }
      ["categories_under_28"]=>
      array(1) {
        [0]=>
        int(89)
      }
      ["deep_categories_under_28"]=>
      array(1) {
        [0]=>
        int(89)
      }
      ["categories_under_1"]=>
      array(1) {
        [0]=>
        int(149)
      }
      ["deep_categories_under_1"]=>
      array(2) {
        [0]=>
        int(149)
        [1]=>
        int(100)
      }
      ["categories_under_177"]=>
      array(0) {
      }
      ["deep_categories_under_177"]=>
      array(0) {
      }
      ["categories_under_209"]=>
      array(0) {
      }
      ["deep_categories_under_209"]=>
      array(0) {
      }
      ["categories_under_163"]=>
      array(0) {
      }
      ["deep_categories_under_163"]=>
      array(0) {
      }
      ["categories_under_171"]=>
      array(0) {
      }
      ["deep_categories_under_171"]=>
      array(0) {
      }
      ["categories_under_153"]=>
      array(0) {
      }
      ["deep_categories_under_153"]=>
      array(0) {
      }
      ["categories_under_242"]=>
      array(0) {
      }
      ["deep_categories_under_242"]=>
      array(0) {
      }
      ["categories_under_564"]=>
      array(0) {
      }
      ["deep_categories_under_564"]=>
      array(0) {
      }
      ["freetags"]=>
      array(0) {
      }
      ["geo_located"]=>
      string(1) "y"
      ["geo_location"]=>
      string(40) "-84.35773900000012,33.740689999999915,13"
      ["geo_point"]=>
      object(stdClass)#1704 (2) {
        ["lat"]=>
        float(33.74069)
        ["lon"]=>
        float(-84.357739)
      }
      ["allowed_groups"]=>
      array(2) {
        [0]=>
        string(6) "Admins"
        [1]=>
        string(9) "Anonymous"
      }
      ["allowed_users"]=>
      array(0) {
      }
      ["relations"]=>
      array(0) {
      }
      ["relation_objects"]=>
      array(0) {
      }
      ["relation_types"]=>
      array(0) {
      }
      ["relation_count"]=>
      array(0) {
      }
      ["title_initial"]=>
      string(1) "R"
      ["title_firstword"]=>
      string(6) "Relish"
      ["searchable"]=>
      string(1) "y"
      ["url"]=>
      string(8) "item3461"
      ["object_type"]=>
      string(11) "trackeritem"
      ["object_id"]=>
      string(4) "3461"
      ["contents"]=>
      string(309) "    Relish Salon 924 Garrett St. S.E. Suites F and G  Atlanta GA 30316 http://relishsalon.net/   (404) 248-1009  -84.35773900000012,33.740689999999915,13                   n  ChIJpf0KKj4G9YgRvjEXmGUPACs  Relish Salon 131183519644 573f3cd91e3ee4dfcf65f5f0       Done  n  2017-06-26T22:34:43+00:00 Relish Salon "
      ["score"]=>
      float(0)
      ["_index"]=>
      string(21) "atlantawiki_tiki_main"
      ["objectlink"]=>
      string(287) "Relish Salon"
      ["image"]=>
      string(39) "

File not found.

"
      ["areaLocation"]=>
      string(34) "-84.3503813,33.7391182,15"
    }
    [24]=>
    array(89) {
      ["title"]=>
      string(30) "East Atlanta Arts and Antiques"
      ["modification_date"]=>
      string(25) "2018-03-08T16:41:28+00:00"
      ["creation_date"]=>
      string(25) "2017-07-16T21:30:40+00:00"
      ["contributors"]=>
      array(1) {
        [0]=>
        string(29) "ben.eason@creativeloafing.com"
      }
      ["date"]=>
      string(25) "2017-07-16T21:30:40+00:00"
      ["tracker_status"]=>
      string(1) "o"
      ["tracker_id"]=>
      string(1) "1"
      ["view_permission"]=>
      string(13) "view_trackers"
      ["tracker_field_businessName"]=>
      string(30) "East Atlanta Arts and Antiques"
      ["tracker_field_businessAddress"]=>
      string(22) "470 Flat Shoals Avenue"
      ["tracker_field_businessAddress2"]=>
      string(1) " "
      ["tracker_field_businessCity"]=>
      string(7) "Atlanta"
      ["tracker_field_businessState"]=>
      string(2) "GA"
      ["tracker_field_businessZip"]=>
      string(5) "30316"
      ["tracker_field_businessWebsite"]=>
      string(1) " "
      ["tracker_field_businessPhone"]=>
      string(12) "404-581-0105"
      ["tracker_field_businessRepresentative"]=>
      array(0) {
      }
      ["tracker_field_businessLocationRadius"]=>
      int(0)
      ["tracker_field_description"]=>
      string(1) " "
      ["tracker_field_description_raw"]=>
      string(1) " "
      ["tracker_field_businessClassifieds"]=>
      array(0) {
      }
      ["tracker_field_businessTypes"]=>
      array(1) {
        [0]=>
        string(2) "89"
      }
      ["tracker_field_businessTypes_text"]=>
      string(2) "89"
      ["tracker_field_scene"]=>
      array(0) {
      }
      ["tracker_field_businessNeighborhoods"]=>
      array(2) {
        [0]=>
        string(3) "100"
        [1]=>
        string(3) "149"
      }
      ["tracker_field_businessNeighborhoods_text"]=>
      string(7) "100 149"
      ["tracker_field_businessPriceRange"]=>
      array(0) {
      }
      ["tracker_field_businessMiscCategories"]=>
      array(0) {
      }
      ["tracker_field_businessCLAcctNum"]=>
      int(0)
      ["tracker_field_business_121CurrentChit"]=>
      string(1) "n"
      ["tracker_field_121MobileClientID"]=>
      int(0)
      ["tracker_field_121MobileCampaignData"]=>
      array(0) {
      }
      ["tracker_field_121MobileCampaignData_json"]=>
      array(0) {
      }
      ["tracker_field_googlePlaceData"]=>
      array(0) {
      }
      ["tracker_field_googlePlaceData_json"]=>
      array(0) {
      }
      ["tracker_field_googleOverallRating"]=>
      int(0)
      ["tracker_field_businessYelpBusinessData"]=>
      array(0) {
      }
      ["tracker_field_businessYelpBusinessData_json"]=>
      array(0) {
      }
      ["tracker_field_businessFacebookData"]=>
      array(0) {
      }
      ["tracker_field_businessFacebookData_json"]=>
      array(0) {
      }
      ["tracker_field_businessLoafingID"]=>
      string(24) "573f3d581e3ee4dfcf66108e"
      ["tracker_field_businessAccountExecutive"]=>
      string(1) "0"
      ["tracker_field_businessStatusField"]=>
      string(9) "Duplicate"
      ["tracker_field_businessCLDistributionLocation"]=>
      string(1) "n"
      ["tracker_field_businessAudience"]=>
      array(0) {
      }
      ["tracker_field_businessLegacyID"]=>
      int(1297161)
      ["language"]=>
      string(7) "unknown"
      ["attachments"]=>
      array(0) {
      }
      ["comment_count"]=>
      int(0)
      ["categories"]=>
      array(2) {
        [0]=>
        int(89)
        [1]=>
        int(100)
      }
      ["deep_categories"]=>
      array(5) {
        [0]=>
        int(28)
        [1]=>
        int(89)
        [2]=>
        int(1)
        [3]=>
        int(149)
        [4]=>
        int(100)
      }
      ["categories_under_28"]=>
      array(1) {
        [0]=>
        int(89)
      }
      ["deep_categories_under_28"]=>
      array(1) {
        [0]=>
        int(89)
      }
      ["categories_under_1"]=>
      array(0) {
      }
      ["deep_categories_under_1"]=>
      array(2) {
        [0]=>
        int(149)
        [1]=>
        int(100)
      }
      ["categories_under_177"]=>
      array(0) {
      }
      ["deep_categories_under_177"]=>
      array(0) {
      }
      ["categories_under_209"]=>
      array(0) {
      }
      ["deep_categories_under_209"]=>
      array(0) {
      }
      ["categories_under_163"]=>
      array(0) {
      }
      ["deep_categories_under_163"]=>
      array(0) {
      }
      ["categories_under_171"]=>
      array(0) {
      }
      ["deep_categories_under_171"]=>
      array(0) {
      }
      ["categories_under_153"]=>
      array(0) {
      }
      ["deep_categories_under_153"]=>
      array(0) {
      }
      ["categories_under_242"]=>
      array(0) {
      }
      ["deep_categories_under_242"]=>
      array(0) {
      }
      ["categories_under_564"]=>
      array(0) {
      }
      ["deep_categories_under_564"]=>
      array(0) {
      }
      ["freetags"]=>
      array(0) {
      }
      ["geo_located"]=>
      string(1) "n"
      ["allowed_groups"]=>
      array(2) {
        [0]=>
        string(6) "Admins"
        [1]=>
        string(9) "Anonymous"
      }
      ["allowed_users"]=>
      array(0) {
      }
      ["relations"]=>
      array(0) {
      }
      ["relation_objects"]=>
      array(0) {
      }
      ["relation_types"]=>
      array(0) {
      }
      ["relation_count"]=>
      array(0) {
      }
      ["title_initial"]=>
      string(1) "E"
      ["title_firstword"]=>
      string(4) "East"
      ["searchable"]=>
      string(1) "y"
      ["url"]=>
      string(8) "item8705"
      ["object_type"]=>
      string(11) "trackeritem"
      ["object_id"]=>
      string(4) "8705"
      ["contents"]=>
      string(223) "    East Atlanta Arts and Antiques 470 Flat Shoals Avenue   Atlanta GA 30316     404-581-0105                     n      573f3d581e3ee4dfcf66108e       Duplicate  n  2017-07-16T21:30:40+00:00 East Atlanta Arts and Antiques "
      ["score"]=>
      float(0)
      ["_index"]=>
      string(21) "atlantawiki_tiki_main"
      ["objectlink"]=>
      string(208) "East Atlanta Arts and Antiques"
      ["image"]=>
      string(39) "

File not found.

"
      ["areaLocation"]=>
      string(34) "-84.3503813,33.7391182,15"
    }
    [25]=>
    array(89) {
      ["title"]=>
      string(36) "Goodwill Industries of North Georgia"
      ["modification_date"]=>
      string(25) "2018-03-08T16:32:41+00:00"
      ["creation_date"]=>
      string(25) "2017-07-16T21:30:40+00:00"
      ["contributors"]=>
      array(1) {
        [0]=>
        string(29) "ben.eason@creativeloafing.com"
      }
      ["date"]=>
      string(25) "2017-07-16T21:30:40+00:00"
      ["tracker_status"]=>
      string(1) "o"
      ["tracker_id"]=>
      string(1) "1"
      ["view_permission"]=>
      string(13) "view_trackers"
      ["tracker_field_businessName"]=>
      string(36) "Goodwill Industries of North Georgia"
      ["tracker_field_businessAddress"]=>
      string(18) "2201 Glenwood Ave."
      ["tracker_field_businessAddress2"]=>
      string(1) " "
      ["tracker_field_businessCity"]=>
      string(7) "Atlanta"
      ["tracker_field_businessState"]=>
      string(2) "GA"
      ["tracker_field_businessZip"]=>
      string(5) "30316"
      ["tracker_field_businessWebsite"]=>
      string(1) " "
      ["tracker_field_businessPhone"]=>
      string(12) "404-486-8410"
      ["tracker_field_businessRepresentative"]=>
      array(0) {
      }
      ["tracker_field_businessLocationRadius"]=>
      int(0)
      ["tracker_field_description"]=>
      string(1) " "
      ["tracker_field_description_raw"]=>
      string(1) " "
      ["tracker_field_businessClassifieds"]=>
      array(0) {
      }
      ["tracker_field_businessTypes"]=>
      array(1) {
        [0]=>
        string(2) "89"
      }
      ["tracker_field_businessTypes_text"]=>
      string(2) "89"
      ["tracker_field_scene"]=>
      array(0) {
      }
      ["tracker_field_businessNeighborhoods"]=>
      array(2) {
        [0]=>
        string(3) "100"
        [1]=>
        string(3) "149"
      }
      ["tracker_field_businessNeighborhoods_text"]=>
      string(7) "100 149"
      ["tracker_field_businessPriceRange"]=>
      array(0) {
      }
      ["tracker_field_businessMiscCategories"]=>
      array(0) {
      }
      ["tracker_field_businessCLAcctNum"]=>
      int(0)
      ["tracker_field_business_121CurrentChit"]=>
      string(1) "n"
      ["tracker_field_121MobileClientID"]=>
      int(0)
      ["tracker_field_121MobileCampaignData"]=>
      array(0) {
      }
      ["tracker_field_121MobileCampaignData_json"]=>
      array(0) {
      }
      ["tracker_field_googlePlaceData"]=>
      array(0) {
      }
      ["tracker_field_googlePlaceData_json"]=>
      array(0) {
      }
      ["tracker_field_googleOverallRating"]=>
      int(0)
      ["tracker_field_businessYelpBusinessData"]=>
      array(0) {
      }
      ["tracker_field_businessYelpBusinessData_json"]=>
      array(0) {
      }
      ["tracker_field_businessFacebookData"]=>
      array(0) {
      }
      ["tracker_field_businessFacebookData_json"]=>
      array(0) {
      }
      ["tracker_field_businessLoafingID"]=>
      string(24) "573f3d5a1e3ee4dfcf6612b8"
      ["tracker_field_businessAccountExecutive"]=>
      string(1) "0"
      ["tracker_field_businessStatusField"]=>
      string(10) "NoGoogleID"
      ["tracker_field_businessCLDistributionLocation"]=>
      string(1) "n"
      ["tracker_field_businessAudience"]=>
      array(0) {
      }
      ["tracker_field_businessLegacyID"]=>
      int(1295689)
      ["language"]=>
      string(7) "unknown"
      ["attachments"]=>
      array(0) {
      }
      ["comment_count"]=>
      int(0)
      ["categories"]=>
      array(2) {
        [0]=>
        int(89)
        [1]=>
        int(100)
      }
      ["deep_categories"]=>
      array(5) {
        [0]=>
        int(28)
        [1]=>
        int(89)
        [2]=>
        int(1)
        [3]=>
        int(149)
        [4]=>
        int(100)
      }
      ["categories_under_28"]=>
      array(1) {
        [0]=>
        int(89)
      }
      ["deep_categories_under_28"]=>
      array(1) {
        [0]=>
        int(89)
      }
      ["categories_under_1"]=>
      array(0) {
      }
      ["deep_categories_under_1"]=>
      array(2) {
        [0]=>
        int(149)
        [1]=>
        int(100)
      }
      ["categories_under_177"]=>
      array(0) {
      }
      ["deep_categories_under_177"]=>
      array(0) {
      }
      ["categories_under_209"]=>
      array(0) {
      }
      ["deep_categories_under_209"]=>
      array(0) {
      }
      ["categories_under_163"]=>
      array(0) {
      }
      ["deep_categories_under_163"]=>
      array(0) {
      }
      ["categories_under_171"]=>
      array(0) {
      }
      ["deep_categories_under_171"]=>
      array(0) {
      }
      ["categories_under_153"]=>
      array(0) {
      }
      ["deep_categories_under_153"]=>
      array(0) {
      }
      ["categories_under_242"]=>
      array(0) {
      }
      ["deep_categories_under_242"]=>
      array(0) {
      }
      ["categories_under_564"]=>
      array(0) {
      }
      ["deep_categories_under_564"]=>
      array(0) {
      }
      ["freetags"]=>
      array(0) {
      }
      ["geo_located"]=>
      string(1) "n"
      ["allowed_groups"]=>
      array(2) {
        [0]=>
        string(6) "Admins"
        [1]=>
        string(9) "Anonymous"
      }
      ["allowed_users"]=>
      array(0) {
      }
      ["relations"]=>
      array(0) {
      }
      ["relation_objects"]=>
      array(0) {
      }
      ["relation_types"]=>
      array(0) {
      }
      ["relation_count"]=>
      array(0) {
      }
      ["title_initial"]=>
      string(1) "G"
      ["title_firstword"]=>
      string(8) "Goodwill"
      ["searchable"]=>
      string(1) "y"
      ["url"]=>
      string(8) "item8712"
      ["object_type"]=>
      string(11) "trackeritem"
      ["object_id"]=>
      string(4) "8712"
      ["contents"]=>
      string(232) "    Goodwill Industries of North Georgia 2201 Glenwood Ave.   Atlanta GA 30316     404-486-8410                     n      573f3d5a1e3ee4dfcf6612b8       NoGoogleID  n  2017-07-16T21:30:40+00:00 Goodwill Industries of North Georgia "
      ["score"]=>
      float(0)
      ["_index"]=>
      string(21) "atlantawiki_tiki_main"
      ["objectlink"]=>
      string(214) "Goodwill Industries of North Georgia"
      ["image"]=>
      string(39) "

File not found.

"
      ["areaLocation"]=>
      string(34) "-84.3503813,33.7391182,15"
    }
    [26]=>
    array(89) {
      ["title"]=>
      string(22) "In the Closet Boutique"
      ["modification_date"]=>
      string(25) "2018-03-08T16:41:28+00:00"
      ["creation_date"]=>
      string(25) "2017-07-16T21:30:40+00:00"
      ["contributors"]=>
      array(1) {
        [0]=>
        string(29) "ben.eason@creativeloafing.com"
      }
      ["date"]=>
      string(25) "2017-07-16T21:30:40+00:00"
      ["tracker_status"]=>
      string(1) "o"
      ["tracker_id"]=>
      string(1) "1"
      ["view_permission"]=>
      string(13) "view_trackers"
      ["tracker_field_businessName"]=>
      string(22) "In the Closet Boutique"
      ["tracker_field_businessAddress"]=>
      string(14) "201-B Moreland"
      ["tracker_field_businessAddress2"]=>
      string(1) " "
      ["tracker_field_businessCity"]=>
      string(7) "Atlanta"
      ["tracker_field_businessState"]=>
      string(2) "GA"
      ["tracker_field_businessZip"]=>
      string(5) "30316"
      ["tracker_field_businessWebsite"]=>
      string(1) " "
      ["tracker_field_businessPhone"]=>
      string(12) "770-873-8062"
      ["tracker_field_businessRepresentative"]=>
      array(0) {
      }
      ["tracker_field_businessLocationRadius"]=>
      int(0)
      ["tracker_field_description"]=>
      string(1) " "
      ["tracker_field_description_raw"]=>
      string(1) " "
      ["tracker_field_businessClassifieds"]=>
      array(0) {
      }
      ["tracker_field_businessTypes"]=>
      array(1) {
        [0]=>
        string(2) "89"
      }
      ["tracker_field_businessTypes_text"]=>
      string(2) "89"
      ["tracker_field_scene"]=>
      array(0) {
      }
      ["tracker_field_businessNeighborhoods"]=>
      array(2) {
        [0]=>
        string(3) "100"
        [1]=>
        string(3) "149"
      }
      ["tracker_field_businessNeighborhoods_text"]=>
      string(7) "100 149"
      ["tracker_field_businessPriceRange"]=>
      array(0) {
      }
      ["tracker_field_businessMiscCategories"]=>
      array(0) {
      }
      ["tracker_field_businessCLAcctNum"]=>
      int(0)
      ["tracker_field_business_121CurrentChit"]=>
      string(1) "n"
      ["tracker_field_121MobileClientID"]=>
      int(0)
      ["tracker_field_121MobileCampaignData"]=>
      array(0) {
      }
      ["tracker_field_121MobileCampaignData_json"]=>
      array(0) {
      }
      ["tracker_field_googlePlaceData"]=>
      array(0) {
      }
      ["tracker_field_googlePlaceData_json"]=>
      array(0) {
      }
      ["tracker_field_googleOverallRating"]=>
      int(0)
      ["tracker_field_businessYelpBusinessData"]=>
      array(0) {
      }
      ["tracker_field_businessYelpBusinessData_json"]=>
      array(0) {
      }
      ["tracker_field_businessFacebookData"]=>
      array(0) {
      }
      ["tracker_field_businessFacebookData_json"]=>
      array(0) {
      }
      ["tracker_field_businessLoafingID"]=>
      string(24) "573f3d561e3ee4dfcf660f2c"
      ["tracker_field_businessAccountExecutive"]=>
      string(1) "0"
      ["tracker_field_businessStatusField"]=>
      string(10) "NoGoogleID"
      ["tracker_field_businessCLDistributionLocation"]=>
      string(1) "n"
      ["tracker_field_businessAudience"]=>
      array(0) {
      }
      ["tracker_field_businessLegacyID"]=>
      int(1298045)
      ["language"]=>
      string(7) "unknown"
      ["attachments"]=>
      array(0) {
      }
      ["comment_count"]=>
      int(0)
      ["categories"]=>
      array(2) {
        [0]=>
        int(89)
        [1]=>
        int(100)
      }
      ["deep_categories"]=>
      array(5) {
        [0]=>
        int(28)
        [1]=>
        int(89)
        [2]=>
        int(1)
        [3]=>
        int(149)
        [4]=>
        int(100)
      }
      ["categories_under_28"]=>
      array(1) {
        [0]=>
        int(89)
      }
      ["deep_categories_under_28"]=>
      array(1) {
        [0]=>
        int(89)
      }
      ["categories_under_1"]=>
      array(0) {
      }
      ["deep_categories_under_1"]=>
      array(2) {
        [0]=>
        int(149)
        [1]=>
        int(100)
      }
      ["categories_under_177"]=>
      array(0) {
      }
      ["deep_categories_under_177"]=>
      array(0) {
      }
      ["categories_under_209"]=>
      array(0) {
      }
      ["deep_categories_under_209"]=>
      array(0) {
      }
      ["categories_under_163"]=>
      array(0) {
      }
      ["deep_categories_under_163"]=>
      array(0) {
      }
      ["categories_under_171"]=>
      array(0) {
      }
      ["deep_categories_under_171"]=>
      array(0) {
      }
      ["categories_under_153"]=>
      array(0) {
      }
      ["deep_categories_under_153"]=>
      array(0) {
      }
      ["categories_under_242"]=>
      array(0) {
      }
      ["deep_categories_under_242"]=>
      array(0) {
      }
      ["categories_under_564"]=>
      array(0) {
      }
      ["deep_categories_under_564"]=>
      array(0) {
      }
      ["freetags"]=>
      array(0) {
      }
      ["geo_located"]=>
      string(1) "n"
      ["allowed_groups"]=>
      array(2) {
        [0]=>
        string(6) "Admins"
        [1]=>
        string(9) "Anonymous"
      }
      ["allowed_users"]=>
      array(0) {
      }
      ["relations"]=>
      array(0) {
      }
      ["relation_objects"]=>
      array(0) {
      }
      ["relation_types"]=>
      array(0) {
      }
      ["relation_count"]=>
      array(0) {
      }
      ["title_initial"]=>
      string(1) "I"
      ["title_firstword"]=>
      string(2) "In"
      ["searchable"]=>
      string(1) "y"
      ["url"]=>
      string(8) "item8714"
      ["object_type"]=>
      string(11) "trackeritem"
      ["object_id"]=>
      string(4) "8714"
      ["contents"]=>
      string(200) "    In the Closet Boutique 201-B Moreland   Atlanta GA 30316     770-873-8062                     n      573f3d561e3ee4dfcf660f2c       NoGoogleID  n  2017-07-16T21:30:40+00:00 In the Closet Boutique "
      ["score"]=>
      float(0)
      ["_index"]=>
      string(21) "atlantawiki_tiki_main"
      ["objectlink"]=>
      string(200) "In the Closet Boutique"
      ["image"]=>
      string(39) "

File not found.

"
      ["areaLocation"]=>
      string(34) "-84.3503813,33.7391182,15"
    }
    [27]=>
    array(95) {
      ["title"]=>
      string(30) "Nipponzan Myohoji Atlanta Dojo"
      ["modification_date"]=>
      string(25) "2018-07-27T14:23:31+00:00"
      ["creation_date"]=>
      string(25) "2017-06-26T13:07:15+00:00"
      ["contributors"]=>
      array(2) {
        [0]=>
        NULL
        [1]=>
        string(29) "ben.eason@creativeloafing.com"
      }
      ["date"]=>
      string(25) "2017-06-26T13:07:15+00:00"
      ["tracker_status"]=>
      string(1) "o"
      ["tracker_id"]=>
      string(1) "1"
      ["view_permission"]=>
      string(13) "view_trackers"
      ["tracker_field_businessName"]=>
      string(30) "Nipponzan Myohoji Atlanta Dojo"
      ["tracker_field_businessAddress"]=>
      string(18) "1127 Glenwood Ave."
      ["tracker_field_businessCity"]=>
      string(7) "Atlanta"
      ["tracker_field_businessState"]=>
      string(2) "GA"
      ["tracker_field_businessZip"]=>
      string(5) "30316"
      ["tracker_field_businessWebsite"]=>
      string(27) "http://www.atlantadojo.org/"
      ["tracker_field_businessPhone"]=>
      string(14) "(404) 627-8948"
      ["tracker_field_businessRepresentative"]=>
      array(0) {
      }
      ["tracker_field_businessLocation"]=>
      string(24) "-84.3503023,33.740172,12"
      ["tracker_field_businessLocationRadius"]=>
      int(0)
      ["tracker_field_description"]=>
      string(1) " "
      ["tracker_field_description_raw"]=>
      string(1) " "
      ["tracker_field_businessClassifieds"]=>
      array(0) {
      }
      ["tracker_field_businessTypes"]=>
      array(1) {
        [0]=>
        string(2) "89"
      }
      ["tracker_field_businessTypes_text"]=>
      string(2) "89"
      ["tracker_field_scene"]=>
      array(0) {
      }
      ["tracker_field_businessNeighborhoods"]=>
      array(2) {
        [0]=>
        string(3) "100"
        [1]=>
        string(3) "149"
      }
      ["tracker_field_businessNeighborhoods_text"]=>
      string(7) "100 149"
      ["tracker_field_businessPriceRange"]=>
      array(0) {
      }
      ["tracker_field_businessMiscCategories"]=>
      array(0) {
      }
      ["tracker_field_businessCLAcctNum"]=>
      int(0)
      ["tracker_field_business_121CurrentChit"]=>
      string(1) "n"
      ["tracker_field_121MobileClientID"]=>
      int(0)
      ["tracker_field_121MobileCampaignData"]=>
      array(0) {
      }
      ["tracker_field_121MobileCampaignData_json"]=>
      array(0) {
      }
      ["tracker_field_google_placeid"]=>
      string(27) "ChIJjZJaNVkB9YgR73G38YjG_r4"
      ["tracker_field_googlePlaceData"]=>
      array(14) {
        [0]=>
        string(211) "1835, 

1127 Glenwood Ave SE

, 

Atlanta

, 

GA

 

30316

, 

USA

"
        [1]=>
        string(50) "1835, 1127 Glenwood Ave SE, Atlanta, GA 30316, USA"
        [2]=>
        string(14) "(404) 627-8948"
        [3]=>
        string(72) "https://maps.gstatic.com/mapfiles/place_api/icons/worship_general-71.png"
        [4]=>
        string(40) "8f8597f9d3b6044364c3f8b404ea3aaa82562e39"
        [5]=>
        string(15) "+1 404-627-8948"
        [6]=>
        string(30) "Nipponzan Myohoji Atlanta Dojo"
        [7]=>
        string(27) "ChIJjZJaNVkB9YgR73G38YjG_r4"
        [8]=>
        string(1) "5"
        [9]=>
        string(190) "CmRSAAAAbc5w8evsOl-0BqHUcLMX8YDq9H0TBsBbdoodFe1f0m934v3snVyhhgL7ncm93b0fxEkU3joooSmrYQXmspe1VsnDHfGC_94XAg2q6dVEScGwjU2t7XnfGrCmqY_AcqGOEhBMqs_sch16co7kZeHpyQ6rGhQORJbO_scj3wlzci3goyypJJgaDQ"
        [10]=>
        string(6) "GOOGLE"
        [11]=>
        string(49) "https://maps.google.com/?cid=13762655802763997679"
        [12]=>
        string(4) "-240"
        [13]=>
        string(45) "1835, 1127 Glenwood Avenue Southeast, Atlanta"
      }
      ["tracker_field_googlePlaceData_text"]=>
      string(606) "1835, 1127 Glenwood Ave SE, Atlanta, GA 30316, USA 1835, 1127 Glenwood Ave SE, Atlanta, GA 30316, USA (404) 627-8948 https://maps.gstatic.com/mapfiles/place_api/icons/worship_general-71.png 8f8597f9d3b6044364c3f8b404ea3aaa82562e39 +1 404-627-8948 Nipponzan Myohoji Atlanta Dojo ChIJjZJaNVkB9YgR73G38YjG_r4 5 CmRSAAAAbc5w8evsOl-0BqHUcLMX8YDq9H0TBsBbdoodFe1f0m934v3snVyhhgL7ncm93b0fxEkU3joooSmrYQXmspe1VsnDHfGC_94XAg2q6dVEScGwjU2t7XnfGrCmqY_AcqGOEhBMqs_sch16co7kZeHpyQ6rGhQORJbO_scj3wlzci3goyypJJgaDQ GOOGLE https://maps.google.com/?cid=13762655802763997679 -240 1835, 1127 Glenwood Avenue Southeast, Atlanta"
      ["tracker_field_googlePlaceData_json"]=>
      object(stdClass)#1721 (20) {
        ["address_components"]=>
        array(8) {
          [0]=>
          object(stdClass)#1713 (3) {
            ["long_name"]=>
            string(4) "1127"
            ["short_name"]=>
            string(4) "1127"
            ["types"]=>
            array(1) {
              [0]=>
              string(13) "street_number"
            }
          }
          [1]=>
          object(stdClass)#1714 (3) {
            ["long_name"]=>
            string(25) "Glenwood Avenue Southeast"
            ["short_name"]=>
            string(15) "Glenwood Ave SE"
            ["types"]=>
            array(1) {
              [0]=>
              string(5) "route"
            }
          }
          [2]=>
          object(stdClass)#1715 (3) {
            ["long_name"]=>
            string(13) "Ormewood Park"
            ["short_name"]=>
            string(13) "Ormewood Park"
            ["types"]=>
            array(2) {
              [0]=>
              string(12) "neighborhood"
              [1]=>
              string(9) "political"
            }
          }
          [3]=>
          object(stdClass)#1716 (3) {
            ["long_name"]=>
            string(7) "Atlanta"
            ["short_name"]=>
            string(7) "Atlanta"
            ["types"]=>
            array(2) {
              [0]=>
              string(8) "locality"
              [1]=>
              string(9) "political"
            }
          }
          [4]=>
          object(stdClass)#1717 (3) {
            ["long_name"]=>
            string(13) "Fulton County"
            ["short_name"]=>
            string(13) "Fulton County"
            ["types"]=>
            array(2) {
              [0]=>
              string(27) "administrative_area_level_2"
              [1]=>
              string(9) "political"
            }
          }
          [5]=>
          object(stdClass)#1718 (3) {
            ["long_name"]=>
            string(7) "Georgia"
            ["short_name"]=>
            string(2) "GA"
            ["types"]=>
            array(2) {
              [0]=>
              string(27) "administrative_area_level_1"
              [1]=>
              string(9) "political"
            }
          }
          [6]=>
          object(stdClass)#1719 (3) {
            ["long_name"]=>
            string(13) "United States"
            ["short_name"]=>
            string(2) "US"
            ["types"]=>
            array(2) {
              [0]=>
              string(7) "country"
              [1]=>
              string(9) "political"
            }
          }
          [7]=>
          object(stdClass)#1720 (3) {
            ["long_name"]=>
            string(5) "30316"
            ["short_name"]=>
            string(5) "30316"
            ["types"]=>
            array(1) {
              [0]=>
              string(11) "postal_code"
            }
          }
        }
        ["adr_address"]=>
        string(211) "1835, 

1127 Glenwood Ave SE

, 

Atlanta

, 

GA

 

30316

, 

USA

"
        ["formatted_address"]=>
        string(50) "1835, 1127 Glenwood Ave SE, Atlanta, GA 30316, USA"
        ["formatted_phone_number"]=>
        string(14) "(404) 627-8948"
        ["geometry"]=>
        object(stdClass)#1723 (2) {
          ["location"]=>
          object(stdClass)#1722 (2) {
            ["lat"]=>
            string(9) "33.740172"
            ["lng"]=>
            string(11) "-84.3503023"
          }
          ["viewport"]=>
          object(stdClass)#1725 (2) {
            ["northeast"]=>
            object(stdClass)#1724 (2) {
              ["lat"]=>
              string(15) "33.741632880291"
              ["lng"]=>
              string(16) "-84.348946719708"
            }
            ["southwest"]=>
            object(stdClass)#1726 (2) {
              ["lat"]=>
              string(15) "33.738934919708"
              ["lng"]=>
              string(16) "-84.351644680291"
            }
          }
        }
        ["icon"]=>
        string(72) "https://maps.gstatic.com/mapfiles/place_api/icons/worship_general-71.png"
        ["id"]=>
        string(40) "8f8597f9d3b6044364c3f8b404ea3aaa82562e39"
        ["international_phone_number"]=>
        string(15) "+1 404-627-8948"
        ["name"]=>
        string(30) "Nipponzan Myohoji Atlanta Dojo"
        ["photos"]=>
        array(2) {
          [0]=>
          object(stdClass)#1727 (4) {
            ["height"]=>
            int(2340)
            ["html_attributions"]=>
            array(1) {
              [0]=>
              string(110) "Nipponzan Myohoji Atlanta Dojo"
            }
            ["photo_reference"]=>
            string(190) "CmRaAAAAXHW7bNLej_szGORQyv3-qhENJ1xCekSG_g_nvtC3SQgosdQf4fmako1YXG87D-xAbPjWDEJ7ai3tLi1ala7GPdhCYEu6eZ4z3bL5SmDIuxhwBw26DWgnV6rzYvTLzeQzEhCoiZL8KL8_RnAavxbmMzNJGhTVuVmzClzZkAdu_xxDxdJH6iHH8w"
            ["width"]=>
            int(4160)
          }
          [1]=>
          object(stdClass)#1728 (4) {
            ["height"]=>
            int(527)
            ["html_attributions"]=>
            array(1) {
              [0]=>
              string(110) "Nipponzan Myohoji Atlanta Dojo"
            }
            ["photo_reference"]=>
            string(190) "CmRaAAAAeU4RofvKbDD-U1S8i6EZycKEUGrVn0EJewquiuBkWuOfILwRoHXDPmiTP38kLJ--k2RDjcIeDycKJg3_XrvYPHEEykFmI39vF3R8m_zF-gft3C-2tswsQOW5ynlzqEADEhBrUs9dVmVF7dZ_0HO9Vy4oGhQNKoyXx-mvu9Jgje1qOmoREK97YA"
            ["width"]=>
            int(572)
          }
        }
        ["place_id"]=>
        string(27) "ChIJjZJaNVkB9YgR73G38YjG_r4"
        ["plus_code"]=>
        object(stdClass)#1729 (2) {
          ["compound_code"]=>
          string(39) "PJRX+3V Atlanta, Georgia, United States"
          ["global_code"]=>
          string(11) "865QPJRX+3V"
        }
        ["rating"]=>
        string(1) "5"
        ["reference"]=>
        string(190) "CmRSAAAAbc5w8evsOl-0BqHUcLMX8YDq9H0TBsBbdoodFe1f0m934v3snVyhhgL7ncm93b0fxEkU3joooSmrYQXmspe1VsnDHfGC_94XAg2q6dVEScGwjU2t7XnfGrCmqY_AcqGOEhBMqs_sch16co7kZeHpyQ6rGhQORJbO_scj3wlzci3goyypJJgaDQ"
        ["reviews"]=>
        array(1) {
          [0]=>
          object(stdClass)#1730 (8) {
            ["author_name"]=>
            string(17) "ana maria Vasquez"
            ["author_url"]=>
            string(65) "https://www.google.com/maps/contrib/106380353472964591216/reviews"
            ["language"]=>
            string(2) "es"
            ["profile_photo_url"]=>
            string(141) "https://lh4.googleusercontent.com/-voroNojUYsk/AAAAAAAAAAI/AAAAAAAAAAA/AAnnY7qNSGlghCVqI42mY8EnkSh5qfH0uw/s128-c0x00000000-cc-rp-mo/photo.jpg"
            ["rating"]=>
            string(1) "5"
            ["relative_time_description"]=>
            string(13) "10 months ago"
            ["text"]=>
            string(156) "UN LUGAR MUY HERMOSO Y LLENO DE PAZ,  DENISE Y UTZUMI NOS DIERON MUCHO CARINO, UNA COMIDA DELICIOSA Y UN TIEMPO DE MEDITACION Y ORACION INOLVIDA BLE GRACIAS"
            ["time"]=>
            int(1504869151)
          }
        }
        ["scope"]=>
        string(6) "GOOGLE"
        ["types"]=>
        array(3) {
          [0]=>
          string(16) "place_of_worship"
          [1]=>
          string(17) "point_of_interest"
          [2]=>
          string(13) "establishment"
        }
        ["url"]=>
        string(49) "https://maps.google.com/?cid=13762655802763997679"
        ["utc_offset"]=>
        string(4) "-240"
        ["vicinity"]=>
        string(45) "1835, 1127 Glenwood Avenue Southeast, Atlanta"
      }
      ["tracker_field_googleOverallRating"]=>
      int(0)
      ["tracker_field_businessYelpBusinessData"]=>
      array(0) {
      }
      ["tracker_field_businessYelpBusinessData_json"]=>
      array(0) {
      }
      ["tracker_field_businessFacebook"]=>
      string(30) "Nipponzan Myohoji-Atlanta Dojo"
      ["tracker_field_businessFacebookID"]=>
      string(15) "295577000000000"
      ["tracker_field_businessFacebookData"]=>
      array(0) {
      }
      ["tracker_field_businessFacebookData_json"]=>
      array(0) {
      }
      ["tracker_field_businessLoafingID"]=>
      string(24) "573f3d4c1e3ee4dfcf66056b"
      ["tracker_field_businessAccountExecutive"]=>
      string(1) "0"
      ["tracker_field_businessStatusField"]=>
      string(12) "Sent to Edit"
      ["tracker_field_businessCLDistributionLocation"]=>
      string(1) "n"
      ["tracker_field_businessAudience"]=>
      array(0) {
      }
      ["tracker_field_businessLegacyID"]=>
      int(1305123)
      ["language"]=>
      string(7) "unknown"
      ["attachments"]=>
      array(0) {
      }
      ["comment_count"]=>
      int(0)
      ["categories"]=>
      array(2) {
        [0]=>
        int(89)
        [1]=>
        int(100)
      }
      ["deep_categories"]=>
      array(5) {
        [0]=>
        int(28)
        [1]=>
        int(89)
        [2]=>
        int(1)
        [3]=>
        int(149)
        [4]=>
        int(100)
      }
      ["categories_under_28"]=>
      array(1) {
        [0]=>
        int(89)
      }
      ["deep_categories_under_28"]=>
      array(1) {
        [0]=>
        int(89)
      }
      ["categories_under_1"]=>
      array(0) {
      }
      ["deep_categories_under_1"]=>
      array(2) {
        [0]=>
        int(149)
        [1]=>
        int(100)
      }
      ["categories_under_177"]=>
      array(0) {
      }
      ["deep_categories_under_177"]=>
      array(0) {
      }
      ["categories_under_209"]=>
      array(0) {
      }
      ["deep_categories_under_209"]=>
      array(0) {
      }
      ["categories_under_163"]=>
      array(0) {
      }
      ["deep_categories_under_163"]=>
      array(0) {
      }
      ["categories_under_171"]=>
      array(0) {
      }
      ["deep_categories_under_171"]=>
      array(0) {
      }
      ["categories_under_153"]=>
      array(0) {
      }
      ["deep_categories_under_153"]=>
      array(0) {
      }
      ["categories_under_242"]=>
      array(0) {
      }
      ["deep_categories_under_242"]=>
      array(0) {
      }
      ["categories_under_564"]=>
      array(0) {
      }
      ["deep_categories_under_564"]=>
      array(0) {
      }
      ["freetags"]=>
      array(0) {
      }
      ["geo_located"]=>
      string(1) "y"
      ["geo_location"]=>
      string(24) "-84.3503023,33.740172,12"
      ["geo_point"]=>
      object(stdClass)#1731 (2) {
        ["lat"]=>
        float(33.740172)
        ["lon"]=>
        float(-84.3503023)
      }
      ["allowed_groups"]=>
      array(2) {
        [0]=>
        string(6) "Admins"
        [1]=>
        string(9) "Anonymous"
      }
      ["allowed_users"]=>
      array(0) {
      }
      ["relations"]=>
      array(0) {
      }
      ["relation_objects"]=>
      array(0) {
      }
      ["relation_types"]=>
      array(0) {
      }
      ["relation_count"]=>
      array(0) {
      }
      ["title_initial"]=>
      string(1) "N"
      ["title_firstword"]=>
      string(9) "Nipponzan"
      ["searchable"]=>
      string(1) "y"
      ["url"]=>
      string(8) "item2101"
      ["object_type"]=>
      string(11) "trackeritem"
      ["object_id"]=>
      string(4) "2101"
      ["contents"]=>
      string(345) "    Nipponzan Myohoji Atlanta Dojo 1127 Glenwood Ave.  Atlanta GA 30316 http://www.atlantadojo.org/   (404) 627-8948  -84.3503023,33.740172,12                   n  ChIJjZJaNVkB9YgR73G38YjG_r4  Nipponzan Myohoji-Atlanta Dojo 295577000000000 573f3d4c1e3ee4dfcf66056b       Sent to Edit  n  2017-06-26T13:07:15+00:00 Nipponzan Myohoji Atlanta Dojo "
      ["score"]=>
      float(0)
      ["_index"]=>
      string(21) "atlantawiki_tiki_main"
      ["objectlink"]=>
      string(289) "Nipponzan Myohoji Atlanta Dojo"
      ["image"]=>
      string(39) "

File not found.

"
      ["areaLocation"]=>
      string(34) "-84.3503813,33.7391182,15"
    }
    [28]=>
    array(93) {
      ["title"]=>
      string(15) "So Worth Loving"
      ["modification_date"]=>
      string(25) "2019-04-25T15:42:11+00:00"
      ["creation_date"]=>
      string(25) "2017-06-26T13:07:15+00:00"
      ["contributors"]=>
      array(2) {
        [0]=>
        NULL
        [1]=>
        string(18) "jonny@nospaces.net"
      }
      ["date"]=>
      string(25) "2017-06-26T13:07:15+00:00"
      ["tracker_status"]=>
      string(1) "o"
      ["tracker_id"]=>
      string(1) "1"
      ["view_permission"]=>
      string(13) "view_trackers"
      ["tracker_field_businessName"]=>
      string(15) "So Worth Loving"
      ["tracker_field_businessAddress"]=>
      string(16) "535 Gresham Ave."
      ["tracker_field_businessCity"]=>
      string(7) "Atlanta"
      ["tracker_field_businessState"]=>
      string(2) "GA"
      ["tracker_field_businessZip"]=>
      string(5) "30316"
      ["tracker_field_businessWebsite"]=>
      string(31) "https://shop.soworthloving.com/"
      ["tracker_field_businessPhone"]=>
      string(4) "null"
      ["tracker_field_businessRepresentative"]=>
      array(0) {
      }
      ["tracker_field_businessLocation"]=>
      string(40) "-84.34604960000011,33.739611200000255,14"
      ["tracker_field_businessLocationRadius"]=>
      int(0)
      ["tracker_field_description"]=>
      string(252) "Everyone is worthy of love, no matter who they are or how they live their life. So Worth Loving, which began as a blog, specializes in clothing that reminds wearers and passersby that they deserve love, they have value, and they are worth fighting for."
      ["tracker_field_description_raw"]=>
      string(252) "Everyone is worthy of love, no matter who they are or how they live their life. So Worth Loving, which began as a blog, specializes in clothing that reminds wearers and passersby that they deserve love, they have value, and they are worth fighting for."
      ["tracker_field_businessClassifieds"]=>
      array(0) {
      }
      ["tracker_field_businessTypes"]=>
      array(1) {
        [0]=>
        string(2) "89"
      }
      ["tracker_field_businessTypes_text"]=>
      string(2) "89"
      ["tracker_field_scene"]=>
      array(0) {
      }
      ["tracker_field_businessNeighborhoods"]=>
      array(2) {
        [0]=>
        string(3) "100"
        [1]=>
        string(3) "149"
      }
      ["tracker_field_businessNeighborhoods_text"]=>
      string(7) "100 149"
      ["tracker_field_businessPriceRange"]=>
      array(0) {
      }
      ["tracker_field_businessMiscCategories"]=>
      array(0) {
      }
      ["tracker_field_businessCLAcctNum"]=>
      int(0)
      ["tracker_field_business_121CurrentChit"]=>
      string(1) "n"
      ["tracker_field_121MobileClientID"]=>
      int(0)
      ["tracker_field_121MobileCampaignData"]=>
      array(0) {
      }
      ["tracker_field_121MobileCampaignData_json"]=>
      array(0) {
      }
      ["tracker_field_google_placeid"]=>
      string(27) "ChIJMWNpgVwB9YgRHZS55C_P-jk"
      ["tracker_field_googlePlaceData"]=>
      array(14) {
        [0]=>
        string(208) "

535 Gresham Ave SE

, 

Atlanta

, 

GA

 

30316-1960

, 

USA

"
        [1]=>
        string(42) "535 Gresham Ave SE, Atlanta, GA 30316, USA"
        [2]=>
        string(65) "https://maps.gstatic.com/mapfiles/place_api/icons/shopping-71.png"
        [3]=>
        string(40) "96947458743b92ca746d4e5647ce24438644cb6a"
        [4]=>
        string(15) "So Worth Loving"
        [5]=>
        string(1) "1"
        [6]=>
        string(27) "ChIJMWNpgVwB9YgRHZS55C_P-jk"
        [7]=>
        string(1) "5"
        [8]=>
        string(190) "CmRRAAAAOUnB1zu9OGfstREqUvjAD6GMO9cjfZCUl9fR1Lgvzrq36FsUA1PjfTneO5l12gs_JtUfkXMiRNAQ2HCcJ4Q6Vxq_3zahFjcCLSOE8kOq2m9bN3UqNB7uRIxAZkuuz1DCEhDTtI-VCNeGFwV6OwwexJQGGhQ5Ww67s4QDVJC2fPVIXH1rTuO8AA"
        [9]=>
        string(6) "GOOGLE"
        [10]=>
        string(48) "https://maps.google.com/?cid=4177879408947336221"
        [11]=>
        string(4) "-300"
        [12]=>
        string(37) "535 Gresham Avenue Southeast, Atlanta"
        [13]=>
        string(31) "https://shop.soworthloving.com/"
      }
      ["tracker_field_googlePlaceData_text"]=>
      string(567) "535 Gresham Ave SE, Atlanta, GA 30316-1960, USA 535 Gresham Ave SE, Atlanta, GA 30316, USA https://maps.gstatic.com/mapfiles/place_api/icons/shopping-71.png 96947458743b92ca746d4e5647ce24438644cb6a So Worth Loving 1 ChIJMWNpgVwB9YgRHZS55C_P-jk 5 CmRRAAAAOUnB1zu9OGfstREqUvjAD6GMO9cjfZCUl9fR1Lgvzrq36FsUA1PjfTneO5l12gs_JtUfkXMiRNAQ2HCcJ4Q6Vxq_3zahFjcCLSOE8kOq2m9bN3UqNB7uRIxAZkuuz1DCEhDTtI-VCNeGFwV6OwwexJQGGhQ5Ww67s4QDVJC2fPVIXH1rTuO8AA GOOGLE https://maps.google.com/?cid=4177879408947336221 -300 535 Gresham Avenue Southeast, Atlanta https://shop.soworthloving.com/"
      ["tracker_field_googlePlaceData_json"]=>
      object(stdClass)#1743 (19) {
        ["address_components"]=>
        array(9) {
          [0]=>
          object(stdClass)#1734 (3) {
            ["long_name"]=>
            string(3) "535"
            ["short_name"]=>
            string(3) "535"
            ["types"]=>
            array(1) {
              [0]=>
              string(13) "street_number"
            }
          }
          [1]=>
          object(stdClass)#1735 (3) {
            ["long_name"]=>
            string(24) "Gresham Avenue Southeast"
            ["short_name"]=>
            string(14) "Gresham Ave SE"
            ["types"]=>
            array(1) {
              [0]=>
              string(5) "route"
            }
          }
          [2]=>
          object(stdClass)#1736 (3) {
            ["long_name"]=>
            string(12) "East Atlanta"
            ["short_name"]=>
            string(12) "East Atlanta"
            ["types"]=>
            array(2) {
              [0]=>
              string(12) "neighborhood"
              [1]=>
              string(9) "political"
            }
          }
          [3]=>
          object(stdClass)#1737 (3) {
            ["long_name"]=>
            string(7) "Atlanta"
            ["short_name"]=>
            string(7) "Atlanta"
            ["types"]=>
            array(2) {
              [0]=>
              string(8) "locality"
              [1]=>
              string(9) "political"
            }
          }
          [4]=>
          object(stdClass)#1738 (3) {
            ["long_name"]=>
            string(13) "DeKalb County"
            ["short_name"]=>
            string(13) "Dekalb County"
            ["types"]=>
            array(2) {
              [0]=>
              string(27) "administrative_area_level_2"
              [1]=>
              string(9) "political"
            }
          }
          [5]=>
          object(stdClass)#1739 (3) {
            ["long_name"]=>
            string(7) "Georgia"
            ["short_name"]=>
            string(2) "GA"
            ["types"]=>
            array(2) {
              [0]=>
              string(27) "administrative_area_level_1"
              [1]=>
              string(9) "political"
            }
          }
          [6]=>
          object(stdClass)#1740 (3) {
            ["long_name"]=>
            string(13) "United States"
            ["short_name"]=>
            string(2) "US"
            ["types"]=>
            array(2) {
              [0]=>
              string(7) "country"
              [1]=>
              string(9) "political"
            }
          }
          [7]=>
          object(stdClass)#1741 (3) {
            ["long_name"]=>
            string(5) "30316"
            ["short_name"]=>
            string(5) "30316"
            ["types"]=>
            array(1) {
              [0]=>
              string(11) "postal_code"
            }
          }
          [8]=>
          object(stdClass)#1742 (3) {
            ["long_name"]=>
            string(4) "1960"
            ["short_name"]=>
            string(4) "1960"
            ["types"]=>
            array(1) {
              [0]=>
              string(18) "postal_code_suffix"
            }
          }
        }
        ["adr_address"]=>
        string(208) "

535 Gresham Ave SE

, 

Atlanta

, 

GA

 

30316-1960

, 

USA

"
        ["formatted_address"]=>
        string(42) "535 Gresham Ave SE, Atlanta, GA 30316, USA"
        ["geometry"]=>
        object(stdClass)#1745 (2) {
          ["location"]=>
          object(stdClass)#1744 (2) {
            ["lat"]=>
            string(9) "33.739611"
            ["lng"]=>
            string(9) "-84.34605"
          }
          ["viewport"]=>
          object(stdClass)#1747 (2) {
            ["northeast"]=>
            object(stdClass)#1746 (2) {
              ["lat"]=>
              string(15) "33.740958530291"
              ["lng"]=>
              string(16) "-84.344586319708"
            }
            ["southwest"]=>
            object(stdClass)#1748 (2) {
              ["lat"]=>
              string(15) "33.738260569708"
              ["lng"]=>
              string(16) "-84.347284280291"
            }
          }
        }
        ["icon"]=>
        string(65) "https://maps.gstatic.com/mapfiles/place_api/icons/shopping-71.png"
        ["id"]=>
        string(40) "96947458743b92ca746d4e5647ce24438644cb6a"
        ["name"]=>
        string(15) "So Worth Loving"
        ["permanently_closed"]=>
        string(1) "1"
        ["photos"]=>
        array(1) {
          [0]=>
          object(stdClass)#1749 (4) {
            ["height"]=>
            int(315)
            ["html_attributions"]=>
            array(1) {
              [0]=>
              string(90) "Ashlin Yeo"
            }
            ["photo_reference"]=>
            string(190) "CmRaAAAA-4xTxG_Vz9tH46Rvgj5P-h8N_nIki-s2nptaHz8NfNVTIbnUZyVmYu4X2ANhVCbVy0Q90oJRh0OxGT5RbHD-0u2cGGhzUvGhfh6qPuZVbdG6CtuSp5SgS_R2Ty57msYvEhAwjM0uZ-AAGOqC6OMHj9yQGhSnSPkxAOEsNSA2fplT8q0PbVjeHQ"
            ["width"]=>
            int(851)
          }
        }
        ["place_id"]=>
        string(27) "ChIJMWNpgVwB9YgRHZS55C_P-jk"
        ["rating"]=>
        string(1) "5"
        ["reference"]=>
        string(190) "CmRRAAAAOUnB1zu9OGfstREqUvjAD6GMO9cjfZCUl9fR1Lgvzrq36FsUA1PjfTneO5l12gs_JtUfkXMiRNAQ2HCcJ4Q6Vxq_3zahFjcCLSOE8kOq2m9bN3UqNB7uRIxAZkuuz1DCEhDTtI-VCNeGFwV6OwwexJQGGhQ5Ww67s4QDVJC2fPVIXH1rTuO8AA"
        ["reviews"]=>
        array(1) {
          [0]=>
          object(stdClass)#1750 (8) {
            ["author_name"]=>
            string(10) "Jim Greene"
            ["author_url"]=>
            string(65) "https://www.google.com/maps/contrib/102173230609980165126/reviews"
            ["language"]=>
            string(2) "en"
            ["profile_photo_url"]=>
            string(122) "https://lh3.googleusercontent.com/-2V7JViiKC-U/AAAAAAAAAAI/AAAAAAABlCQ/aMaC8DegPaQ/s128-c0x00000000-cc-rp-mo-ba3/photo.jpg"
            ["rating"]=>
            string(1) "5"
            ["relative_time_description"]=>
            string(12) "9 months ago"
            ["text"]=>
            string(0) ""
            ["time"]=>
            int(1495542576)
          }
        }
        ["scope"]=>
        string(6) "GOOGLE"
        ["types"]=>
        array(4) {
          [0]=>
          string(14) "clothing_store"
          [1]=>
          string(5) "store"
          [2]=>
          string(17) "point_of_interest"
          [3]=>
          string(13) "establishment"
        }
        ["url"]=>
        string(48) "https://maps.google.com/?cid=4177879408947336221"
        ["utc_offset"]=>
        string(4) "-300"
        ["vicinity"]=>
        string(37) "535 Gresham Avenue Southeast, Atlanta"
        ["website"]=>
        string(31) "https://shop.soworthloving.com/"
      }
      ["tracker_field_googleOverallRating"]=>
      int(5)
      ["tracker_field_businessYelpBusinessData"]=>
      array(0) {
      }
      ["tracker_field_businessYelpBusinessData_json"]=>
      array(0) {
      }
      ["tracker_field_businessFacebookData"]=>
      array(0) {
      }
      ["tracker_field_businessFacebookData_json"]=>
      array(0) {
      }
      ["tracker_field_businessLoafingID"]=>
      string(24) "573f3cd81e3ee4dfcf65f3e3"
      ["tracker_field_businessAccountExecutive"]=>
      string(1) "0"
      ["tracker_field_businessStatusField"]=>
      string(4) "Done"
      ["tracker_field_businessCLDistributionLocation"]=>
      string(1) "n"
      ["tracker_field_businessAudience"]=>
      array(0) {
      }
      ["tracker_field_businessLegacyID"]=>
      int(17149485)
      ["language"]=>
      string(7) "unknown"
      ["attachments"]=>
      array(0) {
      }
      ["comment_count"]=>
      int(0)
      ["categories"]=>
      array(3) {
        [0]=>
        int(89)
        [1]=>
        int(100)
        [2]=>
        int(149)
      }
      ["deep_categories"]=>
      array(5) {
        [0]=>
        int(28)
        [1]=>
        int(89)
        [2]=>
        int(1)
        [3]=>
        int(149)
        [4]=>
        int(100)
      }
      ["categories_under_28"]=>
      array(1) {
        [0]=>
        int(89)
      }
      ["deep_categories_under_28"]=>
      array(1) {
        [0]=>
        int(89)
      }
      ["categories_under_1"]=>
      array(1) {
        [0]=>
        int(149)
      }
      ["deep_categories_under_1"]=>
      array(2) {
        [0]=>
        int(149)
        [1]=>
        int(100)
      }
      ["categories_under_177"]=>
      array(0) {
      }
      ["deep_categories_under_177"]=>
      array(0) {
      }
      ["categories_under_209"]=>
      array(0) {
      }
      ["deep_categories_under_209"]=>
      array(0) {
      }
      ["categories_under_163"]=>
      array(0) {
      }
      ["deep_categories_under_163"]=>
      array(0) {
      }
      ["categories_under_171"]=>
      array(0) {
      }
      ["deep_categories_under_171"]=>
      array(0) {
      }
      ["categories_under_153"]=>
      array(0) {
      }
      ["deep_categories_under_153"]=>
      array(0) {
      }
      ["categories_under_242"]=>
      array(0) {
      }
      ["deep_categories_under_242"]=>
      array(0) {
      }
      ["categories_under_564"]=>
      array(0) {
      }
      ["deep_categories_under_564"]=>
      array(0) {
      }
      ["freetags"]=>
      array(0) {
      }
      ["geo_located"]=>
      string(1) "y"
      ["geo_location"]=>
      string(40) "-84.34604960000011,33.739611200000255,14"
      ["geo_point"]=>
      object(stdClass)#1751 (2) {
        ["lat"]=>
        float(33.7396112)
        ["lon"]=>
        float(-84.3460496)
      }
      ["allowed_groups"]=>
      array(2) {
        [0]=>
        string(6) "Admins"
        [1]=>
        string(9) "Anonymous"
      }
      ["allowed_users"]=>
      array(0) {
      }
      ["relations"]=>
      array(0) {
      }
      ["relation_objects"]=>
      array(0) {
      }
      ["relation_types"]=>
      array(0) {
      }
      ["relation_count"]=>
      array(0) {
      }
      ["title_initial"]=>
      string(1) "S"
      ["title_firstword"]=>
      string(2) "So"
      ["searchable"]=>
      string(1) "y"
      ["url"]=>
      string(8) "item2430"
      ["object_type"]=>
      string(11) "trackeritem"
      ["object_id"]=>
      string(4) "2430"
      ["contents"]=>
      string(521) "    So Worth Loving 535 Gresham Ave.  Atlanta GA 30316 https://shop.soworthloving.com/   null  -84.34604960000011,33.739611200000255,14   Everyone is worthy of love, no matter who they are or how they live their life. So Worth Loving, which began as a blog, specializes in clothing that reminds wearers and passersby that they deserve love, they have value, and they are worth fighting for.               n  ChIJMWNpgVwB9YgRHZS55C_P-jk    573f3cd81e3ee4dfcf65f3e3       Done  n  2017-06-26T13:07:15+00:00 So Worth Loving "
      ["score"]=>
      float(0)
      ["_index"]=>
      string(21) "atlantawiki_tiki_main"
      ["objectlink"]=>
      string(290) "So Worth Loving"
      ["image"]=>
      string(39) "

File not found.

"
      ["areaLocation"]=>
      string(34) "-84.3503813,33.7391182,15"
    }
    [29]=>
    array(93) {
      ["title"]=>
      string(13) "Kaboodle Home"
      ["modification_date"]=>
      string(25) "2018-03-08T16:32:41+00:00"
      ["creation_date"]=>
      string(25) "2017-07-16T16:20:45+00:00"
      ["contributors"]=>
      array(1) {
        [0]=>
        string(29) "ben.eason@creativeloafing.com"
      }
      ["date"]=>
      string(25) "2017-07-16T16:20:45+00:00"
      ["tracker_status"]=>
      string(1) "o"
      ["tracker_id"]=>
      string(1) "1"
      ["view_permission"]=>
      string(13) "view_trackers"
      ["tracker_field_businessName"]=>
      string(13) "Kaboodle Home"
      ["tracker_field_businessAddress"]=>
      string(25) "485 Flat Shoals Ave. S.E."
      ["tracker_field_businessAddress2"]=>
      string(7) "Suite B"
      ["tracker_field_businessCity"]=>
      string(7) "Atlanta"
      ["tracker_field_businessState"]=>
      string(2) "GA"
      ["tracker_field_businessZip"]=>
      string(5) "30316"
      ["tracker_field_businessWebsite"]=>
      string(27) "http://kaboodleatlanta.com/"
      ["tracker_field_businessPhone"]=>
      string(14) "(404) 522-3006"
      ["tracker_field_businessRepresentative"]=>
      array(0) {
      }
      ["tracker_field_businessLocationRadius"]=>
      int(0)
      ["tracker_field_description"]=>
      string(159) "Here you'll find hip, high-quality furniture and home accessories in an attractive setting — with prices a notch below the norm. (Formerly known as Traders.)"
      ["tracker_field_description_raw"]=>
      string(159) "Here you'll find hip, high-quality furniture and home accessories in an attractive setting — with prices a notch below the norm. (Formerly known as Traders.)"
      ["tracker_field_businessClassifieds"]=>
      array(0) {
      }
      ["tracker_field_businessTypes"]=>
      array(1) {
        [0]=>
        string(2) "89"
      }
      ["tracker_field_businessTypes_text"]=>
      string(2) "89"
      ["tracker_field_scene"]=>
      array(0) {
      }
      ["tracker_field_businessNeighborhoods"]=>
      array(2) {
        [0]=>
        string(3) "100"
        [1]=>
        string(3) "149"
      }
      ["tracker_field_businessNeighborhoods_text"]=>
      string(7) "100 149"
      ["tracker_field_businessPriceRange"]=>
      array(0) {
      }
      ["tracker_field_businessMiscCategories"]=>
      array(0) {
      }
      ["tracker_field_businessCLAcctNum"]=>
      int(0)
      ["tracker_field_business_121CurrentChit"]=>
      string(1) "n"
      ["tracker_field_121MobileClientID"]=>
      int(0)
      ["tracker_field_121MobileCampaignData"]=>
      array(0) {
      }
      ["tracker_field_121MobileCampaignData_json"]=>
      array(0) {
      }
      ["tracker_field_google_placeid"]=>
      string(27) "ChIJ2wU6dlsB9YgRNJYQbiGwPBU"
      ["tracker_field_googlePlaceData"]=>
      array(15) {
        [0]=>
        string(214) "

485 Flat Shoals Ave SE B

, 

Atlanta

, 

GA

 

30316-1913

, 

USA

"
        [1]=>
        string(48) "485 Flat Shoals Ave SE B, Atlanta, GA 30316, USA"
        [2]=>
        string(14) "(404) 522-3006"
        [3]=>
        string(65) "https://maps.gstatic.com/mapfiles/place_api/icons/shopping-71.png"
        [4]=>
        string(40) "7e21d766c75da77d8c49c8ab90e8351796bb4389"
        [5]=>
        string(15) "+1 404-522-3006"
        [6]=>
        string(8) "Kaboodle"
        [7]=>
        string(27) "ChIJ2wU6dlsB9YgRNJYQbiGwPBU"
        [8]=>
        string(3) "4.5"
        [9]=>
        string(190) "CmRRAAAANWmFt_DCGh1x5toc0C2TmWmmfArkfpMKNgHg8OK5n6D7EHFwqImxvqV45M1RSncF3RlwDqu_n57-esuHznRQUL8dh-XYchKKwoflU197lcHAU__Ul9SVmF2l4RHwOdrhEhC5vt9ak8c5dZdQpacgQthzGhQm0Md1x9GUrn27TvroFKW51MWfQQ"
        [10]=>
        string(6) "GOOGLE"
        [11]=>
        string(48) "https://maps.google.com/?cid=1530291631026116148"
        [12]=>
        string(4) "-300"
        [13]=>
        string(43) "485 Flat Shoals Avenue Southeast B, Atlanta"
        [14]=>
        string(27) "http://kaboodleatlanta.com/"
      }
      ["tracker_field_googlePlaceData_text"]=>
      string(605) "485 Flat Shoals Ave SE B, Atlanta, GA 30316-1913, USA 485 Flat Shoals Ave SE B, Atlanta, GA 30316, USA (404) 522-3006 https://maps.gstatic.com/mapfiles/place_api/icons/shopping-71.png 7e21d766c75da77d8c49c8ab90e8351796bb4389 +1 404-522-3006 Kaboodle ChIJ2wU6dlsB9YgRNJYQbiGwPBU 4.5 CmRRAAAANWmFt_DCGh1x5toc0C2TmWmmfArkfpMKNgHg8OK5n6D7EHFwqImxvqV45M1RSncF3RlwDqu_n57-esuHznRQUL8dh-XYchKKwoflU197lcHAU__Ul9SVmF2l4RHwOdrhEhC5vt9ak8c5dZdQpacgQthzGhQm0Md1x9GUrn27TvroFKW51MWfQQ GOOGLE https://maps.google.com/?cid=1530291631026116148 -300 485 Flat Shoals Avenue Southeast B, Atlanta http://kaboodleatlanta.com/"
      ["tracker_field_googlePlaceData_json"]=>
      object(stdClass)#1764 (21) {
        ["address_components"]=>
        array(10) {
          [0]=>
          object(stdClass)#1754 (3) {
            ["long_name"]=>
            string(1) "B"
            ["short_name"]=>
            string(1) "B"
            ["types"]=>
            array(1) {
              [0]=>
              string(10) "subpremise"
            }
          }
          [1]=>
          object(stdClass)#1755 (3) {
            ["long_name"]=>
            string(3) "485"
            ["short_name"]=>
            string(3) "485"
            ["types"]=>
            array(1) {
              [0]=>
              string(13) "street_number"
            }
          }
          [2]=>
          object(stdClass)#1756 (3) {
            ["long_name"]=>
            string(28) "Flat Shoals Avenue Southeast"
            ["short_name"]=>
            string(18) "Flat Shoals Ave SE"
            ["types"]=>
            array(1) {
              [0]=>
              string(5) "route"
            }
          }
          [3]=>
          object(stdClass)#1757 (3) {
            ["long_name"]=>
            string(12) "East Atlanta"
            ["short_name"]=>
            string(12) "East Atlanta"
            ["types"]=>
            array(2) {
              [0]=>
              string(12) "neighborhood"
              [1]=>
              string(9) "political"
            }
          }
          [4]=>
          object(stdClass)#1758 (3) {
            ["long_name"]=>
            string(7) "Atlanta"
            ["short_name"]=>
            string(7) "Atlanta"
            ["types"]=>
            array(2) {
              [0]=>
              string(8) "locality"
              [1]=>
              string(9) "political"
            }
          }
          [5]=>
          object(stdClass)#1759 (3) {
            ["long_name"]=>
            string(13) "DeKalb County"
            ["short_name"]=>
            string(13) "Dekalb County"
            ["types"]=>
            array(2) {
              [0]=>
              string(27) "administrative_area_level_2"
              [1]=>
              string(9) "political"
            }
          }
          [6]=>
          object(stdClass)#1760 (3) {
            ["long_name"]=>
            string(7) "Georgia"
            ["short_name"]=>
            string(2) "GA"
            ["types"]=>
            array(2) {
              [0]=>
              string(27) "administrative_area_level_1"
              [1]=>
              string(9) "political"
            }
          }
          [7]=>
          object(stdClass)#1761 (3) {
            ["long_name"]=>
            string(13) "United States"
            ["short_name"]=>
            string(2) "US"
            ["types"]=>
            array(2) {
              [0]=>
              string(7) "country"
              [1]=>
              string(9) "political"
            }
          }
          [8]=>
          object(stdClass)#1762 (3) {
            ["long_name"]=>
            string(5) "30316"
            ["short_name"]=>
            string(5) "30316"
            ["types"]=>
            array(1) {
              [0]=>
              string(11) "postal_code"
            }
          }
          [9]=>
          object(stdClass)#1763 (3) {
            ["long_name"]=>
            string(4) "1913"
            ["short_name"]=>
            string(4) "1913"
            ["types"]=>
            array(1) {
              [0]=>
              string(18) "postal_code_suffix"
            }
          }
        }
        ["adr_address"]=>
        string(214) "

485 Flat Shoals Ave SE B

, 

Atlanta

, 

GA

 

30316-1913

, 

USA

"
        ["formatted_address"]=>
        string(48) "485 Flat Shoals Ave SE B, Atlanta, GA 30316, USA"
        ["formatted_phone_number"]=>
        string(14) "(404) 522-3006"
        ["geometry"]=>
        object(stdClass)#1766 (2) {
          ["location"]=>
          object(stdClass)#1765 (2) {
            ["lat"]=>
            string(10) "33.7408605"
            ["lng"]=>
            string(11) "-84.3463855"
          }
          ["viewport"]=>
          object(stdClass)#1768 (2) {
            ["northeast"]=>
            object(stdClass)#1767 (2) {
              ["lat"]=>
              string(15) "33.742246180292"
              ["lng"]=>
              string(16) "-84.344989369708"
            }
            ["southwest"]=>
            object(stdClass)#1769 (2) {
              ["lat"]=>
              string(15) "33.739548219709"
              ["lng"]=>
              string(16) "-84.347687330292"
            }
          }
        }
        ["icon"]=>
        string(65) "https://maps.gstatic.com/mapfiles/place_api/icons/shopping-71.png"
        ["id"]=>
        string(40) "7e21d766c75da77d8c49c8ab90e8351796bb4389"
        ["international_phone_number"]=>
        string(15) "+1 404-522-3006"
        ["name"]=>
        string(8) "Kaboodle"
        ["opening_hours"]=>
        object(stdClass)#1770 (3) {
          ["open_now"]=>
          string(1) "1"
          ["periods"]=>
          array(6) {
            [0]=>
            object(stdClass)#1772 (2) {
              ["close"]=>
              object(stdClass)#1771 (2) {
                ["day"]=>
                int(0)
                ["time"]=>
                string(4) "1800"
              }
              ["open"]=>
              object(stdClass)#1773 (2) {
                ["day"]=>
                int(0)
                ["time"]=>
                string(4) "0000"
              }
            }
            [1]=>
            object(stdClass)#1775 (2) {
              ["close"]=>
              object(stdClass)#1774 (2) {
                ["day"]=>
                string(1) "2"
                ["time"]=>
                string(4) "2100"
              }
              ["open"]=>
              object(stdClass)#1776 (2) {
                ["day"]=>
                string(1) "2"
                ["time"]=>
                string(4) "1200"
              }
            }
            [2]=>
            object(stdClass)#1778 (2) {
              ["close"]=>
              object(stdClass)#1777 (2) {
                ["day"]=>
                string(1) "3"
                ["time"]=>
                string(4) "2100"
              }
              ["open"]=>
              object(stdClass)#1779 (2) {
                ["day"]=>
                string(1) "3"
                ["time"]=>
                string(4) "1200"
              }
            }
            [3]=>
            object(stdClass)#1781 (2) {
              ["close"]=>
              object(stdClass)#1780 (2) {
                ["day"]=>
                string(1) "4"
                ["time"]=>
                string(4) "2100"
              }
              ["open"]=>
              object(stdClass)#1782 (2) {
                ["day"]=>
                string(1) "4"
                ["time"]=>
                string(4) "1200"
              }
            }
            [4]=>
            object(stdClass)#1784 (2) {
              ["close"]=>
              object(stdClass)#1783 (2) {
                ["day"]=>
                string(1) "5"
                ["time"]=>
                string(4) "2100"
              }
              ["open"]=>
              object(stdClass)#1785 (2) {
                ["day"]=>
                string(1) "5"
                ["time"]=>
                string(4) "1200"
              }
            }
            [5]=>
            object(stdClass)#1787 (2) {
              ["close"]=>
              object(stdClass)#1786 (2) {
                ["day"]=>
                string(1) "6"
                ["time"]=>
                string(4) "2100"
              }
              ["open"]=>
              object(stdClass)#1788 (2) {
                ["day"]=>
                string(1) "6"
                ["time"]=>
                string(4) "1100"
              }
            }
          }
          ["weekday_text"]=>
          array(7) {
            [0]=>
            string(14) "Monday: Closed"
            [1]=>
            string(26) "Tuesday: 12:00 – 9:00 PM"
            [2]=>
            string(28) "Wednesday: 12:00 – 9:00 PM"
            [3]=>
            string(27) "Thursday: 12:00 – 9:00 PM"
            [4]=>
            string(25) "Friday: 12:00 – 9:00 PM"
            [5]=>
            string(30) "Saturday: 11:00 AM – 9:00 PM"
            [6]=>
            string(28) "Sunday: 12:00 AM – 6:00 PM"
          }
        }
        ["photos"]=>
        array(10) {
          [0]=>
          object(stdClass)#1789 (4) {
            ["height"]=>
            int(1152)
            ["html_attributions"]=>
            array(1) {
              [0]=>
              string(88) "Kaboodle"
            }
            ["photo_reference"]=>
            string(190) "CmRaAAAA9LSXQ3aQtnLNWpF5AhS8vnE9hsFCn33I6magrByDI8I2muPDx-ZELfLCeDWuWEjeqfFlMBPirA-54LQE89HXzfU0MvJexc3YLCEsa91fVNocKfjNCMeO700096nR55ufEhDMjd136Hx5ZzzDpx3kDQudGhRs-KaN4d-SJNZ3ksT2YL6gR6OKvg"
            ["width"]=>
            int(2048)
          }
          [1]=>
          object(stdClass)#1790 (4) {
            ["height"]=>
            int(3024)
            ["html_attributions"]=>
            array(1) {
              [0]=>
              string(90) "Phil Astin"
            }
            ["photo_reference"]=>
            string(190) "CmRaAAAAnQP47bZCX_mT5Rd6dKZUoAGDfvhDC7Z5CoQQqTFE4_RUhJb82-7P3yBMMCAPrrogaH4lqTnDFbE2dvQSJOHq7cWGd_aR1zQk8QHIr0hSIZuMutMK6ipKN2MrC0JwhrT5EhDH6wgDKDlaucWjwuQ7SHc2GhSfGrtATbYg-XT53DoyqqmOsYQPfw"
            ["width"]=>
            int(4032)
          }
          [2]=>
          object(stdClass)#1791 (4) {
            ["height"]=>
            int(2340)
            ["html_attributions"]=>
            array(1) {
              [0]=>
              string(88) "Kaboodle"
            }
            ["photo_reference"]=>
            string(190) "CmRaAAAANSE7LXvZZXopx3A8rSOIRiYsysqRuc08wpHl2orFZLNfrwYgzd_JA__m0eM0XjAYGpnWZ3zDL6r1qgRaoBwpDrV8maDlFahkve7Qa1aaaLKMhby32tQ0JGY205QmYTaBEhBrpH6nStJP6MQAbuRO8iN1GhTR6yHMQy5Htv-bkfVm9MrZeWrKyg"
            ["width"]=>
            int(4160)
          }
          [3]=>
          object(stdClass)#1792 (4) {
            ["height"]=>
            int(3120)
            ["html_attributions"]=>
            array(1) {
              [0]=>
              string(96) "Kathleen B Grier"
            }
            ["photo_reference"]=>
            string(190) "CmRaAAAAF8rCg39mp6MUsqQ-8Ju7DXnzExLaVAFh5u85vUfAfRJrSu_B0mtS_saG3Hw0wMC4u3gUOSB59edQ5o1nEcc9ZbepMXtPG9HnZHTp-26U-sgwFCgDBLDajK5UZZ7T4BqaEhApyIaXbDJE5R5or_msCHG1GhQdyChxMFPB61uD_fipJs7UZkjuxA"
            ["width"]=>
            int(4160)
          }
          [4]=>
          object(stdClass)#1793 (4) {
            ["height"]=>
            int(2340)
            ["html_attributions"]=>
            array(1) {
              [0]=>
              string(88) "Kaboodle"
            }
            ["photo_reference"]=>
            string(190) "CmRaAAAAL0DKVcLHAVuK0VikOwmjRCHd3gMmC7ai1c_1z7ew9h2zHLOWvhcq4bV7oAnU39GfV8xHY83JpH6Bl1WQ-V4Ew6CmTgiFd1vRsowlX_xUhUPnygrfWTHC6dikHWUNfVymEhD4Nryua04NlTxVYUrs1UeKGhQvSj-7bWAE_5JnXQ4SjyigGSK2VQ"
            ["width"]=>
            int(4160)
          }
          [5]=>
          object(stdClass)#1794 (4) {
            ["height"]=>
            int(2304)
            ["html_attributions"]=>
            array(1) {
              [0]=>
              string(88) "Kaboodle"
            }
            ["photo_reference"]=>
            string(190) "CmRaAAAAp2k167RT04xg_eIRJxYql93HBKTidbO8xH9pSABzXWKeC3zgAn-CzUwkXwyCHzeUNusPQSpOkMvKjZd7uVfqYwxc4noNzCHtZfb1gXbA4mhOdufGVmqnVls3QzGrpv_UEhD0gSi4soxRJZcco9P3k78YGhTXaRV96AEKohBb8yXgA2TmcGN8Kw"
            ["width"]=>
            int(2304)
          }
          [6]=>
          object(stdClass)#1795 (4) {
            ["height"]=>
            int(4032)
            ["html_attributions"]=>
            array(1) {
              [0]=>
              string(90) "Phil Astin"
            }
            ["photo_reference"]=>
            string(190) "CmRaAAAA59pBWr7TcGEk2viCbju1Rwgaf_8x82cKVHbf4wFqXuEG3AcZgih0sME9jnHZbMjTGUrUZ0JHkjNeDRL_r2AC6w8KTZSU_r2en5YDupHR7s6Ilj7LfHtv0vs_hxC6nULtEhCsG7O_bN45O59S3gXYVScNGhQx0pNIUbUxiYghffWT_gKYPI4jPA"
            ["width"]=>
            int(3024)
          }
          [7]=>
          object(stdClass)#1796 (4) {
            ["height"]=>
            int(4160)
            ["html_attributions"]=>
            array(1) {
              [0]=>
              string(93) "April Johnson"
            }
            ["photo_reference"]=>
            string(190) "CmRaAAAAe5k10b0NvsEYHCyPrWZNMuFaCD09qa9Tk10oiwbq2XqisQYIuPTMXr7lUXu4PDIzb-LrYpWbUGP7qbKXuLOszSY0NICix-WxLaOj7UJs8dUp4pCj8CECo8mrmlU9bxdPEhD6p4c0mYKZH190dtusQnQmGhS3GIZSl7MZkXDhXDegRRvdI86SeQ"
            ["width"]=>
            int(2340)
          }
          [8]=>
          object(stdClass)#1797 (4) {
            ["height"]=>
            int(4032)
            ["html_attributions"]=>
            array(1) {
              [0]=>
              string(90) "Phil Astin"
            }
            ["photo_reference"]=>
            string(190) "CmRaAAAAxu5cMMqlRFQ9Fjnpy1KuYeu4HtXsMfzmetEzyL5WfFyEkJnw1hrlxMZKZCz0etNCW8qyvqcDcsSiFzfDjPtecNSDJAohOPTLxgoJe3SNhTVQeDcw4ipiFgDncwXKboAwEhDVUsDVLHZcz5G2m5MYvYPAGhTLoXIwyySlZhSCZciZxm2ejWPOjg"
            ["width"]=>
            int(3024)
          }
          [9]=>
          object(stdClass)#1798 (4) {
            ["height"]=>
            int(4160)
            ["html_attributions"]=>
            array(1) {
              [0]=>
              string(96) "Kathleen B Grier"
            }
            ["photo_reference"]=>
            string(190) "CmRaAAAAYOSZqGGT9flHwF8Z6VrfADfv0RZW1qdeD-4PYWCgKSx-d1qlvmiuGNWHTe-MkMndQrcbTogFyhfKBCzzFXI9FHVVH1_WLmoLuCRlYMPBw-nqLzmJaTKDxQ0KzNW0oCPiEhAQi47b7YSGh5jRLtcTAl4-GhQPstk2HVmyDXsgRcIMubpxei9RbQ"
            ["width"]=>
            int(3120)
          }
        }
        ["place_id"]=>
        string(27) "ChIJ2wU6dlsB9YgRNJYQbiGwPBU"
        ["rating"]=>
        string(3) "4.5"
        ["reference"]=>
        string(190) "CmRRAAAANWmFt_DCGh1x5toc0C2TmWmmfArkfpMKNgHg8OK5n6D7EHFwqImxvqV45M1RSncF3RlwDqu_n57-esuHznRQUL8dh-XYchKKwoflU197lcHAU__Ul9SVmF2l4RHwOdrhEhC5vt9ak8c5dZdQpacgQthzGhQm0Md1x9GUrn27TvroFKW51MWfQQ"
        ["reviews"]=>
        array(5) {
          [0]=>
          object(stdClass)#1799 (8) {
            ["author_name"]=>
            string(13) "April Johnson"
            ["author_url"]=>
            string(65) "https://www.google.com/maps/contrib/112124952133254871582/reviews"
            ["language"]=>
            string(2) "en"
            ["profile_photo_url"]=>
            string(145) "https://lh4.googleusercontent.com/-btesi_dnG2w/AAAAAAAAAAI/AAAAAAAAAAA/ACSILjUJHpjKk4rUK_-HKPN7HH2zmpbSNw/s128-c0x00000000-cc-rp-mo-ba3/photo.jpg"
            ["rating"]=>
            string(1) "4"
            ["relative_time_description"]=>
            string(11) "2 weeks ago"
            ["text"]=>
            string(242) "I love Kaboodle! It's a very eclectic boutique of art and funiture consignment with a mix of old and new, urban and traditional finds.There's artwork from local artists and woodworks from the owners themselves who are just great. I love them!"
            ["time"]=>
            int(1517969072)
          }
          [1]=>
          object(stdClass)#1800 (8) {
            ["author_name"]=>
            string(12) "Quantee John"
            ["author_url"]=>
            string(65) "https://www.google.com/maps/contrib/103505067536388157178/reviews"
            ["language"]=>
            string(2) "en"
            ["profile_photo_url"]=>
            string(141) "https://lh6.googleusercontent.com/-Lk8uheaEkAU/AAAAAAAAAAI/AAAAAAAAAAA/ACSILjVGRVNNao899ixshpGKEChoAkUIzQ/s128-c0x00000000-cc-rp-mo/photo.jpg"
            ["rating"]=>
            string(1) "5"
            ["relative_time_description"]=>
            string(12) "3 months ago"
            ["text"]=>
            string(54) "Very awesome customer service...very vintage very sexy"
            ["time"]=>
            int(1509674625)
          }
          [2]=>
          object(stdClass)#1801 (8) {
            ["author_name"]=>
            string(14) "Lanie Weathers"
            ["author_url"]=>
            string(65) "https://www.google.com/maps/contrib/107281069790519684993/reviews"
            ["language"]=>
            string(2) "en"
            ["profile_photo_url"]=>
            string(122) "https://lh3.googleusercontent.com/-p1XBBIZLpu4/AAAAAAAAAAI/AAAAAAAAANQ/e7O-39hQI7M/s128-c0x00000000-cc-rp-mo-ba5/photo.jpg"
            ["rating"]=>
            string(1) "5"
            ["relative_time_description"]=>
            string(13) "10 months ago"
            ["text"]=>
            string(144) "Perfect place to find interesting items for your home.  Multiple artist. Customizable furniture. You could easily find a gift for a friend here."
            ["time"]=>
            int(1491057616)
          }
          [3]=>
          object(stdClass)#1802 (8) {
            ["author_name"]=>
            string(15) "Dustin Mimnaugh"
            ["author_url"]=>
            string(65) "https://www.google.com/maps/contrib/114453695360015822855/reviews"
            ["language"]=>
            string(2) "en"
            ["profile_photo_url"]=>
            string(122) "https://lh3.googleusercontent.com/-pKhWWp9cLMo/AAAAAAAAAAI/AAAAAAAAAUM/o0wyJHa857E/s128-c0x00000000-cc-rp-mo-ba3/photo.jpg"
            ["rating"]=>
            string(1) "4"
            ["relative_time_description"]=>
            string(10) "a year ago"
            ["text"]=>
            string(202) "There were lots of pieces that wore more oriented towards young professionals (read...hipsters). Some items were very nice but not necessarily for everyone's taste. Eclectic would be the operative word."
            ["time"]=>
            int(1482194911)
          }
          [4]=>
          object(stdClass)#1803 (8) {
            ["author_name"]=>
            string(14) "Connie Johnson"
            ["author_url"]=>
            string(65) "https://www.google.com/maps/contrib/110400020705225322538/reviews"
            ["language"]=>
            string(2) "en"
            ["profile_photo_url"]=>
            string(118) "https://lh6.googleusercontent.com/-LNDZtFpzWEI/AAAAAAAAAAI/AAAAAAAAC-E/DxchoUZ9Sfc/s128-c0x00000000-cc-rp-mo/photo.jpg"
            ["rating"]=>
            string(1) "5"
            ["relative_time_description"]=>
            string(10) "a year ago"
            ["text"]=>
            string(223) "They have many wonderful items here for your home. Candles, French Country, Shabby Chic! All kinds of unique items! Perfect Gifts and more. Stop in and take a look around...you won't be disappointed. Something for everyone!"
            ["time"]=>
            int(1458309288)
          }
        }
        ["scope"]=>
        string(6) "GOOGLE"
        ["types"]=>
        array(5) {
          [0]=>
          string(15) "furniture_store"
          [1]=>
          string(16) "home_goods_store"
          [2]=>
          string(5) "store"
          [3]=>
          string(17) "point_of_interest"
          [4]=>
          string(13) "establishment"
        }
        ["url"]=>
        string(48) "https://maps.google.com/?cid=1530291631026116148"
        ["utc_offset"]=>
        string(4) "-300"
        ["vicinity"]=>
        string(43) "485 Flat Shoals Avenue Southeast B, Atlanta"
        ["website"]=>
        string(27) "http://kaboodleatlanta.com/"
      }
      ["tracker_field_googleOverallRating"]=>
      float(4.4)
      ["tracker_field_businessYelpBusinessData"]=>
      array(0) {
      }
      ["tracker_field_businessYelpBusinessData_json"]=>
      array(0) {
      }
      ["tracker_field_businessFacebook"]=>
      string(13) "Kaboodle Home"
      ["tracker_field_businessFacebookID"]=>
      string(15) "139903000000000"
      ["tracker_field_businessFacebookData"]=>
      array(0) {
      }
      ["tracker_field_businessFacebookData_json"]=>
      array(0) {
      }
      ["tracker_field_businessLoafingID"]=>
      string(24) "573f3d5b1e3ee4dfcf6612c2"
      ["tracker_field_businessAccountExecutive"]=>
      string(1) "0"
      ["tracker_field_businessStatusField"]=>
      string(20) "Multiple Differences"
      ["tracker_field_businessCLDistributionLocation"]=>
      string(1) "n"
      ["tracker_field_businessAudience"]=>
      array(0) {
      }
      ["tracker_field_businessLegacyID"]=>
      int(1295562)
      ["language"]=>
      string(7) "unknown"
      ["attachments"]=>
      array(0) {
      }
      ["comment_count"]=>
      int(0)
      ["categories"]=>
      array(2) {
        [0]=>
        int(89)
        [1]=>
        int(100)
      }
      ["deep_categories"]=>
      array(5) {
        [0]=>
        int(28)
        [1]=>
        int(89)
        [2]=>
        int(1)
        [3]=>
        int(149)
        [4]=>
        int(100)
      }
      ["categories_under_28"]=>
      array(1) {
        [0]=>
        int(89)
      }
      ["deep_categories_under_28"]=>
      array(1) {
        [0]=>
        int(89)
      }
      ["categories_under_1"]=>
      array(0) {
      }
      ["deep_categories_under_1"]=>
      array(2) {
        [0]=>
        int(149)
        [1]=>
        int(100)
      }
      ["categories_under_177"]=>
      array(0) {
      }
      ["deep_categories_under_177"]=>
      array(0) {
      }
      ["categories_under_209"]=>
      array(0) {
      }
      ["deep_categories_under_209"]=>
      array(0) {
      }
      ["categories_under_163"]=>
      array(0) {
      }
      ["deep_categories_under_163"]=>
      array(0) {
      }
      ["categories_under_171"]=>
      array(0) {
      }
      ["deep_categories_under_171"]=>
      array(0) {
      }
      ["categories_under_153"]=>
      array(0) {
      }
      ["deep_categories_under_153"]=>
      array(0) {
      }
      ["categories_under_242"]=>
      array(0) {
      }
      ["deep_categories_under_242"]=>
      array(0) {
      }
      ["categories_under_564"]=>
      array(0) {
      }
      ["deep_categories_under_564"]=>
      array(0) {
      }
      ["freetags"]=>
      array(0) {
      }
      ["geo_located"]=>
      string(1) "n"
      ["allowed_groups"]=>
      array(2) {
        [0]=>
        string(6) "Admins"
        [1]=>
        string(9) "Anonymous"
      }
      ["allowed_users"]=>
      array(0) {
      }
      ["relations"]=>
      array(0) {
      }
      ["relation_objects"]=>
      array(0) {
      }
      ["relation_types"]=>
      array(0) {
      }
      ["relation_count"]=>
      array(0) {
      }
      ["title_initial"]=>
      string(1) "K"
      ["title_firstword"]=>
      string(8) "Kaboodle"
      ["searchable"]=>
      string(1) "y"
      ["url"]=>
      string(8) "item4839"
      ["object_type"]=>
      string(11) "trackeritem"
      ["object_id"]=>
      string(4) "4839"
      ["contents"]=>
      string(450) "    Kaboodle Home 485 Flat Shoals Ave. S.E. Suite B Atlanta GA 30316 http://kaboodleatlanta.com/   (404) 522-3006     Here you'll find hip, high-quality furniture and home accessories in an attractive setting — with prices a notch below the norm. (Formerly known as Traders.)               n  ChIJ2wU6dlsB9YgRNJYQbiGwPBU  Kaboodle Home 139903000000000 573f3d5b1e3ee4dfcf6612c2       Multiple Differences  n  2017-07-16T16:20:45+00:00 Kaboodle Home "
      ["score"]=>
      float(0)
      ["_index"]=>
      string(21) "atlantawiki_tiki_main"
      ["objectlink"]=>
      string(191) "Kaboodle Home"
      ["image"]=>
      string(39) "

File not found.

"
      ["areaLocation"]=>
      string(34) "-84.3503813,33.7391182,15"
    }
    [30]=>
    array(95) {
      ["title"]=>
      string(25) "Ross Unlimited Big & Tall"
      ["modification_date"]=>
      string(25) "2019-04-27T13:55:34+00:00"
      ["creation_date"]=>
      string(25) "2017-06-26T22:34:43+00:00"
      ["contributors"]=>
      array(2) {
        [0]=>
        NULL
        [1]=>
        string(18) "jonny@nospaces.net"
      }
      ["date"]=>
      string(25) "2017-06-26T22:34:43+00:00"
      ["tracker_status"]=>
      string(1) "o"
      ["tracker_id"]=>
      string(1) "1"
      ["view_permission"]=>
      string(13) "view_trackers"
      ["tracker_field_businessName"]=>
      string(25) "Ross Unlimited Big & Tall"
      ["tracker_field_businessAddress"]=>
      string(20) "366 Flat Shoals Ave."
      ["tracker_field_businessCity"]=>
      string(7) "Atlanta"
      ["tracker_field_businessState"]=>
      string(2) "GA"
      ["tracker_field_businessZip"]=>
      string(5) "30316"
      ["tracker_field_businessWebsite"]=>
      string(65) "http://www.mensbigandtallclothing.com/Georgia_szm.html?p_catid=46"
      ["tracker_field_businessPhone"]=>
      string(14) "(404) 522-6622"
      ["tracker_field_businessRepresentative"]=>
      array(0) {
      }
      ["tracker_field_businessLocation"]=>
      string(39) "-84.34861679999989,33.74386659999982,16"
      ["tracker_field_businessLocationRadius"]=>
      int(0)
      ["tracker_field_description"]=>
      string(20) "Men's clothing store"
      ["tracker_field_description_raw"]=>
      string(20) "Men's clothing store"
      ["tracker_field_businessClassifieds"]=>
      array(0) {
      }
      ["tracker_field_businessTypes"]=>
      array(1) {
        [0]=>
        string(2) "89"
      }
      ["tracker_field_businessTypes_text"]=>
      string(2) "89"
      ["tracker_field_scene"]=>
      array(0) {
      }
      ["tracker_field_businessNeighborhoods"]=>
      array(2) {
        [0]=>
        string(3) "100"
        [1]=>
        string(3) "149"
      }
      ["tracker_field_businessNeighborhoods_text"]=>
      string(7) "100 149"
      ["tracker_field_businessPriceRange"]=>
      array(0) {
      }
      ["tracker_field_businessMiscCategories"]=>
      array(0) {
      }
      ["tracker_field_businessCLAcctNum"]=>
      int(0)
      ["tracker_field_business_121CurrentChit"]=>
      string(1) "n"
      ["tracker_field_121MobileClientID"]=>
      int(0)
      ["tracker_field_121MobileCampaignData"]=>
      array(0) {
      }
      ["tracker_field_121MobileCampaignData_json"]=>
      array(0) {
      }
      ["tracker_field_google_placeid"]=>
      string(27) "ChIJCci5IFoB9YgR4trpADfVvHQ"
      ["tracker_field_googlePlaceData"]=>
      array(15) {
        [0]=>
        string(212) "

366 Flat Shoals Ave SE

, 

Atlanta

, 

GA

 

30316-1916

, 

USA

"
        [1]=>
        string(46) "366 Flat Shoals Ave SE, Atlanta, GA 30316, USA"
        [2]=>
        string(14) "(404) 522-6622"
        [3]=>
        string(65) "https://maps.gstatic.com/mapfiles/place_api/icons/shopping-71.png"
        [4]=>
        string(40) "1cc5287f8be77446f1f472f9f7b1cbe3180774ab"
        [5]=>
        string(15) "+1 404-522-6622"
        [6]=>
        string(25) "Ross Unlimited Big & Tall"
        [7]=>
        string(27) "ChIJCci5IFoB9YgR4trpADfVvHQ"
        [8]=>
        string(3) "3.8"
        [9]=>
        string(190) "CmRRAAAAwu2XN8BlQoqYjUHbnvmnrZPrvH7rjMGmkuJRZYbqhkeGqs2QiA-PjHUE88AGehVQxyhcPoFfHMNQ5Ks517IJtM00Pgx1Lvm-v1Qzw9vRfKmQlk2TXtqyolpT1Z3svZIhEhCfMbeYFr-hHKv8mjWyWmHuGhQEcNieKYXEWq332vgBwoBu6tXmPg"
        [10]=>
        string(6) "GOOGLE"
        [11]=>
        string(48) "https://maps.google.com/?cid=8411832636236487394"
        [12]=>
        string(4) "-300"
        [13]=>
        string(41) "366 Flat Shoals Avenue Southeast, Atlanta"
        [14]=>
        string(65) "http://www.mensbigandtallclothing.com/Georgia_szm.html?p_catid=46"
      }
      ["tracker_field_googlePlaceData_text"]=>
      string(654) "366 Flat Shoals Ave SE, Atlanta, GA 30316-1916, USA 366 Flat Shoals Ave SE, Atlanta, GA 30316, USA (404) 522-6622 https://maps.gstatic.com/mapfiles/place_api/icons/shopping-71.png 1cc5287f8be77446f1f472f9f7b1cbe3180774ab +1 404-522-6622 Ross Unlimited Big & Tall ChIJCci5IFoB9YgR4trpADfVvHQ 3.8 CmRRAAAAwu2XN8BlQoqYjUHbnvmnrZPrvH7rjMGmkuJRZYbqhkeGqs2QiA-PjHUE88AGehVQxyhcPoFfHMNQ5Ks517IJtM00Pgx1Lvm-v1Qzw9vRfKmQlk2TXtqyolpT1Z3svZIhEhCfMbeYFr-hHKv8mjWyWmHuGhQEcNieKYXEWq332vgBwoBu6tXmPg GOOGLE https://maps.google.com/?cid=8411832636236487394 -300 366 Flat Shoals Avenue Southeast, Atlanta http://www.mensbigandtallclothing.com/Georgia_szm.html?p_catid=46"
      ["tracker_field_googlePlaceData_json"]=>
      object(stdClass)#1815 (20) {
        ["address_components"]=>
        array(9) {
          [0]=>
          object(stdClass)#1806 (3) {
            ["long_name"]=>
            string(3) "366"
            ["short_name"]=>
            string(3) "366"
            ["types"]=>
            array(1) {
              [0]=>
              string(13) "street_number"
            }
          }
          [1]=>
          object(stdClass)#1807 (3) {
            ["long_name"]=>
            string(28) "Flat Shoals Avenue Southeast"
            ["short_name"]=>
            string(18) "Flat Shoals Ave SE"
            ["types"]=>
            array(1) {
              [0]=>
              string(5) "route"
            }
          }
          [2]=>
          object(stdClass)#1808 (3) {
            ["long_name"]=>
            string(12) "East Atlanta"
            ["short_name"]=>
            string(12) "East Atlanta"
            ["types"]=>
            array(2) {
              [0]=>
              string(12) "neighborhood"
              [1]=>
              string(9) "political"
            }
          }
          [3]=>
          object(stdClass)#1809 (3) {
            ["long_name"]=>
            string(7) "Atlanta"
            ["short_name"]=>
            string(7) "Atlanta"
            ["types"]=>
            array(2) {
              [0]=>
              string(8) "locality"
              [1]=>
              string(9) "political"
            }
          }
          [4]=>
          object(stdClass)#1810 (3) {
            ["long_name"]=>
            string(13) "DeKalb County"
            ["short_name"]=>
            string(13) "Dekalb County"
            ["types"]=>
            array(2) {
              [0]=>
              string(27) "administrative_area_level_2"
              [1]=>
              string(9) "political"
            }
          }
          [5]=>
          object(stdClass)#1811 (3) {
            ["long_name"]=>
            string(7) "Georgia"
            ["short_name"]=>
            string(2) "GA"
            ["types"]=>
            array(2) {
              [0]=>
              string(27) "administrative_area_level_1"
              [1]=>
              string(9) "political"
            }
          }
          [6]=>
          object(stdClass)#1812 (3) {
            ["long_name"]=>
            string(13) "United States"
            ["short_name"]=>
            string(2) "US"
            ["types"]=>
            array(2) {
              [0]=>
              string(7) "country"
              [1]=>
              string(9) "political"
            }
          }
          [7]=>
          object(stdClass)#1813 (3) {
            ["long_name"]=>
            string(5) "30316"
            ["short_name"]=>
            string(5) "30316"
            ["types"]=>
            array(1) {
              [0]=>
              string(11) "postal_code"
            }
          }
          [8]=>
          object(stdClass)#1814 (3) {
            ["long_name"]=>
            string(4) "1916"
            ["short_name"]=>
            string(4) "1916"
            ["types"]=>
            array(1) {
              [0]=>
              string(18) "postal_code_suffix"
            }
          }
        }
        ["adr_address"]=>
        string(212) "

366 Flat Shoals Ave SE

, 

Atlanta

, 

GA

 

30316-1916

, 

USA

"
        ["formatted_address"]=>
        string(46) "366 Flat Shoals Ave SE, Atlanta, GA 30316, USA"
        ["formatted_phone_number"]=>
        string(14) "(404) 522-6622"
        ["geometry"]=>
        object(stdClass)#1817 (2) {
          ["location"]=>
          object(stdClass)#1816 (2) {
            ["lat"]=>
            string(10) "33.7438666"
            ["lng"]=>
            string(11) "-84.3486168"
          }
          ["viewport"]=>
          object(stdClass)#1819 (2) {
            ["northeast"]=>
            object(stdClass)#1818 (2) {
              ["lat"]=>
              string(15) "33.745161630291"
              ["lng"]=>
              string(16) "-84.347388619708"
            }
            ["southwest"]=>
            object(stdClass)#1820 (2) {
              ["lat"]=>
              string(15) "33.742463669709"
              ["lng"]=>
              string(16) "-84.350086580292"
            }
          }
        }
        ["icon"]=>
        string(65) "https://maps.gstatic.com/mapfiles/place_api/icons/shopping-71.png"
        ["id"]=>
        string(40) "1cc5287f8be77446f1f472f9f7b1cbe3180774ab"
        ["international_phone_number"]=>
        string(15) "+1 404-522-6622"
        ["name"]=>
        string(25) "Ross Unlimited Big & Tall"
        ["opening_hours"]=>
        object(stdClass)#1821 (3) {
          ["open_now"]=>
          bool(false)
          ["periods"]=>
          array(5) {
            [0]=>
            object(stdClass)#1823 (2) {
              ["close"]=>
              object(stdClass)#1822 (2) {
                ["day"]=>
                string(1) "2"
                ["time"]=>
                string(4) "1730"
              }
              ["open"]=>
              object(stdClass)#1824 (2) {
                ["day"]=>
                string(1) "2"
                ["time"]=>
                string(4) "0930"
              }
            }
            [1]=>
            object(stdClass)#1826 (2) {
              ["close"]=>
              object(stdClass)#1825 (2) {
                ["day"]=>
                string(1) "3"
                ["time"]=>
                string(4) "1730"
              }
              ["open"]=>
              object(stdClass)#1827 (2) {
                ["day"]=>
                string(1) "3"
                ["time"]=>
                string(4) "0930"
              }
            }
            [2]=>
            object(stdClass)#1829 (2) {
              ["close"]=>
              object(stdClass)#1828 (2) {
                ["day"]=>
                string(1) "4"
                ["time"]=>
                string(4) "1730"
              }
              ["open"]=>
              object(stdClass)#1830 (2) {
                ["day"]=>
                string(1) "4"
                ["time"]=>
                string(4) "0930"
              }
            }
            [3]=>
            object(stdClass)#1832 (2) {
              ["close"]=>
              object(stdClass)#1831 (2) {
                ["day"]=>
                string(1) "5"
                ["time"]=>
                string(4) "1730"
              }
              ["open"]=>
              object(stdClass)#1833 (2) {
                ["day"]=>
                string(1) "5"
                ["time"]=>
                string(4) "0930"
              }
            }
            [4]=>
            object(stdClass)#1835 (2) {
              ["close"]=>
              object(stdClass)#1834 (2) {
                ["day"]=>
                string(1) "6"
                ["time"]=>
                string(4) "1730"
              }
              ["open"]=>
              object(stdClass)#1836 (2) {
                ["day"]=>
                string(1) "6"
                ["time"]=>
                string(4) "0930"
              }
            }
          }
          ["weekday_text"]=>
          array(7) {
            [0]=>
            string(14) "Monday: Closed"
            [1]=>
            string(28) "Tuesday: 9:30 AM – 5:30 PM"
            [2]=>
            string(30) "Wednesday: 9:30 AM – 5:30 PM"
            [3]=>
            string(29) "Thursday: 9:30 AM – 5:30 PM"
            [4]=>
            string(27) "Friday: 9:30 AM – 5:30 PM"
            [5]=>
            string(29) "Saturday: 9:30 AM – 5:30 PM"
            [6]=>
            string(14) "Sunday: Closed"
          }
        }
        ["place_id"]=>
        string(27) "ChIJCci5IFoB9YgR4trpADfVvHQ"
        ["rating"]=>
        string(3) "3.8"
        ["reference"]=>
        string(190) "CmRRAAAAwu2XN8BlQoqYjUHbnvmnrZPrvH7rjMGmkuJRZYbqhkeGqs2QiA-PjHUE88AGehVQxyhcPoFfHMNQ5Ks517IJtM00Pgx1Lvm-v1Qzw9vRfKmQlk2TXtqyolpT1Z3svZIhEhCfMbeYFr-hHKv8mjWyWmHuGhQEcNieKYXEWq332vgBwoBu6tXmPg"
        ["reviews"]=>
        array(5) {
          [0]=>
          object(stdClass)#1837 (8) {
            ["author_name"]=>
            string(13) "Shakira Hines"
            ["author_url"]=>
            string(65) "https://www.google.com/maps/contrib/111480531777389522936/reviews"
            ["language"]=>
            string(2) "en"
            ["profile_photo_url"]=>
            string(118) "https://lh3.googleusercontent.com/--tCq0Jd8xOQ/AAAAAAAAAAI/AAAAAAAASHA/1xVp8bDkDiQ/s128-c0x00000000-cc-rp-mo/photo.jpg"
            ["rating"]=>
            string(1) "1"
            ["relative_time_description"]=>
            string(12) "2 months ago"
            ["text"]=>
            string(139) "Horrible customer service! They close at 5:15p. All employees standing outside leaving well before 5:30pm. Not a wide selection anyways😐"
            ["time"]=>
            int(1514067974)
          }
          [1]=>
          object(stdClass)#1838 (8) {
            ["author_name"]=>
            string(14) "REVELL JOHNSON"
            ["author_url"]=>
            string(65) "https://www.google.com/maps/contrib/106888616722715742056/reviews"
            ["language"]=>
            string(2) "en"
            ["profile_photo_url"]=>
            string(141) "https://lh3.googleusercontent.com/-nHA1Cs1V7hk/AAAAAAAAAAI/AAAAAAAAAAA/AGi4gfwH2Q6RGKBDZxqLx9pZS9sdEmS92g/s128-c0x00000000-cc-rp-mo/photo.jpg"
            ["rating"]=>
            string(1) "4"
            ["relative_time_description"]=>
            string(11) "2 weeks ago"
            ["text"]=>
            string(49) "This place has every big and tall size out there."
            ["time"]=>
            int(1519071093)
          }
          [2]=>
          object(stdClass)#1839 (8) {
            ["author_name"]=>
            string(12) "Kurt Simmons"
            ["author_url"]=>
            string(65) "https://www.google.com/maps/contrib/109529903735125949534/reviews"
            ["language"]=>
            string(2) "en"
            ["profile_photo_url"]=>
            string(145) "https://lh4.googleusercontent.com/-gllAT6qJof4/AAAAAAAAAAI/AAAAAAAAAAA/AGi4gfycQtU5GuYzTySJbpFAp-z_K3FDRQ/s128-c0x00000000-cc-rp-mo-ba3/photo.jpg"
            ["rating"]=>
            string(1) "5"
            ["relative_time_description"]=>
            string(11) "a month ago"
            ["text"]=>
            string(43) "Top notch! Patient and knowledgeable staff."
            ["time"]=>
            int(1517095642)
          }
          [3]=>
          object(stdClass)#1840 (8) {
            ["author_name"]=>
            string(9) "S. Jonesy"
            ["author_url"]=>
            string(65) "https://www.google.com/maps/contrib/107279956542188107403/reviews"
            ["language"]=>
            string(2) "en"
            ["profile_photo_url"]=>
            string(122) "https://lh5.googleusercontent.com/-uxdMC3Ife-I/AAAAAAAAAAI/AAAAAAAAp8g/MocYSNjl6d0/s128-c0x00000000-cc-rp-mo-ba2/photo.jpg"
            ["rating"]=>
            string(1) "3"
            ["relative_time_description"]=>
            string(12) "5 months ago"
            ["text"]=>
            string(105) "On the expensive side... Courteous staff,  Decent selection, but 530pm closing time!?!?!? That's horrible"
            ["time"]=>
            int(1505427515)
          }
          [4]=>
          object(stdClass)#1841 (8) {
            ["author_name"]=>
            string(12) "YOUR Majesty"
            ["author_url"]=>
            string(65) "https://www.google.com/maps/contrib/102360313305247549482/reviews"
            ["language"]=>
            string(2) "en"
            ["profile_photo_url"]=>
            string(122) "https://lh3.googleusercontent.com/-2BbYVkap_2k/AAAAAAAAAAI/AAAAAAAABoc/GVAP2dXQpzI/s128-c0x00000000-cc-rp-mo-ba4/photo.jpg"
            ["rating"]=>
            string(1) "3"
            ["relative_time_description"]=>
            string(12) "3 months ago"
            ["text"]=>
            string(54) "Great customer service. Not enough variety in my size."
            ["time"]=>
            int(1511725660)
          }
        }
        ["scope"]=>
        string(6) "GOOGLE"
        ["types"]=>
        array(4) {
          [0]=>
          string(14) "clothing_store"
          [1]=>
          string(5) "store"
          [2]=>
          string(17) "point_of_interest"
          [3]=>
          string(13) "establishment"
        }
        ["url"]=>
        string(48) "https://maps.google.com/?cid=8411832636236487394"
        ["utc_offset"]=>
        string(4) "-300"
        ["vicinity"]=>
        string(41) "366 Flat Shoals Avenue Southeast, Atlanta"
        ["website"]=>
        string(65) "http://www.mensbigandtallclothing.com/Georgia_szm.html?p_catid=46"
      }
      ["tracker_field_googleOverallRating"]=>
      float(3.8)
      ["tracker_field_businessYelpBusinessData"]=>
      array(0) {
      }
      ["tracker_field_businessYelpBusinessData_json"]=>
      array(0) {
      }
      ["tracker_field_businessFacebook"]=>
      string(25) "Ross Unlimited Big & Tall"
      ["tracker_field_businessFacebookID"]=>
      string(15) "111680000000000"
      ["tracker_field_businessFacebookData"]=>
      array(0) {
      }
      ["tracker_field_businessFacebookData_json"]=>
      array(0) {
      }
      ["tracker_field_businessLoafingID"]=>
      string(24) "573f3d511e3ee4dfcf660ac7"
      ["tracker_field_businessAccountExecutive"]=>
      string(1) "0"
      ["tracker_field_businessStatusField"]=>
      string(12) "Sent to Edit"
      ["tracker_field_businessCLDistributionLocation"]=>
      string(1) "n"
      ["tracker_field_businessAudience"]=>
      array(0) {
      }
      ["tracker_field_businessLegacyID"]=>
      int(1301032)
      ["language"]=>
      string(7) "unknown"
      ["attachments"]=>
      array(0) {
      }
      ["comment_count"]=>
      int(0)
      ["categories"]=>
      array(3) {
        [0]=>
        int(89)
        [1]=>
        int(100)
        [2]=>
        int(149)
      }
      ["deep_categories"]=>
      array(5) {
        [0]=>
        int(28)
        [1]=>
        int(89)
        [2]=>
        int(1)
        [3]=>
        int(149)
        [4]=>
        int(100)
      }
      ["categories_under_28"]=>
      array(1) {
        [0]=>
        int(89)
      }
      ["deep_categories_under_28"]=>
      array(1) {
        [0]=>
        int(89)
      }
      ["categories_under_1"]=>
      array(1) {
        [0]=>
        int(149)
      }
      ["deep_categories_under_1"]=>
      array(2) {
        [0]=>
        int(149)
        [1]=>
        int(100)
      }
      ["categories_under_177"]=>
      array(0) {
      }
      ["deep_categories_under_177"]=>
      array(0) {
      }
      ["categories_under_209"]=>
      array(0) {
      }
      ["deep_categories_under_209"]=>
      array(0) {
      }
      ["categories_under_163"]=>
      array(0) {
      }
      ["deep_categories_under_163"]=>
      array(0) {
      }
      ["categories_under_171"]=>
      array(0) {
      }
      ["deep_categories_under_171"]=>
      array(0) {
      }
      ["categories_under_153"]=>
      array(0) {
      }
      ["deep_categories_under_153"]=>
      array(0) {
      }
      ["categories_under_242"]=>
      array(0) {
      }
      ["deep_categories_under_242"]=>
      array(0) {
      }
      ["categories_under_564"]=>
      array(0) {
      }
      ["deep_categories_under_564"]=>
      array(0) {
      }
      ["freetags"]=>
      array(0) {
      }
      ["geo_located"]=>
      string(1) "y"
      ["geo_location"]=>
      string(39) "-84.34861679999989,33.74386659999982,16"
      ["geo_point"]=>
      object(stdClass)#1842 (2) {
        ["lat"]=>
        float(33.7438666)
        ["lon"]=>
        float(-84.3486168)
      }
      ["allowed_groups"]=>
      array(2) {
        [0]=>
        string(6) "Admins"
        [1]=>
        string(9) "Anonymous"
      }
      ["allowed_users"]=>
      array(0) {
      }
      ["relations"]=>
      array(0) {
      }
      ["relation_objects"]=>
      array(0) {
      }
      ["relation_types"]=>
      array(0) {
      }
      ["relation_count"]=>
      array(0) {
      }
      ["title_initial"]=>
      string(1) "R"
      ["title_firstword"]=>
      string(4) "Ross"
      ["searchable"]=>
      string(1) "y"
      ["url"]=>
      string(8) "item3470"
      ["object_type"]=>
      string(11) "trackeritem"
      ["object_id"]=>
      string(4) "3470"
      ["contents"]=>
      string(404) "    Ross Unlimited Big & Tall 366 Flat Shoals Ave.  Atlanta GA 30316 http://www.mensbigandtallclothing.com/Georgia_szm.html?p_catid=46   (404) 522-6622  -84.34861679999989,33.74386659999982,16   Men's clothing store               n  ChIJCci5IFoB9YgR4trpADfVvHQ  Ross Unlimited Big & Tall 111680000000000 573f3d511e3ee4dfcf660ac7       Sent to Edit  n  2017-06-26T22:34:43+00:00 Ross Unlimited Big & Tall "
      ["score"]=>
      float(0)
      ["_index"]=>
      string(21) "atlantawiki_tiki_main"
      ["objectlink"]=>
      string(303) "Ross Unlimited Big & Tall"
      ["image"]=>
      string(39) "

File not found.

"
      ["areaLocation"]=>
      string(34) "-84.3503813,33.7391182,15"
    }
    [31]=>
    array(100) {
      ["title"]=>
      string(28) "Value Village - East Atlanta"
      ["modification_date"]=>
      string(25) "2019-10-14T18:55:21+00:00"
      ["creation_date"]=>
      string(25) "2017-07-16T16:20:45+00:00"
      ["contributors"]=>
      array(2) {
        [0]=>
        string(29) "ben.eason@creativeloafing.com"
        [1]=>
        string(30) "jim.harris@creativeloafing.com"
      }
      ["date"]=>
      string(25) "2017-07-16T16:20:45+00:00"
      ["tracker_status"]=>
      string(1) "o"
      ["tracker_id"]=>
      string(1) "1"
      ["view_permission"]=>
      string(13) "view_trackers"
      ["tracker_field_businessName"]=>
      string(28) "Value Village - East Atlanta"
      ["tracker_field_businessAddress"]=>
      string(23) "1374 Moreland Ave. S.E."
      ["tracker_field_businessAddress2"]=>
      string(1) " "
      ["tracker_field_businessCity"]=>
      string(7) "Atlanta"
      ["tracker_field_businessState"]=>
      string(2) "GA"
      ["tracker_field_businessZip"]=>
      string(5) "30316"
      ["tracker_field_businessWebsite"]=>
      string(35) "http://www.valuevillageatlanta.com/"
      ["tracker_field_businessPhone"]=>
      string(14) "(770) 840-7283"
      ["tracker_field_businessRepresentative"]=>
      array(0) {
      }
      ["tracker_field_businessLocation"]=>
      string(22) "-84.34797,33.713917,17"
      ["tracker_field_businessLocationRadius"]=>
      int(0)
      ["tracker_field_businessIcon"]=>
      string(9) "display26"
      ["tracker_field_description"]=>
      string(177) "This popular thrift department store has several metro Atlanta locations. Half-off sales on clothes the last Wednesday of the month make this "treasure hunter's paradise" a gem."
      ["tracker_field_description_raw"]=>
      string(177) "This popular thrift department store has several metro Atlanta locations. Half-off sales on clothes the last Wednesday of the month make this "treasure hunter's paradise" a gem."
      ["tracker_field_businessHours"]=>
      string(40) "Mon thru Sat: 9AM - 9PM
Sun: 10AM - 6PM"
      ["tracker_field_businessHours_raw"]=>
      string(40) "Mon thru Sat: 9AM - 9PM
Sun: 10AM - 6PM"
      ["tracker_field_photos"]=>
      string(5) "24794"
      ["tracker_field_businessPhotoCredit"]=>
      string(11) "Joeff Davis"
      ["tracker_field_businessClassifieds"]=>
      array(0) {
      }
      ["tracker_field_businessTypes"]=>
      array(1) {
        [0]=>
        string(2) "89"
      }
      ["tracker_field_businessTypes_text"]=>
      string(2) "89"
      ["tracker_field_scene"]=>
      array(0) {
      }
      ["tracker_field_businessNeighborhoods"]=>
      array(1) {
        [0]=>
        string(3) "100"
      }
      ["tracker_field_businessNeighborhoods_text"]=>
      string(3) "100"
      ["tracker_field_businessPriceRange"]=>
      array(0) {
      }
      ["tracker_field_businessMiscCategories"]=>
      array(0) {
      }
      ["tracker_field_businessCLAcctNum"]=>
      int(0)
      ["tracker_field_business_121CurrentChit"]=>
      string(1) "n"
      ["tracker_field_121MobileClientID"]=>
      int(0)
      ["tracker_field_121MobileCampaignData"]=>
      array(0) {
      }
      ["tracker_field_121MobileCampaignData_json"]=>
      array(0) {
      }
      ["tracker_field_google_placeid"]=>
      string(27) "ChIJGcU1joEB9YgR6Eyw6EnQGdU"
      ["tracker_field_googlePlaceData"]=>
      array(0) {
      }
      ["tracker_field_googlePlaceData_json"]=>
      array(0) {
      }
      ["tracker_field_googleOverallRating"]=>
      int(4)
      ["tracker_field_businessYelpBusinessData"]=>
      array(0) {
      }
      ["tracker_field_businessYelpBusinessData_json"]=>
      array(0) {
      }
      ["tracker_field_businessFacebook"]=>
      string(13) "Value Village"
      ["tracker_field_businessFacebookID"]=>
      string(15) "151195000000000"
      ["tracker_field_businessFacebookData"]=>
      array(0) {
      }
      ["tracker_field_businessFacebookData_json"]=>
      array(0) {
      }
      ["tracker_field_businessLoafingID"]=>
      string(24) "573f3d571e3ee4dfcf661006"
      ["tracker_field_businessAccountExecutive"]=>
      string(1) "0"
      ["tracker_field_businessStatusField"]=>
      string(20) "Multiple Differences"
      ["tracker_field_businessCLDistributionLocation"]=>
      string(1) "n"
      ["tracker_field_businessAudience"]=>
      array(0) {
      }
      ["tracker_field_businessLegacyID"]=>
      int(1297523)
      ["language"]=>
      string(7) "unknown"
      ["attachments"]=>
      array(1) {
        [0]=>
        string(5) "24794"
      }
      ["comment_count"]=>
      int(0)
      ["categories"]=>
      array(2) {
        [0]=>
        int(89)
        [1]=>
        int(100)
      }
      ["deep_categories"]=>
      array(5) {
        [0]=>
        int(28)
        [1]=>
        int(89)
        [2]=>
        int(1)
        [3]=>
        int(149)
        [4]=>
        int(100)
      }
      ["categories_under_28"]=>
      array(1) {
        [0]=>
        int(89)
      }
      ["deep_categories_under_28"]=>
      array(1) {
        [0]=>
        int(89)
      }
      ["categories_under_1"]=>
      array(0) {
      }
      ["deep_categories_under_1"]=>
      array(2) {
        [0]=>
        int(149)
        [1]=>
        int(100)
      }
      ["categories_under_177"]=>
      array(0) {
      }
      ["deep_categories_under_177"]=>
      array(0) {
      }
      ["categories_under_209"]=>
      array(0) {
      }
      ["deep_categories_under_209"]=>
      array(0) {
      }
      ["categories_under_163"]=>
      array(0) {
      }
      ["deep_categories_under_163"]=>
      array(0) {
      }
      ["categories_under_171"]=>
      array(0) {
      }
      ["deep_categories_under_171"]=>
      array(0) {
      }
      ["categories_under_153"]=>
      array(0) {
      }
      ["deep_categories_under_153"]=>
      array(0) {
      }
      ["categories_under_242"]=>
      array(0) {
      }
      ["deep_categories_under_242"]=>
      array(0) {
      }
      ["categories_under_564"]=>
      array(0) {
      }
      ["deep_categories_under_564"]=>
      array(0) {
      }
      ["freetags"]=>
      array(0) {
      }
      ["geo_located"]=>
      string(1) "y"
      ["geo_location"]=>
      string(22) "-84.34797,33.713917,17"
      ["geo_point"]=>
      object(stdClass)#1845 (2) {
        ["lat"]=>
        float(33.713917)
        ["lon"]=>
        float(-84.34797)
      }
      ["allowed_groups"]=>
      array(2) {
        [0]=>
        string(6) "Admins"
        [1]=>
        string(9) "Anonymous"
      }
      ["allowed_users"]=>
      array(0) {
      }
      ["relations"]=>
      array(1) {
        [0]=>
        string(27) "tiki.file.attach:file:24794"
      }
      ["relation_objects"]=>
      array(0) {
      }
      ["relation_types"]=>
      array(1) {
        [0]=>
        string(16) "tiki.file.attach"
      }
      ["relation_count"]=>
      array(1) {
        [0]=>
        string(18) "tiki.file.attach:1"
      }
      ["title_initial"]=>
      string(1) "V"
      ["title_firstword"]=>
      string(5) "Value"
      ["searchable"]=>
      string(1) "y"
      ["url"]=>
      string(8) "item4836"
      ["object_type"]=>
      string(11) "trackeritem"
      ["object_id"]=>
      string(4) "4836"
      ["contents"]=>
      string(657) " Valu Village Magnum  2019-10-14T18:55:12+00:00 valu_village_magnum.jpg     Value Village - East Atlanta 1374 Moreland Ave. S.E.   Atlanta GA 30316 http://www.valuevillageatlanta.com/   (770) 840-7283  -84.34797,33.713917,17 display26  This popular thrift department store has several metro Atlanta locations. Half-off sales on clothes the last Wednesday of the month make this "treasure hunter's paradise" a gem.  Mon thru Sat: 9AM - 9PM
Sun: 10AM - 6PM  24794  Joeff Davis         n  ChIJGcU1joEB9YgR6Eyw6EnQGdU  Value Village 151195000000000 573f3d571e3ee4dfcf661006       Multiple Differences  n  2017-07-16T16:20:45+00:00 Value Village - East Atlanta "
      ["score"]=>
      float(0)
      ["_index"]=>
      string(21) "atlantawiki_tiki_main"
      ["objectlink"]=>
      string(311) "Value Village - East Atlanta"
      ["image"]=>
      string(39) "

File not found.

"
      ["areaLocation"]=>
      string(34) "-84.3503813,33.7391182,15"
    }
    [32]=>
    array(82) {
      ["title"]=>
      string(27) "Tired Soles Foot & Body Spa"
      ["modification_date"]=>
      string(25) "2018-03-08T17:00:38+00:00"
      ["creation_date"]=>
      string(25) "2017-07-16T16:20:45+00:00"
      ["contributors"]=>
      array(1) {
        [0]=>
        string(29) "ben.eason@creativeloafing.com"
      }
      ["date"]=>
      string(25) "2017-07-16T16:20:45+00:00"
      ["tracker_status"]=>
      string(1) "o"
      ["tracker_id"]=>
      string(1) "1"
      ["view_permission"]=>
      string(13) "view_trackers"
      ["tracker_field_businessName"]=>
      string(27) "Tired Soles Foot & Body Spa"
      ["tracker_field_businessRepresentative"]=>
      array(0) {
      }
      ["tracker_field_businessLocationRadius"]=>
      int(0)
      ["tracker_field_description"]=>
      string(1) " "
      ["tracker_field_description_raw"]=>
      string(1) " "
      ["tracker_field_businessClassifieds"]=>
      array(0) {
      }
      ["tracker_field_businessTypes"]=>
      array(1) {
        [0]=>
        string(2) "89"
      }
      ["tracker_field_businessTypes_text"]=>
      string(2) "89"
      ["tracker_field_scene"]=>
      array(0) {
      }
      ["tracker_field_businessNeighborhoods"]=>
      array(2) {
        [0]=>
        string(3) "100"
        [1]=>
        string(3) "149"
      }
      ["tracker_field_businessNeighborhoods_text"]=>
      string(7) "100 149"
      ["tracker_field_businessPriceRange"]=>
      array(0) {
      }
      ["tracker_field_businessMiscCategories"]=>
      array(0) {
      }
      ["tracker_field_businessCLAcctNum"]=>
      int(0)
      ["tracker_field_business_121CurrentChit"]=>
      string(1) "n"
      ["tracker_field_121MobileClientID"]=>
      int(0)
      ["tracker_field_121MobileCampaignData"]=>
      array(0) {
      }
      ["tracker_field_121MobileCampaignData_json"]=>
      array(0) {
      }
      ["tracker_field_googlePlaceData"]=>
      array(0) {
      }
      ["tracker_field_googlePlaceData_json"]=>
      array(0) {
      }
      ["tracker_field_googleOverallRating"]=>
      int(0)
      ["tracker_field_businessYelpBusinessData"]=>
      array(0) {
      }
      ["tracker_field_businessYelpBusinessData_json"]=>
      array(0) {
      }
      ["tracker_field_businessFacebookData"]=>
      array(0) {
      }
      ["tracker_field_businessFacebookData_json"]=>
      array(0) {
      }
      ["tracker_field_businessLoafingID"]=>
      string(24) "573f3cd81e3ee4dfcf65f524"
      ["tracker_field_businessAccountExecutive"]=>
      string(1) "0"
      ["tracker_field_businessStatusField"]=>
      string(20) "Multiple Differences"
      ["tracker_field_businessCLDistributionLocation"]=>
      string(1) "n"
      ["tracker_field_businessAudience"]=>
      array(0) {
      }
      ["tracker_field_businessLegacyID"]=>
      int(16336379)
      ["language"]=>
      string(7) "unknown"
      ["attachments"]=>
      array(0) {
      }
      ["comment_count"]=>
      int(0)
      ["categories"]=>
      array(2) {
        [0]=>
        int(89)
        [1]=>
        int(100)
      }
      ["deep_categories"]=>
      array(5) {
        [0]=>
        int(28)
        [1]=>
        int(89)
        [2]=>
        int(1)
        [3]=>
        int(149)
        [4]=>
        int(100)
      }
      ["categories_under_28"]=>
      array(1) {
        [0]=>
        int(89)
      }
      ["deep_categories_under_28"]=>
      array(1) {
        [0]=>
        int(89)
      }
      ["categories_under_1"]=>
      array(0) {
      }
      ["deep_categories_under_1"]=>
      array(2) {
        [0]=>
        int(149)
        [1]=>
        int(100)
      }
      ["categories_under_177"]=>
      array(0) {
      }
      ["deep_categories_under_177"]=>
      array(0) {
      }
      ["categories_under_209"]=>
      array(0) {
      }
      ["deep_categories_under_209"]=>
      array(0) {
      }
      ["categories_under_163"]=>
      array(0) {
      }
      ["deep_categories_under_163"]=>
      array(0) {
      }
      ["categories_under_171"]=>
      array(0) {
      }
      ["deep_categories_under_171"]=>
      array(0) {
      }
      ["categories_under_153"]=>
      array(0) {
      }
      ["deep_categories_under_153"]=>
      array(0) {
      }
      ["categories_under_242"]=>
      array(0) {
      }
      ["deep_categories_under_242"]=>
      array(0) {
      }
      ["categories_under_564"]=>
      array(0) {
      }
      ["deep_categories_under_564"]=>
      array(0) {
      }
      ["freetags"]=>
      array(0) {
      }
      ["geo_located"]=>
      string(1) "n"
      ["allowed_groups"]=>
      array(2) {
        [0]=>
        string(6) "Admins"
        [1]=>
        string(9) "Anonymous"
      }
      ["allowed_users"]=>
      array(0) {
      }
      ["relations"]=>
      array(0) {
      }
      ["relation_objects"]=>
      array(0) {
      }
      ["relation_types"]=>
      array(0) {
      }
      ["relation_count"]=>
      array(0) {
      }
      ["title_initial"]=>
      string(1) "T"
      ["title_firstword"]=>
      string(5) "Tired"
      ["searchable"]=>
      string(1) "y"
      ["url"]=>
      string(8) "item4837"
      ["object_type"]=>
      string(11) "trackeritem"
      ["object_id"]=>
      string(4) "4837"
      ["contents"]=>
      string(178) "    Tired Soles Foot & Body Spa                              n      573f3cd81e3ee4dfcf65f524       Multiple Differences  n  2017-07-16T16:20:45+00:00 Tired Soles Foot & Body Spa "
      ["score"]=>
      float(0)
      ["_index"]=>
      string(21) "atlantawiki_tiki_main"
      ["objectlink"]=>
      string(209) "Tired Soles Foot & Body Spa"
      ["image"]=>
      string(39) "

File not found.

"
      ["areaLocation"]=>
      string(34) "-84.3503813,33.7391182,15"
    }
    [33]=>
    array(89) {
      ["title"]=>
      string(31) "DJ Beauty Supply: Wigs, Beepers"
      ["modification_date"]=>
      string(25) "2018-03-08T16:41:28+00:00"
      ["creation_date"]=>
      string(25) "2017-07-16T21:30:40+00:00"
      ["contributors"]=>
      array(1) {
        [0]=>
        string(29) "ben.eason@creativeloafing.com"
      }
      ["date"]=>
      string(25) "2017-07-16T21:30:40+00:00"
      ["tracker_status"]=>
      string(1) "o"
      ["tracker_id"]=>
      string(1) "1"
      ["view_permission"]=>
      string(13) "view_trackers"
      ["tracker_field_businessName"]=>
      string(31) "DJ Beauty Supply: Wigs, Beepers"
      ["tracker_field_businessAddress"]=>
      string(20) "3441 Memorial Drive."
      ["tracker_field_businessAddress2"]=>
      string(1) " "
      ["tracker_field_businessCity"]=>
      string(7) "Atlanta"
      ["tracker_field_businessState"]=>
      string(2) "GA"
      ["tracker_field_businessZip"]=>
      string(1) " "
      ["tracker_field_businessWebsite"]=>
      string(1) " "
      ["tracker_field_businessPhone"]=>
      string(12) "404-289-5002"
      ["tracker_field_businessRepresentative"]=>
      array(0) {
      }
      ["tracker_field_businessLocationRadius"]=>
      int(0)
      ["tracker_field_description"]=>
      string(1) " "
      ["tracker_field_description_raw"]=>
      string(1) " "
      ["tracker_field_businessClassifieds"]=>
      array(0) {
      }
      ["tracker_field_businessTypes"]=>
      array(1) {
        [0]=>
        string(2) "89"
      }
      ["tracker_field_businessTypes_text"]=>
      string(2) "89"
      ["tracker_field_scene"]=>
      array(0) {
      }
      ["tracker_field_businessNeighborhoods"]=>
      array(2) {
        [0]=>
        string(3) "100"
        [1]=>
        string(3) "149"
      }
      ["tracker_field_businessNeighborhoods_text"]=>
      string(7) "100 149"
      ["tracker_field_businessPriceRange"]=>
      array(0) {
      }
      ["tracker_field_businessMiscCategories"]=>
      array(0) {
      }
      ["tracker_field_businessCLAcctNum"]=>
      int(0)
      ["tracker_field_business_121CurrentChit"]=>
      string(1) "n"
      ["tracker_field_121MobileClientID"]=>
      int(0)
      ["tracker_field_121MobileCampaignData"]=>
      array(0) {
      }
      ["tracker_field_121MobileCampaignData_json"]=>
      array(0) {
      }
      ["tracker_field_googlePlaceData"]=>
      array(0) {
      }
      ["tracker_field_googlePlaceData_json"]=>
      array(0) {
      }
      ["tracker_field_googleOverallRating"]=>
      int(0)
      ["tracker_field_businessYelpBusinessData"]=>
      array(0) {
      }
      ["tracker_field_businessYelpBusinessData_json"]=>
      array(0) {
      }
      ["tracker_field_businessFacebookData"]=>
      array(0) {
      }
      ["tracker_field_businessFacebookData_json"]=>
      array(0) {
      }
      ["tracker_field_businessLoafingID"]=>
      string(24) "573f3d581e3ee4dfcf661069"
      ["tracker_field_businessAccountExecutive"]=>
      string(1) "0"
      ["tracker_field_businessStatusField"]=>
      string(10) "NoGoogleID"
      ["tracker_field_businessCLDistributionLocation"]=>
      string(1) "n"
      ["tracker_field_businessAudience"]=>
      array(0) {
      }
      ["tracker_field_businessLegacyID"]=>
      int(1297243)
      ["language"]=>
      string(7) "unknown"
      ["attachments"]=>
      array(0) {
      }
      ["comment_count"]=>
      int(0)
      ["categories"]=>
      array(2) {
        [0]=>
        int(89)
        [1]=>
        int(100)
      }
      ["deep_categories"]=>
      array(5) {
        [0]=>
        int(28)
        [1]=>
        int(89)
        [2]=>
        int(1)
        [3]=>
        int(149)
        [4]=>
        int(100)
      }
      ["categories_under_28"]=>
      array(1) {
        [0]=>
        int(89)
      }
      ["deep_categories_under_28"]=>
      array(1) {
        [0]=>
        int(89)
      }
      ["categories_under_1"]=>
      array(0) {
      }
      ["deep_categories_under_1"]=>
      array(2) {
        [0]=>
        int(149)
        [1]=>
        int(100)
      }
      ["categories_under_177"]=>
      array(0) {
      }
      ["deep_categories_under_177"]=>
      array(0) {
      }
      ["categories_under_209"]=>
      array(0) {
      }
      ["deep_categories_under_209"]=>
      array(0) {
      }
      ["categories_under_163"]=>
      array(0) {
      }
      ["deep_categories_under_163"]=>
      array(0) {
      }
      ["categories_under_171"]=>
      array(0) {
      }
      ["deep_categories_under_171"]=>
      array(0) {
      }
      ["categories_under_153"]=>
      array(0) {
      }
      ["deep_categories_under_153"]=>
      array(0) {
      }
      ["categories_under_242"]=>
      array(0) {
      }
      ["deep_categories_under_242"]=>
      array(0) {
      }
      ["categories_under_564"]=>
      array(0) {
      }
      ["deep_categories_under_564"]=>
      array(0) {
      }
      ["freetags"]=>
      array(0) {
      }
      ["geo_located"]=>
      string(1) "n"
      ["allowed_groups"]=>
      array(2) {
        [0]=>
        string(6) "Admins"
        [1]=>
        string(9) "Anonymous"
      }
      ["allowed_users"]=>
      array(0) {
      }
      ["relations"]=>
      array(0) {
      }
      ["relation_objects"]=>
      array(0) {
      }
      ["relation_types"]=>
      array(0) {
      }
      ["relation_count"]=>
      array(0) {
      }
      ["title_initial"]=>
      string(1) "D"
      ["title_firstword"]=>
      string(2) "DJ"
      ["searchable"]=>
      string(1) "y"
      ["url"]=>
      string(8) "item8708"
      ["object_type"]=>
      string(11) "trackeritem"
      ["object_id"]=>
      string(4) "8708"
      ["contents"]=>
      string(220) "    DJ Beauty Supply: Wigs, Beepers 3441 Memorial Drive.   Atlanta GA       404-289-5002                     n      573f3d581e3ee4dfcf661069       NoGoogleID  n  2017-07-16T21:30:40+00:00 DJ Beauty Supply: Wigs, Beepers "
      ["score"]=>
      float(0)
      ["_index"]=>
      string(21) "atlantawiki_tiki_main"
      ["objectlink"]=>
      string(209) "DJ Beauty Supply: Wigs, Beepers"
      ["image"]=>
      string(39) "

File not found.

"
      ["areaLocation"]=>
      string(34) "-84.3503813,33.7391182,15"
    }
    [34]=>
    array(89) {
      ["title"]=>
      string(23) "Herbalista Headquarters"
      ["modification_date"]=>
      string(25) "2018-03-08T16:58:02+00:00"
      ["creation_date"]=>
      string(25) "2017-07-16T21:30:40+00:00"
      ["contributors"]=>
      array(1) {
        [0]=>
        string(29) "ben.eason@creativeloafing.com"
      }
      ["date"]=>
      string(25) "2017-07-16T21:30:40+00:00"
      ["tracker_status"]=>
      string(1) "o"
      ["tracker_id"]=>
      string(1) "1"
      ["view_permission"]=>
      string(13) "view_trackers"
      ["tracker_field_businessName"]=>
      string(23) "Herbalista Headquarters"
      ["tracker_field_businessAddress"]=>
      string(22) "2345 Ripplewater Drive"
      ["tracker_field_businessAddress2"]=>
      string(1) " "
      ["tracker_field_businessCity"]=>
      string(7) "Atlanta"
      ["tracker_field_businessState"]=>
      string(2) "GA"
      ["tracker_field_businessZip"]=>
      string(5) "30316"
      ["tracker_field_businessWebsite"]=>
      string(25) "http://www.herbalista.org"
      ["tracker_field_businessPhone"]=>
      string(12) "404-421-6471"
      ["tracker_field_businessRepresentative"]=>
      array(0) {
      }
      ["tracker_field_businessLocationRadius"]=>
      int(0)
      ["tracker_field_description"]=>
      string(72) "Learn more about herbs through classes, clinics, and neighborhood tours."
      ["tracker_field_description_raw"]=>
      string(72) "Learn more about herbs through classes, clinics, and neighborhood tours."
      ["tracker_field_businessClassifieds"]=>
      array(0) {
      }
      ["tracker_field_businessTypes"]=>
      array(1) {
        [0]=>
        string(2) "89"
      }
      ["tracker_field_businessTypes_text"]=>
      string(2) "89"
      ["tracker_field_scene"]=>
      array(0) {
      }
      ["tracker_field_businessNeighborhoods"]=>
      array(2) {
        [0]=>
        string(3) "100"
        [1]=>
        string(3) "149"
      }
      ["tracker_field_businessNeighborhoods_text"]=>
      string(7) "100 149"
      ["tracker_field_businessPriceRange"]=>
      array(0) {
      }
      ["tracker_field_businessMiscCategories"]=>
      array(0) {
      }
      ["tracker_field_businessCLAcctNum"]=>
      int(0)
      ["tracker_field_business_121CurrentChit"]=>
      string(1) "n"
      ["tracker_field_121MobileClientID"]=>
      int(0)
      ["tracker_field_121MobileCampaignData"]=>
      array(0) {
      }
      ["tracker_field_121MobileCampaignData_json"]=>
      array(0) {
      }
      ["tracker_field_googlePlaceData"]=>
      array(0) {
      }
      ["tracker_field_googlePlaceData_json"]=>
      array(0) {
      }
      ["tracker_field_googleOverallRating"]=>
      int(0)
      ["tracker_field_businessYelpBusinessData"]=>
      array(0) {
      }
      ["tracker_field_businessYelpBusinessData_json"]=>
      array(0) {
      }
      ["tracker_field_businessFacebookData"]=>
      array(0) {
      }
      ["tracker_field_businessFacebookData_json"]=>
      array(0) {
      }
      ["tracker_field_businessLoafingID"]=>
      string(24) "573f3cdb1e3ee4dfcf65f9e1"
      ["tracker_field_businessAccountExecutive"]=>
      string(1) "0"
      ["tracker_field_businessStatusField"]=>
      string(10) "NoGoogleID"
      ["tracker_field_businessCLDistributionLocation"]=>
      string(1) "n"
      ["tracker_field_businessAudience"]=>
      array(0) {
      }
      ["tracker_field_businessLegacyID"]=>
      int(9191390)
      ["language"]=>
      string(7) "unknown"
      ["attachments"]=>
      array(0) {
      }
      ["comment_count"]=>
      int(0)
      ["categories"]=>
      array(2) {
        [0]=>
        int(89)
        [1]=>
        int(100)
      }
      ["deep_categories"]=>
      array(5) {
        [0]=>
        int(28)
        [1]=>
        int(89)
        [2]=>
        int(1)
        [3]=>
        int(149)
        [4]=>
        int(100)
      }
      ["categories_under_28"]=>
      array(1) {
        [0]=>
        int(89)
      }
      ["deep_categories_under_28"]=>
      array(1) {
        [0]=>
        int(89)
      }
      ["categories_under_1"]=>
      array(0) {
      }
      ["deep_categories_under_1"]=>
      array(2) {
        [0]=>
        int(149)
        [1]=>
        int(100)
      }
      ["categories_under_177"]=>
      array(0) {
      }
      ["deep_categories_under_177"]=>
      array(0) {
      }
      ["categories_under_209"]=>
      array(0) {
      }
      ["deep_categories_under_209"]=>
      array(0) {
      }
      ["categories_under_163"]=>
      array(0) {
      }
      ["deep_categories_under_163"]=>
      array(0) {
      }
      ["categories_under_171"]=>
      array(0) {
      }
      ["deep_categories_under_171"]=>
      array(0) {
      }
      ["categories_under_153"]=>
      array(0) {
      }
      ["deep_categories_under_153"]=>
      array(0) {
      }
      ["categories_under_242"]=>
      array(0) {
      }
      ["deep_categories_under_242"]=>
      array(0) {
      }
      ["categories_under_564"]=>
      array(0) {
      }
      ["deep_categories_under_564"]=>
      array(0) {
      }
      ["freetags"]=>
      array(0) {
      }
      ["geo_located"]=>
      string(1) "n"
      ["allowed_groups"]=>
      array(2) {
        [0]=>
        string(6) "Admins"
        [1]=>
        string(9) "Anonymous"
      }
      ["allowed_users"]=>
      array(0) {
      }
      ["relations"]=>
      array(0) {
      }
      ["relation_objects"]=>
      array(0) {
      }
      ["relation_types"]=>
      array(0) {
      }
      ["relation_count"]=>
      array(0) {
      }
      ["title_initial"]=>
      string(1) "H"
      ["title_firstword"]=>
      string(10) "Herbalista"
      ["searchable"]=>
      string(1) "y"
      ["url"]=>
      string(8) "item8713"
      ["object_type"]=>
      string(11) "trackeritem"
      ["object_id"]=>
      string(4) "8713"
      ["contents"]=>
      string(305) "    Herbalista Headquarters 2345 Ripplewater Drive   Atlanta GA 30316 http://www.herbalista.org   404-421-6471     Learn more about herbs through classes, clinics, and neighborhood tours.               n      573f3cdb1e3ee4dfcf65f9e1       NoGoogleID  n  2017-07-16T21:30:40+00:00 Herbalista Headquarters "
      ["score"]=>
      float(0)
      ["_index"]=>
      string(21) "atlantawiki_tiki_main"
      ["objectlink"]=>
      string(201) "Herbalista Headquarters"
      ["image"]=>
      string(39) "

File not found.

"
      ["areaLocation"]=>
      string(34) "-84.3503813,33.7391182,15"
    }
    [35]=>
    array(97) {
      ["title"]=>
      string(18) "The Lucky Exchange"
      ["modification_date"]=>
      string(25) "2019-10-14T18:52:11+00:00"
      ["creation_date"]=>
      string(25) "2017-07-16T21:30:40+00:00"
      ["contributors"]=>
      array(2) {
        [0]=>
        string(29) "ben.eason@creativeloafing.com"
        [1]=>
        string(30) "jim.harris@creativeloafing.com"
      }
      ["date"]=>
      string(25) "2017-07-16T21:30:40+00:00"
      ["tracker_status"]=>
      string(1) "o"
      ["tracker_id"]=>
      string(1) "1"
      ["view_permission"]=>
      string(13) "view_trackers"
      ["tracker_field_businessName"]=>
      string(18) "The Lucky Exchange"
      ["tracker_field_businessAddress"]=>
      string(24) "212 Ponce De Leon Ave NE"
      ["tracker_field_businessAddress2"]=>
      string(1) " "
      ["tracker_field_businessCity"]=>
      string(7) "Atlanta"
      ["tracker_field_businessState"]=>
      string(7) "Georgia"
      ["tracker_field_businessZip"]=>
      string(5) "30308"
      ["tracker_field_businessWebsite"]=>
      string(29) "http://www.luckyexchange.com/"
      ["tracker_field_businessPhone"]=>
      string(14) "(404) 817-7715"
      ["tracker_field_businessRepresentative"]=>
      array(0) {
      }
      ["tracker_field_businessLocation"]=>
      string(25) "-84.3826492,33.7727324,17"
      ["tracker_field_businessLocationRadius"]=>
      int(0)
      ["tracker_field_businessIcon"]=>
      string(9) "display26"
      ["tracker_field_description"]=>
      string(135) "An off-the-beaten-track collection of well-organized, near-pristine vintage threads — that hasn't yet been picked over by the masses."
      ["tracker_field_description_raw"]=>
      string(135) "An off-the-beaten-track collection of well-organized, near-pristine vintage threads — that hasn't yet been picked over by the masses."
      ["tracker_field_businessHours"]=>
      string(18) "11:30 AM - 6:00 PM"
      ["tracker_field_businessHours_raw"]=>
      string(18) "11:30 AM - 6:00 PM"
      ["tracker_field_photos"]=>
      string(5) "24793"
      ["tracker_field_businessPhotoCredit"]=>
      string(11) "Joeff Davis"
      ["tracker_field_businessClassifieds"]=>
      array(0) {
      }
      ["tracker_field_businessTypes"]=>
      array(1) {
        [0]=>
        string(2) "89"
      }
      ["tracker_field_businessTypes_text"]=>
      string(2) "89"
      ["tracker_field_scene"]=>
      array(0) {
      }
      ["tracker_field_businessNeighborhoods"]=>
      array(1) {
        [0]=>
        string(3) "100"
      }
      ["tracker_field_businessNeighborhoods_text"]=>
      string(3) "100"
      ["tracker_field_businessPriceRange"]=>
      array(0) {
      }
      ["tracker_field_businessMiscCategories"]=>
      array(0) {
      }
      ["tracker_field_businessCLAcctNum"]=>
      int(0)
      ["tracker_field_business_121CurrentChit"]=>
      string(1) "n"
      ["tracker_field_121MobileClientID"]=>
      int(0)
      ["tracker_field_121MobileCampaignData"]=>
      array(0) {
      }
      ["tracker_field_121MobileCampaignData_json"]=>
      array(0) {
      }
      ["tracker_field_googlePlaceData"]=>
      array(0) {
      }
      ["tracker_field_googlePlaceData_json"]=>
      array(0) {
      }
      ["tracker_field_googleOverallRating"]=>
      int(0)
      ["tracker_field_businessYelpBusinessData"]=>
      array(0) {
      }
      ["tracker_field_businessYelpBusinessData_json"]=>
      array(0) {
      }
      ["tracker_field_businessFacebookData"]=>
      array(0) {
      }
      ["tracker_field_businessFacebookData_json"]=>
      array(0) {
      }
      ["tracker_field_businessLoafingID"]=>
      string(24) "573f3d4c1e3ee4dfcf660554"
      ["tracker_field_businessAccountExecutive"]=>
      string(1) "0"
      ["tracker_field_businessStatusField"]=>
      string(10) "NoGoogleID"
      ["tracker_field_businessCLDistributionLocation"]=>
      string(1) "n"
      ["tracker_field_businessAudience"]=>
      array(0) {
      }
      ["tracker_field_businessLegacyID"]=>
      int(1305157)
      ["language"]=>
      string(7) "unknown"
      ["attachments"]=>
      array(1) {
        [0]=>
        string(5) "24793"
      }
      ["comment_count"]=>
      int(0)
      ["categories"]=>
      array(2) {
        [0]=>
        int(89)
        [1]=>
        int(100)
      }
      ["deep_categories"]=>
      array(5) {
        [0]=>
        int(28)
        [1]=>
        int(89)
        [2]=>
        int(1)
        [3]=>
        int(149)
        [4]=>
        int(100)
      }
      ["categories_under_28"]=>
      array(1) {
        [0]=>
        int(89)
      }
      ["deep_categories_under_28"]=>
      array(1) {
        [0]=>
        int(89)
      }
      ["categories_under_1"]=>
      array(0) {
      }
      ["deep_categories_under_1"]=>
      array(2) {
        [0]=>
        int(149)
        [1]=>
        int(100)
      }
      ["categories_under_177"]=>
      array(0) {
      }
      ["deep_categories_under_177"]=>
      array(0) {
      }
      ["categories_under_209"]=>
      array(0) {
      }
      ["deep_categories_under_209"]=>
      array(0) {
      }
      ["categories_under_163"]=>
      array(0) {
      }
      ["deep_categories_under_163"]=>
      array(0) {
      }
      ["categories_under_171"]=>
      array(0) {
      }
      ["deep_categories_under_171"]=>
      array(0) {
      }
      ["categories_under_153"]=>
      array(0) {
      }
      ["deep_categories_under_153"]=>
      array(0) {
      }
      ["categories_under_242"]=>
      array(0) {
      }
      ["deep_categories_under_242"]=>
      array(0) {
      }
      ["categories_under_564"]=>
      array(0) {
      }
      ["deep_categories_under_564"]=>
      array(0) {
      }
      ["freetags"]=>
      array(0) {
      }
      ["geo_located"]=>
      string(1) "y"
      ["geo_location"]=>
      string(25) "-84.3826492,33.7727324,17"
      ["geo_point"]=>
      object(stdClass)#1854 (2) {
        ["lat"]=>
        float(33.7727324)
        ["lon"]=>
        float(-84.3826492)
      }
      ["allowed_groups"]=>
      array(2) {
        [0]=>
        string(6) "Admins"
        [1]=>
        string(9) "Anonymous"
      }
      ["allowed_users"]=>
      array(0) {
      }
      ["relations"]=>
      array(1) {
        [0]=>
        string(27) "tiki.file.attach:file:24793"
      }
      ["relation_objects"]=>
      array(0) {
      }
      ["relation_types"]=>
      array(1) {
        [0]=>
        string(16) "tiki.file.attach"
      }
      ["relation_count"]=>
      array(1) {
        [0]=>
        string(18) "tiki.file.attach:1"
      }
      ["title_initial"]=>
      string(1) "T"
      ["title_firstword"]=>
      string(3) "The"
      ["searchable"]=>
      string(1) "y"
      ["url"]=>
      string(8) "item8715"
      ["object_type"]=>
      string(11) "trackeritem"
      ["object_id"]=>
      string(4) "8715"
      ["contents"]=>
      string(515) " Lucky Exchange Magnum  2019-10-14T18:51:59+00:00 lucky_exchange_magnum.jpg     The Lucky Exchange 212 Ponce De Leon Ave NE   Atlanta Georgia 30308 http://www.luckyexchange.com/   (404) 817-7715  -84.3826492,33.7727324,17 display26  An off-the-beaten-track collection of well-organized, near-pristine vintage threads — that hasn't yet been picked over by the masses.  11:30 AM - 6:00 PM  24793  Joeff Davis         n      573f3d4c1e3ee4dfcf660554       NoGoogleID  n  2017-07-16T21:30:40+00:00 The Lucky Exchange "
      ["score"]=>
      float(0)
      ["_index"]=>
      string(21) "atlantawiki_tiki_main"
      ["objectlink"]=>
      string(304) "The Lucky Exchange"
      ["image"]=>
      string(39) "

File not found.

"
      ["areaLocation"]=>
      string(34) "-84.3503813,33.7391182,15"
    }
    [36]=>
    array(89) {
      ["title"]=>
      string(22) "Absolute Body Symmetry"
      ["modification_date"]=>
      string(25) "2018-03-08T16:55:39+00:00"
      ["creation_date"]=>
      string(25) "2017-07-16T21:30:40+00:00"
      ["contributors"]=>
      array(1) {
        [0]=>
        string(29) "ben.eason@creativeloafing.com"
      }
      ["date"]=>
      string(25) "2017-07-16T21:30:40+00:00"
      ["tracker_status"]=>
      string(1) "o"
      ["tracker_id"]=>
      string(1) "1"
      ["view_permission"]=>
      string(13) "view_trackers"
      ["tracker_field_businessName"]=>
      string(22) "Absolute Body Symmetry"
      ["tracker_field_businessAddress"]=>
      string(17) "749 Moreland Ave."
      ["tracker_field_businessAddress2"]=>
      string(31) "Ormewood Square, Suites 102-103"
      ["tracker_field_businessCity"]=>
      string(7) "Atlanta"
      ["tracker_field_businessState"]=>
      string(2) "GA"
      ["tracker_field_businessZip"]=>
      string(5) "30316"
      ["tracker_field_businessWebsite"]=>
      string(21) "http://www.absatl.com"
      ["tracker_field_businessPhone"]=>
      string(12) "404-627-3977"
      ["tracker_field_businessRepresentative"]=>
      array(0) {
      }
      ["tracker_field_businessLocationRadius"]=>
      int(0)
      ["tracker_field_description"]=>
      string(52) "A local gym off of Moreland Avenue in Ormewood Park."
      ["tracker_field_description_raw"]=>
      string(52) "A local gym off of Moreland Avenue in Ormewood Park."
      ["tracker_field_businessClassifieds"]=>
      array(0) {
      }
      ["tracker_field_businessTypes"]=>
      array(1) {
        [0]=>
        string(2) "89"
      }
      ["tracker_field_businessTypes_text"]=>
      string(2) "89"
      ["tracker_field_scene"]=>
      array(0) {
      }
      ["tracker_field_businessNeighborhoods"]=>
      array(2) {
        [0]=>
        string(3) "100"
        [1]=>
        string(3) "149"
      }
      ["tracker_field_businessNeighborhoods_text"]=>
      string(7) "100 149"
      ["tracker_field_businessPriceRange"]=>
      array(0) {
      }
      ["tracker_field_businessMiscCategories"]=>
      array(0) {
      }
      ["tracker_field_businessCLAcctNum"]=>
      int(0)
      ["tracker_field_business_121CurrentChit"]=>
      string(1) "n"
      ["tracker_field_121MobileClientID"]=>
      int(0)
      ["tracker_field_121MobileCampaignData"]=>
      array(0) {
      }
      ["tracker_field_121MobileCampaignData_json"]=>
      array(0) {
      }
      ["tracker_field_googlePlaceData"]=>
      array(0) {
      }
      ["tracker_field_googlePlaceData_json"]=>
      array(0) {
      }
      ["tracker_field_googleOverallRating"]=>
      int(0)
      ["tracker_field_businessYelpBusinessData"]=>
      array(0) {
      }
      ["tracker_field_businessYelpBusinessData_json"]=>
      array(0) {
      }
      ["tracker_field_businessFacebookData"]=>
      array(0) {
      }
      ["tracker_field_businessFacebookData_json"]=>
      array(0) {
      }
      ["tracker_field_businessLoafingID"]=>
      string(24) "573f3d471e3ee4dfcf65fe7c"
      ["tracker_field_businessAccountExecutive"]=>
      string(1) "0"
      ["tracker_field_businessStatusField"]=>
      string(9) "Duplicate"
      ["tracker_field_businessCLDistributionLocation"]=>
      string(1) "n"
      ["tracker_field_businessAudience"]=>
      array(0) {
      }
      ["tracker_field_businessLegacyID"]=>
      int(4359316)
      ["language"]=>
      string(7) "unknown"
      ["attachments"]=>
      array(0) {
      }
      ["comment_count"]=>
      int(0)
      ["categories"]=>
      array(2) {
        [0]=>
        int(89)
        [1]=>
        int(100)
      }
      ["deep_categories"]=>
      array(5) {
        [0]=>
        int(28)
        [1]=>
        int(89)
        [2]=>
        int(1)
        [3]=>
        int(149)
        [4]=>
        int(100)
      }
      ["categories_under_28"]=>
      array(1) {
        [0]=>
        int(89)
      }
      ["deep_categories_under_28"]=>
      array(1) {
        [0]=>
        int(89)
      }
      ["categories_under_1"]=>
      array(0) {
      }
      ["deep_categories_under_1"]=>
      array(2) {
        [0]=>
        int(149)
        [1]=>
        int(100)
      }
      ["categories_under_177"]=>
      array(0) {
      }
      ["deep_categories_under_177"]=>
      array(0) {
      }
      ["categories_under_209"]=>
      array(0) {
      }
      ["deep_categories_under_209"]=>
      array(0) {
      }
      ["categories_under_163"]=>
      array(0) {
      }
      ["deep_categories_under_163"]=>
      array(0) {
      }
      ["categories_under_171"]=>
      array(0) {
      }
      ["deep_categories_under_171"]=>
      array(0) {
      }
      ["categories_under_153"]=>
      array(0) {
      }
      ["deep_categories_under_153"]=>
      array(0) {
      }
      ["categories_under_242"]=>
      array(0) {
      }
      ["deep_categories_under_242"]=>
      array(0) {
      }
      ["categories_under_564"]=>
      array(0) {
      }
      ["deep_categories_under_564"]=>
      array(0) {
      }
      ["freetags"]=>
      array(0) {
      }
      ["geo_located"]=>
      string(1) "n"
      ["allowed_groups"]=>
      array(2) {
        [0]=>
        string(6) "Admins"
        [1]=>
        string(9) "Anonymous"
      }
      ["allowed_users"]=>
      array(0) {
      }
      ["relations"]=>
      array(0) {
      }
      ["relation_objects"]=>
      array(0) {
      }
      ["relation_types"]=>
      array(0) {
      }
      ["relation_count"]=>
      array(0) {
      }
      ["title_initial"]=>
      string(1) "A"
      ["title_firstword"]=>
      string(8) "Absolute"
      ["searchable"]=>
      string(1) "y"
      ["url"]=>
      string(8) "item8722"
      ["object_type"]=>
      string(11) "trackeritem"
      ["object_id"]=>
      string(4) "8722"
      ["contents"]=>
      string(303) "    Absolute Body Symmetry 749 Moreland Ave. Ormewood Square, Suites 102-103 Atlanta GA 30316 http://www.absatl.com   404-627-3977     A local gym off of Moreland Avenue in Ormewood Park.               n      573f3d471e3ee4dfcf65fe7c       Duplicate  n  2017-07-16T21:30:40+00:00 Absolute Body Symmetry "
      ["score"]=>
      float(0)
      ["_index"]=>
      string(21) "atlantawiki_tiki_main"
      ["objectlink"]=>
      string(200) "Absolute Body Symmetry"
      ["image"]=>
      string(39) "

File not found.

"
      ["areaLocation"]=>
      string(34) "-84.3503813,33.7391182,15"
    }
    [37]=>
    array(103) {
      ["title"]=>
      string(7) "529 Bar"
      ["modification_date"]=>
      string(25) "2019-06-17T17:58:20+00:00"
      ["creation_date"]=>
      string(25) "2017-07-16T16:20:45+00:00"
      ["contributors"]=>
      array(2) {
        [0]=>
        string(29) "ben.eason@creativeloafing.com"
        [1]=>
        string(30) "jim.harris@creativeloafing.com"
      }
      ["date"]=>
      string(25) "2017-07-16T16:20:45+00:00"
      ["tracker_status"]=>
      string(1) "o"
      ["tracker_id"]=>
      string(1) "1"
      ["view_permission"]=>
      string(13) "view_trackers"
      ["tracker_field_businessName"]=>
      string(7) "529 Bar"
      ["tracker_field_businessAddress"]=>
      string(25) "529 Flat Shoals Ave. S.E."
      ["tracker_field_businessCity"]=>
      string(7) "Atlanta"
      ["tracker_field_businessState"]=>
      string(2) "GA"
      ["tracker_field_businessZip"]=>
      string(5) "30316"
      ["tracker_field_businessWebsite"]=>
      string(25) "http://www.529atlanta.com"
      ["tracker_field_businessRepresentative"]=>
      array(0) {
      }
      ["tracker_field_businessLocation"]=>
      string(25) "-84.3453665,33.7399681,17"
      ["tracker_field_businessLocationRadius"]=>
      int(0)
      ["tracker_field_businessIcon"]=>
      string(9) "display26"
      ["tracker_field_description"]=>
      string(428) "In the central East Atlanta spot formerly occupied by retro soul bar the Village, you'll find 529 — a tiny, smoky space that oozes cool. Despite being the size of a Manhattan apartment, there's a closed-circuit TV above the bar on which you can watch the band playing on the stage behind you. The front patio's about as big as the performance space, with the added bonus of a pass-through to the bar and plenty of fresh air."
      ["tracker_field_description_raw"]=>
      string(428) "In the central East Atlanta spot formerly occupied by retro soul bar the Village, you'll find 529 — a tiny, smoky space that oozes cool. Despite being the size of a Manhattan apartment, there's a closed-circuit TV above the bar on which you can watch the band playing on the stage behind you. The front patio's about as big as the performance space, with the added bonus of a pass-through to the bar and plenty of fresh air."
      ["tracker_field_photos"]=>
      string(5) "19063"
      ["tracker_field_businessPhotoCredit"]=>
      string(11) "Joeff Davis"
      ["tracker_field_businessTwitter"]=>
      string(8) "@529_EAV"
      ["tracker_field_businessInstagram"]=>
      string(8) "@529_EAV"
      ["tracker_field_businessClassifieds"]=>
      array(0) {
      }
      ["tracker_field_businessTypes"]=>
      array(3) {
        [0]=>
        string(2) "88"
        [1]=>
        string(3) "513"
        [2]=>
        string(3) "787"
      }
      ["tracker_field_businessTypes_text"]=>
      string(10) "88 513 787"
      ["tracker_field_scene"]=>
      array(0) {
      }
      ["tracker_field_businessNeighborhoods"]=>
      array(1) {
        [0]=>
        string(3) "100"
      }
      ["tracker_field_businessNeighborhoods_text"]=>
      string(3) "100"
      ["tracker_field_businessPriceRange"]=>
      array(0) {
      }
      ["tracker_field_businessMiscCategories"]=>
      array(0) {
      }
      ["tracker_field_businessFreeTags"]=>
      string(4) "club"
      ["tracker_field_businessCLAcctNum"]=>
      int(0)
      ["tracker_field_business_121CurrentChit"]=>
      string(1) "n"
      ["tracker_field_121MobileClientID"]=>
      int(0)
      ["tracker_field_121MobileCampaignData"]=>
      array(0) {
      }
      ["tracker_field_121MobileCampaignData_json"]=>
      array(0) {
      }
      ["tracker_field_googlePlaceData"]=>
      array(0) {
      }
      ["tracker_field_googlePlaceData_json"]=>
      array(0) {
      }
      ["tracker_field_googleOverallRating"]=>
      float(4.4)
      ["tracker_field_businessYelpBusinessData"]=>
      array(0) {
      }
      ["tracker_field_businessYelpBusinessData_json"]=>
      array(0) {
      }
      ["tracker_field_businessFacebook"]=>
      string(6) "529eav"
      ["tracker_field_businessFacebookID"]=>
      string(12) "139637142457"
      ["tracker_field_businessFacebookData"]=>
      array(0) {
      }
      ["tracker_field_businessFacebookData_json"]=>
      array(0) {
      }
      ["tracker_field_businessLoafingID"]=>
      string(24) "573f3d4c1e3ee4dfcf660556"
      ["tracker_field_businessAccountExecutive"]=>
      string(1) "0"
      ["tracker_field_businessInternalNotes"]=>
      string(27) "ChIJB2FIYFsB9YgRp1lVy_vNw8k"
      ["tracker_field_businessInternalNotes_raw"]=>
      string(27) "ChIJB2FIYFsB9YgRp1lVy_vNw8k"
      ["tracker_field_businessStatusField"]=>
      string(5) "Tier2"
      ["tracker_field_businessEventInfoSource"]=>
      string(9) " FB Perms"
      ["tracker_field_businessEventInfoSource_text"]=>
      string(9) " FB Perms"
      ["tracker_field_businessCLDistributionLocation"]=>
      string(1) "n"
      ["tracker_field_businessAudience"]=>
      array(0) {
      }
      ["tracker_field_businessLegacyID"]=>
      int(1305155)
      ["language"]=>
      string(7) "unknown"
      ["attachments"]=>
      array(1) {
        [0]=>
        string(5) "19063"
      }
      ["comment_count"]=>
      int(0)
      ["categories"]=>
      array(4) {
        [0]=>
        int(88)
        [1]=>
        int(100)
        [2]=>
        int(513)
        [3]=>
        int(787)
      }
      ["deep_categories"]=>
      array(8) {
        [0]=>
        int(28)
        [1]=>
        int(876)
        [2]=>
        int(88)
        [3]=>
        int(1)
        [4]=>
        int(149)
        [5]=>
        int(100)
        [6]=>
        int(513)
        [7]=>
        int(787)
      }
      ["categories_under_28"]=>
      array(0) {
      }
      ["deep_categories_under_28"]=>
      array(4) {
        [0]=>
        int(876)
        [1]=>
        int(88)
        [2]=>
        int(513)
        [3]=>
        int(787)
      }
      ["categories_under_1"]=>
      array(0) {
      }
      ["deep_categories_under_1"]=>
      array(2) {
        [0]=>
        int(149)
        [1]=>
        int(100)
      }
      ["categories_under_177"]=>
      array(0) {
      }
      ["deep_categories_under_177"]=>
      array(0) {
      }
      ["categories_under_209"]=>
      array(0) {
      }
      ["deep_categories_under_209"]=>
      array(0) {
      }
      ["categories_under_163"]=>
      array(0) {
      }
      ["deep_categories_under_163"]=>
      array(0) {
      }
      ["categories_under_171"]=>
      array(0) {
      }
      ["deep_categories_under_171"]=>
      array(0) {
      }
      ["categories_under_153"]=>
      array(0) {
      }
      ["deep_categories_under_153"]=>
      array(0) {
      }
      ["categories_under_242"]=>
      array(0) {
      }
      ["deep_categories_under_242"]=>
      array(0) {
      }
      ["categories_under_564"]=>
      array(0) {
      }
      ["deep_categories_under_564"]=>
      array(0) {
      }
      ["freetags"]=>
      array(1) {
        [0]=>
        string(3) "283"
      }
      ["freetags_text"]=>
      string(4) "club"
      ["geo_located"]=>
      string(1) "y"
      ["geo_location"]=>
      string(25) "-84.3453665,33.7399681,17"
      ["geo_point"]=>
      object(stdClass)#1859 (2) {
        ["lat"]=>
        float(33.7399681)
        ["lon"]=>
        float(-84.3453665)
      }
      ["allowed_groups"]=>
      array(2) {
        [0]=>
        string(6) "Admins"
        [1]=>
        string(9) "Anonymous"
      }
      ["allowed_users"]=>
      array(0) {
      }
      ["relations"]=>
      array(2) {
        [0]=>
        string(27) "tiki.file.attach:file:19063"
        [1]=>
        string(42) "clatl.boa.winner.invert:trackeritem:413776"
      }
      ["relation_objects"]=>
      array(0) {
      }
      ["relation_types"]=>
      array(2) {
        [0]=>
        string(16) "tiki.file.attach"
        [1]=>
        string(23) "clatl.boa.winner.invert"
      }
      ["relation_count"]=>
      array(2) {
        [0]=>
        string(18) "tiki.file.attach:1"
        [1]=>
        string(25) "clatl.boa.winner.invert:1"
      }
      ["title_initial"]=>
      string(1) "5"
      ["title_firstword"]=>
      string(3) "529"
      ["searchable"]=>
      string(1) "y"
      ["url"]=>
      string(8) "item4834"
      ["object_type"]=>
      string(11) "trackeritem"
      ["object_id"]=>
      string(4) "4834"
      ["contents"]=>
      string(796) " 529 Magnum  2019-06-17T17:57:43+00:00 529_magnum.jpg    club 529 Bar 529 Flat Shoals Ave. S.E.  Atlanta GA 30316 http://www.529atlanta.com     -84.3453665,33.7399681,17 display26  In the central East Atlanta spot formerly occupied by retro soul bar the Village, you'll find 529 — a tiny, smoky space that oozes cool. Despite being the size of a Manhattan apartment, there's a closed-circuit TV above the bar on which you can watch the band playing on the stage behind you. The front patio's about as big as the performance space, with the added bonus of a pass-through to the bar and plenty of fresh air.    19063  Joeff Davis   @529_EAV @529_EAV   club  n    529eav 139637142457 573f3d4c1e3ee4dfcf660556      ChIJB2FIYFsB9YgRp1lVy_vNw8k Tier2  FB Perms n  2017-07-16T16:20:45+00:00 529 Bar "
      ["score"]=>
      float(0)
      ["_index"]=>
      string(21) "atlantawiki_tiki_main"
      ["objectlink"]=>
      string(293) "529 Bar"
      ["image"]=>
      string(39) "

File not found.

"
      ["areaLocation"]=>
      string(34) "-84.3503813,33.7391182,15"
    }
    [38]=>
    array(89) {
      ["title"]=>
      string(11) "Sewing Room"
      ["modification_date"]=>
      string(25) "2018-03-08T17:00:38+00:00"
      ["creation_date"]=>
      string(25) "2017-07-16T21:30:40+00:00"
      ["contributors"]=>
      array(1) {
        [0]=>
        string(29) "ben.eason@creativeloafing.com"
      }
      ["date"]=>
      string(25) "2017-07-16T21:30:40+00:00"
      ["tracker_status"]=>
      string(1) "o"
      ["tracker_id"]=>
      string(1) "1"
      ["view_permission"]=>
      string(13) "view_trackers"
      ["tracker_field_businessName"]=>
      string(11) "Sewing Room"
      ["tracker_field_businessAddress"]=>
      string(22) "1614 Hazelrig Dr. S.E."
      ["tracker_field_businessAddress2"]=>
      string(1) " "
      ["tracker_field_businessCity"]=>
      string(7) "Atlanta"
      ["tracker_field_businessState"]=>
      string(2) "GA"
      ["tracker_field_businessZip"]=>
      string(5) "30315"
      ["tracker_field_businessWebsite"]=>
      string(46) "http://https://www.facebook.com/sewingroomatl/"
      ["tracker_field_businessPhone"]=>
      string(1) " "
      ["tracker_field_businessRepresentative"]=>
      array(0) {
      }
      ["tracker_field_businessLocationRadius"]=>
      int(0)
      ["tracker_field_description"]=>
      string(114) "Practice space, DIY venue, and celebrators of the weird and absurd, for the homeless bands and artists of Atlanta."
      ["tracker_field_description_raw"]=>
      string(114) "Practice space, DIY venue, and celebrators of the weird and absurd, for the homeless bands and artists of Atlanta."
      ["tracker_field_businessClassifieds"]=>
      array(0) {
      }
      ["tracker_field_businessTypes"]=>
      array(1) {
        [0]=>
        string(2) "88"
      }
      ["tracker_field_businessTypes_text"]=>
      string(2) "88"
      ["tracker_field_scene"]=>
      array(0) {
      }
      ["tracker_field_businessNeighborhoods"]=>
      array(2) {
        [0]=>
        string(3) "100"
        [1]=>
        string(3) "149"
      }
      ["tracker_field_businessNeighborhoods_text"]=>
      string(7) "100 149"
      ["tracker_field_businessPriceRange"]=>
      array(0) {
      }
      ["tracker_field_businessMiscCategories"]=>
      array(0) {
      }
      ["tracker_field_businessCLAcctNum"]=>
      int(0)
      ["tracker_field_business_121CurrentChit"]=>
      string(1) "n"
      ["tracker_field_121MobileClientID"]=>
      int(0)
      ["tracker_field_121MobileCampaignData"]=>
      array(0) {
      }
      ["tracker_field_121MobileCampaignData_json"]=>
      array(0) {
      }
      ["tracker_field_googlePlaceData"]=>
      array(0) {
      }
      ["tracker_field_googlePlaceData_json"]=>
      array(0) {
      }
      ["tracker_field_googleOverallRating"]=>
      int(0)
      ["tracker_field_businessYelpBusinessData"]=>
      array(0) {
      }
      ["tracker_field_businessYelpBusinessData_json"]=>
      array(0) {
      }
      ["tracker_field_businessFacebookData"]=>
      array(0) {
      }
      ["tracker_field_businessFacebookData_json"]=>
      array(0) {
      }
      ["tracker_field_businessLoafingID"]=>
      string(24) "573f3cd81e3ee4dfcf65f43f"
      ["tracker_field_businessAccountExecutive"]=>
      string(1) "0"
      ["tracker_field_businessStatusField"]=>
      string(10) "NoGoogleID"
      ["tracker_field_businessCLDistributionLocation"]=>
      string(1) "n"
      ["tracker_field_businessAudience"]=>
      array(0) {
      }
      ["tracker_field_businessLegacyID"]=>
      int(17083393)
      ["language"]=>
      string(7) "unknown"
      ["attachments"]=>
      array(0) {
      }
      ["comment_count"]=>
      int(0)
      ["categories"]=>
      array(2) {
        [0]=>
        int(88)
        [1]=>
        int(100)
      }
      ["deep_categories"]=>
      array(6) {
        [0]=>
        int(28)
        [1]=>
        int(876)
        [2]=>
        int(88)
        [3]=>
        int(1)
        [4]=>
        int(149)
        [5]=>
        int(100)
      }
      ["categories_under_28"]=>
      array(0) {
      }
      ["deep_categories_under_28"]=>
      array(2) {
        [0]=>
        int(876)
        [1]=>
        int(88)
      }
      ["categories_under_1"]=>
      array(0) {
      }
      ["deep_categories_under_1"]=>
      array(2) {
        [0]=>
        int(149)
        [1]=>
        int(100)
      }
      ["categories_under_177"]=>
      array(0) {
      }
      ["deep_categories_under_177"]=>
      array(0) {
      }
      ["categories_under_209"]=>
      array(0) {
      }
      ["deep_categories_under_209"]=>
      array(0) {
      }
      ["categories_under_163"]=>
      array(0) {
      }
      ["deep_categories_under_163"]=>
      array(0) {
      }
      ["categories_under_171"]=>
      array(0) {
      }
      ["deep_categories_under_171"]=>
      array(0) {
      }
      ["categories_under_153"]=>
      array(0) {
      }
      ["deep_categories_under_153"]=>
      array(0) {
      }
      ["categories_under_242"]=>
      array(0) {
      }
      ["deep_categories_under_242"]=>
      array(0) {
      }
      ["categories_under_564"]=>
      array(0) {
      }
      ["deep_categories_under_564"]=>
      array(0) {
      }
      ["freetags"]=>
      array(0) {
      }
      ["geo_located"]=>
      string(1) "n"
      ["allowed_groups"]=>
      array(2) {
        [0]=>
        string(6) "Admins"
        [1]=>
        string(9) "Anonymous"
      }
      ["allowed_users"]=>
      array(0) {
      }
      ["relations"]=>
      array(0) {
      }
      ["relation_objects"]=>
      array(0) {
      }
      ["relation_types"]=>
      array(0) {
      }
      ["relation_count"]=>
      array(0) {
      }
      ["title_initial"]=>
      string(1) "S"
      ["title_firstword"]=>
      string(6) "Sewing"
      ["searchable"]=>
      string(1) "y"
      ["url"]=>
      string(8) "item8704"
      ["object_type"]=>
      string(11) "trackeritem"
      ["object_id"]=>
      string(4) "8704"
      ["contents"]=>
      string(333) "    Sewing Room 1614 Hazelrig Dr. S.E.   Atlanta GA 30315 http://https://www.facebook.com/sewingroomatl/         Practice space, DIY venue, and celebrators of the weird and absurd, for the homeless bands and artists of Atlanta.               n      573f3cd81e3ee4dfcf65f43f       NoGoogleID  n  2017-07-16T21:30:40+00:00 Sewing Room "
      ["score"]=>
      float(0)
      ["_index"]=>
      string(21) "atlantawiki_tiki_main"
      ["objectlink"]=>
      string(189) "Sewing Room"
      ["image"]=>
      string(39) "

File not found.

"
      ["areaLocation"]=>
      string(34) "-84.3503813,33.7391182,15"
    }
    [39]=>
    array(95) {
      ["title"]=>
      string(13) "Cigar Village"
      ["modification_date"]=>
      string(25) "2018-07-27T14:23:31+00:00"
      ["creation_date"]=>
      string(25) "2017-06-19T12:58:54+00:00"
      ["contributors"]=>
      array(2) {
        [0]=>
        NULL
        [1]=>
        string(29) "ben.eason@creativeloafing.com"
      }
      ["date"]=>
      string(25) "2017-06-19T12:58:54+00:00"
      ["tracker_status"]=>
      string(1) "o"
      ["tracker_id"]=>
      string(1) "1"
      ["view_permission"]=>
      string(13) "view_trackers"
      ["tracker_field_businessName"]=>
      string(13) "Cigar Village"
      ["tracker_field_businessAddress"]=>
      string(25) "492 Flat Shoals Ave. S.E."
      ["tracker_field_businessCity"]=>
      string(7) "Atlanta"
      ["tracker_field_businessState"]=>
      string(2) "GA"
      ["tracker_field_businessZip"]=>
      string(5) "30316"
      ["tracker_field_businessPhone"]=>
      string(14) "(404) 525-0880"
      ["tracker_field_businessRepresentative"]=>
      array(0) {
      }
      ["tracker_field_businessLocation"]=>
      string(25) "-84.3458534,33.7408141,12"
      ["tracker_field_businessLocationRadius"]=>
      int(0)
      ["tracker_field_description"]=>
      string(122) "This is a cigar shop that sells premium cigars and smoking accessorie. The locaiton also has a lounge and hookah services."
      ["tracker_field_description_raw"]=>
      string(122) "This is a cigar shop that sells premium cigars and smoking accessorie. The locaiton also has a lounge and hookah services."
      ["tracker_field_businessClassifieds"]=>
      array(0) {
      }
      ["tracker_field_businessTypes"]=>
      array(1) {
        [0]=>
        string(2) "88"
      }
      ["tracker_field_businessTypes_text"]=>
      string(2) "88"
      ["tracker_field_scene"]=>
      array(0) {
      }
      ["tracker_field_businessNeighborhoods"]=>
      array(2) {
        [0]=>
        string(3) "100"
        [1]=>
        string(3) "149"
      }
      ["tracker_field_businessNeighborhoods_text"]=>
      string(7) "100 149"
      ["tracker_field_businessPriceRange"]=>
      array(0) {
      }
      ["tracker_field_businessMiscCategories"]=>
      array(0) {
      }
      ["tracker_field_businessCLAcctNum"]=>
      int(0)
      ["tracker_field_business_121CurrentChit"]=>
      string(1) "n"
      ["tracker_field_121MobileClientID"]=>
      int(0)
      ["tracker_field_121MobileCampaignData"]=>
      array(0) {
      }
      ["tracker_field_121MobileCampaignData_json"]=>
      array(0) {
      }
      ["tracker_field_google_placeid"]=>
      string(27) "ChIJmeT4cVsB9YgRV3N8zXG_LEU"
      ["tracker_field_googlePlaceData"]=>
      array(14) {
        [0]=>
        string(212) "

492 Flat Shoals Ave SE

, 

Atlanta

, 

GA

 

30316-1900

, 

USA

"
        [1]=>
        string(46) "492 Flat Shoals Ave SE, Atlanta, GA 30316, USA"
        [2]=>
        string(14) "(404) 525-0880"
        [3]=>
        string(65) "https://maps.gstatic.com/mapfiles/place_api/icons/shopping-71.png"
        [4]=>
        string(40) "fda801cb88fd7eb3d8ec0c950a7c5cf49fe37b97"
        [5]=>
        string(15) "+1 404-525-0880"
        [6]=>
        string(13) "Cigar Village"
        [7]=>
        string(27) "ChIJmeT4cVsB9YgRV3N8zXG_LEU"
        [8]=>
        string(3) "4.5"
        [9]=>
        string(190) "CmRRAAAAcZhb6N-bnGCd4zI_9ZfL3rit39iLKwfM5caTXpCG_Z44YFpjQvcq0X0YH6ww9GeF1-5lY6iwBdGDfEX1WSbLeXGAsC0o81-33uge4pgCCUzKnKcREQ7RZEdrwKhW2rUSEhAOsl3KJnPOePn4sgZgriD9GhSJa5O03v08xxiRSqer_azAlwnRsg"
        [10]=>
        string(6) "GOOGLE"
        [11]=>
        string(48) "https://maps.google.com/?cid=4984569383091991383"
        [12]=>
        string(4) "-240"
        [13]=>
        string(41) "492 Flat Shoals Avenue Southeast, Atlanta"
      }
      ["tracker_field_googlePlaceData_text"]=>
      string(576) "492 Flat Shoals Ave SE, Atlanta, GA 30316-1900, USA 492 Flat Shoals Ave SE, Atlanta, GA 30316, USA (404) 525-0880 https://maps.gstatic.com/mapfiles/place_api/icons/shopping-71.png fda801cb88fd7eb3d8ec0c950a7c5cf49fe37b97 +1 404-525-0880 Cigar Village ChIJmeT4cVsB9YgRV3N8zXG_LEU 4.5 CmRRAAAAcZhb6N-bnGCd4zI_9ZfL3rit39iLKwfM5caTXpCG_Z44YFpjQvcq0X0YH6ww9GeF1-5lY6iwBdGDfEX1WSbLeXGAsC0o81-33uge4pgCCUzKnKcREQ7RZEdrwKhW2rUSEhAOsl3KJnPOePn4sgZgriD9GhSJa5O03v08xxiRSqer_azAlwnRsg GOOGLE https://maps.google.com/?cid=4984569383091991383 -240 492 Flat Shoals Avenue Southeast, Atlanta"
      ["tracker_field_googlePlaceData_json"]=>
      object(stdClass)#1873 (21) {
        ["address_components"]=>
        array(9) {
          [0]=>
          object(stdClass)#1864 (3) {
            ["long_name"]=>
            string(3) "492"
            ["short_name"]=>
            string(3) "492"
            ["types"]=>
            array(1) {
              [0]=>
              string(13) "street_number"
            }
          }
          [1]=>
          object(stdClass)#1865 (3) {
            ["long_name"]=>
            string(28) "Flat Shoals Avenue Southeast"
            ["short_name"]=>
            string(18) "Flat Shoals Ave SE"
            ["types"]=>
            array(1) {
              [0]=>
              string(5) "route"
            }
          }
          [2]=>
          object(stdClass)#1866 (3) {
            ["long_name"]=>
            string(12) "East Atlanta"
            ["short_name"]=>
            string(12) "East Atlanta"
            ["types"]=>
            array(2) {
              [0]=>
              string(12) "neighborhood"
              [1]=>
              string(9) "political"
            }
          }
          [3]=>
          object(stdClass)#1867 (3) {
            ["long_name"]=>
            string(7) "Atlanta"
            ["short_name"]=>
            string(7) "Atlanta"
            ["types"]=>
            array(2) {
              [0]=>
              string(8) "locality"
              [1]=>
              string(9) "political"
            }
          }
          [4]=>
          object(stdClass)#1868 (3) {
            ["long_name"]=>
            string(13) "DeKalb County"
            ["short_name"]=>
            string(13) "Dekalb County"
            ["types"]=>
            array(2) {
              [0]=>
              string(27) "administrative_area_level_2"
              [1]=>
              string(9) "political"
            }
          }
          [5]=>
          object(stdClass)#1869 (3) {
            ["long_name"]=>
            string(7) "Georgia"
            ["short_name"]=>
            string(2) "GA"
            ["types"]=>
            array(2) {
              [0]=>
              string(27) "administrative_area_level_1"
              [1]=>
              string(9) "political"
            }
          }
          [6]=>
          object(stdClass)#1870 (3) {
            ["long_name"]=>
            string(13) "United States"
            ["short_name"]=>
            string(2) "US"
            ["types"]=>
            array(2) {
              [0]=>
              string(7) "country"
              [1]=>
              string(9) "political"
            }
          }
          [7]=>
          object(stdClass)#1871 (3) {
            ["long_name"]=>
            string(5) "30316"
            ["short_name"]=>
            string(5) "30316"
            ["types"]=>
            array(1) {
              [0]=>
              string(11) "postal_code"
            }
          }
          [8]=>
          object(stdClass)#1872 (3) {
            ["long_name"]=>
            string(4) "1900"
            ["short_name"]=>
            string(4) "1900"
            ["types"]=>
            array(1) {
              [0]=>
              string(18) "postal_code_suffix"
            }
          }
        }
        ["adr_address"]=>
        string(212) "

492 Flat Shoals Ave SE

, 

Atlanta

, 

GA

 

30316-1900

, 

USA

"
        ["formatted_address"]=>
        string(46) "492 Flat Shoals Ave SE, Atlanta, GA 30316, USA"
        ["formatted_phone_number"]=>
        string(14) "(404) 525-0880"
        ["geometry"]=>
        object(stdClass)#1875 (2) {
          ["location"]=>
          object(stdClass)#1874 (2) {
            ["lat"]=>
            string(10) "33.7408141"
            ["lng"]=>
            string(11) "-84.3458534"
          }
          ["viewport"]=>
          object(stdClass)#1877 (2) {
            ["northeast"]=>
            object(stdClass)#1876 (2) {
              ["lat"]=>
              string(15) "33.742100230291"
              ["lng"]=>
              string(16) "-84.344585219709"
            }
            ["southwest"]=>
            object(stdClass)#1878 (2) {
              ["lat"]=>
              string(15) "33.739402269708"
              ["lng"]=>
              string(16) "-84.347283180292"
            }
          }
        }
        ["icon"]=>
        string(65) "https://maps.gstatic.com/mapfiles/place_api/icons/shopping-71.png"
        ["id"]=>
        string(40) "fda801cb88fd7eb3d8ec0c950a7c5cf49fe37b97"
        ["international_phone_number"]=>
        string(15) "+1 404-525-0880"
        ["name"]=>
        string(13) "Cigar Village"
        ["opening_hours"]=>
        object(stdClass)#1879 (3) {
          ["open_now"]=>
          bool(false)
          ["periods"]=>
          array(7) {
            [0]=>
            object(stdClass)#1881 (2) {
              ["close"]=>
              object(stdClass)#1880 (2) {
                ["day"]=>
                int(0)
                ["time"]=>
                string(4) "2300"
              }
              ["open"]=>
              object(stdClass)#1882 (2) {
                ["day"]=>
                int(0)
                ["time"]=>
                string(4) "1200"
              }
            }
            [1]=>
            object(stdClass)#1884 (2) {
              ["close"]=>
              object(stdClass)#1883 (2) {
                ["day"]=>
                string(1) "2"
                ["time"]=>
                string(4) "0000"
              }
              ["open"]=>
              object(stdClass)#1885 (2) {
                ["day"]=>
                string(1) "1"
                ["time"]=>
                string(4) "1400"
              }
            }
            [2]=>
            object(stdClass)#1887 (2) {
              ["close"]=>
              object(stdClass)#1886 (2) {
                ["day"]=>
                string(1) "3"
                ["time"]=>
                string(4) "0000"
              }
              ["open"]=>
              object(stdClass)#1888 (2) {
                ["day"]=>
                string(1) "2"
                ["time"]=>
                string(4) "1400"
              }
            }
            [3]=>
            object(stdClass)#1890 (2) {
              ["close"]=>
              object(stdClass)#1889 (2) {
                ["day"]=>
                string(1) "4"
                ["time"]=>
                string(4) "0000"
              }
              ["open"]=>
              object(stdClass)#1891 (2) {
                ["day"]=>
                string(1) "3"
                ["time"]=>
                string(4) "1400"
              }
            }
            [4]=>
            object(stdClass)#1893 (2) {
              ["close"]=>
              object(stdClass)#1892 (2) {
                ["day"]=>
                string(1) "5"
                ["time"]=>
                string(4) "0000"
              }
              ["open"]=>
              object(stdClass)#1894 (2) {
                ["day"]=>
                string(1) "4"
                ["time"]=>
                string(4) "1400"
              }
            }
            [5]=>
            object(stdClass)#1896 (2) {
              ["close"]=>
              object(stdClass)#1895 (2) {
                ["day"]=>
                string(1) "6"
                ["time"]=>
                string(4) "0230"
              }
              ["open"]=>
              object(stdClass)#1897 (2) {
                ["day"]=>
                string(1) "5"
                ["time"]=>
                string(4) "1300"
              }
            }
            [6]=>
            object(stdClass)#1899 (2) {
              ["close"]=>
              object(stdClass)#1898 (2) {
                ["day"]=>
                int(0)
                ["time"]=>
                string(4) "0230"
              }
              ["open"]=>
              object(stdClass)#1900 (2) {
                ["day"]=>
                string(1) "6"
                ["time"]=>
                string(4) "1300"
              }
            }
          }
          ["weekday_text"]=>
          array(7) {
            [0]=>
            string(28) "Monday: 2:00 PM – 12:00 AM"
            [1]=>
            string(29) "Tuesday: 2:00 PM – 12:00 AM"
            [2]=>
            string(31) "Wednesday: 2:00 PM – 12:00 AM"
            [3]=>
            string(30) "Thursday: 2:00 PM – 12:00 AM"
            [4]=>
            string(27) "Friday: 1:00 PM – 2:30 AM"
            [5]=>
            string(29) "Saturday: 1:00 PM – 2:30 AM"
            [6]=>
            string(26) "Sunday: 12:00 – 11:00 PM"
          }
        }
        ["photos"]=>
        array(10) {
          [0]=>
          object(stdClass)#1901 (4) {
            ["height"]=>
            int(427)
            ["html_attributions"]=>
            array(1) {
              [0]=>
              string(93) "Cigar Village"
            }
            ["photo_reference"]=>
            string(190) "CmRaAAAA9TMkEPXrzaISUow_BHW7VuTY60hD8lCkIdTBL_3a4RcG1THAvF0RI3x-FnCnF0HEV4DVh0acVikyCtOE9NI9rtzdT8OBlMrXjCxK5rKzJeDd_OlAWoztHz77OmmnrJEfEhCUc48ztSwkfIja1mCI5VWIGhSWcsmv9_kgjzZW-Icdl1RFcTgepQ"
            ["width"]=>
            int(643)
          }
          [1]=>
          object(stdClass)#1902 (4) {
            ["height"]=>
            int(3024)
            ["html_attributions"]=>
            array(1) {
              [0]=>
              string(88) "chef dee"
            }
            ["photo_reference"]=>
            string(190) "CmRaAAAANSzz-1Gb08O7ciD3OojpKKjEXwJmJ3vlyr4zERzUrjCRRzt3EEaFJ5QRmcBEcN3duvJFgRMbbzUatQNyJpubQy_YUtMfpT7b90eG24gnSEV0deKdG0i96Ac7DhPBuarVEhC_g4KaYMneGLtRsb8leCDOGhS4rD-e3u5lf7rtW9zvg6q0HAhtUw"
            ["width"]=>
            int(4032)
          }
          [2]=>
          object(stdClass)#1903 (4) {
            ["height"]=>
            int(4032)
            ["html_attributions"]=>
            array(1) {
              [0]=>
              string(88) "chef dee"
            }
            ["photo_reference"]=>
            string(190) "CmRaAAAAgADEMUmuQ6QNOhImMkOwgVGjXmWWNiTErjMdPLHQcZcnlVVCsAyJhzM5ghmLKAh26DNLjP59lARflDsZRVtpgH6HtsheaITZQBMJY0I_OgyC0K0L_dtny1ToADkfpr0DEhAc5lca3vPAJGEKrTFOLih1GhQWl_O46O-tBFmgcCROhljmRYT69g"
            ["width"]=>
            int(3024)
          }
          [3]=>
          object(stdClass)#1904 (4) {
            ["height"]=>
            int(3024)
            ["html_attributions"]=>
            array(1) {
              [0]=>
              string(88) "chef dee"
            }
            ["photo_reference"]=>
            string(190) "CmRaAAAAENO3JX-9YzF1RJBtWWRdfAe53gzure45PmXTkMmTdQ89BOgqFNqONTO5pEq8lzzG3ynr3VodI1UnW-5l6MWUFXfg-fPxCDZPeAcOYNKt3VjkbCFgDFwGPAPyZvPpN-nqEhBWGva-lZVkru6W4w6ZSIHEGhSrmrVPELIt18_7VMiUMPTbvrZHPA"
            ["width"]=>
            int(4032)
          }
          [4]=>
          object(stdClass)#1905 (4) {
            ["height"]=>
            int(4160)
            ["html_attributions"]=>
            array(1) {
              [0]=>
              string(96) "Anthony S. Greer"
            }
            ["photo_reference"]=>
            string(190) "CmRaAAAABdzF8U7xVT49xi4GXrgaM8lTxV5E1xgj_cqcAIO6-BpuizLVuWRNhcfV7rszmaAv_D4XN_wHbIqJj-7tK3XJLX5ZtRQYFoAtPUMrFeqV2UQ2cZLQP8WDE5Qv-Hi4tzL6EhDJbGcOWwsNbLlbs0k_UTr5GhR2C00PRm8LHu7StaZyWcbB5no4nQ"
            ["width"]=>
            int(2340)
          }
          [5]=>
          object(stdClass)#1906 (4) {
            ["height"]=>
            int(4160)
            ["html_attributions"]=>
            array(1) {
              [0]=>
              string(96) "Anthony S. Greer"
            }
            ["photo_reference"]=>
            string(190) "CmRaAAAAJafkOIhzRtFdN9JYoMiO6Cm_3hK5cMJp5hVsE8tCu_zXqqfpEvpyp68mHY1ljJ4rfcoOd4SrrtZLOsN2NNuOGEl2OBiCQzzuI-5qqez8yUVkP_b64lSVrHd_NANom7FKEhD5UCvUXjv5aHgyhaK1PGRgGhSilNcNynGbC2jhH1aH5sCoBADfvw"
            ["width"]=>
            int(2340)
          }
          [6]=>
          object(stdClass)#1907 (4) {
            ["height"]=>
            int(4160)
            ["html_attributions"]=>
            array(1) {
              [0]=>
              string(96) "Anthony S. Greer"
            }
            ["photo_reference"]=>
            string(190) "CmRaAAAAJMUDzI0TKdM_j2Q7gpmsgLenyFEWcW9MOrTq-Zjt8EspEJVFOxzSjHb9aoasrAum7E4slMj8Lx8aBduie5MCXN8v1ifScARKYpDmYtU5Mmx3x1mu15zrzca8HzHGxkzfEhCTtj-p9dtl4MZwxvcGoJvuGhRpmADmlj-v-0stMrwMMVmBfprLtw"
            ["width"]=>
            int(2340)
          }
          [7]=>
          object(stdClass)#1908 (4) {
            ["height"]=>
            int(3120)
            ["html_attributions"]=>
            array(1) {
              [0]=>
              string(94) "Tairon Philpot"
            }
            ["photo_reference"]=>
            string(190) "CmRaAAAAgIUsPvh06U7zUm4_6Hxpt4FiM_4Lv688WTNZccKQ9WG7As-o28OCKGruRkO2SfvhxPPQJm5M3YQsAzBxTYmeE-MQA6oF_A-V4fHo0kfP4_ty4GJT04a48SAujID661cgEhCntD89bo0ory_BqzOb9yqUGhRPwZTCb45C9TaA8ZrlClxkID5jaw"
            ["width"]=>
            int(3120)
          }
          [8]=>
          object(stdClass)#1909 (4) {
            ["height"]=>
            int(4160)
            ["html_attributions"]=>
            array(1) {
              [0]=>
              string(92) "April Taurus"
            }
            ["photo_reference"]=>
            string(190) "CmRaAAAAfHUY3P4cwBVC4VdAzeUtvG5RefSUXEGkDeLRB1Q4vMYCzEGxpn4z9llRFIAxJb7Z4PvQhC9gNbBjPtzS4roKiR0URCveOHZ8iNfPPM6Vh65joYAbcohtoTurmy6LRhkMEhDdwCTYKzBS3ybfYENd6dVMGhTGYc2jAHqmSxaQlTHZWqj10ulSYg"
            ["width"]=>
            int(3120)
          }
          [9]=>
          object(stdClass)#1910 (4) {
            ["height"]=>
            int(4160)
            ["html_attributions"]=>
            array(1) {
              [0]=>
              string(92) "April Taurus"
            }
            ["photo_reference"]=>
            string(190) "CmRaAAAAGsFJW0XmjVuO2kc0kE5tdluHi2HlBs1tWk3Px4xNrLaS9xdQp5ade3R4jHKjKAxgK_zQi5ogHSEuQKFtDSK_SrXMPJc3XP5rQKUzwccepdcuoONuWxWBv4mfVC818qAOEhCB1Brlo8GSV5Nnr2W7oOaIGhTmapKwnSSuzPJsSwM07CbydST4JA"
            ["width"]=>
            int(3120)
          }
        }
        ["place_id"]=>
        string(27) "ChIJmeT4cVsB9YgRV3N8zXG_LEU"
        ["plus_code"]=>
        object(stdClass)#1911 (2) {
          ["compound_code"]=>
          string(39) "PMR3+8M Atlanta, Georgia, United States"
          ["global_code"]=>
          string(11) "865QPMR3+8M"
        }
        ["rating"]=>
        string(3) "4.5"
        ["reference"]=>
        string(190) "CmRRAAAAcZhb6N-bnGCd4zI_9ZfL3rit39iLKwfM5caTXpCG_Z44YFpjQvcq0X0YH6ww9GeF1-5lY6iwBdGDfEX1WSbLeXGAsC0o81-33uge4pgCCUzKnKcREQ7RZEdrwKhW2rUSEhAOsl3KJnPOePn4sgZgriD9GhSJa5O03v08xxiRSqer_azAlwnRsg"
        ["reviews"]=>
        array(5) {
          [0]=>
          object(stdClass)#1912 (8) {
            ["author_name"]=>
            string(16) "Lawrence Johnson"
            ["author_url"]=>
            string(65) "https://www.google.com/maps/contrib/111237333293295505580/reviews"
            ["language"]=>
            string(2) "en"
            ["profile_photo_url"]=>
            string(141) "https://lh3.googleusercontent.com/-jD4deIVqduY/AAAAAAAAAAI/AAAAAAAAAAA/AAnnY7roNCPI0l-bSCEy_hGabNo5-_tinA/s128-c0x00000000-cc-rp-mo/photo.jpg"
            ["rating"]=>
            string(1) "5"
            ["relative_time_description"]=>
            string(11) "3 weeks ago"
            ["text"]=>
            string(75) "Nice place to sit back and smoke and drink a shot or two. Very good people."
            ["time"]=>
            int(1530589574)
          }
          [1]=>
          object(stdClass)#1913 (8) {
            ["author_name"]=>
            string(9) "Tone Wash"
            ["author_url"]=>
            string(65) "https://www.google.com/maps/contrib/102442515326928815202/reviews"
            ["language"]=>
            string(2) "en"
            ["profile_photo_url"]=>
            string(122) "https://lh4.googleusercontent.com/-fwE8Q9F57AM/AAAAAAAAAAI/AAAAAAAAWAo/1ZActcSDg8c/s128-c0x00000000-cc-rp-mo-ba4/photo.jpg"
            ["rating"]=>
            string(1) "5"
            ["relative_time_description"]=>
            string(12) "8 months ago"
            ["text"]=>
            string(330) "I went too this place last night. After,  several searches, so excited they were open. I can't think of the young lady or the guy name that answered a copious amounts of questions I asked! They were awesome and new allot!!!! Highly recommend this joint. I already shared their info too my cigar smokers network....
Thanks guys...."
            ["time"]=>
            int(1511440143)
          }
          [2]=>
          object(stdClass)#1914 (8) {
            ["author_name"]=>
            string(10) "Chef Devin"
            ["author_url"]=>
            string(65) "https://www.google.com/maps/contrib/107077475631539359573/reviews"
            ["language"]=>
            string(2) "en"
            ["profile_photo_url"]=>
            string(118) "https://lh6.googleusercontent.com/-brB_kejsXAA/AAAAAAAAAAI/AAAAAAAAAC4/jZlJwPF3-po/s128-c0x00000000-cc-rp-mo/photo.jpg"
            ["rating"]=>
            string(1) "1"
            ["relative_time_description"]=>
            string(12) "2 months ago"
            ["text"]=>
            string(232) "The reviews have to be a joke. The environment was chills. Reminds me of house parties my mother would throw growing up (spades, R&B....memories) However the selection was a step above gas station selection. No premium cigars at all"
            ["time"]=>
            int(1526476913)
          }
          [3]=>
          object(stdClass)#1915 (8) {
            ["author_name"]=>
            string(15) "Shawn Wilkerson"
            ["author_url"]=>
            string(65) "https://www.google.com/maps/contrib/105340911123384760644/reviews"
            ["language"]=>
            string(2) "en"
            ["profile_photo_url"]=>
            string(122) "https://lh6.googleusercontent.com/-J4gNywTCL8c/AAAAAAAAAAI/AAAAAAAACKU/fiT8K90moz0/s128-c0x00000000-cc-rp-mo-ba3/photo.jpg"
            ["rating"]=>
            string(1) "4"
            ["relative_time_description"]=>
            string(12) "2 months ago"
            ["text"]=>
            string(79) "Good selection of Scotch, very knowledgeable bartender... and she was very cute"
            ["time"]=>
            int(1526862889)
          }
          [4]=>
          object(stdClass)#1916 (8) {
            ["author_name"]=>
            string(10) "Dee Smooth"
            ["author_url"]=>
            string(65) "https://www.google.com/maps/contrib/101398427123231627338/reviews"
            ["language"]=>
            string(2) "en"
            ["profile_photo_url"]=>
            string(141) "https://lh5.googleusercontent.com/-RQUWMLNp3KQ/AAAAAAAAAAI/AAAAAAAAAAA/AAnnY7rbjgHtuebh5T3-MO2vBGvAiSco2g/s128-c0x00000000-cc-rp-mo/photo.jpg"
            ["rating"]=>
            string(1) "5"
            ["relative_time_description"]=>
            string(12) "4 months ago"
            ["text"]=>
            string(88) "Good place in the city for a cigar.  The selection is OK but the service is outstanding."
            ["time"]=>
            int(1520475960)
          }
        }
        ["scope"]=>
        string(6) "GOOGLE"
        ["types"]=>
        array(4) {
          [0]=>
          string(3) "bar"
          [1]=>
          string(5) "store"
          [2]=>
          string(17) "point_of_interest"
          [3]=>
          string(13) "establishment"
        }
        ["url"]=>
        string(48) "https://maps.google.com/?cid=4984569383091991383"
        ["utc_offset"]=>
        string(4) "-240"
        ["vicinity"]=>
        string(41) "492 Flat Shoals Avenue Southeast, Atlanta"
      }
      ["tracker_field_googleOverallRating"]=>
      float(4.6)
      ["tracker_field_businessYelpBusinessData"]=>
      array(0) {
      }
      ["tracker_field_businessYelpBusinessData_json"]=>
      array(0) {
      }
      ["tracker_field_businessFacebook"]=>
      string(21) "Cigar Village Atlanta"
      ["tracker_field_businessFacebookID"]=>
      string(15) "541904282543452"
      ["tracker_field_businessFacebookData"]=>
      array(2) {
        [0]=>
        string(15) "541904282543452"
        [1]=>
        string(21) "Cigar Village Atlanta"
      }
      ["tracker_field_businessFacebookData_text"]=>
      string(37) "541904282543452 Cigar Village Atlanta"
      ["tracker_field_businessFacebookData_json"]=>
      object(stdClass)#1917 (4) {
        ["id"]=>
        string(15) "541904282543452"
        ["name"]=>
        string(21) "Cigar Village Atlanta"
        ["events"]=>
        object(stdClass)#1947 (2) {
          ["data"]=>
          array(11) {
            [0]=>
            object(stdClass)#1918 (4) {
              ["name"]=>
              string(12) "Ladies Night"
              ["place"]=>
              object(stdClass)#1919 (3) {
                ["name"]=>
                string(21) "Cigar Village Atlanta"
                ["location"]=>
                object(stdClass)#1920 (7) {
                  ["city"]=>
                  string(7) "Atlanta"
                  ["country"]=>
                  string(13) "United States"
                  ["latitude"]=>
                  string(15) "33.740815559052"
                  ["longitude"]=>
                  string(16) "-84.345817774173"
                  ["state"]=>
                  string(2) "GA"
                  ["street"]=>
                  string(22) "492 Flat Shoals Ave SE"
                  ["zip"]=>
                  string(5) "30316"
                }
                ["id"]=>
                string(15) "541904282543452"
              }
              ["start_time"]=>
              string(24) "2018-02-01T18:00:00-0500"
              ["id"]=>
              string(15) "513775639015876"
            }
            [1]=>
            object(stdClass)#1921 (4) {
              ["name"]=>
              string(25) "Heels, Sticks, & football"
              ["place"]=>
              object(stdClass)#1922 (3) {
                ["name"]=>
                string(21) "Cigar Village Atlanta"
                ["location"]=>
                object(stdClass)#1923 (7) {
                  ["city"]=>
                  string(7) "Atlanta"
                  ["country"]=>
                  string(13) "United States"
                  ["latitude"]=>
                  string(15) "33.740815559052"
                  ["longitude"]=>
                  string(16) "-84.345817774173"
                  ["state"]=>
                  string(2) "GA"
                  ["street"]=>
                  string(22) "492 Flat Shoals Ave SE"
                  ["zip"]=>
                  string(5) "30316"
                }
                ["id"]=>
                string(15) "541904282543452"
              }
              ["start_time"]=>
              string(24) "2017-11-16T18:00:00-0500"
              ["id"]=>
              string(15) "165637354026730"
            }
            [2]=>
            object(stdClass)#1924 (6) {
              ["description"]=>
              string(189) "Come sample 21 year aged rum and the variety of cigars provided by Villiger Cigars.  Tons of giveaways, lighters, cutters, humidors, ashtrays, hats.  Great deals on cigars (singles & boxes$"
              ["end_time"]=>
              string(24) "2017-10-12T22:00:00-0400"
              ["name"]=>
              string(21) "Villiger Cigar Event "
              ["place"]=>
              object(stdClass)#1925 (3) {
                ["name"]=>
                string(21) "Cigar Village Atlanta"
                ["location"]=>
                object(stdClass)#1926 (7) {
                  ["city"]=>
                  string(7) "Atlanta"
                  ["country"]=>
                  string(13) "United States"
                  ["latitude"]=>
                  string(15) "33.740815559052"
                  ["longitude"]=>
                  string(16) "-84.345817774173"
                  ["state"]=>
                  string(2) "GA"
                  ["street"]=>
                  string(22) "492 Flat Shoals Ave SE"
                  ["zip"]=>
                  string(5) "30316"
                }
                ["id"]=>
                string(15) "541904282543452"
              }
              ["start_time"]=>
              string(24) "2017-10-12T17:00:00-0400"
              ["id"]=>
              string(15) "691473034380921"
            }
            [3]=>
            object(stdClass)#1927 (6) {
              ["description"]=>
              string(112) "Free Meukow Vanilla samples to all guest.  Full cash bar available and full walk in humidor for cigar purchases."
              ["end_time"]=>
              string(24) "2017-08-28T22:00:00-0400"
              ["name"]=>
              string(34) "It's a Cognac Party with Benzino! "
              ["place"]=>
              object(stdClass)#1928 (3) {
                ["name"]=>
                string(21) "Cigar Village Atlanta"
                ["location"]=>
                object(stdClass)#1929 (7) {
                  ["city"]=>
                  string(7) "Atlanta"
                  ["country"]=>
                  string(13) "United States"
                  ["latitude"]=>
                  string(15) "33.740815559052"
                  ["longitude"]=>
                  string(16) "-84.345817774173"
                  ["state"]=>
                  string(2) "GA"
                  ["street"]=>
                  string(22) "492 Flat Shoals Ave SE"
                  ["zip"]=>
                  string(5) "30316"
                }
                ["id"]=>
                string(15) "541904282543452"
              }
              ["start_time"]=>
              string(24) "2017-08-28T19:00:00-0400"
              ["id"]=>
              string(15) "590832707973256"
            }
            [4]=>
            object(stdClass)#1930 (5) {
              ["description"]=>
              string(51) "Soulful Saturday featuring The Nourishment R&B Band"
              ["name"]=>
              string(58) "Live Music / Soulful Saturday's featuring The Nourishment "
              ["place"]=>
              object(stdClass)#1931 (3) {
                ["name"]=>
                string(21) "Cigar Village Atlanta"
                ["location"]=>
                object(stdClass)#1932 (7) {
                  ["city"]=>
                  string(7) "Atlanta"
                  ["country"]=>
                  string(13) "United States"
                  ["latitude"]=>
                  string(15) "33.740815559052"
                  ["longitude"]=>
                  string(16) "-84.345817774173"
                  ["state"]=>
                  string(2) "GA"
                  ["street"]=>
                  string(22) "492 Flat Shoals Ave SE"
                  ["zip"]=>
                  string(5) "30316"
                }
                ["id"]=>
                string(15) "541904282543452"
              }
              ["start_time"]=>
              string(24) "2017-08-26T21:00:00-0400"
              ["id"]=>
              string(15) "831744140332785"
            }
            [5]=>
            object(stdClass)#1933 (5) {
              ["description"]=>
              string(212) "This young brother is on the rise to the top, come listen to his soulful voice and creative approach to delivering his music to you.  Cash bar on site and hookah's available.  Inquire about seats at 404-525-0880."
              ["name"]=>
              string(20) "Live R&B & Cocktails"
              ["place"]=>
              object(stdClass)#1934 (3) {
                ["name"]=>
                string(21) "Cigar Village Atlanta"
                ["location"]=>
                object(stdClass)#1935 (7) {
                  ["city"]=>
                  string(7) "Atlanta"
                  ["country"]=>
                  string(13) "United States"
                  ["latitude"]=>
                  string(15) "33.740815559052"
                  ["longitude"]=>
                  string(16) "-84.345817774173"
                  ["state"]=>
                  string(2) "GA"
                  ["street"]=>
                  string(22) "492 Flat Shoals Ave SE"
                  ["zip"]=>
                  string(5) "30316"
                }
                ["id"]=>
                string(15) "541904282543452"
              }
              ["start_time"]=>
              string(24) "2016-02-27T00:00:00+0000"
              ["id"]=>
              string(15) "684088441733843"
            }
            [6]=>
            object(stdClass)#1936 (6) {
              ["description"]=>
              string(145) "WE WILL BE SHOWING THE SUPER BOWL GAME ON 3 FLAT SCREEN TELEVISIONS, THERE IS A 1 CIGAR MINIMUM ON ALL GUEST THAT SMOKE, ALL OTHERS TIP THE HOST."
              ["end_time"]=>
              string(24) "2014-02-03T02:00:00-0500"
              ["name"]=>
              string(22) "SUPER BOWL AND STOGIES"
              ["place"]=>
              object(stdClass)#1937 (3) {
                ["name"]=>
                string(21) "Cigar Village Atlanta"
                ["location"]=>
                object(stdClass)#1938 (7) {
                  ["city"]=>
                  string(7) "Atlanta"
                  ["country"]=>
                  string(13) "United States"
                  ["latitude"]=>
                  string(15) "33.740815559052"
                  ["longitude"]=>
                  string(16) "-84.345817774173"
                  ["state"]=>
                  string(2) "GA"
                  ["street"]=>
                  string(22) "492 Flat Shoals Ave SE"
                  ["zip"]=>
                  string(5) "30316"
                }
                ["id"]=>
                string(15) "541904282543452"
              }
              ["start_time"]=>
              string(24) "2014-02-02T12:00:00-0500"
              ["id"]=>
              string(15) "210311972499505"
            }
            [7]=>
            object(stdClass)#1939 (6) {
              ["description"]=>
              string(159) "Bring your business cards and leave work and stop through to mingle with other professionals while smoking your favorite cigar or hookah and beverage of choice"
              ["end_time"]=>
              string(24) "2013-09-20T21:00:00-0400"
              ["name"]=>
              string(25) "Networking Meet and Greet"
              ["place"]=>
              object(stdClass)#1940 (1) {
                ["name"]=>
                string(50) "492A Flat Shoals Avenue SE, Atlanta, Georgia 30316"
              }
              ["start_time"]=>
              string(24) "2013-09-20T18:00:00-0400"
              ["id"]=>
              string(15) "541650705907816"
            }
            [8]=>
            object(stdClass)#1941 (5) {
              ["description"]=>
              string(83) "Come enjoy the beverage of your choice a nice cigar or Hookah and the football game"
              ["name"]=>
              string(21) "Monday Night Football"
              ["place"]=>
              object(stdClass)#1942 (1) {
                ["name"]=>
                string(50) "492A Flat Shoals Avenue SE, Atlanta, Georgia 30316"
              }
              ["start_time"]=>
              string(24) "2013-09-09T19:30:00-0400"
              ["id"]=>
              string(16) "1377607435795092"
            }
            [9]=>
            object(stdClass)#1943 (5) {
              ["description"]=>
              string(71) "Come watch the game with us and relax and ask about discounts on cigars"
              ["name"]=>
              string(36) "Football Sunday 1PM to the late game"
              ["place"]=>
              object(stdClass)#1944 (1) {
                ["name"]=>
                string(50) "492A Flat Shoals Avenue SE, Atlanta, Georgia 30316"
              }
              ["start_time"]=>
              string(24) "2013-09-08T00:00:00-0700"
              ["id"]=>
              string(15) "504506689636968"
            }
            [10]=>
            object(stdClass)#1945 (6) {
              ["description"]=>
              string(317) "Celebrating our opening we will have cigar specials and gifts for our new customers and specials on cigar lockers for purchase, either annually or at monthly rate.   We will raffle off a personal humidor.  We will be celebrating all weekend.  Come enjoy some beverages and food at Cigar Village.  "Come Smoke with us""
              ["end_time"]=>
              string(24) "2013-08-02T23:00:00-0400"
              ["name"]=>
              string(22) "Official Grand Opening"
              ["place"]=>
              object(stdClass)#1946 (1) {
                ["name"]=>
                string(50) "492A Flat Shoals Avenue SE, Atlanta, Georgia 30316"
              }
              ["start_time"]=>
              string(24) "2013-08-02T18:00:00-0400"
              ["id"]=>
              string(15) "547063982025185"
            }
          }
          ["paging"]=>
          object(stdClass)#1949 (1) {
            ["cursors"]=>
            object(stdClass)#1948 (2) {
              ["before"]=>
              string(128) "QVFIUmdOeW1SOFoxeXV4ZAWpjSjZAGNzM4VThGMzRpZAEI2bUpnc2RJenZAQZAHBlemFHZAHZAUTWZAkQ1l0VTBOSnpmdUxOLUJyLUgzWG8wbTQ4cWltQnpvUFY2UmdR"
              ["after"]=>
              string(125) "QVFIUk5DbGRQdDZALWnlSM0tMM0hnQnBIdHZAmdm5qNnlvUUJDeUlnclNlc21DZA1pFZAF95UTlUUk56RUJJLWQ4djBXbGRWdnlnNWNKdzV0ZATVVdVNRNHRlb093"
            }
          }
        }
        ["feed"]=>
        object(stdClass)#1975 (2) {
          ["data"]=>
          array(25) {
            [0]=>
            object(stdClass)#1950 (3) {
              ["message"]=>
              string(33) "Come smoke with us today! #cigars"
              ["created_time"]=>
              string(24) "2018-02-27T22:37:34+0000"
              ["id"]=>
              string(32) "541904282543452_1702106473189888"
            }
            [1]=>
            object(stdClass)#1951 (3) {
              ["message"]=>
              string(226) "Tonight is the night! Come hang out with us and turn up before Friday.  Grown and sexy, mingle, mix, and network mixer.  Have a cocktail and unwind.  Smoke some hookah and relax and listen to sounds of the DJ playing all night"
              ["created_time"]=>
              string(24) "2018-02-22T19:24:46+0000"
              ["id"]=>
              string(32) "541904282543452_1697023443698191"
            }
            [2]=>
            object(stdClass)#1952 (3) {
              ["message"]=>
              string(29) "Come out and have a good time"
              ["created_time"]=>
              string(24) "2018-02-20T03:13:20+0000"
              ["id"]=>
              string(32) "541904282543452_1694394777294391"
            }
            [3]=>
            object(stdClass)#1953 (3) {
              ["message"]=>
              string(61) "All Star Game tonight! Come smoke with us and have a cocktail"
              ["created_time"]=>
              string(24) "2018-02-18T22:55:31+0000"
              ["id"]=>
              string(32) "541904282543452_1693220124078523"
            }
            [4]=>
            object(stdClass)#1954 (3) {
              ["message"]=>
              string(5) "Today"
              ["created_time"]=>
              string(24) "2018-02-06T18:19:43+0000"
              ["id"]=>
              string(32) "541904282543452_1681256125274923"
            }
            [5]=>
            object(stdClass)#1955 (3) {
              ["message"]=>
              string(54) "Let us put together a Valentines Sampler pack for you!"
              ["created_time"]=>
              string(24) "2018-02-05T14:54:32+0000"
              ["id"]=>
              string(32) "541904282543452_1680104712056731"
            }
            [6]=>
            object(stdClass)#1956 (3) {
              ["message"]=>
              string(90) "Pick your team 
Make your bets 
Take a goodie powder
Smoke a stogie 
Sip a cocktail 
Relax"
              ["created_time"]=>
              string(24) "2018-02-04T15:28:51+0000"
              ["id"]=>
              string(32) "541904282543452_1679184102148792"
            }
            [7]=>
            object(stdClass)#1957 (3) {
              ["message"]=>
              string(39) "Stop by and watch the big game with us!"
              ["created_time"]=>
              string(24) "2018-02-04T15:18:27+0000"
              ["id"]=>
              string(32) "541904282543452_1679174822149720"
            }
            [8]=>
            object(stdClass)#1958 (4) {
              ["message"]=>
              string(31) "We had a good time #ladiesnight"
              ["story"]=>
              string(42) "Cigar Village Atlanta added 18 new photos."
              ["created_time"]=>
              string(24) "2018-02-02T18:19:17+0000"
              ["id"]=>
              string(32) "541904282543452_1677385945661941"
            }
            [9]=>
            object(stdClass)#1959 (3) {
              ["story"]=>
              string(37) "Cigar Village Atlanta added an event."
              ["created_time"]=>
              string(24) "2018-01-30T15:22:56+0000"
              ["id"]=>
              string(31) "541904282543452_513775639015876"
            }
            [10]=>
            object(stdClass)#1960 (2) {
              ["created_time"]=>
              string(24) "2018-01-30T15:21:29+0000"
              ["id"]=>
              string(32) "541904282543452_1674453209288548"
            }
            [11]=>
            object(stdClass)#1961 (3) {
              ["message"]=>
              string(24) "Smoke time today #cigars"
              ["created_time"]=>
              string(24) "2018-01-18T18:09:14+0000"
              ["id"]=>
              string(32) "541904282543452_1662705883796614"
            }
            [12]=>
            object(stdClass)#1962 (3) {
              ["message"]=>
              string(123) "Early football games tomorrow! So, go to church if that's your thing, eat a great meal then stop by and torch up with us."
              ["created_time"]=>
              string(24) "2018-01-14T04:07:02+0000"
              ["id"]=>
              string(32) "541904282543452_1658458327554703"
            }
            [13]=>
            object(stdClass)#1963 (3) {
              ["message"]=>
              string(10) "Great burn"
              ["created_time"]=>
              string(24) "2018-01-14T04:05:22+0000"
              ["id"]=>
              string(32) "541904282543452_1658457500888119"
            }
            [14]=>
            object(stdClass)#1964 (4) {
              ["message"]=>
              string(26) "What are you smoking today"
              ["story"]=>
              string(41) "Cigar Village Atlanta added 2 new photos."
              ["created_time"]=>
              string(24) "2018-01-13T20:38:24+0000"
              ["id"]=>
              string(32) "541904282543452_1658195660914303"
            }
            [15]=>
            object(stdClass)#1965 (3) {
              ["message"]=>
              string(87) "Bird fight today! Come relax with us and smoke & drink while watching the feathers fly!"
              ["created_time"]=>
              string(24) "2018-01-13T15:15:25+0000"
              ["id"]=>
              string(32) "541904282543452_1657974314269771"
            }
            [16]=>
            object(stdClass)#1966 (3) {
              ["message"]=>
              string(25) "Come smoke with us today!"
              ["created_time"]=>
              string(24) "2018-01-11T20:18:35+0000"
              ["id"]=>
              string(32) "541904282543452_1656377154429487"
            }
            [17]=>
            object(stdClass)#1967 (4) {
              ["message"]=>
              string(26) "Pre Dawgs Game today Smoke"
              ["story"]=>
              string(41) "Cigar Village Atlanta added 3 new photos."
              ["created_time"]=>
              string(24) "2018-01-01T20:29:10+0000"
              ["id"]=>
              string(32) "541904282543452_1646156925451510"
            }
            [18]=>
            object(stdClass)#1968 (3) {
              ["message"]=>
              string(37) "Today is Thursday! Come smoke with us"
              ["created_time"]=>
              string(24) "2017-12-28T14:18:37+0000"
              ["id"]=>
              string(32) "541904282543452_1642028625864340"
            }
            [19]=>
            object(stdClass)#1969 (4) {
              ["message"]=>
              string(31) "A lil holiday party at the spot"
              ["story"]=>
              string(42) "Cigar Village Atlanta added 17 new photos."
              ["created_time"]=>
              string(24) "2017-12-22T03:57:13+0000"
              ["id"]=>
              string(32) "541904282543452_1636221743111695"
            }
            [20]=>
            object(stdClass)#1970 (4) {
              ["message"]=>
              string(74) "Holiday gift samplers! Ladies buy these for your man or your cigar lovers."
              ["story"]=>
              string(41) "Cigar Village Atlanta added 4 new photos."
              ["created_time"]=>
              string(24) "2017-12-19T13:44:14+0000"
              ["id"]=>
              string(32) "541904282543452_1633927380007798"
            }
            [21]=>
            object(stdClass)#1971 (4) {
              ["message"]=>
              string(39) "Come try all the drinks on our new menu"
              ["story"]=>
              string(41) "Cigar Village Atlanta added 3 new photos."
              ["created_time"]=>
              string(24) "2017-12-17T14:38:05+0000"
              ["id"]=>
              string(32) "541904282543452_1632163503517519"
            }
            [22]=>
            object(stdClass)#1972 (3) {
              ["message"]=>
              string(61) "Stop by and smoke one with us today & try something different"
              ["created_time"]=>
              string(24) "2017-12-07T15:31:57+0000"
              ["id"]=>
              string(32) "541904282543452_1622463254487544"
            }
            [23]=>
            object(stdClass)#1973 (3) {
              ["message"]=>
              string(12) "Smoking good"
              ["created_time"]=>
              string(24) "2017-12-07T07:20:53+0000"
              ["id"]=>
              string(32) "541904282543452_1622093437857859"
            }
            [24]=>
            object(stdClass)#1974 (4) {
              ["message"]=>
              string(13) "Come & get em"
              ["story"]=>
              string(41) "Cigar Village Atlanta added 2 new photos."
              ["created_time"]=>
              string(24) "2017-12-07T07:18:07+0000"
              ["id"]=>
              string(32) "541904282543452_1622091971191339"
            }
          }
          ["paging"]=>
          object(stdClass)#1976 (2) {
            ["previous"]=>
            string(285) "https://graph.facebook.com/v2.8/541904282543452/feed?since=1519771054&access_token=284346488083|StUmZexEo-ODM_s_RzrK8IoefW0&limit=25&__paging_token=enc_AdBhAHmrGlkk2ZBA4tfYPidWPuH3jdZCV1ZAgeS2cM7rAhGlnM8OF5P6zezPZBchd0kYCQtdjWJaT5ZBz5fht10HveLPysCCUzwYZBVPeDCzqdzNxBmQZDZD&__previous=1"
            ["next"]=>
            string(271) "https://graph.facebook.com/v2.8/541904282543452/feed?access_token=284346488083|StUmZexEo-ODM_s_RzrK8IoefW0&limit=25&until=1512631087&__paging_token=enc_AdC4VaxfVQoZBlMOJio2sgw2MYMWsAlfE0ZA0x1MWIL5ly32mAj5hZCQ7ijBl4rOcugwl8pmoSmDNrMN9IZAeqOnJErb80F97jzDN7vSZALikX7euIgZDZD"
          }
        }
      }
      ["tracker_field_businessLoafingID"]=>
      string(24) "579cc253cd7a187777095aad"
      ["tracker_field_businessAccountExecutive"]=>
      string(1) "0"
      ["tracker_field_businessStatusField"]=>
      string(4) "Done"
      ["tracker_field_businessCLDistributionLocation"]=>
      string(1) "n"
      ["tracker_field_businessAudience"]=>
      array(0) {
      }
      ["tracker_field_businessLegacyID"]=>
      int(17207800)
      ["language"]=>
      string(7) "unknown"
      ["attachments"]=>
      array(0) {
      }
      ["comment_count"]=>
      int(0)
      ["categories"]=>
      array(2) {
        [0]=>
        int(88)
        [1]=>
        int(100)
      }
      ["deep_categories"]=>
      array(6) {
        [0]=>
        int(28)
        [1]=>
        int(876)
        [2]=>
        int(88)
        [3]=>
        int(1)
        [4]=>
        int(149)
        [5]=>
        int(100)
      }
      ["categories_under_28"]=>
      array(0) {
      }
      ["deep_categories_under_28"]=>
      array(2) {
        [0]=>
        int(876)
        [1]=>
        int(88)
      }
      ["categories_under_1"]=>
      array(0) {
      }
      ["deep_categories_under_1"]=>
      array(2) {
        [0]=>
        int(149)
        [1]=>
        int(100)
      }
      ["categories_under_177"]=>
      array(0) {
      }
      ["deep_categories_under_177"]=>
      array(0) {
      }
      ["categories_under_209"]=>
      array(0) {
      }
      ["deep_categories_under_209"]=>
      array(0) {
      }
      ["categories_under_163"]=>
      array(0) {
      }
      ["deep_categories_under_163"]=>
      array(0) {
      }
      ["categories_under_171"]=>
      array(0) {
      }
      ["deep_categories_under_171"]=>
      array(0) {
      }
      ["categories_under_153"]=>
      array(0) {
      }
      ["deep_categories_under_153"]=>
      array(0) {
      }
      ["categories_under_242"]=>
      array(0) {
      }
      ["deep_categories_under_242"]=>
      array(0) {
      }
      ["categories_under_564"]=>
      array(0) {
      }
      ["deep_categories_under_564"]=>
      array(0) {
      }
      ["freetags"]=>
      array(0) {
      }
      ["geo_located"]=>
      string(1) "y"
      ["geo_location"]=>
      string(25) "-84.3458534,33.7408141,12"
      ["geo_point"]=>
      object(stdClass)#1977 (2) {
        ["lat"]=>
        float(33.7408141)
        ["lon"]=>
        float(-84.3458534)
      }
      ["allowed_groups"]=>
      array(2) {
        [0]=>
        string(6) "Admins"
        [1]=>
        string(9) "Anonymous"
      }
      ["allowed_users"]=>
      array(0) {
      }
      ["relations"]=>
      array(0) {
      }
      ["relation_objects"]=>
      array(0) {
      }
      ["relation_types"]=>
      array(0) {
      }
      ["relation_count"]=>
      array(0) {
      }
      ["title_initial"]=>
      string(1) "C"
      ["title_firstword"]=>
      string(5) "Cigar"
      ["searchable"]=>
      string(1) "y"
      ["url"]=>
      string(8) "item1044"
      ["object_type"]=>
      string(11) "trackeritem"
      ["object_id"]=>
      string(4) "1044"
      ["contents"]=>
      string(396) "    Cigar Village 492 Flat Shoals Ave. S.E.  Atlanta GA 30316    (404) 525-0880  -84.3458534,33.7408141,12   This is a cigar shop that sells premium cigars and smoking accessorie. The locaiton also has a lounge and hookah services.               n  ChIJmeT4cVsB9YgRV3N8zXG_LEU  Cigar Village Atlanta 541904282543452 579cc253cd7a187777095aad       Done  n  2017-06-19T12:58:54+00:00 Cigar Village "
      ["score"]=>
      float(0)
      ["_index"]=>
      string(21) "atlantawiki_tiki_main"
      ["objectlink"]=>
      string(273) "Cigar Village"
      ["image"]=>
      string(39) "

File not found.

"
      ["areaLocation"]=>
      string(34) "-84.3503813,33.7391182,15"
    }
    [40]=>
    array(95) {
      ["title"]=>
      string(27) "Southern Comfort Restaurant"
      ["modification_date"]=>
      string(25) "2018-03-08T16:51:20+00:00"
      ["creation_date"]=>
      string(25) "2017-06-26T22:34:43+00:00"
      ["contributors"]=>
      array(2) {
        [0]=>
        NULL
        [1]=>
        string(29) "ben.eason@creativeloafing.com"
      }
      ["date"]=>
      string(25) "2017-06-26T22:34:43+00:00"
      ["tracker_status"]=>
      string(1) "o"
      ["tracker_id"]=>
      string(1) "1"
      ["view_permission"]=>
      string(13) "view_trackers"
      ["tracker_field_businessName"]=>
      string(27) "Southern Comfort Restaurant"
      ["tracker_field_businessAddress"]=>
      string(21) "1383 Cedar Grove Road"
      ["tracker_field_businessCity"]=>
      string(6) "Conley"
      ["tracker_field_businessState"]=>
      string(2) "GA"
      ["tracker_field_businessZip"]=>
      string(5) "30288"
      ["tracker_field_businessPhone"]=>
      string(14) "(404) 361-5675"
      ["tracker_field_businessRepresentative"]=>
      array(0) {
      }
      ["tracker_field_businessLocation"]=>
      string(31) "-84.3335690999999,33.6571404,12"
      ["tracker_field_businessLocationRadius"]=>
      int(0)
      ["tracker_field_description"]=>
      string(603) "Southern Comfort is a little slice of honky-tonk heaven located south of East Atlanta off of Moreland Avenue. The trucker bar most commonly referred to as "Soco" by the locals is where you go to wash all of your troubles away in a warehouse-size nightclub with live music and strangers that will sooner or later become your new best friends. Karaoke takes place on Wednesday and Sunday nights, and attracts the wholesome gems of Conley, Ga., and youthful spirits from inside the city's perimeter. A guaranteed good time likely to leave you with a Vegas-worthy hangover and a helluva story to tell."
      ["tracker_field_description_raw"]=>
      string(603) "Southern Comfort is a little slice of honky-tonk heaven located south of East Atlanta off of Moreland Avenue. The trucker bar most commonly referred to as "Soco" by the locals is where you go to wash all of your troubles away in a warehouse-size nightclub with live music and strangers that will sooner or later become your new best friends. Karaoke takes place on Wednesday and Sunday nights, and attracts the wholesome gems of Conley, Ga., and youthful spirits from inside the city's perimeter. A guaranteed good time likely to leave you with a Vegas-worthy hangover and a helluva story to tell."
      ["tracker_field_legacyImageURL"]=>
      string(83) "http://dev.creativeloafing.com/image/2014/07/320w/1f5f0_southern_comfort_magnum.jpg"
      ["tracker_field_businessClassifieds"]=>
      array(0) {
      }
      ["tracker_field_businessTypes"]=>
      array(1) {
        [0]=>
        string(2) "88"
      }
      ["tracker_field_businessTypes_text"]=>
      string(2) "88"
      ["tracker_field_scene"]=>
      array(0) {
      }
      ["tracker_field_businessNeighborhoods"]=>
      array(2) {
        [0]=>
        string(3) "100"
        [1]=>
        string(3) "149"
      }
      ["tracker_field_businessNeighborhoods_text"]=>
      string(7) "100 149"
      ["tracker_field_businessPriceRange"]=>
      array(0) {
      }
      ["tracker_field_businessMiscCategories"]=>
      array(0) {
      }
      ["tracker_field_businessCLAcctNum"]=>
      int(0)
      ["tracker_field_business_121CurrentChit"]=>
      string(1) "n"
      ["tracker_field_121MobileClientID"]=>
      int(0)
      ["tracker_field_121MobileCampaignData"]=>
      array(0) {
      }
      ["tracker_field_121MobileCampaignData_json"]=>
      array(0) {
      }
      ["tracker_field_google_placeid"]=>
      string(27) "ChIJyybAcxj-9IgRD0BQW10qqzQ"
      ["tracker_field_googlePlaceData"]=>
      array(14) {
        [0]=>
        string(213) "

1389 Cedar Grove Rd

, 

Conley

, 

GA

 

30288

, 

United States

"
        [1]=>
        string(52) "1389 Cedar Grove Rd, Conley, GA 30288, United States"
        [2]=>
        string(14) "(404) 361-5675"
        [3]=>
        string(67) "https://maps.gstatic.com/mapfiles/place_api/icons/restaurant-71.png"
        [4]=>
        string(40) "9f07b111ad93bfc51a8665182a2ec42aa82ade43"
        [5]=>
        string(15) "+1 404-361-5675"
        [6]=>
        string(38) "Southern Comfort Restaurant And Lounge"
        [7]=>
        string(27) "ChIJfaqCxy_-9IgRIcfkg9ZB52g"
        [8]=>
        string(3) "3.9"
        [9]=>
        string(190) "CmRRAAAAuStpc5Jf8qJF1BOJ5A8Zbt87_Hwy1SXRslf5nWufb81SwVUu70JaJJKdElI8oir9A-vdDlEs2BcOdysUuCjrJDuFlasZogPtQVXHJU2fdmnA_5yGqIewaEv11i5ikS09EhDZXVfkV9n8x3lXGkxYXdmEGhTOzptQP0QAXHNINYFaGdNvKu1Dxg"
        [10]=>
        string(6) "GOOGLE"
        [11]=>
        string(48) "https://maps.google.com/?cid=7559082889156282145"
        [12]=>
        string(4) "-300"
        [13]=>
        string(29) "1389 Cedar Grove Road, Conley"
      }
      ["tracker_field_googlePlaceData_text"]=>
      string(598) "1389 Cedar Grove Rd, Conley, GA 30288, United States 1389 Cedar Grove Rd, Conley, GA 30288, United States (404) 361-5675 https://maps.gstatic.com/mapfiles/place_api/icons/restaurant-71.png 9f07b111ad93bfc51a8665182a2ec42aa82ade43 +1 404-361-5675 Southern Comfort Restaurant And Lounge ChIJfaqCxy_-9IgRIcfkg9ZB52g 3.9 CmRRAAAAuStpc5Jf8qJF1BOJ5A8Zbt87_Hwy1SXRslf5nWufb81SwVUu70JaJJKdElI8oir9A-vdDlEs2BcOdysUuCjrJDuFlasZogPtQVXHJU2fdmnA_5yGqIewaEv11i5ikS09EhDZXVfkV9n8x3lXGkxYXdmEGhTOzptQP0QAXHNINYFaGdNvKu1Dxg GOOGLE https://maps.google.com/?cid=7559082889156282145 -300 1389 Cedar Grove Road, Conley"
      ["tracker_field_googlePlaceData_json"]=>
      object(stdClass)#1986 (19) {
        ["address_components"]=>
        array(6) {
          [0]=>
          object(stdClass)#1980 (3) {
            ["long_name"]=>
            string(4) "1389"
            ["short_name"]=>
            string(4) "1389"
            ["types"]=>
            array(1) {
              [0]=>
              string(13) "street_number"
            }
          }
          [1]=>
          object(stdClass)#1981 (3) {
            ["long_name"]=>
            string(16) "Cedar Grove Road"
            ["short_name"]=>
            string(14) "Cedar Grove Rd"
            ["types"]=>
            array(1) {
              [0]=>
              string(5) "route"
            }
          }
          [2]=>
          object(stdClass)#1982 (3) {
            ["long_name"]=>
            string(6) "Conley"
            ["short_name"]=>
            string(6) "Conley"
            ["types"]=>
            array(2) {
              [0]=>
              string(8) "locality"
              [1]=>
              string(9) "political"
            }
          }
          [3]=>
          object(stdClass)#1983 (3) {
            ["long_name"]=>
            string(7) "Georgia"
            ["short_name"]=>
            string(2) "GA"
            ["types"]=>
            array(2) {
              [0]=>
              string(27) "administrative_area_level_1"
              [1]=>
              string(9) "political"
            }
          }
          [4]=>
          object(stdClass)#1984 (3) {
            ["long_name"]=>
            string(13) "United States"
            ["short_name"]=>
            string(2) "US"
            ["types"]=>
            array(2) {
              [0]=>
              string(7) "country"
              [1]=>
              string(9) "political"
            }
          }
          [5]=>
          object(stdClass)#1985 (3) {
            ["long_name"]=>
            string(5) "30288"
            ["short_name"]=>
            string(5) "30288"
            ["types"]=>
            array(1) {
              [0]=>
              string(11) "postal_code"
            }
          }
        }
        ["adr_address"]=>
        string(213) "

1389 Cedar Grove Rd

, 

Conley

, 

GA

 

30288

, 

United States

"
        ["formatted_address"]=>
        string(52) "1389 Cedar Grove Rd, Conley, GA 30288, United States"
        ["formatted_phone_number"]=>
        string(14) "(404) 361-5675"
        ["geometry"]=>
        object(stdClass)#1988 (2) {
          ["location"]=>
          object(stdClass)#1987 (2) {
            ["lat"]=>
            string(10) "33.6572918"
            ["lng"]=>
            string(11) "-84.3335547"
          }
          ["viewport"]=>
          object(stdClass)#1990 (2) {
            ["northeast"]=>
            object(stdClass)#1989 (2) {
              ["lat"]=>
              string(15) "33.658790430292"
              ["lng"]=>
              string(16) "-84.332194969708"
            }
            ["southwest"]=>
            object(stdClass)#1991 (2) {
              ["lat"]=>
              string(15) "33.656092469708"
              ["lng"]=>
              string(16) "-84.334892930292"
            }
          }
        }
        ["icon"]=>
        string(67) "https://maps.gstatic.com/mapfiles/place_api/icons/restaurant-71.png"
        ["id"]=>
        string(40) "9f07b111ad93bfc51a8665182a2ec42aa82ade43"
        ["international_phone_number"]=>
        string(15) "+1 404-361-5675"
        ["name"]=>
        string(38) "Southern Comfort Restaurant And Lounge"
        ["photos"]=>
        array(10) {
          [0]=>
          object(stdClass)#1992 (4) {
            ["height"]=>
            int(1152)
            ["html_attributions"]=>
            array(1) {
              [0]=>
              string(92) "Miguel Tapia"
            }
            ["photo_reference"]=>
            string(190) "CmRaAAAA_AFgvD0wh_jPhuNas6F-XWgvi3Y9bTEYtQg0CaHVIyT_d4X3fG-jBrReXc4RsPsqq_azEMIUwR31-S4Lm0U4JlvGsy7DEM8Hq0WJWHZC1Xqe_z1zrP6NOjThCxT1FO9qEhDUovbNrEXbLLHRqJ1STkiKGhTuAwjQUVYNPRc4YnMZQOvkpxs7gg"
            ["width"]=>
            int(2048)
          }
          [1]=>
          object(stdClass)#1993 (4) {
            ["height"]=>
            int(2988)
            ["html_attributions"]=>
            array(1) {
              [0]=>
              string(90) "Chris Sumi"
            }
            ["photo_reference"]=>
            string(190) "CmRaAAAAcmzrGshzHXPAvSsA5urgx8lT-r-NJfNTeWGolm6ZrwvaVP1rY-1l16HD02Wnd3w_Sy2aalm3Vaq8SEGCJByKmYfK9CpfGG6xgsUFOOpdKN9O1_e1qpXKkCWvjCA_zWGfEhDu1ldn3NsB3h2DItuQHlzYGhSt254yk17ZoQ-orUNgqcc0U45x9Q"
            ["width"]=>
            int(5312)
          }
          [2]=>
          object(stdClass)#1994 (4) {
            ["height"]=>
            int(1152)
            ["html_attributions"]=>
            array(1) {
              [0]=>
              string(92) "Miguel Tapia"
            }
            ["photo_reference"]=>
            string(190) "CmRaAAAAhfztBF_RORZGQoa5Y-TiA6G7sl-4C35ZIDFTgS0rdsq2Zwsm3-3krS_Qgyv2y0l7sEtOhW0yK120jfWLEaYRmW9bCrCvs_CGFlxmq6kFUElQri4dxRU3DcFmC8e7C19VEhDiVoL__-bf1aOhd3Oi7-0KGhS4fTNyIFmngJp_0zxwCTGhQedgVQ"
            ["width"]=>
            int(2048)
          }
          [3]=>
          object(stdClass)#1995 (4) {
            ["height"]=>
            int(3264)
            ["html_attributions"]=>
            array(1) {
              [0]=>
              string(97) "korrelles Edwards"
            }
            ["photo_reference"]=>
            string(190) "CmRaAAAA5R2ZVokeZI2jkX4bvEnF5-E3Fy9fH6gz5HmnSHHTar105zSRB9q1V9SxS7QQXtHkCLsuywXM4bD0oHrAafxKqVFxMPk8S9q_co3EOcAdEUyZZXgewA1RCkDjzcGf8Ld6EhCxDG5JHZadPE8_s7zin_eMGhSqMPYxir8HON0ns-lMNDgDOE4eiA"
            ["width"]=>
            int(1836)
          }
          [4]=>
          object(stdClass)#1996 (4) {
            ["height"]=>
            int(1152)
            ["html_attributions"]=>
            array(1) {
              [0]=>
              string(92) "Miguel Tapia"
            }
            ["photo_reference"]=>
            string(190) "CmRaAAAAUthyox9Vysn3kZC71Vsssj7RwbKP-bATGWG1aSfeP_CYu4XyJ5izK7nunfZ9ydBLaRxSwWaTuGD_jcAfpVS9SMglFnbRvzScsLJfaR-Zb6_CsgCdr9d_c5FtZLJgzv9mEhBYUNDncMoe_Cw8eEJenki_GhTGWr23V7_Y3PzTZELKH-j-q5OHhw"
            ["width"]=>
            int(2048)
          }
          [5]=>
          object(stdClass)#1997 (4) {
            ["height"]=>
            int(2322)
            ["html_attributions"]=>
            array(1) {
              [0]=>
              string(104) "Wes & Ginger Sanford"
            }
            ["photo_reference"]=>
            string(190) "CmRaAAAAdTufKGgnNcBUkcRc8eG3bSKs9NV0xmCuBCamJ7o7VVI5YM089vLSRYT_erVfz0m1v-FdSFHq4UGtOdd_JF8BoOVpDlbal13xEksmOmAHnszzwyKY-0-puyTq9hQhAZA9EhBLvXQ_afsYXoYZlvDhAxWnGhQBpWHVNDhTrkF1Ahslh8opjfy_2A"
            ["width"]=>
            int(4128)
          }
          [6]=>
          object(stdClass)#1998 (4) {
            ["height"]=>
            int(4032)
            ["html_attributions"]=>
            array(1) {
              [0]=>
              string(95) "Timothy Johnson"
            }
            ["photo_reference"]=>
            string(190) "CmRaAAAAXmXrnxyO6rbYmZH4Oq47ptT6QE1c7cS2s8LcjhCSS2nlutW2VnlqNusHX-_upl79Up418QhTFL8ajFS-6ZjOKXtV0GLNcHihX57-NpEv6H3jvArtN2SoxRnBWVrURNyWEhALDU1E6xZadw2BvwEET5n3GhRAJwFSkBkMn565yeMco2Wn-lJxog"
            ["width"]=>
            int(3024)
          }
          [7]=>
          object(stdClass)#1999 (4) {
            ["height"]=>
            int(4032)
            ["html_attributions"]=>
            array(1) {
              [0]=>
              string(95) "Timothy Johnson"
            }
            ["photo_reference"]=>
            string(190) "CmRaAAAANn8XAVYOm-DgjT6t50isDa_eNh-mYLtQ5-TKilBRXUkLlyK0sgsBE4FBMbovwWHc3dcx-UkzV3rlAE54L8uGPFDAuGqxlqINZfrAUhCs4aedcWs17k7ds-46Evbi92HtEhAhJrYlco98v1tfA2ylxNSVGhTEHP9MntQJzNsk-Csah1g3yI6s6A"
            ["width"]=>
            int(3024)
          }
          [8]=>
          object(stdClass)#2000 (4) {
            ["height"]=>
            int(1440)
            ["html_attributions"]=>
            array(1) {
              [0]=>
              string(97) "Harley Brokenwing"
            }
            ["photo_reference"]=>
            string(190) "CmRZAAAAbjvKrymajxTkqXrZOMmRA-Ti14BSaLBkaaCU7ZfLrQd7mIf_iRcghL-ScJ8DJwecwhoQaeGe-TpXmyFNPpTE_ymBVcDEbWifiJpgNIVn1GuDvtTyArMRYnj5Jj7pRXqnEhBZh727HMnqa0KrUbIMUi-eGhR2YFCevkwi06uFGFaHO7COEtIe8g"
            ["width"]=>
            int(2560)
          }
          [9]=>
          object(stdClass)#2001 (4) {
            ["height"]=>
            int(5312)
            ["html_attributions"]=>
            array(1) {
              [0]=>
              string(92) "Warrior Lord"
            }
            ["photo_reference"]=>
            string(190) "CmRaAAAAKySmfeH0VYSxsxFinlkql3y46LsB2UiJQblv2cDOLjFhOaV61oFLx9qs-sdOvZzsONnwMZpPTtmmRexuFTOjxWlsrO-8OCwao_mPQNTsxW1GBuhLfGqRJx2_bkRHiaKDEhDtclMAtZ8af7GEk8v2OrOdGhSOJwsvUA3yXZ7EL_37qG-s_n844Q"
            ["width"]=>
            int(2988)
          }
        }
        ["place_id"]=>
        string(27) "ChIJfaqCxy_-9IgRIcfkg9ZB52g"
        ["rating"]=>
        string(3) "3.9"
        ["reference"]=>
        string(190) "CmRRAAAAuStpc5Jf8qJF1BOJ5A8Zbt87_Hwy1SXRslf5nWufb81SwVUu70JaJJKdElI8oir9A-vdDlEs2BcOdysUuCjrJDuFlasZogPtQVXHJU2fdmnA_5yGqIewaEv11i5ikS09EhDZXVfkV9n8x3lXGkxYXdmEGhTOzptQP0QAXHNINYFaGdNvKu1Dxg"
        ["reviews"]=>
        array(5) {
          [0]=>
          object(stdClass)#2002 (8) {
            ["author_name"]=>
            string(12) "Becki Wright"
            ["author_url"]=>
            string(65) "https://www.google.com/maps/contrib/112322130328017404207/reviews"
            ["language"]=>
            string(2) "en"
            ["profile_photo_url"]=>
            string(141) "https://lh5.googleusercontent.com/-94aQdNH89LE/AAAAAAAAAAI/AAAAAAAAAAA/AGi4gfx-xGFwbUnPeqh2kDT75V_WB3y_xQ/s128-c0x00000000-cc-rp-mo/photo.jpg"
            ["rating"]=>
            string(1) "5"
            ["relative_time_description"]=>
            string(12) "2 months ago"
            ["text"]=>
            string(264) "It's a great place and so much fun for karaoke. I used to go there a very long time ago before cell phones and computers. My first time back was in October 2017. Now I try to go with my brother and sister in law every 2 weeks. The staff makes everyone feel at home"
            ["time"]=>
            int(1513403956)
          }
          [1]=>
          object(stdClass)#2003 (8) {
            ["author_name"]=>
            string(13) "Karea Bianchi"
            ["author_url"]=>
            string(65) "https://www.google.com/maps/contrib/113582165319243897675/reviews"
            ["language"]=>
            string(2) "en"
            ["profile_photo_url"]=>
            string(118) "https://lh3.googleusercontent.com/-c9UgMoBD1_I/AAAAAAAAAAI/AAAAAAAAA_8/5kx2EKyuo3I/s128-c0x00000000-cc-rp-mo/photo.jpg"
            ["rating"]=>
            string(1) "1"
            ["relative_time_description"]=>
            string(12) "3 months ago"
            ["text"]=>
            string(1058) "This place is very nasty the rest rooms very discussing urine all over the floor, on several occasions no soap, the soap fill with water shot glasses and glasses, they  dip it in clear water then serve another drink I watch this just nasty. The bartender makes drinks touches money and touches lemons, limes, and cherries with her hands. This place has gone downhill bartender touches money, then comes back there clean bathroom floor urine and cooks not enough staff there just pure disgusting. The drink I got in a plastic cup I ask after seeing how glasses not being washed proper I didn't even see a dish washer.Don't waste your money on mix drinks they are  watered down nasty   they charged $10.00 for Blue  Hawaii. I will never ever go back there. The bar just plain nasty I had to take several showers, I felt nasty. I see they have new owner the previous owner never would've let this place go down like this. My friends said the same thing. Who in the hell wants to use a bathroom with flowing urine coming out both toilets the other one broke."
            ["time"]=>
            int(1509755185)
          }
          [2]=>
          object(stdClass)#2004 (8) {
            ["author_name"]=>
            string(11) "Jim Habener"
            ["author_url"]=>
            string(65) "https://www.google.com/maps/contrib/111756881758249574657/reviews"
            ["language"]=>
            string(2) "en"
            ["profile_photo_url"]=>
            string(141) "https://lh6.googleusercontent.com/-umuTb2PdIpI/AAAAAAAAAAI/AAAAAAAAAAA/AGi4gfyEWJEeRmzoIeUojZlLH34SRCTmbg/s128-c0x00000000-cc-rp-mo/photo.jpg"
            ["rating"]=>
            string(1) "1"
            ["relative_time_description"]=>
            string(11) "a month ago"
            ["text"]=>
            string(205) "This USED to be the place to come and have a good time in Atlanta... Ghetto af now... Menu said double cheeseburger 7.75.. check said 9.75.. bartender said... Oh... That must be the old menu..  Never again"
            ["time"]=>
            int(1516067858)
          }
          [3]=>
          object(stdClass)#2005 (8) {
            ["author_name"]=>
            string(16) "David Livingston"
            ["author_url"]=>
            string(65) "https://www.google.com/maps/contrib/103179820338941815073/reviews"
            ["language"]=>
            string(2) "en"
            ["profile_photo_url"]=>
            string(122) "https://lh5.googleusercontent.com/-1-pL2eIasuU/AAAAAAAAAAI/AAAAAAAAkMk/Jp0eDPUFRtU/s128-c0x00000000-cc-rp-mo-ba2/photo.jpg"
            ["rating"]=>
            string(1) "4"
            ["relative_time_description"]=>
            string(11) "a month ago"
            ["text"]=>
            string(103) "Great customer service but scenery is a little dated for my taste. But overall cool place to hang out!!"
            ["time"]=>
            int(1517029726)
          }
          [4]=>
          object(stdClass)#2006 (8) {
            ["author_name"]=>
            string(14) "Jacquelyn West"
            ["author_url"]=>
            string(65) "https://www.google.com/maps/contrib/118446172182523925395/reviews"
            ["language"]=>
            string(2) "en"
            ["profile_photo_url"]=>
            string(118) "https://lh3.googleusercontent.com/-moZSHXB2e9M/AAAAAAAAAAI/AAAAAAAAAh4/vmwOY77bvE8/s128-c0x00000000-cc-rp-mo/photo.jpg"
            ["rating"]=>
            string(1) "3"
            ["relative_time_description"]=>
            string(11) "3 weeks ago"
            ["text"]=>
            string(224) "My 1st at the spot, really nice and relaxing, and laid back, will go again, the restroom need to be updated but other than that everyone was very friendly, I met plenty of people  especially Stacy she comes there very often."
            ["time"]=>
            int(1517645627)
          }
        }
        ["scope"]=>
        string(6) "GOOGLE"
        ["types"]=>
        array(4) {
          [0]=>
          string(10) "restaurant"
          [1]=>
          string(4) "food"
          [2]=>
          string(17) "point_of_interest"
          [3]=>
          string(13) "establishment"
        }
        ["url"]=>
        string(48) "https://maps.google.com/?cid=7559082889156282145"
        ["utc_offset"]=>
        string(4) "-300"
        ["vicinity"]=>
        string(29) "1389 Cedar Grove Road, Conley"
      }
      ["tracker_field_googleOverallRating"]=>
      float(3.9)
      ["tracker_field_businessYelpBusinessData"]=>
      array(0) {
      }
      ["tracker_field_businessYelpBusinessData_json"]=>
      array(0) {
      }
      ["tracker_field_businessFacebook"]=>
      string(38) "Southern Comfort Restaurant and Lounge"
      ["tracker_field_businessFacebookID"]=>
      string(15) "157788000000000"
      ["tracker_field_businessFacebookData"]=>
      array(0) {
      }
      ["tracker_field_businessFacebookData_json"]=>
      array(0) {
      }
      ["tracker_field_businessLoafingID"]=>
      string(24) "573f3d4b1e3ee4dfcf660374"
      ["tracker_field_businessAccountExecutive"]=>
      string(1) "0"
      ["tracker_field_businessStatusField"]=>
      string(12) "Sent to Edit"
      ["tracker_field_businessCLDistributionLocation"]=>
      string(1) "n"
      ["tracker_field_businessAudience"]=>
      array(0) {
      }
      ["tracker_field_businessLegacyID"]=>
      int(1393743)
      ["language"]=>
      string(7) "unknown"
      ["attachments"]=>
      array(0) {
      }
      ["comment_count"]=>
      int(0)
      ["categories"]=>
      array(2) {
        [0]=>
        int(88)
        [1]=>
        int(100)
      }
      ["deep_categories"]=>
      array(6) {
        [0]=>
        int(28)
        [1]=>
        int(876)
        [2]=>
        int(88)
        [3]=>
        int(1)
        [4]=>
        int(149)
        [5]=>
        int(100)
      }
      ["categories_under_28"]=>
      array(0) {
      }
      ["deep_categories_under_28"]=>
      array(2) {
        [0]=>
        int(876)
        [1]=>
        int(88)
      }
      ["categories_under_1"]=>
      array(0) {
      }
      ["deep_categories_under_1"]=>
      array(2) {
        [0]=>
        int(149)
        [1]=>
        int(100)
      }
      ["categories_under_177"]=>
      array(0) {
      }
      ["deep_categories_under_177"]=>
      array(0) {
      }
      ["categories_under_209"]=>
      array(0) {
      }
      ["deep_categories_under_209"]=>
      array(0) {
      }
      ["categories_under_163"]=>
      array(0) {
      }
      ["deep_categories_under_163"]=>
      array(0) {
      }
      ["categories_under_171"]=>
      array(0) {
      }
      ["deep_categories_under_171"]=>
      array(0) {
      }
      ["categories_under_153"]=>
      array(0) {
      }
      ["deep_categories_under_153"]=>
      array(0) {
      }
      ["categories_under_242"]=>
      array(0) {
      }
      ["deep_categories_under_242"]=>
      array(0) {
      }
      ["categories_under_564"]=>
      array(0) {
      }
      ["deep_categories_under_564"]=>
      array(0) {
      }
      ["freetags"]=>
      array(0) {
      }
      ["geo_located"]=>
      string(1) "y"
      ["geo_location"]=>
      string(31) "-84.3335690999999,33.6571404,12"
      ["geo_point"]=>
      object(stdClass)#2007 (2) {
        ["lat"]=>
        float(33.6571404)
        ["lon"]=>
        float(-84.3335691)
      }
      ["allowed_groups"]=>
      array(2) {
        [0]=>
        string(6) "Admins"
        [1]=>
        string(9) "Anonymous"
      }
      ["allowed_users"]=>
      array(0) {
      }
      ["relations"]=>
      array(0) {
      }
      ["relation_objects"]=>
      array(0) {
      }
      ["relation_types"]=>
      array(0) {
      }
      ["relation_count"]=>
      array(0) {
      }
      ["title_initial"]=>
      string(1) "S"
      ["title_firstword"]=>
      string(8) "Southern"
      ["searchable"]=>
      string(1) "y"
      ["url"]=>
      string(8) "item3532"
      ["object_type"]=>
      string(11) "trackeritem"
      ["object_id"]=>
      string(4) "3532"
      ["contents"]=>
      string(1014) "    Southern Comfort Restaurant 1383 Cedar Grove Road  Conley GA 30288    (404) 361-5675  -84.3335690999999,33.6571404,12   Southern Comfort is a little slice of honky-tonk heaven located south of East Atlanta off of Moreland Avenue. The trucker bar most commonly referred to as "Soco" by the locals is where you go to wash all of your troubles away in a warehouse-size nightclub with live music and strangers that will sooner or later become your new best friends. Karaoke takes place on Wednesday and Sunday nights, and attracts the wholesome gems of Conley, Ga., and youthful spirits from inside the city's perimeter. A guaranteed good time likely to leave you with a Vegas-worthy hangover and a helluva story to tell.       http://dev.creativeloafing.com/image/2014/07/320w/1f5f0_southern_comfort_magnum.jpg        n  ChIJyybAcxj-9IgRD0BQW10qqzQ  Southern Comfort Restaurant and Lounge 157788000000000 573f3d4b1e3ee4dfcf660374       Sent to Edit  n  2017-06-26T22:34:43+00:00 Southern Comfort Restaurant "
      ["score"]=>
      float(0)
      ["_index"]=>
      string(21) "atlantawiki_tiki_main"
      ["objectlink"]=>
      string(293) "Southern Comfort Restaurant"
      ["image"]=>
      string(39) "

File not found.

"
      ["areaLocation"]=>
      string(34) "-84.3503813,33.7391182,15"
    }
    [41]=>
    array(95) {
      ["title"]=>
      string(11) "The Cottage"
      ["modification_date"]=>
      string(25) "2018-03-08T16:55:39+00:00"
      ["creation_date"]=>
      string(25) "2017-06-26T22:34:43+00:00"
      ["contributors"]=>
      array(2) {
        [0]=>
        NULL
        [1]=>
        string(29) "ben.eason@creativeloafing.com"
      }
      ["date"]=>
      string(25) "2017-06-26T22:34:43+00:00"
      ["tracker_status"]=>
      string(1) "o"
      ["tracker_id"]=>
      string(1) "1"
      ["view_permission"]=>
      string(13) "view_trackers"
      ["tracker_field_businessName"]=>
      string(11) "The Cottage"
      ["tracker_field_businessAddress"]=>
      string(18) "1300 Skyhaven Road"
      ["tracker_field_businessCity"]=>
      string(7) "Atlanta"
      ["tracker_field_businessState"]=>
      string(2) "GA"
      ["tracker_field_businessZip"]=>
      string(5) "30316"
      ["tracker_field_businessPhone"]=>
      string(14) "(770) 815-2084"
      ["tracker_field_businessRepresentative"]=>
      array(0) {
      }
      ["tracker_field_businessLocation"]=>
      string(23) "-84.346395,33.724156,12"
      ["tracker_field_businessLocationRadius"]=>
      int(0)
      ["tracker_field_description"]=>
      string(51) "An East Atlanta recording studio and concert venue."
      ["tracker_field_description_raw"]=>
      string(51) "An East Atlanta recording studio and concert venue."
      ["tracker_field_legacyImageURL"]=>
      string(83) "http://dev.creativeloafing.com/image/2013/06/640w/11c76_cover_indie6_3_08magnum.jpg"
      ["tracker_field_businessClassifieds"]=>
      array(0) {
      }
      ["tracker_field_businessTypes"]=>
      array(1) {
        [0]=>
        string(2) "88"
      }
      ["tracker_field_businessTypes_text"]=>
      string(2) "88"
      ["tracker_field_scene"]=>
      array(0) {
      }
      ["tracker_field_businessNeighborhoods"]=>
      array(2) {
        [0]=>
        string(3) "100"
        [1]=>
        string(3) "149"
      }
      ["tracker_field_businessNeighborhoods_text"]=>
      string(7) "100 149"
      ["tracker_field_businessPriceRange"]=>
      array(0) {
      }
      ["tracker_field_businessMiscCategories"]=>
      array(0) {
      }
      ["tracker_field_businessCLAcctNum"]=>
      int(0)
      ["tracker_field_business_121CurrentChit"]=>
      string(1) "n"
      ["tracker_field_121MobileClientID"]=>
      int(0)
      ["tracker_field_121MobileCampaignData"]=>
      array(0) {
      }
      ["tracker_field_121MobileCampaignData_json"]=>
      array(0) {
      }
      ["tracker_field_google_placeid"]=>
      string(27) "ChIJXWi42GQB9YgRbd2uXb1_vys"
      ["tracker_field_googlePlaceData"]=>
      array(14) {
        [0]=>
        string(204) "

1300 Skyhaven Rd SE

, 

Atlanta

, 

GA

 

30316

, 

USA

"
        [1]=>
        string(43) "1300 Skyhaven Rd SE, Atlanta, GA 30316, USA"
        [2]=>
        string(14) "(770) 815-2084"
        [3]=>
        string(73) "https://maps.gstatic.com/mapfiles/place_api/icons/generic_business-71.png"
        [4]=>
        string(40) "a05efb5096fa14b701ef24d37352603cc33f2bb1"
        [5]=>
        string(15) "+1 770-815-2084"
        [6]=>
        string(11) "The Cottage"
        [7]=>
        string(27) "ChIJXWi42GQB9YgRbd2uXb1_vys"
        [8]=>
        string(3) "4.7"
        [9]=>
        string(190) "CmRRAAAAe-Q2O7tVzNhWEAto5izJKZQe1bFutHOXRMle_ZRW35TumVR9tqiVmEC3BWvDkNHiZxC3n4jDDPeOyjnnuLbmHZYGDKKVQ6sYunPoYihAMZkSLb8xDusL_QmQDwUPYXLtEhC96Qw4Vv9tVPjZX7sDPzUdGhT7mnPdw2_Sd49WL13FebU1W8ToEw"
        [10]=>
        string(6) "GOOGLE"
        [11]=>
        string(48) "https://maps.google.com/?cid=3152378715479924077"
        [12]=>
        string(4) "-300"
        [13]=>
        string(37) "1300 Skyhaven Road Southeast, Atlanta"
      }
      ["tracker_field_googlePlaceData_text"]=>
      string(567) "1300 Skyhaven Rd SE, Atlanta, GA 30316, USA 1300 Skyhaven Rd SE, Atlanta, GA 30316, USA (770) 815-2084 https://maps.gstatic.com/mapfiles/place_api/icons/generic_business-71.png a05efb5096fa14b701ef24d37352603cc33f2bb1 +1 770-815-2084 The Cottage ChIJXWi42GQB9YgRbd2uXb1_vys 4.7 CmRRAAAAe-Q2O7tVzNhWEAto5izJKZQe1bFutHOXRMle_ZRW35TumVR9tqiVmEC3BWvDkNHiZxC3n4jDDPeOyjnnuLbmHZYGDKKVQ6sYunPoYihAMZkSLb8xDusL_QmQDwUPYXLtEhC96Qw4Vv9tVPjZX7sDPzUdGhT7mnPdw2_Sd49WL13FebU1W8ToEw GOOGLE https://maps.google.com/?cid=3152378715479924077 -300 1300 Skyhaven Road Southeast, Atlanta"
      ["tracker_field_googlePlaceData_json"]=>
      object(stdClass)#2017 (19) {
        ["address_components"]=>
        array(7) {
          [0]=>
          object(stdClass)#2010 (3) {
            ["long_name"]=>
            string(4) "1300"
            ["short_name"]=>
            string(4) "1300"
            ["types"]=>
            array(1) {
              [0]=>
              string(13) "street_number"
            }
          }
          [1]=>
          object(stdClass)#2011 (3) {
            ["long_name"]=>
            string(23) "Skyhaven Road Southeast"
            ["short_name"]=>
            string(14) "Skyhaven Rd SE"
            ["types"]=>
            array(1) {
              [0]=>
              string(5) "route"
            }
          }
          [2]=>
          object(stdClass)#2012 (3) {
            ["long_name"]=>
            string(7) "Atlanta"
            ["short_name"]=>
            string(7) "Atlanta"
            ["types"]=>
            array(2) {
              [0]=>
              string(8) "locality"
              [1]=>
              string(9) "political"
            }
          }
          [3]=>
          object(stdClass)#2013 (3) {
            ["long_name"]=>
            string(13) "DeKalb County"
            ["short_name"]=>
            string(13) "Dekalb County"
            ["types"]=>
            array(2) {
              [0]=>
              string(27) "administrative_area_level_2"
              [1]=>
              string(9) "political"
            }
          }
          [4]=>
          object(stdClass)#2014 (3) {
            ["long_name"]=>
            string(7) "Georgia"
            ["short_name"]=>
            string(2) "GA"
            ["types"]=>
            array(2) {
              [0]=>
              string(27) "administrative_area_level_1"
              [1]=>
              string(9) "political"
            }
          }
          [5]=>
          object(stdClass)#2015 (3) {
            ["long_name"]=>
            string(13) "United States"
            ["short_name"]=>
            string(2) "US"
            ["types"]=>
            array(2) {
              [0]=>
              string(7) "country"
              [1]=>
              string(9) "political"
            }
          }
          [6]=>
          object(stdClass)#2016 (3) {
            ["long_name"]=>
            string(5) "30316"
            ["short_name"]=>
            string(5) "30316"
            ["types"]=>
            array(1) {
              [0]=>
              string(11) "postal_code"
            }
          }
        }
        ["adr_address"]=>
        string(204) "

1300 Skyhaven Rd SE

, 

Atlanta

, 

GA

 

30316

, 

USA

"
        ["formatted_address"]=>
        string(43) "1300 Skyhaven Rd SE, Atlanta, GA 30316, USA"
        ["formatted_phone_number"]=>
        string(14) "(770) 815-2084"
        ["geometry"]=>
        object(stdClass)#2019 (2) {
          ["location"]=>
          object(stdClass)#2018 (2) {
            ["lat"]=>
            string(9) "33.724156"
            ["lng"]=>
            string(10) "-84.346395"
          }
          ["viewport"]=>
          object(stdClass)#2021 (2) {
            ["northeast"]=>
            object(stdClass)#2020 (2) {
              ["lat"]=>
              string(15) "33.725331580292"
              ["lng"]=>
              string(16) "-84.345049669709"
            }
            ["southwest"]=>
            object(stdClass)#2022 (2) {
              ["lat"]=>
              string(15) "33.722633619709"
              ["lng"]=>
              string(16) "-84.347747630292"
            }
          }
        }
        ["icon"]=>
        string(73) "https://maps.gstatic.com/mapfiles/place_api/icons/generic_business-71.png"
        ["id"]=>
        string(40) "a05efb5096fa14b701ef24d37352603cc33f2bb1"
        ["international_phone_number"]=>
        string(15) "+1 770-815-2084"
        ["name"]=>
        string(11) "The Cottage"
        ["photos"]=>
        array(1) {
          [0]=>
          object(stdClass)#2023 (4) {
            ["height"]=>
            int(2875)
            ["html_attributions"]=>
            array(1) {
              [0]=>
              string(94) "Demetri Walker"
            }
            ["photo_reference"]=>
            string(190) "CmRaAAAAWLb4U5kxJJzV7AicJhMp4Hq0ca0D585WnDNqcn7r1ZZh4STK8LB4JyjaDlhcks815mVJ31vqg3GtdxxQLhv8qFHlsl2vp9vMkCQ41buSFPfNTeFQBWTt4GHeBcQsgK3bEhBHCeQMNvrkxuZSOSHAeHg0GhRwFF-Q58XBh5_tSuvajXHKtZo5LA"
            ["width"]=>
            int(2300)
          }
        }
        ["place_id"]=>
        string(27) "ChIJXWi42GQB9YgRbd2uXb1_vys"
        ["rating"]=>
        string(3) "4.7"
        ["reference"]=>
        string(190) "CmRRAAAAe-Q2O7tVzNhWEAto5izJKZQe1bFutHOXRMle_ZRW35TumVR9tqiVmEC3BWvDkNHiZxC3n4jDDPeOyjnnuLbmHZYGDKKVQ6sYunPoYihAMZkSLb8xDusL_QmQDwUPYXLtEhC96Qw4Vv9tVPjZX7sDPzUdGhT7mnPdw2_Sd49WL13FebU1W8ToEw"
        ["reviews"]=>
        array(3) {
          [0]=>
          object(stdClass)#2024 (8) {
            ["author_name"]=>
            string(14) "Demetri Walker"
            ["author_url"]=>
            string(65) "https://www.google.com/maps/contrib/101081416659626624964/reviews"
            ["language"]=>
            string(2) "en"
            ["profile_photo_url"]=>
            string(118) "https://lh5.googleusercontent.com/-d18XvYG-pjE/AAAAAAAAAAI/AAAAAAAAJF0/FAAuEft1Wms/s128-c0x00000000-cc-rp-mo/photo.jpg"
            ["rating"]=>
            string(1) "5"
            ["relative_time_description"]=>
            string(10) "a year ago"
            ["text"]=>
            string(54) "Damon is the coolest engineer a musician can ask for. "
            ["time"]=>
            int(1466206555)
          }
          [1]=>
          object(stdClass)#2025 (8) {
            ["author_name"]=>
            string(18) "Jonathan Partridge"
            ["author_url"]=>
            string(65) "https://www.google.com/maps/contrib/101157693079865766447/reviews"
            ["language"]=>
            string(2) "en"
            ["profile_photo_url"]=>
            string(141) "https://lh5.googleusercontent.com/-XbWmaIQCS64/AAAAAAAAAAI/AAAAAAAAAAA/AGi4gfz72QCtHUQc67AOrHjd6wJQdyQnmA/s128-c0x00000000-cc-rp-mo/photo.jpg"
            ["rating"]=>
            string(1) "4"
            ["relative_time_description"]=>
            string(12) "2 months ago"
            ["text"]=>
            string(0) ""
            ["time"]=>
            int(1512774219)
          }
          [2]=>
          object(stdClass)#2026 (8) {
            ["author_name"]=>
            string(11) "Moriah Kirk"
            ["author_url"]=>
            string(65) "https://www.google.com/maps/contrib/115134236603838631965/reviews"
            ["language"]=>
            string(2) "en"
            ["profile_photo_url"]=>
            string(118) "https://lh5.googleusercontent.com/-k-zZ1Lqr10E/AAAAAAAAAAI/AAAAAAAAAIk/S9DZTG2v6s4/s128-c0x00000000-cc-rp-mo/photo.jpg"
            ["rating"]=>
            string(1) "5"
            ["relative_time_description"]=>
            string(10) "a year ago"
            ["text"]=>
            string(0) ""
            ["time"]=>
            int(1469846737)
          }
        }
        ["scope"]=>
        string(6) "GOOGLE"
        ["types"]=>
        array(2) {
          [0]=>
          string(17) "point_of_interest"
          [1]=>
          string(13) "establishment"
        }
        ["url"]=>
        string(48) "https://maps.google.com/?cid=3152378715479924077"
        ["utc_offset"]=>
        string(4) "-300"
        ["vicinity"]=>
        string(37) "1300 Skyhaven Road Southeast, Atlanta"
      }
      ["tracker_field_googleOverallRating"]=>
      int(5)
      ["tracker_field_businessYelpBusinessData"]=>
      array(0) {
      }
      ["tracker_field_businessYelpBusinessData_json"]=>
      array(0) {
      }
      ["tracker_field_businessFacebook"]=>
      string(25) "The Cottage Recording Co."
      ["tracker_field_businessFacebookID"]=>
      string(15) "144150000000000"
      ["tracker_field_businessFacebookData"]=>
      array(0) {
      }
      ["tracker_field_businessFacebookData_json"]=>
      array(0) {
      }
      ["tracker_field_businessLoafingID"]=>
      string(24) "573f3cdd1e3ee4dfcf65fd4f"
      ["tracker_field_businessAccountExecutive"]=>
      string(1) "0"
      ["tracker_field_businessStatusField"]=>
      string(12) "Sent to Edit"
      ["tracker_field_businessCLDistributionLocation"]=>
      string(1) "n"
      ["tracker_field_businessAudience"]=>
      array(0) {
      }
      ["tracker_field_businessLegacyID"]=>
      int(5118768)
      ["language"]=>
      string(7) "unknown"
      ["attachments"]=>
      array(0) {
      }
      ["comment_count"]=>
      int(0)
      ["categories"]=>
      array(2) {
        [0]=>
        int(88)
        [1]=>
        int(100)
      }
      ["deep_categories"]=>
      array(6) {
        [0]=>
        int(28)
        [1]=>
        int(876)
        [2]=>
        int(88)
        [3]=>
        int(1)
        [4]=>
        int(149)
        [5]=>
        int(100)
      }
      ["categories_under_28"]=>
      array(0) {
      }
      ["deep_categories_under_28"]=>
      array(2) {
        [0]=>
        int(876)
        [1]=>
        int(88)
      }
      ["categories_under_1"]=>
      array(0) {
      }
      ["deep_categories_under_1"]=>
      array(2) {
        [0]=>
        int(149)
        [1]=>
        int(100)
      }
      ["categories_under_177"]=>
      array(0) {
      }
      ["deep_categories_under_177"]=>
      array(0) {
      }
      ["categories_under_209"]=>
      array(0) {
      }
      ["deep_categories_under_209"]=>
      array(0) {
      }
      ["categories_under_163"]=>
      array(0) {
      }
      ["deep_categories_under_163"]=>
      array(0) {
      }
      ["categories_under_171"]=>
      array(0) {
      }
      ["deep_categories_under_171"]=>
      array(0) {
      }
      ["categories_under_153"]=>
      array(0) {
      }
      ["deep_categories_under_153"]=>
      array(0) {
      }
      ["categories_under_242"]=>
      array(0) {
      }
      ["deep_categories_under_242"]=>
      array(0) {
      }
      ["categories_under_564"]=>
      array(0) {
      }
      ["deep_categories_under_564"]=>
      array(0) {
      }
      ["freetags"]=>
      array(0) {
      }
      ["geo_located"]=>
      string(1) "y"
      ["geo_location"]=>
      string(23) "-84.346395,33.724156,12"
      ["geo_point"]=>
      object(stdClass)#2027 (2) {
        ["lat"]=>
        float(33.724156)
        ["lon"]=>
        float(-84.346395)
      }
      ["allowed_groups"]=>
      array(2) {
        [0]=>
        string(6) "Admins"
        [1]=>
        string(9) "Anonymous"
      }
      ["allowed_users"]=>
      array(0) {
      }
      ["relations"]=>
      array(0) {
      }
      ["relation_objects"]=>
      array(0) {
      }
      ["relation_types"]=>
      array(0) {
      }
      ["relation_count"]=>
      array(0) {
      }
      ["title_initial"]=>
      string(1) "T"
      ["title_firstword"]=>
      string(3) "The"
      ["searchable"]=>
      string(1) "y"
      ["url"]=>
      string(8) "item3650"
      ["object_type"]=>
      string(11) "trackeritem"
      ["object_id"]=>
      string(4) "3650"
      ["contents"]=>
      string(407) "    The Cottage 1300 Skyhaven Road  Atlanta GA 30316    (770) 815-2084  -84.346395,33.724156,12   An East Atlanta recording studio and concert venue.       http://dev.creativeloafing.com/image/2013/06/640w/11c76_cover_indie6_3_08magnum.jpg        n  ChIJXWi42GQB9YgRbd2uXb1_vys  The Cottage Recording Co. 144150000000000 573f3cdd1e3ee4dfcf65fd4f       Sent to Edit  n  2017-06-26T22:34:43+00:00 The Cottage "
      ["score"]=>
      float(0)
      ["_index"]=>
      string(21) "atlantawiki_tiki_main"
      ["objectlink"]=>
      string(269) "The Cottage"
      ["image"]=>
      string(39) "

File not found.

"
      ["areaLocation"]=>
      string(34) "-84.3503813,33.7391182,15"
    }
    [42]=>
    array(89) {
      ["title"]=>
      string(11) "Gravity Pub"
      ["modification_date"]=>
      string(25) "2018-03-08T16:44:04+00:00"
      ["creation_date"]=>
      string(25) "2017-07-16T21:30:40+00:00"
      ["contributors"]=>
      array(1) {
        [0]=>
        string(29) "ben.eason@creativeloafing.com"
      }
      ["date"]=>
      string(25) "2017-07-16T21:30:40+00:00"
      ["tracker_status"]=>
      string(1) "o"
      ["tracker_id"]=>
      string(1) "1"
      ["view_permission"]=>
      string(13) "view_trackers"
      ["tracker_field_businessName"]=>
      string(11) "Gravity Pub"
      ["tracker_field_businessAddress"]=>
      string(18) "1257 Glenwood Ave."
      ["tracker_field_businessAddress2"]=>
      string(1) " "
      ["tracker_field_businessCity"]=>
      string(7) "Atlanta"
      ["tracker_field_businessState"]=>
      string(2) "GA"
      ["tracker_field_businessZip"]=>
      string(5) "30316"
      ["tracker_field_businessWebsite"]=>
      string(1) " "
      ["tracker_field_businessPhone"]=>
      string(12) "404-627-5555"
      ["tracker_field_businessRepresentative"]=>
      array(0) {
      }
      ["tracker_field_businessLocationRadius"]=>
      int(0)
      ["tracker_field_description"]=>
      string(176) "This longtime veteran of the East Atlanta bar scene had closed for a short stint for remodeling — but fear not. The Gravity is back, and it's still its adorably scrubby self."
      ["tracker_field_description_raw"]=>
      string(176) "This longtime veteran of the East Atlanta bar scene had closed for a short stint for remodeling — but fear not. The Gravity is back, and it's still its adorably scrubby self."
      ["tracker_field_businessClassifieds"]=>
      array(0) {
      }
      ["tracker_field_businessTypes"]=>
      array(1) {
        [0]=>
        string(2) "88"
      }
      ["tracker_field_businessTypes_text"]=>
      string(2) "88"
      ["tracker_field_scene"]=>
      array(0) {
      }
      ["tracker_field_businessNeighborhoods"]=>
      array(2) {
        [0]=>
        string(3) "100"
        [1]=>
        string(3) "149"
      }
      ["tracker_field_businessNeighborhoods_text"]=>
      string(7) "100 149"
      ["tracker_field_businessPriceRange"]=>
      array(0) {
      }
      ["tracker_field_businessMiscCategories"]=>
      array(0) {
      }
      ["tracker_field_businessCLAcctNum"]=>
      int(0)
      ["tracker_field_business_121CurrentChit"]=>
      string(1) "n"
      ["tracker_field_121MobileClientID"]=>
      int(0)
      ["tracker_field_121MobileCampaignData"]=>
      array(0) {
      }
      ["tracker_field_121MobileCampaignData_json"]=>
      array(0) {
      }
      ["tracker_field_googlePlaceData"]=>
      array(0) {
      }
      ["tracker_field_googlePlaceData_json"]=>
      array(0) {
      }
      ["tracker_field_googleOverallRating"]=>
      int(0)
      ["tracker_field_businessYelpBusinessData"]=>
      array(0) {
      }
      ["tracker_field_businessYelpBusinessData_json"]=>
      array(0) {
      }
      ["tracker_field_businessFacebookData"]=>
      array(0) {
      }
      ["tracker_field_businessFacebookData_json"]=>
      array(0) {
      }
      ["tracker_field_businessLoafingID"]=>
      string(24) "573f3d521e3ee4dfcf660bcf"
      ["tracker_field_businessAccountExecutive"]=>
      string(1) "0"
      ["tracker_field_businessStatusField"]=>
      string(10) "NoGoogleID"
      ["tracker_field_businessCLDistributionLocation"]=>
      string(1) "n"
      ["tracker_field_businessAudience"]=>
      array(0) {
      }
      ["tracker_field_businessLegacyID"]=>
      int(1300313)
      ["language"]=>
      string(7) "unknown"
      ["attachments"]=>
      array(0) {
      }
      ["comment_count"]=>
      int(0)
      ["categories"]=>
      array(2) {
        [0]=>
        int(88)
        [1]=>
        int(100)
      }
      ["deep_categories"]=>
      array(6) {
        [0]=>
        int(28)
        [1]=>
        int(876)
        [2]=>
        int(88)
        [3]=>
        int(1)
        [4]=>
        int(149)
        [5]=>
        int(100)
      }
      ["categories_under_28"]=>
      array(0) {
      }
      ["deep_categories_under_28"]=>
      array(2) {
        [0]=>
        int(876)
        [1]=>
        int(88)
      }
      ["categories_under_1"]=>
      array(0) {
      }
      ["deep_categories_under_1"]=>
      array(2) {
        [0]=>
        int(149)
        [1]=>
        int(100)
      }
      ["categories_under_177"]=>
      array(0) {
      }
      ["deep_categories_under_177"]=>
      array(0) {
      }
      ["categories_under_209"]=>
      array(0) {
      }
      ["deep_categories_under_209"]=>
      array(0) {
      }
      ["categories_under_163"]=>
      array(0) {
      }
      ["deep_categories_under_163"]=>
      array(0) {
      }
      ["categories_under_171"]=>
      array(0) {
      }
      ["deep_categories_under_171"]=>
      array(0) {
      }
      ["categories_under_153"]=>
      array(0) {
      }
      ["deep_categories_under_153"]=>
      array(0) {
      }
      ["categories_under_242"]=>
      array(0) {
      }
      ["deep_categories_under_242"]=>
      array(0) {
      }
      ["categories_under_564"]=>
      array(0) {
      }
      ["deep_categories_under_564"]=>
      array(0) {
      }
      ["freetags"]=>
      array(0) {
      }
      ["geo_located"]=>
      string(1) "n"
      ["allowed_groups"]=>
      array(2) {
        [0]=>
        string(6) "Admins"
        [1]=>
        string(9) "Anonymous"
      }
      ["allowed_users"]=>
      array(0) {
      }
      ["relations"]=>
      array(0) {
      }
      ["relation_objects"]=>
      array(0) {
      }
      ["relation_types"]=>
      array(0) {
      }
      ["relation_count"]=>
      array(0) {
      }
      ["title_initial"]=>
      string(1) "G"
      ["title_firstword"]=>
      string(7) "Gravity"
      ["searchable"]=>
      string(1) "y"
      ["url"]=>
      string(8) "item8703"
      ["object_type"]=>
      string(11) "trackeritem"
      ["object_id"]=>
      string(4) "8703"
      ["contents"]=>
      string(357) "    Gravity Pub 1257 Glenwood Ave.   Atlanta GA 30316     404-627-5555     This longtime veteran of the East Atlanta bar scene had closed for a short stint for remodeling — but fear not. The Gravity is back, and it's still its adorably scrubby self.               n      573f3d521e3ee4dfcf660bcf       NoGoogleID  n  2017-07-16T21:30:40+00:00 Gravity Pub "
      ["score"]=>
      float(0)
      ["_index"]=>
      string(21) "atlantawiki_tiki_main"
      ["objectlink"]=>
      string(189) "Gravity Pub"
      ["image"]=>
      string(39) "

File not found.

"
      ["areaLocation"]=>
      string(34) "-84.3503813,33.7391182,15"
    }
    [43]=>
    array(95) {
      ["title"]=>
      string(8) "Club 908"
      ["modification_date"]=>
      string(25) "2019-04-25T16:25:40+00:00"
      ["creation_date"]=>
      string(25) "2017-06-19T12:58:54+00:00"
      ["contributors"]=>
      array(2) {
        [0]=>
        NULL
        [1]=>
        string(18) "jonny@nospaces.net"
      }
      ["date"]=>
      string(25) "2017-06-19T12:58:54+00:00"
      ["tracker_status"]=>
      string(1) "o"
      ["tracker_id"]=>
      string(1) "1"
      ["view_permission"]=>
      string(13) "view_trackers"
      ["tracker_field_businessName"]=>
      string(8) "Club 908"
      ["tracker_field_businessAddress"]=>
      string(23) "908 Commercial St. N.E."
      ["tracker_field_businessCity"]=>
      string(7) "Conyers"
      ["tracker_field_businessState"]=>
      string(2) "GA"
      ["tracker_field_businessZip"]=>
      string(5) "30012"
      ["tracker_field_businessPhone"]=>
      string(14) "(770) 761-2122"
      ["tracker_field_businessRepresentative"]=>
      array(0) {
      }
      ["tracker_field_businessLocation"]=>
      string(39) "-84.01756599999968,33.66687000000029,16"
      ["tracker_field_businessLocationRadius"]=>
      int(0)
      ["tracker_field_description"]=>
      string(1) " "
      ["tracker_field_description_raw"]=>
      string(1) " "
      ["tracker_field_businessClassifieds"]=>
      array(0) {
      }
      ["tracker_field_businessTypes"]=>
      array(1) {
        [0]=>
        string(2) "88"
      }
      ["tracker_field_businessTypes_text"]=>
      string(2) "88"
      ["tracker_field_scene"]=>
      array(0) {
      }
      ["tracker_field_businessNeighborhoods"]=>
      array(2) {
        [0]=>
        string(3) "100"
        [1]=>
        string(3) "149"
      }
      ["tracker_field_businessNeighborhoods_text"]=>
      string(7) "100 149"
      ["tracker_field_businessPriceRange"]=>
      array(0) {
      }
      ["tracker_field_businessMiscCategories"]=>
      array(0) {
      }
      ["tracker_field_businessCLAcctNum"]=>
      int(0)
      ["tracker_field_business_121CurrentChit"]=>
      string(1) "n"
      ["tracker_field_121MobileClientID"]=>
      int(0)
      ["tracker_field_121MobileCampaignData"]=>
      array(0) {
      }
      ["tracker_field_121MobileCampaignData_json"]=>
      array(0) {
      }
      ["tracker_field_google_placeid"]=>
      string(27) "ChIJG-ybkViz9YgR4E9wbgdcVAE"
      ["tracker_field_googlePlaceData"]=>
      array(14) {
        [0]=>
        string(205) "

908 Commercial St NE

, 

Conyers

, 

GA

 

30012

, 

USA

"
        [1]=>
        string(44) "908 Commercial St NE, Conyers, GA 30012, USA"
        [2]=>
        string(14) "(770) 761-2122"
        [3]=>
        string(73) "https://maps.gstatic.com/mapfiles/place_api/icons/generic_business-71.png"
        [4]=>
        string(40) "b390de78411ed5e019343cb8be77b6a86ff03f77"
        [5]=>
        string(15) "+1 770-761-2122"
        [6]=>
        string(8) "Club 908"
        [7]=>
        string(27) "ChIJG-ybkViz9YgR4E9wbgdcVAE"
        [8]=>
        string(3) "4.1"
        [9]=>
        string(190) "CmRRAAAAPYSqccy1NRn9ugKnqkWALFl_FeZUDI-H8jzbCUZD3H-jjy_Zb1OmGOfuogqUZnZEe7zTsQ_dRQXMOJ_Ro1NiMoFikFs753XTr0zKdWLgGASm4vTuRq9cly4xgTHAM_L3EhBBIP3ATrIe9b6JI_rDTjBGGhRl9SQ5pATjbpZS9FIWoVzTsHfsRg"
        [10]=>
        string(6) "GOOGLE"
        [11]=>
        string(46) "https://maps.google.com/?cid=95802679069003744"
        [12]=>
        string(4) "-240"
        [13]=>
        string(40) "908 Commercial Street Northeast, Conyers"
      }
      ["tracker_field_googlePlaceData_text"]=>
      string(567) "908 Commercial St NE, Conyers, GA 30012, USA 908 Commercial St NE, Conyers, GA 30012, USA (770) 761-2122 https://maps.gstatic.com/mapfiles/place_api/icons/generic_business-71.png b390de78411ed5e019343cb8be77b6a86ff03f77 +1 770-761-2122 Club 908 ChIJG-ybkViz9YgR4E9wbgdcVAE 4.1 CmRRAAAAPYSqccy1NRn9ugKnqkWALFl_FeZUDI-H8jzbCUZD3H-jjy_Zb1OmGOfuogqUZnZEe7zTsQ_dRQXMOJ_Ro1NiMoFikFs753XTr0zKdWLgGASm4vTuRq9cly4xgTHAM_L3EhBBIP3ATrIe9b6JI_rDTjBGGhRl9SQ5pATjbpZS9FIWoVzTsHfsRg GOOGLE https://maps.google.com/?cid=95802679069003744 -240 908 Commercial Street Northeast, Conyers"
      ["tracker_field_googlePlaceData_json"]=>
      object(stdClass)#2039 (20) {
        ["address_components"]=>
        array(7) {
          [0]=>
          object(stdClass)#2032 (3) {
            ["long_name"]=>
            string(3) "908"
            ["short_name"]=>
            string(3) "908"
            ["types"]=>
            array(1) {
              [0]=>
              string(13) "street_number"
            }
          }
          [1]=>
          object(stdClass)#2033 (3) {
            ["long_name"]=>
            string(27) "Commercial Street Northeast"
            ["short_name"]=>
            string(16) "Commercial St NE"
            ["types"]=>
            array(1) {
              [0]=>
              string(5) "route"
            }
          }
          [2]=>
          object(stdClass)#2034 (3) {
            ["long_name"]=>
            string(7) "Conyers"
            ["short_name"]=>
            string(7) "Conyers"
            ["types"]=>
            array(2) {
              [0]=>
              string(8) "locality"
              [1]=>
              string(9) "political"
            }
          }
          [3]=>
          object(stdClass)#2035 (3) {
            ["long_name"]=>
            string(15) "Rockdale County"
            ["short_name"]=>
            string(15) "Rockdale County"
            ["types"]=>
            array(2) {
              [0]=>
              string(27) "administrative_area_level_2"
              [1]=>
              string(9) "political"
            }
          }
          [4]=>
          object(stdClass)#2036 (3) {
            ["long_name"]=>
            string(7) "Georgia"
            ["short_name"]=>
            string(2) "GA"
            ["types"]=>
            array(2) {
              [0]=>
              string(27) "administrative_area_level_1"
              [1]=>
              string(9) "political"
            }
          }
          [5]=>
          object(stdClass)#2037 (3) {
            ["long_name"]=>
            string(13) "United States"
            ["short_name"]=>
            string(2) "US"
            ["types"]=>
            array(2) {
              [0]=>
              string(7) "country"
              [1]=>
              string(9) "political"
            }
          }
          [6]=>
          object(stdClass)#2038 (3) {
            ["long_name"]=>
            string(5) "30012"
            ["short_name"]=>
            string(5) "30012"
            ["types"]=>
            array(1) {
              [0]=>
              string(11) "postal_code"
            }
          }
        }
        ["adr_address"]=>
        string(205) "

908 Commercial St NE

, 

Conyers

, 

GA

 

30012

, 

USA

"
        ["formatted_address"]=>
        string(44) "908 Commercial St NE, Conyers, GA 30012, USA"
        ["formatted_phone_number"]=>
        string(14) "(770) 761-2122"
        ["geometry"]=>
        object(stdClass)#2041 (2) {
          ["location"]=>
          object(stdClass)#2040 (2) {
            ["lat"]=>
            string(8) "33.66687"
            ["lng"]=>
            string(10) "-84.017566"
          }
          ["viewport"]=>
          object(stdClass)#2043 (2) {
            ["northeast"]=>
            object(stdClass)#2042 (2) {
              ["lat"]=>
              string(15) "33.668137080292"
              ["lng"]=>
              string(16) "-84.016299319709"
            }
            ["southwest"]=>
            object(stdClass)#2044 (2) {
              ["lat"]=>
              string(15) "33.665439119709"
              ["lng"]=>
              string(16) "-84.018997280292"
            }
          }
        }
        ["icon"]=>
        string(73) "https://maps.gstatic.com/mapfiles/place_api/icons/generic_business-71.png"
        ["id"]=>
        string(40) "b390de78411ed5e019343cb8be77b6a86ff03f77"
        ["international_phone_number"]=>
        string(15) "+1 770-761-2122"
        ["name"]=>
        string(8) "Club 908"
        ["photos"]=>
        array(10) {
          [0]=>
          object(stdClass)#2045 (4) {
            ["height"]=>
            int(960)
            ["html_attributions"]=>
            array(1) {
              [0]=>
              string(88) "Club 908"
            }
            ["photo_reference"]=>
            string(190) "CmRaAAAAkPDzDWoqZW-GmidKAE5FO1l2QKjDziNxYreGFpZY3UCZC-o3B_9geT-Gfb8R4jmrYIIxWOsXxQJk0SEEUOuKsa3ylqW8DNbZUlwZhgQ9JxKV-FGROng_ZYn9SjkfHlD5EhDf4Yyyg8VOugzMEANvFUBrGhQJlto8ZwhIbcGglmj_0KkwR5LNwQ"
            ["width"]=>
            int(720)
          }
          [1]=>
          object(stdClass)#2046 (4) {
            ["height"]=>
            int(717)
            ["html_attributions"]=>
            array(1) {
              [0]=>
              string(88) "Club 908"
            }
            ["photo_reference"]=>
            string(190) "CmRaAAAApWfo_eAXKcQnCSbT-y-TtwGhf9bVnXxEySH7Zkrvva0z9g2OgB06HyFFEL2UTShb-eAb6njXu__fk1CofsdjcpeWnhX3_13mB-fSRKKidK5KpFu5DuweVOE0_VZZMh8AEhAICANz-Ob-U4ND8M_sGf78GhRJoygSFF7LrsyP1sywQyzO0E7FKQ"
            ["width"]=>
            int(960)
          }
          [2]=>
          object(stdClass)#2047 (4) {
            ["height"]=>
            int(450)
            ["html_attributions"]=>
            array(1) {
              [0]=>
              string(94) "Representative"
            }
            ["photo_reference"]=>
            string(190) "CmRaAAAAn4LTF4_aC6QaY6SB9SHwwMuKZJfqeZKTNKTtVz8LkbLN5a-z6cCwfdvTayK0aewd2QyAMpGaKCqMhvLb1gqwRnVGlFtLhmVEfTlWj5ejt6aajdwwcydCzqzPVcxwI4ObEhDCadbmSXseZLQSdjy_X6cuGhRQ8qEv5gTRGjojERzQwYsTODbzZA"
            ["width"]=>
            int(600)
          }
          [3]=>
          object(stdClass)#2048 (4) {
            ["height"]=>
            int(720)
            ["html_attributions"]=>
            array(1) {
              [0]=>
              string(88) "Club 908"
            }
            ["photo_reference"]=>
            string(190) "CmRaAAAAIbEpRMtFZdSKpZV5pbFGk8nkt0SxnPWZBWddYrOGemL05zuJmptd-RLhQCLuHkarxKamdvzLDmq1BD1oOMTJNA__Xp0kypx3xoU20zm5WtEbi-usEK9F8EIHA2ZoyjnKEhCCU0CwRnzaSfzz4OKz8XieGhTvgAs3EoLaHgEZTcPvxY8O7OWlwQ"
            ["width"]=>
            int(960)
          }
          [4]=>
          object(stdClass)#2049 (4) {
            ["height"]=>
            int(540)
            ["html_attributions"]=>
            array(1) {
              [0]=>
              string(88) "Club 908"
            }
            ["photo_reference"]=>
            string(190) "CmRaAAAAKnmsxgMctplhwNPlaKs9-dW2CPwvE-O2j9AAGS7XDNkscIvXjkOqHpllZeBDn5q8Sx9bO4d7ztH1wfQbr63_KxOrUnWJNQ7evd14VDxQ5mLlUW2F5ENV7fA0DPz6mlVFEhDfHJRFRv8AOueEmSIDiSuqGhSUaDW2DTDkEqmXzrfyNHdJgphe0w"
            ["width"]=>
            int(960)
          }
          [5]=>
          object(stdClass)#2050 (4) {
            ["height"]=>
            int(450)
            ["html_attributions"]=>
            array(1) {
              [0]=>
              string(94) "Representative"
            }
            ["photo_reference"]=>
            string(190) "CmRaAAAAn61DJD5ePdrw2yijdMdOXLv-_WxxIsD5BwsuLKmh8STSCp4KOLCjfnw3yyS43S8n637GO9exbgj_B_l77QYKEJpE7k2DO3LTdF0oFl6_mN0CwOm6jNZx9FZLKuPFRJmTEhDdLHxEyl1IxLQkKMTVMN03GhSOJNpmHUq82uagBeBE2_fR0xhOGw"
            ["width"]=>
            int(600)
          }
          [6]=>
          object(stdClass)#2051 (4) {
            ["height"]=>
            int(717)
            ["html_attributions"]=>
            array(1) {
              [0]=>
              string(88) "Club 908"
            }
            ["photo_reference"]=>
            string(190) "CmRaAAAAmR3gW8nJEdNTuKcZ75dhj2IoT52GrksV08D1PkQq2uIZCq6nYJQ232y7Bys7ETpSGuUsPqU-PhfjDaddin0PGe45Cp_zegcXbCpB5ReMZXgmWbtEd4d1OITHoLDJJsoYEhAVd7ja9wpjNngosX1BCmZLGhTvwnv9rnTu2Vn6AyBJMFyjoFqq3g"
            ["width"]=>
            int(960)
          }
          [7]=>
          object(stdClass)#2052 (4) {
            ["height"]=>
            int(720)
            ["html_attributions"]=>
            array(1) {
              [0]=>
              string(88) "Club 908"
            }
            ["photo_reference"]=>
            string(190) "CmRaAAAALZ1IUvKveG7bqGDqnjWbhjA4oyhElfv4Lv_3Wo-ijGJ3EuWLd5dWweVD71SRehTVi4kJ8V8xltcTHOL4MtESdnmKh3dFhchMKMEdJPfzpa3BW-5PQ78tms-ZRH960Cm2EhD154hHoUKcmlWSvyzcqAa0GhR7qdxRX688D1ry0b1EBDq07uTw3A"
            ["width"]=>
            int(721)
          }
          [8]=>
          object(stdClass)#2053 (4) {
            ["height"]=>
            int(362)
            ["html_attributions"]=>
            array(1) {
              [0]=>
              string(94) "Representative"
            }
            ["photo_reference"]=>
            string(190) "CmRaAAAAnBp8ssDxwCKhqPYR9vQx6edxSbZ3vNeulGIOSY4dbWfGK0b2zpIk1GoFP12qARR1rFQmlRyapTQAAKkjmpZP_cDREohWWYxQoNzgu47VKt2cIBi2zKQZzOh4oyqdkgCPEhCQKix83Fw80vCHVlpHwpZRGhQoirhtbK6doJprV5F0kvjsAvaPCw"
            ["width"]=>
            int(545)
          }
          [9]=>
          object(stdClass)#2054 (4) {
            ["height"]=>
            int(299)
            ["html_attributions"]=>
            array(1) {
              [0]=>
              string(88) "Club 908"
            }
            ["photo_reference"]=>
            string(190) "CmRaAAAAf_8QyIvc4gJ2OK3mYHn0vp-IlUIdyRSzeEhQqJMmByIEIwmzPIGcJ_6_emOQ6_GKLJIc3NvRcekwXwoWIacutoaCS3U382ZXnxGjh3HVHMmYYNPLK2seAG-O2cGRtrfjEhAnH6o4SOYq9NmQ_brxfHkXGhQMTNIOsvB1qcdTYRQ730_6FboU5w"
            ["width"]=>
            int(640)
          }
        }
        ["place_id"]=>
        string(27) "ChIJG-ybkViz9YgR4E9wbgdcVAE"
        ["plus_code"]=>
        object(stdClass)#2055 (2) {
          ["compound_code"]=>
          string(39) "MX8J+PX Conyers, Georgia, United States"
          ["global_code"]=>
          string(11) "865QMX8J+PX"
        }
        ["rating"]=>
        string(3) "4.1"
        ["reference"]=>
        string(190) "CmRRAAAAPYSqccy1NRn9ugKnqkWALFl_FeZUDI-H8jzbCUZD3H-jjy_Zb1OmGOfuogqUZnZEe7zTsQ_dRQXMOJ_Ro1NiMoFikFs753XTr0zKdWLgGASm4vTuRq9cly4xgTHAM_L3EhBBIP3ATrIe9b6JI_rDTjBGGhRl9SQ5pATjbpZS9FIWoVzTsHfsRg"
        ["reviews"]=>
        array(5) {
          [0]=>
          object(stdClass)#2056 (8) {
            ["author_name"]=>
            string(18) "Janice Heath Moore"
            ["author_url"]=>
            string(65) "https://www.google.com/maps/contrib/114127846890332973786/reviews"
            ["language"]=>
            string(2) "en"
            ["profile_photo_url"]=>
            string(141) "https://lh6.googleusercontent.com/-JYG3o9e4EqI/AAAAAAAAAAI/AAAAAAAAAAA/AAnnY7qjyR8-ohQp6Cu3Wj7Fnw0gZ7-Xdg/s128-c0x00000000-cc-rp-mo/photo.jpg"
            ["rating"]=>
            string(1) "5"
            ["relative_time_description"]=>
            string(11) "a month ago"
            ["text"]=>
            string(57) "Great atmosphere and very nice club for different events."
            ["time"]=>
            int(1528823546)
          }
          [1]=>
          object(stdClass)#2057 (8) {
            ["author_name"]=>
            string(13) "Vernon Parker"
            ["author_url"]=>
            string(65) "https://www.google.com/maps/contrib/118110386240014195969/reviews"
            ["language"]=>
            string(2) "en"
            ["profile_photo_url"]=>
            string(122) "https://lh4.googleusercontent.com/-IV5AJ7ZNzpI/AAAAAAAAAAI/AAAAAAAAGww/E7LUU1jqfUY/s128-c0x00000000-cc-rp-mo-ba2/photo.jpg"
            ["rating"]=>
            string(1) "5"
            ["relative_time_description"]=>
            string(12) "6 months ago"
            ["text"]=>
            string(80) "Excellent place. Except the manager could not remember everything tal l ed about"
            ["time"]=>
            int(1516547959)
          }
          [2]=>
          object(stdClass)#2058 (8) {
            ["author_name"]=>
            string(14) "Dottie Freeman"
            ["author_url"]=>
            string(65) "https://www.google.com/maps/contrib/100422077430125722852/reviews"
            ["language"]=>
            string(2) "en"
            ["profile_photo_url"]=>
            string(118) "https://lh3.googleusercontent.com/-QhS8H5hyrCs/AAAAAAAAAAI/AAAAAAAAAEk/hKS4heMwYVc/s128-c0x00000000-cc-rp-mo/photo.jpg"
            ["rating"]=>
            string(1) "1"
            ["relative_time_description"]=>
            string(10) "a year ago"
            ["text"]=>
            string(262) "I've been trying to contact someone to rent the place and I never get an answer.  Must be owned by rich folks who don't need to rent the space to pay rent, mortgage, or taxes. Or maybe you have to be specially affiliated to some club or organization for rentals."
            ["time"]=>
            int(1495479320)
          }
          [3]=>
          object(stdClass)#2059 (8) {
            ["author_name"]=>
            string(10) "Zena Marie"
            ["author_url"]=>
            string(65) "https://www.google.com/maps/contrib/109296042091721084912/reviews"
            ["language"]=>
            string(2) "en"
            ["profile_photo_url"]=>
            string(122) "https://lh5.googleusercontent.com/-SELkLJMWEik/AAAAAAAAAAI/AAAAAAAAGNE/r-LNnMjs6Ks/s128-c0x00000000-cc-rp-mo-ba4/photo.jpg"
            ["rating"]=>
            string(1) "5"
            ["relative_time_description"]=>
            string(10) "a year ago"
            ["text"]=>
            string(72) "This place is awesome for banquets, baby's hovers, or any private party."
            ["time"]=>
            int(1484970173)
          }
          [4]=>
          object(stdClass)#2060 (8) {
            ["author_name"]=>
            string(11) "Tammy Moore"
            ["author_url"]=>
            string(65) "https://www.google.com/maps/contrib/111202371678285821550/reviews"
            ["language"]=>
            string(2) "en"
            ["profile_photo_url"]=>
            string(141) "https://lh5.googleusercontent.com/-2oHG4BIfSEk/AAAAAAAAAAI/AAAAAAAAAAA/AAnnY7rS-Ebg08sl2dCaHwPlE9kIJa9rjg/s128-c0x00000000-cc-rp-mo/photo.jpg"
            ["rating"]=>
            string(1) "4"
            ["relative_time_description"]=>
            string(10) "a year ago"
            ["text"]=>
            string(89) "Hi I been trying to reach someone to rent the place for a party. Is there another number."
            ["time"]=>
            int(1496283883)
          }
        }
        ["scope"]=>
        string(6) "GOOGLE"
        ["types"]=>
        array(3) {
          [0]=>
          string(10) "night_club"
          [1]=>
          string(17) "point_of_interest"
          [2]=>
          string(13) "establishment"
        }
        ["url"]=>
        string(46) "https://maps.google.com/?cid=95802679069003744"
        ["utc_offset"]=>
        string(4) "-240"
        ["vicinity"]=>
        string(40) "908 Commercial Street Northeast, Conyers"
      }
      ["tracker_field_googleOverallRating"]=>
      float(3.9)
      ["tracker_field_businessYelpBusinessData"]=>
      array(0) {
      }
      ["tracker_field_businessYelpBusinessData_json"]=>
      array(0) {
      }
      ["tracker_field_businessFacebook"]=>
      string(23) "Club 908 Special Events"
      ["tracker_field_businessFacebookID"]=>
      string(15) "183968494980910"
      ["tracker_field_businessFacebookData"]=>
      array(2) {
        [0]=>
        string(15) "183968494980910"
        [1]=>
        string(23) "Club 908 Special Events"
      }
      ["tracker_field_businessFacebookData_text"]=>
      string(39) "183968494980910 Club 908 Special Events"
      ["tracker_field_businessFacebookData_json"]=>
      object(stdClass)#2061 (3) {
        ["id"]=>
        string(15) "183968494980910"
        ["name"]=>
        string(23) "Club 908 Special Events"
        ["feed"]=>
        object(stdClass)#2078 (2) {
          ["data"]=>
          array(16) {
            [0]=>
            object(stdClass)#2062 (3) {
              ["message"]=>
              string(70) "July 1, 2016 Conyers get ready. Comedy, Blues and You. Tickets $10.00."
              ["created_time"]=>
              string(24) "2016-06-21T17:48:43+0000"
              ["id"]=>
              string(33) "183968494980910_10206457798345131"
            }
            [1]=>
            object(stdClass)#2063 (3) {
              ["message"]=>
              string(279) "Come out and enjoy Blues and Laughter at our pre Fourth of July event. Great music, great food and great entertainment. Celebrity Comedian Mzwallst Hosting, Ray Charles Raylette Rita Graham headling and World reknowned artist Beloved performing. You don't want to miss this show."
              ["created_time"]=>
              string(24) "2016-06-15T00:17:25+0000"
              ["id"]=>
              string(33) "183968494980910_10206415110717967"
            }
            [2]=>
            object(stdClass)#2064 (3) {
              ["message"]=>
              string(238) "Come 6/3 Jazz & Laughter Fri starting next Fri with Jazz Legend, Former Ray Charles Raylette Rita Graham. Tickets on sale now at Club or event brite. https://www.eventbrite.com/e/jazz-laughter-w-jazz-legend-rita-graham-tickets-25686612349"
              ["created_time"]=>
              string(24) "2016-05-24T22:33:45+0000"
              ["id"]=>
              string(33) "183968494980910_10206289434696145"
            }
            [3]=>
            object(stdClass)#2065 (3) {
              ["message"]=>
              string(282) "Mother's Day Kick off This Fri 5/6 Club 908 Conyers GA. The R&B sounds of Tyrone Jenkins, Willie Daytatchi Simpson, Lyrical versus by Mz Lyrik, Love songs by Pamela Johnson. Bringing the funny will be Your host Comedian Mzwallstreet, Crazy funny Weight Ball and Popeye the Comedian."
              ["created_time"]=>
              string(24) "2016-05-04T18:30:15+0000"
              ["id"]=>
              string(33) "183968494980910_10206166755309237"
            }
            [4]=>
            object(stdClass)#2066 (3) {
              ["message"]=>
              string(84) "I'll be performing here this Friday night. May 22nd. Good eats and drinks. No cover!"
              ["created_time"]=>
              string(24) "2015-05-21T14:03:42+0000"
              ["id"]=>
              string(31) "183968494980910_936162399761512"
            }
            [5]=>
            object(stdClass)#2067 (3) {
              ["message"]=>
              string(36) "Live Jazz tonight 8-12 !!!No cover!!"
              ["created_time"]=>
              string(24) "2015-05-08T22:43:09+0000"
              ["id"]=>
              string(31) "183968494980910_930717220306030"
            }
            [6]=>
            object(stdClass)#2068 (3) {
              ["message"]=>
              string(156) "Bridal Expo!!!! On Feb 26th between 1-4, at club 908 in Old Towne Conyers. All brides and grooms welcome. Call 404-704-4059 or 404-287-1851 for more info.
"
              ["created_time"]=>
              string(24) "2012-02-01T19:02:43+0000"
              ["id"]=>
              string(31) "183968494980910_323258997718525"
            }
            [7]=>
            object(stdClass)#2069 (3) {
              ["message"]=>
              string(66) "Is this place still open? I've tried the website for information.
"
              ["created_time"]=>
              string(24) "2012-01-15T03:04:04+0000"
              ["id"]=>
              string(31) "183968494980910_311424898901935"
            }
            [8]=>
            object(stdClass)#2070 (3) {
              ["message"]=>
              string(104) "LOOKNG FOR A PLACE TO RECORD CHECK OUT STUDIO DOWNTOWN HOME OF TRACKLORDRECORDS & OKWORD MUSIC GROUP !!!"
              ["created_time"]=>
              string(24) "2012-01-02T18:08:56+0000"
              ["id"]=>
              string(31) "183968494980910_303679919676433"
            }
            [9]=>
            object(stdClass)#2071 (3) {
              ["message"]=>
              string(69) "come see Chronic Binge on April 1st at 8:00pm-1:00am.  See you there."
              ["created_time"]=>
              string(24) "2011-03-29T17:54:31+0000"
              ["id"]=>
              string(31) "183968494980910_187353121309114"
            }
            [10]=>
            object(stdClass)#2072 (3) {
              ["message"]=>
              string(60) "check out our website at www.club908.com for a virtual tour!"
              ["created_time"]=>
              string(24) "2011-03-24T17:18:10+0000"
              ["id"]=>
              string(31) "183968494980910_164705706917469"
            }
            [11]=>
            object(stdClass)#2073 (3) {
              ["message"]=>
              string(225) "April 15th is Comedy Night at 10pm.  Come see KDUBB & FRIENDS.  Get there early for drink specials from 9-10 pm.  $10 in advance $15 at the door.  Get your tickerts on line at www.bravoentlive.com or any Los Charros location."
              ["created_time"]=>
              string(24) "2011-03-24T16:07:22+0000"
              ["id"]=>
              string(31) "183968494980910_134383893301124"
            }
            [12]=>
            object(stdClass)#2074 (3) {
              ["message"]=>
              string(165) "We will be hosting Ballroom Dancing April the 5th, from 7pm to 10pm.
Open Nite Blues Jam is April the 7th.  April 15th is Comedy Nite 1pm to 9pm.Come out and see us!"
              ["created_time"]=>
              string(24) "2011-03-22T16:35:52+0000"
              ["id"]=>
              string(31) "183968494980910_185694954808264"
            }
            [13]=>
            object(stdClass)#2075 (3) {
              ["message"]=>
              string(57) "5th person!! Good luck!! from Some Beach Tan 678-863-9002"
              ["created_time"]=>
              string(24) "2011-03-15T19:21:59+0000"
              ["id"]=>
              string(31) "183968494980910_183999058311187"
            }
            [14]=>
            object(stdClass)#2076 (3) {
              ["story"]=>
              string(43) "Club 908 Special Events added 8 new photos."
              ["created_time"]=>
              string(24) "2011-03-15T19:18:42+0000"
              ["id"]=>
              string(31) "183968494980910_183998124977947"
            }
            [15]=>
            object(stdClass)#2077 (3) {
              ["message"]=>
              string(79) "Come and see us March 19th at 8:30 For 2 great bands!!!!!  Only $5 at the door."
              ["created_time"]=>
              string(24) "2011-03-15T19:11:20+0000"
              ["id"]=>
              string(31) "183968494980910_183996671644759"
            }
          }
          ["paging"]=>
          object(stdClass)#2079 (2) {
            ["previous"]=>
            string(282) "https://graph.facebook.com/v2.8/183968494980910/feed?since=1466531323&access_token=284346488083|StUmZexEo-ODM_s_RzrK8IoefW0&limit=25&__paging_token=enc_AdA24x6vSrFINQxAakc0kvGQaKqOAODRI3RjGXMVjdyeBjaEyHryyM3CZBiE20AsXt8nijt2DKoffg8FKwjp2Le6bEzNBJiZA8uLeQJ3ZB2OQ7cCAZDZD&__previous=1"
            ["next"]=>
            string(269) "https://graph.facebook.com/v2.8/183968494980910/feed?access_token=284346488083|StUmZexEo-ODM_s_RzrK8IoefW0&limit=25&until=1300216280&__paging_token=enc_AdDOeh2Txp0v19YqobnnCRHkSBiZAxMBq63Gd329DVI3zIbrv61d8LZAEJ9hxm7FKuW9e9vxNEEXJ3ZAezMRW7jymghkX1LTiUTalPtz1FFiuIlJwZDZD"
          }
        }
      }
      ["tracker_field_businessLoafingID"]=>
      string(24) "573f3cda1e3ee4dfcf65f8f6"
      ["tracker_field_businessAccountExecutive"]=>
      string(1) "0"
      ["tracker_field_businessStatusField"]=>
      string(4) "Done"
      ["tracker_field_businessCLDistributionLocation"]=>
      string(1) "n"
      ["tracker_field_businessAudience"]=>
      array(0) {
      }
      ["tracker_field_businessLegacyID"]=>
      int(10129356)
      ["language"]=>
      string(7) "unknown"
      ["attachments"]=>
      array(0) {
      }
      ["comment_count"]=>
      int(0)
      ["categories"]=>
      array(3) {
        [0]=>
        int(88)
        [1]=>
        int(100)
        [2]=>
        int(149)
      }
      ["deep_categories"]=>
      array(6) {
        [0]=>
        int(28)
        [1]=>
        int(876)
        [2]=>
        int(88)
        [3]=>
        int(1)
        [4]=>
        int(149)
        [5]=>
        int(100)
      }
      ["categories_under_28"]=>
      array(0) {
      }
      ["deep_categories_under_28"]=>
      array(2) {
        [0]=>
        int(876)
        [1]=>
        int(88)
      }
      ["categories_under_1"]=>
      array(1) {
        [0]=>
        int(149)
      }
      ["deep_categories_under_1"]=>
      array(2) {
        [0]=>
        int(149)
        [1]=>
        int(100)
      }
      ["categories_under_177"]=>
      array(0) {
      }
      ["deep_categories_under_177"]=>
      array(0) {
      }
      ["categories_under_209"]=>
      array(0) {
      }
      ["deep_categories_under_209"]=>
      array(0) {
      }
      ["categories_under_163"]=>
      array(0) {
      }
      ["deep_categories_under_163"]=>
      array(0) {
      }
      ["categories_under_171"]=>
      array(0) {
      }
      ["deep_categories_under_171"]=>
      array(0) {
      }
      ["categories_under_153"]=>
      array(0) {
      }
      ["deep_categories_under_153"]=>
      array(0) {
      }
      ["categories_under_242"]=>
      array(0) {
      }
      ["deep_categories_under_242"]=>
      array(0) {
      }
      ["categories_under_564"]=>
      array(0) {
      }
      ["deep_categories_under_564"]=>
      array(0) {
      }
      ["freetags"]=>
      array(0) {
      }
      ["geo_located"]=>
      string(1) "y"
      ["geo_location"]=>
      string(39) "-84.01756599999968,33.66687000000029,16"
      ["geo_point"]=>
      object(stdClass)#2080 (2) {
        ["lat"]=>
        float(33.66687)
        ["lon"]=>
        float(-84.017566)
      }
      ["allowed_groups"]=>
      array(2) {
        [0]=>
        string(6) "Admins"
        [1]=>
        string(9) "Anonymous"
      }
      ["allowed_users"]=>
      array(0) {
      }
      ["relations"]=>
      array(0) {
      }
      ["relation_objects"]=>
      array(0) {
      }
      ["relation_types"]=>
      array(0) {
      }
      ["relation_count"]=>
      array(0) {
      }
      ["title_initial"]=>
      string(1) "C"
      ["title_firstword"]=>
      string(4) "Club"
      ["searchable"]=>
      string(1) "y"
      ["url"]=>
      string(7) "item508"
      ["object_type"]=>
      string(11) "trackeritem"
      ["object_id"]=>
      string(3) "508"
      ["contents"]=>
      string(279) "    Club 908 908 Commercial St. N.E.  Conyers GA 30012    (770) 761-2122  -84.01756599999968,33.66687000000029,16                   n  ChIJG-ybkViz9YgR4E9wbgdcVAE  Club 908 Special Events 183968494980910 573f3cda1e3ee4dfcf65f8f6       Done  n  2017-06-19T12:58:54+00:00 Club 908 "
      ["score"]=>
      float(0)
      ["_index"]=>
      string(21) "atlantawiki_tiki_main"
      ["objectlink"]=>
      string(280) "Club 908"
      ["image"]=>
      string(39) "

File not found.

"
      ["areaLocation"]=>
      string(34) "-84.3503813,33.7391182,15"
    }
    [44]=>
    array(96) {
      ["title"]=>
      string(25) "Flatiron Restaurant & Bar"
      ["modification_date"]=>
      string(25) "2019-04-27T13:55:30+00:00"
      ["creation_date"]=>
      string(25) "2017-06-19T12:58:54+00:00"
      ["contributors"]=>
      array(2) {
        [0]=>
        NULL
        [1]=>
        string(18) "jonny@nospaces.net"
      }
      ["date"]=>
      string(25) "2017-06-19T12:58:54+00:00"
      ["tracker_status"]=>
      string(1) "o"
      ["tracker_id"]=>
      string(1) "1"
      ["view_permission"]=>
      string(13) "view_trackers"
      ["tracker_field_businessName"]=>
      string(25) "Flatiron Restaurant & Bar"
      ["tracker_field_businessAddress"]=>
      string(25) "520 Flat Shoals Ave. S.E."
      ["tracker_field_businessCity"]=>
      string(7) "Atlanta"
      ["tracker_field_businessState"]=>
      string(2) "GA"
      ["tracker_field_businessWebsite"]=>
      string(36) "https://www.facebook.com/flatironbar"
      ["tracker_field_businessPhone"]=>
      string(14) "(404) 688-8864"
      ["tracker_field_businessRepresentative"]=>
      array(0) {
      }
      ["tracker_field_businessLocation"]=>
      string(40) "-84.34513160000041,33.740055900000314,16"
      ["tracker_field_businessLocationRadius"]=>
      int(0)
      ["tracker_field_businessIcon"]=>
      string(9) "display26"
      ["tracker_field_description"]=>
      string(90) "A scattering of sidewalk tables, draft beer, a stellar jukebox, and your average pub grub."
      ["tracker_field_description_raw"]=>
      string(90) "A scattering of sidewalk tables, draft beer, a stellar jukebox, and your average pub grub."
      ["tracker_field_businessClassifieds"]=>
      array(0) {
      }
      ["tracker_field_businessTypes"]=>
      array(1) {
        [0]=>
        string(2) "88"
      }
      ["tracker_field_businessTypes_text"]=>
      string(2) "88"
      ["tracker_field_scene"]=>
      array(0) {
      }
      ["tracker_field_businessNeighborhoods"]=>
      array(2) {
        [0]=>
        string(3) "149"
        [1]=>
        string(3) "100"
      }
      ["tracker_field_businessNeighborhoods_text"]=>
      string(7) "149 100"
      ["tracker_field_businessPriceRange"]=>
      array(0) {
      }
      ["tracker_field_businessMiscCategories"]=>
      array(0) {
      }
      ["tracker_field_businessCLAcctNum"]=>
      int(0)
      ["tracker_field_business_121CurrentChit"]=>
      string(1) "n"
      ["tracker_field_121MobileClientID"]=>
      int(0)
      ["tracker_field_121MobileCampaignData"]=>
      array(0) {
      }
      ["tracker_field_121MobileCampaignData_json"]=>
      array(0) {
      }
      ["tracker_field_google_placeid"]=>
      string(27) "ChIJjRSbYFsB9YgRWmQXem6I238"
      ["tracker_field_googlePlaceData"]=>
      array(16) {
        [0]=>
        string(212) "

520 Flat Shoals Ave SE

, 

Atlanta

, 

GA

 

30316-2055

, 

USA

"
        [1]=>
        string(46) "520 Flat Shoals Ave SE, Atlanta, GA 30316, USA"
        [2]=>
        string(14) "(404) 688-8864"
        [3]=>
        string(67) "https://maps.gstatic.com/mapfiles/place_api/icons/restaurant-71.png"
        [4]=>
        string(40) "35c96e4ce2672ebd906bc63a9165a2dfc48d4cbc"
        [5]=>
        string(15) "+1 404-688-8864"
        [6]=>
        string(27) "FLATIRON BAR AND RESTAURANT"
        [7]=>
        string(27) "ChIJjRSbYFsB9YgRWmQXem6I238"
        [8]=>
        string(1) "1"
        [9]=>
        string(3) "4.3"
        [10]=>
        string(190) "CmRRAAAAMAbRTG7qJ6tawpj-mPmqZ2UreJx8recRDAyYvlpiK0Hyu6Rb8u8SOU1g2Fg7_6kTQjoV8LfxXSuN0ZzZWNi8oSv9uJYZa2KSg9Q2jwrlHd2gu8PTVkM6bIhndPhutnkkEhA0O38tMTcXunL_qj1rDhMAGhTZsYWxoqx4eW_SMBvH-Dx--xf7ww"
        [11]=>
        string(6) "GOOGLE"
        [12]=>
        string(48) "https://maps.google.com/?cid=9213107470792615002"
        [13]=>
        string(4) "-240"
        [14]=>
        string(41) "520 Flat Shoals Avenue Southeast, Atlanta"
        [15]=>
        string(24) "https://flatironatl.com/"
      }
      ["tracker_field_googlePlaceData_text"]=>
      string(619) "520 Flat Shoals Ave SE, Atlanta, GA 30316-2055, USA 520 Flat Shoals Ave SE, Atlanta, GA 30316, USA (404) 688-8864 https://maps.gstatic.com/mapfiles/place_api/icons/restaurant-71.png 35c96e4ce2672ebd906bc63a9165a2dfc48d4cbc +1 404-688-8864 FLATIRON BAR AND RESTAURANT ChIJjRSbYFsB9YgRWmQXem6I238 1 4.3 CmRRAAAAMAbRTG7qJ6tawpj-mPmqZ2UreJx8recRDAyYvlpiK0Hyu6Rb8u8SOU1g2Fg7_6kTQjoV8LfxXSuN0ZzZWNi8oSv9uJYZa2KSg9Q2jwrlHd2gu8PTVkM6bIhndPhutnkkEhA0O38tMTcXunL_qj1rDhMAGhTZsYWxoqx4eW_SMBvH-Dx--xf7ww GOOGLE https://maps.google.com/?cid=9213107470792615002 -240 520 Flat Shoals Avenue Southeast, Atlanta https://flatironatl.com/"
      ["tracker_field_googlePlaceData_json"]=>
      object(stdClass)#2092 (23) {
        ["address_components"]=>
        array(9) {
          [0]=>
          object(stdClass)#2083 (3) {
            ["long_name"]=>
            string(3) "520"
            ["short_name"]=>
            string(3) "520"
            ["types"]=>
            array(1) {
              [0]=>
              string(13) "street_number"
            }
          }
          [1]=>
          object(stdClass)#2084 (3) {
            ["long_name"]=>
            string(28) "Flat Shoals Avenue Southeast"
            ["short_name"]=>
            string(18) "Flat Shoals Ave SE"
            ["types"]=>
            array(1) {
              [0]=>
              string(5) "route"
            }
          }
          [2]=>
          object(stdClass)#2085 (3) {
            ["long_name"]=>
            string(12) "East Atlanta"
            ["short_name"]=>
            string(12) "East Atlanta"
            ["types"]=>
            array(2) {
              [0]=>
              string(12) "neighborhood"
              [1]=>
              string(9) "political"
            }
          }
          [3]=>
          object(stdClass)#2086 (3) {
            ["long_name"]=>
            string(7) "Atlanta"
            ["short_name"]=>
            string(7) "Atlanta"
            ["types"]=>
            array(2) {
              [0]=>
              string(8) "locality"
              [1]=>
              string(9) "political"
            }
          }
          [4]=>
          object(stdClass)#2087 (3) {
            ["long_name"]=>
            string(13) "DeKalb County"
            ["short_name"]=>
            string(13) "Dekalb County"
            ["types"]=>
            array(2) {
              [0]=>
              string(27) "administrative_area_level_2"
              [1]=>
              string(9) "political"
            }
          }
          [5]=>
          object(stdClass)#2088 (3) {
            ["long_name"]=>
            string(7) "Georgia"
            ["short_name"]=>
            string(2) "GA"
            ["types"]=>
            array(2) {
              [0]=>
              string(27) "administrative_area_level_1"
              [1]=>
              string(9) "political"
            }
          }
          [6]=>
          object(stdClass)#2089 (3) {
            ["long_name"]=>
            string(13) "United States"
            ["short_name"]=>
            string(2) "US"
            ["types"]=>
            array(2) {
              [0]=>
              string(7) "country"
              [1]=>
              string(9) "political"
            }
          }
          [7]=>
          object(stdClass)#2090 (3) {
            ["long_name"]=>
            string(5) "30316"
            ["short_name"]=>
            string(5) "30316"
            ["types"]=>
            array(1) {
              [0]=>
              string(11) "postal_code"
            }
          }
          [8]=>
          object(stdClass)#2091 (3) {
            ["long_name"]=>
            string(4) "2055"
            ["short_name"]=>
            string(4) "2055"
            ["types"]=>
            array(1) {
              [0]=>
              string(18) "postal_code_suffix"
            }
          }
        }
        ["adr_address"]=>
        string(212) "

520 Flat Shoals Ave SE

, 

Atlanta

, 

GA

 

30316-2055

, 

USA

"
        ["formatted_address"]=>
        string(46) "520 Flat Shoals Ave SE, Atlanta, GA 30316, USA"
        ["formatted_phone_number"]=>
        string(14) "(404) 688-8864"
        ["geometry"]=>
        object(stdClass)#2094 (2) {
          ["location"]=>
          object(stdClass)#2093 (2) {
            ["lat"]=>
            string(10) "33.7400382"
            ["lng"]=>
            string(11) "-84.3450453"
          }
          ["viewport"]=>
          object(stdClass)#2096 (2) {
            ["northeast"]=>
            object(stdClass)#2095 (2) {
              ["lat"]=>
              string(15) "33.741342580292"
              ["lng"]=>
              string(16) "-84.343745719709"
            }
            ["southwest"]=>
            object(stdClass)#2097 (2) {
              ["lat"]=>
              string(15) "33.738644619709"
              ["lng"]=>
              string(16) "-84.346443680292"
            }
          }
        }
        ["icon"]=>
        string(67) "https://maps.gstatic.com/mapfiles/place_api/icons/restaurant-71.png"
        ["id"]=>
        string(40) "35c96e4ce2672ebd906bc63a9165a2dfc48d4cbc"
        ["international_phone_number"]=>
        string(15) "+1 404-688-8864"
        ["name"]=>
        string(27) "FLATIRON BAR AND RESTAURANT"
        ["opening_hours"]=>
        object(stdClass)#2098 (3) {
          ["open_now"]=>
          bool(false)
          ["periods"]=>
          array(7) {
            [0]=>
            object(stdClass)#2100 (2) {
              ["close"]=>
              object(stdClass)#2099 (2) {
                ["day"]=>
                string(1) "1"
                ["time"]=>
                string(4) "0000"
              }
              ["open"]=>
              object(stdClass)#2101 (2) {
                ["day"]=>
                int(0)
                ["time"]=>
                string(4) "1200"
              }
            }
            [1]=>
            object(stdClass)#2103 (2) {
              ["close"]=>
              object(stdClass)#2102 (2) {
                ["day"]=>
                string(1) "2"
                ["time"]=>
                string(4) "0230"
              }
              ["open"]=>
              object(stdClass)#2104 (2) {
                ["day"]=>
                string(1) "1"
                ["time"]=>
                string(4) "1130"
              }
            }
            [2]=>
            object(stdClass)#2106 (2) {
              ["close"]=>
              object(stdClass)#2105 (2) {
                ["day"]=>
                string(1) "3"
                ["time"]=>
                string(4) "0230"
              }
              ["open"]=>
              object(stdClass)#2107 (2) {
                ["day"]=>
                string(1) "2"
                ["time"]=>
                string(4) "1130"
              }
            }
            [3]=>
            object(stdClass)#2109 (2) {
              ["close"]=>
              object(stdClass)#2108 (2) {
                ["day"]=>
                string(1) "4"
                ["time"]=>
                string(4) "0230"
              }
              ["open"]=>
              object(stdClass)#2110 (2) {
                ["day"]=>
                string(1) "3"
                ["time"]=>
                string(4) "1130"
              }
            }
            [4]=>
            object(stdClass)#2112 (2) {
              ["close"]=>
              object(stdClass)#2111 (2) {
                ["day"]=>
                string(1) "5"
                ["time"]=>
                string(4) "0230"
              }
              ["open"]=>
              object(stdClass)#2113 (2) {
                ["day"]=>
                string(1) "4"
                ["time"]=>
                string(4) "1130"
              }
            }
            [5]=>
            object(stdClass)#2115 (2) {
              ["close"]=>
              object(stdClass)#2114 (2) {
                ["day"]=>
                string(1) "6"
                ["time"]=>
                string(4) "0230"
              }
              ["open"]=>
              object(stdClass)#2116 (2) {
                ["day"]=>
                string(1) "5"
                ["time"]=>
                string(4) "1130"
              }
            }
            [6]=>
            object(stdClass)#2118 (2) {
              ["close"]=>
              object(stdClass)#2117 (2) {
                ["day"]=>
                int(0)
                ["time"]=>
                string(4) "0230"
              }
              ["open"]=>
              object(stdClass)#2119 (2) {
                ["day"]=>
                string(1) "6"
                ["time"]=>
                string(4) "1200"
              }
            }
          }
          ["weekday_text"]=>
          array(7) {
            [0]=>
            string(28) "Monday: 11:30 AM – 2:30 AM"
            [1]=>
            string(29) "Tuesday: 11:30 AM – 2:30 AM"
            [2]=>
            string(31) "Wednesday: 11:30 AM – 2:30 AM"
            [3]=>
            string(30) "Thursday: 11:30 AM – 2:30 AM"
            [4]=>
            string(28) "Friday: 11:30 AM – 2:30 AM"
            [5]=>
            string(30) "Saturday: 12:00 PM – 2:30 AM"
            [6]=>
            string(29) "Sunday: 12:00 PM – 12:00 AM"
          }
        }
        ["photos"]=>
        array(10) {
          [0]=>
          object(stdClass)#2120 (4) {
            ["height"]=>
            int(3984)
            ["html_attributions"]=>
            array(1) {
              [0]=>
              string(91) "Charles Lee"
            }
            ["photo_reference"]=>
            string(190) "CmRaAAAA3h5JB34PShioNOro85yXiaQmtOH66NgW8IB5z_YTIisyzv3OgJtZX8iYoiDP_43rsXXVcmB3-Ue08gAAE9K5hHU-rUf3nLNzMWLT2YFfud4mgqP9yAtevnjyAlilnpKmEhAYC4U8yZmxRF4diCWLo64MGhSxQ1K_uf-2CivvQIfMElq5-9x_2Q"
            ["width"]=>
            int(2988)
          }
          [1]=>
          object(stdClass)#2121 (4) {
            ["height"]=>
            int(2988)
            ["html_attributions"]=>
            array(1) {
              [0]=>
              string(94) "Sarah Brookman"
            }
            ["photo_reference"]=>
            string(190) "CmRaAAAAkCEcuOA9aGPNIVDAI2v5DaOdW4ZZwZG0HajexwFzSA6PRaB1qBCxJ3vZNdlJyJfOA5MVPluKEXlH5GScJl09XsDGQuFcCosevSl84_qMfyke2jzTi-Q84FpCb8FpxzZ_EhAbWn6wNJ74Q8Hwf9YgZtkOGhRaJrDOpXNFvN-Rt21lex4CXhrRVQ"
            ["width"]=>
            int(5312)
          }
          [2]=>
          object(stdClass)#2122 (4) {
            ["height"]=>
            int(4048)
            ["html_attributions"]=>
            array(1) {
              [0]=>
              string(94) "Lanie Weathers"
            }
            ["photo_reference"]=>
            string(190) "CmRaAAAApLWgJKzK4A4xHnxq2CbyGVLTkly8OpUuQjt8CrNgyVxKz-Jt7oMZHtws_FcmW8J1TNIbcEz0ZGA3mTfIaACYdF1WJzPuBeQG1DHOQ0fLviVH9mlGNkjDxnUe87Ngfw4PEhC4JHDZ5JUYVVO0y3Dr3qKsGhQdkMjq9qIq80Md9s-0dmnje5ztOw"
            ["width"]=>
            int(3036)
          }
          [3]=>
          object(stdClass)#2123 (4) {
            ["height"]=>
            int(2986)
            ["html_attributions"]=>
            array(1) {
              [0]=>
              string(87) "t James"
            }
            ["photo_reference"]=>
            string(190) "CmRaAAAAvINocPf2B1mMGHohoI4CG5L77JybVs4OE8FC4Pg1tVkG773Vk66H24Ufo-0b0tfGrc6O_AG_XWLaauEBtNokrLIUB4rfX7WHwJJBjxrmo1ZVCc8xJd-c_60YJwBMLqU7EhBAvnUNlKHKb0Sk1VvjlJp8GhTgy_KLDIgWc4UQnwafZpWUXH5SBQ"
            ["width"]=>
            int(2987)
          }
          [4]=>
          object(stdClass)#2124 (4) {
            ["height"]=>
            int(2851)
            ["html_attributions"]=>
            array(1) {
              [0]=>
              string(87) "t James"
            }
            ["photo_reference"]=>
            string(190) "CmRaAAAAfyjskQXYrwwGtbF23lDfY9QbjfMWtCgu8F00Pz0zRrg8L0z_wG2XElYJNRk59q5zuYXjzAVQWQQEGGTppyBfWJ6Hz14Nmc5-9QiERJR06-dnHNE-YNP11TfCngScdtKSEhB6lezcSiZlsm9PVMq62KcWGhQ7uS1A7JZgs6peOTX9CAayLO8m3g"
            ["width"]=>
            int(2851)
          }
          [5]=>
          object(stdClass)#2125 (4) {
            ["height"]=>
            int(2448)
            ["html_attributions"]=>
            array(1) {
              [0]=>
              string(89) "Rob Henry"
            }
            ["photo_reference"]=>
            string(190) "CmRaAAAAbTV_jBTra0zeH4PSvOBSDXcxQIjs-jGndSUrbRvC4U5cJd-I8RmVdJi_bfVcvt1iM0LwrJ3kdQQ9ozajmdf6YkNwJ7ZxoX6PyalY55NxHlHxJzfa_9JQqaVp2gXJEX66EhCLhG97rYK_AJ8VAVYddW9UGhSSrcptFUbSBlc83xjkjPXsVcgMMA"
            ["width"]=>
            int(3264)
          }
          [6]=>
          object(stdClass)#2126 (4) {
            ["height"]=>
            int(1200)
            ["html_attributions"]=>
            array(1) {
              [0]=>
              string(87) "t James"
            }
            ["photo_reference"]=>
            string(190) "CmRaAAAA94zCrMEyp_SWl1iPnGdg_EBndixd4ZutgdeeXeJvk-vBtzut9VvBz-lf0hH3_UIchlSe6D2z7l1HhpYa8AHTvqaCLcwG8TMX5_1HFnwAKR0YURqm8k09PTUg7ywumPYGEhAQNCqRWSqrTkxLCnIjIfR7GhSc9isXAeMP2GebC968O9EkJsDmhg"
            ["width"]=>
            int(1200)
          }
          [7]=>
          object(stdClass)#2127 (4) {
            ["height"]=>
            int(720)
            ["html_attributions"]=>
            array(1) {
              [0]=>
              string(87) "t James"
            }
            ["photo_reference"]=>
            string(190) "CmRaAAAAOivu9KdQQnsSZi2NJfXMoIBUh7mIQttOsfnmOlvwmBy4hZ-qA4608Gn2jblWI7dHb-WRBN-mmbMjOt_pEcn8FlstDD2GVkqHbTHjWmgsMlXXZE64buawpE2wEdeRF9XJEhB5C1Bo_5bQ_CO74O1--yAGGhSN7SLTiYyspEmuM2o3M-FywbyVcw"
            ["width"]=>
            int(720)
          }
          [8]=>
          object(stdClass)#2128 (4) {
            ["height"]=>
            int(3072)
            ["html_attributions"]=>
            array(1) {
              [0]=>
              string(87) "t James"
            }
            ["photo_reference"]=>
            string(190) "CmRaAAAATu0Z-4163lV74GCS4wJTI_oHfmVowWBAoigNKYV1pTDHL9h7cNkr1LMqVyxiU4ue29961cDZMpkttd4SiA2Zc_TVJuN_pZKap176MWLuBw56H8f9wTG5fb_omHIZY4KxEhDhr7a1YZbR-SU11SsCzRlsGhTpWkvGIFlDaFHa7m_NNUKtHz0vUA"
            ["width"]=>
            int(3072)
          }
          [9]=>
          object(stdClass)#2129 (4) {
            ["height"]=>
            int(3072)
            ["html_attributions"]=>
            array(1) {
              [0]=>
              string(87) "t James"
            }
            ["photo_reference"]=>
            string(190) "CmRaAAAAXtBQfPm8vi2mJfPUUxuo-o-ElL61y9EBIfB5kRMvITrBiJlUjCc0l2OqH7lgJtvCJhE_mxzGGp-vYKdgUAYH1wzoAJNjnbIvUN9De2wVEdWP7uLG3vkhkQx07oo2QhsoEhBYi4mroXCqOs8VzPPuBm7JGhQJnqRrRHyvV8pSCPj85EuivU7img"
            ["width"]=>
            int(3072)
          }
        }
        ["place_id"]=>
        string(27) "ChIJjRSbYFsB9YgRWmQXem6I238"
        ["plus_code"]=>
        object(stdClass)#2130 (2) {
          ["compound_code"]=>
          string(39) "PMR3+2X Atlanta, Georgia, United States"
          ["global_code"]=>
          string(11) "865QPMR3+2X"
        }
        ["price_level"]=>
        string(1) "1"
        ["rating"]=>
        string(3) "4.3"
        ["reference"]=>
        string(190) "CmRRAAAAMAbRTG7qJ6tawpj-mPmqZ2UreJx8recRDAyYvlpiK0Hyu6Rb8u8SOU1g2Fg7_6kTQjoV8LfxXSuN0ZzZWNi8oSv9uJYZa2KSg9Q2jwrlHd2gu8PTVkM6bIhndPhutnkkEhA0O38tMTcXunL_qj1rDhMAGhTZsYWxoqx4eW_SMBvH-Dx--xf7ww"
        ["reviews"]=>
        array(5) {
          [0]=>
          object(stdClass)#2131 (8) {
            ["author_name"]=>
            string(10) "Aly Glasco"
            ["author_url"]=>
            string(65) "https://www.google.com/maps/contrib/102710234033307051634/reviews"
            ["language"]=>
            string(2) "en"
            ["profile_photo_url"]=>
            string(122) "https://lh3.googleusercontent.com/-_d_-t2yoSkw/AAAAAAAAAAI/AAAAAAAAmr4/N-lFpmT0JWo/s128-c0x00000000-cc-rp-mo-ba4/photo.jpg"
            ["rating"]=>
            string(1) "5"
            ["relative_time_description"]=>
            string(11) "2 weeks ago"
            ["text"]=>
            string(443) "I went here with some friends for some drinks and a few games of pool. The staff were very friendly, attentive, and fast! If someone asked for something, they always heard it and were quick to deliver. The best part about this place is that no matter how busy it gets, the staff keeps a positive attitude and will make jokes/have fun with the customers. Keep in mind that there is an upstairs and that's where the pool tables, etc are located."
            ["time"]=>
            int(1531399910)
          }
          [1]=>
          object(stdClass)#2132 (8) {
            ["author_name"]=>
            string(12) "OTR TRUCKING"
            ["author_url"]=>
            string(65) "https://www.google.com/maps/contrib/111524810067937370865/reviews"
            ["language"]=>
            string(2) "en"
            ["profile_photo_url"]=>
            string(145) "https://lh5.googleusercontent.com/-rMxQSrkuk70/AAAAAAAAAAI/AAAAAAAAAAA/AAnnY7poZIVn1APDI3CIkqK_1hhyLIIJcQ/s128-c0x00000000-cc-rp-mo-ba3/photo.jpg"
            ["rating"]=>
            string(1) "4"
            ["relative_time_description"]=>
            string(11) "4 weeks ago"
            ["text"]=>
            string(187) "Pretty nice laid back place. The food was good and the drinks were strong. I didn't give them 5 starts because the build was small, hot and the restroom was dirty VERY DIRTY 🤦‍♀️"
            ["time"]=>
            int(1530205845)
          }
          [2]=>
          object(stdClass)#2133 (8) {
            ["author_name"]=>
            string(16) "Melissa Williams"
            ["author_url"]=>
            string(65) "https://www.google.com/maps/contrib/115368961416054570569/reviews"
            ["language"]=>
            string(2) "en"
            ["profile_photo_url"]=>
            string(122) "https://lh5.googleusercontent.com/-AZx6bcqT-fM/AAAAAAAAAAI/AAAAAAAABSg/bjZov7lqmjE/s128-c0x00000000-cc-rp-mo-ba3/photo.jpg"
            ["rating"]=>
            string(1) "5"
            ["relative_time_description"]=>
            string(12) "4 months ago"
            ["text"]=>
            string(465) "2nd visit, this time with my 75lb dog.  Sat on the dog-friendly patio on a sunny afternoon.  It's a little cramped, but it provides a great atmosphere to have side conversations with strangers and for dogs to make new friends. (For those concerned about using the same plates that pets have used, water for pups is in paper soup bowls or plastic dog bowls.) Food was outstanding again and priced accordingly with quality.  Staff was friendly and properly attentive."
            ["time"]=>
            int(1522287619)
          }
          [3]=>
          object(stdClass)#2134 (8) {
            ["author_name"]=>
            string(12) "Nate Stewart"
            ["author_url"]=>
            string(65) "https://www.google.com/maps/contrib/108016032944820482372/reviews"
            ["language"]=>
            string(2) "en"
            ["profile_photo_url"]=>
            string(122) "https://lh3.googleusercontent.com/-zf9_8unO-GM/AAAAAAAAAAI/AAAAAAAAASg/C4S1lCnjuoc/s128-c0x00000000-cc-rp-mo-ba3/photo.jpg"
            ["rating"]=>
            string(1) "5"
            ["relative_time_description"]=>
            string(12) "4 months ago"
            ["text"]=>
            string(405) "Best neighborhood bar in East Atlanta! It doesn't matter where you go or what you do in the village, all roads lead to Flatiron. This is the place we go after a show or just to hang out on a weeknight. Sam and Arin are some of the nicest bar tenders in town. Sunday brunch is always amazing, but they have mouth watering food specials every day. They support local breweries. I'll probably head there now."
            ["time"]=>
            int(1521913275)
          }
          [4]=>
          object(stdClass)#2135 (8) {
            ["author_name"]=>
            string(12) "Ginny McLean"
            ["author_url"]=>
            string(65) "https://www.google.com/maps/contrib/118090182963056504061/reviews"
            ["language"]=>
            string(2) "en"
            ["profile_photo_url"]=>
            string(122) "https://lh6.googleusercontent.com/-CICOg46MnbU/AAAAAAAAAAI/AAAAAAAACDY/pC_jb1kPoH0/s128-c0x00000000-cc-rp-mo-ba3/photo.jpg"
            ["rating"]=>
            string(1) "5"
            ["relative_time_description"]=>
            string(12) "4 months ago"
            ["text"]=>
            string(256) "Fantastic Buffalo burger, great fries. Small place, but nice vibe. Music was piped-in loud rock, so not my preference, but otherwise a good place. Clientele all seemed to know each other and the bartender; a cool neighborhood joint. In trendy East Atlanta."
            ["time"]=>
            int(1520895264)
          }
        }
        ["scope"]=>
        string(6) "GOOGLE"
        ["types"]=>
        array(5) {
          [0]=>
          string(3) "bar"
          [1]=>
          string(10) "restaurant"
          [2]=>
          string(4) "food"
          [3]=>
          string(17) "point_of_interest"
          [4]=>
          string(13) "establishment"
        }
        ["url"]=>
        string(48) "https://maps.google.com/?cid=9213107470792615002"
        ["utc_offset"]=>
        string(4) "-240"
        ["vicinity"]=>
        string(41) "520 Flat Shoals Avenue Southeast, Atlanta"
        ["website"]=>
        string(24) "https://flatironatl.com/"
      }
      ["tracker_field_googleOverallRating"]=>
      float(4.1)
      ["tracker_field_businessYelpBusinessData"]=>
      array(0) {
      }
      ["tracker_field_businessYelpBusinessData_json"]=>
      array(0) {
      }
      ["tracker_field_businessFacebook"]=>
      string(12) "Flatiron Bar"
      ["tracker_field_businessFacebookID"]=>
      string(11) "40575703543"
      ["tracker_field_businessFacebookData"]=>
      array(2) {
        [0]=>
        string(11) "40575703543"
        [1]=>
        string(12) "Flatiron Bar"
      }
      ["tracker_field_businessFacebookData_text"]=>
      string(24) "40575703543 Flatiron Bar"
      ["tracker_field_businessFacebookData_json"]=>
      object(stdClass)#2136 (4) {
        ["id"]=>
        string(11) "40575703543"
        ["name"]=>
        string(12) "Flatiron Bar"
        ["events"]=>
        object(stdClass)#2180 (2) {
          ["data"]=>
          array(15) {
            [0]=>
            object(stdClass)#2137 (6) {
              ["description"]=>
              string(136) "Most everyone knows that Freddy Gonzalez got hurt at work. We are putting a little benefit for him Sunday July 9th upstairs at flatiron!"
              ["end_time"]=>
              string(24) "2017-07-09T23:00:00-0400"
              ["name"]=>
              string(20) "Benefit for Freddy! "
              ["place"]=>
              object(stdClass)#2138 (3) {
                ["name"]=>
                string(15) "Trophy Room Bar"
                ["location"]=>
                object(stdClass)#2139 (7) {
                  ["city"]=>
                  string(7) "Atlanta"
                  ["country"]=>
                  string(13) "United States"
                  ["latitude"]=>
                  string(8) "33.74003"
                  ["longitude"]=>
                  string(9) "-84.34504"
                  ["state"]=>
                  string(2) "GA"
                  ["street"]=>
                  string(15) "520 flat shoals"
                  ["zip"]=>
                  string(5) "30316"
                }
                ["id"]=>
                string(16) "1370321963026178"
              }
              ["start_time"]=>
              string(24) "2017-07-09T16:00:00-0400"
              ["id"]=>
              string(15) "753856128152581"
            }
            [1]=>
            object(stdClass)#2140 (5) {
              ["end_time"]=>
              string(24) "2016-05-14T21:00:00-0400"
              ["name"]=>
              string(36) "Buy some art and drink some $1pbr!!!"
              ["place"]=>
              object(stdClass)#2141 (3) {
                ["name"]=>
                string(12) "Flatiron Bar"
                ["location"]=>
                object(stdClass)#2142 (7) {
                  ["city"]=>
                  string(7) "Atlanta"
                  ["country"]=>
                  string(13) "United States"
                  ["latitude"]=>
                  string(8) "33.74003"
                  ["longitude"]=>
                  string(9) "-84.34504"
                  ["state"]=>
                  string(2) "GA"
                  ["street"]=>
                  string(22) "520 Flat Shoals Ave SE"
                  ["zip"]=>
                  string(5) "30316"
                }
                ["id"]=>
                string(11) "40575703543"
              }
              ["start_time"]=>
              string(24) "2016-05-14T17:00:00-0400"
              ["id"]=>
              string(16) "1592373521054922"
            }
            [2]=>
            object(stdClass)#2143 (6) {
              ["description"]=>
              string(72) "Come to flatiron Saturday and buy some art, drink some beer, and mingle!"
              ["end_time"]=>
              string(24) "2016-05-14T21:00:00-0400"
              ["name"]=>
              string(19) "Art show and $1 PBR"
              ["place"]=>
              object(stdClass)#2144 (3) {
                ["name"]=>
                string(12) "Flatiron Bar"
                ["location"]=>
                object(stdClass)#2145 (7) {
                  ["city"]=>
                  string(7) "Atlanta"
                  ["country"]=>
                  string(13) "United States"
                  ["latitude"]=>
                  string(8) "33.74003"
                  ["longitude"]=>
                  string(9) "-84.34504"
                  ["state"]=>
                  string(2) "GA"
                  ["street"]=>
                  string(22) "520 Flat Shoals Ave SE"
                  ["zip"]=>
                  string(5) "30316"
                }
                ["id"]=>
                string(11) "40575703543"
              }
              ["start_time"]=>
              string(24) "2016-05-14T17:00:00-0400"
              ["id"]=>
              string(15) "232956303748844"
            }
            [3]=>
            object(stdClass)#2146 (6) {
              ["description"]=>
              string(104) "Vintage goodies, oddities, baked goodies and hand made crafts for rad Valentine's gifts! Free hot cocoa!"
              ["end_time"]=>
              string(24) "2016-02-06T23:30:00+0000"
              ["name"]=>
              string(31) "Valentine's market at Flat Iron"
              ["place"]=>
              object(stdClass)#2147 (3) {
                ["name"]=>
                string(12) "Flatiron Bar"
                ["location"]=>
                object(stdClass)#2148 (7) {
                  ["city"]=>
                  string(7) "Atlanta"
                  ["country"]=>
                  string(13) "United States"
                  ["latitude"]=>
                  string(8) "33.74003"
                  ["longitude"]=>
                  string(9) "-84.34504"
                  ["state"]=>
                  string(2) "GA"
                  ["street"]=>
                  string(22) "520 Flat Shoals Ave SE"
                  ["zip"]=>
                  string(5) "30316"
                }
                ["id"]=>
                string(11) "40575703543"
              }
              ["start_time"]=>
              string(24) "2016-02-06T16:30:00+0000"
              ["id"]=>
              string(15) "485253331680727"
            }
            [4]=>
            object(stdClass)#2149 (6) {
              ["description"]=>
              string(143) "Vintages goods, oddities, records, baked goods, and hand made goods for your valentine ( or yourself ) free hot cocoa- food and bar downstairs!"
              ["end_time"]=>
              string(24) "2016-02-06T18:30:00-0500"
              ["name"]=>
              string(31) "Valentine's market at Flat Iron"
              ["place"]=>
              object(stdClass)#2150 (3) {
                ["name"]=>
                string(12) "Flatiron Bar"
                ["location"]=>
                object(stdClass)#2151 (7) {
                  ["city"]=>
                  string(7) "Atlanta"
                  ["country"]=>
                  string(13) "United States"
                  ["latitude"]=>
                  string(8) "33.74003"
                  ["longitude"]=>
                  string(9) "-84.34504"
                  ["state"]=>
                  string(2) "GA"
                  ["street"]=>
                  string(22) "520 Flat Shoals Ave SE"
                  ["zip"]=>
                  string(5) "30316"
                }
                ["id"]=>
                string(11) "40575703543"
              }
              ["start_time"]=>
              string(24) "2016-02-06T11:00:00-0500"
              ["id"]=>
              string(15) "756484277816426"
            }
            [5]=>
            object(stdClass)#2152 (5) {
              ["description"]=>
              string(228) "We will be  opening our doors at 10:30 AM so everyone can get a good seat to see the USA Soccer Team take on Germany in the World Cup Finals. TV's on with sound. Food, Drinks and fully staffed to make this a great party! USA!!!!"
              ["name"]=>
              string(19) "FIFA USA vs GERMANY"
              ["place"]=>
              object(stdClass)#2153 (3) {
                ["name"]=>
                string(12) "Flatiron Bar"
                ["location"]=>
                object(stdClass)#2154 (7) {
                  ["city"]=>
                  string(7) "Atlanta"
                  ["country"]=>
                  string(13) "United States"
                  ["latitude"]=>
                  string(8) "33.74003"
                  ["longitude"]=>
                  string(9) "-84.34504"
                  ["state"]=>
                  string(2) "GA"
                  ["street"]=>
                  string(22) "520 Flat Shoals Ave SE"
                  ["zip"]=>
                  string(5) "30316"
                }
                ["id"]=>
                string(11) "40575703543"
              }
              ["start_time"]=>
              string(24) "2014-06-26T10:30:00-0400"
              ["id"]=>
              string(15) "259230564281518"
            }
            [6]=>
            object(stdClass)#2155 (6) {
              ["description"]=>
              string(216) "Monday Night Beer Flights featuring 4 different Finch's beers for $8. Featured beers: Golden Wing Blonde Ale, Threadless IPA, Secret Stache Stout, Fascist Pig Double Red Ale. 

Come in for dinner. Stay for good beer."
              ["end_time"]=>
              string(24) "2013-03-11T23:00:00-0400"
              ["name"]=>
              string(25) "Monday Night Beer Flights"
              ["place"]=>
              object(stdClass)#2156 (3) {
                ["name"]=>
                string(12) "Flatiron Bar"
                ["location"]=>
                object(stdClass)#2157 (7) {
                  ["city"]=>
                  string(7) "Atlanta"
                  ["country"]=>
                  string(13) "United States"
                  ["latitude"]=>
                  string(8) "33.74003"
                  ["longitude"]=>
                  string(9) "-84.34504"
                  ["state"]=>
                  string(2) "GA"
                  ["street"]=>
                  string(22) "520 Flat Shoals Ave SE"
                  ["zip"]=>
                  string(5) "30316"
                }
                ["id"]=>
                string(11) "40575703543"
              }
              ["start_time"]=>
              string(24) "2013-03-11T18:00:00-0400"
              ["id"]=>
              string(15) "552325294800107"
            }
            [7]=>
            object(stdClass)#2158 (5) {
              ["description"]=>
              string(348) "The world is ending and we want you to spend your last night with us! 

- We'll have a confessional so you can get all of your sins out of the way before the end times. Best sin wins.
- DJ
- Last Supper dinner special
- Jim Jones Kool-Aid
- Midnight Burn in Hell Toast

It was the best of times, it was the worst of times...

Thank you & goodnight!"
              ["name"]=>
              string(37) "Take Me To Your Leader: Doomsday 2012"
              ["place"]=>
              object(stdClass)#2159 (3) {
                ["name"]=>
                string(12) "Flatiron Bar"
                ["location"]=>
                object(stdClass)#2160 (7) {
                  ["city"]=>
                  string(7) "Atlanta"
                  ["country"]=>
                  string(13) "United States"
                  ["latitude"]=>
                  string(8) "33.74003"
                  ["longitude"]=>
                  string(9) "-84.34504"
                  ["state"]=>
                  string(2) "GA"
                  ["street"]=>
                  string(22) "520 Flat Shoals Ave SE"
                  ["zip"]=>
                  string(5) "30316"
                }
                ["id"]=>
                string(11) "40575703543"
              }
              ["start_time"]=>
              string(24) "2012-12-20T20:00:00-0500"
              ["id"]=>
              string(15) "122353284594360"
            }
            [8]=>
            object(stdClass)#2161 (5) {
              ["description"]=>
              string(299) "We want to share Thanksgiving with you, East Atlanta! RSVP here for Gobblefest 2012. We'll be serving up turkey, drinks and all the fixings next Thursday, November 22 at 6PM.

You don't have to RSVP to come chow down but it sure would be nice of you if you did so we can plan ahead. 

See you there!"
              ["name"]=>
              string(39) "Flatiron Thanksgiving - Gobblefest 2012"
              ["place"]=>
              object(stdClass)#2162 (3) {
                ["name"]=>
                string(12) "Flatiron Bar"
                ["location"]=>
                object(stdClass)#2163 (7) {
                  ["city"]=>
                  string(7) "Atlanta"
                  ["country"]=>
                  string(13) "United States"
                  ["latitude"]=>
                  string(8) "33.74003"
                  ["longitude"]=>
                  string(9) "-84.34504"
                  ["state"]=>
                  string(2) "GA"
                  ["street"]=>
                  string(22) "520 Flat Shoals Ave SE"
                  ["zip"]=>
                  string(5) "30316"
                }
                ["id"]=>
                string(11) "40575703543"
              }
              ["start_time"]=>
              string(24) "2012-11-22T18:00:00-0500"
              ["id"]=>
              string(15) "302815923157421"
            }
            [9]=>
            object(stdClass)#2164 (6) {
              ["description"]=>
              string(181) "Come celebrated Halloween at the Flatiron on Saturday, October 27 from 9PM-2AM. We'll have drinks, jello shots and costumes are mandatory. We don't care what it is - just come dead!"
              ["end_time"]=>
              string(24) "2012-10-28T02:00:00-0400"
              ["name"]=>
              string(44) "Flatiron Presents: Night of the Drunken Dead"
              ["place"]=>
              object(stdClass)#2165 (3) {
                ["name"]=>
                string(12) "Flatiron Bar"
                ["location"]=>
                object(stdClass)#2166 (7) {
                  ["city"]=>
                  string(7) "Atlanta"
                  ["country"]=>
                  string(13) "United States"
                  ["latitude"]=>
                  string(8) "33.74003"
                  ["longitude"]=>
                  string(9) "-84.34504"
                  ["state"]=>
                  string(2) "GA"
                  ["street"]=>
                  string(22) "520 Flat Shoals Ave SE"
                  ["zip"]=>
                  string(5) "30316"
                }
                ["id"]=>
                string(11) "40575703543"
              }
              ["start_time"]=>
              string(24) "2012-10-27T21:00:00-0400"
              ["id"]=>
              string(15) "165138690284969"
            }
            [10]=>
            object(stdClass)#2167 (6) {
              ["description"]=>
              string(208) "We're celebrating our 15th Anniversary! Come hang out on Wednesday, October 17 and celebrate 15 debaucherous years in EAV. Free beer from 9-10PM (or until the keg runs out!), DJ Luis Ponce and drink specials!"
              ["end_time"]=>
              string(24) "2012-10-18T02:00:00-0400"
              ["name"]=>
              string(23) "Flatiron's Quinceanera!"
              ["place"]=>
              object(stdClass)#2168 (3) {
                ["name"]=>
                string(12) "Flatiron Bar"
                ["location"]=>
                object(stdClass)#2169 (7) {
                  ["city"]=>
                  string(7) "Atlanta"
                  ["country"]=>
                  string(13) "United States"
                  ["latitude"]=>
                  string(8) "33.74003"
                  ["longitude"]=>
                  string(9) "-84.34504"
                  ["state"]=>
                  string(2) "GA"
                  ["street"]=>
                  string(22) "520 Flat Shoals Ave SE"
                  ["zip"]=>
                  string(5) "30316"
                }
                ["id"]=>
                string(11) "40575703543"
              }
              ["start_time"]=>
              string(24) "2012-10-17T21:00:00-0400"
              ["id"]=>
              string(15) "121869411297973"
            }
            [11]=>
            object(stdClass)#2170 (6) {
              ["description"]=>
              string(185) "Come get trashy at the Flatiron! Bring your best mullet and Nascar t-shirt because you're about to make a big mistake with your cousin!

Costume Contest!
Hot Dog Eating Contest!
Dranks!"
              ["end_time"]=>
              string(24) "2012-07-15T18:00:00-0400"
              ["name"]=>
              string(28) "Flatiron's White Trash Bash!"
              ["place"]=>
              object(stdClass)#2171 (3) {
                ["name"]=>
                string(12) "Flatiron Bar"
                ["location"]=>
                object(stdClass)#2172 (7) {
                  ["city"]=>
                  string(7) "Atlanta"
                  ["country"]=>
                  string(13) "United States"
                  ["latitude"]=>
                  string(8) "33.74003"
                  ["longitude"]=>
                  string(9) "-84.34504"
                  ["state"]=>
                  string(2) "GA"
                  ["street"]=>
                  string(22) "520 Flat Shoals Ave SE"
                  ["zip"]=>
                  string(5) "30316"
                }
                ["id"]=>
                string(11) "40575703543"
              }
              ["start_time"]=>
              string(24) "2012-07-15T12:00:00-0400"
              ["id"]=>
              string(15) "377169422345124"
            }
            [12]=>
            object(stdClass)#2173 (4) {
              ["description"]=>
              string(333) "We're celebrating Cinco de Mayo this Saturday like you've never celebrated before. Welcome to El Flatiron, where all of your tequila dreams come true. Don't miss the fun - we're starting at 8 PM to make sure you get good and indecent. We'll have an adult pinanta around 10 so get your wiffle ball bat ready. See y'all then. Ay yi yi!"
              ["name"]=>
              string(35) "El Flatiron's Cinco de Mayo Fiesta!"
              ["start_time"]=>
              string(24) "2012-05-05T00:00:00-0700"
              ["id"]=>
              string(15) "216072715175648"
            }
            [13]=>
            object(stdClass)#2174 (6) {
              ["description"]=>
              string(308) "We're not giving away a pot of gold, but we've got something just as good! Come hang out at the Flatiron this Saturday to participate in our Whiskey Flight - 3 different whiskey sampling's for your Irish approval.

Jameson, Tulley and Hot Irishman Flight - $15

Plenty of Guinness and Irish Carbombs as well!"
              ["end_time"]=>
              string(24) "2012-03-17T14:30:00-0700"
              ["name"]=>
              string(23) "Flatiron Whiskey Flight"
              ["place"]=>
              object(stdClass)#2175 (3) {
                ["name"]=>
                string(12) "Flatiron Bar"
                ["location"]=>
                object(stdClass)#2176 (7) {
                  ["city"]=>
                  string(7) "Atlanta"
                  ["country"]=>
                  string(13) "United States"
                  ["latitude"]=>
                  string(8) "33.74003"
                  ["longitude"]=>
                  string(9) "-84.34504"
                  ["state"]=>
                  string(2) "GA"
                  ["street"]=>
                  string(22) "520 Flat Shoals Ave SE"
                  ["zip"]=>
                  string(5) "30316"
                }
                ["id"]=>
                string(11) "40575703543"
              }
              ["start_time"]=>
              string(24) "2012-03-17T11:30:00-0700"
              ["id"]=>
              string(15) "971251629575488"
            }
            [14]=>
            object(stdClass)#2177 (6) {
              ["description"]=>
              string(434) "Beginning with a kick-off party on March 8th at 8 PM and extending through March 14 2012, the Flatiron will be hosting We'll Drink To That: Flatiron and Families First. During this time, $1 of every shot of Jagermeister or Fireball purchased will be donated to Families First, an organization dedicated to helping provide solutions to families and children facing challenging hardships.

Come hang out and drink up for a good cause!"
              ["end_time"]=>
              string(24) "2012-03-08T23:00:00-0800"
              ["name"]=>
              string(48) "We'll Drink To That: Flatiron and Families First"
              ["place"]=>
              object(stdClass)#2178 (3) {
                ["name"]=>
                string(12) "Flatiron Bar"
                ["location"]=>
                object(stdClass)#2179 (7) {
                  ["city"]=>
                  string(7) "Atlanta"
                  ["country"]=>
                  string(13) "United States"
                  ["latitude"]=>
                  string(8) "33.74003"
                  ["longitude"]=>
                  string(9) "-84.34504"
                  ["state"]=>
                  string(2) "GA"
                  ["street"]=>
                  string(22) "520 Flat Shoals Ave SE"
                  ["zip"]=>
                  string(5) "30316"
                }
                ["id"]=>
                string(11) "40575703543"
              }
              ["start_time"]=>
              string(24) "2012-03-08T20:00:00-0800"
              ["id"]=>
              string(15) "821973487857776"
            }
          }
          ["paging"]=>
          object(stdClass)#2182 (1) {
            ["cursors"]=>
            object(stdClass)#2181 (2) {
              ["before"]=>
              string(127) "QVFIUlRpM0J6V2RlV2xOSUhVR2RFenY3Ty0xU09HZAHZAhUV9NZAGR5QnlNX3JvNi1CZAU1HTkxaTkRNNGxiWVFqY0tubEtRVVJUMmNLbDVpZAmk3b1VmTDZA2ZAVNR"
              ["after"]=>
              string(124) "QVFIUkl4eVJ4amE1Y2hKdWxXV2ZA2SnZADRHNUOUNCZA3NjNDdMMWtWcG9EcXIyZA3pOQ3UtLXpBQXhIaGVJQzVrQlJSVlhiOXNlTmRjV0s0eTM4c1NwVmN3dlF3"
            }
          }
        }
        ["feed"]=>
        object(stdClass)#2208 (2) {
          ["data"]=>
          array(25) {
            [0]=>
            object(stdClass)#2183 (4) {
              ["message"]=>
              string(309) "If your customers are too impaired to drive (more than 1-2 drinks), please call @SafeRide America 404-888-0887.  We will take them plus their car home.  Thank you for partnering with us to help keep our roads and families safe.  
https://www.facebook.com/SafeRideAmerica/
https://www.facebook.com/InsurancePM/"
              ["story"]=>
              string(49) "Pete Za shared a Page to Flatiron Bar's timeline."
              ["created_time"]=>
              string(24) "2018-03-08T04:24:34+0000"
              ["id"]=>
              string(29) "40575703543_10156158501558544"
            }
            [1]=>
            object(stdClass)#2184 (3) {
              ["message"]=>
              string(295) "Korean bbq pork belly burrito- stuffed with habanero cucumber slaw and white rice, served with chips and salsa                 Side- lemon pepper fried brussel sprouts.                            Soup- cream of chicken and mushroom                                      $2 beef taco- dine in only"
              ["created_time"]=>
              string(24) "2018-03-05T17:47:55+0000"
              ["id"]=>
              string(29) "40575703543_10156151308403544"
            }
            [2]=>
            object(stdClass)#2185 (3) {
              ["message"]=>
              string(108) "Fried shrimp and crawfish Po'boy topped with pickled green tomato slaw with scorpion sauce🔥🔥🔥🔥"
              ["created_time"]=>
              string(24) "2018-02-27T17:13:07+0000"
              ["id"]=>
              string(29) "40575703543_10156134213933544"
            }
            [3]=>
            object(stdClass)#2186 (3) {
              ["message"]=>
              string(139) "Looking for full time? Looking for cash tips? Need 2 years experience in high volume setting. Leave resume for Thomas -@chef_gonzo_official"
              ["created_time"]=>
              string(24) "2018-02-27T00:18:38+0000"
              ["id"]=>
              string(29) "40575703543_10156132420423544"
            }
            [4]=>
            object(stdClass)#2187 (3) {
              ["message"]=>
              string(57) "Tonight, upstairs! Come drink with us! @trophyroombar_atl"
              ["created_time"]=>
              string(24) "2018-02-25T02:45:54+0000"
              ["id"]=>
              string(29) "40575703543_10156127460728544"
            }
            [5]=>
            object(stdClass)#2188 (3) {
              ["message"]=>
              string(96) "LLAMA PUB CRAWL THIS SATURDAY AT @flatiron_atl 3-4 🌺 Hendricks gin specials and PBR beermosas"
              ["created_time"]=>
              string(24) "2018-02-15T21:26:24+0000"
              ["id"]=>
              string(29) "40575703543_10156101792563544"
            }
            [6]=>
            object(stdClass)#2189 (3) {
              ["message"]=>
              string(109) "Tonight!!! Lagunitas reps buying beers for you!!! Cmon! @trophyroombar_atl @flatiron_atl 8pm 🎉🎉🎉🎉"
              ["created_time"]=>
              string(24) "2018-02-12T19:48:21+0000"
              ["id"]=>
              string(29) "40575703543_10156093086768544"
            }
            [7]=>
            object(stdClass)#2190 (3) {
              ["message"]=>
              string(256) "Fajita steak burrito- stuffed with peppers, onions, beans and cheese- served with chips and homemade salsa $12
Soup- tomato                                   Side- fried lemon pepper brussel sprouts                               $2 beef taco (dine in only)"
              ["created_time"]=>
              string(24) "2018-02-12T19:03:46+0000"
              ["id"]=>
              string(29) "40575703543_10156092994643544"
            }
            [8]=>
            object(stdClass)#2191 (3) {
              ["message"]=>
              string(34) "Tonight at @trophyroombar_atl !!!!"
              ["created_time"]=>
              string(24) "2018-02-04T15:51:21+0000"
              ["id"]=>
              string(29) "40575703543_10156070342158544"
            }
            [9]=>
            object(stdClass)#2192 (3) {
              ["message"]=>
              string(35) "Crispy lasagna bacon cheese burger!"
              ["created_time"]=>
              string(24) "2018-01-24T17:45:06+0000"
              ["id"]=>
              string(29) "40575703543_10156038828188544"
            }
            [10]=>
            object(stdClass)#2193 (3) {
              ["message"]=>
              string(65) "Hoodies are in for @trophyroombar_atl and @flatiron_atl $40 each!"
              ["created_time"]=>
              string(24) "2018-01-23T23:48:26+0000"
              ["id"]=>
              string(29) "40575703543_10156036550268544"
            }
            [11]=>
            object(stdClass)#2194 (3) {
              ["message"]=>
              string(13) "TOMORROW!!!!!"
              ["created_time"]=>
              string(24) "2018-01-20T18:10:36+0000"
              ["id"]=>
              string(29) "40575703543_10156026332413544"
            }
            [12]=>
            object(stdClass)#2195 (3) {
              ["message"]=>
              string(40) "Where there is a will, there is a way..."
              ["created_time"]=>
              string(24) "2018-01-17T19:37:21+0000"
              ["id"]=>
              string(29) "40575703543_10156018342093544"
            }
            [13]=>
            object(stdClass)#2196 (3) {
              ["message"]=>
              string(188) "Soul food jerk chicken quesadilla- quesadilla stuffed with jerk chicken, onions, peppers, collards, rice and beans with citrus honey coulis- served with chips and salsa $10🎉🎉🎉🎉"
              ["created_time"]=>
              string(24) "2018-01-08T17:03:31+0000"
              ["id"]=>
              string(29) "40575703543_10155995576628544"
            }
            [14]=>
            object(stdClass)#2197 (3) {
              ["message"]=>
              string(153) "Shepard's Pie for today's special! Soup- Philly cheeseburger beer soup! Side-fried Korean brussel sprouts in sweet chili gochujang sauce👯‍♂️"
              ["created_time"]=>
              string(24) "2018-01-04T18:18:41+0000"
              ["id"]=>
              string(29) "40575703543_10155985373408544"
            }
            [15]=>
            object(stdClass)#2198 (3) {
              ["message"]=>
              string(153) "Cajun shrimp quesadilla- grilled shrimp, Asian slaw, remoulade and Monterey Jack cheese in a ten inch tortilla served with tartar sauce, chips and salsa!"
              ["created_time"]=>
              string(24) "2018-01-02T16:49:59+0000"
              ["id"]=>
              string(29) "40575703543_10155979683713544"
            }
            [16]=>
            object(stdClass)#2199 (3) {
              ["message"]=>
              string(82) "Free champagne toast at midnight! Fireworks across the street. Open late tonight!!"
              ["created_time"]=>
              string(24) "2017-12-31T21:28:29+0000"
              ["id"]=>
              string(29) "40575703543_10155974791873544"
            }
            [17]=>
            object(stdClass)#2200 (3) {
              ["message"]=>
              string(34) "LET US BRUUUUUNCH YOU👯‍♂️"
              ["created_time"]=>
              string(24) "2017-12-24T16:57:20+0000"
              ["id"]=>
              string(29) "40575703543_10155954758273544"
            }
            [18]=>
            object(stdClass)#2201 (3) {
              ["message"]=>
              string(36) "Merry Christmas from us to you. 💕"
              ["created_time"]=>
              string(24) "2017-12-21T09:22:11+0000"
              ["id"]=>
              string(29) "40575703543_10155945944673544"
            }
            [19]=>
            object(stdClass)#2202 (4) {
              ["message"]=>
              string(184) "If you're out drinking, please call SafeRide America to take you plus your car home. Be Safe!
https://www.facebook.com/SafeRideAmerica/
https://www.facebook.com/GeorgiaInsuranceBroker/"
              ["story"]=>
              string(58) "Roc Ben Franklin shared a Page to Flatiron Bar's timeline."
              ["created_time"]=>
              string(24) "2017-12-20T20:53:23+0000"
              ["id"]=>
              string(29) "40575703543_10155944782703544"
            }
            [20]=>
            object(stdClass)#2203 (3) {
              ["message"]=>
              string(113) "Sorry! Closed for our Xmas employee party tonight! We will close at 5pm , kitchen closes at 4pm. Happy holidays!!"
              ["created_time"]=>
              string(24) "2017-12-20T20:17:21+0000"
              ["id"]=>
              string(29) "40575703543_10155944718723544"
            }
            [21]=>
            object(stdClass)#2204 (3) {
              ["message"]=>
              string(131) "Blackened shrimp and andouille sausage quesadilla served with sour cream and homemade salsa. Pitchers of PBR $5 every Tuesday! 🎉"
              ["created_time"]=>
              string(24) "2017-12-12T17:34:33+0000"
              ["id"]=>
              string(29) "40575703543_10155922556383544"
            }
            [22]=>
            object(stdClass)#2205 (3) {
              ["message"]=>
              string(78) "Stay warm with these homemade fried pickled fried jalapeños 🔥 🔥🔥🔥"
              ["created_time"]=>
              string(24) "2017-12-06T20:00:43+0000"
              ["id"]=>
              string(29) "40575703543_10155906832088544"
            }
            [23]=>
            object(stdClass)#2206 (3) {
              ["message"]=>
              string(279) "VEGAN "oyster" Po'boy! Fried oyster mushrooms with tomatoes, onions, lettuce and vegan remoulade on toasted baguette. Choice of fries or tots $12. Side of the day- curry chickpeas. Soup of the day- andouille and dumpling! Pitchers of PBR $5 aaaaaall day!!! 🎉🎉🎉🎉"
              ["created_time"]=>
              string(24) "2017-12-05T17:15:30+0000"
              ["id"]=>
              string(29) "40575703543_10155903457553544"
            }
            [24]=>
            object(stdClass)#2207 (2) {
              ["created_time"]=>
              string(24) "2017-12-01T20:50:31+0000"
              ["id"]=>
              string(29) "40575703543_10155892431228544"
            }
          }
          ["paging"]=>
          object(stdClass)#2209 (2) {
            ["previous"]=>
            string(252) "https://graph.facebook.com/v2.8/40575703543/feed?since=1520483074&access_token=284346488083|StUmZexEo-ODM_s_RzrK8IoefW0&limit=25&__paging_token=enc_AdC91G1xuIriVcdkjmu9PeXaYEPR5xZBekCp5UwZCiF7ek5MH8XLsjJgvIJiSwIiW4ujDZAzTNVsnTAWApqogtwlYDa&__previous=1"
            ["next"]=>
            string(238) "https://graph.facebook.com/v2.8/40575703543/feed?access_token=284346488083|StUmZexEo-ODM_s_RzrK8IoefW0&limit=25&until=1512161431&__paging_token=enc_AdAl3YXPyuGDeisv9ZB7QL6ClVLb2Hd6x1ZBUAdGliIUEY57nK9MaSylLGIyP07lhT5sy610iQhTA2WvAupSlcqwNP"
          }
        }
      }
      ["tracker_field_businessLoafingID"]=>
      string(24) "573f3d481e3ee4dfcf6600f2"
      ["tracker_field_businessAccountExecutive"]=>
      string(1) "0"
      ["tracker_field_businessStatusField"]=>
      string(12) "Sent to Edit"
      ["tracker_field_businessCLDistributionLocation"]=>
      string(1) "n"
      ["tracker_field_businessAudience"]=>
      array(0) {
      }
      ["tracker_field_businessLegacyID"]=>
      int(3011211)
      ["language"]=>
      string(7) "unknown"
      ["attachments"]=>
      array(0) {
      }
      ["comment_count"]=>
      int(0)
      ["categories"]=>
      array(3) {
        [0]=>
        int(88)
        [1]=>
        int(100)
        [2]=>
        int(149)
      }
      ["deep_categories"]=>
      array(6) {
        [0]=>
        int(28)
        [1]=>
        int(876)
        [2]=>
        int(88)
        [3]=>
        int(1)
        [4]=>
        int(149)
        [5]=>
        int(100)
      }
      ["categories_under_28"]=>
      array(0) {
      }
      ["deep_categories_under_28"]=>
      array(2) {
        [0]=>
        int(876)
        [1]=>
        int(88)
      }
      ["categories_under_1"]=>
      array(1) {
        [0]=>
        int(149)
      }
      ["deep_categories_under_1"]=>
      array(2) {
        [0]=>
        int(149)
        [1]=>
        int(100)
      }
      ["categories_under_177"]=>
      array(0) {
      }
      ["deep_categories_under_177"]=>
      array(0) {
      }
      ["categories_under_209"]=>
      array(0) {
      }
      ["deep_categories_under_209"]=>
      array(0) {
      }
      ["categories_under_163"]=>
      array(0) {
      }
      ["deep_categories_under_163"]=>
      array(0) {
      }
      ["categories_under_171"]=>
      array(0) {
      }
      ["deep_categories_under_171"]=>
      array(0) {
      }
      ["categories_under_153"]=>
      array(0) {
      }
      ["deep_categories_under_153"]=>
      array(0) {
      }
      ["categories_under_242"]=>
      array(0) {
      }
      ["deep_categories_under_242"]=>
      array(0) {
      }
      ["categories_under_564"]=>
      array(0) {
      }
      ["deep_categories_under_564"]=>
      array(0) {
      }
      ["freetags"]=>
      array(0) {
      }
      ["geo_located"]=>
      string(1) "y"
      ["geo_location"]=>
      string(40) "-84.34513160000041,33.740055900000314,16"
      ["geo_point"]=>
      object(stdClass)#2210 (2) {
        ["lat"]=>
        float(33.7400559)
        ["lon"]=>
        float(-84.3451316)
      }
      ["allowed_groups"]=>
      array(2) {
        [0]=>
        string(6) "Admins"
        [1]=>
        string(9) "Anonymous"
      }
      ["allowed_users"]=>
      array(0) {
      }
      ["relations"]=>
      array(0) {
      }
      ["relation_objects"]=>
      array(0) {
      }
      ["relation_types"]=>
      array(0) {
      }
      ["relation_count"]=>
      array(0) {
      }
      ["title_initial"]=>
      string(1) "F"
      ["title_firstword"]=>
      string(8) "Flatiron"
      ["searchable"]=>
      string(1) "y"
      ["url"]=>
      string(7) "item663"
      ["object_type"]=>
      string(11) "trackeritem"
      ["object_id"]=>
      string(3) "663"
      ["contents"]=>
      string(438) "    Flatiron Restaurant & Bar 520 Flat Shoals Ave. S.E.  Atlanta GA  https://www.facebook.com/flatironbar   (404) 688-8864  -84.34513160000041,33.740055900000314,16 display26  A scattering of sidewalk tables, draft beer, a stellar jukebox, and your average pub grub.               n  ChIJjRSbYFsB9YgRWmQXem6I238  Flatiron Bar 40575703543 573f3d481e3ee4dfcf6600f2       Sent to Edit  n  2017-06-19T12:58:54+00:00 Flatiron Restaurant & Bar "
      ["score"]=>
      float(0)
      ["_index"]=>
      string(21) "atlantawiki_tiki_main"
      ["objectlink"]=>
      string(328) "Flatiron Restaurant & Bar"
      ["image"]=>
      string(39) "

File not found.

"
      ["areaLocation"]=>
      string(34) "-84.3503813,33.7391182,15"
    }
    [45]=>
    array(95) {
      ["title"]=>
      string(25) "Union at East Side Lounge"
      ["modification_date"]=>
      string(25) "2019-10-08T20:11:01+00:00"
      ["creation_date"]=>
      string(25) "2017-07-16T21:30:40+00:00"
      ["contributors"]=>
      array(2) {
        [0]=>
        string(29) "ben.eason@creativeloafing.com"
        [1]=>
        string(30) "jim.harris@creativeloafing.com"
      }
      ["date"]=>
      string(25) "2017-07-16T21:30:40+00:00"
      ["tracker_status"]=>
      string(1) "o"
      ["tracker_id"]=>
      string(1) "1"
      ["view_permission"]=>
      string(13) "view_trackers"
      ["tracker_field_businessName"]=>
      string(25) "Union at East Side Lounge"
      ["tracker_field_businessAddress"]=>
      string(25) "485 Flat Shoals Ave. S.E."
      ["tracker_field_businessAddress2"]=>
      string(1) " "
      ["tracker_field_businessCity"]=>
      string(7) "Atlanta"
      ["tracker_field_businessState"]=>
      string(2) "GA"
      ["tracker_field_businessZip"]=>
      string(5) "30316"
      ["tracker_field_businessWebsite"]=>
      string(40) "http://https://www.facebook.com/UnionEAV"
      ["tracker_field_businessPhone"]=>
      string(12) "404-556-5267"
      ["tracker_field_businessRepresentative"]=>
      array(0) {
      }
      ["tracker_field_businessLocation"]=>
      string(24) "-84.3485517,33.740779,17"
      ["tracker_field_businessLocationRadius"]=>
      int(0)
      ["tracker_field_businessIcon"]=>
      string(9) "display26"
      ["tracker_field_description"]=>
      string(248) "Formerly known as Union EAV, this East Atlanta spot hosts local and regional indie-rock bands, live hip-hop, and dance music nights. Budget-conscious imbibers will want to take note that Monday nights feature cheap drink specials and 99-cent entry."
      ["tracker_field_description_raw"]=>
      string(248) "Formerly known as Union EAV, this East Atlanta spot hosts local and regional indie-rock bands, live hip-hop, and dance music nights. Budget-conscious imbibers will want to take note that Monday nights feature cheap drink specials and 99-cent entry."
      ["tracker_field_photos"]=>
      string(5) "24425"
      ["tracker_field_businessPhotoCredit"]=>
      string(11) "Adam Komich"
      ["tracker_field_businessClassifieds"]=>
      array(0) {
      }
      ["tracker_field_businessTypes"]=>
      array(1) {
        [0]=>
        string(2) "88"
      }
      ["tracker_field_businessTypes_text"]=>
      string(2) "88"
      ["tracker_field_scene"]=>
      array(0) {
      }
      ["tracker_field_businessNeighborhoods"]=>
      array(1) {
        [0]=>
        string(3) "100"
      }
      ["tracker_field_businessNeighborhoods_text"]=>
      string(3) "100"
      ["tracker_field_businessPriceRange"]=>
      array(0) {
      }
      ["tracker_field_businessMiscCategories"]=>
      array(0) {
      }
      ["tracker_field_businessCLAcctNum"]=>
      int(0)
      ["tracker_field_business_121CurrentChit"]=>
      string(1) "n"
      ["tracker_field_121MobileClientID"]=>
      int(0)
      ["tracker_field_121MobileCampaignData"]=>
      array(0) {
      }
      ["tracker_field_121MobileCampaignData_json"]=>
      array(0) {
      }
      ["tracker_field_googlePlaceData"]=>
      array(0) {
      }
      ["tracker_field_googlePlaceData_json"]=>
      array(0) {
      }
      ["tracker_field_googleOverallRating"]=>
      int(0)
      ["tracker_field_businessYelpBusinessData"]=>
      array(0) {
      }
      ["tracker_field_businessYelpBusinessData_json"]=>
      array(0) {
      }
      ["tracker_field_businessFacebookData"]=>
      array(0) {
      }
      ["tracker_field_businessFacebookData_json"]=>
      array(0) {
      }
      ["tracker_field_businessLoafingID"]=>
      string(24) "573f3cdc1e3ee4dfcf65fac2"
      ["tracker_field_businessAccountExecutive"]=>
      string(1) "0"
      ["tracker_field_businessStatusField"]=>
      string(15) "Duplicate, keep"
      ["tracker_field_businessCLDistributionLocation"]=>
      string(1) "n"
      ["tracker_field_businessAudience"]=>
      array(0) {
      }
      ["tracker_field_businessLegacyID"]=>
      int(8165520)
      ["language"]=>
      string(7) "unknown"
      ["attachments"]=>
      array(1) {
        [0]=>
        string(5) "24425"
      }
      ["comment_count"]=>
      int(0)
      ["categories"]=>
      array(2) {
        [0]=>
        int(88)
        [1]=>
        int(100)
      }
      ["deep_categories"]=>
      array(6) {
        [0]=>
        int(28)
        [1]=>
        int(876)
        [2]=>
        int(88)
        [3]=>
        int(1)
        [4]=>
        int(149)
        [5]=>
        int(100)
      }
      ["categories_under_28"]=>
      array(0) {
      }
      ["deep_categories_under_28"]=>
      array(2) {
        [0]=>
        int(876)
        [1]=>
        int(88)
      }
      ["categories_under_1"]=>
      array(0) {
      }
      ["deep_categories_under_1"]=>
      array(2) {
        [0]=>
        int(149)
        [1]=>
        int(100)
      }
      ["categories_under_177"]=>
      array(0) {
      }
      ["deep_categories_under_177"]=>
      array(0) {
      }
      ["categories_under_209"]=>
      array(0) {
      }
      ["deep_categories_under_209"]=>
      array(0) {
      }
      ["categories_under_163"]=>
      array(0) {
      }
      ["deep_categories_under_163"]=>
      array(0) {
      }
      ["categories_under_171"]=>
      array(0) {
      }
      ["deep_categories_under_171"]=>
      array(0) {
      }
      ["categories_under_153"]=>
      array(0) {
      }
      ["deep_categories_under_153"]=>
      array(0) {
      }
      ["categories_under_242"]=>
      array(0) {
      }
      ["deep_categories_under_242"]=>
      array(0) {
      }
      ["categories_under_564"]=>
      array(0) {
      }
      ["deep_categories_under_564"]=>
      array(0) {
      }
      ["freetags"]=>
      array(0) {
      }
      ["geo_located"]=>
      string(1) "y"
      ["geo_location"]=>
      string(24) "-84.3485517,33.740779,17"
      ["geo_point"]=>
      object(stdClass)#2213 (2) {
        ["lat"]=>
        float(33.740779)
        ["lon"]=>
        float(-84.3485517)
      }
      ["allowed_groups"]=>
      array(2) {
        [0]=>
        string(6) "Admins"
        [1]=>
        string(9) "Anonymous"
      }
      ["allowed_users"]=>
      array(0) {
      }
      ["relations"]=>
      array(1) {
        [0]=>
        string(27) "tiki.file.attach:file:24425"
      }
      ["relation_objects"]=>
      array(0) {
      }
      ["relation_types"]=>
      array(1) {
        [0]=>
        string(16) "tiki.file.attach"
      }
      ["relation_count"]=>
      array(1) {
        [0]=>
        string(18) "tiki.file.attach:1"
      }
      ["title_initial"]=>
      string(1) "U"
      ["title_firstword"]=>
      string(5) "Union"
      ["searchable"]=>
      string(1) "y"
      ["url"]=>
      string(8) "item8700"
      ["object_type"]=>
      string(11) "trackeritem"
      ["object_id"]=>
      string(4) "8700"
      ["contents"]=>
      string(615) " Union Magnum  2019-10-08T20:07:15+00:00 union_magnum.jpg     Union at East Side Lounge 485 Flat Shoals Ave. S.E.   Atlanta GA 30316 http://https://www.facebook.com/UnionEAV   404-556-5267  -84.3485517,33.740779,17 display26  Formerly known as Union EAV, this East Atlanta spot hosts local and regional indie-rock bands, live hip-hop, and dance music nights. Budget-conscious imbibers will want to take note that Monday nights feature cheap drink specials and 99-cent entry.    24425  Adam Komich         n      573f3cdc1e3ee4dfcf65fac2       Duplicate, keep  n  2017-07-16T21:30:40+00:00 Union at East Side Lounge "
      ["score"]=>
      float(0)
      ["_index"]=>
      string(21) "atlantawiki_tiki_main"
      ["objectlink"]=>
      string(310) "Union at East Side Lounge"
      ["image"]=>
      string(39) "

File not found.

"
      ["areaLocation"]=>
      string(34) "-84.3503813,33.7391182,15"
    }
    [46]=>
    array(89) {
      ["title"]=>
      string(20) "Cycledelix Clubhouse"
      ["modification_date"]=>
      string(25) "2018-03-08T16:58:02+00:00"
      ["creation_date"]=>
      string(25) "2017-07-16T21:30:40+00:00"
      ["contributors"]=>
      array(1) {
        [0]=>
        string(29) "ben.eason@creativeloafing.com"
      }
      ["date"]=>
      string(25) "2017-07-16T21:30:40+00:00"
      ["tracker_status"]=>
      string(1) "o"
      ["tracker_id"]=>
      string(1) "1"
      ["view_permission"]=>
      string(13) "view_trackers"
      ["tracker_field_businessName"]=>
      string(20) "Cycledelix Clubhouse"
      ["tracker_field_businessAddress"]=>
      string(27) "260 Milton Avenue Southeast"
      ["tracker_field_businessAddress2"]=>
      string(1) " "
      ["tracker_field_businessCity"]=>
      string(7) "Atlanta"
      ["tracker_field_businessState"]=>
      string(2) "GA"
      ["tracker_field_businessZip"]=>
      string(5) "30315"
      ["tracker_field_businessWebsite"]=>
      string(1) " "
      ["tracker_field_businessPhone"]=>
      string(12) "678-770-0489"
      ["tracker_field_businessRepresentative"]=>
      array(0) {
      }
      ["tracker_field_businessLocationRadius"]=>
      int(0)
      ["tracker_field_description"]=>
      string(1) " "
      ["tracker_field_description_raw"]=>
      string(1) " "
      ["tracker_field_businessClassifieds"]=>
      array(0) {
      }
      ["tracker_field_businessTypes"]=>
      array(1) {
        [0]=>
        string(2) "88"
      }
      ["tracker_field_businessTypes_text"]=>
      string(2) "88"
      ["tracker_field_scene"]=>
      array(0) {
      }
      ["tracker_field_businessNeighborhoods"]=>
      array(2) {
        [0]=>
        string(3) "100"
        [1]=>
        string(3) "149"
      }
      ["tracker_field_businessNeighborhoods_text"]=>
      string(7) "100 149"
      ["tracker_field_businessPriceRange"]=>
      array(0) {
      }
      ["tracker_field_businessMiscCategories"]=>
      array(0) {
      }
      ["tracker_field_businessCLAcctNum"]=>
      int(0)
      ["tracker_field_business_121CurrentChit"]=>
      string(1) "n"
      ["tracker_field_121MobileClientID"]=>
      int(0)
      ["tracker_field_121MobileCampaignData"]=>
      array(0) {
      }
      ["tracker_field_121MobileCampaignData_json"]=>
      array(0) {
      }
      ["tracker_field_googlePlaceData"]=>
      array(0) {
      }
      ["tracker_field_googlePlaceData_json"]=>
      array(0) {
      }
      ["tracker_field_googleOverallRating"]=>
      int(0)
      ["tracker_field_businessYelpBusinessData"]=>
      array(0) {
      }
      ["tracker_field_businessYelpBusinessData_json"]=>
      array(0) {
      }
      ["tracker_field_businessFacebookData"]=>
      array(0) {
      }
      ["tracker_field_businessFacebookData_json"]=>
      array(0) {
      }
      ["tracker_field_businessLoafingID"]=>
      string(24) "573f3cda1e3ee4dfcf65f8d3"
      ["tracker_field_businessAccountExecutive"]=>
      string(1) "0"
      ["tracker_field_businessStatusField"]=>
      string(10) "NoGoogleID"
      ["tracker_field_businessCLDistributionLocation"]=>
      string(1) "n"
      ["tracker_field_businessAudience"]=>
      array(0) {
      }
      ["tracker_field_businessLegacyID"]=>
      int(10319077)
      ["language"]=>
      string(7) "unknown"
      ["attachments"]=>
      array(0) {
      }
      ["comment_count"]=>
      int(0)
      ["categories"]=>
      array(2) {
        [0]=>
        int(88)
        [1]=>
        int(100)
      }
      ["deep_categories"]=>
      array(6) {
        [0]=>
        int(28)
        [1]=>
        int(876)
        [2]=>
        int(88)
        [3]=>
        int(1)
        [4]=>
        int(149)
        [5]=>
        int(100)
      }
      ["categories_under_28"]=>
      array(0) {
      }
      ["deep_categories_under_28"]=>
      array(2) {
        [0]=>
        int(876)
        [1]=>
        int(88)
      }
      ["categories_under_1"]=>
      array(0) {
      }
      ["deep_categories_under_1"]=>
      array(2) {
        [0]=>
        int(149)
        [1]=>
        int(100)
      }
      ["categories_under_177"]=>
      array(0) {
      }
      ["deep_categories_under_177"]=>
      array(0) {
      }
      ["categories_under_209"]=>
      array(0) {
      }
      ["deep_categories_under_209"]=>
      array(0) {
      }
      ["categories_under_163"]=>
      array(0) {
      }
      ["deep_categories_under_163"]=>
      array(0) {
      }
      ["categories_under_171"]=>
      array(0) {
      }
      ["deep_categories_under_171"]=>
      array(0) {
      }
      ["categories_under_153"]=>
      array(0) {
      }
      ["deep_categories_under_153"]=>
      array(0) {
      }
      ["categories_under_242"]=>
      array(0) {
      }
      ["deep_categories_under_242"]=>
      array(0) {
      }
      ["categories_under_564"]=>
      array(0) {
      }
      ["deep_categories_under_564"]=>
      array(0) {
      }
      ["freetags"]=>
      array(0) {
      }
      ["geo_located"]=>
      string(1) "n"
      ["allowed_groups"]=>
      array(2) {
        [0]=>
        string(6) "Admins"
        [1]=>
        string(9) "Anonymous"
      }
      ["allowed_users"]=>
      array(0) {
      }
      ["relations"]=>
      array(0) {
      }
      ["relation_objects"]=>
      array(0) {
      }
      ["relation_types"]=>
      array(0) {
      }
      ["relation_count"]=>
      array(0) {
      }
      ["title_initial"]=>
      string(1) "C"
      ["title_firstword"]=>
      string(10) "Cycledelix"
      ["searchable"]=>
      string(1) "y"
      ["url"]=>
      string(8) "item8702"
      ["object_type"]=>
      string(11) "trackeritem"
      ["object_id"]=>
      string(4) "8702"
      ["contents"]=>
      string(209) "    Cycledelix Clubhouse 260 Milton Avenue Southeast   Atlanta GA 30315     678-770-0489                     n      573f3cda1e3ee4dfcf65f8d3       NoGoogleID  n  2017-07-16T21:30:40+00:00 Cycledelix Clubhouse "
      ["score"]=>
      float(0)
      ["_index"]=>
      string(21) "atlantawiki_tiki_main"
      ["objectlink"]=>
      string(198) "Cycledelix Clubhouse"
      ["image"]=>
      string(39) "

File not found.

"
      ["areaLocation"]=>
      string(34) "-84.3503813,33.7391182,15"
    }
    [47]=>
    array(97) {
      ["title"]=>
      string(6) "Mary's"
      ["modification_date"]=>
      string(25) "2018-07-27T14:23:31+00:00"
      ["creation_date"]=>
      string(25) "2017-06-26T13:07:15+00:00"
      ["contributors"]=>
      array(2) {
        [0]=>
        NULL
        [1]=>
        string(29) "ben.eason@creativeloafing.com"
      }
      ["date"]=>
      string(25) "2017-06-26T13:07:15+00:00"
      ["tracker_status"]=>
      string(1) "o"
      ["tracker_id"]=>
      string(1) "1"
      ["view_permission"]=>
      string(13) "view_trackers"
      ["tracker_field_businessName"]=>
      string(6) "Mary's"
      ["tracker_field_businessAddress"]=>
      string(23) "1287 Glenwood Ave. S.E."
      ["tracker_field_businessCity"]=>
      string(7) "Atlanta"
      ["tracker_field_businessState"]=>
      string(2) "GA"
      ["tracker_field_businessZip"]=>
      string(5) "30316"
      ["tracker_field_businessWebsite"]=>
      string(28) "http://www.marysatlanta.com/"
      ["tracker_field_businessPhone"]=>
      string(14) "(404) 624-4411"
      ["tracker_field_businessRepresentative"]=>
      array(0) {
      }
      ["tracker_field_businessLocation"]=>
      string(25) "-84.3455489,33.7400604,12"
      ["tracker_field_businessLocationRadius"]=>
      int(0)
      ["tracker_field_businessIcon"]=>
      string(9) "display26"
      ["tracker_field_description"]=>
      string(161) "A super-fun gay bar with some of the best karaoke (or, as they say, "Maryoke") in town on Tuesday and Saturday nights (but not the first Saturday of each month)."
      ["tracker_field_description_raw"]=>
      string(161) "A super-fun gay bar with some of the best karaoke (or, as they say, "Maryoke") in town on Tuesday and Saturday nights (but not the first Saturday of each month)."
      ["tracker_field_photos"]=>
      string(3) "228"
      ["tracker_field_businessClassifieds"]=>
      array(0) {
      }
      ["tracker_field_businessTypes"]=>
      array(1) {
        [0]=>
        string(2) "88"
      }
      ["tracker_field_businessTypes_text"]=>
      string(2) "88"
      ["tracker_field_scene"]=>
      array(0) {
      }
      ["tracker_field_businessNeighborhoods"]=>
      array(2) {
        [0]=>
        string(3) "149"
        [1]=>
        string(3) "100"
      }
      ["tracker_field_businessNeighborhoods_text"]=>
      string(7) "149 100"
      ["tracker_field_businessPriceRange"]=>
      array(0) {
      }
      ["tracker_field_businessMiscCategories"]=>
      array(0) {
      }
      ["tracker_field_businessCLAcctNum"]=>
      int(0)
      ["tracker_field_business_121CurrentChit"]=>
      string(1) "n"
      ["tracker_field_121MobileClientID"]=>
      int(0)
      ["tracker_field_121MobileCampaignData"]=>
      array(0) {
      }
      ["tracker_field_121MobileCampaignData_json"]=>
      array(0) {
      }
      ["tracker_field_google_placeid"]=>
      string(27) "ChIJ_2YKY1sB9YgRG_upveSLc3k"
      ["tracker_field_googlePlaceData"]=>
      array(15) {
        [0]=>
        string(210) "

1287 Glenwood Ave SE

, 

Atlanta

, 

GA

 

30316-1932

, 

USA

"
        [1]=>
        string(44) "1287 Glenwood Ave SE, Atlanta, GA 30316, USA"
        [2]=>
        string(14) "(404) 624-4411"
        [3]=>
        string(60) "https://maps.gstatic.com/mapfiles/place_api/icons/bar-71.png"
        [4]=>
        string(40) "a88eb3c9ecaca6d431f979054d2df003ac64631e"
        [5]=>
        string(15) "+1 404-624-4411"
        [6]=>
        string(6) "Mary's"
        [7]=>
        string(27) "ChIJ_2YKY1sB9YgRG_upveSLc3k"
        [8]=>
        string(3) "4.3"
        [9]=>
        string(190) "CmRRAAAAa8_nswk-h7h7lv--O3PpRS2wZKQk7QTy-ulpmmdkw1owHuNZO2T3HssM3OihR4140BLgd1QGTDkejeLkSQaGHf-co2PsrBDGGqbn3TADTqY3PwWubhg5xOCxUmr0BBuLEhAmGFYlqKc9Us1fUntH242nGhSyTkm8buieO9lYgyp75XS3j2GYlQ"
        [10]=>
        string(6) "GOOGLE"
        [11]=>
        string(48) "https://maps.google.com/?cid=8751492315461843739"
        [12]=>
        string(4) "-240"
        [13]=>
        string(39) "1287 Glenwood Avenue Southeast, Atlanta"
        [14]=>
        string(28) "http://www.marysatlanta.com/"
      }
      ["tracker_field_googlePlaceData_text"]=>
      string(587) "1287 Glenwood Ave SE, Atlanta, GA 30316-1932, USA 1287 Glenwood Ave SE, Atlanta, GA 30316, USA (404) 624-4411 https://maps.gstatic.com/mapfiles/place_api/icons/bar-71.png a88eb3c9ecaca6d431f979054d2df003ac64631e +1 404-624-4411 Mary's ChIJ_2YKY1sB9YgRG_upveSLc3k 4.3 CmRRAAAAa8_nswk-h7h7lv--O3PpRS2wZKQk7QTy-ulpmmdkw1owHuNZO2T3HssM3OihR4140BLgd1QGTDkejeLkSQaGHf-co2PsrBDGGqbn3TADTqY3PwWubhg5xOCxUmr0BBuLEhAmGFYlqKc9Us1fUntH242nGhSyTkm8buieO9lYgyp75XS3j2GYlQ GOOGLE https://maps.google.com/?cid=8751492315461843739 -240 1287 Glenwood Avenue Southeast, Atlanta http://www.marysatlanta.com/"
      ["tracker_field_googlePlaceData_json"]=>
      object(stdClass)#2227 (22) {
        ["address_components"]=>
        array(9) {
          [0]=>
          object(stdClass)#2218 (3) {
            ["long_name"]=>
            string(4) "1287"
            ["short_name"]=>
            string(4) "1287"
            ["types"]=>
            array(1) {
              [0]=>
              string(13) "street_number"
            }
          }
          [1]=>
          object(stdClass)#2219 (3) {
            ["long_name"]=>
            string(25) "Glenwood Avenue Southeast"
            ["short_name"]=>
            string(15) "Glenwood Ave SE"
            ["types"]=>
            array(1) {
              [0]=>
              string(5) "route"
            }
          }
          [2]=>
          object(stdClass)#2220 (3) {
            ["long_name"]=>
            string(12) "East Atlanta"
            ["short_name"]=>
            string(12) "East Atlanta"
            ["types"]=>
            array(2) {
              [0]=>
              string(12) "neighborhood"
              [1]=>
              string(9) "political"
            }
          }
          [3]=>
          object(stdClass)#2221 (3) {
            ["long_name"]=>
            string(7) "Atlanta"
            ["short_name"]=>
            string(7) "Atlanta"
            ["types"]=>
            array(2) {
              [0]=>
              string(8) "locality"
              [1]=>
              string(9) "political"
            }
          }
          [4]=>
          object(stdClass)#2222 (3) {
            ["long_name"]=>
            string(13) "DeKalb County"
            ["short_name"]=>
            string(13) "Dekalb County"
            ["types"]=>
            array(2) {
              [0]=>
              string(27) "administrative_area_level_2"
              [1]=>
              string(9) "political"
            }
          }
          [5]=>
          object(stdClass)#2223 (3) {
            ["long_name"]=>
            string(7) "Georgia"
            ["short_name"]=>
            string(2) "GA"
            ["types"]=>
            array(2) {
              [0]=>
              string(27) "administrative_area_level_1"
              [1]=>
              string(9) "political"
            }
          }
          [6]=>
          object(stdClass)#2224 (3) {
            ["long_name"]=>
            string(13) "United States"
            ["short_name"]=>
            string(2) "US"
            ["types"]=>
            array(2) {
              [0]=>
              string(7) "country"
              [1]=>
              string(9) "political"
            }
          }
          [7]=>
          object(stdClass)#2225 (3) {
            ["long_name"]=>
            string(5) "30316"
            ["short_name"]=>
            string(5) "30316"
            ["types"]=>
            array(1) {
              [0]=>
              string(11) "postal_code"
            }
          }
          [8]=>
          object(stdClass)#2226 (3) {
            ["long_name"]=>
            string(4) "1932"
            ["short_name"]=>
            string(4) "1932"
            ["types"]=>
            array(1) {
              [0]=>
              string(18) "postal_code_suffix"
            }
          }
        }
        ["adr_address"]=>
        string(210) "

1287 Glenwood Ave SE

, 

Atlanta

, 

GA

 

30316-1932

, 

USA

"
        ["formatted_address"]=>
        string(44) "1287 Glenwood Ave SE, Atlanta, GA 30316, USA"
        ["formatted_phone_number"]=>
        string(14) "(404) 624-4411"
        ["geometry"]=>
        object(stdClass)#2229 (2) {
          ["location"]=>
          object(stdClass)#2228 (2) {
            ["lat"]=>
            string(10) "33.7400604"
            ["lng"]=>
            string(11) "-84.3455489"
          }
          ["viewport"]=>
          object(stdClass)#2231 (2) {
            ["northeast"]=>
            object(stdClass)#2230 (2) {
              ["lat"]=>
              string(15) "33.741456630291"
              ["lng"]=>
              string(16) "-84.344198819708"
            }
            ["southwest"]=>
            object(stdClass)#2232 (2) {
              ["lat"]=>
              string(15) "33.738758669709"
              ["lng"]=>
              string(16) "-84.346896780292"
            }
          }
        }
        ["icon"]=>
        string(60) "https://maps.gstatic.com/mapfiles/place_api/icons/bar-71.png"
        ["id"]=>
        string(40) "a88eb3c9ecaca6d431f979054d2df003ac64631e"
        ["international_phone_number"]=>
        string(15) "+1 404-624-4411"
        ["name"]=>
        string(6) "Mary's"
        ["opening_hours"]=>
        object(stdClass)#2233 (3) {
          ["open_now"]=>
          bool(false)
          ["periods"]=>
          array(6) {
            [0]=>
            object(stdClass)#2235 (2) {
              ["close"]=>
              object(stdClass)#2234 (2) {
                ["day"]=>
                string(1) "2"
                ["time"]=>
                string(4) "0230"
              }
              ["open"]=>
              object(stdClass)#2236 (2) {
                ["day"]=>
                string(1) "2"
                ["time"]=>
                string(4) "0000"
              }
            }
            [1]=>
            object(stdClass)#2238 (2) {
              ["close"]=>
              object(stdClass)#2237 (2) {
                ["day"]=>
                string(1) "3"
                ["time"]=>
                string(4) "0230"
              }
              ["open"]=>
              object(stdClass)#2239 (2) {
                ["day"]=>
                string(1) "2"
                ["time"]=>
                string(4) "1700"
              }
            }
            [2]=>
            object(stdClass)#2241 (2) {
              ["close"]=>
              object(stdClass)#2240 (2) {
                ["day"]=>
                string(1) "4"
                ["time"]=>
                string(4) "0230"
              }
              ["open"]=>
              object(stdClass)#2242 (2) {
                ["day"]=>
                string(1) "3"
                ["time"]=>
                string(4) "1700"
              }
            }
            [3]=>
            object(stdClass)#2244 (2) {
              ["close"]=>
              object(stdClass)#2243 (2) {
                ["day"]=>
                string(1) "5"
                ["time"]=>
                string(4) "0230"
              }
              ["open"]=>
              object(stdClass)#2245 (2) {
                ["day"]=>
                string(1) "4"
                ["time"]=>
                string(4) "1700"
              }
            }
            [4]=>
            object(stdClass)#2247 (2) {
              ["close"]=>
              object(stdClass)#2246 (2) {
                ["day"]=>
                string(1) "6"
                ["time"]=>
                string(4) "0230"
              }
              ["open"]=>
              object(stdClass)#2248 (2) {
                ["day"]=>
                string(1) "5"
                ["time"]=>
                string(4) "1700"
              }
            }
            [5]=>
            object(stdClass)#2250 (2) {
              ["close"]=>
              object(stdClass)#2249 (2) {
                ["day"]=>
                int(0)
                ["time"]=>
                string(4) "0230"
              }
              ["open"]=>
              object(stdClass)#2251 (2) {
                ["day"]=>
                string(1) "6"
                ["time"]=>
                string(4) "1400"
              }
            }
          }
          ["weekday_text"]=>
          array(7) {
            [0]=>
            string(14) "Monday: Closed"
            [1]=>
            string(47) "Tuesday: 12:00 – 2:30 AM, 5:00 PM – 2:30 AM"
            [2]=>
            string(30) "Wednesday: 5:00 PM – 2:30 AM"
            [3]=>
            string(29) "Thursday: 5:00 PM – 2:30 AM"
            [4]=>
            string(27) "Friday: 5:00 PM – 2:30 AM"
            [5]=>
            string(29) "Saturday: 2:00 PM – 2:30 AM"
            [6]=>
            string(14) "Sunday: Closed"
          }
        }
        ["photos"]=>
        array(10) {
          [0]=>
          object(stdClass)#2252 (4) {
            ["height"]=>
            int(4032)
            ["html_attributions"]=>
            array(1) {
              [0]=>
              string(92) "Torrey Smith"
            }
            ["photo_reference"]=>
            string(190) "CmRaAAAA8JEaNrW35MLxDsz2a9sdcOdxAusAWIZOwGK8S6uFH02S_b1Dhh2GKVWpF6O7BkLhXigh_KoA6lqSAHYkUwN97Bbx-mzIbNjAA3s4AvjCnycXCeVNyVt9cYPQiLrZa1MHEhBLnD71YzRwOI-_fC-q0931GhTgN_kcaUSpLaFtekiePVp5vk9GwA"
            ["width"]=>
            int(3024)
          }
          [1]=>
          object(stdClass)#2253 (4) {
            ["height"]=>
            int(1944)
            ["html_attributions"]=>
            array(1) {
              [0]=>
              string(92) "KaShawn Pate"
            }
            ["photo_reference"]=>
            string(190) "CmRaAAAAe5mHDH3m0AudGprhzOpQ3SxKzdCDNCvfF-MNLpbmu-JljZ_H3MsGWGlzPZ9vZtZwfIunIKz7yCF2PdO1iDB6vJjvqeggMUJlC_ZuHELuqf_ogtyE95nWx_ZQQXOxwU5KEhCKWSi_4JzuxWTzndUgrcPjGhSbhpUOZVJBQwk9NLMTnuKVFbbV-A"
            ["width"]=>
            int(2592)
          }
          [2]=>
          object(stdClass)#2254 (4) {
            ["height"]=>
            int(3096)
            ["html_attributions"]=>
            array(1) {
              [0]=>
              string(96) "Paul Michael Rex"
            }
            ["photo_reference"]=>
            string(190) "CmRaAAAAek79RnpfjH_h3UuQV87xXJkBK7MfWnMw4xmpM3HK-wQZ-7JK2bdnQDU3TVEIqohLrr3w6KDSnZH8zFP7FwKKlzPVZJSKnb8TO0gn8nObSB7vuUu44enUhcaZdBv8ymDmEhDPUzWiFuzcgIiewchXzRcoGhSS8GrlYVVSXrMXQbDq9YgNHldvWg"
            ["width"]=>
            int(4128)
          }
          [3]=>
          object(stdClass)#2255 (4) {
            ["height"]=>
            int(5312)
            ["html_attributions"]=>
            array(1) {
              [0]=>
              string(95) "Tyler Armstrong"
            }
            ["photo_reference"]=>
            string(190) "CmRaAAAAPPQhAkcrjnCbF8-ZJiubTG9GwZgvdeHYAs96R9QyjbP-PEKsko0NByZrKBPV7RgF1kVQrtj3AciiqSai8Q94f113P1igOC8k71o5AGNkVVvOx4vjUSR2LBujPTDTniNnEhCsb2EcPzJ-SSIUDEv_ZE_1GhTokNwEx_U21ex-i0nmGXakTrtKPw"
            ["width"]=>
            int(2988)
          }
          [4]=>
          object(stdClass)#2256 (4) {
            ["height"]=>
            int(1836)
            ["html_attributions"]=>
            array(1) {
              [0]=>
              string(101) "Bobby l Carter Carter"
            }
            ["photo_reference"]=>
            string(190) "CmRaAAAA8a9KQBBFnHva7puu8794CnJ5oTZmwJEwEXwPb5zkgC-BIiC83GgBgfTESAkZmnv07mcOwyrKnb7AOjCV1N7hIhtnQeWAftfBhpO3WHpcnO1BFAE3h-yE3hjCxsVRdwe2EhC6Swj3iukbPNheajkl4N27GhTIT4cjm32Kfp0aC4CQ1rYMdGYAxg"
            ["width"]=>
            int(3264)
          }
          [5]=>
          object(stdClass)#2257 (4) {
            ["height"]=>
            int(4032)
            ["html_attributions"]=>
            array(1) {
              [0]=>
              string(93) "Angela Nelson"
            }
            ["photo_reference"]=>
            string(190) "CmRaAAAA6XaQkdDHsiH90GxoIUNtr8wut3O5Wqlz9ysvZtGeqgZCye83vogSyRBqH3e_-JfsFZB8FHGX5Se951Rd86Drh5D2jUPvYgDygVCQXHXNX7TsMb7NgpGvrodVAr9W3UIlEhDjtG1NxzggAgChNWwSEogXGhR-MCyt2KtSJNM9HXPxbl7FrAZYWw"
            ["width"]=>
            int(3024)
          }
          [6]=>
          object(stdClass)#2258 (4) {
            ["height"]=>
            int(2988)
            ["html_attributions"]=>
            array(1) {
              [0]=>
              string(99) "William Joel Higdon"
            }
            ["photo_reference"]=>
            string(190) "CmRaAAAAr6uGgcnc76ZW4AkZ8KY-k1ozqxGLul72JviZdHVg472hfpZFjw6AluJOaigt7FxICrwzEJn9n1Mb4PW-xDiiFnvOglyCSc1EZk_TOBdHENrq14T39PqhUAg4Xc4vNwu2EhDeLBvkJQqfDQL-UXdDFE5IGhTTauyw5cSnFPwJz-S1fCORI5KlpQ"
            ["width"]=>
            int(2988)
          }
          [7]=>
          object(stdClass)#2259 (4) {
            ["height"]=>
            int(5312)
            ["html_attributions"]=>
            array(1) {
              [0]=>
              string(92) "Jacqui Davis"
            }
            ["photo_reference"]=>
            string(190) "CmRaAAAAOw3uRYQo_o0fdgbj_BSMnrnq4zDLJ4C-WgHgQhpUKmSq1CE-UE1HcVo9qn9rmqmUc1Q2lk_N7RE-Vho5v23WGo2Km4yxXTZLOEK2e5-M8sqqtJwoeqIINvlWd_EtdQoIEhBTJZTS10sxbXMaTK-nfLMdGhQKEnYoCAnf3PMlR7_rCRtTWPhaAw"
            ["width"]=>
            int(2988)
          }
          [8]=>
          object(stdClass)#2260 (4) {
            ["height"]=>
            int(3024)
            ["html_attributions"]=>
            array(1) {
              [0]=>
              string(94) "Byron B. Blake"
            }
            ["photo_reference"]=>
            string(190) "CmRaAAAAcirDgLwFVln49OzWtiBD5Fzv9297BZfTtEayiXngNEjExBKmfly_br0juKgpV-cC-4yvJT_pGGkjurn-8JnG-tsGTQIcWPFWIAaCZRZxUBrWuxdfsmph6rZvACDjcnQ4EhCgEut56qpGycht3pE3QTh5GhQSwisH8A8eqJwfBP3EPl11DVcFfw"
            ["width"]=>
            int(3024)
          }
          [9]=>
          object(stdClass)#2261 (4) {
            ["height"]=>
            int(3024)
            ["html_attributions"]=>
            array(1) {
              [0]=>
              string(94) "Matthew Arthur"
            }
            ["photo_reference"]=>
            string(190) "CmRaAAAAZbtLBQdjnUd-r1itJGr5rmmWiVQ-tKaVvp2fCtCNWmRM0kQ3dT2msE-0vxBA2VjL9lmsroZQQTCmejnI2kA8v6hEiM7qGSrrodBa04LKuq6G0yzQNJaVddtzAYiLy9JSEhDi97tUq2SZWoMteoyOMfv3GhRMTXwY_jX4m8mq8L_rHVqkz2NjPw"
            ["width"]=>
            int(4032)
          }
        }
        ["place_id"]=>
        string(27) "ChIJ_2YKY1sB9YgRG_upveSLc3k"
        ["plus_code"]=>
        object(stdClass)#2262 (2) {
          ["compound_code"]=>
          string(39) "PMR3+2Q Atlanta, Georgia, United States"
          ["global_code"]=>
          string(11) "865QPMR3+2Q"
        }
        ["rating"]=>
        string(3) "4.3"
        ["reference"]=>
        string(190) "CmRRAAAAa8_nswk-h7h7lv--O3PpRS2wZKQk7QTy-ulpmmdkw1owHuNZO2T3HssM3OihR4140BLgd1QGTDkejeLkSQaGHf-co2PsrBDGGqbn3TADTqY3PwWubhg5xOCxUmr0BBuLEhAmGFYlqKc9Us1fUntH242nGhSyTkm8buieO9lYgyp75XS3j2GYlQ"
        ["reviews"]=>
        array(5) {
          [0]=>
          object(stdClass)#2263 (8) {
            ["author_name"]=>
            string(14) "Matthew Arthur"
            ["author_url"]=>
            string(65) "https://www.google.com/maps/contrib/118151789717647838379/reviews"
            ["language"]=>
            string(2) "en"
            ["profile_photo_url"]=>
            string(145) "https://lh6.googleusercontent.com/-S5rW_hCG0PI/AAAAAAAAAAI/AAAAAAAAAAA/AAnnY7pyunS31qw94_AnLPZMXqPIHyEkTA/s128-c0x00000000-cc-rp-mo-ba3/photo.jpg"
            ["rating"]=>
            string(1) "5"
            ["relative_time_description"]=>
            string(16) "in the last week"
            ["text"]=>
            string(366) "People take themselves too seriously. For those who don't, there's Mary's. Hole in the wall establishment with a local and loyal clientele. It's a bar with generous drinks and honest pours. 

The people are friendly and I felt incredibly welcome. Definitely go and check this out if you're nearby. Saturday karaoke was fun and the host was a crowd pleaser."
            ["time"]=>
            int(1532305808)
          }
          [1]=>
          object(stdClass)#2264 (8) {
            ["author_name"]=>
            string(9) "Tim Henry"
            ["author_url"]=>
            string(65) "https://www.google.com/maps/contrib/113038245401208458685/reviews"
            ["language"]=>
            string(2) "en"
            ["profile_photo_url"]=>
            string(118) "https://lh5.googleusercontent.com/-cK8OfMPjysM/AAAAAAAAAAI/AAAAAAAAABI/QiCJUZ4MZxw/s128-c0x00000000-cc-rp-mo/photo.jpg"
            ["rating"]=>
            string(1) "1"
            ["relative_time_description"]=>
            string(12) "2 months ago"
            ["text"]=>
            string(296) "The bartenders are extremely rude. Customer Service is a foreign concept. I will never return to this bar. There was an employee who was rude to the patrons as they were leaving rushing everyone so he could go home. 

Stay away until they get some decent employees who care about their customers."
            ["time"]=>
            int(1525039000)
          }
          [2]=>
          object(stdClass)#2265 (8) {
            ["author_name"]=>
            string(10) "Vicky Ruth"
            ["author_url"]=>
            string(65) "https://www.google.com/maps/contrib/102331848429917741696/reviews"
            ["language"]=>
            string(2) "en"
            ["profile_photo_url"]=>
            string(122) "https://lh4.googleusercontent.com/-6FexMwAbFiI/AAAAAAAAAAI/AAAAAAAAATY/A5xhGHIZcy0/s128-c0x00000000-cc-rp-mo-ba3/photo.jpg"
            ["rating"]=>
            string(1) "5"
            ["relative_time_description"]=>
            string(12) "3 months ago"
            ["text"]=>
            string(349) "I love Mary's. Great, cozy dive bar with eccentric decorations and interesting patrons. The bartenders can be hit or miss sometimes. I wish they'd get another bathroom. 

The guy that runs kareoke is awful. Don't bother putting in a song request. He can be bribed to play your song but with so many kareokespots around town what's the point?"
            ["time"]=>
            int(1524328304)
          }
          [3]=>
          object(stdClass)#2266 (8) {
            ["author_name"]=>
            string(16) "Wayne Williamson"
            ["author_url"]=>
            string(65) "https://www.google.com/maps/contrib/117493332989483279035/reviews"
            ["language"]=>
            string(2) "en"
            ["profile_photo_url"]=>
            string(118) "https://lh3.googleusercontent.com/-skuBxc--eko/AAAAAAAAAAI/AAAAAAAAAA4/ha4SO-VQLFM/s128-c0x00000000-cc-rp-mo/photo.jpg"
            ["rating"]=>
            string(1) "5"
            ["relative_time_description"]=>
            string(11) "3 weeks ago"
            ["text"]=>
            string(58) "The best Bar and Bartenders ! Love the friendly atmosphere"
            ["time"]=>
            int(1530554116)
          }
          [4]=>
          object(stdClass)#2267 (8) {
            ["author_name"]=>
            string(11) "Rick OLeary"
            ["author_url"]=>
            string(65) "https://www.google.com/maps/contrib/103776794254015160662/reviews"
            ["language"]=>
            string(2) "en"
            ["profile_photo_url"]=>
            string(145) "https://lh6.googleusercontent.com/-a3L4sBApQ7M/AAAAAAAAAAI/AAAAAAAAAAA/AAnnY7ryL-0jN6S4b8rIrgO8k_DyqNDGyw/s128-c0x00000000-cc-rp-mo-ba2/photo.jpg"
            ["rating"]=>
            string(1) "5"
            ["relative_time_description"]=>
            string(12) "3 months ago"
            ["text"]=>
            string(59) "Went for a friend's birthday party. Great fun. Nice people."
            ["time"]=>
            int(1523105697)
          }
        }
        ["scope"]=>
        string(6) "GOOGLE"
        ["types"]=>
        array(4) {
          [0]=>
          string(10) "night_club"
          [1]=>
          string(3) "bar"
          [2]=>
          string(17) "point_of_interest"
          [3]=>
          string(13) "establishment"
        }
        ["url"]=>
        string(48) "https://maps.google.com/?cid=8751492315461843739"
        ["utc_offset"]=>
        string(4) "-240"
        ["vicinity"]=>
        string(39) "1287 Glenwood Avenue Southeast, Atlanta"
        ["website"]=>
        string(28) "http://www.marysatlanta.com/"
      }
      ["tracker_field_googleOverallRating"]=>
      float(3.9)
      ["tracker_field_businessYelpBusinessData"]=>
      array(0) {
      }
      ["tracker_field_businessYelpBusinessData_json"]=>
      array(0) {
      }
      ["tracker_field_businessFacebook"]=>
      string(12) "marysatlanta"
      ["tracker_field_businessFacebookID"]=>
      string(11) "32300472707"
      ["tracker_field_businessFacebookData"]=>
      array(0) {
      }
      ["tracker_field_businessFacebookData_json"]=>
      array(0) {
      }
      ["tracker_field_businessLoafingID"]=>
      string(24) "573f3d5b1e3ee4dfcf66133f"
      ["tracker_field_businessAccountExecutive"]=>
      string(1) "0"
      ["tracker_field_businessStatusField"]=>
      string(17) "Tier1 After Hours"
      ["tracker_field_businessCLDistributionLocation"]=>
      string(1) "n"
      ["tracker_field_businessAudience"]=>
      array(0) {
      }
      ["tracker_field_businessLegacyID"]=>
      int(1294947)
      ["language"]=>
      string(7) "unknown"
      ["attachments"]=>
      array(1) {
        [0]=>
        string(3) "228"
      }
      ["comment_count"]=>
      int(0)
      ["categories"]=>
      array(2) {
        [0]=>
        int(88)
        [1]=>
        int(100)
      }
      ["deep_categories"]=>
      array(6) {
        [0]=>
        int(28)
        [1]=>
        int(876)
        [2]=>
        int(88)
        [3]=>
        int(1)
        [4]=>
        int(149)
        [5]=>
        int(100)
      }
      ["categories_under_28"]=>
      array(0) {
      }
      ["deep_categories_under_28"]=>
      array(2) {
        [0]=>
        int(876)
        [1]=>
        int(88)
      }
      ["categories_under_1"]=>
      array(0) {
      }
      ["deep_categories_under_1"]=>
      array(2) {
        [0]=>
        int(149)
        [1]=>
        int(100)
      }
      ["categories_under_177"]=>
      array(0) {
      }
      ["deep_categories_under_177"]=>
      array(0) {
      }
      ["categories_under_209"]=>
      array(0) {
      }
      ["deep_categories_under_209"]=>
      array(0) {
      }
      ["categories_under_163"]=>
      array(0) {
      }
      ["deep_categories_under_163"]=>
      array(0) {
      }
      ["categories_under_171"]=>
      array(0) {
      }
      ["deep_categories_under_171"]=>
      array(0) {
      }
      ["categories_under_153"]=>
      array(0) {
      }
      ["deep_categories_under_153"]=>
      array(0) {
      }
      ["categories_under_242"]=>
      array(0) {
      }
      ["deep_categories_under_242"]=>
      array(0) {
      }
      ["categories_under_564"]=>
      array(0) {
      }
      ["deep_categories_under_564"]=>
      array(0) {
      }
      ["freetags"]=>
      array(0) {
      }
      ["geo_located"]=>
      string(1) "y"
      ["geo_location"]=>
      string(25) "-84.3455489,33.7400604,12"
      ["geo_point"]=>
      object(stdClass)#2268 (2) {
        ["lat"]=>
        float(33.7400604)
        ["lon"]=>
        float(-84.3455489)
      }
      ["allowed_groups"]=>
      array(2) {
        [0]=>
        string(6) "Admins"
        [1]=>
        string(9) "Anonymous"
      }
      ["allowed_users"]=>
      array(0) {
      }
      ["relations"]=>
      array(1) {
        [0]=>
        string(25) "tiki.file.attach:file:228"
      }
      ["relation_objects"]=>
      array(0) {
      }
      ["relation_types"]=>
      array(1) {
        [0]=>
        string(16) "tiki.file.attach"
      }
      ["relation_count"]=>
      array(1) {
        [0]=>
        string(18) "tiki.file.attach:1"
      }
      ["title_initial"]=>
      string(1) "M"
      ["title_firstword"]=>
      string(6) "Mary's"
      ["searchable"]=>
      string(1) "y"
      ["url"]=>
      string(8) "item2004"
      ["object_type"]=>
      string(11) "trackeritem"
      ["object_id"]=>
      string(4) "2004"
      ["contents"]=>
      string(545) " 3c264 Urbex Eastatl Mary S  2017-08-19T21:11:05+00:00 3c264_urbex_eastatl_mary_s.jpg     Mary's 1287 Glenwood Ave. S.E.  Atlanta GA 30316 http://www.marysatlanta.com/   (404) 624-4411  -84.3455489,33.7400604,12 display26  A super-fun gay bar with some of the best karaoke (or, as they say, "Maryoke") in town on Tuesday and Saturday nights (but not the first Saturday of each month).    228           n  ChIJ_2YKY1sB9YgRG_upveSLc3k  marysatlanta 32300472707 573f3d5b1e3ee4dfcf66133f       Tier1 After Hours  n  2017-06-26T13:07:15+00:00 Mary's "
      ["score"]=>
      float(0)
      ["_index"]=>
      string(21) "atlantawiki_tiki_main"
      ["objectlink"]=>
      string(297) "Mary's"
      ["image"]=>
      string(39) "

File not found.

"
      ["areaLocation"]=>
      string(34) "-84.3503813,33.7391182,15"
    }
    [48]=>
    array(89) {
      ["title"]=>
      string(9) "Cunt Cave"
      ["modification_date"]=>
      string(25) "2018-03-08T17:00:38+00:00"
      ["creation_date"]=>
      string(25) "2017-07-16T21:30:40+00:00"
      ["contributors"]=>
      array(1) {
        [0]=>
        string(29) "ben.eason@creativeloafing.com"
      }
      ["date"]=>
      string(25) "2017-07-16T21:30:40+00:00"
      ["tracker_status"]=>
      string(1) "o"
      ["tracker_id"]=>
      string(1) "1"
      ["view_permission"]=>
      string(13) "view_trackers"
      ["tracker_field_businessName"]=>
      string(9) "Cunt Cave"
      ["tracker_field_businessAddress"]=>
      string(22) "1089 Fayetteville Road"
      ["tracker_field_businessAddress2"]=>
      string(1) " "
      ["tracker_field_businessCity"]=>
      string(7) "Atlanta"
      ["tracker_field_businessState"]=>
      string(2) "GA"
      ["tracker_field_businessZip"]=>
      string(5) "30316"
      ["tracker_field_businessWebsite"]=>
      string(1) " "
      ["tracker_field_businessPhone"]=>
      string(4) "none"
      ["tracker_field_businessRepresentative"]=>
      array(0) {
      }
      ["tracker_field_businessLocationRadius"]=>
      int(0)
      ["tracker_field_description"]=>
      string(39) "A house venue for primarily live music."
      ["tracker_field_description_raw"]=>
      string(39) "A house venue for primarily live music."
      ["tracker_field_businessClassifieds"]=>
      array(0) {
      }
      ["tracker_field_businessTypes"]=>
      array(1) {
        [0]=>
        string(2) "88"
      }
      ["tracker_field_businessTypes_text"]=>
      string(2) "88"
      ["tracker_field_scene"]=>
      array(0) {
      }
      ["tracker_field_businessNeighborhoods"]=>
      array(2) {
        [0]=>
        string(3) "100"
        [1]=>
        string(3) "149"
      }
      ["tracker_field_businessNeighborhoods_text"]=>
      string(7) "100 149"
      ["tracker_field_businessPriceRange"]=>
      array(0) {
      }
      ["tracker_field_businessMiscCategories"]=>
      array(0) {
      }
      ["tracker_field_businessCLAcctNum"]=>
      int(0)
      ["tracker_field_business_121CurrentChit"]=>
      string(1) "n"
      ["tracker_field_121MobileClientID"]=>
      int(0)
      ["tracker_field_121MobileCampaignData"]=>
      array(0) {
      }
      ["tracker_field_121MobileCampaignData_json"]=>
      array(0) {
      }
      ["tracker_field_googlePlaceData"]=>
      array(0) {
      }
      ["tracker_field_googlePlaceData_json"]=>
      array(0) {
      }
      ["tracker_field_googleOverallRating"]=>
      int(0)
      ["tracker_field_businessYelpBusinessData"]=>
      array(0) {
      }
      ["tracker_field_businessYelpBusinessData_json"]=>
      array(0) {
      }
      ["tracker_field_businessFacebookData"]=>
      array(0) {
      }
      ["tracker_field_businessFacebookData_json"]=>
      array(0) {
      }
      ["tracker_field_businessLoafingID"]=>
      string(24) "573f3cd81e3ee4dfcf65f48d"
      ["tracker_field_businessAccountExecutive"]=>
      string(1) "0"
      ["tracker_field_businessStatusField"]=>
      string(10) "NoGoogleID"
      ["tracker_field_businessCLDistributionLocation"]=>
      string(1) "n"
      ["tracker_field_businessAudience"]=>
      array(0) {
      }
      ["tracker_field_businessLegacyID"]=>
      int(16976695)
      ["language"]=>
      string(7) "unknown"
      ["attachments"]=>
      array(0) {
      }
      ["comment_count"]=>
      int(0)
      ["categories"]=>
      array(2) {
        [0]=>
        int(88)
        [1]=>
        int(100)
      }
      ["deep_categories"]=>
      array(6) {
        [0]=>
        int(28)
        [1]=>
        int(876)
        [2]=>
        int(88)
        [3]=>
        int(1)
        [4]=>
        int(149)
        [5]=>
        int(100)
      }
      ["categories_under_28"]=>
      array(0) {
      }
      ["deep_categories_under_28"]=>
      array(2) {
        [0]=>
        int(876)
        [1]=>
        int(88)
      }
      ["categories_under_1"]=>
      array(0) {
      }
      ["deep_categories_under_1"]=>
      array(2) {
        [0]=>
        int(149)
        [1]=>
        int(100)
      }
      ["categories_under_177"]=>
      array(0) {
      }
      ["deep_categories_under_177"]=>
      array(0) {
      }
      ["categories_under_209"]=>
      array(0) {
      }
      ["deep_categories_under_209"]=>
      array(0) {
      }
      ["categories_under_163"]=>
      array(0) {
      }
      ["deep_categories_under_163"]=>
      array(0) {
      }
      ["categories_under_171"]=>
      array(0) {
      }
      ["deep_categories_under_171"]=>
      array(0) {
      }
      ["categories_under_153"]=>
      array(0) {
      }
      ["deep_categories_under_153"]=>
      array(0) {
      }
      ["categories_under_242"]=>
      array(0) {
      }
      ["deep_categories_under_242"]=>
      array(0) {
      }
      ["categories_under_564"]=>
      array(0) {
      }
      ["deep_categories_under_564"]=>
      array(0) {
      }
      ["freetags"]=>
      array(0) {
      }
      ["geo_located"]=>
      string(1) "n"
      ["allowed_groups"]=>
      array(2) {
        [0]=>
        string(6) "Admins"
        [1]=>
        string(9) "Anonymous"
      }
      ["allowed_users"]=>
      array(0) {
      }
      ["relations"]=>
      array(0) {
      }
      ["relation_objects"]=>
      array(0) {
      }
      ["relation_types"]=>
      array(0) {
      }
      ["relation_count"]=>
      array(0) {
      }
      ["title_initial"]=>
      string(1) "C"
      ["title_firstword"]=>
      string(4) "Cunt"
      ["searchable"]=>
      string(1) "y"
      ["url"]=>
      string(8) "item8701"
      ["object_type"]=>
      string(11) "trackeritem"
      ["object_id"]=>
      string(4) "8701"
      ["contents"]=>
      string(212) "    Cunt Cave 1089 Fayetteville Road   Atlanta GA 30316     none     A house venue for primarily live music.               n      573f3cd81e3ee4dfcf65f48d       NoGoogleID  n  2017-07-16T21:30:40+00:00 Cunt Cave "
      ["score"]=>
      float(0)
      ["_index"]=>
      string(21) "atlantawiki_tiki_main"
      ["objectlink"]=>
      string(187) "Cunt Cave"
      ["image"]=>
      string(39) "

File not found.

"
      ["areaLocation"]=>
      string(34) "-84.3503813,33.7391182,15"
    }
    [49]=>
    array(95) {
      ["title"]=>
      string(16) "Foxy Lady Lounge"
      ["modification_date"]=>
      string(25) "2019-04-25T16:25:43+00:00"
      ["creation_date"]=>
      string(25) "2017-06-26T22:34:43+00:00"
      ["contributors"]=>
      array(2) {
        [0]=>
        NULL
        [1]=>
        string(18) "jonny@nospaces.net"
      }
      ["date"]=>
      string(25) "2017-06-26T22:34:43+00:00"
      ["tracker_status"]=>
      string(1) "o"
      ["tracker_id"]=>
      string(1) "1"
      ["view_permission"]=>
      string(13) "view_trackers"
      ["tracker_field_businessName"]=>
      string(16) "Foxy Lady Lounge"
      ["tracker_field_businessAddress"]=>
      string(18) "1635 Moreland Ave."
      ["tracker_field_businessCity"]=>
      string(7) "Atlanta"
      ["tracker_field_businessState"]=>
      string(2) "GA"
      ["tracker_field_businessZip"]=>
      string(5) "30316"
      ["tracker_field_businessPhone"]=>
      string(14) "(404) 622-9250"
      ["tracker_field_businessRepresentative"]=>
      array(0) {
      }
      ["tracker_field_businessLocation"]=>
      string(39) "-84.34987519999994,33.70939590000005,13"
      ["tracker_field_businessLocationRadius"]=>
      int(0)
      ["tracker_field_description"]=>
      string(72) "Foxy Lady Lounge is an adult entertainment club located in East Atlanta."
      ["tracker_field_description_raw"]=>
      string(72) "Foxy Lady Lounge is an adult entertainment club located in East Atlanta."
      ["tracker_field_businessClassifieds"]=>
      array(0) {
      }
      ["tracker_field_businessTypes"]=>
      array(1) {
        [0]=>
        string(2) "88"
      }
      ["tracker_field_businessTypes_text"]=>
      string(2) "88"
      ["tracker_field_scene"]=>
      array(0) {
      }
      ["tracker_field_businessNeighborhoods"]=>
      array(2) {
        [0]=>
        string(3) "100"
        [1]=>
        string(3) "149"
      }
      ["tracker_field_businessNeighborhoods_text"]=>
      string(7) "100 149"
      ["tracker_field_businessPriceRange"]=>
      array(0) {
      }
      ["tracker_field_businessMiscCategories"]=>
      array(0) {
      }
      ["tracker_field_businessCLAcctNum"]=>
      int(0)
      ["tracker_field_business_121CurrentChit"]=>
      string(1) "n"
      ["tracker_field_121MobileClientID"]=>
      int(0)
      ["tracker_field_121MobileCampaignData"]=>
      array(0) {
      }
      ["tracker_field_121MobileCampaignData_json"]=>
      array(0) {
      }
      ["tracker_field_google_placeid"]=>
      string(27) "ChIJJ2FhoIEB9YgRcwzsBp4kEIc"
      ["tracker_field_googlePlaceData"]=>
      array(14) {
        [0]=>
        string(210) "

1635 Moreland Ave SE

, 

Atlanta

, 

GA

 

30316-3130

, 

USA

"
        [1]=>
        string(44) "1635 Moreland Ave SE, Atlanta, GA 30316, USA"
        [2]=>
        string(14) "(404) 622-9250"
        [3]=>
        string(73) "https://maps.gstatic.com/mapfiles/place_api/icons/generic_business-71.png"
        [4]=>
        string(40) "83d721c839a95bb8194c2e84354b7be0b7b144d8"
        [5]=>
        string(15) "+1 404-622-9250"
        [6]=>
        string(16) "Foxy Lady Lounge"
        [7]=>
        string(27) "ChIJJ2FhoIEB9YgRcwzsBp4kEIc"
        [8]=>
        string(3) "2.8"
        [9]=>
        string(190) "CmRSAAAAYFUsE5P9rfR3Y47Uj_8rz6y7yjp9ELpAypi_Ooel6Rvu_xzeRVu2cMRroqzu_jaZcriVRnSeEQkD9ymi77b_RLQBN5Iymoga0ZQXjJvRw5RwHKwtR7i9ppw4L1dz_kvGEhCaNFHSK4_U2csP2MMApz8aGhQR2JxcoLdZ_qYjY-YK-IADPKp2lQ"
        [10]=>
        string(6) "GOOGLE"
        [11]=>
        string(48) "https://maps.google.com/?cid=9732319055887207539"
        [12]=>
        string(4) "-300"
        [13]=>
        string(39) "1635 Moreland Avenue Southeast, Atlanta"
      }
      ["tracker_field_googlePlaceData_text"]=>
      string(581) "1635 Moreland Ave SE, Atlanta, GA 30316-3130, USA 1635 Moreland Ave SE, Atlanta, GA 30316, USA (404) 622-9250 https://maps.gstatic.com/mapfiles/place_api/icons/generic_business-71.png 83d721c839a95bb8194c2e84354b7be0b7b144d8 +1 404-622-9250 Foxy Lady Lounge ChIJJ2FhoIEB9YgRcwzsBp4kEIc 2.8 CmRSAAAAYFUsE5P9rfR3Y47Uj_8rz6y7yjp9ELpAypi_Ooel6Rvu_xzeRVu2cMRroqzu_jaZcriVRnSeEQkD9ymi77b_RLQBN5Iymoga0ZQXjJvRw5RwHKwtR7i9ppw4L1dz_kvGEhCaNFHSK4_U2csP2MMApz8aGhQR2JxcoLdZ_qYjY-YK-IADPKp2lQ GOOGLE https://maps.google.com/?cid=9732319055887207539 -300 1635 Moreland Avenue Southeast, Atlanta"
      ["tracker_field_googlePlaceData_json"]=>
      object(stdClass)#2282 (19) {
        ["address_components"]=>
        array(9) {
          [0]=>
          object(stdClass)#2273 (3) {
            ["long_name"]=>
            string(4) "1635"
            ["short_name"]=>
            string(4) "1635"
            ["types"]=>
            array(1) {
              [0]=>
              string(13) "street_number"
            }
          }
          [1]=>
          object(stdClass)#2274 (3) {
            ["long_name"]=>
            string(25) "Moreland Avenue Southeast"
            ["short_name"]=>
            string(15) "Moreland Ave SE"
            ["types"]=>
            array(1) {
              [0]=>
              string(5) "route"
            }
          }
          [2]=>
          object(stdClass)#2275 (3) {
            ["long_name"]=>
            string(22) "Custer/McDonough/Guice"
            ["short_name"]=>
            string(22) "Custer/McDonough/Guice"
            ["types"]=>
            array(2) {
              [0]=>
              string(12) "neighborhood"
              [1]=>
              string(9) "political"
            }
          }
          [3]=>
          object(stdClass)#2276 (3) {
            ["long_name"]=>
            string(7) "Atlanta"
            ["short_name"]=>
            string(7) "Atlanta"
            ["types"]=>
            array(2) {
              [0]=>
              string(8) "locality"
              [1]=>
              string(9) "political"
            }
          }
          [4]=>
          object(stdClass)#2277 (3) {
            ["long_name"]=>
            string(13) "Fulton County"
            ["short_name"]=>
            string(13) "Fulton County"
            ["types"]=>
            array(2) {
              [0]=>
              string(27) "administrative_area_level_2"
              [1]=>
              string(9) "political"
            }
          }
          [5]=>
          object(stdClass)#2278 (3) {
            ["long_name"]=>
            string(7) "Georgia"
            ["short_name"]=>
            string(2) "GA"
            ["types"]=>
            array(2) {
              [0]=>
              string(27) "administrative_area_level_1"
              [1]=>
              string(9) "political"
            }
          }
          [6]=>
          object(stdClass)#2279 (3) {
            ["long_name"]=>
            string(13) "United States"
            ["short_name"]=>
            string(2) "US"
            ["types"]=>
            array(2) {
              [0]=>
              string(7) "country"
              [1]=>
              string(9) "political"
            }
          }
          [7]=>
          object(stdClass)#2280 (3) {
            ["long_name"]=>
            string(5) "30316"
            ["short_name"]=>
            string(5) "30316"
            ["types"]=>
            array(1) {
              [0]=>
              string(11) "postal_code"
            }
          }
          [8]=>
          object(stdClass)#2281 (3) {
            ["long_name"]=>
            string(4) "3130"
            ["short_name"]=>
            string(4) "3130"
            ["types"]=>
            array(1) {
              [0]=>
              string(18) "postal_code_suffix"
            }
          }
        }
        ["adr_address"]=>
        string(210) "

1635 Moreland Ave SE

, 

Atlanta

, 

GA

 

30316-3130

, 

USA

"
        ["formatted_address"]=>
        string(44) "1635 Moreland Ave SE, Atlanta, GA 30316, USA"
        ["formatted_phone_number"]=>
        string(14) "(404) 622-9250"
        ["geometry"]=>
        object(stdClass)#2284 (2) {
          ["location"]=>
          object(stdClass)#2283 (2) {
            ["lat"]=>
            string(10) "33.7093959"
            ["lng"]=>
            string(11) "-84.3498752"
          }
          ["viewport"]=>
          object(stdClass)#2286 (2) {
            ["northeast"]=>
            object(stdClass)#2285 (2) {
              ["lat"]=>
              string(15) "33.710744130291"
              ["lng"]=>
              string(16) "-84.348367469708"
            }
            ["southwest"]=>
            object(stdClass)#2287 (2) {
              ["lat"]=>
              string(15) "33.708046169709"
              ["lng"]=>
              string(16) "-84.351065430291"
            }
          }
        }
        ["icon"]=>
        string(73) "https://maps.gstatic.com/mapfiles/place_api/icons/generic_business-71.png"
        ["id"]=>
        string(40) "83d721c839a95bb8194c2e84354b7be0b7b144d8"
        ["international_phone_number"]=>
        string(15) "+1 404-622-9250"
        ["name"]=>
        string(16) "Foxy Lady Lounge"
        ["opening_hours"]=>
        object(stdClass)#2288 (3) {
          ["open_now"]=>
          string(1) "1"
          ["periods"]=>
          array(6) {
            [0]=>
            object(stdClass)#2290 (2) {
              ["close"]=>
              object(stdClass)#2289 (2) {
                ["day"]=>
                string(1) "2"
                ["time"]=>
                string(4) "0305"
              }
              ["open"]=>
              object(stdClass)#2291 (2) {
                ["day"]=>
                string(1) "1"
                ["time"]=>
                string(4) "1200"
              }
            }
            [1]=>
            object(stdClass)#2293 (2) {
              ["close"]=>
              object(stdClass)#2292 (2) {
                ["day"]=>
                string(1) "3"
                ["time"]=>
                string(4) "0305"
              }
              ["open"]=>
              object(stdClass)#2294 (2) {
                ["day"]=>
                string(1) "2"
                ["time"]=>
                string(4) "1200"
              }
            }
            [2]=>
            object(stdClass)#2296 (2) {
              ["close"]=>
              object(stdClass)#2295 (2) {
                ["day"]=>
                string(1) "4"
                ["time"]=>
                string(4) "0305"
              }
              ["open"]=>
              object(stdClass)#2297 (2) {
                ["day"]=>
                string(1) "3"
                ["time"]=>
                string(4) "1200"
              }
            }
            [3]=>
            object(stdClass)#2299 (2) {
              ["close"]=>
              object(stdClass)#2298 (2) {
                ["day"]=>
                string(1) "5"
                ["time"]=>
                string(4) "0305"
              }
              ["open"]=>
              object(stdClass)#2300 (2) {
                ["day"]=>
                string(1) "4"
                ["time"]=>
                string(4) "1200"
              }
            }
            [4]=>
            object(stdClass)#2302 (2) {
              ["close"]=>
              object(stdClass)#2301 (2) {
                ["day"]=>
                string(1) "6"
                ["time"]=>
                string(4) "0305"
              }
              ["open"]=>
              object(stdClass)#2303 (2) {
                ["day"]=>
                string(1) "5"
                ["time"]=>
                string(4) "1200"
              }
            }
            [5]=>
            object(stdClass)#2305 (2) {
              ["close"]=>
              object(stdClass)#2304 (2) {
                ["day"]=>
                int(0)
                ["time"]=>
                string(4) "0305"
              }
              ["open"]=>
              object(stdClass)#2306 (2) {
                ["day"]=>
                string(1) "6"
                ["time"]=>
                string(4) "1200"
              }
            }
          }
          ["weekday_text"]=>
          array(7) {
            [0]=>
            string(28) "Monday: 12:00 PM – 3:05 AM"
            [1]=>
            string(29) "Tuesday: 12:00 PM – 3:05 AM"
            [2]=>
            string(31) "Wednesday: 12:00 PM – 3:05 AM"
            [3]=>
            string(30) "Thursday: 12:00 PM – 3:05 AM"
            [4]=>
            string(28) "Friday: 12:00 PM – 3:05 AM"
            [5]=>
            string(30) "Saturday: 12:00 PM – 3:05 AM"
            [6]=>
            string(14) "Sunday: Closed"
          }
        }
        ["place_id"]=>
        string(27) "ChIJJ2FhoIEB9YgRcwzsBp4kEIc"
        ["rating"]=>
        string(3) "2.8"
        ["reference"]=>
        string(190) "CmRSAAAAYFUsE5P9rfR3Y47Uj_8rz6y7yjp9ELpAypi_Ooel6Rvu_xzeRVu2cMRroqzu_jaZcriVRnSeEQkD9ymi77b_RLQBN5Iymoga0ZQXjJvRw5RwHKwtR7i9ppw4L1dz_kvGEhCaNFHSK4_U2csP2MMApz8aGhQR2JxcoLdZ_qYjY-YK-IADPKp2lQ"
        ["reviews"]=>
        array(5) {
          [0]=>
          object(stdClass)#2307 (8) {
            ["author_name"]=>
            string(12) "Silver Stone"
            ["author_url"]=>
            string(65) "https://www.google.com/maps/contrib/118204794116093123411/reviews"
            ["language"]=>
            string(2) "en"
            ["profile_photo_url"]=>
            string(141) "https://lh5.googleusercontent.com/-yyBT-rR8A90/AAAAAAAAAAI/AAAAAAAAAAA/AGi4gfxpoHLUWPVvB9qUO9rme4Zx6lSjjw/s128-c0x00000000-cc-rp-mo/photo.jpg"
            ["rating"]=>
            string(1) "5"
            ["relative_time_description"]=>
            string(11) "a month ago"
            ["text"]=>
            string(253) "When I first walked in I wasnt sure. But when the Dj called jamaica I fell in love. She is by far the baddest, down to earth girl in the club. She's a crowd pleasure and she know how to entertain. To bad Im married.. I will b back for her and only her.."
            ["time"]=>
            int(1516616781)
          }
          [1]=>
          object(stdClass)#2308 (8) {
            ["author_name"]=>
            string(12) "Ricky Fulton"
            ["author_url"]=>
            string(65) "https://www.google.com/maps/contrib/101911551900207136030/reviews"
            ["language"]=>
            string(2) "en"
            ["profile_photo_url"]=>
            string(118) "https://lh3.googleusercontent.com/-59wk3XWP9PQ/AAAAAAAAAAI/AAAAAAAAEUI/-3VnAC7OpmI/s128-c0x00000000-cc-rp-mo/photo.jpg"
            ["rating"]=>
            string(1) "1"
            ["relative_time_description"]=>
            string(12) "8 months ago"
            ["text"]=>
            string(116) "Sad, it's  ashame . I remeber in the '90's whem i had girls dancing in her it was great. Now it's like wth happened."
            ["time"]=>
            int(1498890809)
          }
          [2]=>
          object(stdClass)#2309 (8) {
            ["author_name"]=>
            string(11) "Ervie Brown"
            ["author_url"]=>
            string(65) "https://www.google.com/maps/contrib/101630227475860310460/reviews"
            ["language"]=>
            string(2) "en"
            ["profile_photo_url"]=>
            string(118) "https://lh6.googleusercontent.com/-2lavepNEMwM/AAAAAAAAAAI/AAAAAAAABqQ/n4XxeONrlfY/s128-c0x00000000-cc-rp-mo/photo.jpg"
            ["rating"]=>
            string(1) "1"
            ["relative_time_description"]=>
            string(10) "a year ago"
            ["text"]=>
            string(872) "This isn't a real strip club nor a lounge in my opinion, Foxy Lady is nothing more than a hole in the wall establishment that needs to be over hauled ASAP!  Here's the problem with this strip club, most of the women are ugly (but not Pin Ups ugly!), they are over weight when I first came inside of here.  I noticed that most of the women had guts and they was wearing one piece attire.  Even the skinny women had big guts, and most of the women didn't have attractive looking bodies at all.  There whole demeanor showed that they was lazy, stank attitude and worn out from life itself. The DJ had the music blasted up incredibly loud and on top of that he couldn't DJ at all!  The dude kept playing sirens and man that crap was hurting my ears like crazy. I was inside of this place for 15 minutes before I decided to hit the door and I want never return here ever again."
            ["time"]=>
            int(1474916576)
          }
          [3]=>
          object(stdClass)#2310 (8) {
            ["author_name"]=>
            string(10) "Tony Brown"
            ["author_url"]=>
            string(65) "https://www.google.com/maps/contrib/105970972098399488072/reviews"
            ["language"]=>
            string(2) "en"
            ["profile_photo_url"]=>
            string(118) "https://lh4.googleusercontent.com/-BeouLYukTno/AAAAAAAAAAI/AAAAAAAAALA/K1uvjDQSTZc/s128-c0x00000000-cc-rp-mo/photo.jpg"
            ["rating"]=>
            string(1) "1"
            ["relative_time_description"]=>
            string(11) "2 years ago"
            ["text"]=>
            string(542) "This club has been in business for years.  With that said,  it's about time for one if the original strip clubs in the city to ascend to its proper place within the ATL adult landscape or change its name to the VIP club.  
Sadly,  every girl in the club have no idea how to the be seductive or alluring.  After asking your name,  the next question is "Do you want to go to the VIP???"  Absolutely Gutter and trashy.  I hate to say it,  because I've spent a lot of time in this place. But Foxy Lady needs to up its game or close its doors.  
 "
            ["time"]=>
            int(1450277275)
          }
          [4]=>
          object(stdClass)#2311 (8) {
            ["author_name"]=>
            string(15) "Tomáso Viciano"
            ["author_url"]=>
            string(65) "https://www.google.com/maps/contrib/100755720816444653462/reviews"
            ["language"]=>
            string(2) "en"
            ["profile_photo_url"]=>
            string(122) "https://lh5.googleusercontent.com/-6vzLuJPZkzM/AAAAAAAAAAI/AAAAAAAAKF4/44b6ks6OhWE/s128-c0x00000000-cc-rp-mo-ba4/photo.jpg"
            ["rating"]=>
            string(1) "1"
            ["relative_time_description"]=>
            string(12) "8 months ago"
            ["text"]=>
            string(49) "The women are mediocre and not really that many. "
            ["time"]=>
            int(1498941853)
          }
        }
        ["scope"]=>
        string(6) "GOOGLE"
        ["types"]=>
        array(3) {
          [0]=>
          string(10) "night_club"
          [1]=>
          string(17) "point_of_interest"
          [2]=>
          string(13) "establishment"
        }
        ["url"]=>
        string(48) "https://maps.google.com/?cid=9732319055887207539"
        ["utc_offset"]=>
        string(4) "-300"
        ["vicinity"]=>
        string(39) "1635 Moreland Avenue Southeast, Atlanta"
      }
      ["tracker_field_googleOverallRating"]=>
      float(2.9)
      ["tracker_field_businessYelpBusinessData"]=>
      array(0) {
      }
      ["tracker_field_businessYelpBusinessData_json"]=>
      array(0) {
      }
      ["tracker_field_businessFacebook"]=>
      string(16) "Foxy Lady Lounge"
      ["tracker_field_businessFacebookID"]=>
      string(15) "116050425081935"
      ["tracker_field_businessFacebookData"]=>
      array(2) {
        [0]=>
        string(15) "116050425081935"
        [1]=>
        string(16) "Foxy Lady Lounge"
      }
      ["tracker_field_businessFacebookData_text"]=>
      string(32) "116050425081935 Foxy Lady Lounge"
      ["tracker_field_businessFacebookData_json"]=>
      object(stdClass)#2312 (2) {
        ["id"]=>
        string(15) "116050425081935"
        ["name"]=>
        string(16) "Foxy Lady Lounge"
      }
      ["tracker_field_businessLoafingID"]=>
      string(24) "573f3d5b1e3ee4dfcf661350"
      ["tracker_field_businessAccountExecutive"]=>
      string(1) "0"
      ["tracker_field_businessStatusField"]=>
      string(4) "Done"
      ["tracker_field_businessCLDistributionLocation"]=>
      string(1) "n"
      ["tracker_field_businessAudience"]=>
      array(0) {
      }
      ["tracker_field_businessLegacyID"]=>
      int(1294830)
      ["language"]=>
      string(7) "unknown"
      ["attachments"]=>
      array(0) {
      }
      ["comment_count"]=>
      int(0)
      ["categories"]=>
      array(3) {
        [0]=>
        int(88)
        [1]=>
        int(100)
        [2]=>
        int(149)
      }
      ["deep_categories"]=>
      array(6) {
        [0]=>
        int(28)
        [1]=>
        int(876)
        [2]=>
        int(88)
        [3]=>
        int(1)
        [4]=>
        int(149)
        [5]=>
        int(100)
      }
      ["categories_under_28"]=>
      array(0) {
      }
      ["deep_categories_under_28"]=>
      array(2) {
        [0]=>
        int(876)
        [1]=>
        int(88)
      }
      ["categories_under_1"]=>
      array(1) {
        [0]=>
        int(149)
      }
      ["deep_categories_under_1"]=>
      array(2) {
        [0]=>
        int(149)
        [1]=>
        int(100)
      }
      ["categories_under_177"]=>
      array(0) {
      }
      ["deep_categories_under_177"]=>
      array(0) {
      }
      ["categories_under_209"]=>
      array(0) {
      }
      ["deep_categories_under_209"]=>
      array(0) {
      }
      ["categories_under_163"]=>
      array(0) {
      }
      ["deep_categories_under_163"]=>
      array(0) {
      }
      ["categories_under_171"]=>
      array(0) {
      }
      ["deep_categories_under_171"]=>
      array(0) {
      }
      ["categories_under_153"]=>
      array(0) {
      }
      ["deep_categories_under_153"]=>
      array(0) {
      }
      ["categories_under_242"]=>
      array(0) {
      }
      ["deep_categories_under_242"]=>
      array(0) {
      }
      ["categories_under_564"]=>
      array(0) {
      }
      ["deep_categories_under_564"]=>
      array(0) {
      }
      ["freetags"]=>
      array(0) {
      }
      ["geo_located"]=>
      string(1) "y"
      ["geo_location"]=>
      string(39) "-84.34987519999994,33.70939590000005,13"
      ["geo_point"]=>
      object(stdClass)#2313 (2) {
        ["lat"]=>
        float(33.7093959)
        ["lon"]=>
        float(-84.3498752)
      }
      ["allowed_groups"]=>
      array(2) {
        [0]=>
        string(6) "Admins"
        [1]=>
        string(9) "Anonymous"
      }
      ["allowed_users"]=>
      array(0) {
      }
      ["relations"]=>
      array(0) {
      }
      ["relation_objects"]=>
      array(0) {
      }
      ["relation_types"]=>
      array(0) {
      }
      ["relation_count"]=>
      array(0) {
      }
      ["title_initial"]=>
      string(1) "F"
      ["title_firstword"]=>
      string(4) "Foxy"
      ["searchable"]=>
      string(1) "y"
      ["url"]=>
      string(8) "item3066"
      ["object_type"]=>
      string(11) "trackeritem"
      ["object_id"]=>
      string(4) "3066"
      ["contents"]=>
      string(354) "    Foxy Lady Lounge 1635 Moreland Ave.  Atlanta GA 30316    (404) 622-9250  -84.34987519999994,33.70939590000005,13   Foxy Lady Lounge is an adult entertainment club located in East Atlanta.               n  ChIJJ2FhoIEB9YgRcwzsBp4kEIc  Foxy Lady Lounge 116050425081935 573f3d5b1e3ee4dfcf661350       Done  n  2017-06-26T22:34:43+00:00 Foxy Lady Lounge "
      ["score"]=>
      float(0)
      ["_index"]=>
      string(21) "atlantawiki_tiki_main"
      ["objectlink"]=>
      string(290) "Foxy Lady Lounge"
      ["image"]=>
      string(39) "

File not found.

"
      ["areaLocation"]=>
      string(34) "-84.3503813,33.7391182,15"
    }
    [50]=>
    array(91) {
      ["title"]=>
      string(35) "East Atlanta Village Farmers Market"
      ["modification_date"]=>
      string(25) "2018-03-08T16:51:20+00:00"
      ["creation_date"]=>
      string(25) "2017-07-16T16:20:45+00:00"
      ["contributors"]=>
      array(1) {
        [0]=>
        string(29) "ben.eason@creativeloafing.com"
      }
      ["date"]=>
      string(25) "2017-07-16T16:20:45+00:00"
      ["tracker_status"]=>
      string(1) "o"
      ["tracker_id"]=>
      string(1) "1"
      ["view_permission"]=>
      string(13) "view_trackers"
      ["tracker_field_businessName"]=>
      string(35) "East Atlanta Village Farmers Market"
      ["tracker_field_businessAddress"]=>
      string(25) " 572 Stokeswood Ave. S.E."
      ["tracker_field_businessCity"]=>
      string(7) "Atlanta"
      ["tracker_field_businessState"]=>
      string(2) "GA"
      ["tracker_field_businessZip"]=>
      string(5) "30316"
      ["tracker_field_businessWebsite"]=>
      string(10) "cfmatl.org"
      ["tracker_field_businessRepresentative"]=>
      array(0) {
      }
      ["tracker_field_businessLocation"]=>
      string(25) "-84.3469051,33.7387458,12"
      ["tracker_field_businessLocationRadius"]=>
      int(0)
      ["tracker_field_businessIcon"]=>
      string(9) "display26"
      ["tracker_field_description"]=>
      string(386) "An annoying thing about farmers markets: being forced to get up early (like, before noon) on a weekend morning. By operating 4-8 p.m. on Thursdays, the EAV Farmers Market eliminates the necessity to get up at a normal human being hour on a Saturday. You'll find locally grown produce, homegrown art, and occasionally music. The market runs April-December. Ready your reusable tote bags."
      ["tracker_field_description_raw"]=>
      string(386) "An annoying thing about farmers markets: being forced to get up early (like, before noon) on a weekend morning. By operating 4-8 p.m. on Thursdays, the EAV Farmers Market eliminates the necessity to get up at a normal human being hour on a Saturday. You'll find locally grown produce, homegrown art, and occasionally music. The market runs April-December. Ready your reusable tote bags."
      ["tracker_field_businessClassifieds"]=>
      array(0) {
      }
      ["tracker_field_businessTypes"]=>
      array(2) {
        [0]=>
        string(2) "85"
        [1]=>
        string(2) "89"
      }
      ["tracker_field_businessTypes_text"]=>
      string(5) "85 89"
      ["tracker_field_scene"]=>
      array(0) {
      }
      ["tracker_field_businessNeighborhoods"]=>
      array(2) {
        [0]=>
        string(3) "149"
        [1]=>
        string(3) "100"
      }
      ["tracker_field_businessNeighborhoods_text"]=>
      string(7) "149 100"
      ["tracker_field_businessPriceRange"]=>
      array(0) {
      }
      ["tracker_field_businessMiscCategories"]=>
      array(0) {
      }
      ["tracker_field_businessCLAcctNum"]=>
      int(0)
      ["tracker_field_business_121CurrentChit"]=>
      string(1) "n"
      ["tracker_field_121MobileClientID"]=>
      int(0)
      ["tracker_field_121MobileCampaignData"]=>
      array(0) {
      }
      ["tracker_field_121MobileCampaignData_json"]=>
      array(0) {
      }
      ["tracker_field_googlePlaceData"]=>
      array(0) {
      }
      ["tracker_field_googlePlaceData_json"]=>
      array(0) {
      }
      ["tracker_field_googleOverallRating"]=>
      int(0)
      ["tracker_field_businessYelpBusinessData"]=>
      array(0) {
      }
      ["tracker_field_businessYelpBusinessData_json"]=>
      array(0) {
      }
      ["tracker_field_businessFacebookData"]=>
      array(0) {
      }
      ["tracker_field_businessFacebookData_json"]=>
      array(0) {
      }
      ["tracker_field_businessLoafingID"]=>
      string(24) "573f3d4b1e3ee4dfcf660376"
      ["tracker_field_businessAccountExecutive"]=>
      string(1) "0"
      ["tracker_field_businessStatusField"]=>
      string(20) "Multiple Differences"
      ["tracker_field_businessCLDistributionLocation"]=>
      string(1) "n"
      ["tracker_field_businessAudience"]=>
      array(0) {
      }
      ["tracker_field_businessLegacyID"]=>
      int(1393737)
      ["language"]=>
      string(7) "unknown"
      ["attachments"]=>
      array(0) {
      }
      ["comment_count"]=>
      int(0)
      ["categories"]=>
      array(3) {
        [0]=>
        int(85)
        [1]=>
        int(89)
        [2]=>
        int(100)
      }
      ["deep_categories"]=>
      array(6) {
        [0]=>
        int(28)
        [1]=>
        int(85)
        [2]=>
        int(89)
        [3]=>
        int(1)
        [4]=>
        int(149)
        [5]=>
        int(100)
      }
      ["categories_under_28"]=>
      array(2) {
        [0]=>
        int(85)
        [1]=>
        int(89)
      }
      ["deep_categories_under_28"]=>
      array(2) {
        [0]=>
        int(85)
        [1]=>
        int(89)
      }
      ["categories_under_1"]=>
      array(0) {
      }
      ["deep_categories_under_1"]=>
      array(2) {
        [0]=>
        int(149)
        [1]=>
        int(100)
      }
      ["categories_under_177"]=>
      array(0) {
      }
      ["deep_categories_under_177"]=>
      array(0) {
      }
      ["categories_under_209"]=>
      array(0) {
      }
      ["deep_categories_under_209"]=>
      array(0) {
      }
      ["categories_under_163"]=>
      array(0) {
      }
      ["deep_categories_under_163"]=>
      array(0) {
      }
      ["categories_under_171"]=>
      array(0) {
      }
      ["deep_categories_under_171"]=>
      array(0) {
      }
      ["categories_under_153"]=>
      array(0) {
      }
      ["deep_categories_under_153"]=>
      array(0) {
      }
      ["categories_under_242"]=>
      array(0) {
      }
      ["deep_categories_under_242"]=>
      array(0) {
      }
      ["categories_under_564"]=>
      array(0) {
      }
      ["deep_categories_under_564"]=>
      array(0) {
      }
      ["freetags"]=>
      array(0) {
      }
      ["geo_located"]=>
      string(1) "y"
      ["geo_location"]=>
      string(25) "-84.3469051,33.7387458,12"
      ["geo_point"]=>
      object(stdClass)#2316 (2) {
        ["lat"]=>
        float(33.7387458)
        ["lon"]=>
        float(-84.3469051)
      }
      ["allowed_groups"]=>
      array(2) {
        [0]=>
        string(6) "Admins"
        [1]=>
        string(9) "Anonymous"
      }
      ["allowed_users"]=>
      array(0) {
      }
      ["relations"]=>
      array(0) {
      }
      ["relation_objects"]=>
      array(0) {
      }
      ["relation_types"]=>
      array(0) {
      }
      ["relation_count"]=>
      array(0) {
      }
      ["title_initial"]=>
      string(1) "E"
      ["title_firstword"]=>
      string(4) "East"
      ["searchable"]=>
      string(1) "y"
      ["url"]=>
      string(8) "item4833"
      ["object_type"]=>
      string(11) "trackeritem"
      ["object_id"]=>
      string(4) "4833"
      ["contents"]=>
      string(662) "    East Atlanta Village Farmers Market  572 Stokeswood Ave. S.E.  Atlanta GA 30316 cfmatl.org     -84.3469051,33.7387458,12 display26  An annoying thing about farmers markets: being forced to get up early (like, before noon) on a weekend morning. By operating 4-8 p.m. on Thursdays, the EAV Farmers Market eliminates the necessity to get up at a normal human being hour on a Saturday. You'll find locally grown produce, homegrown art, and occasionally music. The market runs April-December. Ready your reusable tote bags.               n      573f3d4b1e3ee4dfcf660376       Multiple Differences  n  2017-07-16T16:20:45+00:00 East Atlanta Village Farmers Market "
      ["score"]=>
      float(0)
      ["_index"]=>
      string(21) "atlantawiki_tiki_main"
      ["objectlink"]=>
      string(321) "East Atlanta Village Farmers Market"
      ["image"]=>
      string(39) "

File not found.

"
      ["areaLocation"]=>
      string(34) "-84.3503813,33.7391182,15"
    }
    [51]=>
    array(105) {
      ["title"]=>
      string(8) "The Earl"
      ["modification_date"]=>
      string(25) "2019-10-09T16:13:58+00:00"
      ["creation_date"]=>
      string(25) "2017-06-26T13:07:15+00:00"
      ["contributors"]=>
      array(2) {
        [0]=>
        NULL
        [1]=>
        string(30) "jim.harris@creativeloafing.com"
      }
      ["date"]=>
      string(25) "2017-06-26T13:07:15+00:00"
      ["tracker_status"]=>
      string(1) "o"
      ["tracker_id"]=>
      string(1) "1"
      ["view_permission"]=>
      string(13) "view_trackers"
      ["tracker_field_businessName"]=>
      string(8) "The Earl"
      ["tracker_field_businessAddress"]=>
      string(25) "488 Flat Shoals Ave. S.E."
      ["tracker_field_businessCity"]=>
      string(7) "Atlanta"
      ["tracker_field_businessState"]=>
      string(2) "GA"
      ["tracker_field_businessZip"]=>
      string(5) "30316"
      ["tracker_field_businessWebsite"]=>
      string(22) "http://www.badearl.com"
      ["tracker_field_businessEmail"]=>
      string(16) "info@badearl.com"
      ["tracker_field_businessEmail_text"]=>
      string(16) "info@badearl.com"
      ["tracker_field_businessPhone"]=>
      string(12) "404-522-3950"
      ["tracker_field_businessRepresentative"]=>
      array(0) {
      }
      ["tracker_field_businessLocation"]=>
      string(23) "-84.3459247,33.74098,17"
      ["tracker_field_businessLocationRadius"]=>
      int(0)
      ["tracker_field_businessIcon"]=>
      string(9) "display26"
      ["tracker_field_description"]=>
      string(139) "East Atlanta staple for local and up-and-coming rock bands, as well as nationally established indie acts, and grub for the hipster-PBR set."
      ["tracker_field_description_raw"]=>
      string(139) "East Atlanta staple for local and up-and-coming rock bands, as well as nationally established indie acts, and grub for the hipster-PBR set."
      ["tracker_field_photos"]=>
      string(5) "18777"
      ["tracker_field_businessTwitter"]=>
      string(10) "@EARL_EAV "
      ["tracker_field_businessInstagram"]=>
      string(8) "@badearl"
      ["tracker_field_businessClassifieds"]=>
      array(0) {
      }
      ["tracker_field_businessTypes"]=>
      array(4) {
        [0]=>
        string(2) "85"
        [1]=>
        string(2) "88"
        [2]=>
        string(3) "513"
        [3]=>
        string(3) "787"
      }
      ["tracker_field_businessTypes_text"]=>
      string(13) "85 88 513 787"
      ["tracker_field_scene"]=>
      array(1) {
        [0]=>
        string(3) "748"
      }
      ["tracker_field_scene_text"]=>
      string(3) "748"
      ["tracker_field_businessNeighborhoods"]=>
      array(1) {
        [0]=>
        string(3) "100"
      }
      ["tracker_field_businessNeighborhoods_text"]=>
      string(3) "100"
      ["tracker_field_businessPriceRange"]=>
      array(0) {
      }
      ["tracker_field_businessMiscCategories"]=>
      array(0) {
      }
      ["tracker_field_businessFreeTags"]=>
      string(10) ""the earl""
      ["tracker_field_businessCLAcctNum"]=>
      int(0)
      ["tracker_field_business_121CurrentChit"]=>
      string(1) "n"
      ["tracker_field_121MobileClientID"]=>
      int(0)
      ["tracker_field_121MobileCampaignData"]=>
      array(0) {
      }
      ["tracker_field_121MobileCampaignData_json"]=>
      array(0) {
      }
      ["tracker_field_googlePlaceData"]=>
      array(0) {
      }
      ["tracker_field_googlePlaceData_json"]=>
      array(0) {
      }
      ["tracker_field_googleOverallRating"]=>
      float(4.4)
      ["tracker_field_businessYelpBusinessData"]=>
      array(0) {
      }
      ["tracker_field_businessYelpBusinessData_json"]=>
      array(0) {
      }
      ["tracker_field_businessFacebook"]=>
      string(7) "EARLeav"
      ["tracker_field_businessFacebookData"]=>
      array(0) {
      }
      ["tracker_field_businessFacebookData_json"]=>
      array(0) {
      }
      ["tracker_field_businessLoafingID"]=>
      string(24) "573f3d4d1e3ee4dfcf6605b3"
      ["tracker_field_businessAccountExecutive"]=>
      string(1) "0"
      ["tracker_field_businessInternalNotes"]=>
      string(42) "ChIJb1DZdlsB9YgRceexPKAJVS8

49818306637"
      ["tracker_field_businessInternalNotes_raw"]=>
      string(42) "ChIJb1DZdlsB9YgRceexPKAJVS8

49818306637"
      ["tracker_field_businessStatusField"]=>
      string(5) "Tier1"
      ["tracker_field_businessEventInfoSource"]=>
      string(9) " Facebook"
      ["tracker_field_businessEventInfoSource_text"]=>
      string(9) " Facebook"
      ["tracker_field_businessCLDistributionLocation"]=>
      string(1) "n"
      ["tracker_field_businessAudience"]=>
      array(0) {
      }
      ["tracker_field_businessLegacyID"]=>
      int(1304975)
      ["language"]=>
      string(7) "unknown"
      ["attachments"]=>
      array(1) {
        [0]=>
        string(5) "18777"
      }
      ["comment_count"]=>
      int(0)
      ["categories"]=>
      array(6) {
        [0]=>
        int(85)
        [1]=>
        int(88)
        [2]=>
        int(100)
        [3]=>
        int(513)
        [4]=>
        int(748)
        [5]=>
        int(787)
      }
      ["deep_categories"]=>
      array(12) {
        [0]=>
        int(28)
        [1]=>
        int(85)
        [2]=>
        int(876)
        [3]=>
        int(88)
        [4]=>
        int(1)
        [5]=>
        int(149)
        [6]=>
        int(100)
        [7]=>
        int(513)
        [8]=>
        int(564)
        [9]=>
        int(743)
        [10]=>
        int(748)
        [11]=>
        int(787)
      }
      ["categories_under_28"]=>
      array(1) {
        [0]=>
        int(85)
      }
      ["deep_categories_under_28"]=>
      array(5) {
        [0]=>
        int(85)
        [1]=>
        int(876)
        [2]=>
        int(88)
        [3]=>
        int(513)
        [4]=>
        int(787)
      }
      ["categories_under_1"]=>
      array(0) {
      }
      ["deep_categories_under_1"]=>
      array(2) {
        [0]=>
        int(149)
        [1]=>
        int(100)
      }
      ["categories_under_177"]=>
      array(0) {
      }
      ["deep_categories_under_177"]=>
      array(0) {
      }
      ["categories_under_209"]=>
      array(0) {
      }
      ["deep_categories_under_209"]=>
      array(0) {
      }
      ["categories_under_163"]=>
      array(0) {
      }
      ["deep_categories_under_163"]=>
      array(0) {
      }
      ["categories_under_171"]=>
      array(0) {
      }
      ["deep_categories_under_171"]=>
      array(0) {
      }
      ["categories_under_153"]=>
      array(0) {
      }
      ["deep_categories_under_153"]=>
      array(0) {
      }
      ["categories_under_242"]=>
      array(0) {
      }
      ["deep_categories_under_242"]=>
      array(0) {
      }
      ["categories_under_564"]=>
      array(0) {
      }
      ["deep_categories_under_564"]=>
      array(2) {
        [0]=>
        int(743)
        [1]=>
        int(748)
      }
      ["freetags"]=>
      array(1) {
        [0]=>
        string(3) "285"
      }
      ["freetags_text"]=>
      string(8) "the earl"
      ["geo_located"]=>
      string(1) "y"
      ["geo_location"]=>
      string(23) "-84.3459247,33.74098,17"
      ["geo_point"]=>
      object(stdClass)#2319 (2) {
        ["lat"]=>
        float(33.74098)
        ["lon"]=>
        float(-84.3459247)
      }
      ["allowed_groups"]=>
      array(2) {
        [0]=>
        string(6) "Admins"
        [1]=>
        string(9) "Anonymous"
      }
      ["allowed_users"]=>
      array(0) {
      }
      ["relations"]=>
      array(1) {
        [0]=>
        string(27) "tiki.file.attach:file:18777"
      }
      ["relation_objects"]=>
      array(0) {
      }
      ["relation_types"]=>
      array(1) {
        [0]=>
        string(16) "tiki.file.attach"
      }
      ["relation_count"]=>
      array(1) {
        [0]=>
        string(18) "tiki.file.attach:1"
      }
      ["title_initial"]=>
      string(1) "T"
      ["title_firstword"]=>
      string(3) "The"
      ["searchable"]=>
      string(1) "y"
      ["url"]=>
      string(8) "item2626"
      ["object_type"]=>
      string(11) "trackeritem"
      ["object_id"]=>
      string(4) "2626"
      ["contents"]=>
      string(563) " The Earl Teaser  2019-06-11T18:00:16+00:00 the_earl_teaser.jpg    the earl The Earl 488 Flat Shoals Ave. S.E.  Atlanta GA 30316 http://www.badearl.com info@badearl.com info@badearl.com 404-522-3950  -84.3459247,33.74098,17 display26  East Atlanta staple for local and up-and-coming rock bands, as well as nationally established indie acts, and grub for the hipster-PBR set.    18777     @EARL_EAV  @badearl   "the earl"  n    EARLeav  573f3d4d1e3ee4dfcf6605b3      ChIJb1DZdlsB9YgRceexPKAJVS8

49818306637 Tier1  Facebook n  2017-06-26T13:07:15+00:00 The Earl "
      ["score"]=>
      float(0)
      ["_index"]=>
      string(21) "atlantawiki_tiki_main"
      ["objectlink"]=>
      string(292) "The Earl"
      ["image"]=>
      string(39) "

File not found.

"
      ["areaLocation"]=>
      string(34) "-84.3503813,33.7391182,15"
    }
    [52]=>
    array(89) {
      ["title"]=>
      string(14) "Echo Lounge Lc"
      ["modification_date"]=>
      string(25) "2018-03-08T16:32:41+00:00"
      ["creation_date"]=>
      string(25) "2017-07-16T21:30:40+00:00"
      ["contributors"]=>
      array(1) {
        [0]=>
        string(29) "ben.eason@creativeloafing.com"
      }
      ["date"]=>
      string(25) "2017-07-16T21:30:40+00:00"
      ["tracker_status"]=>
      string(1) "o"
      ["tracker_id"]=>
      string(1) "1"
      ["view_permission"]=>
      string(13) "view_trackers"
      ["tracker_field_businessName"]=>
      string(14) "Echo Lounge Lc"
      ["tracker_field_businessAddress"]=>
      string(15) "882 Eden Ave Se"
      ["tracker_field_businessAddress2"]=>
      string(1) " "
      ["tracker_field_businessCity"]=>
      string(7) "Atlanta"
      ["tracker_field_businessState"]=>
      string(7) "Georgia"
      ["tracker_field_businessZip"]=>
      string(5) "30316"
      ["tracker_field_businessWebsite"]=>
      string(1) " "
      ["tracker_field_businessPhone"]=>
      string(12) "404-681-3600"
      ["tracker_field_businessRepresentative"]=>
      array(0) {
      }
      ["tracker_field_businessLocationRadius"]=>
      int(0)
      ["tracker_field_description"]=>
      string(1) " "
      ["tracker_field_description_raw"]=>
      string(1) " "
      ["tracker_field_businessClassifieds"]=>
      array(0) {
      }
      ["tracker_field_businessTypes"]=>
      array(2) {
        [0]=>
        string(2) "85"
        [1]=>
        string(2) "88"
      }
      ["tracker_field_businessTypes_text"]=>
      string(5) "85 88"
      ["tracker_field_scene"]=>
      array(0) {
      }
      ["tracker_field_businessNeighborhoods"]=>
      array(2) {
        [0]=>
        string(3) "100"
        [1]=>
        string(3) "149"
      }
      ["tracker_field_businessNeighborhoods_text"]=>
      string(7) "100 149"
      ["tracker_field_businessPriceRange"]=>
      array(0) {
      }
      ["tracker_field_businessMiscCategories"]=>
      array(0) {
      }
      ["tracker_field_businessCLAcctNum"]=>
      int(0)
      ["tracker_field_business_121CurrentChit"]=>
      string(1) "n"
      ["tracker_field_121MobileClientID"]=>
      int(0)
      ["tracker_field_121MobileCampaignData"]=>
      array(0) {
      }
      ["tracker_field_121MobileCampaignData_json"]=>
      array(0) {
      }
      ["tracker_field_googlePlaceData"]=>
      array(0) {
      }
      ["tracker_field_googlePlaceData_json"]=>
      array(0) {
      }
      ["tracker_field_googleOverallRating"]=>
      int(0)
      ["tracker_field_businessYelpBusinessData"]=>
      array(0) {
      }
      ["tracker_field_businessYelpBusinessData_json"]=>
      array(0) {
      }
      ["tracker_field_businessFacebookData"]=>
      array(0) {
      }
      ["tracker_field_businessFacebookData_json"]=>
      array(0) {
      }
      ["tracker_field_businessLoafingID"]=>
      string(24) "573f3d5b1e3ee4dfcf66130f"
      ["tracker_field_businessAccountExecutive"]=>
      string(1) "0"
      ["tracker_field_businessStatusField"]=>
      string(10) "NoGoogleID"
      ["tracker_field_businessCLDistributionLocation"]=>
      string(1) "n"
      ["tracker_field_businessAudience"]=>
      array(0) {
      }
      ["tracker_field_businessLegacyID"]=>
      int(1295293)
      ["language"]=>
      string(7) "unknown"
      ["attachments"]=>
      array(0) {
      }
      ["comment_count"]=>
      int(0)
      ["categories"]=>
      array(3) {
        [0]=>
        int(85)
        [1]=>
        int(88)
        [2]=>
        int(100)
      }
      ["deep_categories"]=>
      array(7) {
        [0]=>
        int(28)
        [1]=>
        int(85)
        [2]=>
        int(876)
        [3]=>
        int(88)
        [4]=>
        int(1)
        [5]=>
        int(149)
        [6]=>
        int(100)
      }
      ["categories_under_28"]=>
      array(1) {
        [0]=>
        int(85)
      }
      ["deep_categories_under_28"]=>
      array(3) {
        [0]=>
        int(85)
        [1]=>
        int(876)
        [2]=>
        int(88)
      }
      ["categories_under_1"]=>
      array(0) {
      }
      ["deep_categories_under_1"]=>
      array(2) {
        [0]=>
        int(149)
        [1]=>
        int(100)
      }
      ["categories_under_177"]=>
      array(0) {
      }
      ["deep_categories_under_177"]=>
      array(0) {
      }
      ["categories_under_209"]=>
      array(0) {
      }
      ["deep_categories_under_209"]=>
      array(0) {
      }
      ["categories_under_163"]=>
      array(0) {
      }
      ["deep_categories_under_163"]=>
      array(0) {
      }
      ["categories_under_171"]=>
      array(0) {
      }
      ["deep_categories_under_171"]=>
      array(0) {
      }
      ["categories_under_153"]=>
      array(0) {
      }
      ["deep_categories_under_153"]=>
      array(0) {
      }
      ["categories_under_242"]=>
      array(0) {
      }
      ["deep_categories_under_242"]=>
      array(0) {
      }
      ["categories_under_564"]=>
      array(0) {
      }
      ["deep_categories_under_564"]=>
      array(0) {
      }
      ["freetags"]=>
      array(0) {
      }
      ["geo_located"]=>
      string(1) "n"
      ["allowed_groups"]=>
      array(2) {
        [0]=>
        string(6) "Admins"
        [1]=>
        string(9) "Anonymous"
      }
      ["allowed_users"]=>
      array(0) {
      }
      ["relations"]=>
      array(0) {
      }
      ["relation_objects"]=>
      array(0) {
      }
      ["relation_types"]=>
      array(0) {
      }
      ["relation_count"]=>
      array(0) {
      }
      ["title_initial"]=>
      string(1) "E"
      ["title_firstword"]=>
      string(4) "Echo"
      ["searchable"]=>
      string(1) "y"
      ["url"]=>
      string(8) "item8698"
      ["object_type"]=>
      string(11) "trackeritem"
      ["object_id"]=>
      string(4) "8698"
      ["contents"]=>
      string(190) "    Echo Lounge Lc 882 Eden Ave Se   Atlanta Georgia 30316     404-681-3600                     n      573f3d5b1e3ee4dfcf66130f       NoGoogleID  n  2017-07-16T21:30:40+00:00 Echo Lounge Lc "
      ["score"]=>
      float(0)
      ["_index"]=>
      string(21) "atlantawiki_tiki_main"
      ["objectlink"]=>
      string(192) "Echo Lounge Lc"
      ["image"]=>
      string(39) "

File not found.

"
      ["areaLocation"]=>
      string(34) "-84.3503813,33.7391182,15"
    }
    [53]=>
    array(99) {
      ["title"]=>
      string(7) "Gunshow"
      ["modification_date"]=>
      string(25) "2019-09-19T15:20:46+00:00"
      ["creation_date"]=>
      string(25) "2017-06-26T13:07:15+00:00"
      ["contributors"]=>
      array(2) {
        [0]=>
        NULL
        [1]=>
        string(30) "jim.harris@creativeloafing.com"
      }
      ["date"]=>
      string(25) "2017-06-26T13:07:15+00:00"
      ["tracker_status"]=>
      string(1) "o"
      ["tracker_id"]=>
      string(1) "1"
      ["view_permission"]=>
      string(13) "view_trackers"
      ["tracker_field_businessName"]=>
      string(7) "Gunshow"
      ["tracker_field_businessAddress"]=>
      string(16) "924 Garrett St. "
      ["tracker_field_businessAddress2"]=>
      string(7) "Suite C"
      ["tracker_field_businessCity"]=>
      string(7) "Atlanta"
      ["tracker_field_businessState"]=>
      string(2) "GA"
      ["tracker_field_businessZip"]=>
      string(5) "30316"
      ["tracker_field_businessWebsite"]=>
      string(26) "http://www.gunshowatl.com/"
      ["tracker_field_businessPhone"]=>
      string(14) "(404) 380-1886"
      ["tracker_field_businessRepresentative"]=>
      array(0) {
      }
      ["tracker_field_businessLocation"]=>
      string(23) "-84.358043,33.740668,16"
      ["tracker_field_businessLocationRadius"]=>
      int(0)
      ["tracker_field_businessIcon"]=>
      string(9) "display26"
      ["tracker_field_description"]=>
      string(164) "Chef Kevin Gillespie's dim sum-style restaurant in Glenwood Park serves rustic, New American cuisine from carts and trays making their way around the dining room."
      ["tracker_field_description_raw"]=>
      string(164) "Chef Kevin Gillespie's dim sum-style restaurant in Glenwood Park serves rustic, New American cuisine from carts and trays making their way around the dining room."
      ["tracker_field_photos"]=>
      string(5) "23397"
      ["tracker_field_businessPhotoCredit"]=>
      string(13) "CL File Photo"
      ["tracker_field_legacyImageURL"]=>
      string(74) "http://dev.creativeloafing.com/image/2014/06/640w/d4d7a_gunshow_magnum.jpg"
      ["tracker_field_businessClassifieds"]=>
      array(0) {
      }
      ["tracker_field_businessTypes"]=>
      array(2) {
        [0]=>
        string(2) "85"
        [1]=>
        string(2) "88"
      }
      ["tracker_field_businessTypes_text"]=>
      string(5) "85 88"
      ["tracker_field_scene"]=>
      array(0) {
      }
      ["tracker_field_businessNeighborhoods"]=>
      array(1) {
        [0]=>
        string(3) "100"
      }
      ["tracker_field_businessNeighborhoods_text"]=>
      string(3) "100"
      ["tracker_field_businessPriceRange"]=>
      array(0) {
      }
      ["tracker_field_businessMiscCategories"]=>
      array(0) {
      }
      ["tracker_field_businessCLAcctNum"]=>
      int(0)
      ["tracker_field_business_121CurrentChit"]=>
      string(1) "n"
      ["tracker_field_121MobileClientID"]=>
      int(0)
      ["tracker_field_121MobileCampaignData"]=>
      array(0) {
      }
      ["tracker_field_121MobileCampaignData_json"]=>
      array(0) {
      }
      ["tracker_field_googlePlaceData"]=>
      array(0) {
      }
      ["tracker_field_googlePlaceData_json"]=>
      array(0) {
      }
      ["tracker_field_googleOverallRating"]=>
      float(4.3)
      ["tracker_field_businessYelpBusinessData"]=>
      array(0) {
      }
      ["tracker_field_businessYelpBusinessData_json"]=>
      array(0) {
      }
      ["tracker_field_businessFacebook"]=>
      string(7) "Gunshow"
      ["tracker_field_businessFacebookData"]=>
      array(0) {
      }
      ["tracker_field_businessFacebookData_json"]=>
      array(0) {
      }
      ["tracker_field_businessLoafingID"]=>
      string(24) "573f3cdc1e3ee4dfcf65fabc"
      ["tracker_field_businessAccountExecutive"]=>
      string(1) "0"
      ["tracker_field_businessInternalNotes"]=>
      string(46) "ChIJv7pmK-ID9YgRcrZZUrFw728

517961001566630"
      ["tracker_field_businessInternalNotes_raw"]=>
      string(46) "ChIJv7pmK-ID9YgRcrZZUrFw728

517961001566630"
      ["tracker_field_businessStatusField"]=>
      string(4) "Done"
      ["tracker_field_businessCLDistributionLocation"]=>
      string(1) "n"
      ["tracker_field_businessAudience"]=>
      array(0) {
      }
      ["tracker_field_businessLegacyID"]=>
      int(8192508)
      ["language"]=>
      string(7) "unknown"
      ["attachments"]=>
      array(1) {
        [0]=>
        string(5) "23397"
      }
      ["comment_count"]=>
      int(0)
      ["categories"]=>
      array(3) {
        [0]=>
        int(85)
        [1]=>
        int(88)
        [2]=>
        int(100)
      }
      ["deep_categories"]=>
      array(7) {
        [0]=>
        int(28)
        [1]=>
        int(85)
        [2]=>
        int(876)
        [3]=>
        int(88)
        [4]=>
        int(1)
        [5]=>
        int(149)
        [6]=>
        int(100)
      }
      ["categories_under_28"]=>
      array(1) {
        [0]=>
        int(85)
      }
      ["deep_categories_under_28"]=>
      array(3) {
        [0]=>
        int(85)
        [1]=>
        int(876)
        [2]=>
        int(88)
      }
      ["categories_under_1"]=>
      array(0) {
      }
      ["deep_categories_under_1"]=>
      array(2) {
        [0]=>
        int(149)
        [1]=>
        int(100)
      }
      ["categories_under_177"]=>
      array(0) {
      }
      ["deep_categories_under_177"]=>
      array(0) {
      }
      ["categories_under_209"]=>
      array(0) {
      }
      ["deep_categories_under_209"]=>
      array(0) {
      }
      ["categories_under_163"]=>
      array(0) {
      }
      ["deep_categories_under_163"]=>
      array(0) {
      }
      ["categories_under_171"]=>
      array(0) {
      }
      ["deep_categories_under_171"]=>
      array(0) {
      }
      ["categories_under_153"]=>
      array(0) {
      }
      ["deep_categories_under_153"]=>
      array(0) {
      }
      ["categories_under_242"]=>
      array(0) {
      }
      ["deep_categories_under_242"]=>
      array(0) {
      }
      ["categories_under_564"]=>
      array(0) {
      }
      ["deep_categories_under_564"]=>
      array(0) {
      }
      ["freetags"]=>
      array(0) {
      }
      ["geo_located"]=>
      string(1) "y"
      ["geo_location"]=>
      string(23) "-84.358043,33.740668,16"
      ["geo_point"]=>
      object(stdClass)#2324 (2) {
        ["lat"]=>
        float(33.740668)
        ["lon"]=>
        float(-84.358043)
      }
      ["allowed_groups"]=>
      array(2) {
        [0]=>
        string(6) "Admins"
        [1]=>
        string(9) "Anonymous"
      }
      ["allowed_users"]=>
      array(0) {
      }
      ["relations"]=>
      array(1) {
        [0]=>
        string(27) "tiki.file.attach:file:23397"
      }
      ["relation_objects"]=>
      array(0) {
      }
      ["relation_types"]=>
      array(1) {
        [0]=>
        string(16) "tiki.file.attach"
      }
      ["relation_count"]=>
      array(1) {
        [0]=>
        string(18) "tiki.file.attach:1"
      }
      ["title_initial"]=>
      string(1) "G"
      ["title_firstword"]=>
      string(7) "Gunshow"
      ["searchable"]=>
      string(1) "y"
      ["url"]=>
      string(8) "item1700"
      ["object_type"]=>
      string(11) "trackeritem"
      ["object_id"]=>
      string(4) "1700"
      ["contents"]=>
      string(601) " Gunshow Magnum  2019-09-19T15:20:41+00:00 gunshow_magnum.jpg     Gunshow 924 Garrett St.  Suite C Atlanta GA 30316 http://www.gunshowatl.com/   (404) 380-1886  -84.358043,33.740668,16 display26  Chef Kevin Gillespie's dim sum-style restaurant in Glenwood Park serves rustic, New American cuisine from carts and trays making their way around the dining room.    23397  CL File Photo http://dev.creativeloafing.com/image/2014/06/640w/d4d7a_gunshow_magnum.jpg        n    Gunshow  573f3cdc1e3ee4dfcf65fabc      ChIJv7pmK-ID9YgRcrZZUrFw728

517961001566630 Done  n  2017-06-26T13:07:15+00:00 Gunshow "
      ["score"]=>
      float(0)
      ["_index"]=>
      string(21) "atlantawiki_tiki_main"
      ["objectlink"]=>
      string(291) "Gunshow"
      ["image"]=>
      string(39) "

File not found.

"
      ["areaLocation"]=>
      string(34) "-84.3503813,33.7391182,15"
    }
    [54]=>
    array(96) {
      ["title"]=>
      string(25) "Spoon Eastside Restaurant"
      ["modification_date"]=>
      string(25) "2018-03-08T16:51:20+00:00"
      ["creation_date"]=>
      string(25) "2017-06-26T13:07:15+00:00"
      ["contributors"]=>
      array(2) {
        [0]=>
        NULL
        [1]=>
        string(29) "ben.eason@creativeloafing.com"
      }
      ["date"]=>
      string(25) "2017-06-26T13:07:15+00:00"
      ["tracker_status"]=>
      string(1) "o"
      ["tracker_id"]=>
      string(1) "1"
      ["view_permission"]=>
      string(13) "view_trackers"
      ["tracker_field_businessName"]=>
      string(25) "Spoon Eastside Restaurant"
      ["tracker_field_businessAddress"]=>
      string(22) "749 Moreland Ave. S.E."
      ["tracker_field_businessCity"]=>
      string(7) "Atlanta"
      ["tracker_field_businessState"]=>
      string(2) "GA"
      ["tracker_field_businessWebsite"]=>
      string(28) "http://www.spoonatlanta.com/"
      ["tracker_field_businessPhone"]=>
      string(14) "(404) 624-4713"
      ["tracker_field_businessRepresentative"]=>
      array(0) {
      }
      ["tracker_field_businessLocation"]=>
      string(30) "-84.3498999999999,33.733655,12"
      ["tracker_field_businessLocationRadius"]=>
      int(0)
      ["tracker_field_description"]=>
      string(405) "Spoon is sleek and uncluttered, with a comfy bar area where you can eat as well as drink. The menu is broken into appetizers, soups, salads, classic curries and stir-fries, noodles and specialty dishes. You can't go wrong with anything here, but be wary: The food is quite spicy. You have three choices — medium spicy, hot and Thai hot — and even the medium is capable of causing your mouth to sizzle."
      ["tracker_field_description_raw"]=>
      string(405) "Spoon is sleek and uncluttered, with a comfy bar area where you can eat as well as drink. The menu is broken into appetizers, soups, salads, classic curries and stir-fries, noodles and specialty dishes. You can't go wrong with anything here, but be wary: The food is quite spicy. You have three choices — medium spicy, hot and Thai hot — and even the medium is capable of causing your mouth to sizzle."
      ["tracker_field_legacyImageURL"]=>
      string(72) "http://dev.creativeloafing.com/image/2014/07/320w/1f36f_spoon_magnum.jpg"
      ["tracker_field_businessClassifieds"]=>
      array(0) {
      }
      ["tracker_field_businessTypes"]=>
      array(1) {
        [0]=>
        string(2) "85"
      }
      ["tracker_field_businessTypes_text"]=>
      string(2) "85"
      ["tracker_field_scene"]=>
      array(0) {
      }
      ["tracker_field_businessNeighborhoods"]=>
      array(2) {
        [0]=>
        string(3) "100"
        [1]=>
        string(3) "149"
      }
      ["tracker_field_businessNeighborhoods_text"]=>
      string(7) "100 149"
      ["tracker_field_businessPriceRange"]=>
      array(0) {
      }
      ["tracker_field_businessMiscCategories"]=>
      array(0) {
      }
      ["tracker_field_businessCLAcctNum"]=>
      int(0)
      ["tracker_field_business_121CurrentChit"]=>
      string(1) "n"
      ["tracker_field_121MobileClientID"]=>
      int(0)
      ["tracker_field_121MobileCampaignData"]=>
      array(0) {
      }
      ["tracker_field_121MobileCampaignData_json"]=>
      array(0) {
      }
      ["tracker_field_google_placeid"]=>
      string(27) "ChIJSwROpWAB9YgR7HLezQ5m9fQ"
      ["tracker_field_googlePlaceData"]=>
      array(16) {
        [0]=>
        string(204) "

749 Moreland Ave SE

, 

Atlanta

, 

GA

 

30316

, 

USA

"
        [1]=>
        string(43) "749 Moreland Ave SE, Atlanta, GA 30316, USA"
        [2]=>
        string(14) "(404) 624-4713"
        [3]=>
        string(67) "https://maps.gstatic.com/mapfiles/place_api/icons/restaurant-71.png"
        [4]=>
        string(40) "8e99faee705b000b1597bb455cbb8694fad263a2"
        [5]=>
        string(15) "+1 404-624-4713"
        [6]=>
        string(25) "Spoon EastSide Restaurant"
        [7]=>
        string(27) "ChIJSwROpWAB9YgR7HLezQ5m9fQ"
        [8]=>
        string(1) "2"
        [9]=>
        string(3) "4.5"
        [10]=>
        string(190) "CmRSAAAA_-RWWxtVmtyz6gzjJ9R-jtZaBvgZ8f73_-NWD1C_xudHv5e6GhEX9KL2EWnsSvh_rWVTNPn6NxbKWtq0datw-zABMMqchSWJenoexMzkHhznH5NKdMgusLxVM6AgddMpEhBhS-Ahhu3URAgNgJPSfumvGhQw5mBD3RSAfxqRewKMkN5OqavU6A"
        [11]=>
        string(6) "GOOGLE"
        [12]=>
        string(49) "https://maps.google.com/?cid=17651126528318010092"
        [13]=>
        string(4) "-300"
        [14]=>
        string(38) "749 Moreland Avenue Southeast, Atlanta"
        [15]=>
        string(28) "http://www.spoonatlanta.com/"
      }
      ["tracker_field_googlePlaceData_text"]=>
      string(608) "749 Moreland Ave SE, Atlanta, GA 30316, USA 749 Moreland Ave SE, Atlanta, GA 30316, USA (404) 624-4713 https://maps.gstatic.com/mapfiles/place_api/icons/restaurant-71.png 8e99faee705b000b1597bb455cbb8694fad263a2 +1 404-624-4713 Spoon EastSide Restaurant ChIJSwROpWAB9YgR7HLezQ5m9fQ 2 4.5 CmRSAAAA_-RWWxtVmtyz6gzjJ9R-jtZaBvgZ8f73_-NWD1C_xudHv5e6GhEX9KL2EWnsSvh_rWVTNPn6NxbKWtq0datw-zABMMqchSWJenoexMzkHhznH5NKdMgusLxVM6AgddMpEhBhS-Ahhu3URAgNgJPSfumvGhQw5mBD3RSAfxqRewKMkN5OqavU6A GOOGLE https://maps.google.com/?cid=17651126528318010092 -300 749 Moreland Avenue Southeast, Atlanta http://www.spoonatlanta.com/"
      ["tracker_field_googlePlaceData_json"]=>
      object(stdClass)#2335 (22) {
        ["address_components"]=>
        array(8) {
          [0]=>
          object(stdClass)#2327 (3) {
            ["long_name"]=>
            string(3) "749"
            ["short_name"]=>
            string(3) "749"
            ["types"]=>
            array(1) {
              [0]=>
              string(13) "street_number"
            }
          }
          [1]=>
          object(stdClass)#2328 (3) {
            ["long_name"]=>
            string(25) "Moreland Avenue Southeast"
            ["short_name"]=>
            string(15) "Moreland Ave SE"
            ["types"]=>
            array(1) {
              [0]=>
              string(5) "route"
            }
          }
          [2]=>
          object(stdClass)#2329 (3) {
            ["long_name"]=>
            string(13) "Ormewood Park"
            ["short_name"]=>
            string(13) "Ormewood Park"
            ["types"]=>
            array(2) {
              [0]=>
              string(12) "neighborhood"
              [1]=>
              string(9) "political"
            }
          }
          [3]=>
          object(stdClass)#2330 (3) {
            ["long_name"]=>
            string(7) "Atlanta"
            ["short_name"]=>
            string(7) "Atlanta"
            ["types"]=>
            array(2) {
              [0]=>
              string(8) "locality"
              [1]=>
              string(9) "political"
            }
          }
          [4]=>
          object(stdClass)#2331 (3) {
            ["long_name"]=>
            string(13) "Fulton County"
            ["short_name"]=>
            string(13) "Fulton County"
            ["types"]=>
            array(2) {
              [0]=>
              string(27) "administrative_area_level_2"
              [1]=>
              string(9) "political"
            }
          }
          [5]=>
          object(stdClass)#2332 (3) {
            ["long_name"]=>
            string(7) "Georgia"
            ["short_name"]=>
            string(2) "GA"
            ["types"]=>
            array(2) {
              [0]=>
              string(27) "administrative_area_level_1"
              [1]=>
              string(9) "political"
            }
          }
          [6]=>
          object(stdClass)#2333 (3) {
            ["long_name"]=>
            string(13) "United States"
            ["short_name"]=>
            string(2) "US"
            ["types"]=>
            array(2) {
              [0]=>
              string(7) "country"
              [1]=>
              string(9) "political"
            }
          }
          [7]=>
          object(stdClass)#2334 (3) {
            ["long_name"]=>
            string(5) "30316"
            ["short_name"]=>
            string(5) "30316"
            ["types"]=>
            array(1) {
              [0]=>
              string(11) "postal_code"
            }
          }
        }
        ["adr_address"]=>
        string(204) "

749 Moreland Ave SE

, 

Atlanta

, 

GA

 

30316

, 

USA

"
        ["formatted_address"]=>
        string(43) "749 Moreland Ave SE, Atlanta, GA 30316, USA"
        ["formatted_phone_number"]=>
        string(14) "(404) 624-4713"
        ["geometry"]=>
        object(stdClass)#2337 (2) {
          ["location"]=>
          object(stdClass)#2336 (2) {
            ["lat"]=>
            string(9) "33.733655"
            ["lng"]=>
            string(8) "-84.3499"
          }
          ["viewport"]=>
          object(stdClass)#2339 (2) {
            ["northeast"]=>
            object(stdClass)#2338 (2) {
              ["lat"]=>
              string(15) "33.734998580292"
              ["lng"]=>
              string(16) "-84.348266119708"
            }
            ["southwest"]=>
            object(stdClass)#2340 (2) {
              ["lat"]=>
              string(15) "33.732300619709"
              ["lng"]=>
              string(16) "-84.350964080292"
            }
          }
        }
        ["icon"]=>
        string(67) "https://maps.gstatic.com/mapfiles/place_api/icons/restaurant-71.png"
        ["id"]=>
        string(40) "8e99faee705b000b1597bb455cbb8694fad263a2"
        ["international_phone_number"]=>
        string(15) "+1 404-624-4713"
        ["name"]=>
        string(25) "Spoon EastSide Restaurant"
        ["opening_hours"]=>
        object(stdClass)#2341 (3) {
          ["open_now"]=>
          bool(false)
          ["periods"]=>
          array(7) {
            [0]=>
            object(stdClass)#2343 (2) {
              ["close"]=>
              object(stdClass)#2342 (2) {
                ["day"]=>
                int(0)
                ["time"]=>
                string(4) "2200"
              }
              ["open"]=>
              object(stdClass)#2344 (2) {
                ["day"]=>
                int(0)
                ["time"]=>
                string(4) "1700"
              }
            }
            [1]=>
            object(stdClass)#2346 (2) {
              ["close"]=>
              object(stdClass)#2345 (2) {
                ["day"]=>
                string(1) "1"
                ["time"]=>
                string(4) "2200"
              }
              ["open"]=>
              object(stdClass)#2347 (2) {
                ["day"]=>
                string(1) "1"
                ["time"]=>
                string(4) "1130"
              }
            }
            [2]=>
            object(stdClass)#2349 (2) {
              ["close"]=>
              object(stdClass)#2348 (2) {
                ["day"]=>
                string(1) "2"
                ["time"]=>
                string(4) "2200"
              }
              ["open"]=>
              object(stdClass)#2350 (2) {
                ["day"]=>
                string(1) "2"
                ["time"]=>
                string(4) "1130"
              }
            }
            [3]=>
            object(stdClass)#2352 (2) {
              ["close"]=>
              object(stdClass)#2351 (2) {
                ["day"]=>
                string(1) "3"
                ["time"]=>
                string(4) "2200"
              }
              ["open"]=>
              object(stdClass)#2353 (2) {
                ["day"]=>
                string(1) "3"
                ["time"]=>
                string(4) "1130"
              }
            }
            [4]=>
            object(stdClass)#2355 (2) {
              ["close"]=>
              object(stdClass)#2354 (2) {
                ["day"]=>
                string(1) "4"
                ["time"]=>
                string(4) "2200"
              }
              ["open"]=>
              object(stdClass)#2356 (2) {
                ["day"]=>
                string(1) "4"
                ["time"]=>
                string(4) "1130"
              }
            }
            [5]=>
            object(stdClass)#2358 (2) {
              ["close"]=>
              object(stdClass)#2357 (2) {
                ["day"]=>
                string(1) "5"
                ["time"]=>
                string(4) "2300"
              }
              ["open"]=>
              object(stdClass)#2359 (2) {
                ["day"]=>
                string(1) "5"
                ["time"]=>
                string(4) "1130"
              }
            }
            [6]=>
            object(stdClass)#2361 (2) {
              ["close"]=>
              object(stdClass)#2360 (2) {
                ["day"]=>
                string(1) "6"
                ["time"]=>
                string(4) "2300"
              }
              ["open"]=>
              object(stdClass)#2362 (2) {
                ["day"]=>
                string(1) "6"
                ["time"]=>
                string(4) "1700"
              }
            }
          }
          ["weekday_text"]=>
          array(7) {
            [0]=>
            string(29) "Monday: 11:30 AM – 10:00 PM"
            [1]=>
            string(30) "Tuesday: 11:30 AM – 10:00 PM"
            [2]=>
            string(32) "Wednesday: 11:30 AM – 10:00 PM"
            [3]=>
            string(31) "Thursday: 11:30 AM – 10:00 PM"
            [4]=>
            string(29) "Friday: 11:30 AM – 11:00 PM"
            [5]=>
            string(27) "Saturday: 5:00 – 11:00 PM"
            [6]=>
            string(25) "Sunday: 5:00 – 10:00 PM"
          }
        }
        ["photos"]=>
        array(10) {
          [0]=>
          object(stdClass)#2363 (4) {
            ["height"]=>
            int(3024)
            ["html_attributions"]=>
            array(1) {
              [0]=>
              string(94) "Peter Shirokov"
            }
            ["photo_reference"]=>
            string(190) "CmRaAAAAYRMhw8o5KfJEn7MlktmK10mXIQtHkPZragf9MJE7sm5-kTekuPHCSrpK8ic74uVqlf0C2cPFF3ggm1_xNjYH7G0Q9imHjTMuFm_h3N9k9P7KD4tS73vgNSc8NAgxbjjnEhBTd9PC3kXDM9iJgZQ7Ncg5GhTA9QW9OsOZBMKoMa4eeIaozniWZw"
            ["width"]=>
            int(4032)
          }
          [1]=>
          object(stdClass)#2364 (4) {
            ["height"]=>
            int(4032)
            ["html_attributions"]=>
            array(1) {
              [0]=>
              string(90) "Craig Rhee"
            }
            ["photo_reference"]=>
            string(190) "CmRaAAAAUzSrurAIGFsjnzCRrFTKeam_yOt-I6lAUlxSTVPpEnsOADrs0QOa8ySdkVCkIGA5dSs9g3EmMFWv-wz49_1lIl6swnqYiiEl7pWh3a0MyElHC8BmaCrhdNpTE_nDJJL8EhA6EfcfqMtocdR1N1BMB0SyGhT3gJrUY3Lezh50i6afdOu2nivVMQ"
            ["width"]=>
            int(3024)
          }
          [2]=>
          object(stdClass)#2365 (4) {
            ["height"]=>
            int(1920)
            ["html_attributions"]=>
            array(1) {
              [0]=>
              string(90) "Eric Felix"
            }
            ["photo_reference"]=>
            string(190) "CmRaAAAAix4dGLzmkRLN-pFSTdB0mxoY6cqWEqhX3aOOgZGcJ0EUXcbJAj9_ssvqvScfVPNGUeogZhvXf_IXfscfQuccdCG-oZ1UpcXgOza2BOu_ABao40o1CUS9FXw5ElmLIHJHEhCptvkRqq91u4IeS49ddiPoGhTR3rvcBO1jrjfjnZSB6Vd9zAco2A"
            ["width"]=>
            int(2560)
          }
          [3]=>
          object(stdClass)#2366 (4) {
            ["height"]=>
            int(2368)
            ["html_attributions"]=>
            array(1) {
              [0]=>
              string(97) "De'efay Fedovskiy"
            }
            ["photo_reference"]=>
            string(190) "CmRaAAAACDxoxsTrgSrCk4_oi6zywowOSOgi6DBAF8PsBjF7zdQLwTB9ESyIa3OPH3pmHJfFGVrrukeuIWJfRDahjQfoQDsEz_d2jVNM9De66se0SP67lIjN2Yo2cuV91-f7Hp66EhDCLCdFI1p8OnLH9BRcJatPGhR3UXLPpRl10GS4JtILpMbpB1esQg"
            ["width"]=>
            int(4208)
          }
          [4]=>
          object(stdClass)#2367 (4) {
            ["height"]=>
            int(3000)
            ["html_attributions"]=>
            array(1) {
              [0]=>
              string(93) "Andrew Dunlap"
            }
            ["photo_reference"]=>
            string(190) "CmRaAAAAzSJ4oyLxUnOoHjMm_TV_Rfl0WvsS6Kd8ulcUyd18g74HYAD-kzhMFqP8hJ5kULOv1xQMTJcA83tFio3fsSS8maRzuK4xuWx-PmidepdfgSHKr5khRhSKUDwNkjnHG8YKEhAo5RGVhZcOCsCRdk4j5LSmGhS79wDeuIkwl3YSiw-2uG6qt_ILOQ"
            ["width"]=>
            int(5333)
          }
          [5]=>
          object(stdClass)#2368 (4) {
            ["height"]=>
            int(4128)
            ["html_attributions"]=>
            array(1) {
              [0]=>
              string(92) "Yamesia Sims"
            }
            ["photo_reference"]=>
            string(190) "CmRaAAAA-qaR9Mgl0Y2OU-0CuV_GUN21YDpjInsCiy-Z7cZa7uKD-MbsyYRjBrbLu70zGz1pdLB1nZzzmLcPKGz9h0egeRl7zzdai8zsx9ZbmFYLchs2pisFFRMIwwxk2hI6i71wEhBwtGUo6TKE1TOWMuDv9zOXGhQwcrjmi3QxKch8RFW1T-l1aGPI8A"
            ["width"]=>
            int(2322)
          }
          [6]=>
          object(stdClass)#2369 (4) {
            ["height"]=>
            int(4032)
            ["html_attributions"]=>
            array(1) {
              [0]=>
              string(90) "Pete Hendi"
            }
            ["photo_reference"]=>
            string(190) "CmRZAAAACD0LyS2YGVnCchE15jc8FUewXu_aUmz_RYwM52ydxmoBN0Ba3K1x59CQldj-2YHAPmHuTS7EM0LZEExUTrW7RXZ51IyPbV69I26s7Uw3eeyLRBCSOOtRm6EZ0s-eN0PhEhAfvJ29ZkrjvdhF4YWARVVpGhQ-nmSkI2qRedgsSFLmggx1sIAe1w"
            ["width"]=>
            int(3024)
          }
          [7]=>
          object(stdClass)#2370 (4) {
            ["height"]=>
            int(5312)
            ["html_attributions"]=>
            array(1) {
              [0]=>
              string(93) "Taneka Knight"
            }
            ["photo_reference"]=>
            string(190) "CmRaAAAA7ScAcviFTDQ-8k1PA177dPBRYrk5xJafI5ivo_xOLkOeuTMi5TY8-RlBNTUrEkWpnP7sccmFVepdMLn5BPlfDg2lTz9JIGvWUk0_Ia-f-FtZpnawnxduihhyI_nFz5ENEhDzP15siNxaRl64MAhrLFQ4GhTdcALBj-Ezzk4ZeEkrAjSuIdFB6A"
            ["width"]=>
            int(2988)
          }
          [8]=>
          object(stdClass)#2371 (4) {
            ["height"]=>
            int(4032)
            ["html_attributions"]=>
            array(1) {
              [0]=>
              string(96) "Silver Backtitan"
            }
            ["photo_reference"]=>
            string(190) "CmRaAAAAk06aOGsgMYs8aCY7_sRNkb9Ufp7EvgazCIyKX63yddesOOU_Ltpk2MlCfl-jYgo6GPlqBGZrja0CRyl6NU-ONABvZx86gleBSc-1eyMFwky-NJ2zqXXsOIYXBstaNzLeEhA1tiHBq4XjHuZpDe4_TZojGhQ2ukP39PxmTJxKnL2-U3ZwNs6P0A"
            ["width"]=>
            int(3024)
          }
          [9]=>
          object(stdClass)#2372 (4) {
            ["height"]=>
            int(4656)
            ["html_attributions"]=>
            array(1) {
              [0]=>
              string(92) "Ashen Shugar"
            }
            ["photo_reference"]=>
            string(190) "CmRaAAAAIl6n_9oEZnu17UpwHZLrN4Wy7kmRzmNdOiBm2d9h7kIpAQqGqZUDPnXQAIVYdmSBOCB63nBZR5-ruixErnluZPFrVEHERm-cjUEeVcsWikeSsj3vYwl9NFodZPKhLKQXEhCn5IILnRIOQrGl97wd0Z72GhSRfizBwpunmbrvDsiOUmfqE9MBIg"
            ["width"]=>
            int(3492)
          }
        }
        ["place_id"]=>
        string(27) "ChIJSwROpWAB9YgR7HLezQ5m9fQ"
        ["price_level"]=>
        string(1) "2"
        ["rating"]=>
        string(3) "4.5"
        ["reference"]=>
        string(190) "CmRSAAAA_-RWWxtVmtyz6gzjJ9R-jtZaBvgZ8f73_-NWD1C_xudHv5e6GhEX9KL2EWnsSvh_rWVTNPn6NxbKWtq0datw-zABMMqchSWJenoexMzkHhznH5NKdMgusLxVM6AgddMpEhBhS-Ahhu3URAgNgJPSfumvGhQw5mBD3RSAfxqRewKMkN5OqavU6A"
        ["reviews"]=>
        array(5) {
          [0]=>
          object(stdClass)#2373 (8) {
            ["author_name"]=>
            string(10) "Pete Hendi"
            ["author_url"]=>
            string(65) "https://www.google.com/maps/contrib/109967111410649431128/reviews"
            ["language"]=>
            string(2) "en"
            ["profile_photo_url"]=>
            string(141) "https://lh4.googleusercontent.com/-6mx9rN-YdkI/AAAAAAAAAAI/AAAAAAAAAAA/AGi4gfwCZ-qyFRfikDkyxYFQ5E9zNCh27w/s128-c0x00000000-cc-rp-mo/photo.jpg"
            ["rating"]=>
            string(1) "5"
            ["relative_time_description"]=>
            string(11) "a month ago"
            ["text"]=>
            string(668) "Oh man... some of the best fried rice I've EVER HAD and I've been around the world. I ordered the basil fried rice ($7) I added chicken ($2) and even though it came w/ veggies added extra veggies ($1). So for $10 I had a fantastic meal. 

I ordered it "medium" which it a Thai restaurant means HOT, but I had to add chili pepper so they've definitely toned it down for the white folks! :-)

Someone mentioned "portions too small" but I thought it was utterly perfect. I'm a 197 Lb man and walked in very hungry; I finished the meal but was not "stuffed."  If I'm full but "wouldn't mind ONE more bite" then that's the ideal amount for me."
            ["time"]=>
            int(1516644172)
          }
          [1]=>
          object(stdClass)#2374 (8) {
            ["author_name"]=>
            string(15) "Michael Barnard"
            ["author_url"]=>
            string(65) "https://www.google.com/maps/contrib/110436123640961499747/reviews"
            ["language"]=>
            string(2) "en"
            ["profile_photo_url"]=>
            string(122) "https://lh4.googleusercontent.com/-FUkF6GlNDPc/AAAAAAAAAAI/AAAAAAAAAMM/D_7mHnlI5MY/s128-c0x00000000-cc-rp-mo-ba2/photo.jpg"
            ["rating"]=>
            string(1) "5"
            ["relative_time_description"]=>
            string(12) "2 months ago"
            ["text"]=>
            string(365) "Overall great food, atmosphere, and service.  I had the green curry and it was excellent, a good level of spicy and other strong flavors to complement.  My girlfriend's dish was also great.  We also got the basil rolls, which were a little expensive for what we got.  It's 6 nickel sized slices 3/4" thick, good but not amazing, I would probably try something else."
            ["time"]=>
            int(1515121288)
          }
          [2]=>
          object(stdClass)#2375 (8) {
            ["author_name"]=>
            string(11) "Rajul Patel"
            ["author_url"]=>
            string(65) "https://www.google.com/maps/contrib/117309527357392816425/reviews"
            ["language"]=>
            string(2) "en"
            ["profile_photo_url"]=>
            string(122) "https://lh5.googleusercontent.com/-26tYzppGM3E/AAAAAAAAAAI/AAAAAAABCso/E0IZ2IwVjsI/s128-c0x00000000-cc-rp-mo-ba4/photo.jpg"
            ["rating"]=>
            string(1) "4"
            ["relative_time_description"]=>
            string(16) "in the last week"
            ["text"]=>
            string(150) "Adequate parking. Great ambience.
Awesome service coupled with wide beer selection on tap and bottled.
Food is tasty and would definitely return back."
            ["time"]=>
            int(1520251828)
          }
          [3]=>
          object(stdClass)#2376 (8) {
            ["author_name"]=>
            string(17) "Penny Wright Bush"
            ["author_url"]=>
            string(65) "https://www.google.com/maps/contrib/109511599434440946276/reviews"
            ["language"]=>
            string(2) "en"
            ["profile_photo_url"]=>
            string(118) "https://lh5.googleusercontent.com/-pgi7ShJT-Io/AAAAAAAAAAI/AAAAAAAAACw/PQ2K8hPjUGY/s128-c0x00000000-cc-rp-mo/photo.jpg"
            ["rating"]=>
            string(1) "5"
            ["relative_time_description"]=>
            string(12) "2 months ago"
            ["text"]=>
            string(289) "My first visit was last night and it was a very memorable experience. The owners and serve was so delightful. I ordered the Golden fish with veggies and the taste was extremely tasteful. I couldn't eat it all but I sure did enjoy it for lunch the next. Can't wait to try my next entree👍"
            ["time"]=>
            int(1513538746)
          }
          [4]=>
          object(stdClass)#2377 (8) {
            ["author_name"]=>
            string(14) "Manisa Woodson"
            ["author_url"]=>
            string(65) "https://www.google.com/maps/contrib/104772378985765832613/reviews"
            ["language"]=>
            string(2) "en"
            ["profile_photo_url"]=>
            string(122) "https://lh6.googleusercontent.com/-3IY9qRY272Q/AAAAAAAAAAI/AAAAAAAAAA4/3kKCC0iEqKE/s128-c0x00000000-cc-rp-mo-ba3/photo.jpg"
            ["rating"]=>
            string(1) "5"
            ["relative_time_description"]=>
            string(12) "2 months ago"
            ["text"]=>
            string(204) "The duck curry was fantastic for decent price. Staffs are very cool. Their craft cocktails are amazing. Try the pumpkin custard with sweet and sticky rice for fall and winter season. It is very delicious."
            ["time"]=>
            int(1514335968)
          }
        }
        ["scope"]=>
        string(6) "GOOGLE"
        ["types"]=>
        array(4) {
          [0]=>
          string(10) "restaurant"
          [1]=>
          string(4) "food"
          [2]=>
          string(17) "point_of_interest"
          [3]=>
          string(13) "establishment"
        }
        ["url"]=>
        string(49) "https://maps.google.com/?cid=17651126528318010092"
        ["utc_offset"]=>
        string(4) "-300"
        ["vicinity"]=>
        string(38) "749 Moreland Avenue Southeast, Atlanta"
        ["website"]=>
        string(28) "http://www.spoonatlanta.com/"
      }
      ["tracker_field_googleOverallRating"]=>
      float(4.5)
      ["tracker_field_businessYelpBusinessData"]=>
      array(0) {
      }
      ["tracker_field_businessYelpBusinessData_json"]=>
      array(0) {
      }
      ["tracker_field_businessFacebook"]=>
      string(14) "Spoon Eastside"
      ["tracker_field_businessFacebookID"]=>
      string(11) "70696007224"
      ["tracker_field_businessFacebookData"]=>
      array(2) {
        [0]=>
        string(11) "70696007224"
        [1]=>
        string(14) "Spoon Eastside"
      }
      ["tracker_field_businessFacebookData_text"]=>
      string(26) "70696007224 Spoon Eastside"
      ["tracker_field_businessFacebookData_json"]=>
      object(stdClass)#2378 (3) {
        ["id"]=>
        string(11) "70696007224"
        ["name"]=>
        string(14) "Spoon Eastside"
        ["feed"]=>
        object(stdClass)#2404 (2) {
          ["data"]=>
          array(25) {
            [0]=>
            object(stdClass)#2379 (4) {
              ["message"]=>
              string(41) "Larb Ped (duck) good start on Valentines."
              ["story"]=>
              string(36) "Spoon Eastside is at Spoon Eastside."
              ["created_time"]=>
              string(24) "2018-02-14T19:06:29+0000"
              ["id"]=>
              string(29) "70696007224_10156000487022225"
            }
            [1]=>
            object(stdClass)#2380 (3) {
              ["message"]=>
              string(99) "Have you planned for Valentine's Day yet? Make sure you have a reservation with us at 4046244713."
              ["created_time"]=>
              string(24) "2018-01-27T22:27:17+0000"
              ["id"]=>
              string(29) "70696007224_10155950713907225"
            }
            [2]=>
            object(stdClass)#2381 (3) {
              ["message"]=>
              string(114) "Come on in we are open at normal hours 11.30am-10pm today. Snow in Atlanta is a great match up with our Thai food."
              ["created_time"]=>
              string(24) "2018-01-17T15:30:16+0000"
              ["id"]=>
              string(29) "70696007224_10155919741807225"
            }
            [3]=>
            object(stdClass)#2382 (3) {
              ["message"]=>
              string(179) "Any plans for Xmas dinner? How about Spoon. We will be open on Xmas day from 11.30am-10pm. Give us a call for reservations. 4046244713

We will be close on Christmas Eve 12/24/17."
              ["created_time"]=>
              string(24) "2017-12-19T17:17:10+0000"
              ["id"]=>
              string(29) "70696007224_10155845710012225"
            }
            [4]=>
            object(stdClass)#2383 (3) {
              ["message"]=>
              string(68) "Perfect weather for Hot food, coconut soup and some curry + bourbon."
              ["created_time"]=>
              string(24) "2017-12-08T17:10:36+0000"
              ["id"]=>
              string(29) "70696007224_10155816535067225"
            }
            [5]=>
            object(stdClass)#2384 (4) {
              ["message"]=>
              string(183) "Happy Thanksgiving everyone. We will be close tomorrow thanksgiving day. And open back up on Friday( Black Friday) at 11.30am. Wish everyone have a great time with family and friends."
              ["story"]=>
              string(84) "Spoon Eastside is drinking something that makes me smile.....more at Spoon Eastside."
              ["created_time"]=>
              string(24) "2017-11-22T21:57:29+0000"
              ["id"]=>
              string(29) "70696007224_10155774476817225"
            }
            [6]=>
            object(stdClass)#2385 (3) {
              ["message"]=>
              string(128) "Happy Labor Day, Spoon Eastside is close today, we will be back to serve you tomorrow 11.30am-10pm. Enjoy the holiday everybody!"
              ["created_time"]=>
              string(24) "2017-09-04T16:28:51+0000"
              ["id"]=>
              string(29) "70696007224_10155570992132225"
            }
            [7]=>
            object(stdClass)#2386 (3) {
              ["message"]=>
              string(150) "We are open today and tomorrow( 4th July) regular hours 11.30am-10pm
If anyone doesn't want to cook, we'd love to do it for you. Have a great holiday."
              ["created_time"]=>
              string(24) "2017-07-03T15:20:37+0000"
              ["id"]=>
              string(29) "70696007224_10155379045027225"
            }
            [8]=>
            object(stdClass)#2387 (4) {
              ["message"]=>
              string(26) "Happy National Bourbon Day"
              ["story"]=>
              string(36) "Spoon Eastside is at Spoon Eastside."
              ["created_time"]=>
              string(24) "2017-06-14T21:12:23+0000"
              ["id"]=>
              string(29) "70696007224_10155314372447225"
            }
            [9]=>
            object(stdClass)#2388 (4) {
              ["message"]=>
              string(58) "New Zealand mussels with lemongrass basil broth is back!!!"
              ["story"]=>
              string(36) "Spoon Eastside is at Spoon Eastside."
              ["created_time"]=>
              string(24) "2017-06-08T20:48:55+0000"
              ["id"]=>
              string(29) "70696007224_10155295261912225"
            }
            [10]=>
            object(stdClass)#2389 (3) {
              ["message"]=>
              string(62) "ahh I need some Khao Soi in my life ASAP!  See you tonight! <3"
              ["created_time"]=>
              string(24) "2017-06-07T13:59:30+0000"
              ["id"]=>
              string(29) "70696007224_10155291066477225"
            }
            [11]=>
            object(stdClass)#2390 (4) {
              ["message"]=>
              string(148) "Ready for a long Memorial Day's weekend. 
We will be open throughout the weekend. And will be close on Monday5/29 and Tuesday 5/30. 
Cheers,
Spooner"
              ["story"]=>
              string(36) "Spoon Eastside is at Spoon Eastside."
              ["created_time"]=>
              string(24) "2017-05-25T22:29:13+0000"
              ["id"]=>
              string(29) "70696007224_10155250375432225"
            }
            [12]=>
            object(stdClass)#2391 (4) {
              ["message"]=>
              string(98) "I'm ready for my Mother's Day. We will be here with our mom for Mother's Day. Where will yours be?"
              ["story"]=>
              string(36) "Spoon Eastside is at Spoon Eastside."
              ["created_time"]=>
              string(24) "2017-05-12T19:22:15+0000"
              ["id"]=>
              string(29) "70696007224_10155207068332225"
            }
            [13]=>
            object(stdClass)#2392 (3) {
              ["story"]=>
              string(64) "Don El wrote on Spoon Eastside's timeline — at Spoon Eastside."
              ["created_time"]=>
              string(24) "2017-03-14T18:28:06+0000"
              ["id"]=>
              string(29) "70696007224_10155027288767225"
            }
            [14]=>
            object(stdClass)#2393 (4) {
              ["message"]=>
              string(21) "Happy Valentines Day."
              ["story"]=>
              string(64) "Spoon Eastside is eating dinner and cocktails at Spoon Eastside."
              ["created_time"]=>
              string(24) "2017-02-14T22:05:19+0000"
              ["id"]=>
              string(29) "70696007224_10154941652872225"
            }
            [15]=>
            object(stdClass)#2394 (3) {
              ["message"]=>
              string(93) "Thai tea creme brûlée is back for Valentine's week. Come celebrate yours at spoon eastside."
              ["created_time"]=>
              string(24) "2017-02-11T21:52:42+0000"
              ["id"]=>
              string(29) "70696007224_10154933430067225"
            }
            [16]=>
            object(stdClass)#2395 (3) {
              ["message"]=>
              string(124) "Wind thank you! That soup has helped me feel the best I have all day. I can breathe. And thanks for the well wishes Shanaya!"
              ["created_time"]=>
              string(24) "2017-02-03T00:21:02+0000"
              ["id"]=>
              string(29) "70696007224_10154908248367225"
            }
            [17]=>
            object(stdClass)#2396 (4) {
              ["message"]=>
              string(226) "Seriously, who wouldn't think of hot green curry and Atlanta Mule, in this kind of weather, we are surviving Snowpocalypse in Atlanta. Spoon is open from 5pm-10pm today. Please stop by and enjoy it with us. And stay safe guys."
              ["story"]=>
              string(36) "Spoon Eastside is at Spoon Eastside."
              ["created_time"]=>
              string(24) "2017-01-07T20:30:16+0000"
              ["id"]=>
              string(29) "70696007224_10154823454287225"
            }
            [18]=>
            object(stdClass)#2397 (4) {
              ["message"]=>
              string(184) "In Response to ATLANTA SNOWPOCALYPSE, Spoon offering Half price on our most popular Massamun Curry W/ Chicken all day. Our hours today is 11.30am-10pm(might be vary). See you at Spoon."
              ["story"]=>
              string(36) "Spoon Eastside is at Spoon Eastside."
              ["created_time"]=>
              string(24) "2017-01-06T15:26:25+0000"
              ["id"]=>
              string(29) "70696007224_10154819798737225"
            }
            [19]=>
            object(stdClass)#2398 (4) {
              ["message"]=>
              string(92) "Finally our famous Lemongrass Panna Cotta with Tamarind sauce is back. For this winter only."
              ["story"]=>
              string(36) "Spoon Eastside is at Spoon Eastside."
              ["created_time"]=>
              string(24) "2017-01-05T21:37:00+0000"
              ["id"]=>
              string(29) "70696007224_10154817998627225"
            }
            [20]=>
            object(stdClass)#2399 (4) {
              ["message"]=>
              string(217) "Nothing like saying goodbye to 2016 like good food and great drinks at Spoon Eastside. Happy New Year everyone. Hope this 2017 will bring you more joy and happiness. Thank you for continuing to support our restaurant."
              ["story"]=>
              string(53) "Spoon Eastside is feeling thankful at Spoon Eastside."
              ["created_time"]=>
              string(24) "2016-12-31T22:28:19+0000"
              ["id"]=>
              string(29) "70696007224_10154803209682225"
            }
            [21]=>
            object(stdClass)#2400 (4) {
              ["message"]=>
              string(152) "Nothing says Happy holiday like a good cocktail from Wind. Come Celebrate this joyful day with us at spoon eastside.  We are open from 5pm-10pm tonight."
              ["story"]=>
              string(61) "Spoon Eastside is celebrating the holidays at Spoon Eastside."
              ["created_time"]=>
              string(24) "2016-12-25T19:56:27+0000"
              ["id"]=>
              string(29) "70696007224_10154781250717225"
            }
            [22]=>
            object(stdClass)#2401 (4) {
              ["message"]=>
              string(224) "Happy Holidays everyone. Spoon Eastside will be closed on Christmas Eve Sat 24, 2016 and open on Christmas Day the 25th from 5pm-10pm. Wish everyone a good time during this holiday season and come visit us at Spoon Eastside."
              ["story"]=>
              string(50) "Spoon Eastside is feeling loved at Spoon Eastside."
              ["created_time"]=>
              string(24) "2016-12-20T21:21:12+0000"
              ["id"]=>
              string(29) "70696007224_10154764135277225"
            }
            [23]=>
            object(stdClass)#2402 (3) {
              ["message"]=>
              string(330) "Hanging out with Creature Comforts and our new special "A beef curry powder stir fry". A unique stir fry dish of beef along with variety of mixed vegetables such as white & green onion, celery, carrot, and bell pepper cooked in a savory curry powder base and eggs. This specialty comes with white jasmine rice on the side as well."
              ["created_time"]=>
              string(24) "2016-10-07T20:52:16+0000"
              ["id"]=>
              string(29) "70696007224_10154524235962225"
            }
            [24]=>
            object(stdClass)#2403 (3) {
              ["message"]=>
              string(198) "Spoon Eastside will be close on Monday 5th and Tuesday 6th. And be back to serving you great Thai food and awesome drinks on Wednesday 7th. Wish everyone enjoys their long weekend.  Happy Labor Day."
              ["created_time"]=>
              string(24) "2016-09-04T22:25:48+0000"
              ["id"]=>
              string(29) "70696007224_10154431363492225"
            }
          }
          ["paging"]=>
          object(stdClass)#2405 (2) {
            ["previous"]=>
            string(255) "https://graph.facebook.com/v2.8/70696007224/feed?since=1518635189&access_token=284346488083|StUmZexEo-ODM_s_RzrK8IoefW0&limit=25&__paging_token=enc_AdDg3hsBejLk2ZBPN5N8AXhRhMmPnZBdV8ZBhXLLEq9xsbr4B4iodBHVEuUZAhxFRMAWZA1mmtwwszJitu1OjZCxuL6ePO&__previous=1"
            ["next"]=>
            string(242) "https://graph.facebook.com/v2.8/70696007224/feed?access_token=284346488083|StUmZexEo-ODM_s_RzrK8IoefW0&limit=25&until=1473027948&__paging_token=enc_AdCIih8E2shOZAfa5FoYw8mteghHtg0ZBpjf06Mtk5yeakZAZBLHdOMWTLUD49weii9WWrFSUJ2ZB8LLZB8SybaFj39xX5"
          }
        }
      }
      ["tracker_field_businessLoafingID"]=>
      string(24) "573f3d4a1e3ee4dfcf66028c"
      ["tracker_field_businessAccountExecutive"]=>
      string(1) "0"
      ["tracker_field_businessStatusField"]=>
      string(12) "Sent to Edit"
      ["tracker_field_businessCLDistributionLocation"]=>
      string(1) "n"
      ["tracker_field_businessAudience"]=>
      array(0) {
      }
      ["tracker_field_businessLegacyID"]=>
      int(1872275)
      ["language"]=>
      string(7) "unknown"
      ["attachments"]=>
      array(0) {
      }
      ["comment_count"]=>
      int(0)
      ["categories"]=>
      array(2) {
        [0]=>
        int(85)
        [1]=>
        int(100)
      }
      ["deep_categories"]=>
      array(5) {
        [0]=>
        int(28)
        [1]=>
        int(85)
        [2]=>
        int(1)
        [3]=>
        int(149)
        [4]=>
        int(100)
      }
      ["categories_under_28"]=>
      array(1) {
        [0]=>
        int(85)
      }
      ["deep_categories_under_28"]=>
      array(1) {
        [0]=>
        int(85)
      }
      ["categories_under_1"]=>
      array(0) {
      }
      ["deep_categories_under_1"]=>
      array(2) {
        [0]=>
        int(149)
        [1]=>
        int(100)
      }
      ["categories_under_177"]=>
      array(0) {
      }
      ["deep_categories_under_177"]=>
      array(0) {
      }
      ["categories_under_209"]=>
      array(0) {
      }
      ["deep_categories_under_209"]=>
      array(0) {
      }
      ["categories_under_163"]=>
      array(0) {
      }
      ["deep_categories_under_163"]=>
      array(0) {
      }
      ["categories_under_171"]=>
      array(0) {
      }
      ["deep_categories_under_171"]=>
      array(0) {
      }
      ["categories_under_153"]=>
      array(0) {
      }
      ["deep_categories_under_153"]=>
      array(0) {
      }
      ["categories_under_242"]=>
      array(0) {
      }
      ["deep_categories_under_242"]=>
      array(0) {
      }
      ["categories_under_564"]=>
      array(0) {
      }
      ["deep_categories_under_564"]=>
      array(0) {
      }
      ["freetags"]=>
      array(0) {
      }
      ["geo_located"]=>
      string(1) "y"
      ["geo_location"]=>
      string(30) "-84.3498999999999,33.733655,12"
      ["geo_point"]=>
      object(stdClass)#2406 (2) {
        ["lat"]=>
        float(33.733655)
        ["lon"]=>
        float(-84.3499)
      }
      ["allowed_groups"]=>
      array(2) {
        [0]=>
        string(6) "Admins"
        [1]=>
        string(9) "Anonymous"
      }
      ["allowed_users"]=>
      array(0) {
      }
      ["relations"]=>
      array(0) {
      }
      ["relation_objects"]=>
      array(0) {
      }
      ["relation_types"]=>
      array(0) {
      }
      ["relation_count"]=>
      array(0) {
      }
      ["title_initial"]=>
      string(1) "S"
      ["title_firstword"]=>
      string(5) "Spoon"
      ["searchable"]=>
      string(1) "y"
      ["url"]=>
      string(8) "item2460"
      ["object_type"]=>
      string(11) "trackeritem"
      ["object_id"]=>
      string(4) "2460"
      ["contents"]=>
      string(797) "    Spoon Eastside Restaurant 749 Moreland Ave. S.E.  Atlanta GA  http://www.spoonatlanta.com/   (404) 624-4713  -84.3498999999999,33.733655,12   Spoon is sleek and uncluttered, with a comfy bar area where you can eat as well as drink. The menu is broken into appetizers, soups, salads, classic curries and stir-fries, noodles and specialty dishes. You can't go wrong with anything here, but be wary: The food is quite spicy. You have three choices — medium spicy, hot and Thai hot — and even the medium is capable of causing your mouth to sizzle.       http://dev.creativeloafing.com/image/2014/07/320w/1f36f_spoon_magnum.jpg        n  ChIJSwROpWAB9YgR7HLezQ5m9fQ  Spoon Eastside 70696007224 573f3d4a1e3ee4dfcf66028c       Sent to Edit  n  2017-06-26T13:07:15+00:00 Spoon Eastside Restaurant "
      ["score"]=>
      float(0)
      ["_index"]=>
      string(21) "atlantawiki_tiki_main"
      ["objectlink"]=>
      string(290) "Spoon Eastside Restaurant"
      ["image"]=>
      string(39) "

File not found.

"
      ["areaLocation"]=>
      string(34) "-84.3503813,33.7391182,15"
    }
    [55]=>
    array(82) {
      ["title"]=>
      string(20) "Supreme Fish Delight"
      ["modification_date"]=>
      string(25) "2018-03-08T16:32:41+00:00"
      ["creation_date"]=>
      string(25) "2017-07-16T16:20:45+00:00"
      ["contributors"]=>
      array(1) {
        [0]=>
        string(29) "ben.eason@creativeloafing.com"
      }
      ["date"]=>
      string(25) "2017-07-16T16:20:45+00:00"
      ["tracker_status"]=>
      string(1) "o"
      ["tracker_id"]=>
      string(1) "1"
      ["view_permission"]=>
      string(13) "view_trackers"
      ["tracker_field_businessName"]=>
      string(20) "Supreme Fish Delight"
      ["tracker_field_businessRepresentative"]=>
      array(0) {
      }
      ["tracker_field_businessLocationRadius"]=>
      int(0)
      ["tracker_field_description"]=>
      string(1) " "
      ["tracker_field_description_raw"]=>
      string(1) " "
      ["tracker_field_businessClassifieds"]=>
      array(0) {
      }
      ["tracker_field_businessTypes"]=>
      array(1) {
        [0]=>
        string(2) "85"
      }
      ["tracker_field_businessTypes_text"]=>
      string(2) "85"
      ["tracker_field_scene"]=>
      array(0) {
      }
      ["tracker_field_businessNeighborhoods"]=>
      array(2) {
        [0]=>
        string(3) "100"
        [1]=>
        string(3) "149"
      }
      ["tracker_field_businessNeighborhoods_text"]=>
      string(7) "100 149"
      ["tracker_field_businessPriceRange"]=>
      array(0) {
      }
      ["tracker_field_businessMiscCategories"]=>
      array(0) {
      }
      ["tracker_field_businessCLAcctNum"]=>
      int(0)
      ["tracker_field_business_121CurrentChit"]=>
      string(1) "n"
      ["tracker_field_121MobileClientID"]=>
      int(0)
      ["tracker_field_121MobileCampaignData"]=>
      array(0) {
      }
      ["tracker_field_121MobileCampaignData_json"]=>
      array(0) {
      }
      ["tracker_field_googlePlaceData"]=>
      array(0) {
      }
      ["tracker_field_googlePlaceData_json"]=>
      array(0) {
      }
      ["tracker_field_googleOverallRating"]=>
      int(0)
      ["tracker_field_businessYelpBusinessData"]=>
      array(0) {
      }
      ["tracker_field_businessYelpBusinessData_json"]=>
      array(0) {
      }
      ["tracker_field_businessFacebookData"]=>
      array(0) {
      }
      ["tracker_field_businessFacebookData_json"]=>
      array(0) {
      }
      ["tracker_field_businessLoafingID"]=>
      string(24) "573f3d5c1e3ee4dfcf6613e8"
      ["tracker_field_businessAccountExecutive"]=>
      string(1) "0"
      ["tracker_field_businessStatusField"]=>
      string(20) "Multiple Differences"
      ["tracker_field_businessCLDistributionLocation"]=>
      string(1) "n"
      ["tracker_field_businessAudience"]=>
      array(0) {
      }
      ["tracker_field_businessLegacyID"]=>
      int(1293659)
      ["language"]=>
      string(7) "unknown"
      ["attachments"]=>
      array(0) {
      }
      ["comment_count"]=>
      int(0)
      ["categories"]=>
      array(2) {
        [0]=>
        int(85)
        [1]=>
        int(100)
      }
      ["deep_categories"]=>
      array(5) {
        [0]=>
        int(28)
        [1]=>
        int(85)
        [2]=>
        int(1)
        [3]=>
        int(149)
        [4]=>
        int(100)
      }
      ["categories_under_28"]=>
      array(1) {
        [0]=>
        int(85)
      }
      ["deep_categories_under_28"]=>
      array(1) {
        [0]=>
        int(85)
      }
      ["categories_under_1"]=>
      array(0) {
      }
      ["deep_categories_under_1"]=>
      array(2) {
        [0]=>
        int(149)
        [1]=>
        int(100)
      }
      ["categories_under_177"]=>
      array(0) {
      }
      ["deep_categories_under_177"]=>
      array(0) {
      }
      ["categories_under_209"]=>
      array(0) {
      }
      ["deep_categories_under_209"]=>
      array(0) {
      }
      ["categories_under_163"]=>
      array(0) {
      }
      ["deep_categories_under_163"]=>
      array(0) {
      }
      ["categories_under_171"]=>
      array(0) {
      }
      ["deep_categories_under_171"]=>
      array(0) {
      }
      ["categories_under_153"]=>
      array(0) {
      }
      ["deep_categories_under_153"]=>
      array(0) {
      }
      ["categories_under_242"]=>
      array(0) {
      }
      ["deep_categories_under_242"]=>
      array(0) {
      }
      ["categories_under_564"]=>
      array(0) {
      }
      ["deep_categories_under_564"]=>
      array(0) {
      }
      ["freetags"]=>
      array(0) {
      }
      ["geo_located"]=>
      string(1) "n"
      ["allowed_groups"]=>
      array(2) {
        [0]=>
        string(6) "Admins"
        [1]=>
        string(9) "Anonymous"
      }
      ["allowed_users"]=>
      array(0) {
      }
      ["relations"]=>
      array(0) {
      }
      ["relation_objects"]=>
      array(0) {
      }
      ["relation_types"]=>
      array(0) {
      }
      ["relation_count"]=>
      array(0) {
      }
      ["title_initial"]=>
      string(1) "S"
      ["title_firstword"]=>
      string(7) "Supreme"
      ["searchable"]=>
      string(1) "y"
      ["url"]=>
      string(8) "item4832"
      ["object_type"]=>
      string(11) "trackeritem"
      ["object_id"]=>
      string(4) "4832"
      ["contents"]=>
      string(164) "    Supreme Fish Delight                              n      573f3d5c1e3ee4dfcf6613e8       Multiple Differences  n  2017-07-16T16:20:45+00:00 Supreme Fish Delight "
      ["score"]=>
      float(0)
      ["_index"]=>
      string(21) "atlantawiki_tiki_main"
      ["objectlink"]=>
      string(198) "Supreme Fish Delight"
      ["image"]=>
      string(39) "

File not found.

"
      ["areaLocation"]=>
      string(34) "-84.3503813,33.7391182,15"
    }
    [56]=>
    array(82) {
      ["title"]=>
      string(25) "East Atlanta Thai & Sushi"
      ["modification_date"]=>
      string(25) "2018-03-08T16:44:04+00:00"
      ["creation_date"]=>
      string(25) "2017-07-16T16:20:45+00:00"
      ["contributors"]=>
      array(1) {
        [0]=>
        string(29) "ben.eason@creativeloafing.com"
      }
      ["date"]=>
      string(25) "2017-07-16T16:20:45+00:00"
      ["tracker_status"]=>
      string(1) "o"
      ["tracker_id"]=>
      string(1) "1"
      ["view_permission"]=>
      string(13) "view_trackers"
      ["tracker_field_businessName"]=>
      string(25) "East Atlanta Thai & Sushi"
      ["tracker_field_businessRepresentative"]=>
      array(0) {
      }
      ["tracker_field_businessLocationRadius"]=>
      int(0)
      ["tracker_field_description"]=>
      string(53) "An EAV restaurant that serves Japanese and Thai food."
      ["tracker_field_description_raw"]=>
      string(53) "An EAV restaurant that serves Japanese and Thai food."
      ["tracker_field_businessClassifieds"]=>
      array(0) {
      }
      ["tracker_field_businessTypes"]=>
      array(1) {
        [0]=>
        string(2) "85"
      }
      ["tracker_field_businessTypes_text"]=>
      string(2) "85"
      ["tracker_field_scene"]=>
      array(0) {
      }
      ["tracker_field_businessNeighborhoods"]=>
      array(2) {
        [0]=>
        string(3) "100"
        [1]=>
        string(3) "149"
      }
      ["tracker_field_businessNeighborhoods_text"]=>
      string(7) "100 149"
      ["tracker_field_businessPriceRange"]=>
      array(0) {
      }
      ["tracker_field_businessMiscCategories"]=>
      array(0) {
      }
      ["tracker_field_businessCLAcctNum"]=>
      int(0)
      ["tracker_field_business_121CurrentChit"]=>
      string(1) "n"
      ["tracker_field_121MobileClientID"]=>
      int(0)
      ["tracker_field_121MobileCampaignData"]=>
      array(0) {
      }
      ["tracker_field_121MobileCampaignData_json"]=>
      array(0) {
      }
      ["tracker_field_googlePlaceData"]=>
      array(0) {
      }
      ["tracker_field_googlePlaceData_json"]=>
      array(0) {
      }
      ["tracker_field_googleOverallRating"]=>
      int(0)
      ["tracker_field_businessYelpBusinessData"]=>
      array(0) {
      }
      ["tracker_field_businessYelpBusinessData_json"]=>
      array(0) {
      }
      ["tracker_field_businessFacebookData"]=>
      array(0) {
      }
      ["tracker_field_businessFacebookData_json"]=>
      array(0) {
      }
      ["tracker_field_businessLoafingID"]=>
      string(24) "573f3d521e3ee4dfcf660b51"
      ["tracker_field_businessAccountExecutive"]=>
      string(1) "0"
      ["tracker_field_businessStatusField"]=>
      string(20) "Multiple Differences"
      ["tracker_field_businessCLDistributionLocation"]=>
      string(1) "n"
      ["tracker_field_businessAudience"]=>
      array(0) {
      }
      ["tracker_field_businessLegacyID"]=>
      int(1300651)
      ["language"]=>
      string(7) "unknown"
      ["attachments"]=>
      array(0) {
      }
      ["comment_count"]=>
      int(0)
      ["categories"]=>
      array(2) {
        [0]=>
        int(85)
        [1]=>
        int(100)
      }
      ["deep_categories"]=>
      array(5) {
        [0]=>
        int(28)
        [1]=>
        int(85)
        [2]=>
        int(1)
        [3]=>
        int(149)
        [4]=>
        int(100)
      }
      ["categories_under_28"]=>
      array(1) {
        [0]=>
        int(85)
      }
      ["deep_categories_under_28"]=>
      array(1) {
        [0]=>
        int(85)
      }
      ["categories_under_1"]=>
      array(0) {
      }
      ["deep_categories_under_1"]=>
      array(2) {
        [0]=>
        int(149)
        [1]=>
        int(100)
      }
      ["categories_under_177"]=>
      array(0) {
      }
      ["deep_categories_under_177"]=>
      array(0) {
      }
      ["categories_under_209"]=>
      array(0) {
      }
      ["deep_categories_under_209"]=>
      array(0) {
      }
      ["categories_under_163"]=>
      array(0) {
      }
      ["deep_categories_under_163"]=>
      array(0) {
      }
      ["categories_under_171"]=>
      array(0) {
      }
      ["deep_categories_under_171"]=>
      array(0) {
      }
      ["categories_under_153"]=>
      array(0) {
      }
      ["deep_categories_under_153"]=>
      array(0) {
      }
      ["categories_under_242"]=>
      array(0) {
      }
      ["deep_categories_under_242"]=>
      array(0) {
      }
      ["categories_under_564"]=>
      array(0) {
      }
      ["deep_categories_under_564"]=>
      array(0) {
      }
      ["freetags"]=>
      array(0) {
      }
      ["geo_located"]=>
      string(1) "n"
      ["allowed_groups"]=>
      array(2) {
        [0]=>
        string(6) "Admins"
        [1]=>
        string(9) "Anonymous"
      }
      ["allowed_users"]=>
      array(0) {
      }
      ["relations"]=>
      array(0) {
      }
      ["relation_objects"]=>
      array(0) {
      }
      ["relation_types"]=>
      array(0) {
      }
      ["relation_count"]=>
      array(0) {
      }
      ["title_initial"]=>
      string(1) "E"
      ["title_firstword"]=>
      string(4) "East"
      ["searchable"]=>
      string(1) "y"
      ["url"]=>
      string(8) "item4828"
      ["object_type"]=>
      string(11) "trackeritem"
      ["object_id"]=>
      string(4) "4828"
      ["contents"]=>
      string(226) "    East Atlanta Thai & Sushi              An EAV restaurant that serves Japanese and Thai food.               n      573f3d521e3ee4dfcf660b51       Multiple Differences  n  2017-07-16T16:20:45+00:00 East Atlanta Thai & Sushi "
      ["score"]=>
      float(0)
      ["_index"]=>
      string(21) "atlantawiki_tiki_main"
      ["objectlink"]=>
      string(207) "East Atlanta Thai & Sushi"
      ["image"]=>
      string(39) "

File not found.

"
      ["areaLocation"]=>
      string(34) "-84.3503813,33.7391182,15"
    }
    [57]=>
    array(89) {
      ["title"]=>
      string(25) "Ms. Betty's House of Ribs"
      ["modification_date"]=>
      string(25) "2018-03-08T16:47:31+00:00"
      ["creation_date"]=>
      string(25) "2017-07-16T21:30:40+00:00"
      ["contributors"]=>
      array(1) {
        [0]=>
        string(29) "ben.eason@creativeloafing.com"
      }
      ["date"]=>
      string(25) "2017-07-16T21:30:40+00:00"
      ["tracker_status"]=>
      string(1) "o"
      ["tracker_id"]=>
      string(1) "1"
      ["view_permission"]=>
      string(13) "view_trackers"
      ["tracker_field_businessName"]=>
      string(25) "Ms. Betty's House of Ribs"
      ["tracker_field_businessAddress"]=>
      string(23) "1281 Bouldercrest Drive"
      ["tracker_field_businessAddress2"]=>
      string(1) " "
      ["tracker_field_businessCity"]=>
      string(7) "Atlanta"
      ["tracker_field_businessState"]=>
      string(2) "GA"
      ["tracker_field_businessZip"]=>
      string(5) "30316"
      ["tracker_field_businessWebsite"]=>
      string(1) " "
      ["tracker_field_businessPhone"]=>
      string(12) "404-243-8484"
      ["tracker_field_businessRepresentative"]=>
      array(0) {
      }
      ["tracker_field_businessLocationRadius"]=>
      int(0)
      ["tracker_field_description"]=>
      string(401) "This smokehouse of a barbecue joint is tailor-made for takeout, whether for a no-worries dinner or a catered afternoon of TV sports watching. The portions come as small as a rib sandwich or as large as a whole slab of ribs. The sides include everything from french fries to green beans and there is a range of sauces to choose from as well. But watch out, even the mild sauce has a peppery kick to it."
      ["tracker_field_description_raw"]=>
      string(401) "This smokehouse of a barbecue joint is tailor-made for takeout, whether for a no-worries dinner or a catered afternoon of TV sports watching. The portions come as small as a rib sandwich or as large as a whole slab of ribs. The sides include everything from french fries to green beans and there is a range of sauces to choose from as well. But watch out, even the mild sauce has a peppery kick to it."
      ["tracker_field_businessClassifieds"]=>
      array(0) {
      }
      ["tracker_field_businessTypes"]=>
      array(1) {
        [0]=>
        string(2) "85"
      }
      ["tracker_field_businessTypes_text"]=>
      string(2) "85"
      ["tracker_field_scene"]=>
      array(0) {
      }
      ["tracker_field_businessNeighborhoods"]=>
      array(2) {
        [0]=>
        string(3) "100"
        [1]=>
        string(3) "149"
      }
      ["tracker_field_businessNeighborhoods_text"]=>
      string(7) "100 149"
      ["tracker_field_businessPriceRange"]=>
      array(0) {
      }
      ["tracker_field_businessMiscCategories"]=>
      array(0) {
      }
      ["tracker_field_businessCLAcctNum"]=>
      int(0)
      ["tracker_field_business_121CurrentChit"]=>
      string(1) "n"
      ["tracker_field_121MobileClientID"]=>
      int(0)
      ["tracker_field_121MobileCampaignData"]=>
      array(0) {
      }
      ["tracker_field_121MobileCampaignData_json"]=>
      array(0) {
      }
      ["tracker_field_googlePlaceData"]=>
      array(0) {
      }
      ["tracker_field_googlePlaceData_json"]=>
      array(0) {
      }
      ["tracker_field_googleOverallRating"]=>
      int(0)
      ["tracker_field_businessYelpBusinessData"]=>
      array(0) {
      }
      ["tracker_field_businessYelpBusinessData_json"]=>
      array(0) {
      }
      ["tracker_field_businessFacebookData"]=>
      array(0) {
      }
      ["tracker_field_businessFacebookData_json"]=>
      array(0) {
      }
      ["tracker_field_businessLoafingID"]=>
      string(24) "573f3d4e1e3ee4dfcf66074f"
      ["tracker_field_businessAccountExecutive"]=>
      string(1) "0"
      ["tracker_field_businessStatusField"]=>
      string(18) "Permanently Closed"
      ["tracker_field_businessCLDistributionLocation"]=>
      string(1) "n"
      ["tracker_field_businessAudience"]=>
      array(0) {
      }
      ["tracker_field_businessLegacyID"]=>
      int(1303788)
      ["language"]=>
      string(7) "unknown"
      ["attachments"]=>
      array(0) {
      }
      ["comment_count"]=>
      int(0)
      ["categories"]=>
      array(2) {
        [0]=>
        int(85)
        [1]=>
        int(100)
      }
      ["deep_categories"]=>
      array(5) {
        [0]=>
        int(28)
        [1]=>
        int(85)
        [2]=>
        int(1)
        [3]=>
        int(149)
        [4]=>
        int(100)
      }
      ["categories_under_28"]=>
      array(1) {
        [0]=>
        int(85)
      }
      ["deep_categories_under_28"]=>
      array(1) {
        [0]=>
        int(85)
      }
      ["categories_under_1"]=>
      array(0) {
      }
      ["deep_categories_under_1"]=>
      array(2) {
        [0]=>
        int(149)
        [1]=>
        int(100)
      }
      ["categories_under_177"]=>
      array(0) {
      }
      ["deep_categories_under_177"]=>
      array(0) {
      }
      ["categories_under_209"]=>
      array(0) {
      }
      ["deep_categories_under_209"]=>
      array(0) {
      }
      ["categories_under_163"]=>
      array(0) {
      }
      ["deep_categories_under_163"]=>
      array(0) {
      }
      ["categories_under_171"]=>
      array(0) {
      }
      ["deep_categories_under_171"]=>
      array(0) {
      }
      ["categories_under_153"]=>
      array(0) {
      }
      ["deep_categories_under_153"]=>
      array(0) {
      }
      ["categories_under_242"]=>
      array(0) {
      }
      ["deep_categories_under_242"]=>
      array(0) {
      }
      ["categories_under_564"]=>
      array(0) {
      }
      ["deep_categories_under_564"]=>
      array(0) {
      }
      ["freetags"]=>
      array(0) {
      }
      ["geo_located"]=>
      string(1) "n"
      ["allowed_groups"]=>
      array(2) {
        [0]=>
        string(6) "Admins"
        [1]=>
        string(9) "Anonymous"
      }
      ["allowed_users"]=>
      array(0) {
      }
      ["relations"]=>
      array(0) {
      }
      ["relation_objects"]=>
      array(0) {
      }
      ["relation_types"]=>
      array(0) {
      }
      ["relation_count"]=>
      array(0) {
      }
      ["title_initial"]=>
      string(1) "M"
      ["title_firstword"]=>
      string(3) "Ms."
      ["searchable"]=>
      string(1) "y"
      ["url"]=>
      string(8) "item8687"
      ["object_type"]=>
      string(11) "trackeritem"
      ["object_id"]=>
      string(4) "8687"
      ["contents"]=>
      string(623) "    Ms. Betty's House of Ribs 1281 Bouldercrest Drive   Atlanta GA 30316     404-243-8484     This smokehouse of a barbecue joint is tailor-made for takeout, whether for a no-worries dinner or a catered afternoon of TV sports watching. The portions come as small as a rib sandwich or as large as a whole slab of ribs. The sides include everything from french fries to green beans and there is a range of sauces to choose from as well. But watch out, even the mild sauce has a peppery kick to it.               n      573f3d4e1e3ee4dfcf66074f       Permanently Closed  n  2017-07-16T21:30:40+00:00 Ms. Betty's House of Ribs "
      ["score"]=>
      float(0)
      ["_index"]=>
      string(21) "atlantawiki_tiki_main"
      ["objectlink"]=>
      string(208) "Ms. Betty's House of Ribs"
      ["image"]=>
      string(39) "

File not found.

"
      ["areaLocation"]=>
      string(34) "-84.3503813,33.7391182,15"
    }
    [58]=>
    array(95) {
      ["title"]=>
      string(22) "El Mexicano Restaurant"
      ["modification_date"]=>
      string(25) "2018-07-27T14:23:31+00:00"
      ["creation_date"]=>
      string(25) "2017-06-19T12:58:54+00:00"
      ["contributors"]=>
      array(2) {
        [0]=>
        NULL
        [1]=>
        string(29) "ben.eason@creativeloafing.com"
      }
      ["date"]=>
      string(25) "2017-06-19T12:58:54+00:00"
      ["tracker_status"]=>
      string(1) "o"
      ["tracker_id"]=>
      string(1) "1"
      ["view_permission"]=>
      string(13) "view_trackers"
      ["tracker_field_businessName"]=>
      string(22) "El Mexicano Restaurant"
      ["tracker_field_businessAddress"]=>
      string(23) "1341 Moreland Ave. S.E."
      ["tracker_field_businessCity"]=>
      string(7) "Atlanta"
      ["tracker_field_businessState"]=>
      string(2) "GA"
      ["tracker_field_businessZip"]=>
      string(5) "30316"
      ["tracker_field_businessPhone"]=>
      string(14) "(404) 622-3501"
      ["tracker_field_businessRepresentative"]=>
      array(0) {
      }
      ["tracker_field_businessLocation"]=>
      string(25) "-84.3498423,33.7180104,12"
      ["tracker_field_businessLocationRadius"]=>
      int(0)
      ["tracker_field_businessIcon"]=>
      string(9) "display26"
      ["tracker_field_description"]=>
      string(90) "El Mexicano is a not-so-hidden gem and neighborhood favorite located in southeast Atlanta."
      ["tracker_field_description_raw"]=>
      string(90) "El Mexicano is a not-so-hidden gem and neighborhood favorite located in southeast Atlanta."
      ["tracker_field_legacyImageURL"]=>
      string(83) "http://dev.creativeloafing.com/image/2016/09/320w/El_Mexicano_034.57daeb7c6ae91.jpg"
      ["tracker_field_businessClassifieds"]=>
      array(0) {
      }
      ["tracker_field_businessTypes"]=>
      array(1) {
        [0]=>
        string(2) "85"
      }
      ["tracker_field_businessTypes_text"]=>
      string(2) "85"
      ["tracker_field_scene"]=>
      array(0) {
      }
      ["tracker_field_businessNeighborhoods"]=>
      array(2) {
        [0]=>
        string(3) "149"
        [1]=>
        string(3) "100"
      }
      ["tracker_field_businessNeighborhoods_text"]=>
      string(7) "149 100"
      ["tracker_field_businessPriceRange"]=>
      array(0) {
      }
      ["tracker_field_businessMiscCategories"]=>
      array(0) {
      }
      ["tracker_field_businessCLAcctNum"]=>
      int(0)
      ["tracker_field_business_121CurrentChit"]=>
      string(1) "n"
      ["tracker_field_121MobileClientID"]=>
      int(0)
      ["tracker_field_121MobileCampaignData"]=>
      array(0) {
      }
      ["tracker_field_121MobileCampaignData_json"]=>
      array(0) {
      }
      ["tracker_field_google_placeid"]=>
      string(27) "ChIJV1nor34B9YgRtt8I0movW-o"
      ["tracker_field_googlePlaceData"]=>
      array(16) {
        [0]=>
        string(210) "

1341 Moreland Ave SE

, 

Atlanta

, 

GA

 

30316-3127

, 

USA

"
        [1]=>
        string(44) "1341 Moreland Ave SE, Atlanta, GA 30316, USA"
        [2]=>
        string(14) "(404) 622-3501"
        [3]=>
        string(67) "https://maps.gstatic.com/mapfiles/place_api/icons/restaurant-71.png"
        [4]=>
        string(40) "5b3889c3f3324c4946169feef921930f28cd3bfd"
        [5]=>
        string(15) "+1 404-622-3501"
        [6]=>
        string(22) "El Mexicano Restaurant"
        [7]=>
        string(1) "1"
        [8]=>
        string(27) "ChIJV1nor34B9YgRtt8I0movW-o"
        [9]=>
        string(1) "1"
        [10]=>
        string(3) "4.4"
        [11]=>
        string(190) "CmRSAAAA4S5H76qs5sKPJqN199HRKXC_2AQTb5BBo1gNqWX7fSX76yQjLJpPiqMBuD6janimnKtoPhfl3F7rC7Xrxw7tCWXZNwuh7UKdj1cS0AO6diTKEEZg6ohXtQmrGYc2H9AdEhDq7eD9lwlkDSVwJsnROiy_GhQYwzb56VqlAWcc9KncML_nC-ZFQA"
        [12]=>
        string(6) "GOOGLE"
        [13]=>
        string(49) "https://maps.google.com/?cid=16887143363592642486"
        [14]=>
        string(4) "-240"
        [15]=>
        string(29) "1341 Moreland Ave SE, Atlanta"
      }
      ["tracker_field_googlePlaceData_text"]=>
      string(576) "1341 Moreland Ave SE, Atlanta, GA 30316-3127, USA 1341 Moreland Ave SE, Atlanta, GA 30316, USA (404) 622-3501 https://maps.gstatic.com/mapfiles/place_api/icons/restaurant-71.png 5b3889c3f3324c4946169feef921930f28cd3bfd +1 404-622-3501 El Mexicano Restaurant 1 ChIJV1nor34B9YgRtt8I0movW-o 1 4.4 CmRSAAAA4S5H76qs5sKPJqN199HRKXC_2AQTb5BBo1gNqWX7fSX76yQjLJpPiqMBuD6janimnKtoPhfl3F7rC7Xrxw7tCWXZNwuh7UKdj1cS0AO6diTKEEZg6ohXtQmrGYc2H9AdEhDq7eD9lwlkDSVwJsnROiy_GhQYwzb56VqlAWcc9KncML_nC-ZFQA GOOGLE https://maps.google.com/?cid=16887143363592642486 -240 1341 Moreland Ave SE, Atlanta"
      ["tracker_field_googlePlaceData_json"]=>
      object(stdClass)#2424 (22) {
        ["address_components"]=>
        array(9) {
          [0]=>
          object(stdClass)#2415 (3) {
            ["long_name"]=>
            string(4) "1341"
            ["short_name"]=>
            string(4) "1341"
            ["types"]=>
            array(1) {
              [0]=>
              string(13) "street_number"
            }
          }
          [1]=>
          object(stdClass)#2416 (3) {
            ["long_name"]=>
            string(15) "Moreland Ave SE"
            ["short_name"]=>
            string(15) "Moreland Ave SE"
            ["types"]=>
            array(1) {
              [0]=>
              string(5) "route"
            }
          }
          [2]=>
          object(stdClass)#2417 (3) {
            ["long_name"]=>
            string(14) "Woodland Hills"
            ["short_name"]=>
            string(14) "Woodland Hills"
            ["types"]=>
            array(2) {
              [0]=>
              string(12) "neighborhood"
              [1]=>
              string(9) "political"
            }
          }
          [3]=>
          object(stdClass)#2418 (3) {
            ["long_name"]=>
            string(7) "Atlanta"
            ["short_name"]=>
            string(7) "Atlanta"
            ["types"]=>
            array(2) {
              [0]=>
              string(8) "locality"
              [1]=>
              string(9) "political"
            }
          }
          [4]=>
          object(stdClass)#2419 (3) {
            ["long_name"]=>
            string(13) "Fulton County"
            ["short_name"]=>
            string(13) "Fulton County"
            ["types"]=>
            array(2) {
              [0]=>
              string(27) "administrative_area_level_2"
              [1]=>
              string(9) "political"
            }
          }
          [5]=>
          object(stdClass)#2420 (3) {
            ["long_name"]=>
            string(7) "Georgia"
            ["short_name"]=>
            string(2) "GA"
            ["types"]=>
            array(2) {
              [0]=>
              string(27) "administrative_area_level_1"
              [1]=>
              string(9) "political"
            }
          }
          [6]=>
          object(stdClass)#2421 (3) {
            ["long_name"]=>
            string(13) "United States"
            ["short_name"]=>
            string(2) "US"
            ["types"]=>
            array(2) {
              [0]=>
              string(7) "country"
              [1]=>
              string(9) "political"
            }
          }
          [7]=>
          object(stdClass)#2422 (3) {
            ["long_name"]=>
            string(5) "30316"
            ["short_name"]=>
            string(5) "30316"
            ["types"]=>
            array(1) {
              [0]=>
              string(11) "postal_code"
            }
          }
          [8]=>
          object(stdClass)#2423 (3) {
            ["long_name"]=>
            string(4) "3127"
            ["short_name"]=>
            string(4) "3127"
            ["types"]=>
            array(1) {
              [0]=>
              string(18) "postal_code_suffix"
            }
          }
        }
        ["adr_address"]=>
        string(210) "

1341 Moreland Ave SE

, 

Atlanta

, 

GA

 

30316-3127

, 

USA

"
        ["formatted_address"]=>
        string(44) "1341 Moreland Ave SE, Atlanta, GA 30316, USA"
        ["formatted_phone_number"]=>
        string(14) "(404) 622-3501"
        ["geometry"]=>
        object(stdClass)#2426 (2) {
          ["location"]=>
          object(stdClass)#2425 (2) {
            ["lat"]=>
            string(10) "33.7180104"
            ["lng"]=>
            string(11) "-84.3498423"
          }
          ["viewport"]=>
          object(stdClass)#2428 (2) {
            ["northeast"]=>
            object(stdClass)#2427 (2) {
              ["lat"]=>
              string(15) "33.719359380291"
              ["lng"]=>
              string(16) "-84.348493319708"
            }
            ["southwest"]=>
            object(stdClass)#2429 (2) {
              ["lat"]=>
              string(15) "33.716661419708"
              ["lng"]=>
              string(16) "-84.351191280291"
            }
          }
        }
        ["icon"]=>
        string(67) "https://maps.gstatic.com/mapfiles/place_api/icons/restaurant-71.png"
        ["id"]=>
        string(40) "5b3889c3f3324c4946169feef921930f28cd3bfd"
        ["international_phone_number"]=>
        string(15) "+1 404-622-3501"
        ["name"]=>
        string(22) "El Mexicano Restaurant"
        ["permanently_closed"]=>
        string(1) "1"
        ["photos"]=>
        array(10) {
          [0]=>
          object(stdClass)#2430 (4) {
            ["height"]=>
            int(2988)
            ["html_attributions"]=>
            array(1) {
              [0]=>
              string(92) "Travis Healy"
            }
            ["photo_reference"]=>
            string(190) "CmRaAAAAQHziukSdsZXR9JJVKIwlzzxSrCk7Z7yBO8Qs4GpZk5kDJt9pVFB0NPnuoXEXaxljSUTCjFuGnhwyZYFLU3izNkHlWL1IuJWiLRoV5yzDY5i4grLGneja89WwA8AAeQ-zEhCgA9_fvOrmynLrmVS05lfMGhSw15_DBVkzSzSbuLpAYZ5jVIxCPA"
            ["width"]=>
            int(5312)
          }
          [1]=>
          object(stdClass)#2431 (4) {
            ["height"]=>
            int(2448)
            ["html_attributions"]=>
            array(1) {
              [0]=>
              string(102) "El Mexicano Restaurant"
            }
            ["photo_reference"]=>
            string(190) "CmRaAAAAbC8zV-u27BgCvMhsEz2NeMFxDProRnJAyRSQsN2ELgwo3ybmD8Ytu17HeAx5ReZq_NHE172RbUxcyAZ1YS1DaOKY9bJq2wWiBd3HK8aRSraRxod9aULcpPL-c5XNMmHaEhCSTSXsy5s5B8JUt3-4PCIsGhThDXViEWJiulkWJ5KlbHsMYKHJmg"
            ["width"]=>
            int(2448)
          }
          [2]=>
          object(stdClass)#2432 (4) {
            ["height"]=>
            int(2988)
            ["html_attributions"]=>
            array(1) {
              [0]=>
              string(93) "Sharon Hooper"
            }
            ["photo_reference"]=>
            string(190) "CmRaAAAAH0-NBkb7Y1Q4O41gQxfhHOptvBr9cDNxpomlV42qEHQF8__lE2AxnTOJkHLzepEOBpDU5Bam74yxMTX0QqaS-TJ2DJ3nrQGwluDMgFvJ9aL0tynisW7f9x_9LpEaJ57EEhBwBrjcpcffNYuOnOcUkX6UGhT8aTaE4V1LY2eG_lGKKpYWY1BVpA"
            ["width"]=>
            int(5312)
          }
          [3]=>
          object(stdClass)#2433 (4) {
            ["height"]=>
            int(4128)
            ["html_attributions"]=>
            array(1) {
              [0]=>
              string(91) "Jazmine Blu"
            }
            ["photo_reference"]=>
            string(190) "CmRZAAAAGoMZJZRQRF38oQgP5n8LW6JMpucePSBpFnreH5AJWGKRQvne-pq_HBpySQjEwvQYcg99rhIedCt9WXozfEA8dtdeAC_AkQ1h9SoUll7caphNT2OqaiDKRCICTQPT58MpEhDYIfVtxsxY05_xML7bmX3oGhRL5KAcua20lp0Tg2hPU8f_soNi2g"
            ["width"]=>
            int(3096)
          }
          [4]=>
          object(stdClass)#2434 (4) {
            ["height"]=>
            int(2976)
            ["html_attributions"]=>
            array(1) {
              [0]=>
              string(91) "Gabrielle M"
            }
            ["photo_reference"]=>
            string(190) "CmRaAAAAEUZTRp0ShwQs_oZv5F5kHvra83OMTlu2PHx_Qat2yEAOPIA3qisnbnt8_nKneoTtyOY1QnUe50vasozJDDNeKs3jYpLYEQZk7mII3BHUIK9jAmG03SDoWtALQAY5T2CuEhCjMpr_nKrHy9RUqMzIuhBLGhRAqoY-YARANHqJBTx8h46nRLlBKA"
            ["width"]=>
            int(2976)
          }
          [5]=>
          object(stdClass)#2435 (4) {
            ["height"]=>
            int(3120)
            ["html_attributions"]=>
            array(1) {
              [0]=>
              string(96) "Andrew Schneider"
            }
            ["photo_reference"]=>
            string(190) "CmRaAAAAO68Eq65iGLm8PbHZpUdq6FdSOqTF2g_JuKnmNWhf0leaWdqHOdY2qjnhxhiDx-L4yYdpaXrqVolme56FrZOnlxzDS7qOrVtQy4cOgBtDlfhkoQIjR6bXjVhuJSRiL65-EhCTmLDUyfHc89nGGDhry29MGhTYI_xBJm9MTJSDwy4MdPXsZn-69g"
            ["width"]=>
            int(4160)
          }
          [6]=>
          object(stdClass)#2436 (4) {
            ["height"]=>
            int(1836)
            ["html_attributions"]=>
            array(1) {
              [0]=>
              string(88) "Wesley N"
            }
            ["photo_reference"]=>
            string(190) "CmRaAAAA7s6ZCjBaFLv2gq9Uiv_8XByX0vx2_APXLwazXA0_oocxClPpQ4v1Tm2IjwCN8thtcU-1pivWCrgC--KlvEfNhgwpKuPovqYFQboLJdmZFktO42RoP_o-_jdy3I6PJI4KEhA8yequ6op_SgyitMS7zoMkGhTR9rkPnWTXGISom32L2JJAFnI9Kw"
            ["width"]=>
            int(3264)
          }
          [7]=>
          object(stdClass)#2437 (4) {
            ["height"]=>
            int(3036)
            ["html_attributions"]=>
            array(1) {
              [0]=>
              string(94) "Marlon Parrish"
            }
            ["photo_reference"]=>
            string(190) "CmRaAAAAzn7_vAlWz3orwAvY1lIEKswpUsLfH4VGop5jOcd3Bt-pUMTczHcaSQL29GE5MO3ncF-4XWYA0pC1-8bVvcEoFBjisYiFn1oKd2bGaAkaaqN7_tpEwckKd8KU952fPauWEhA4i_mKlkzKOAj0vXGQMyhqGhTtNPMq2LiTvYsJIqVL7Vh31Teq1g"
            ["width"]=>
            int(4048)
          }
          [8]=>
          object(stdClass)#2438 (4) {
            ["height"]=>
            int(4032)
            ["html_attributions"]=>
            array(1) {
              [0]=>
              string(96) "Natasha Lockhart"
            }
            ["photo_reference"]=>
            string(190) "CmRaAAAAC44aDAAsvXZiGSYU5oRpa9ZD4gdjo5Mo9oun6nJQAGeWnwaYWrh3aqtNyoKeqMGOySmBHtoMNvZIjlf5X6-M1eMsPvnaFftfw1qkVbjRYt3R-XfadXFwn7Y96MWYNcMpEhBhFu5UIm0RHa0AHB7OBxBwGhQer5lM3TjjqeQSJuy2px9Oz05wmA"
            ["width"]=>
            int(3024)
          }
          [9]=>
          object(stdClass)#2439 (4) {
            ["height"]=>
            int(1836)
            ["html_attributions"]=>
            array(1) {
              [0]=>
              string(97) "Johnathan Zackary"
            }
            ["photo_reference"]=>
            string(190) "CmRaAAAAH0HrJH_eII9qdvaw6Rj38kNvqETFB-JpS-nM669qO657tzfFR_58_8fGhwrxcqo5sITGgfYeIeslQFIBg7d96lEOXJEL6rKAg8E9eQWzC3JUGKQ_tH-4briJuIfEoVccEhB_qpW4llA9nse0nJ5SXhUJGhRv-wvkX2-96A1UZSxYzFLYM3ga5g"
            ["width"]=>
            int(3264)
          }
        }
        ["place_id"]=>
        string(27) "ChIJV1nor34B9YgRtt8I0movW-o"
        ["plus_code"]=>
        object(stdClass)#2440 (2) {
          ["compound_code"]=>
          string(39) "PM92+63 Atlanta, Georgia, United States"
          ["global_code"]=>
          string(11) "865QPM92+63"
        }
        ["price_level"]=>
        string(1) "1"
        ["rating"]=>
        string(3) "4.4"
        ["reference"]=>
        string(190) "CmRSAAAA4S5H76qs5sKPJqN199HRKXC_2AQTb5BBo1gNqWX7fSX76yQjLJpPiqMBuD6janimnKtoPhfl3F7rC7Xrxw7tCWXZNwuh7UKdj1cS0AO6diTKEEZg6ohXtQmrGYc2H9AdEhDq7eD9lwlkDSVwJsnROiy_GhQYwzb56VqlAWcc9KncML_nC-ZFQA"
        ["reviews"]=>
        array(5) {
          [0]=>
          object(stdClass)#2441 (8) {
            ["author_name"]=>
            string(17) "Thompson Hatfield"
            ["author_url"]=>
            string(65) "https://www.google.com/maps/contrib/106957615020616571029/reviews"
            ["language"]=>
            string(2) "en"
            ["profile_photo_url"]=>
            string(122) "https://lh6.googleusercontent.com/-kePRGSd9ou0/AAAAAAAAAAI/AAAAAAAABqE/fpjqWXyotHE/s128-c0x00000000-cc-rp-mo-ba3/photo.jpg"
            ["rating"]=>
            string(1) "5"
            ["relative_time_description"]=>
            string(12) "4 months ago"
            ["text"]=>
            string(363) "Best Mexican South of I-20! Food is great, drinks are tasty, staff is friendly. Con: Be prepared to get on the wait list to be seated. Don't let the outside appearance fool you; this or far from a hole in the wall or sleazy Mexican restaurant. There's a wrap around patio, flat screens for games and an enjoyable environment inside. Prices are reasonable as well."
            ["time"]=>
            int(1520798727)
          }
          [1]=>
          object(stdClass)#2442 (8) {
            ["author_name"]=>
            string(10) "Chris Cole"
            ["author_url"]=>
            string(65) "https://www.google.com/maps/contrib/117019514926910945492/reviews"
            ["language"]=>
            string(2) "en"
            ["profile_photo_url"]=>
            string(122) "https://lh5.googleusercontent.com/-rM5qazg3Ce0/AAAAAAAAAAI/AAAAAAABviA/1VbGLIQyavw/s128-c0x00000000-cc-rp-mo-ba3/photo.jpg"
            ["rating"]=>
            string(1) "4"
            ["relative_time_description"]=>
            string(12) "3 months ago"
            ["text"]=>
            string(719) "I've been back about 5 times since the last review and am bumping from 2 to 4 stars.  The food has always been good, and the margaritas too, but there is still room for improvement on the ambiance.  They really ought to expand w/ a patio on the side.

First Review from 2016:
No ambiance.  They need to replace the fluorescent "office" lights with 2200K LED pendants to every table, embrace the large lot they have by expanding seating out to a covered patio on the side, and sell good margaritas by the pitcher.  Food is exactly what you would expect.  Good salsa and predictable but well executed classics.  I think they could earn 4 stars with $10k in electrical improvements.  Hopefully they'll figure that out.  :)"
            ["time"]=>
            int(1522373450)
          }
          [2]=>
          object(stdClass)#2443 (8) {
            ["author_name"]=>
            string(8) "Imani J."
            ["author_url"]=>
            string(65) "https://www.google.com/maps/contrib/117884793997342329427/reviews"
            ["language"]=>
            string(2) "en"
            ["profile_photo_url"]=>
            string(122) "https://lh3.googleusercontent.com/-KpXGR_Zt7n0/AAAAAAAAAAI/AAAAAAAAB_4/qv1R01_lR_Q/s128-c0x00000000-cc-rp-mo-ba3/photo.jpg"
            ["rating"]=>
            string(1) "3"
            ["relative_time_description"]=>
            string(11) "3 weeks ago"
            ["text"]=>
            string(417) "1. My date found an ant in her food

2. Service was friendly but could have been a bit more attentive

3. Waitress sent someone else to close out the ticket after we mentioned the ant problem. I would've  respected her coming back to check in before we left; maybe she was embarrassed. 

I won't be going back, but it seems cool to go to for lunch and cocktails. I'd say try it once at least, but they seem overrated."
            ["time"]=>
            int(1530699379)
          }
          [3]=>
          object(stdClass)#2444 (8) {
            ["author_name"]=>
            string(11) "Sandy Green"
            ["author_url"]=>
            string(65) "https://www.google.com/maps/contrib/108783247620337576553/reviews"
            ["language"]=>
            string(2) "en"
            ["profile_photo_url"]=>
            string(145) "https://lh5.googleusercontent.com/-iEIcAbB3Ezc/AAAAAAAAAAI/AAAAAAAAAAA/AAnnY7rDyIihrg75lShyTKhJjPigoojwJw/s128-c0x00000000-cc-rp-mo-ba3/photo.jpg"
            ["rating"]=>
            string(1) "5"
            ["relative_time_description"]=>
            string(12) "2 months ago"
            ["text"]=>
            string(364) "I love this place. They have the best taco salad around. I get it almost everytime I go. Sad to say they will be closing at the end of May but they are opening a new restaurant soon. I think they are closing because the person who owns the property are selling the land. Not sure if that is the case but it is the word on the street. I am going to miss this place."
            ["time"]=>
            int(1526149689)
          }
          [4]=>
          object(stdClass)#2445 (8) {
            ["author_name"]=>
            string(15) "KOURTNEY POWERS"
            ["author_url"]=>
            string(65) "https://www.google.com/maps/contrib/108706523282556193747/reviews"
            ["language"]=>
            string(2) "en"
            ["profile_photo_url"]=>
            string(118) "https://lh4.googleusercontent.com/-EYywEuC3Oso/AAAAAAAAAAI/AAAAAAAAAxM/KOF06OTiU1k/s128-c0x00000000-cc-rp-mo/photo.jpg"
            ["rating"]=>
            string(1) "5"
            ["relative_time_description"]=>
            string(12) "2 months ago"
            ["text"]=>
            string(159) "They were good, now they are moving to Grant Park and changing their name. Typical. The prices were reasonable too. Not sure what to expect with the new place."
            ["time"]=>
            int(1526333676)
          }
        }
        ["scope"]=>
        string(6) "GOOGLE"
        ["types"]=>
        array(4) {
          [0]=>
          string(10) "restaurant"
          [1]=>
          string(4) "food"
          [2]=>
          string(17) "point_of_interest"
          [3]=>
          string(13) "establishment"
        }
        ["url"]=>
        string(49) "https://maps.google.com/?cid=16887143363592642486"
        ["utc_offset"]=>
        string(4) "-240"
        ["vicinity"]=>
        string(29) "1341 Moreland Ave SE, Atlanta"
      }
      ["tracker_field_googleOverallRating"]=>
      float(4.4)
      ["tracker_field_businessYelpBusinessData"]=>
      array(0) {
      }
      ["tracker_field_businessYelpBusinessData_json"]=>
      array(0) {
      }
      ["tracker_field_businessFacebook"]=>
      string(22) "El Mexicano Restaurant"
      ["tracker_field_businessFacebookData"]=>
      array(0) {
      }
      ["tracker_field_businessFacebookData_json"]=>
      array(0) {
      }
      ["tracker_field_businessLoafingID"]=>
      string(24) "579cc253cd7a187777095aa2"
      ["tracker_field_businessAccountExecutive"]=>
      string(1) "0"
      ["tracker_field_businessStatusField"]=>
      string(14) "Needs Facebook"
      ["tracker_field_businessCLDistributionLocation"]=>
      string(1) "n"
      ["tracker_field_businessAudience"]=>
      array(0) {
      }
      ["tracker_field_businessLegacyID"]=>
      int(17215149)
      ["language"]=>
      string(7) "unknown"
      ["attachments"]=>
      array(0) {
      }
      ["comment_count"]=>
      int(0)
      ["categories"]=>
      array(2) {
        [0]=>
        int(85)
        [1]=>
        int(100)
      }
      ["deep_categories"]=>
      array(5) {
        [0]=>
        int(28)
        [1]=>
        int(85)
        [2]=>
        int(1)
        [3]=>
        int(149)
        [4]=>
        int(100)
      }
      ["categories_under_28"]=>
      array(1) {
        [0]=>
        int(85)
      }
      ["deep_categories_under_28"]=>
      array(1) {
        [0]=>
        int(85)
      }
      ["categories_under_1"]=>
      array(0) {
      }
      ["deep_categories_under_1"]=>
      array(2) {
        [0]=>
        int(149)
        [1]=>
        int(100)
      }
      ["categories_under_177"]=>
      array(0) {
      }
      ["deep_categories_under_177"]=>
      array(0) {
      }
      ["categories_under_209"]=>
      array(0) {
      }
      ["deep_categories_under_209"]=>
      array(0) {
      }
      ["categories_under_163"]=>
      array(0) {
      }
      ["deep_categories_under_163"]=>
      array(0) {
      }
      ["categories_under_171"]=>
      array(0) {
      }
      ["deep_categories_under_171"]=>
      array(0) {
      }
      ["categories_under_153"]=>
      array(0) {
      }
      ["deep_categories_under_153"]=>
      array(0) {
      }
      ["categories_under_242"]=>
      array(0) {
      }
      ["deep_categories_under_242"]=>
      array(0) {
      }
      ["categories_under_564"]=>
      array(0) {
      }
      ["deep_categories_under_564"]=>
      array(0) {
      }
      ["freetags"]=>
      array(0) {
      }
      ["geo_located"]=>
      string(1) "y"
      ["geo_location"]=>
      string(25) "-84.3498423,33.7180104,12"
      ["geo_point"]=>
      object(stdClass)#2446 (2) {
        ["lat"]=>
        float(33.7180104)
        ["lon"]=>
        float(-84.3498423)
      }
      ["allowed_groups"]=>
      array(2) {
        [0]=>
        string(6) "Admins"
        [1]=>
        string(9) "Anonymous"
      }
      ["allowed_users"]=>
      array(0) {
      }
      ["relations"]=>
      array(0) {
      }
      ["relation_objects"]=>
      array(0) {
      }
      ["relation_types"]=>
      array(0) {
      }
      ["relation_count"]=>
      array(0) {
      }
      ["title_initial"]=>
      string(1) "E"
      ["title_firstword"]=>
      string(2) "El"
      ["searchable"]=>
      string(1) "y"
      ["url"]=>
      string(8) "item1042"
      ["object_type"]=>
      string(11) "trackeritem"
      ["object_id"]=>
      string(4) "1042"
      ["contents"]=>
      string(468) "    El Mexicano Restaurant 1341 Moreland Ave. S.E.  Atlanta GA 30316    (404) 622-3501  -84.3498423,33.7180104,12 display26  El Mexicano is a not-so-hidden gem and neighborhood favorite located in southeast Atlanta.       http://dev.creativeloafing.com/image/2016/09/320w/El_Mexicano_034.57daeb7c6ae91.jpg        n  ChIJV1nor34B9YgRtt8I0movW-o  El Mexicano Restaurant  579cc253cd7a187777095aa2       Needs Facebook  n  2017-06-19T12:58:54+00:00 El Mexicano Restaurant "
      ["score"]=>
      float(0)
      ["_index"]=>
      string(21) "atlantawiki_tiki_main"
      ["objectlink"]=>
      string(308) "El Mexicano Restaurant"
      ["image"]=>
      string(39) "

File not found.

"
      ["areaLocation"]=>
      string(34) "-84.3503813,33.7391182,15"
    }
    [59]=>
    array(97) {
      ["title"]=>
      string(34) "Hodgepodge Coffeehouse and Gallery"
      ["modification_date"]=>
      string(25) "2019-09-19T20:41:33+00:00"
      ["creation_date"]=>
      string(25) "2017-06-19T12:58:54+00:00"
      ["contributors"]=>
      array(2) {
        [0]=>
        NULL
        [1]=>
        string(30) "jim.harris@creativeloafing.com"
      }
      ["date"]=>
      string(25) "2017-06-19T12:58:54+00:00"
      ["tracker_status"]=>
      string(1) "o"
      ["tracker_id"]=>
      string(1) "1"
      ["view_permission"]=>
      string(13) "view_trackers"
      ["tracker_field_businessName"]=>
      string(34) "Hodgepodge Coffeehouse and Gallery"
      ["tracker_field_businessAddress"]=>
      string(22) "720 Moreland Ave. S.E."
      ["tracker_field_businessCity"]=>
      string(7) "Atlanta"
      ["tracker_field_businessState"]=>
      string(2) "GA"
      ["tracker_field_businessZip"]=>
      string(5) "30316"
      ["tracker_field_businessWebsite"]=>
      string(32) "http://www.hodgepodgecoffee.com/"
      ["tracker_field_businessPhone"]=>
      string(14) "(404) 622-8525"
      ["tracker_field_businessRepresentative"]=>
      array(0) {
      }
      ["tracker_field_businessLocation"]=>
      string(24) "-84.349174,33.7344769,17"
      ["tracker_field_businessLocationRadius"]=>
      int(0)
      ["tracker_field_businessIcon"]=>
      string(9) "display26"
      ["tracker_field_description"]=>
      string(89) "A coffee shop and bakery located in East Atlanta with regular art showings and open mics."
      ["tracker_field_description_raw"]=>
      string(89) "A coffee shop and bakery located in East Atlanta with regular art showings and open mics."
      ["tracker_field_photos"]=>
      string(5) "23511"
      ["tracker_field_businessPhotoCredit"]=>
      string(11) "Adam Komich"
      ["tracker_field_businessClassifieds"]=>
      array(0) {
      }
      ["tracker_field_businessTypes"]=>
      array(1) {
        [0]=>
        string(2) "85"
      }
      ["tracker_field_businessTypes_text"]=>
      string(2) "85"
      ["tracker_field_scene"]=>
      array(0) {
      }
      ["tracker_field_businessNeighborhoods"]=>
      array(1) {
        [0]=>
        string(3) "100"
      }
      ["tracker_field_businessNeighborhoods_text"]=>
      string(3) "100"
      ["tracker_field_businessPriceRange"]=>
      array(0) {
      }
      ["tracker_field_businessMiscCategories"]=>
      array(0) {
      }
      ["tracker_field_businessCLAcctNum"]=>
      int(0)
      ["tracker_field_business_121CurrentChit"]=>
      string(1) "n"
      ["tracker_field_121MobileClientID"]=>
      int(0)
      ["tracker_field_121MobileCampaignData"]=>
      array(0) {
      }
      ["tracker_field_121MobileCampaignData_json"]=>
      array(0) {
      }
      ["tracker_field_googlePlaceData"]=>
      array(0) {
      }
      ["tracker_field_googlePlaceData_json"]=>
      array(0) {
      }
      ["tracker_field_googleOverallRating"]=>
      float(4.6)
      ["tracker_field_businessYelpBusinessData"]=>
      array(0) {
      }
      ["tracker_field_businessYelpBusinessData_json"]=>
      array(0) {
      }
      ["tracker_field_businessFacebook"]=>
      string(22) "Hodgepodge Coffeehouse"
      ["tracker_field_businessFacebookData"]=>
      array(0) {
      }
      ["tracker_field_businessFacebookData_json"]=>
      array(0) {
      }
      ["tracker_field_businessLoafingID"]=>
      string(24) "573f3cdd1e3ee4dfcf65fd76"
      ["tracker_field_businessAccountExecutive"]=>
      string(1) "0"
      ["tracker_field_businessInternalNotes"]=>
      string(46) "ChIJM7PF_10B9YgRJMJGTriwPRQ

126612000000000"
      ["tracker_field_businessInternalNotes_raw"]=>
      string(46) "ChIJM7PF_10B9YgRJMJGTriwPRQ

126612000000000"
      ["tracker_field_businessStatusField"]=>
      string(12) "Sent to Edit"
      ["tracker_field_businessCLDistributionLocation"]=>
      string(1) "n"
      ["tracker_field_businessAudience"]=>
      array(0) {
      }
      ["tracker_field_businessLegacyID"]=>
      int(5015601)
      ["language"]=>
      string(7) "unknown"
      ["attachments"]=>
      array(1) {
        [0]=>
        string(5) "23511"
      }
      ["comment_count"]=>
      int(0)
      ["categories"]=>
      array(2) {
        [0]=>
        int(85)
        [1]=>
        int(100)
      }
      ["deep_categories"]=>
      array(5) {
        [0]=>
        int(28)
        [1]=>
        int(85)
        [2]=>
        int(1)
        [3]=>
        int(149)
        [4]=>
        int(100)
      }
      ["categories_under_28"]=>
      array(1) {
        [0]=>
        int(85)
      }
      ["deep_categories_under_28"]=>
      array(1) {
        [0]=>
        int(85)
      }
      ["categories_under_1"]=>
      array(0) {
      }
      ["deep_categories_under_1"]=>
      array(2) {
        [0]=>
        int(149)
        [1]=>
        int(100)
      }
      ["categories_under_177"]=>
      array(0) {
      }
      ["deep_categories_under_177"]=>
      array(0) {
      }
      ["categories_under_209"]=>
      array(0) {
      }
      ["deep_categories_under_209"]=>
      array(0) {
      }
      ["categories_under_163"]=>
      array(0) {
      }
      ["deep_categories_under_163"]=>
      array(0) {
      }
      ["categories_under_171"]=>
      array(0) {
      }
      ["deep_categories_under_171"]=>
      array(0) {
      }
      ["categories_under_153"]=>
      array(0) {
      }
      ["deep_categories_under_153"]=>
      array(0) {
      }
      ["categories_under_242"]=>
      array(0) {
      }
      ["deep_categories_under_242"]=>
      array(0) {
      }
      ["categories_under_564"]=>
      array(0) {
      }
      ["deep_categories_under_564"]=>
      array(0) {
      }
      ["freetags"]=>
      array(0) {
      }
      ["geo_located"]=>
      string(1) "y"
      ["geo_location"]=>
      string(24) "-84.349174,33.7344769,17"
      ["geo_point"]=>
      object(stdClass)#2449 (2) {
        ["lat"]=>
        float(33.7344769)
        ["lon"]=>
        float(-84.349174)
      }
      ["allowed_groups"]=>
      array(2) {
        [0]=>
        string(6) "Admins"
        [1]=>
        string(9) "Anonymous"
      }
      ["allowed_users"]=>
      array(0) {
      }
      ["relations"]=>
      array(2) {
        [0]=>
        string(27) "tiki.file.attach:file:23511"
        [1]=>
        string(48) "call.people.businesses.invert:trackeritem:430275"
      }
      ["relation_objects"]=>
      array(0) {
      }
      ["relation_types"]=>
      array(2) {
        [0]=>
        string(16) "tiki.file.attach"
        [1]=>
        string(29) "call.people.businesses.invert"
      }
      ["relation_count"]=>
      array(2) {
        [0]=>
        string(18) "tiki.file.attach:1"
        [1]=>
        string(31) "call.people.businesses.invert:1"
      }
      ["title_initial"]=>
      string(1) "H"
      ["title_firstword"]=>
      string(10) "Hodgepodge"
      ["searchable"]=>
      string(1) "y"
      ["url"]=>
      string(7) "item605"
      ["object_type"]=>
      string(11) "trackeritem"
      ["object_id"]=>
      string(3) "605"
      ["contents"]=>
      string(553) " Hodgepodge Coffee Magnum  2019-09-19T20:41:21+00:00 hodgepodge_coffee_magnum.jpg     Hodgepodge Coffeehouse and Gallery 720 Moreland Ave. S.E.  Atlanta GA 30316 http://www.hodgepodgecoffee.com/   (404) 622-8525  -84.349174,33.7344769,17 display26  A coffee shop and bakery located in East Atlanta with regular art showings and open mics.    23511  Adam Komich         n    Hodgepodge Coffeehouse  573f3cdd1e3ee4dfcf65fd76      ChIJM7PF_10B9YgRJMJGTriwPRQ

126612000000000 Sent to Edit  n  2017-06-19T12:58:54+00:00 Hodgepodge Coffeehouse and Gallery "
      ["score"]=>
      float(0)
      ["_index"]=>
      string(21) "atlantawiki_tiki_main"
      ["objectlink"]=>
      string(317) "Hodgepodge Coffeehouse and Gallery"
      ["image"]=>
      string(39) "

File not found.

"
      ["areaLocation"]=>
      string(34) "-84.3503813,33.7391182,15"
    }
    [60]=>
    array(99) {
      ["title"]=>
      string(12) "Poor Hendrix"
      ["modification_date"]=>
      string(25) "2018-07-27T14:23:31+00:00"
      ["creation_date"]=>
      string(25) "1970-01-01T00:00:00+00:00"
      ["contributors"]=>
      array(2) {
        [0]=>
        NULL
        [1]=>
        string(29) "ben.eason@creativeloafing.com"
      }
      ["date"]=>
      string(25) "1970-01-01T00:00:00+00:00"
      ["tracker_status"]=>
      string(1) "o"
      ["tracker_id"]=>
      string(1) "1"
      ["view_permission"]=>
      string(13) "view_trackers"
      ["tracker_field_businessName"]=>
      string(12) "Poor Hendrix"
      ["tracker_field_businessAddress"]=>
      string(27) "2371 Hosea L Williams Dr SE"
      ["tracker_field_businessCity"]=>
      string(7) "Atlanta"
      ["tracker_field_businessState"]=>
      string(2) "GA"
      ["tracker_field_businessZip"]=>
      string(5) "30317"
      ["tracker_field_businessWebsite"]=>
      string(27) "http://www.poorhendrix.com/"
      ["tracker_field_businessPhone"]=>
      string(12) "404-549-8756"
      ["tracker_field_businessRepresentative"]=>
      array(0) {
      }
      ["tracker_field_businessLocation"]=>
      string(25) "-84.3093434,33.7508774,12"
      ["tracker_field_businessLocationRadius"]=>
      int(0)
      ["tracker_field_businessIcon"]=>
      string(9) "display26"
      ["tracker_field_description"]=>
      string(1) " "
      ["tracker_field_description_raw"]=>
      string(1) " "
      ["tracker_field_legacyImageURL"]=>
      string(91) "http://dev.creativeloafing.com/image/2017/01/640w/Firstlook_Hendrix1_2_39.587d2d8121bed.jpg"
      ["tracker_field_businessClassifieds"]=>
      array(0) {
      }
      ["tracker_field_businessTypes"]=>
      array(1) {
        [0]=>
        string(2) "85"
      }
      ["tracker_field_businessTypes_text"]=>
      string(2) "85"
      ["tracker_field_scene"]=>
      array(0) {
      }
      ["tracker_field_businessNeighborhoods"]=>
      array(2) {
        [0]=>
        string(3) "100"
        [1]=>
        string(3) "149"
      }
      ["tracker_field_businessNeighborhoods_text"]=>
      string(7) "100 149"
      ["tracker_field_businessPriceRange"]=>
      array(0) {
      }
      ["tracker_field_businessMiscCategories"]=>
      array(0) {
      }
      ["tracker_field_businessCLAcctNum"]=>
      int(0)
      ["tracker_field_business_121CurrentChit"]=>
      string(1) "n"
      ["tracker_field_121MobileClientID"]=>
      int(0)
      ["tracker_field_121MobileCampaignData"]=>
      array(0) {
      }
      ["tracker_field_121MobileCampaignData_json"]=>
      array(0) {
      }
      ["tracker_field_google_placeid"]=>
      string(27) "ChIJOyF-S9QA9YgR5-sqaFKYKL8"
      ["tracker_field_googlePlaceData"]=>
      array(16) {
        [0]=>
        string(231) "2371 Hosea L Williams Drive Southeast, 

Bldg. 2

, 

Atlanta

, 

GA

 

30317

, 

USA

"
        [1]=>
        string(70) "2371 Hosea L Williams Drive Southeast, Bldg. 2, Atlanta, GA 30317, USA"
        [2]=>
        string(14) "(404) 549-8756"
        [3]=>
        string(60) "https://maps.gstatic.com/mapfiles/place_api/icons/bar-71.png"
        [4]=>
        string(40) "e757f7f74cb4eddbd47de6c8983c835d189f673b"
        [5]=>
        string(15) "+1 404-549-8756"
        [6]=>
        string(12) "Poor Hendrix"
        [7]=>
        string(27) "ChIJOyF-S9QA9YgR5-sqaFKYKL8"
        [8]=>
        string(1) "2"
        [9]=>
        string(3) "4.7"
        [10]=>
        string(190) "CmRSAAAAt1Ox7mNFfs3NrdqjV4-6XEehfCnCKNPI3wL2cpKoW-I_h9VMpYQJS-g4Q8cSYBMJHVEr9gCxoZ__PWLserm8jA3fMXIM72_JXeX4EguMlRq7TIiLCyiIGjhJNrhV1MzMEhBBjyZAjf8ZFu6VeLkFhhegGhTjdc2pzuscDhn4b8HHDyMRiP2fWg"
        [11]=>
        string(6) "GOOGLE"
        [12]=>
        string(49) "https://maps.google.com/?cid=13774426940015045607"
        [13]=>
        string(4) "-240"
        [14]=>
        string(55) "2371 Hosea L Williams Drive Southeast, Bldg. 2, Atlanta"
        [15]=>
        string(27) "http://www.poorhendrix.com/"
      }
      ["tracker_field_googlePlaceData_text"]=>
      string(658) "2371 Hosea L Williams Drive Southeast, Bldg. 2, Atlanta, GA 30317, USA 2371 Hosea L Williams Drive Southeast, Bldg. 2, Atlanta, GA 30317, USA (404) 549-8756 https://maps.gstatic.com/mapfiles/place_api/icons/bar-71.png e757f7f74cb4eddbd47de6c8983c835d189f673b +1 404-549-8756 Poor Hendrix ChIJOyF-S9QA9YgR5-sqaFKYKL8 2 4.7 CmRSAAAAt1Ox7mNFfs3NrdqjV4-6XEehfCnCKNPI3wL2cpKoW-I_h9VMpYQJS-g4Q8cSYBMJHVEr9gCxoZ__PWLserm8jA3fMXIM72_JXeX4EguMlRq7TIiLCyiIGjhJNrhV1MzMEhBBjyZAjf8ZFu6VeLkFhhegGhTjdc2pzuscDhn4b8HHDyMRiP2fWg GOOGLE https://maps.google.com/?cid=13774426940015045607 -240 2371 Hosea L Williams Drive Southeast, Bldg. 2, Atlanta http://www.poorhendrix.com/"
      ["tracker_field_googlePlaceData_json"]=>
      object(stdClass)#2458 (23) {
        ["address_components"]=>
        array(6) {
          [0]=>
          object(stdClass)#2452 (3) {
            ["long_name"]=>
            string(7) "Atlanta"
            ["short_name"]=>
            string(7) "Atlanta"
            ["types"]=>
            array(2) {
              [0]=>
              string(8) "locality"
              [1]=>
              string(9) "political"
            }
          }
          [1]=>
          object(stdClass)#2453 (3) {
            ["long_name"]=>
            string(9) "East Lake"
            ["short_name"]=>
            string(9) "East Lake"
            ["types"]=>
            array(2) {
              [0]=>
              string(12) "neighborhood"
              [1]=>
              string(9) "political"
            }
          }
          [2]=>
          object(stdClass)#2454 (3) {
            ["long_name"]=>
            string(13) "DeKalb County"
            ["short_name"]=>
            string(13) "Dekalb County"
            ["types"]=>
            array(2) {
              [0]=>
              string(27) "administrative_area_level_2"
              [1]=>
              string(9) "political"
            }
          }
          [3]=>
          object(stdClass)#2455 (3) {
            ["long_name"]=>
            string(7) "Georgia"
            ["short_name"]=>
            string(2) "GA"
            ["types"]=>
            array(2) {
              [0]=>
              string(27) "administrative_area_level_1"
              [1]=>
              string(9) "political"
            }
          }
          [4]=>
          object(stdClass)#2456 (3) {
            ["long_name"]=>
            string(13) "United States"
            ["short_name"]=>
            string(2) "US"
            ["types"]=>
            array(2) {
              [0]=>
              string(7) "country"
              [1]=>
              string(9) "political"
            }
          }
          [5]=>
          object(stdClass)#2457 (3) {
            ["long_name"]=>
            string(5) "30317"
            ["short_name"]=>
            string(5) "30317"
            ["types"]=>
            array(1) {
              [0]=>
              string(11) "postal_code"
            }
          }
        }
        ["adr_address"]=>
        string(231) "2371 Hosea L Williams Drive Southeast, 

Bldg. 2

, 

Atlanta

, 

GA

 

30317

, 

USA

"
        ["formatted_address"]=>
        string(70) "2371 Hosea L Williams Drive Southeast, Bldg. 2, Atlanta, GA 30317, USA"
        ["formatted_phone_number"]=>
        string(14) "(404) 549-8756"
        ["geometry"]=>
        object(stdClass)#2460 (2) {
          ["location"]=>
          object(stdClass)#2459 (2) {
            ["lat"]=>
            string(10) "33.7509049"
            ["lng"]=>
            string(10) "-84.309358"
          }
          ["viewport"]=>
          object(stdClass)#2462 (2) {
            ["northeast"]=>
            object(stdClass)#2461 (2) {
              ["lat"]=>
              string(15) "33.752253880292"
              ["lng"]=>
              string(16) "-84.308009019708"
            }
            ["southwest"]=>
            object(stdClass)#2463 (2) {
              ["lat"]=>
              string(15) "33.749555919709"
              ["lng"]=>
              string(16) "-84.310706980292"
            }
          }
        }
        ["icon"]=>
        string(60) "https://maps.gstatic.com/mapfiles/place_api/icons/bar-71.png"
        ["id"]=>
        string(40) "e757f7f74cb4eddbd47de6c8983c835d189f673b"
        ["international_phone_number"]=>
        string(15) "+1 404-549-8756"
        ["name"]=>
        string(12) "Poor Hendrix"
        ["opening_hours"]=>
        object(stdClass)#2464 (3) {
          ["open_now"]=>
          bool(false)
          ["periods"]=>
          array(6) {
            [0]=>
            object(stdClass)#2466 (2) {
              ["close"]=>
              object(stdClass)#2465 (2) {
                ["day"]=>
                string(1) "1"
                ["time"]=>
                string(4) "0000"
              }
              ["open"]=>
              object(stdClass)#2467 (2) {
                ["day"]=>
                int(0)
                ["time"]=>
                string(4) "1600"
              }
            }
            [1]=>
            object(stdClass)#2469 (2) {
              ["close"]=>
              object(stdClass)#2468 (2) {
                ["day"]=>
                string(1) "2"
                ["time"]=>
                string(4) "0000"
              }
              ["open"]=>
              object(stdClass)#2470 (2) {
                ["day"]=>
                string(1) "1"
                ["time"]=>
                string(4) "1600"
              }
            }
            [2]=>
            object(stdClass)#2472 (2) {
              ["close"]=>
              object(stdClass)#2471 (2) {
                ["day"]=>
                string(1) "3"
                ["time"]=>
                string(4) "0000"
              }
              ["open"]=>
              object(stdClass)#2473 (2) {
                ["day"]=>
                string(1) "2"
                ["time"]=>
                string(4) "1600"
              }
            }
            [3]=>
            object(stdClass)#2475 (2) {
              ["close"]=>
              object(stdClass)#2474 (2) {
                ["day"]=>
                string(1) "5"
                ["time"]=>
                string(4) "0000"
              }
              ["open"]=>
              object(stdClass)#2476 (2) {
                ["day"]=>
                string(1) "4"
                ["time"]=>
                string(4) "1600"
              }
            }
            [4]=>
            object(stdClass)#2478 (2) {
              ["close"]=>
              object(stdClass)#2477 (2) {
                ["day"]=>
                string(1) "6"
                ["time"]=>
                string(4) "0200"
              }
              ["open"]=>
              object(stdClass)#2479 (2) {
                ["day"]=>
                string(1) "5"
                ["time"]=>
                string(4) "1600"
              }
            }
            [5]=>
            object(stdClass)#2481 (2) {
              ["close"]=>
              object(stdClass)#2480 (2) {
                ["day"]=>
                int(0)
                ["time"]=>
                string(4) "0200"
              }
              ["open"]=>
              object(stdClass)#2482 (2) {
                ["day"]=>
                string(1) "6"
                ["time"]=>
                string(4) "1600"
              }
            }
          }
          ["weekday_text"]=>
          array(7) {
            [0]=>
            string(28) "Monday: 4:00 PM – 12:00 AM"
            [1]=>
            string(29) "Tuesday: 4:00 PM – 12:00 AM"
            [2]=>
            string(17) "Wednesday: Closed"
            [3]=>
            string(30) "Thursday: 4:00 PM – 12:00 AM"
            [4]=>
            string(27) "Friday: 4:00 PM – 2:00 AM"
            [5]=>
            string(29) "Saturday: 4:00 PM – 2:00 AM"
            [6]=>
            string(28) "Sunday: 4:00 PM – 12:00 AM"
          }
        }
        ["photos"]=>
        array(10) {
          [0]=>
          object(stdClass)#2483 (4) {
            ["height"]=>
            int(626)
            ["html_attributions"]=>
            array(1) {
              [0]=>
              string(92) "Poor Hendrix"
            }
            ["photo_reference"]=>
            string(190) "CmRaAAAA7egoflKG47ewzav-XXf1aXLr-FEG1_MYpVP_KGr-ZvwYHbLaUnApiaGuqhnpzpJdJK-aHdD1IRtPSA2R1N2gh3e8pud2VtrlcjQMedyqZE8BSes4H7Z660NufzT7siaUEhA1RqaWekDji5eTx16nE0rWGhQFfE2f1MBcBCmP-nxt0c9vyT6-DQ"
            ["width"]=>
            int(1000)
          }
          [1]=>
          object(stdClass)#2484 (4) {
            ["height"]=>
            int(1371)
            ["html_attributions"]=>
            array(1) {
              [0]=>
              string(90) "Paul Kosal"
            }
            ["photo_reference"]=>
            string(190) "CmRaAAAAbU4Bb6X-u3bc0l40Iree10DSSBnxSGNOqIIqYQmuOSTIMBs4GH0JKZTpGW7R8GdgqasAkoj7tplhYOPgo84XapxPw5k9ofdeKt0jR3GgkduTyyOX3tbhy7Zlv53SsirPEhCAkb6vHK_f_UtacMZPhL7NGhTRfmaOB2Ob3IR51nNYVVBgBdAoWA"
            ["width"]=>
            int(1920)
          }
          [2]=>
          object(stdClass)#2485 (4) {
            ["height"]=>
            int(666)
            ["html_attributions"]=>
            array(1) {
              [0]=>
              string(92) "Poor Hendrix"
            }
            ["photo_reference"]=>
            string(190) "CmRaAAAAGRxH_RnUE8DJvjdtJ6rPY0lKklxtUB4cxXhNESE4N3SJ4gD_KlSjow802zMtpb1A4OgG9aqrKdGwtJQI_HTJiifLy60Ae2WBGliOJeAT1CpiKXoG9NJBdsRygFM_BBXUEhBDrWNL2OocaItRlui9wkrwGhSXkDnpXHFY7B9aMuFTO7PHrShNGw"
            ["width"]=>
            int(1000)
          }
          [3]=>
          object(stdClass)#2486 (4) {
            ["height"]=>
            int(1371)
            ["html_attributions"]=>
            array(1) {
              [0]=>
              string(90) "Paul Kosal"
            }
            ["photo_reference"]=>
            string(190) "CmRaAAAALPL8xxOY1tfxbfpTE1jMKAD4_T8EcEO3Cdck_2smLsdMUqhXv1tEjir9qzP5WHrzHRp32v20JK1IlYEueImRG85TRXCfSWNSsEHm0dyWO-393xIG5QqexnSgzXpmDERFEhCtL3GWrnM5s6gcUjSGQON_GhS5UYDE0cUfrqFaNS6CL6eTJGo6mg"
            ["width"]=>
            int(1920)
          }
          [4]=>
          object(stdClass)#2487 (4) {
            ["height"]=>
            int(666)
            ["html_attributions"]=>
            array(1) {
              [0]=>
              string(92) "Poor Hendrix"
            }
            ["photo_reference"]=>
            string(190) "CmRaAAAAwfzmZQjRoqTao6zIjhEB_CEJxH2XhA-9YOYefcf3Hd6iV5urz0UcLKFeq_M5O5PJgvRv5cF8DuySaZaL7bOsr799xkwd55DoFVLDYjWCD7YnwNcB05nUqCeCDmS8fYxVEhDY5_6b17eFbj1rQJdlFYHWGhR32dyxyHBz7fyg_WWUKU2SOSOOXA"
            ["width"]=>
            int(1000)
          }
          [5]=>
          object(stdClass)#2488 (4) {
            ["height"]=>
            int(1484)
            ["html_attributions"]=>
            array(1) {
              [0]=>
              string(90) "Paul Kosal"
            }
            ["photo_reference"]=>
            string(190) "CmRaAAAApjGBD1RvQcdXQwwQnrBuOJTkRHGBw21TkwzYyY6D96iXQDGUK2-_r1AfUCXaeMAAsEAzYr9Hp6s9SUS8CM6hz7Zb9rn6QJqUxn4QT-O4qPqBwwcdHynMsmlYULMbfSeAEhB3obtlF5hCY2K2GIVIzVikGhR4RIVMxQao0vKPexLgcm6jUwgDlQ"
            ["width"]=>
            int(1920)
          }
          [6]=>
          object(stdClass)#2489 (4) {
            ["height"]=>
            int(3024)
            ["html_attributions"]=>
            array(1) {
              [0]=>
              string(95) "Brittany Wilkey"
            }
            ["photo_reference"]=>
            string(190) "CmRaAAAAUgBfZSIxMajys--6F4qrr7SxyMbP-BOvevJSHyEryiUUXY4ySU5knTNsFsN1RFoamJ3xw4pDuDRF6UGF1f5f3hiSt-WLtzB35_NVpayWKfvBtkxqfk0fcQSM-M9xhYs9EhDwi5kLVqMQVyipRzV9sD7RGhQv1TUtbNrUyjWNVJHEfnxlJl7jgg"
            ["width"]=>
            int(4032)
          }
          [7]=>
          object(stdClass)#2490 (4) {
            ["height"]=>
            int(4048)
            ["html_attributions"]=>
            array(1) {
              [0]=>
              string(95) "Mark Mandelbaum"
            }
            ["photo_reference"]=>
            string(190) "CmRaAAAAQTPyp0dlhZhgj5FMe30nyR8c7SEXtvCg39Ieq2ztx-8M4Y9vHpqT94PYctP2qHWZ7dH5JONrSRJm2Jnva_KfouomIAGXO1gv5RSnX63acp81CDSR3x7OF_zTOnUYsRp3EhBpb6a6i1k3wm6ezB9iB8z4GhRUgjnlwSFSopuC3o7q3rf_xz0W7A"
            ["width"]=>
            int(3036)
          }
          [8]=>
          object(stdClass)#2491 (4) {
            ["height"]=>
            int(1371)
            ["html_attributions"]=>
            array(1) {
              [0]=>
              string(90) "Paul Kosal"
            }
            ["photo_reference"]=>
            string(190) "CmRaAAAAZCxsf7YrsvNnUdWihJuiXSKPa0qNyc0TrCcounaRk9_Efa1fAQLTznTEbZKwCHLeLgwPQzLnt1xY7QyeyXE6qun-NcmvEuw4h7GhJH7MXOp5CWG0fSO7rNeYpEsEJ26fEhC41WRaajeaBp38kzO8LwTxGhQ-PE2IAjCgXxxQUX9052Itw4qltw"
            ["width"]=>
            int(1920)
          }
          [9]=>
          object(stdClass)#2492 (4) {
            ["height"]=>
            int(3024)
            ["html_attributions"]=>
            array(1) {
              [0]=>
              string(95) "Brittany Wilkey"
            }
            ["photo_reference"]=>
            string(190) "CmRaAAAAts96VglBducI2K5Gt1JjDYQE3pbnLa2U4QsuNll0aEwCavEkwOn9Q6wuyWJnAk6Orce5Q7VOP2f6v5ixjUTQlhfB2nun7IcEoQHZdS3pjvT8jkokkZpz08jSS3A6TW58EhDV0evPT4LihWqz_QAdWezpGhQ2YvmZWS2WFMY8sfvOYOLDyuz4vg"
            ["width"]=>
            int(4032)
          }
        }
        ["place_id"]=>
        string(27) "ChIJOyF-S9QA9YgR5-sqaFKYKL8"
        ["plus_code"]=>
        object(stdClass)#2493 (2) {
          ["compound_code"]=>
          string(39) "QM2R+97 Atlanta, Georgia, United States"
          ["global_code"]=>
          string(11) "865QQM2R+97"
        }
        ["price_level"]=>
        string(1) "2"
        ["rating"]=>
        string(3) "4.7"
        ["reference"]=>
        string(190) "CmRSAAAAt1Ox7mNFfs3NrdqjV4-6XEehfCnCKNPI3wL2cpKoW-I_h9VMpYQJS-g4Q8cSYBMJHVEr9gCxoZ__PWLserm8jA3fMXIM72_JXeX4EguMlRq7TIiLCyiIGjhJNrhV1MzMEhBBjyZAjf8ZFu6VeLkFhhegGhTjdc2pzuscDhn4b8HHDyMRiP2fWg"
        ["reviews"]=>
        array(5) {
          [0]=>
          object(stdClass)#2494 (8) {
            ["author_name"]=>
            string(12) "Whitney Page"
            ["author_url"]=>
            string(65) "https://www.google.com/maps/contrib/106697318713160061556/reviews"
            ["language"]=>
            string(2) "en"
            ["profile_photo_url"]=>
            string(122) "https://lh3.googleusercontent.com/-P9ZqbrOokOY/AAAAAAAAAAI/AAAAAAAAW0Q/YAwQLfJZ6qc/s128-c0x00000000-cc-rp-mo-ba5/photo.jpg"
            ["rating"]=>
            string(1) "5"
            ["relative_time_description"]=>
            string(12) "4 months ago"
            ["text"]=>
            string(471) "I have been here three times and it's been fantastic every time. I have just gotten drinks and bar eats from the bar, but the food is excellent and very reasonably priced! My favorite dish is the smoked trout with picked red onions and toast. It's delicious! Drinks are also reasonably priced and they have a decent selection. I would like a few more choices for draft beers, though. Overall a really solid neighborhood spot that's also worth driving to from other areas!"
            ["time"]=>
            int(1520101753)
          }
          [1]=>
          object(stdClass)#2495 (8) {
            ["author_name"]=>
            string(15) "Janice McDonald"
            ["author_url"]=>
            string(65) "https://www.google.com/maps/contrib/113575431301758568349/reviews"
            ["language"]=>
            string(2) "en"
            ["profile_photo_url"]=>
            string(145) "https://lh4.googleusercontent.com/-nI-35EavkVk/AAAAAAAAAAI/AAAAAAAAAAA/AAnnY7p2xBz95C7TNzB4RVb_wVe2KWkbaw/s128-c0x00000000-cc-rp-mo-ba2/photo.jpg"
            ["rating"]=>
            string(1) "5"
            ["relative_time_description"]=>
            string(10) "a week ago"
            ["text"]=>
            string(133) "This place lived up to all the expectations and surpassed them. Even the simple things have a different twist to them. Great flavors!"
            ["time"]=>
            int(1531828469)
          }
          [2]=>
          object(stdClass)#2496 (8) {
            ["author_name"]=>
            string(15) "Brittany Wilkey"
            ["author_url"]=>
            string(65) "https://www.google.com/maps/contrib/104217524826313630864/reviews"
            ["language"]=>
            string(2) "en"
            ["profile_photo_url"]=>
            string(122) "https://lh5.googleusercontent.com/-y4cqcek-ZQE/AAAAAAAAAAI/AAAAAAAASXg/u-jR-RIbMUw/s128-c0x00000000-cc-rp-mo-ba4/photo.jpg"
            ["rating"]=>
            string(1) "4"
            ["relative_time_description"]=>
            string(10) "a week ago"
            ["text"]=>
            string(192) "Everything was excellent, the only thing that kind of pissed me off was the charcuterie, it was only one type of meat and only like 7 slices. Rip off. Only reason this is 4 stars instead of 5."
            ["time"]=>
            int(1531524936)
          }
          [3]=>
          object(stdClass)#2497 (8) {
            ["author_name"]=>
            string(11) "Tony Wilkey"
            ["author_url"]=>
            string(65) "https://www.google.com/maps/contrib/114747215127500834122/reviews"
            ["language"]=>
            string(2) "en"
            ["profile_photo_url"]=>
            string(122) "https://lh5.googleusercontent.com/-LAi6onp8QIw/AAAAAAAAAAI/AAAAAAABUvs/lUI-QwS3m7k/s128-c0x00000000-cc-rp-mo-ba4/photo.jpg"
            ["rating"]=>
            string(1) "5"
            ["relative_time_description"]=>
            string(10) "a week ago"
            ["text"]=>
            string(416) "Very tasty bar food on the gastropub half with small bites and plates leaning towards the spicy and savory. Fantastic cocktail options that are superbly mixed and a surprisingly large wine and apertif selection. The beer choices aren't extremely exciting but solid local and regional drafts, nonetheless. The wings and spicy okra and shishito peppers are highly recommended. We'll try the restaurant side next visit."
            ["time"]=>
            int(1531526458)
          }
          [4]=>
          object(stdClass)#2498 (8) {
            ["author_name"]=>
            string(12) "Matt Slotten"
            ["author_url"]=>
            string(65) "https://www.google.com/maps/contrib/117597294838781518572/reviews"
            ["language"]=>
            string(2) "en"
            ["profile_photo_url"]=>
            string(122) "https://lh4.googleusercontent.com/-B90C-0vr9nI/AAAAAAAAAAI/AAAAAAAAa7k/hwa-ZPnjZ-E/s128-c0x00000000-cc-rp-mo-ba3/photo.jpg"
            ["rating"]=>
            string(1) "5"
            ["relative_time_description"]=>
            string(12) "4 months ago"
            ["text"]=>
            string(260) "One of the best bars/restaurants in the city! All of the apps we ordered were delicious and the bartender did a great job with our drinks - one of the best whiskey sours I've had in Atlanta. Great outdoor seating area and dog friendly. We'll definitely be back"
            ["time"]=>
            int(1519766643)
          }
        }
        ["scope"]=>
        string(6) "GOOGLE"
        ["types"]=>
        array(5) {
          [0]=>
          string(3) "bar"
          [1]=>
          string(10) "restaurant"
          [2]=>
          string(4) "food"
          [3]=>
          string(17) "point_of_interest"
          [4]=>
          string(13) "establishment"
        }
        ["url"]=>
        string(49) "https://maps.google.com/?cid=13774426940015045607"
        ["utc_offset"]=>
        string(4) "-240"
        ["vicinity"]=>
        string(55) "2371 Hosea L Williams Drive Southeast, Bldg. 2, Atlanta"
        ["website"]=>
        string(27) "http://www.poorhendrix.com/"
      }
      ["tracker_field_googleOverallRating"]=>
      int(0)
      ["tracker_field_businessYelpId"]=>
      string(45) "https://www.yelp.com/biz/poor-hendrix-atlanta"
      ["tracker_field_businessYelpBusinessData"]=>
      array(0) {
      }
      ["tracker_field_businessYelpBusinessData_json"]=>
      array(0) {
      }
      ["tracker_field_businessFacebook"]=>
      string(37) "https://www.facebook.com/poorhendrix/"
      ["tracker_field_businessFacebookID"]=>
      string(15) "206432273036236"
      ["tracker_field_businessFacebookData"]=>
      array(2) {
        [0]=>
        string(15) "206432273036236"
        [1]=>
        string(12) "Poor Hendrix"
      }
      ["tracker_field_businessFacebookData_text"]=>
      string(28) "206432273036236 Poor Hendrix"
      ["tracker_field_businessFacebookData_json"]=>
      object(stdClass)#2499 (3) {
        ["id"]=>
        string(15) "206432273036236"
        ["name"]=>
        string(12) "Poor Hendrix"
        ["feed"]=>
        object(stdClass)#2525 (2) {
          ["data"]=>
          array(25) {
            [0]=>
            object(stdClass)#2500 (3) {
              ["message"]=>
              string(154) "Barfly=Steamed mussels in a Thai yellow curry & coconut broth w/fries!Wing+beer specials! Half-priced bottles of wine (restaurant only). Oh yeah, Monday!!"
              ["created_time"]=>
              string(24) "2018-07-23T20:23:36+0000"
              ["id"]=>
              string(31) "206432273036236_668235450189247"
            }
            [1]=>
            object(stdClass)#2501 (3) {
              ["message"]=>
              string(242) "You don't want to miss out on this Barfly Special... Local mushroom & pesto flatbread with feta, tomatoes, arugula, & sunflower seeds! You know the drill, HALF-PRICED WINE in the DR and beer and wing specials at the bar! Heck yeah, Monday!!"
              ["created_time"]=>
              string(24) "2018-07-16T19:52:11+0000"
              ["id"]=>
              string(31) "206432273036236_660980657581393"
            }
            [2]=>
            object(stdClass)#2502 (3) {
              ["message"]=>
              string(287) "Do meatless Monday right with our Barfly Special: French dumplings with summer squash, tomatoes, olives, & sage. Or grab a friend and share a half-priced bottle of wine in the dining room! Wing and beer specials! Beautiful patio weather! Yes Monday! #meatlessmonday #atlpatios #winelover"
              ["created_time"]=>
              string(24) "2018-07-09T20:10:49+0000"
              ["id"]=>
              string(31) "206432273036236_654270504919075"
            }
            [3]=>
            object(stdClass)#2503 (3) {
              ["message"]=>
              string(77) "Thanks for all of the positive ratings and reviews y'all! We made the list!"
              ["created_time"]=>
              string(24) "2018-07-09T15:51:53+0000"
              ["id"]=>
              string(31) "206432273036236_654092851603507"
            }
            [4]=>
            object(stdClass)#2504 (3) {
              ["message"]=>
              string(37) "See you Friday! #happybirthdayamerica"
              ["created_time"]=>
              string(24) "2018-07-05T15:49:14+0000"
              ["id"]=>
              string(31) "206432273036236_650254858653973"
            }
            [5]=>
            object(stdClass)#2505 (3) {
              ["message"]=>
              string(115) "TGIT! Come hang with us and get your holiday started off right! Tartare Tuesday! Pork chop barfly! #iheartatl #tgit"
              ["created_time"]=>
              string(24) "2018-07-03T20:26:29+0000"
              ["id"]=>
              string(31) "206432273036236_648574838821975"
            }
            [6]=>
            object(stdClass)#2506 (3) {
              ["message"]=>
              string(282) "Get in the spirit of the 4th a little early with our Barfly Special: Dry-rubbed & grilled pork chop with warm summer succotash & mustard sauce. As always, here at PH Monday nights mean beer and wing specials at the bar plus half-priced wine bottles in the dining room! See you soon!"
              ["created_time"]=>
              string(24) "2018-07-02T20:01:04+0000"
              ["id"]=>
              string(31) "206432273036236_647569655589160"
            }
            [7]=>
            object(stdClass)#2507 (2) {
              ["created_time"]=>
              string(24) "2018-07-02T15:37:45+0000"
              ["id"]=>
              string(31) "206432273036236_647378422274950"
            }
            [8]=>
            object(stdClass)#2508 (3) {
              ["message"]=>
              string(45) "Sizzle me timbers! #summergrilling #porkchops"
              ["created_time"]=>
              string(24) "2018-07-01T21:07:56+0000"
              ["id"]=>
              string(31) "206432273036236_646651215681004"
            }
            [9]=>
            object(stdClass)#2509 (3) {
              ["message"]=>
              string(205) "We are so happy to have played a small part in this important effort. Huge thanks to all of our awesome customers who came out to help us contribute to this incredibly worthy cause! #familiesbelongtogether"
              ["created_time"]=>
              string(24) "2018-06-30T21:37:14+0000"
              ["id"]=>
              string(31) "206432273036236_645696582443134"
            }
            [10]=>
            object(stdClass)#2510 (3) {
              ["message"]=>
              string(101) "Dining room special... flat bread with cheese, herbs, & local duck egg! Limited quantities! #foodporn"
              ["created_time"]=>
              string(24) "2018-06-26T23:03:55+0000"
              ["id"]=>
              string(31) "206432273036236_641955206150605"
            }
            [11]=>
            object(stdClass)#2511 (3) {
              ["message"]=>
              string(212) "Barfly=Pan-seared Amberjack with off-the-cob elote, smoked oyster mushrooms, & onion pesto. Plus we've got wing and beer specials at the bar and all bottles of wine are 50% off in the dining room! YES, MONDAY!!"
              ["created_time"]=>
              string(24) "2018-06-25T19:36:03+0000"
              ["id"]=>
              string(31) "206432273036236_640872906258835"
            }
            [12]=>
            object(stdClass)#2512 (3) {
              ["message"]=>
              string(92) "Rose Colored Glasses: @donciccioefigli Rhubarb Amaro,   vermouth, & @13thcolony Southern Gin"
              ["created_time"]=>
              string(24) "2018-06-24T23:09:33+0000"
              ["id"]=>
              string(31) "206432273036236_640070026339123"
            }
            [13]=>
            object(stdClass)#2513 (3) {
              ["message"]=>
              string(279) "Come dine with us tonight as we join together with restaurants across Atlanta to raise money for the Refugee and Immigrant Center for Education and Legal Services, a non-profit organization working to reunite families separated at the US border. #familiesbelongtogether #iloveatl"
              ["created_time"]=>
              string(24) "2018-06-23T20:55:56+0000"
              ["id"]=>
              string(31) "206432273036236_638984699780989"
            }
            [14]=>
            object(stdClass)#2514 (3) {
              ["message"]=>
              string(295) "This Saturday, June 23rd, Poor Hendrix, along with restaurants across the country, will be donating a portion of our sales to @raicestexas to provide legal representation and support to immigrant children and their parents that have been separated at our southern border. #familiesbelongtogether"
              ["created_time"]=>
              string(24) "2018-06-22T16:35:14+0000"
              ["id"]=>
              string(31) "206432273036236_637818793230913"
            }
            [15]=>
            object(stdClass)#2515 (3) {
              ["message"]=>
              string(150) "Barfly=Honey mustard-glazed roasted chicken leg with panzanella salad! HALF-PRICED WINE bottles in the dining room! Wing and beer specials at the bar!"
              ["created_time"]=>
              string(24) "2018-06-18T19:33:17+0000"
              ["id"]=>
              string(31) "206432273036236_633992590280200"
            }
            [16]=>
            object(stdClass)#2516 (3) {
              ["message"]=>
              string(89) "We've got some great new dishes for you! Come and get your weekend started right! #tgif"
              ["created_time"]=>
              string(24) "2018-06-15T20:38:34+0000"
              ["id"]=>
              string(31) "206432273036236_631456943867098"
            }
            [17]=>
            object(stdClass)#2517 (3) {
              ["message"]=>
              string(50) "Dumplings are back and all dressed up for summer!!"
              ["created_time"]=>
              string(24) "2018-06-14T20:47:29+0000"
              ["id"]=>
              string(31) "206432273036236_630688747277251"
            }
            [18]=>
            object(stdClass)#2518 (3) {
              ["message"]=>
              string(144) "Sangria is back!! Come check out this summer's version which features white wine, house-made peach schnapps, basil-citrus simple, OJ, & lemon!"
              ["created_time"]=>
              string(24) "2018-06-12T20:53:28+0000"
              ["id"]=>
              string(31) "206432273036236_629187630760696"
            }
            [19]=>
            object(stdClass)#2519 (3) {
              ["message"]=>
              string(174) "Barfly=Hanger steak with grilled spring onions, charred onion butter, and fries! HALF-PRICED WINE bottles in the dining room! Wing and beer specials at the bar! Happy Monday!"
              ["created_time"]=>
              string(24) "2018-06-11T19:52:13+0000"
              ["id"]=>
              string(31) "206432273036236_628614420818017"
            }
            [20]=>
            object(stdClass)#2520 (4) {
              ["message"]=>
              string(41) "Days off are pretty rad... @ Poor Hendrix"
              ["story"]=>
              string(29) "Poor Hendrix posted 3 photos."
              ["created_time"]=>
              string(24) "2018-06-06T22:33:11+0000"
              ["id"]=>
              string(31) "206432273036236_626033834409409"
            }
            [21]=>
            object(stdClass)#2521 (3) {
              ["message"]=>
              string(93) "New cocktails coming soon! Come drink up some of your spring favorites before they're gone!"
              ["created_time"]=>
              string(24) "2018-06-05T22:51:37+0000"
              ["id"]=>
              string(31) "206432273036236_625577644455028"
            }
            [22]=>
            object(stdClass)#2522 (3) {
              ["message"]=>
              string(343) "Welp, it's finally happened; one of our very talented line cooks is moving on to bigger and better things. Good for him. Way to go, guy. Anyone interested in stepping into some big shoes? Good pay, hilarious co-workers, normal line-cook-hours, juggle fire and knives, make great food, et cetera. Full or part-time, whatever steams yer beans."
              ["created_time"]=>
              string(24) "2018-06-05T17:46:25+0000"
              ["id"]=>
              string(31) "206432273036236_625486041130855"
            }
            [23]=>
            object(stdClass)#2523 (3) {
              ["message"]=>
              string(215) "Barfly=chickpea fritters with Israeli salad, garlic spread, green hot sauce, pickled veg, & naan! Wing & beer specials at the bar! Half-priced wine bottles in the dining room! Let's get this week started already!!"
              ["created_time"]=>
              string(24) "2018-06-04T20:21:31+0000"
              ["id"]=>
              string(31) "206432273036236_625053201174139"
            }
            [24]=>
            object(stdClass)#2524 (3) {
              ["message"]=>
              string(97) "We missed you!! Come hang out with us tonight and rekindle your favorite neighborhood flame🔥!!"
              ["created_time"]=>
              string(24) "2018-05-31T22:23:49+0000"
              ["id"]=>
              string(31) "206432273036236_623101268035999"
            }
          }
          ["paging"]=>
          object(stdClass)#2526 (2) {
            ["previous"]=>
            string(285) "https://graph.facebook.com/v2.8/206432273036236/feed?since=1532377416&access_token=284346488083|StUmZexEo-ODM_s_RzrK8IoefW0&limit=25&__paging_token=enc_AdAfTHsgZChVnY8BeetG1izNw8ZCh2B38lIXYOs7lzvZC3fQ0xpc3ZBXKXYQUi0H36AiiyfzgfeIiAomSBh5peHzSlZCv2AlSIYuLXZCQtvRLeND343wZDZD&__previous=1"
            ["next"]=>
            string(269) "https://graph.facebook.com/v2.8/206432273036236/feed?access_token=284346488083|StUmZexEo-ODM_s_RzrK8IoefW0&limit=25&until=1527805429&__paging_token=enc_AdCWwB37wWwHPHQwEBfY4NNFMcqQZCo9LYyRqq7byAY2StHkKXC9CZCYdomPKqVZCzkBDTdR4FLOjuDF12X1M0ujL6QpLh73JKj0glGNqPoPCueWAZDZD"
          }
        }
      }
      ["tracker_field_businessLoafingID"]=>
      string(4) "none"
      ["tracker_field_businessAccountExecutive"]=>
      string(1) "0"
      ["tracker_field_businessStatusField"]=>
      string(4) "Done"
      ["tracker_field_businessCLDistributionLocation"]=>
      string(1) "n"
      ["tracker_field_businessAudience"]=>
      array(0) {
      }
      ["tracker_field_businessLegacyID"]=>
      int(0)
      ["language"]=>
      string(7) "unknown"
      ["attachments"]=>
      array(0) {
      }
      ["comment_count"]=>
      int(0)
      ["categories"]=>
      array(2) {
        [0]=>
        int(85)
        [1]=>
        int(100)
      }
      ["deep_categories"]=>
      array(5) {
        [0]=>
        int(28)
        [1]=>
        int(85)
        [2]=>
        int(1)
        [3]=>
        int(149)
        [4]=>
        int(100)
      }
      ["categories_under_28"]=>
      array(1) {
        [0]=>
        int(85)
      }
      ["deep_categories_under_28"]=>
      array(1) {
        [0]=>
        int(85)
      }
      ["categories_under_1"]=>
      array(0) {
      }
      ["deep_categories_under_1"]=>
      array(2) {
        [0]=>
        int(149)
        [1]=>
        int(100)
      }
      ["categories_under_177"]=>
      array(0) {
      }
      ["deep_categories_under_177"]=>
      array(0) {
      }
      ["categories_under_209"]=>
      array(0) {
      }
      ["deep_categories_under_209"]=>
      array(0) {
      }
      ["categories_under_163"]=>
      array(0) {
      }
      ["deep_categories_under_163"]=>
      array(0) {
      }
      ["categories_under_171"]=>
      array(0) {
      }
      ["deep_categories_under_171"]=>
      array(0) {
      }
      ["categories_under_153"]=>
      array(0) {
      }
      ["deep_categories_under_153"]=>
      array(0) {
      }
      ["categories_under_242"]=>
      array(0) {
      }
      ["deep_categories_under_242"]=>
      array(0) {
      }
      ["categories_under_564"]=>
      array(0) {
      }
      ["deep_categories_under_564"]=>
      array(0) {
      }
      ["freetags"]=>
      array(0) {
      }
      ["geo_located"]=>
      string(1) "y"
      ["geo_location"]=>
      string(25) "-84.3093434,33.7508774,12"
      ["geo_point"]=>
      object(stdClass)#2527 (2) {
        ["lat"]=>
        float(33.7508774)
        ["lon"]=>
        float(-84.3093434)
      }
      ["allowed_groups"]=>
      array(2) {
        [0]=>
        string(6) "Admins"
        [1]=>
        string(9) "Anonymous"
      }
      ["allowed_users"]=>
      array(0) {
      }
      ["relations"]=>
      array(0) {
      }
      ["relation_objects"]=>
      array(0) {
      }
      ["relation_types"]=>
      array(0) {
      }
      ["relation_count"]=>
      array(0) {
      }
      ["title_initial"]=>
      string(1) "P"
      ["title_firstword"]=>
      string(4) "Poor"
      ["searchable"]=>
      string(1) "y"
      ["url"]=>
      string(6) "item94"
      ["object_type"]=>
      string(11) "trackeritem"
      ["object_id"]=>
      string(2) "94"
      ["contents"]=>
      string(441) "    Poor Hendrix 2371 Hosea L Williams Dr SE  Atlanta GA 30317 http://www.poorhendrix.com/   404-549-8756  -84.3093434,33.7508774,12 display26          http://dev.creativeloafing.com/image/2017/01/640w/Firstlook_Hendrix1_2_39.587d2d8121bed.jpg        n  ChIJOyF-S9QA9YgR5-sqaFKYKL8 https://www.yelp.com/biz/poor-hendrix-atlanta https://www.facebook.com/poorhendrix/ 206432273036236 none       Done  n  1970-01-01T00:00:00+00:00 Poor Hendrix "
      ["score"]=>
      float(0)
      ["_index"]=>
      string(21) "atlantawiki_tiki_main"
      ["objectlink"]=>
      string(294) "Poor Hendrix"
      ["image"]=>
      string(39) "

File not found.

"
      ["areaLocation"]=>
      string(34) "-84.3503813,33.7391182,15"
    }
    [61]=>
    array(91) {
      ["title"]=>
      string(10) "POKE BURRI"
      ["modification_date"]=>
      string(25) "2017-08-14T20:24:50+00:00"
      ["creation_date"]=>
      string(25) "2017-04-18T20:34:10+00:00"
      ["contributors"]=>
      array(2) {
        [0]=>
        string(5) "admin"
        [1]=>
        string(29) "ben.eason@creativeloafing.com"
      }
      ["date"]=>
      string(25) "2017-04-18T20:34:10+00:00"
      ["tracker_status"]=>
      string(1) "o"
      ["tracker_id"]=>
      string(1) "1"
      ["view_permission"]=>
      string(13) "view_trackers"
      ["tracker_field_businessName"]=>
      string(10) "POKE BURRI"
      ["tracker_field_businessAddress"]=>
      string(22) "479 Flat Shoals Ave SE"
      ["tracker_field_businessCity"]=>
      string(7) "Atlanta"
      ["tracker_field_businessState"]=>
      string(2) "GA"
      ["tracker_field_businessZip"]=>
      string(5) "30316"
      ["tracker_field_businessPhone"]=>
      string(14) "(404) 913-7667"
      ["tracker_field_businessRepresentative"]=>
      array(0) {
      }
      ["tracker_field_businessLocation"]=>
      string(6) "0,0,11"
      ["tracker_field_businessLocationRadius"]=>
      int(0)
      ["tracker_field_businessIcon"]=>
      string(9) "display26"
      ["tracker_field_description"]=>
      string(1) " "
      ["tracker_field_description_raw"]=>
      string(1) " "
      ["tracker_field_businessClassifieds"]=>
      array(0) {
      }
      ["tracker_field_businessTypes"]=>
      array(1) {
        [0]=>
        string(2) "85"
      }
      ["tracker_field_businessTypes_text"]=>
      string(2) "85"
      ["tracker_field_scene"]=>
      array(0) {
      }
      ["tracker_field_businessNeighborhoods"]=>
      array(2) {
        [0]=>
        string(3) "149"
        [1]=>
        string(3) "100"
      }
      ["tracker_field_businessNeighborhoods_text"]=>
      string(7) "149 100"
      ["tracker_field_businessPriceRange"]=>
      array(0) {
      }
      ["tracker_field_businessMiscCategories"]=>
      array(0) {
      }
      ["tracker_field_businessCLAcctNum"]=>
      int(0)
      ["tracker_field_business_121CurrentChit"]=>
      string(1) "n"
      ["tracker_field_121MobileClientID"]=>
      int(0)
      ["tracker_field_121MobileCampaignData"]=>
      array(0) {
      }
      ["tracker_field_121MobileCampaignData_json"]=>
      array(0) {
      }
      ["tracker_field_googlePlaceData"]=>
      array(0) {
      }
      ["tracker_field_googlePlaceData_json"]=>
      array(0) {
      }
      ["tracker_field_googleOverallRating"]=>
      int(0)
      ["tracker_field_businessYelpBusinessData"]=>
      array(0) {
      }
      ["tracker_field_businessYelpBusinessData_json"]=>
      array(0) {
      }
      ["tracker_field_businessFacebookData"]=>
      array(0) {
      }
      ["tracker_field_businessFacebookData_json"]=>
      array(0) {
      }
      ["tracker_field_businessLoafingID"]=>
      string(4) "none"
      ["tracker_field_businessAccountExecutive"]=>
      string(3) "300"
      ["tracker_field_businessAccountExecutive_text"]=>
      string(12) "Julie Romano"
      ["tracker_field_businessCouponsChartURL"]=>
      string(125) "https://docs.google.com/spreadsheets/d/1YqqrQiwLBFbOMBEDNVEj5j5j9jPGD5JTPunrMuOwVqU/pubchart?oid=892754509&format=interactive"
      ["tracker_field_businessStatusField"]=>
      string(4) "Done"
      ["tracker_field_businessCLDistributionLocation"]=>
      string(1) "n"
      ["tracker_field_businessAudience"]=>
      array(0) {
      }
      ["tracker_field_businessLegacyID"]=>
      int(0)
      ["language"]=>
      string(7) "unknown"
      ["attachments"]=>
      array(0) {
      }
      ["comment_count"]=>
      int(0)
      ["categories"]=>
      array(2) {
        [0]=>
        int(85)
        [1]=>
        int(100)
      }
      ["deep_categories"]=>
      array(5) {
        [0]=>
        int(28)
        [1]=>
        int(85)
        [2]=>
        int(1)
        [3]=>
        int(149)
        [4]=>
        int(100)
      }
      ["categories_under_28"]=>
      array(1) {
        [0]=>
        int(85)
      }
      ["deep_categories_under_28"]=>
      array(1) {
        [0]=>
        int(85)
      }
      ["categories_under_1"]=>
      array(0) {
      }
      ["deep_categories_under_1"]=>
      array(2) {
        [0]=>
        int(149)
        [1]=>
        int(100)
      }
      ["categories_under_177"]=>
      array(0) {
      }
      ["deep_categories_under_177"]=>
      array(0) {
      }
      ["categories_under_209"]=>
      array(0) {
      }
      ["deep_categories_under_209"]=>
      array(0) {
      }
      ["categories_under_163"]=>
      array(0) {
      }
      ["deep_categories_under_163"]=>
      array(0) {
      }
      ["categories_under_171"]=>
      array(0) {
      }
      ["deep_categories_under_171"]=>
      array(0) {
      }
      ["categories_under_153"]=>
      array(0) {
      }
      ["deep_categories_under_153"]=>
      array(0) {
      }
      ["categories_under_242"]=>
      array(0) {
      }
      ["deep_categories_under_242"]=>
      array(0) {
      }
      ["categories_under_564"]=>
      array(0) {
      }
      ["deep_categories_under_564"]=>
      array(0) {
      }
      ["freetags"]=>
      array(0) {
      }
      ["geo_located"]=>
      string(1) "n"
      ["allowed_groups"]=>
      array(2) {
        [0]=>
        string(6) "Admins"
        [1]=>
        string(9) "Anonymous"
      }
      ["allowed_users"]=>
      array(0) {
      }
      ["relations"]=>
      array(0) {
      }
      ["relation_objects"]=>
      array(0) {
      }
      ["relation_types"]=>
      array(0) {
      }
      ["relation_count"]=>
      array(0) {
      }
      ["title_initial"]=>
      string(1) "P"
      ["title_firstword"]=>
      string(4) "POKE"
      ["searchable"]=>
      string(1) "y"
      ["url"]=>
      string(7) "item280"
      ["object_type"]=>
      string(11) "trackeritem"
      ["object_id"]=>
      string(3) "280"
      ["contents"]=>
      string(310) "    POKE BURRI 479 Flat Shoals Ave SE  Atlanta GA 30316    (404) 913-7667  0,0,11 display26                  n      none Julie Romano    https://docs.google.com/spreadsheets/d/1YqqrQiwLBFbOMBEDNVEj5j5j9jPGD5JTPunrMuOwVqU/pubchart?oid=892754509&format=interactive  Done  n  2017-04-18T20:34:10+00:00 POKE BURRI "
      ["score"]=>
      float(0)
      ["_index"]=>
      string(21) "atlantawiki_tiki_main"
      ["objectlink"]=>
      string(212) "POKE BURRI"
      ["image"]=>
      string(39) "

File not found.

"
      ["areaLocation"]=>
      string(34) "-84.3503813,33.7391182,15"
    }
    [62]=>
    array(98) {
      ["title"]=>
      string(29) "Delia's Chicken Sausage Stand"
      ["modification_date"]=>
      string(25) "2019-10-01T19:32:05+00:00"
      ["creation_date"]=>
      string(25) "2017-06-19T12:58:54+00:00"
      ["contributors"]=>
      array(2) {
        [0]=>
        NULL
        [1]=>
        string(30) "jim.harris@creativeloafing.com"
      }
      ["date"]=>
      string(25) "2017-06-19T12:58:54+00:00"
      ["tracker_status"]=>
      string(1) "o"
      ["tracker_id"]=>
      string(1) "1"
      ["view_permission"]=>
      string(13) "view_trackers"
      ["tracker_field_businessName"]=>
      string(29) "Delia's Chicken Sausage Stand"
      ["tracker_field_businessAddress"]=>
      string(22) "489 Moreland Ave. S.E."
      ["tracker_field_businessCity"]=>
      string(7) "Atlanta"
      ["tracker_field_businessState"]=>
      string(2) "GA"
      ["tracker_field_businessZip"]=>
      string(5) "30316"
      ["tracker_field_businessWebsite"]=>
      string(27) "http://thesausagestand.com/"
      ["tracker_field_businessPhone"]=>
      string(14) "(404) 474-9651"
      ["tracker_field_businessRepresentative"]=>
      array(0) {
      }
      ["tracker_field_businessLocation"]=>
      string(25) "-84.3496217,33.7407998,17"
      ["tracker_field_businessLocationRadius"]=>
      int(0)
      ["tracker_field_businessIcon"]=>
      string(9) "display26"
      ["tracker_field_description"]=>
      string(173) "A restaurant serving all manner of chicken sausage, including biscuits, burritos, sliders, and more. Tasty sides and creative non-alchoholic drinks, too. Cake shake, anyone?"
      ["tracker_field_description_raw"]=>
      string(173) "A restaurant serving all manner of chicken sausage, including biscuits, burritos, sliders, and more. Tasty sides and creative non-alchoholic drinks, too. Cake shake, anyone?"
      ["tracker_field_photos"]=>
      string(5) "24106"
      ["tracker_field_businessPhotoCredit"]=>
      string(14) "Jennifer Zyman"
      ["tracker_field_legacyImageURL"]=>
      string(79) "http://dev.creativeloafing.com/image/2011/05/640w/02455_food_cheap3_1_01new.jpg"
      ["tracker_field_businessClassifieds"]=>
      array(0) {
      }
      ["tracker_field_businessTypes"]=>
      array(1) {
        [0]=>
        string(2) "85"
      }
      ["tracker_field_businessTypes_text"]=>
      string(2) "85"
      ["tracker_field_scene"]=>
      array(0) {
      }
      ["tracker_field_businessNeighborhoods"]=>
      array(2) {
        [0]=>
        string(3) "149"
        [1]=>
        string(3) "100"
      }
      ["tracker_field_businessNeighborhoods_text"]=>
      string(7) "149 100"
      ["tracker_field_businessPriceRange"]=>
      array(0) {
      }
      ["tracker_field_businessMiscCategories"]=>
      array(0) {
      }
      ["tracker_field_businessCLAcctNum"]=>
      int(0)
      ["tracker_field_business_121CurrentChit"]=>
      string(1) "n"
      ["tracker_field_121MobileClientID"]=>
      int(0)
      ["tracker_field_121MobileCampaignData"]=>
      array(0) {
      }
      ["tracker_field_121MobileCampaignData_json"]=>
      array(0) {
      }
      ["tracker_field_googlePlaceData"]=>
      array(0) {
      }
      ["tracker_field_googlePlaceData_json"]=>
      array(0) {
      }
      ["tracker_field_googleOverallRating"]=>
      float(4.5)
      ["tracker_field_businessYelpBusinessData"]=>
      array(0) {
      }
      ["tracker_field_businessYelpBusinessData_json"]=>
      array(0) {
      }
      ["tracker_field_businessFacebook"]=>
      string(29) "Delia's Chicken Sausage Stand"
      ["tracker_field_businessFacebookData"]=>
      array(0) {
      }
      ["tracker_field_businessFacebookData_json"]=>
      array(0) {
      }
      ["tracker_field_businessLoafingID"]=>
      string(24) "573f3d481e3ee4dfcf6600aa"
      ["tracker_field_businessAccountExecutive"]=>
      string(1) "0"
      ["tracker_field_businessInternalNotes"]=>
      string(46) "ChIJvwpNRVkB9YgRO_cRY05QCAs

345151092545174"
      ["tracker_field_businessInternalNotes_raw"]=>
      string(46) "ChIJvwpNRVkB9YgRO_cRY05QCAs

345151092545174"
      ["tracker_field_businessStatusField"]=>
      string(4) "Done"
      ["tracker_field_businessCLDistributionLocation"]=>
      string(1) "n"
      ["tracker_field_businessAudience"]=>
      array(0) {
      }
      ["tracker_field_businessLegacyID"]=>
      int(3155027)
      ["language"]=>
      string(7) "unknown"
      ["attachments"]=>
      array(1) {
        [0]=>
        string(5) "24106"
      }
      ["comment_count"]=>
      int(0)
      ["categories"]=>
      array(3) {
        [0]=>
        int(85)
        [1]=>
        int(100)
        [2]=>
        int(149)
      }
      ["deep_categories"]=>
      array(5) {
        [0]=>
        int(28)
        [1]=>
        int(85)
        [2]=>
        int(1)
        [3]=>
        int(149)
        [4]=>
        int(100)
      }
      ["categories_under_28"]=>
      array(1) {
        [0]=>
        int(85)
      }
      ["deep_categories_under_28"]=>
      array(1) {
        [0]=>
        int(85)
      }
      ["categories_under_1"]=>
      array(1) {
        [0]=>
        int(149)
      }
      ["deep_categories_under_1"]=>
      array(2) {
        [0]=>
        int(149)
        [1]=>
        int(100)
      }
      ["categories_under_177"]=>
      array(0) {
      }
      ["deep_categories_under_177"]=>
      array(0) {
      }
      ["categories_under_209"]=>
      array(0) {
      }
      ["deep_categories_under_209"]=>
      array(0) {
      }
      ["categories_under_163"]=>
      array(0) {
      }
      ["deep_categories_under_163"]=>
      array(0) {
      }
      ["categories_under_171"]=>
      array(0) {
      }
      ["deep_categories_under_171"]=>
      array(0) {
      }
      ["categories_under_153"]=>
      array(0) {
      }
      ["deep_categories_under_153"]=>
      array(0) {
      }
      ["categories_under_242"]=>
      array(0) {
      }
      ["deep_categories_under_242"]=>
      array(0) {
      }
      ["categories_under_564"]=>
      array(0) {
      }
      ["deep_categories_under_564"]=>
      array(0) {
      }
      ["freetags"]=>
      array(0) {
      }
      ["geo_located"]=>
      string(1) "y"
      ["geo_location"]=>
      string(25) "-84.3496217,33.7407998,17"
      ["geo_point"]=>
      object(stdClass)#2532 (2) {
        ["lat"]=>
        float(33.7407998)
        ["lon"]=>
        float(-84.3496217)
      }
      ["allowed_groups"]=>
      array(2) {
        [0]=>
        string(6) "Admins"
        [1]=>
        string(9) "Anonymous"
      }
      ["allowed_users"]=>
      array(0) {
      }
      ["relations"]=>
      array(1) {
        [0]=>
        string(27) "tiki.file.attach:file:24106"
      }
      ["relation_objects"]=>
      array(0) {
      }
      ["relation_types"]=>
      array(1) {
        [0]=>
        string(16) "tiki.file.attach"
      }
      ["relation_count"]=>
      array(1) {
        [0]=>
        string(18) "tiki.file.attach:1"
      }
      ["title_initial"]=>
      string(1) "D"
      ["title_firstword"]=>
      string(7) "Delia's"
      ["searchable"]=>
      string(1) "y"
      ["url"]=>
      string(7) "item654"
      ["object_type"]=>
      string(11) "trackeritem"
      ["object_id"]=>
      string(3) "654"
      ["contents"]=>
      string(684) " Delia S Magnum  2019-10-01T19:31:04+00:00 delia_s_magnum.jpg     Delia's Chicken Sausage Stand 489 Moreland Ave. S.E.  Atlanta GA 30316 http://thesausagestand.com/   (404) 474-9651  -84.3496217,33.7407998,17 display26  A restaurant serving all manner of chicken sausage, including biscuits, burritos, sliders, and more. Tasty sides and creative non-alchoholic drinks, too. Cake shake, anyone?    24106  Jennifer Zyman http://dev.creativeloafing.com/image/2011/05/640w/02455_food_cheap3_1_01new.jpg        n    Delia's Chicken Sausage Stand  573f3d481e3ee4dfcf6600aa      ChIJvwpNRVkB9YgRO_cRY05QCAs

345151092545174 Done  n  2017-06-19T12:58:54+00:00 Delia's Chicken Sausage Stand "
      ["score"]=>
      float(0)
      ["_index"]=>
      string(21) "atlantawiki_tiki_main"
      ["objectlink"]=>
      string(318) "Delia's Chicken Sausage Stand"
      ["image"]=>
      string(39) "

File not found.

"
      ["areaLocation"]=>
      string(34) "-84.3503813,33.7391182,15"
    }
    [63]=>
    array(96) {
      ["title"]=>
      string(27) "Morelli's Gourmet Ice Cream"
      ["modification_date"]=>
      string(25) "2018-07-27T14:23:31+00:00"
      ["creation_date"]=>
      string(25) "2017-06-26T13:07:15+00:00"
      ["contributors"]=>
      array(2) {
        [0]=>
        NULL
        [1]=>
        string(29) "ben.eason@creativeloafing.com"
      }
      ["date"]=>
      string(25) "2017-06-26T13:07:15+00:00"
      ["tracker_status"]=>
      string(1) "o"
      ["tracker_id"]=>
      string(1) "1"
      ["view_permission"]=>
      string(13) "view_trackers"
      ["tracker_field_businessName"]=>
      string(27) "Morelli's Gourmet Ice Cream"
      ["tracker_field_businessAddress"]=>
      string(22) "749 Moreland Ave. S.E."
      ["tracker_field_businessCity"]=>
      string(7) "Atlanta"
      ["tracker_field_businessState"]=>
      string(2) "GA"
      ["tracker_field_businessZip"]=>
      string(5) "30316"
      ["tracker_field_businessWebsite"]=>
      string(32) "http://www.morellisicecream.com/"
      ["tracker_field_businessPhone"]=>
      string(14) "(404) 622-0210"
      ["tracker_field_businessRepresentative"]=>
      array(0) {
      }
      ["tracker_field_businessLocation"]=>
      string(37) "-84.3497845999999,33.7339952999999,12"
      ["tracker_field_businessLocationRadius"]=>
      int(0)
      ["tracker_field_description"]=>
      string(286) "This gourmet mom-and-pop stand delivers highly inventive and inspiring ice cream creations. Traditional strawberry and chocolate are pure perfection, but flavors such as black walnut, sweet corn, and coconut jalapeño are creative standouts. The salted caramel flavor is a game changer."
      ["tracker_field_description_raw"]=>
      string(286) "This gourmet mom-and-pop stand delivers highly inventive and inspiring ice cream creations. Traditional strawberry and chocolate are pure perfection, but flavors such as black walnut, sweet corn, and coconut jalapeño are creative standouts. The salted caramel flavor is a game changer."
      ["tracker_field_legacyImageURL"]=>
      string(80) "http://dev.creativeloafing.com/image/2011/09/640w/d99be_food_cheapeats1_1_22.jpg"
      ["tracker_field_businessClassifieds"]=>
      array(0) {
      }
      ["tracker_field_businessTypes"]=>
      array(1) {
        [0]=>
        string(2) "85"
      }
      ["tracker_field_businessTypes_text"]=>
      string(2) "85"
      ["tracker_field_scene"]=>
      array(0) {
      }
      ["tracker_field_businessNeighborhoods"]=>
      array(2) {
        [0]=>
        string(3) "100"
        [1]=>
        string(3) "149"
      }
      ["tracker_field_businessNeighborhoods_text"]=>
      string(7) "100 149"
      ["tracker_field_businessPriceRange"]=>
      array(0) {
      }
      ["tracker_field_businessMiscCategories"]=>
      array(0) {
      }
      ["tracker_field_businessCLAcctNum"]=>
      int(0)
      ["tracker_field_business_121CurrentChit"]=>
      string(1) "n"
      ["tracker_field_121MobileClientID"]=>
      int(0)
      ["tracker_field_121MobileCampaignData"]=>
      array(0) {
      }
      ["tracker_field_121MobileCampaignData_json"]=>
      array(0) {
      }
      ["tracker_field_google_placeid"]=>
      string(27) "ChIJ4a1ivGAB9YgR_gjv6e0E1pU"
      ["tracker_field_googlePlaceData"]=>
      array(16) {
        [0]=>
        string(217) "7001, 

749 Moreland Ave SE # B102

, 

Atlanta

, 

GA

 

30316

, 

USA

"
        [1]=>
        string(56) "7001, 749 Moreland Ave SE # B102, Atlanta, GA 30316, USA"
        [2]=>
        string(14) "(404) 622-0210"
        [3]=>
        string(65) "https://maps.gstatic.com/mapfiles/place_api/icons/shopping-71.png"
        [4]=>
        string(40) "933e11a8537aded1d1ed4b907cfeb8592c047879"
        [5]=>
        string(15) "+1 404-622-0210"
        [6]=>
        string(26) "Morellis Gourmet Ice Cream"
        [7]=>
        string(27) "ChIJ4a1ivGAB9YgR_gjv6e0E1pU"
        [8]=>
        string(1) "1"
        [9]=>
        string(3) "4.6"
        [10]=>
        string(190) "CmRSAAAAa2XBGooYmPpgKbY1PKxksjjnf1kR9AInJXcepYkzuUxagReqlzjJypCnKJJTJSbMYPAuT_jAu09b92NzLwb-4WeGZAa7u5x-4VNKSunK0b9yAKKaDEM4lEUb4UAW_8IcEhB8xwv8SWOgspV_aPE0pif6GhSGZPJNBQ4sJUcaceHXuegBI7Q6Pg"
        [11]=>
        string(6) "GOOGLE"
        [12]=>
        string(49) "https://maps.google.com/?cid=10796822576545859838"
        [13]=>
        string(4) "-240"
        [14]=>
        string(51) "7001, 749 Moreland Avenue Southeast # B102, Atlanta"
        [15]=>
        string(32) "http://www.morellisicecream.com/"
      }
      ["tracker_field_googlePlaceData_text"]=>
      string(650) "7001, 749 Moreland Ave SE # B102, Atlanta, GA 30316, USA 7001, 749 Moreland Ave SE # B102, Atlanta, GA 30316, USA (404) 622-0210 https://maps.gstatic.com/mapfiles/place_api/icons/shopping-71.png 933e11a8537aded1d1ed4b907cfeb8592c047879 +1 404-622-0210 Morellis Gourmet Ice Cream ChIJ4a1ivGAB9YgR_gjv6e0E1pU 1 4.6 CmRSAAAAa2XBGooYmPpgKbY1PKxksjjnf1kR9AInJXcepYkzuUxagReqlzjJypCnKJJTJSbMYPAuT_jAu09b92NzLwb-4WeGZAa7u5x-4VNKSunK0b9yAKKaDEM4lEUb4UAW_8IcEhB8xwv8SWOgspV_aPE0pif6GhSGZPJNBQ4sJUcaceHXuegBI7Q6Pg GOOGLE https://maps.google.com/?cid=10796822576545859838 -240 7001, 749 Moreland Avenue Southeast # B102, Atlanta http://www.morellisicecream.com/"
      ["tracker_field_googlePlaceData_json"]=>
      object(stdClass)#2544 (23) {
        ["address_components"]=>
        array(9) {
          [0]=>
          object(stdClass)#2535 (3) {
            ["long_name"]=>
            string(6) "# B102"
            ["short_name"]=>
            string(6) "# B102"
            ["types"]=>
            array(1) {
              [0]=>
              string(10) "subpremise"
            }
          }
          [1]=>
          object(stdClass)#2536 (3) {
            ["long_name"]=>
            string(3) "749"
            ["short_name"]=>
            string(3) "749"
            ["types"]=>
            array(1) {
              [0]=>
              string(13) "street_number"
            }
          }
          [2]=>
          object(stdClass)#2537 (3) {
            ["long_name"]=>
            string(25) "Moreland Avenue Southeast"
            ["short_name"]=>
            string(15) "Moreland Ave SE"
            ["types"]=>
            array(1) {
              [0]=>
              string(5) "route"
            }
          }
          [3]=>
          object(stdClass)#2538 (3) {
            ["long_name"]=>
            string(13) "Ormewood Park"
            ["short_name"]=>
            string(13) "Ormewood Park"
            ["types"]=>
            array(2) {
              [0]=>
              string(12) "neighborhood"
              [1]=>
              string(9) "political"
            }
          }
          [4]=>
          object(stdClass)#2539 (3) {
            ["long_name"]=>
            string(7) "Atlanta"
            ["short_name"]=>
            string(7) "Atlanta"
            ["types"]=>
            array(2) {
              [0]=>
              string(8) "locality"
              [1]=>
              string(9) "political"
            }
          }
          [5]=>
          object(stdClass)#2540 (3) {
            ["long_name"]=>
            string(13) "Fulton County"
            ["short_name"]=>
            string(13) "Fulton County"
            ["types"]=>
            array(2) {
              [0]=>
              string(27) "administrative_area_level_2"
              [1]=>
              string(9) "political"
            }
          }
          [6]=>
          object(stdClass)#2541 (3) {
            ["long_name"]=>
            string(7) "Georgia"
            ["short_name"]=>
            string(2) "GA"
            ["types"]=>
            array(2) {
              [0]=>
              string(27) "administrative_area_level_1"
              [1]=>
              string(9) "political"
            }
          }
          [7]=>
          object(stdClass)#2542 (3) {
            ["long_name"]=>
            string(13) "United States"
            ["short_name"]=>
            string(2) "US"
            ["types"]=>
            array(2) {
              [0]=>
              string(7) "country"
              [1]=>
              string(9) "political"
            }
          }
          [8]=>
          object(stdClass)#2543 (3) {
            ["long_name"]=>
            string(5) "30316"
            ["short_name"]=>
            string(5) "30316"
            ["types"]=>
            array(1) {
              [0]=>
              string(11) "postal_code"
            }
          }
        }
        ["adr_address"]=>
        string(217) "7001, 

749 Moreland Ave SE # B102

, 

Atlanta

, 

GA

 

30316

, 

USA

"
        ["formatted_address"]=>
        string(56) "7001, 749 Moreland Ave SE # B102, Atlanta, GA 30316, USA"
        ["formatted_phone_number"]=>
        string(14) "(404) 622-0210"
        ["geometry"]=>
        object(stdClass)#2546 (2) {
          ["location"]=>
          object(stdClass)#2545 (2) {
            ["lat"]=>
            string(9) "33.733964"
            ["lng"]=>
            string(10) "-84.349749"
          }
          ["viewport"]=>
          object(stdClass)#2548 (2) {
            ["northeast"]=>
            object(stdClass)#2547 (2) {
              ["lat"]=>
              string(15) "33.735309180292"
              ["lng"]=>
              string(16) "-84.348186569709"
            }
            ["southwest"]=>
            object(stdClass)#2549 (2) {
              ["lat"]=>
              string(15) "33.732611219709"
              ["lng"]=>
              string(16) "-84.350884530292"
            }
          }
        }
        ["icon"]=>
        string(65) "https://maps.gstatic.com/mapfiles/place_api/icons/shopping-71.png"
        ["id"]=>
        string(40) "933e11a8537aded1d1ed4b907cfeb8592c047879"
        ["international_phone_number"]=>
        string(15) "+1 404-622-0210"
        ["name"]=>
        string(26) "Morellis Gourmet Ice Cream"
        ["opening_hours"]=>
        object(stdClass)#2550 (3) {
          ["open_now"]=>
          bool(false)
          ["periods"]=>
          array(7) {
            [0]=>
            object(stdClass)#2552 (2) {
              ["close"]=>
              object(stdClass)#2551 (2) {
                ["day"]=>
                int(0)
                ["time"]=>
                string(4) "2200"
              }
              ["open"]=>
              object(stdClass)#2553 (2) {
                ["day"]=>
                int(0)
                ["time"]=>
                string(4) "1200"
              }
            }
            [1]=>
            object(stdClass)#2555 (2) {
              ["close"]=>
              object(stdClass)#2554 (2) {
                ["day"]=>
                string(1) "1"
                ["time"]=>
                string(4) "2200"
              }
              ["open"]=>
              object(stdClass)#2556 (2) {
                ["day"]=>
                string(1) "1"
                ["time"]=>
                string(4) "1200"
              }
            }
            [2]=>
            object(stdClass)#2558 (2) {
              ["close"]=>
              object(stdClass)#2557 (2) {
                ["day"]=>
                string(1) "2"
                ["time"]=>
                string(4) "2200"
              }
              ["open"]=>
              object(stdClass)#2559 (2) {
                ["day"]=>
                string(1) "2"
                ["time"]=>
                string(4) "1200"
              }
            }
            [3]=>
            object(stdClass)#2561 (2) {
              ["close"]=>
              object(stdClass)#2560 (2) {
                ["day"]=>
                string(1) "3"
                ["time"]=>
                string(4) "2200"
              }
              ["open"]=>
              object(stdClass)#2562 (2) {
                ["day"]=>
                string(1) "3"
                ["time"]=>
                string(4) "1200"
              }
            }
            [4]=>
            object(stdClass)#2564 (2) {
              ["close"]=>
              object(stdClass)#2563 (2) {
                ["day"]=>
                string(1) "4"
                ["time"]=>
                string(4) "2200"
              }
              ["open"]=>
              object(stdClass)#2565 (2) {
                ["day"]=>
                string(1) "4"
                ["time"]=>
                string(4) "1200"
              }
            }
            [5]=>
            object(stdClass)#2567 (2) {
              ["close"]=>
              object(stdClass)#2566 (2) {
                ["day"]=>
                string(1) "5"
                ["time"]=>
                string(4) "2300"
              }
              ["open"]=>
              object(stdClass)#2568 (2) {
                ["day"]=>
                string(1) "5"
                ["time"]=>
                string(4) "1200"
              }
            }
            [6]=>
            object(stdClass)#2570 (2) {
              ["close"]=>
              object(stdClass)#2569 (2) {
                ["day"]=>
                string(1) "6"
                ["time"]=>
                string(4) "2300"
              }
              ["open"]=>
              object(stdClass)#2571 (2) {
                ["day"]=>
                string(1) "6"
                ["time"]=>
                string(4) "1200"
              }
            }
          }
          ["weekday_text"]=>
          array(7) {
            [0]=>
            string(26) "Monday: 12:00 – 10:00 PM"
            [1]=>
            string(27) "Tuesday: 12:00 – 10:00 PM"
            [2]=>
            string(29) "Wednesday: 12:00 – 10:00 PM"
            [3]=>
            string(28) "Thursday: 12:00 – 10:00 PM"
            [4]=>
            string(26) "Friday: 12:00 – 11:00 PM"
            [5]=>
            string(28) "Saturday: 12:00 – 11:00 PM"
            [6]=>
            string(26) "Sunday: 12:00 – 10:00 PM"
          }
        }
        ["photos"]=>
        array(10) {
          [0]=>
          object(stdClass)#2572 (4) {
            ["height"]=>
            int(1144)
            ["html_attributions"]=>
            array(1) {
              [0]=>
              string(106) "Morellis Gourmet Ice Cream"
            }
            ["photo_reference"]=>
            string(190) "CmRaAAAALYWSFc7HLmUp2HjDHV_pocAOOVsYrGbd6DmZzOxfyoU_-f-GLs2aNvpR8NzWpjKd3XUVupEelGyuq4ADihK89fTX4NzXWzXHMzO41awp2EsWk7ObRCQzFTQ3ERUVHzvAEhCgbytmhx1HFZEwFne3XwypGhR7eyr_5feA2YyO61tY8l_KUgXW5A"
            ["width"]=>
            int(2033)
          }
          [1]=>
          object(stdClass)#2573 (4) {
            ["height"]=>
            int(3024)
            ["html_attributions"]=>
            array(1) {
              [0]=>
              string(93) "Jamie Pullman"
            }
            ["photo_reference"]=>
            string(190) "CmRaAAAAd9vnKU2q6mzF8aFGMbOEYeHsGJdWOORgJq_Hpb85QNG5nTYgqeNofhCAzzZKsd1BhNPKEx9i6Srf32T8o9LSpiMdzcvnKmibHkbfDrrRT9W8Vo8HWL8y-7HVfy9HV7WDEhC_uJic_3lyppwlilxMDBVkGhTEoELbOPWvPdtE9-NS8tt9wzPZLQ"
            ["width"]=>
            int(4032)
          }
          [2]=>
          object(stdClass)#2574 (4) {
            ["height"]=>
            int(3264)
            ["html_attributions"]=>
            array(1) {
              [0]=>
              string(106) "Morellis Gou