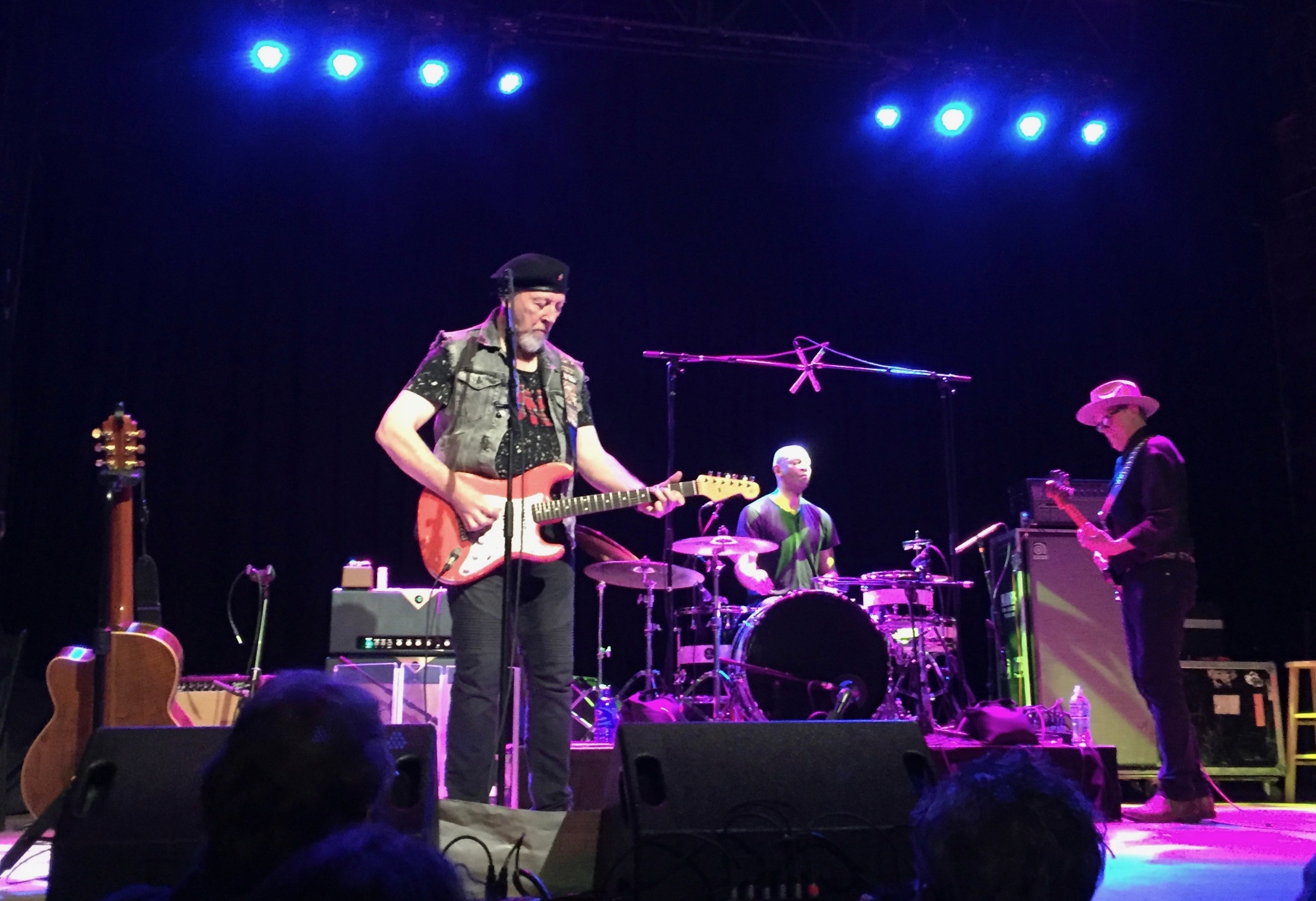 Richard Thompson at the Variety Playhouse, December 1, 2018

Guitarist Richard Thompson performed with his Electric Trio at the Variety Playhouse Saturday, Dec. 1, 2018. Thompson has performed in Atlanta countless times, first as a member of the traditional British folk rock group Fairport Convention, though mostly as leader of bands he's put together during his long and varied solo career. In all that time, he's never given a bad performance in this city. How many musicians can you say that about? Exactly. You can count them on one hand. Maybe one finger. - Tony Paris
12.01.18 Show Review
When the Electric Trio — Thompson, bassist Taras Prodaniuk and drummer Michael Jerome — took the Variety stage, it was obvious this was not to be an ordinary Richard Thompson show. No. This was something special.
They kicked off the set with "Bones of Gilead," followed by "Her Love was Meant for Me," two songs off of Thompson's powerful new album, 13 Rivers. From the moment he strapped on his Fender Stratocaster, Thompson exhibited a dazzling display of guitar work, even for someone as accomplished as himself, and the band, in high gear from the start, never let up.
In the power trio format, no member of the band can afford not to hold their own. A trio can be devastating — or, fall flat, if the three musicians aren't in sync — playing off each other while propelling each other. Saturday night, Thompson, Prodaniuk, and Jerome destroyed any preconceived notions of how good a Richard Thompson show can be. When Thompson was onstage alone, to sing a crowd favorite like "1952 Vincent Black Lightning," he crushed versions he's played in Atlanta before. Even the idea of the trio was stretched. For many songs, the group was joined by Bobby Eichorn from the crew on guitar, adding appropriate fills while not getting in the way.
Throughout the evening Thompson assured those in the audience he'd get to his older, more familiar songs they'd come to hear after performing material from the 13 Rivers. But no one expected just how far back he would go, pulling out songs he'd written for Fairport Convention in 1968, "Tale in Hard Time" and "Meet on the Ledge." The guitarist appeared to enjoy playing up the nostalgia of having written songs fifty years ago that still stand the test of time, but the concert was no career retrospective. Other than a couple of songs recorded with ex-wife Linda Thompson, "Dimming of the Day" (1975) and "Wall of Death" (1982), Thompson drew primarily from the '90s forward, though "Can't Win," (1988) was a tremendous treat.
That, too, was part of what made the Variety show so special. Instead of playing favorites, old stand-stand-by and familiar tunes — the one's he's played over and over and over — Thompson focused more on deep cuts and new material. In doing so, he played to no one's expectations other than his own, allowing himself a freedom manifested in some of his best guitar playing ever. At 69 years old, he was playing with the fire and intensity of someone half his age, not with the wild abandon of youth, but the confidence and feel of someone in control of every note he wrenched out of his guitar.
It was an amazing show. Absolutely. - Tony Paris
CL Stories about Richard Thompson in Atlanta
Shows Featuring Richard Thompson in Atlanta