Neighborhood Festivals
Annual Neighborhood Festivals
Inman Park Festival Arts Agenda, Music and Nightlife, Neighborhoods, Festivals
Friday April 22, 2022 12:00 pm EDT
This year's Inman Park Festival has been cancelled. 2022 Event Date is scheduled for Apr 22 – 24, 2022. Browse the Inman Park Festival schedule as well as recommendations.  |
more...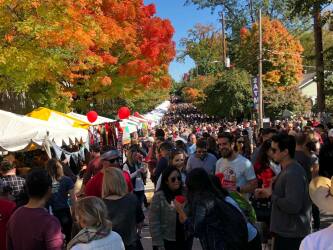 Saturday November 6, 2021 12:02 am EDT
Browse information about Chomp and Stomp Chili Cook-Off Festival. Read stories and check out events pertaining to the festival. |
more...
Saturday August 21, 2021 12:00 am EDT
Browse the Grant Park Summer Shade Festival schedule as well as recommendations. CL's critics & readers weigh in on the definitive guide to the event. |
more...
Saturday October 17, 2020 12:00 am EDT
Browse a comprehensive guide to one of the biggest Halloween celebrations in the country. Check out information pertaining to the Little 5 Points Halloween Festival and Parade. |
more...
Kirkwood Wine Stroll Food and Drink, Neighborhoods, Festivals, Food Events
Saturday September 19, 2020 02:00 pm EDT
Kirkwood Wine Stroll is presented annually by the Kirkwood Business Owners Association.  |
more...
Upcoming Neighborhood Festivals
---
Atlanta Neighborhood Festivals