>>

Content

>>

Things to Do

>>

College Guide - 18 ways to do ATL right
College Guide - 18 ways to do ATL right
Our annual big list of tips for surviving the city during college
If you're old enough to chill, but not spill ...

Own the lanes at Funtime Bowl
Sure, Buford Highway's known for its international cuisine, but it's also home to one of cheapest fun nights an undergrad can buy. At $2.50-$3.75 per game, Funtime Bowl's prices are hard to beat. Plus, there's decent food, and plenty of bar and arcade games to go along with cosmic bowling on Friday and Saturday nights. www.funtimebowl.com.
Take a walk down Aisle 5
The venue plays host to everyone from Nappy Roots to the Jerry Garcia Band Cover Band. The all-ages spot is a good way to catch a show from your favorite local or national act, and there's also the popular monthly EDM dance party, Slow and Low, compliments of "Trap Jesus" himself, /content-165828-ployd-s-long-strange-trip-from-dj-to. www.aisle5atl.com.
Hit the lake or a cabin OTP
Atlanta's not too far from lakes (Lanier, Allatoona) and parks for folks who are about that cabin life and feel the need to get outside the Perimeter (by now "OTP" and "ITP" are in your vocabulary; if not they should be). You can head out to the Blue Ridge Mountains or experience the revelry of Oktoberfest by way of Helen. www.lanierislands.com. www.lake-allatoona.com. www.escapetoblueridge.com. www.helenchamber.com.
If you're strapped for cash ...

Sell clothes
There's plenty of reasons college kids can afford to ditch old clothes for money: Freshmen 15; low on cash; or maybe you're just not into the same threads you and the ol' high school homies grew so accustomed to wearing. Either way, your best bet for turning old rags into cash is to head over to Buffalo Exchange in Poncey-Highland. The success rate for selling clothes here, and the Lucky Exchange just down the road in Midtown, tends to be higher than some of the other consignment shops around town. Plus, Buffalo Exchange's young staff understands the struggle, and barring any foreign stains on your blouse or jeans, they'll try and work with you. www.buffaloexchange.com. www.luckyexchange.com.
Find a production job
OK, you're not a film major, and you could care less about "The Real Housewives of Atlanta," but you can't ignore the fact that Atlanta sits behind only Los Angeles and New York City in film production, and is just behind those two cities and Canada for television series being shot locally. Well, there's plenty of casting calls and production help needed all over the state, so taking a quick peek at the Reel-Crew director or Project Casting might just land you the side hustle you've been looking for. If you become hooked on ratchet reality TV in the process, we won't judge. www.georgia.org/industries/entertainment. www.projectcasting.com.
Support your local farmer and save money on food
?Depending on the day, you can swing by a local farmers market for deals on the freshest of produce, and various other locally sourced treats. This list is a good one: East Atlanta Village Farmers Market (Thursdays, 4-8 p.m.); Freedom Farmers Market (Saturdays, 9 a.m.-1 p.m.); Piedmont Park's Green Market (Saturdays, 9 a.m.-1 p.m.); and the Grant Park Farmers Market (Sundays, 9:30 a.m.-1:30 p.m.). www.farmeav.com. www.freedomfarmersmkt.com. www.piedmontpark.org. www.grantparkmarket.org.
If you have no consistent source of transportation ...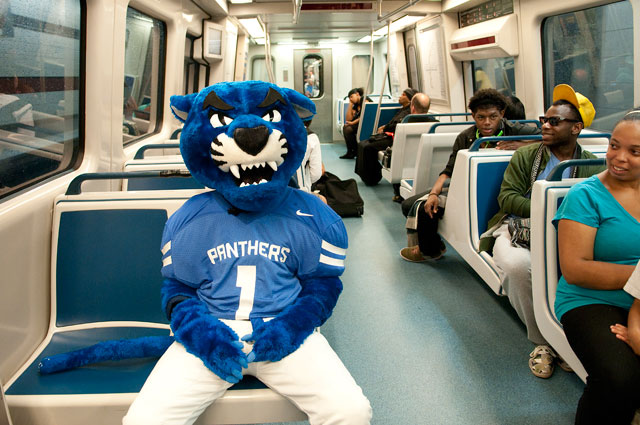 Share a bike
CycleHop and Social Bicycles contracted with the city to bring more than 500 bikes to the area. Bikes can be located and reserved online, and are a quick and easy alternative to trying to catch a ride with your roommate's creepy brother or waiting for the next MARTA train to come and go without warning. On top of that, it's a win-win for the environment in a city known for its smog-covered skyline. www.atlantabicycleshare.com.
Ride the Atlanta Streetcar
OK, so your roomie borrowed the car, and you really just want to get from a nice stroll in Centennial Olympic Park to that drumstick platter at Harold's Chicken in Old Fourth Ward. Well, you can hop on the Atlanta Streetcar, which, though limited in route options, is free for the rest of the year. It's no San Francisco Cable Car, but who the hell can say no to a free ride? streetcar.atlantaga.gov.
Hop on the Atlanta Beltline
Georgia Tech student-turned-man-behind-the-Atlanta-Beltine Ryan Gravel succeeded in turning old railroad lines into pathways connecting the city's various neighborhoods. In a city where everyone drives, it can be refreshing to trek from Old Fourth Ward to Piedmont Park without ever having to honk a horn, or frustratingly watch a map as your Uber drive gets lost trying to drop you off. Speaking of using the phone to your navigational advantage, the Beltine also has an app to help you navigate its trails and marvel at installations from Art on the Atlanta Beltine. www.atlantabeltline.org.
If you want to shop local ...


Know that ICE isn't an acronym for being cool
The team behind the Indie Craft Experience (ICE) has turned the art of handmade, locally produced goods into an event — literally. Throughout the year, ICE host a series of craft markets such as Salvage, a modern vintage market, taking place at the Yaarab Shrine in September, and November's Holiday Shopping Spectacular. There's also the ICE Pop-Up Shop in Candler Park, which is open during the week just in case you find yourself growing impatient, and not able to fight off your local craft addiction. www.ice-atlanta.com.
Drop into a neighborhood boutique
Outside of the craft markets and occasional trip to Value Village, there's another way to buy as the Atlantans do. Spots such as Crafted Westside (Westside), the Beehive (Kirkwood/Edgewood), Young Blood Boutique (Poncey-Highland), and Poor Little Rich Girl (East Point/College Park/Hapeville) have plenty of good finds made by local hands. www.craftedwestside.com. www.thebeehiveatl.com. www.youngbloodboutique.com. 678-837-5741 (Poor Little Rich Girl).
If you're a night owl ...

Eat an octopus; sip a cocktail
Chances are the phrase "late-night eating" conjures up thoughts of 1 a.m. pizza deliveries, and snack runs at Chevron that leave your tongue blue with Slushie mouth. C'mon, you're better than that. If you head over to East Atlanta Village some time after 10 p.m., you'll stumble upon Octopus Bar, led by executive chef Duane Kulers. The restaurant features a rotating menu depending on what Kulers can get his hands on that week, with items such as charred, you guessed it, octopus, and various ramen dishes that will keep you satiated while the drinks keep you saucy. The wine and dine don't stop till 2:30 a.m. octopusbaratl.com.
If you're into big crowds and people watching...

Check out the Little Five Points Halloween Festival and Parade
Imagine a place where vampires, zombies, and Sponge Bob strut their way down the street, or drop-top convertibles filled with tween ghouls and goblins are greeted by cheering fans. This place is real, and it's called the Little Five Points Halloween Festival and Parade (Oct), in which all of the nearby businesses, local musicians, and neighbors go all out in the name of All Hallows Eve. There's a chance your night on Oct. 31 could be a bust, but there's no way in hell you won't have fun at this event. www.l5phalloween.com.

Party with Pride
Aside from being maybe one of the only cities in the country with a complete, potentially permanent rainbow-crosswalk intersection, Atlanta hosts the Southeast's largest gay pride festival in October. Yeah, the parade down Peachtree Street gets a lot of the buzz (and rightfully so), but the entire weekend feels like one of the year's most epic parties and celebrations of #LoveWins. www.atlantapride.org.