Gate City Brewing Company
Roswell's first craft brewery, Gate City was founded in 2013 and takes its name from Atlanta's former status as the "Gate City of the New South."
Hours: Thurs., 5-9 p.m.; Fri., 5-10 p.m.; Sat., 1-10 p.m.; Sun., 1-6 p.m. Closed Monday-Wednesday.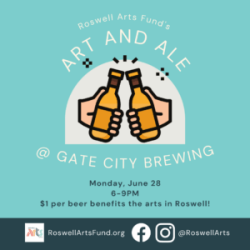 Monday June 28, 2021 06:00 PM EDT
Join Roswell Arts Fund on Monday, June 28 6-9PM at Gate City Brewing Company for a fun evening of art and ale!
Music + drinks + art + giveaways = Great way to support the arts in Roswell!
Invite your friends, your family, your coworkers!
$1 for each beer purchased will be donated back to RAF.
... [
click here for more
]
Thursday October 10, 2019 06:00 PM EDT
Nothing beats food, brews and live entertainment benefitting your Roswell community! Roswell Magazine's 2019 10 Under 40 class is proud to announce their first fundraiser, dubbed Arts, Parks and Pints, to take place on Thursday, October 10. From 6 - 9 p.m. all are invited to Gate City Brewery for a ... [
click here for more
]
USER SUBMITTED
Saturday September 16, 2017 08:00 PM EDT
It's a rematch of arguably the greatest college football game ever played and it's been 11 years in the making. Come out to Gate City Brewing Company in Roswell to watch. Carne 250 will be cooking the Texas barbecue to enjoy with it. We will be cooking up the Texas Trinity: brisket, spare ribs and c... [
click here for more
]
Hours
Monday: 12:00 – 10:00 PM
Tuesday: 12:00 – 10:00 PM
Wednesday: 12:00 – 10:00 PM
Thursday: 12:00 – 10:00 PM
Friday: 12:00 PM – 12:00 AM
Saturday: 12:00 PM – 12:00 AM
Sunday: 12:00 – 9:00 PM