See our
guide to COVID-19 in Atlanta
(this page last updated ) Drive thru events
The Creatives Project (TCP)
From the website:
We will debut our response to Covid-19, Drive Thru ATL, on Saturday, June 13h from 2-7pm. Drive Thru ATL is our answer to sharing artists' work with the city while galleries are less accessible. In fact, we are turning our space inside out - bringing the artwork outdoors into the large parking lot outside our new studios on Moreland Avenue.
100% of art sales go directly to exhibiting artists and additional funds raised through general donations will support TCP's ongoing work during this uncertain time.
Drive Thru ATL is an experimental exhibition platform that celebrates creativity, passion, and place through alternative connection. Drive Thru ATL will bring you art, inspiration, sunshine, and curiosity in person while safely practicing social distancing.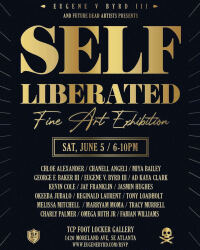 Saturday June 5, 2021 06:00 PM EDT
SELF-LIBERATED Fine Art Group Exhibit
Opening SAT. JUNE 5th, 6-10:00 PM
This exhibit celebrates the spirit of Juneteenth, the oldest celebrated commemoration of the ending of slavery in the United States. Yeah, yeah, Lincoln signed the Emancipation Proclamation that freed the enslaved officially... [
click here for more
]