Tallulah Gorge State Park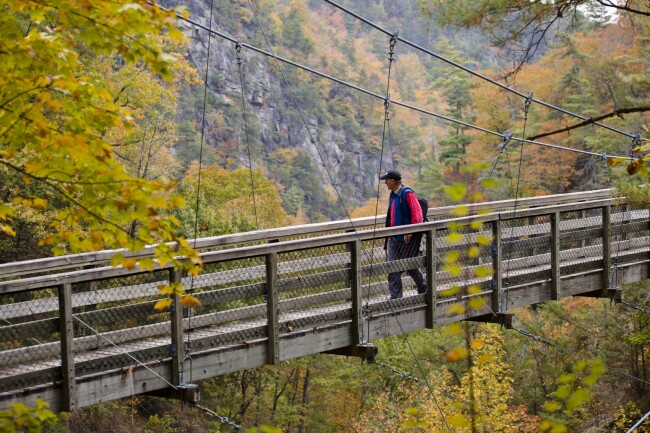 From Explore GA: Tallulah Falls is a series of six waterfalls cascading down through Tallulah Gorge. Tallulah Station offers local artworks as well as warm cups of specialty coffees and sweets, including ice cream. Numerous hiking trails are close by, including the Shortline Trail, a 3-mile paved trail following the Old Tallulah Falls Railroad Bed. Lake Tugalo and Lake Yonah both offer fishing, swimming and non-motorized boating.
Saturday October 6, 2018 09:00 AM EDT
Venue: Main Street, Tallulah Falls, GA BBQ, Car Show, Historic Moss Home Tour, Tour Georgia Power Plant, Tallulah Gorge Whitewater Release, Community Yard Sale, Local Arts & Crafts, Silent Auction, Climbing Wall & Dunking Booth, Live Entertainment. All proceeds benefit the Tallulah Falls Volunteer F... [
click here for more
]
USER SUBMITTED
One of the most spectacular canyons in the eastern U.S., Tallulah Gorge is two miles long and nearly 1,000 feet deep. Visitors can hike rim trails to several overlooks, or they can obtain a permit to hike to the gorge floor (100 per day, not available during water releases). A 200 foot long suspensi... |
more...
338 Jane Hurt Yarn Rd
Tallulah Falls
,
GA
30573
(706) 754-7981
gastateparks.org
Park
Hours
Monday: 8:00 AM – 5:00 PM
Tuesday: 8:00 AM – 5:00 PM
Wednesday: 8:00 AM – 5:00 PM
Thursday: 8:00 AM – 5:00 PM
Friday: 8:00 AM – 5:00 PM
Saturday: 8:00 AM – 5:00 PM
Sunday: 8:00 AM – 5:00 PM