Unicoi State Park & Lodge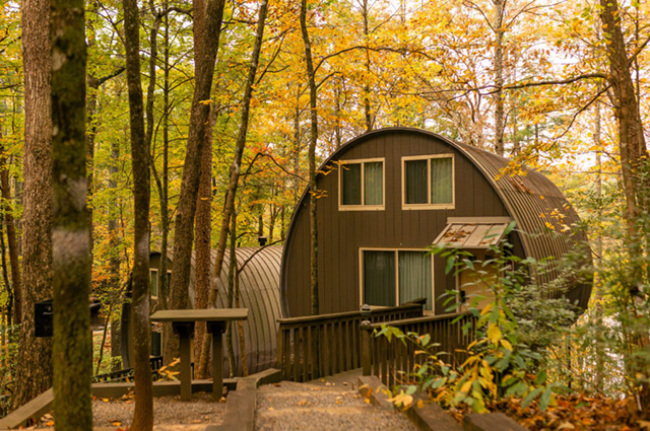 Unicoi State Park & Lodge
Just two miles northeast of Alpine Helen in the gorgeous North Georgia Mountains is the ultimate mountain retreat destination. Unicoi State Park & Lodge is centered around beautiful Lake Unicoi within the Chattahoochee National Forest. The park offers unparalleled hiking trails leading to Anna Ruby Falls and Helen. Smith Creek – a peaceful tributary of the Chattahoochee River – winds from the base of the Anna Ruby falls to Unicoi Lake and is a celebrated trout fishing spot. At Unicoi State Park & Lodge, there is no shortage of reasons to unplug and explore the great outdoors. Whether you are planning a romantic getaway, a family excursion or a corporate event, the range of accommodations and activities at Unicoi State Park & Lodge are sure to delight. Visitors discover an array of outdoor adventure and relaxation opportunities including archery and target shooting, fly fishing, paddle boarding, boat rentals, zip lining, mountain biking or simply lounging lakeside on the beach.
Friday December 3, 2021 07:30 PM EST
Categories: Spirituality
A weekend of powerful meditations for enhancing loving kindness With Kadampa Teachers Gen Norden, Sharon Lovich and Kelsang Jangchen.
Focussing on the teachings and meditations of the chapter Enhancing Cherishing Love, from the book The New Eight Steps to Happiness by Vene... [
click here for more
]
USER SUBMITTED
Hours
Monday: 8:00 AM – 6:00 PM
Tuesday: 8:00 AM – 6:00 PM
Wednesday: 8:00 AM – 6:00 PM
Thursday: 8:00 AM – 6:00 PM
Friday: 8:00 AM – 7:30 PM
Saturday: 8:00 AM – 7:30 PM
Sunday: 8:00 AM – 7:30 PM
outdoors glamping state parks GA Mountains