Fogo de Chao Brazilian Steakhouse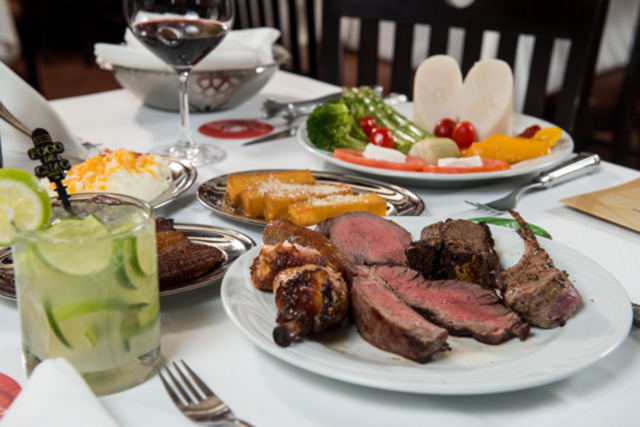 Skewered meats, sliced at the table churrasco-style — by costumed gauchos wielding gleaming knives — are the centerpiece of the upscale Brazilian import. Beef and lamb shouldn't be missed. Prices are fixed, portions unlimited. The salad bar features asparagus, hearts of palm, fresh cheese, and similarly luxurious items. Even desserts (which cost extra) are worth the calories.
Saturday November 29, 2014 07:00 PM EST
This Brazilian gaucho-style restaurant will celebrate turkey day weekend with a custom menu. Enjoy a roasted turkey breast with au jus, a sweet potato casserole, a cranberry relish, and roasted seasonal vegetables. In addition to the holiday menu, guests can still get their favorite standard menu it... [
click here for more
]
3101 Piedmont Road N.E.
Atlanta
,
GA
30305
(404) 266-9988
fogodechao.com
Restaurant
Central and South American
Hours
Monday: 11:30 AM – 2:00 PM
5:00 – 10:00 PM
Tuesday: 11:30 AM – 2:00 PM
5:00 – 10:00 PM
Wednesday: 11:30 AM – 2:00 PM
5:00 – 10:00 PM
Thursday: 11:30 AM – 2:00 PM
5:00 – 10:00 PM
Friday: 11:30 AM – 2:00 PM
5:00 – 10:30 PM
Saturday: 11:30 AM – 10:30 PM
Sunday: 11:30 AM – 9:00 PM