Blood Money
?After a string of break-ins last year, Young Blood Gallery bounced back from unexpected financial snares by hosting a fundraiser. The Grant Park underground art space raised nearly $2,000 to recover from its losses. This year, gallery founders Maggie White and Kelly Teasley have revived the event to help bring in money for general functioning purposes.This fundraiser will also feature musical performances by local avant-lounge rockers the Selmanaires and electro-funksters Leb Laze. Made up of synth player/programmer Ryan Rasheed, drummer Alex Lambert (Blame Game, Lie and Swell) and guitarist Randy Castello (the Beach, the Flakes), the group will get the night going with a set of fluid beats and all-consuming washes of urban psychedelia. "It's cool to be playing a benefit for an organization where the money it raises will go toward operating expenses for the next year and not debt relief or some totally desperate cause," adds Castello. "It's just smart planning."
Since 1997, the gallery has survived on income raised through a variety of inventive and D.I.Y. charity performances and art openings. For the 2005 benefit, the gallery is also hosting a dollar raffle for a handful of paintings by local artists, including Ryan Linicome, Jacob Escobedo, Caroline Smith, and possibly a few others. Door prizes will be given away, which could materialize in the form of a free beer, a free T-shirt or a packet of buttons. There will also be a kissing booth. "It'll be a boy and a girl working in shifts," Teasley says. "You give them a dollar and they give you a kiss."
The Young Blood '05 Benefit takes place at Lenny's Sat., Jan. 22, 10 p.m. $5.
More By This Writer
Tuesday May 21, 2019 09:11 am EDT
The young master of shamanic garage rock on the mystery of music and more |
more...
Thursday May 16, 2019 05:00 am EDT
The nomadic singer and songwriter on seeing the beauty in nature and making his way in the modern world |
more...
Thursday May 16, 2019 04:53 am EDT
Makaya McCraven, Joel Ross, Kandace Springs, and more offer a look at the shape of jazz to come |
more...
Thursday May 16, 2019 04:45 am EDT
'Me & U' laments the romantic woes of daily life |
more...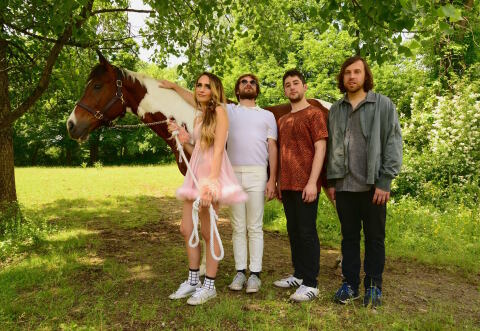 Thursday May 9, 2019 03:24 pm EDT
Speedy Ortiz, Shaky Beats, K Michelle Dubois, and more weekend fun that's not to be missed |
more...
Search for more by Chad Radford