drivin n cryin
The suits at Hip-O who compiled this "ultimate" anthology of the long-standing Atlanta band missed the boat by not naming the disc after the group's well-known 1986 song "Scarred But Smarter." That title, after all, could serve as a summation of dnc's erratic career. They never had any actual hits, but with seven uneven studio albums and one live disc, the Kevn Kinney-led aggregation has certainly amassed more than the 20 rugged tracks that comprise this generous 80-minute aural history.
At this late stage, it's obvious the band's combination of tough riff-rock and country/folk, led by Kinney's reedy, plaintive vocals, won't find a substantial audience outside the South. With steady touring in the late '80s and high-profile opening slots for the Who, Neil Young and R.E.M., it wasn't for lack of trying. And their on-again/off-again career of the past five years isn't going to help now. But this smartly-compiled, chronologically arranged disc proves their best music stands the test of time.
From the concert singalong "Straight to Hell" to the pile-driving boogie of "Build a Fire," dnc maintain a distinctive, eclectic sound that clicks best when Kinney keeps his bombastic arena moves in check. "Turn It Up or Turn It Off" and the disc's only rarity, a blistering live "Toy Never Played With" (recorded in Atlanta), however, push them into overdrive. Here, sounding like a Southern Kiss with Kinney screeches like Gene Simmons sucking helium, they suffer by abandoning their low-key charm.
The collection really scores when it rescues lesser-known gems such as "When You Come Back" from the relatively weak Smoke and closes with the beautifully languid, Velvet Underground-ish "Passing Through," snagged from 1997's now-obscure Ichiban disc. Along with the opening song, it provides the ideal bookend to a practically perfect compilation for a durable, journeyman band who, 15 years down the line, remains scarred but smarter.
drivin n cryin plays the Roxy, Fri., Nov. 24.
More By This Writer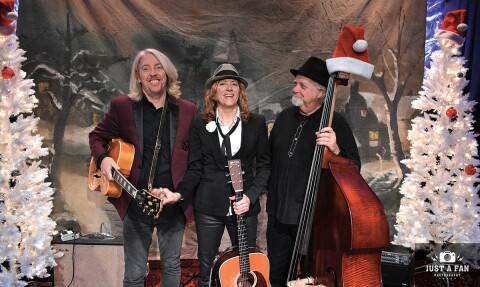 Wednesday December 4, 2019 05:43 pm EST
Michele Malone chills out with her annual Christmas show |
more...
Saturday November 2, 2019 11:16 am EDT
Atlanta's Delta Moon shines for 17 years |
more...
Wednesday October 2, 2019 02:52 pm EDT
The trailblazing guitar slinger was 80 years old. |
more...
Monday September 30, 2019 12:35 pm EDT
The ASO tackles two Rolling Stones classics, plus help for Beverly 'Guitar' Watkins |
more...
Tuesday September 3, 2019 11:22 am EDT
Tommy Talton reflects on Gregg Allman's classic album and tour |
more...
Search for more by Hal Horowitz