The Making of OutKast's Aquemini
Andre 3000, Big Boi and cast look back on a classic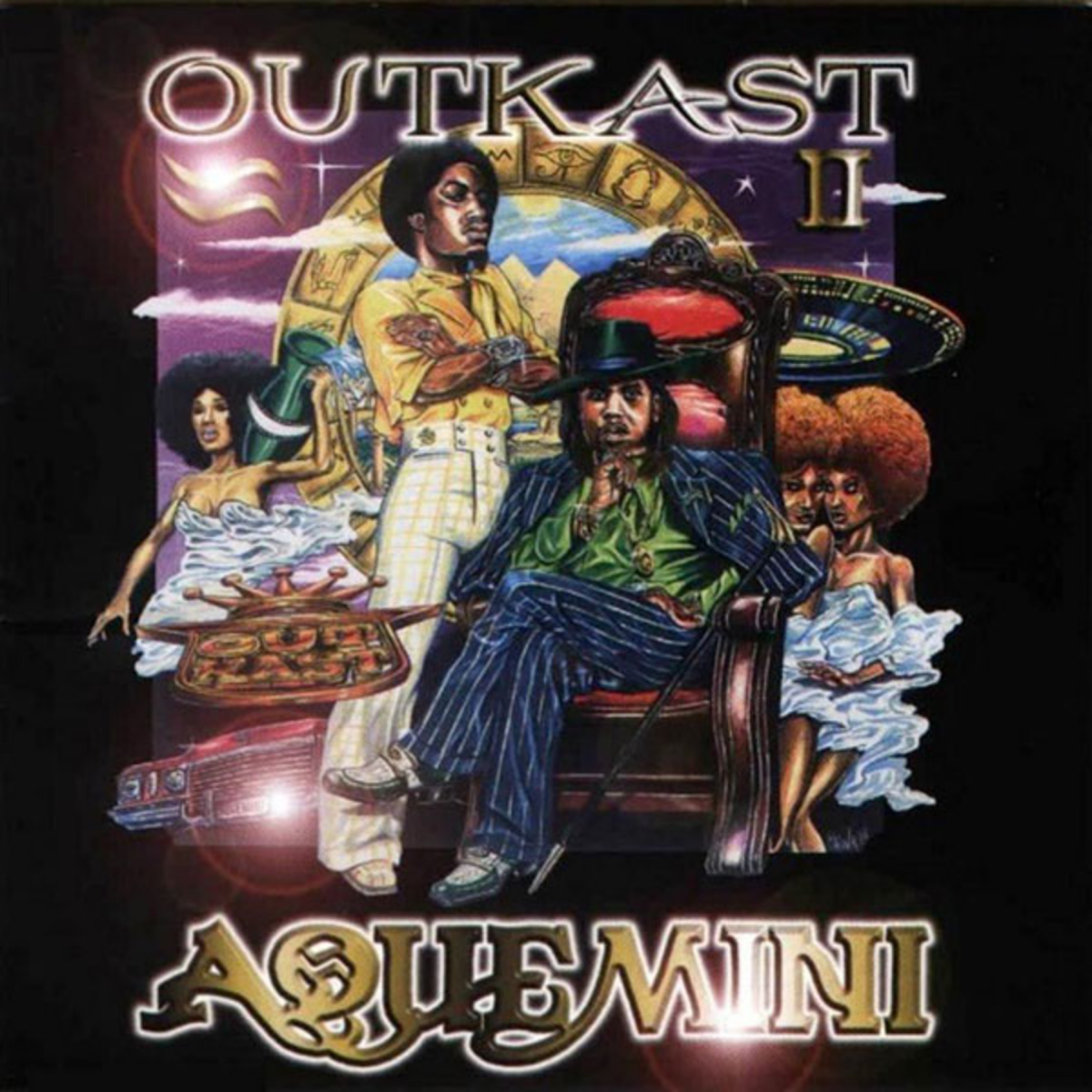 With additional reporting by Jacinta Howard and Phillip Mlynar
Man, first they were some pimps. Then they were some aliens or some genies - some shit. Then they be talkin' 'bout that black righteous space. Man, fuck them. I ain't fuckin' with them no mo'.
- "Return of the G' skit, Aquemini
By the time Aquemini was due to drop in the fall of 1998, no one knew what to expect from the-soon-to-be-iconic OutKast.
They'd gone from red clay players to extraterrestrials - down-to-earth to out-of-this-world - in the span of two albums. But if the contextual leap from their Southernplayalisticadillacmuzik debut to ATLiens was fueled by an Afrofuturistic flight of fancy (and, lest we forget, their feelings of alienation from hip-hop's East Coast vanguard), then Aquemini was OutKast's return mission home.
Not only were Antwon "Big Boi" Patton and Andre "3000" Benjamin eager to prove that they were still down, they wanted to lift the 'hood a little higher.
The resulting mix was earthy and ethereal - a perfect bridge between their artistic extremes. Dre was producing more, following the blueprint inherited from mentors Ray Murray, Rico Wade and Sleepy Brown of Organized Noize. Big was penning the hooks that would help turn OutKast into celebrated pop stars. And Mr. DJ was churning out some serious beats on the drum machine. By collaborating with some of Atlanta's finest instrumentalists on record, they created one of their most experimental and musical releases to date.
Now that the Dirty South rules the world, it's easy to forget that Aquemini was the first Southern hip-hop album to earn the coveted five-mic rating from the former bible of the genre, The Source magazine.
At the time, R&B was dead, rap was on its last leg (R.I.P. Biggie and Pac), and Bill Clinton was in the Oval Office getting some head. But it mattered not. If post-soul polemics and pre-millennial angst had the world in a funk, Aquemini only made things funkier.
Before all the drama with babies' mamas' mamas, before the Grammy's got hip (replacement surgery), before Hollywood hopped on the jock, this was the album on which Big (the Aquarius) and Dre (the Gemini) truly unleashed their stanktastic genius.
On the twelfth anniversary of its release - you know, 12, as in signs of the zodiac - Creative Loafing pays track-by-track homage with an extended breakdown on the making of Aquemini, featuring interviews with Andre 3000, Big Boi, Mr. DJ, Organized Noize mentor Rico Wade, and the numerous featured artists, Atlanta musicians and studio engineers who played an integral role in the creation of one of the best albums ever.
Featuring: Andre 3000: MC/producer | Big Boi: MC/producer | Mr. DJ: Producer, one-third of Earthtone III with OutKast, and cousin to Rico Wade | Rico Wade: Organized Noize founder/producer with Ray Murray and Pat "Sleepy" Brown | Raekwon: MC/Wu-Tang Clan member | Cee-Lo: Vocalist/Goodie Mob member | Khujo: MC/vocalist and Goodie Mob member | Masada: New Jersey-based MC and former Organized Noize protege | Joi: Vocalist/songwriter and long-time Dungeon Family collaborator | Kawan Prather: Former LaFace Records A&R for Aquemini and early Dungeon Family member | Preston Crump: Bass player | Marvin Chanz Parkman: Keyboard player and former Organized Noize staff producer/songwriter | Omar Phillips: Percussionist | Donny Mathis: Guitarist | Tomi Martin: Guitarist | Neal H. Pogue: Sound mixer/recording engineer
"Hold On, Be Strong"
Produced by Donny Mathis and OutKast for Earthtone
Barely over a minute long, the meditative intro sounds like a relic from the previous album . With an Old Negro Spiritual-meets-Sun Ra vibe, it sets the tone for Aquemini, as the R&B group 4.0 invokes the drawn-out refrain "Hold on/Be strong."
Donny Mathis (guitarist): I came from the church, that's how I got involved with Organized Noize [and OutKast]. I told OutKast I had a song and they allowed me to produce and put "Hold On, Be Strong" on there. It was a full song with verses, but they didn't want the words, they just wanted the hook. It was really coming from a gospel aspect by me being in the church. Dre played the kalimba on it.
Andre 3000: I bought that kalimba at some flea market or music store and I just remembered hearing it on Earth Wind & Fire records. I just thought it was cool and started playing around with it. It was definitely improv. Donny [Mathis] played guitar, Preston [Crump] played bass and I think 4.0 was singing on it. Tony Hightower was in 4.0 and we've been friends since third grade, along with Cee-Lo. We all used to breakdance with each other and we ended up meeting each other again back at [the Dungeon Family headquarters and Rico Wade's home studio] the Dungeon.
[page]
"Return of the 'G'"
Produced by Organized Noize
Who says a player can't trade his Braves fitted for a polyester turban without getting his ghetto pass revoked? Dre silences those who "get the wrong impression of expression" with one of the hardest verses committed to tape.
Rico Wade: Dre was already doing weird shit. It was almost like you just wanted to make sure, 'Goddamn, you still there right?' And he let folks know he was still there on this one. And then Big Boi went in. Both of them cats. That's when Big and Dre were coming into their own. That's why they named the album Aquemini
Andre 3000: I was young and wilder and some of my fashion choices people didn't accept at the time. I started getting flak from some people, so they were like, 'Either he's gay or on drugs.' And it's funny because I was high as hell all the way through Southernplayalisticadillacmuzik, but by ATLiens and Aquemini I wasn't smoking or drinking.
Big Boi: Back then, there was a whole bunch of shit talking. People just couldn't understand how we were making the type of music we were making. There were a lot of attacks coming at my partner, so we wanted OutKast to be like, 'You fuck with my homeboy, we gonna fuck you up.' We wanted to let people know, this man doesn't stand by himself. I mean, that's my dog. It's a team effort.
Andre 3000: With Big Boi standing by me I knew I had to address some of the shit 'cause I can't have my homeboy looking bad. I knew a lotta people felt like Southernplayalistic was some of our hardest work and they felt like we strayed from that. So 'Return of the Gangsta' was trying to give them a sense of, 'Hey, I'm still a regular person.'
At the end of the day, you've still got to go through the same neighborhoods so sometimes you have to say stuff to let people know what it is. I'm a man so you can't say some of this stuff to me. The things in that verse were addressing all of that.
"Return of the 'G'" skit
When neighborhood "thugs" stop by their friendly mom-and-pop record store to check up on that new Pimp Trick Gangsta Clique album, the owner tries to steer them toward "that new, new OutKast" instead. The thugs emphatically decline: "Man, fuck them. I ain't fuckin' with them no mo'."
Andre 3000: I wrote out the skits. It was like a parody of everything going on at the time. Back then all the hood record labels were called stuff like Slap a Bitch Records or Big Dick Records, so we made up the group name Pimp Trick Gangsta Clique. Me, Sleepy [Brown] and Cee-Lo were going to form an actual band called Pimp Trick Gangsta Clique. We recorded some stuff but never released anything under that name. It was really just a funny thing we made up for an album you'd buy at the record store.
"Rosa Parks"
Produced by OutKast for Earthtone
Could the Civil Rights icon be a metaphor for OutKast's attempt to overcome the regional segregation within hip-hop itself? Yeah, right. "Hush that fuss: Everybody move to the back of the bus."
Andre 3000: I actually submitted that beat to [Diddy's old group] Total - 'cause I was going with Keisha from Total around that time - but they couldn't use it, so we ended up using it.
By the time Aquemini came, I was stretching out as a producer. Big Boi was the family man. He had just had another kid, so he would come hang out at the studio and listen to the beats and make these big hooks. So it was a cool combination.
Big Boi: I took the beat home and I remember I was in my bedroom, and I was like, 'I got the hook!' I was playing the music loud as hell and I was just singing the hook: 'Aah-haah, hush that fuss!' Like, that's it, we need to lay it down. So then, you know how we use these metaphors, [so we named it] Rosa Parks. Boom. We always do stuff like that and shit just falls into place.
Neal H. Pogue (sound engineer): Naming that song 'Rosa Parks' was a big, big statement too, because it was just trying to show people don't forget about where we've come from and where we are now.
Mr. DJ: We got a lot of flak about that. A lot of brothers got held up in lawsuits because of that song. But it was never meant to be a derogatory song towards Rosa Parks. That never even crossed our mind until we heard there was a complaint.
Andre 3000: Their claim was we used her name to sell records and we were like that really wasn't the case.
Mr. DJ: We were just trying to use her as a symbol - "Everybody move to the back of the bus." It was just a real fact. We used to have to go to the back of the bus. It was just something real and we tried to make something positive out of it, not in a bad way.
Neal H. Pogue: It was kind of weird, because I think Rosa Parks was misled. She was misled by her handlers. They just wanted her to get some money out of it. And [OutKast] didn't mean any harm; it was a tribute. But her people felt like it was a slander.
Andre 3000: I think that was a huge confusion and misunderstanding, but when you're working with someone of [Rosa Parks'] standing you've gotta do your job. I understood it. But me and Big always said if something comes across our lap we're gonna fight it. We've got enough money to do it.
Mr. DJ: When we recorded that song, the studio had some dope wood floors, so I can remember when we all went in the recording booth and did the stomping and the clapping on that little breakdown.
Donny Mathis: One Sunday after I got out of church, Dre and Big called me to go in the studio. One of the first songs that I worked on was "Rosa Parks." That's me playing acoustic guitar, the bluesy guitar. That's Preston Crump playing bass, but somehow they got the credits mixed up and it says that Preston's playing [electric] guitar.
Andre 3000: After doing the track and hearing where we were going with it, it sounded like a hoe-down, it sounded porchy. And I knew [my stepfather, Rev. Robert] Hodo played harmonica, so I was like, 'Hey, come over and play.' And what's crazy is he killed it in like one or two takes.
"Skew It On the Bar-B" feat. Raekwon
Produced by Organized Noize
The track that likely made East Coast-centric magazine The Source wet itself, it featured Wu-Tang Clan's resident dope boy Raekwon the Chef, making him OutKast's first non-Dungeon Family feature.
Raekwon: I was in Atlanta 'cause I had a nice place out there in Buckhead, and I met Big Boi in Lenox Square Mall. He seemed like a cool, genuine dude, and we both were fans of each other's work. We both were like, "Yo, let's get up and do something." Two or three days later I went to the Dungeon house and we started running through some beats.
Kawan Prather (former LaFace A&R): Big was there writing his verse and it was just like how the interlude on the album sounds. There was Hennessy, there was some other stuff, and everybody just kicked it for a minute and it just worked out. The majority of what happened in the Organized [Noize] camp was just random. Like, "Hey man, I just ran into George Clinton." But it was random based on the circle of people that we were, who we were attracted to, and who was attracted to us.
Rico Wade: Dre was fucking with Erykah Badu, too. 'Cause I just remember us having a lot of work going on where we were like, "Yo man, OutKast just needs to come to the studio and we're just going to play ya'll some stuff. Y'all tell us what y'all like." I remember Erykah being in there with them. That "Skew It On the Bar-B" beat came on and everybody was like, "That's it."
Ray [Murray] killed it. I remember that snare and that kick, we kept wanting to use it over and over again. Its like it made history: the "Skew It" snare. Other motherfuckers have used it, sampled it. That's hip-hop. People know they go right in there and sample those drum sounds. And Ray says it was a play off of a "Wonder Woman" [TV show] sample.
Big Boi: That was the first time I had ever been in the booth with a nigga when he was rapping. Rae was about to do his verse, and he was like, "C'mon god, get in the booth." I'm like, "Get in the booth with you?" He said, "Man, that's how we do it. Let me get that energy, come in here with me." So he was doing his verse, and we were just passing the Hennessy back and forth. The cup was spilling shit, nigga's necklace was dangling - that's what you hear, like cling-cling and all kinda shit. There was so much liquor spilled in the booth from him just doing his verse.
Raekwon: We were just having fun, talking about real shit. And they know one thing about me, which is the way I talk and have conversations. So they were like, "Just go in the booth and do whatever you wanna do." So I went in there and did that and they used that [interlude] on the record.
When that record came to New York City, it opened up the floodgates for the South to emerge and do their thing. The South was not being played up in New York at all at that time. Me and OutKast, we definitely opened up that door.
[page]

"Aquemini"
Produced by OutKast for Earthtone
A three-dimensional aural massage with a mystical hook that gave cause to question everything you ever thought you believed and to believe nothing you never thought to question
Mr. DJ: On the album before Aquemini, me and Dre grew dreads. We went to Jamaica one time and took our cornrows out and we swam in the ocean, and we decided we were never going to comb our hair again.
After having dreads you realize how people discriminate against you just because of the way you look. Towards the end, around the time we got ready to do this album, we just cut our dreads off. So that's what Dre was referring to when he says: 'Is every nigga with dreads for the cause?/Is every nigga with golds for the fall?" He's just explaining that you can't judge a book by its cover.
Andre 3000: I was a young man searching, a young black man, so I was looking into Rastafarianism, Islam, whatever. I started to notice that all the stories were similar, it was more about a mutual respect and exchange of energy. When you rap and say anything kinda conscious, all the conscious people approach you. So after ATLiens I got it all - from books on sex to [metaphysics] and religion. But you also get introduced to a lot of fake phony ass people, and I addressed it in the song. You find some of the fakest people with dreads pouring oils on you. And it's really kind of mind-blowing when you're a young person and you start to find out some of this is bullshit, so then you're just out there searching.
Big Boi: 'Aquemini' was just the meshing of both worlds, with me being an Aquarius and him being a Gemini. It was subtle on ATLiens, but by the time we got to Aquemini it was like we had two different visions that were [parallel]. So the thing with us was to always show the team.
Preston Crump (bass player): Dre was very experimental. He wanted you to bring in all the stuff you've got and I'd be like, "Yo, I ain't bringing all that stuff in the studio." He'd say, "You got some more effects?" But it was cool, I understand where he was trying to go.
Andre 3000: My biggest [instrument] is my mouth. I'd just lean over to Preston and say: ba-boom, ba-boom. And he'd just kinda go in on it and freak it and make it his own. There's always some improvisation [involved] 'cause I ask for it. I want them to take my idea and make it better. I can't play it [and] at the time I couldn't create it. They're accomplished musicians so you want them around. They bring good ideas.
Mr. DJ: [Me and] Dre started learning how to produce together. We would sit around and watch Rico and Ray all the time, and it was just the coolest shit to see them with the cigarette hanging out one hand and just going in on the beat machine - that was an art in itself, not to mention what came out of the machine.
More than knowing what we were doing, we were just imitating what they were doing. We got the same equipment and we were on the road traveling. We eventually learned what we were doing, but for the most part, we were just going through the motions and trying to do what they were doing and finally learned how to start producing. Dre got really into it. Dre doesn't spend a lot of money on a lot of stuff, but Dre spent a lot of money on music equipment.
Omar Phillips (percussionist): Of course, back then we had the kind of budgets where we could really just live at Doppler Studios. It was just eat, live, sleep, music. We started recording around 8 p.m. and we would come out of the studio at like 6 or 7 in the morning. We were all set up at the same time, which is another great thing about those tracks. There was very little overdub involved. What you hear is what we were hearing. We all tracked at the same time, old-school.
Neal H. Pogue: That was the beauty of making all those records - having musicians come in and out. It was almost like a Motown, that's what we had. Or like a Stax Records thing. That's what I loved about it. It brought back that whole feeling of making records. It was organic.
That was one of my favorite mixes because when Dre says, "It's him and I/ Aquemini" and there's a delay, I wanted to make sure that was a statement. So I put that delay on there just to make it bigger. I always wanted it to come across like it was dimensional, like you could actually put your hands through the song.
"Synthesizer" feat. George Clinton
Produced by OutKast for Earthtone
While George Clinton oodles verbal noodles at virtual reality ("Said she'd lap dance on your laptop while your laptop's in your lap"), Dre paints a vivid picture of humankind's crippling addiction to technology over a synth-heavy track and organic finger snaps - thereby proving all things futuristic ain't always funky.
Andre 3000: I remember some image of you being able to put a helmet on and go places that you couldn't before. It was just crazy that things that were fiction had really become science-faction, like they could really happen. I guess [the song] was a warning. I was just putting it out there.
Was that the first song I sung on? I don't know if it was that song or another where my voice was auto-pitched. The first time I did it, [Big] kinda pulled me to the side and said, 'I just wanna let you know niggas in the street, they don't be liking when you do your voice like that.' But to me, in my head, I was like it sounds cool. Maybe I'm not transmitting it right but this is cool. So that really kinda gave me a push and I think my songwriting abilities were pushed in that way.
Mr. DJ: I can remember George Clinton being in the same studio and being in the booth. Getting to the funk. He'd go into his world and just get down. It sounds like he doesn't know what he's talking about, but if you listen back he totally understands what he's saying and its meaning. That's another song that I just really started to understand, including the George Clinton parts.
Andre 3000: Sometimes I'm just as surprised by some of this stuff as other people are. I'm not that talented. That shit was just meant to be. That's why music is real religious in that sense to me. 'Cause I get that feeling like when I used to go to church and people would start to jumping and acting crazy - at least the churches I went to - and when I get that feeling, that's when I know God is in the house.
Neal H. Pogue: That was way before its time. Just the whole vibe of "Synthesizer," the sound of the song, like it was almost into electronica in a way. 'Cause at that time I thought it was way different. I didn't understand it at first, but after awhile I was like, 'Ok, this is cool.'
Andre 3000: I'm so not in the world that I didn't know Vincent Price had passed. I was going to have him on there. But that may have been too "Thriller." [George Clinton] came in and it took him awhile to get into his zone, but he put it down. And that's what I'm talking about when I say God is in the building.
"Slump" feat. Backbone, Cool Breeze
Produced by OutKast for Earthtone
Backed by a neck-snapping beat and curlicue guitar licks, Big Boi spits cautionary street tales while cutting corners with Dungeon Fam members Backbone and Cool Breeze in what could be considered the sequel to Goodie Mob's "Dirty South."
Mr. DJ: That was one of the first tracks Big [made].
Andre 3000: Big brought the beat and I produced the music around it. [My infant son] Seven is on there [crying], and Tony Hightower's mom, Theresa Hightower, is singing on it. She used to keep me back in the day. Her mom and my mom went to school together, so me and Tony, we grew up together. I remembered growing up that she used to sing in night clubs. It's just about using the people around you that have talent and do cool stuff.
Neal H. Pogue: I'm a big Cool Breeze fan, Backbone too, so that was cool. They've got their own style. Cool Breeze was the guy that coined [the term] "Dirty South." He's an innovator; I almost wish his whole thing really blew up, but that's how life is. But they really brought that song out, they really did.
[page]
"West Savannah" feat. Sleepy Brown
Produced by Organized Noize
Originally recorded for OutKast debut, "West Savannah" drips with Organized Noize's snappy-nappy funk and a youthful-sounding Big Boi giving listeners a too-grown-for-his-own-good guided tour through his native Savannah stomping grounds.
Big Boi: A lot of times when we record, we over record. Dre also had a song called "Bow Your Head." It was the counterpart to "West Savannah," so with different albums we might throw like a bonus in there for the listeners, to give them something that's nostalgic of the times and Dre said, "We need to throw that 'West Savannah' on the record." So I was like, "Shit, let's do it." And you know that's my hometown. I'm from Savannah, Ga. and there's a lot of people there that I love and my family is there, so I'm all about it.
Andre 3000: Sometimes songs are done ahead of their time. It was done during Southernplayalisticadillacmuzik. Some songs sit, like "Hey Ya" was done three years before it came out.
"Da Art of Storytellin' Part 1 feat. Sleepy Brown

Produced by David "Mr. DJ" Sheats
A hypnotizing sample sends 'Kast spinning yarns - as wildly divergent as their own tastes - about Suzie Screw (Big's juicy, oversexed groupie) and Sasha Thumper (Dre's tragic childhood crush)
Andre 3000: Every story that I've ever told is either triggered by something that I've been through or something that someone I know has experienced. So a lot of times, it's based on something real.
When me and Erykah [Badu] were still together, one of Erykah's friends in Dallas had a young daughter who was real intelligent. She was in school one day and the teacher asked her what she wanted to be when she grew up, and the answer she gave was, "alive." I always thought that was so cool so I wove it into the story I was telling.
Mr. DJ: The song started out with a sample of a lady just saying 'No, no, no, no.' And I put it on a 16-bar thing and changed the tone of it, and it just had this weird feeling to it. Everybody who walked in the [studio] that day was like 'Man, what is that?' It just made you feel a certain kind of way.
Preston Crump: I remember when [Mr. DJ] Sheats started doing beats. He was the DJ for OutKast at first, then he decided he wanted to start making beats. [Rico and Ray] were laughing at him at first because of the beats he used to bring back. He had a different swing to his beats; they were a little more stiff but they still hit.
I can't remember how that bass line came about but I just played it like a chord. After that whenever we'd do a song, Mr. DJ would be like, 'Yeah put some of them chords in there. [laughs] I'd say, you know them chords ain't gonna work on everything.
Mr. DJ I think Sleepy Brown came up with the hook for it first and then I did another beat, Da Art of Storytellin' (Part 2).' And those two beats are the difference in day and night.
"Da Art of Storytellin' (Part 2)"
Produced by David "Mr. DJ" Sheats
A distorted track, apocalyptic visions, and IFOs "landing in Decatur" compel Big and Dre to make haste to the Dungeon in a last-ditch attempt to make "Mama Earth" one last love song.
Mr. DJ: The Dungeon was Rico's house, and that was kinda like our headquarters. That was where we all met and where we would hang out and stuff. So Dre was thinking, 'What if it was the end of the world and we all needed to meet at the Dungeon?' Like we were all taking our families and going to the Dungeon and meeting up to fight off this New World Order thing. Goodie Mob's albums were talking about New World Order and that type thing, so it was kinda touching on that.
Andre 3000: I do remember thinking, "What if it was the end of the world and we had to get to the Dungeon on some X-Men superhero shit. I think I was vibing on some end-of-the-world, last-recorded-song shit. Like I always wonder what's the last song recorded in the world going to sound like?
Mr. DJ If you listen to the verses, that's mostly what it's talking about. And the reason we even started talking about that was because that track sounded so combative. It just gave you that whole vibe. When we did music and came up with songs, the titles of songs and the subject matter came from whatever feeling the beat gave you.
Nowadays people just do music to catch somebody's ear. To me that's part of the reason why music today is not as heartfelt and not as deep, because it's starting with a beat that your heart hasn't been put into. So therefore that beat is not gonna pull out that meaningful stuff and those different subjects. You almost can't fault the artists these days for what they write and what they say, because the music that they are influenced by and that they write to is not medidative music. It's not music that will make you feel that kind of way. That's how our music was made, and that's why its as timeless as it is.
Andre 3000: The new generation, they talk about [ATLiens in the sense of them] being from outer space. But we were for real. I wasn't talking about myself. We knew somebody had to be out here in the universe other than just us. So when I talked about IFOs "landing in Decatur," I knew some folks had already seen that shit: identified flying objects.
"Mamacita" feat. Masada, Witchdoctor
Produced by Organized Noize
If every classic album has one track that seems to come out of left field, "Mamacita" is Aquemini's. Produced by Ray Murray and Rico Wade, the beat bangs without question. But at the time it simply left fans wondering: Who is the crunk "mamacita" with the New York accent rhyming with Dre, Big and Witchdoctor?
Rico Wade: We had about three different girls that we worked with as rappers throughout our career and none of them really made it out of the Dungeon. They all got stuck in the goddamn walls. But Masada got a chance because she was talented. We were working with her and Dana in a rap group. Me and Ray met them at a freestyle battle.
Masada: I met Rico back in '96 in a club called the Oxygen where I used to do open mic. We were cool, and shortly after I met him I wound up leaving Atlanta and going back to Jersey. I left because I was pregnant with my daughter. And after I had my daughter, Rico ended up running into my girlfriend Dana in the club and he told her to tell me to call. So when I called him he said, 'Masada come down,' and he flew my daughter and I down. When we got to town, we dropped my daughter off with his mother and went to the studio. And when we got in the studio he kept teasing me saying, 'Mamacita.'
Rico Wade: I just had the beat playing and I know my vibe came from fucking with Masada, 'cause she's so New York. She's from Jersey but when she talks it's just so New York chick. So I was just fucking with her like, 'Mama-cita.' And she came right back: 'Papa-donna.' I said: 'Let's go put that shit down right now.'
We put the hook down right then, she busted the first verse, then Dre came in and heard her rapping on it. It was a project we were working on for Masada and Dana's side project, Mahogany. But he came in the Dungeon and heard the beat and just made it a song.
Andre 3000: It was a groovy kinda thing. Just going back and forth on male/female [relationships]. I had a girlfriend that kinda went that way [lesbian] at one point in time. I was like, 'What the fuck is this?' So I think I was just being affected by it and it ended up coming out in my verse.
Masada: I called Rico a month later just to check on him. And he said, "Masada what's up, you need to come get paid, you know you're on the OutKast album?" And I said, "What?" He said, "Yeah, you're on the album. They ended up putting you on the album." I was very surprised.
"SpottieOttieDopalicious" feat. Sleepy Brown
Produced by OutKast for Earthtone
Redemptive tales from the 'hood, spit over Earth, Wind & Fire horns and Curtis Mayfield guitar chords. Part blaxploitation theme song, part Black Poets' anthem - all the way pimped out.
Neal H. Pogue: I remember one day coming to the studio and Andre brought me the reels and said, 'Yo I got this song for you to mix.' I didn't know what it was, and when he put it up my first thought was like, wow. It was so different.
Andre 3000: The song started with a sample I'd chopped up. I was vibing on reggae stuff at the time, listening to a lot of Bob Marley. Preston's a groove monster. He will sit on a groove and stay there. I knew he would pull it off in a funky way.
Preston Crump: Dre wanted us to give it a reggae feel. I think that's another bass line that I wasn't told what to play. That was one of my favorites. When I heard what Sleepy sang on it, I couldn't stop giving him dap. When I heard what Sleepy sang on it, I couldn't stop giving him dap. I was like, "Man, you ain't do another verse?" But I guess that one was so good, you didn't need another one.
Andre 3000: Iceberg Slim used to put out albums talking on beats and I was like, "This is cool." I think I laid down my verse first and Big just came in. But instead of spoken word, Big likes to call it "smokin' word." That was his smokin' word.
Mr. DJ: Hornz [Unlimited] did the horns. The lyrics came from one day when we were reminiscing about old times. Charles Disco [on Simpson Road] was one of those places we used to hang out. We used to sneak in. It was just interesting to see how Dre related back to that and that whole story. But that was kinda how a lot of the songs got started, just from conversations about things that we'd done.
Andre 3000: Me and Big Boi were in high school when we started going and getting drunk. This is how the night happened for real: I was so drunk I didn't make into Charles. So all the stuff I said after that was made up. But I remember saying to Big Boi, I'm so drunk I cannot leave this van. That's the real story.
Omar Phillips: The southwest side of ATL at that time just had an aura to it that people warmed up to. Quiet as it's kept, a lot of people don't realize that music was basically born and created on that side of town - everything from going to Club 731 at two in the morning and listening to those R&B bands to just a culmination of things that made that area heated, in a great way. You couldn't keep people away from the SWATS (Southwest Atlanta) - thanks to Cool Breeze and Goodie Mob for putting it out there like that, it was the area to be a part of and to come out of.
Kawan Prather: I think that was the record where Outkast got their props as producers from Rico [Wade] and Ray [Murray] and Pat [Sleepy Brown].
[page]
"Y'all Scared" feat. T-Mo, Big Gipp and Khujo
Produced by David "Mr. DJ" Sheats
Led by the taunting chant, "If you scared, say you scared," Big, Dre and three-fourths of Goodie Mob light a fire and take cowards to task over Mr. DJ's organ and guitar-laced track.
Kawan Prather: The hardest thing about Aquemini is that me and Big Boi fell out for a couple of months on that one. I wanted to start the record off with 'Return of the Gangsta,' he wanted to start it with 'Y'all Scared.' Big Boi had missed his flight coming to the mastering session and by the time he got there we had kind of already gone through what we thought was a good flow for the album.
My thought was, we can't start an album off with a record with a bunch of other people on it. And coming off of where other people thought Dre was - with the whole, "Is he gay, is he in a cult?" - I was like, 'Return of the Gangsta' just shuts down everything. And if you start with 'Y'all Scared' you're going to get graded on everybody else who is on that song. I said, 'Let's just answer the questions and get to it.' Big Boi was like, 'Muthafucka you don't rap! Why don't you just rap then, since you have such an opinion.'
We had to kick people out of the studio so that we could have a real conversation. But it was based on everyone wanting that shit to be dope. It wasn't ego; it was like everybody was really passionate about it. It's why we're brothers. We fall out every so often, but based on the fact that we all have a common goal, it works.
Khujo: That's one thing about Big Boi, he is such a team player. He's like a coach. So I gotta commend little buddy on that. He's always been an advocate and DF coach.
"Nathaniel" feat. Supa Nate
A real-life collect call from the bing features inmate and OutKast crony Nathaniel rapping a pungent, a cappella verse about the ills and ironies of doing time: "They treat you like a motherfuckin' slave/Dope fiends find Jesus, swear they saved." A perfect set-up for the next song, "Liberation."
Andre 3000: Nathaniel had gotten locked up for a little trouble. It was Big Boi's idea to put him on the album, and half the time I had a cousin or somebody that was in jail [too] so we knew it would resonate with a lot of people. You look at these albums as time capsules, so when people go back and listen to them they can hear what you were going through. He was going through some trouble and he called Big Boi. Big recorded it [and] he put it down.
Mr. DJ: He went to Banneker High School with me. He was in jail for DUI, I think. He might've been in boot camp.
Nathaniel: I was in both, shawty. The idea really came from UGK's "Ridin' Dirty," when buddy's talking from jail. They really wanted me to do something like that. But see, I was trying to be a rapper, so I put a rap to it instead of just talking. I did it in one night. I talked to Big on Sunday, and I came back and called him collect on Monday and history was made.
"Liberation" feat. Erykah Badu, Cee-Lo, Big Rube, Joi, Myrna "Skreechy Peach" Brown
Produced by OutKast for Earthtone
Wrapped around a cosmic jam that travels backward through the Middle Passage, the eight-and-a-half minute opus gives trill niggas who missed a lotta church a dose of new age liberation theology to "shake that load off."
Kawan Prather: Yeah, that [song featured] Erykah, Big Rube, Cee-Lo - again random occurrences. Dre's baby mama was Erykah Badu. I mean, damn, why wouldn't you put your baby mama on the record if she's Erykah Badu? It's not like he came to the studio and said, 'I want to put my girl on the song,' and this bitch work at the Varsity. She's Erykah Badu. Okay, do it.
Andre 3000: We were riding in the car and Erykah was originally supposed to be on "SpottieOttie" and somehow it ended up working out where she fit better on that. So she went off and wrote her thing and ended up coming back with something cool.
Cee-Lo: I remember we were outside shooting a video for Sleepy Brown and I think me and Big Boi were maybe burning something and he was listening to the beat, sitting out there in the car. I heard that beat and it just spoke to me.
Mr. DJ: Dre loved experimenting - not even starting out with samples, just starting out with live instruments.
Andre 3000: I was working on the music at home on the piano. And I think [Marvin] Chanz [Parkman] played on that one. He started playing these chords and then we all started vibing out and kicking in, and what you have there is the jam session.
Marvin Chanz Parkman: We had been up all night. It was like 3 in the morning. They went and pulled the baby grand out, pulled the track up and when we got through I think it was 6 a.m. We got into it, I got to running on that piano and just got lost in the vibe.
Preston Crump: I didn't know what they were going to do with the song. They had some chords and I remember feeling like it sounded like War, so I tried to stay away from that. We just vibed that one out with no vocals and I remember being at the studio later when Cee-Lo was laying his vocals and stuff. I was like, 'Oh, I see. Wow.'
Cee-Lo: What inspired those words, I can't say. I was out of my mind during that time. I was just very, very obedient to what was moving and motivating me. And, of course, to be liberal and to be liberated was an artistic aspiration and a personal aspiration of mine, too, so it was just all relative.
Andre 3000: Once we had the music I just went off and started writing my verse. I started it off and Big Boi came after me. And then Erykah came in and killed it.
Mr. DJ: The singing just felt right. That's where it was heading. That was what OutKast was all about anyway. It just felt like a natural progression. And that was towards the end of the album when you knew it was about to take that turn,'cause Dre started to do it more and more after that.
Joi: The whole song was done and Dre was like, 'I really want you and Peaches to put something on this bridge for the breakdown part.' Peaches and I kinda listened and I started writing.
I feel like [Atlanta rap duo] YoungBloodz might've had [their single] "Shake 'Em Off" out. Just that whole idea of shaking something off, the idea of being specific about it and making it a little more serious - specifically the load - y'know, "shake that load off." We just kinda kept going in with that.
Neal H. Pogue: Joi and Peach were big friends then. They hung tough. Peach has been gone for awhile now, so that's good that she was on that record.
Andre 3000: Joi and Peach were like two pistols on your hip they were so reliable, and they would always give you more. I was going to [form] a group with them. Screechy Peach's voice was like all over the place and then Joi was so smooth with it and she could get funky. You got them and Preston, Vic and Chanz, and Omar's percussion work on that album was superb. He added a character to that album.
That was a really good time because we'd found our sound. We didn't care what other motherfuckers thought 'cause we didn't have anything to live up to but ourselves. By that time we'd gotten to a point where we were in our own world. Anything we did, it was to impress ourselves.
"Chonkyfire"
Produced by OutKast for Earthtone
Here's a clue: If you want to know where the ever-evolving OutKast will go on a subsequent release, peep the last track from the previous album. True to form, OutKast peers down the wormhole, offering a preview of the Stankonia to come with a song driven by electric guitar wails, fuzzy amp feedback, and a lyrical challenge to elevate issued to all those closed-minded MCs.
Andre 3000: I remember reading about human beings and how if everybody is in the same place, humanity can go to another dimension. And when I'm saying that and recording that - "You are now entering the fifth dimension of ascension/Our only mission is to take you high" - that's what I'm thinking. I was just trying to make the impossible out of music, make people rise in some kind of way.
Rico Wade: Dre did that beat, I remember that being the complete shit. But that's when they had started messing with them guitars and they might've just kept putting them motherfuckers on there. A lotta them songs got that extra "waawaahaa," like they were just overcompensating. [laughs] That's what I remember. Then when you get to the next album, they had mastered using the musicians.
Tomi Martin (guitarist): "Chonkyfire" was actually a last minute decision of Dre's as far as I remember. When I went to Southern Tracks to cut the song, there was a rare Fender amp that I was stoked about using. So Dre told me to go in the booth and do whatever I wanted. The track was already killer so it was really easy to just get a great tone and wail.
Andre 3000: Everybody knows in Atlanta, Tomi Martin is the muthafucka. I just call what I do [on guitar] tinkering around. It's been five years [since I've been playing], but back then I was just doing stuff with my mouth. I don't call myself a musician, but I have the utmost respect for those that put in the amount of time it takes to [to excel]. Tomi's the muthafucka.
RODNEY.CARMICHAEL@CREATIVELOAFING.COM
Corrections: An earlier version of this story incorrectly referenced the location of the seminal bus boycott Civil Rights icon Rosa Parks sparked by refusing to move to the back of the bus for a white passenger. The Montgomery, Ala. protest lasted from December 1, 1955 to December 20, 1956. The horn section on "SpottieOttieDopaliscious" was Hornz Unlimited.