The New Georgia Problem
Millions were raised, thousands of voter applications went missing, and a lawsuit was filed in Rep. Stacey Abrams' bid to hold Georgia's largest voter registration drive in two decades. But something isn't right.
All eyes were on Stacey Abrams. On a Wednesday afternoon inside the Gold Dome last September, about three dozen people gathered around Georgia's House Minority Leader in a display of support. Standing behind a wooden podium and facing microphones and television cameras, the then-40-year-old Atlanta state lawmaker made one of the biggest public stands of her political career. She defended her voter registration initiative, New Georgia Project.
Eight days earlier, Georgia Secretary of State Brian Kemp had subpoenaed documents from Abrams' group to investigate a series of alleged voter fraud violations. Kemp insisted that the suspect applications, fewer than one-tenth of one percent of the applications submitted, justified the broad subpoena. It was the secretary of state's biggest voter fraud investigation in nearly a decade, according to the office's top investigator.
At the press conference, Abrams characterized the secretary of state's probe as a different action: voter suppression. She said Kemp had failed to ensure that more than 51,000 NGP voter registration applications from mostly black, Hispanic, and Asian-American residents were added to the voter rolls. Francys Johnson, president of the NAACP's Georgia chapter, lambasted the "extremist" secretary of state for creating a false controversy. Ebenezer Baptist Church Senior Pastor Rev. Raphael Warnock drew a parallel between Kemp's aggressive investigation and the Ku Klux Klan's voter suppression tactics. Abrams stressed that NGP had cooperated with the investigation.
"If fraud is the intent to deceive, then what we have done is the exact opposite," Abrams said. "We've been open. We've been transparent. We've been aggressive in our attempt to be open and transparent."
A bitter feud ensued between a Republican official previously criticized for restricting voting rights and a Democratic lawmaker seeking to register residents all too familiar with those restrictions. Left with little recourse, Abrams filed a lawsuit demanding that Kemp's office and five counties add NGP's unprocessed voter registration applications to the voter rolls by any means necessary. A Fulton County Superior Court judge tossed out the case after little consideration.
Republicans walloped Democratic challengers Nov. 4. But Abrams, a rising political star rumored to have an eye on the governor's mansion, fared far better than most of her party members. In 2014 the state rep not only won re-election, but also became a national media darling and won major accolades from Emily's List, Governing, and The Root. Abrams has become one of the most recognizable voting rights advocates in the state. The five-term state rep plans to continue that work for the foreseeable future.
Three months after the midterm election, the final results still baffle Democrats who felt good about their chances. Part of that has to do with NGP. Interviews with more than a dozen Democratic lawmakers, strategists, staffers, and voter registration activists suggest that something isn't right with the numbers and the narrative behind the initiative's massive efforts.
The importance of voter registration initiatives like NGP can't be overstated, especially in Southern states, where disenfranchisement has lingered nearly a half century after the passage of 1965's Voting Rights Act. But numerous sources, some requesting anonymity due to employment concerns, question how many of NGP's allegedly missing voter registration applications actually existed. If the applications existed, Abrams raised millions from donors but failed to register 120,000 minority residents as she had pledged. If the unprocessed applications never existed, then Abrams, perhaps in an attempt to distract from her group's failures, sued an official with a reputation for voter suppression, potentially knowing the case was unlikely to be won. Though not illegal, such a chain of events would have major political ramifications.
The secretary of state continues to investigate potential voter fraud by NGP staffers and canvassers. Its findings could result in felony charges, or it may turn up nothing. No one, including the secretary of state's office, has accused Abrams of malfeasance. But in the worst-case scenario, long-standing efforts to protect voting rights in Georgia could be jeopardized.
NGP's leaders have denied the accusations of voter fraud. The operation should be capable of ending the speculation with proof — copies of the forms, receipts, or other documentation. But its leaders have declined repeated requests from Creative Loafing for such materials, saying that they'll disclose some information later this year, once taxes are filed. Abrams, given numerous opportunities to clarify the matter, has refused to comment aside from the following one-sentence email statement: "I am proud of our continued efforts to register new voters and to increase access to the franchise in accordance with state and federal laws."
State Sen. Vincent Fort, D-Atlanta, a longtime civil rights advocate inside the Gold Dome, says Abrams, as the initiative's founder, ought to disclose NGP's registration numbers and outline its operations.
"We need to know how much money was spent, where the money came from, and what companies and individuals received the resources," Fort says. "New Georgia Project was a major player in voter registration last year. New Georgia Project engaged in issues of great public importance and had a great public impact."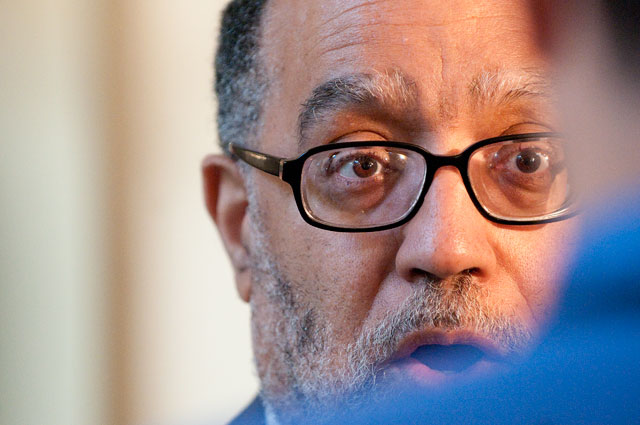 He's not alone in his call for transparency. Other sources echo Fort's sentiments, especially as the 2016 presidential election approaches. Without full disclosure, simple answers have grown increasingly complicated.
Deep-red Georgia was on its way to becoming a purple state in 2014. At least some Democrats and progressive advocates hoped for that outcome. Political scientists estimated that a third of the state's unregistered minority residents — approximately 300,000 people — needed to vote for that to happen. With that number in mind, Abrams ambitiously decided to create an initiative in late 2013 to register 120,000 of the state's minority residents.
New Georgia Project, which has been called the state's largest voter drive in two decades, is Abrams' latest effort launched through her longtime nonprofit, Third Sector Development. The state rep founded TSD in 1998, when she was a Yale University law school student. TSD has lent assistance to underfunded groups that have organized relief work following Hurricane Katrina; offered ministry services inside prisons; and educated Georgians about the Affordable Care Act. The nonprofit, which today employs fewer than 10 staffers, has mostly conducted small grassroots campaigns in underserved Southern communities.
"Our work is focused on the most difficult-to-register communities," NGP Executive Director Nse Ufot wrote in a statement. "Minorities are much more likely than whites to register in a drive, which precipitated our large-scale, statewide effort."
To conduct a historic voter drive, NGP needed historic financial support. Abrams is known as an adept fundraiser. She didn't have much trouble finding donations to back her initiative. The money came from a number of different sources. Donors wrote at least $3 million in checks to her nonprofit — about double the amount Barack Obama invested into the state during his first presidential campaign — and roughly $863,000 to her political accounts.
NGP flew under the radar of many people throughout most of 2014. Numerous Democratic activists and state lawmakers, including longtime civil rights proponents, were caught off guard by the voter registration initiative. They were especially surprised to see Abrams become a major voting rights advocate in 2014. Four years ago, she voted with Republicans to reduce early voting from 45 days to 21 days, effectively breaking away from staunch voting rights supporters on the issue.
"We were kept in the dark, period," says state Sen. David Lucas, D-Macon. "[We didn't know] how much money was raised, who they paid to go out to do the work. We literally didn't know anything."
Abrams later told Georgia Legislative Black Caucus members, including Lucas and state Rep. "Able" Mable Thomas, D-Atlanta, about the nonprofit's fundraising results during a conference call in early October.
Money contributed to Abrams' political accounts had to be spent differently from money contributed to her nonprofit account. The state rep legally spent funds from her personal political account and her political action committee, Georgia Next, Inc., on partisan affairs, filing the proper disclosures for each. Since 2012, Abrams has given more than $260,000 to the Georgia House Democratic Caucus, an office working for state reps in the minority party, and the Democratic Party of Georgia, which has typically bolstered Democratic House candidates through the nonfederal account Georgia Leaders Campaign. The financial lines blurred among Abrams' three accounts from time to time. Some House Caucus employees drew portions of their paychecks from different accounts.
TSD is bound by a different set of laws due to its 501(c)(3) status. NGP staffers, canvassers, and volunteers are prohibited by the IRS to work on partisan issues — no campaigning for or against a specific candidate or party is allowed. That's true even for a group working with disenfranchised minority residents likely to vote Democratic. That's especially true for an organization overseen by a top Democratic official.
Abrams, in the way that many politicians do, regardless of party affiliation, found legal avenues to share resources between her public duties and private interests. Some people worked for both the House Caucus and NGP last year. For example, Dominque White worked as an NGP "verification lead" — making sure information added up on voter applications — after interning at the House Caucus during the 2014 legislative session.
Ufot wrote that NGP "has no involvement with any political activities or political organizations," including its founder's Gold Dome finances. Ufot declined to further elaborate about specific personnel matters.
"In a utopian society, sharing employees and resources is something I would have a problem with," says William Perry, executive director of government watchdog group Common Cause Georgia. "But in Georgia, it's perfectly legal. Those who work under the Gold Dome don't see it as a conflict. They use it to their advantage."

Conducting an effective voter registration drive can be difficult. But the rules are relatively simple. Any eligible person — defined as a mentally competent American adult who's not serving time for a felony conviction — can register voters without the government's permission or official training. County election offices, however, are legally required to offer training for individuals and groups on how to register voters. Third-party canvassers have important restrictions: no copying completed applications without a registrant's consent, no profiting off of personal data, no paying canvassers on a quota basis.
Within 10 days of receipt, a voter application must be submitted to a registrant's local county election office. County registrars then verify each voter registration application, weeding out duplicates or invalid forms. Completed forms from eligible voters get added to the voter rolls. The secretary of state isn't directly involved in processing the applications, but is ultimately responsible for overseeing local election offices.
If a form has missing or illegible information, registrars attempt to fill in the blanks by comparing the applicant's personal information with the Georgia Department of Driver Services and/or the Social Security Administration's databases. If those efforts prove unsuccessful, the registrar places an application on a "pending" list and sends a letter to the registrant requesting more information. If the registrant doesn't respond within 40 days, the application is removed from the pending list.
Despite Georgia's lax laws, many voter registration professionals hold themselves to a higher standard to ensure their work's integrity. For instance, Obama for America, which in 2008 employed more than 120 paid staffers and an army of volunteers to register voters statewide, poured resources into training its staffers and volunteers, turned over collected applications to officials within 24 hours of receipt, and clearly articulated to registrants how the process worked.
"We triple-checked with paid staff and volunteers to make sure they knew rules," says Lee Goodall, one of OFA's Georgia regional field directors in 2008. "There was a system of accountability."
 
According to Ufot, NGP also followed best practices and complied with state law. Abrams focused on fundraising and wasn't typically involved with NGP's daily operations. NGP hired third-party firms to handle much of the organization's fieldwork, research, communications, and public relations. NGP also collaborated with ProGeorgia, a coalition of 12 established local voter registration groups, to share research and attract more financial resources. NGP leaders insist that its standard operating procedures received approval from secretary of state officials and legal experts.
NGP, which Ufot states employed "hundreds of workers" last year, officially launched a roughly six-month voter registration drive in March 2014. Its first field office was opened shortly thereafter. The organization soon began recruiting paid canvassers from college campuses and elsewhere to ring doorbells in select neighborhoods that, according to internal NGP research, had high concentrations of unregistered minority voters. That particular canvassing tactic has the potential to yield higher results because canvassers have a higher chance of encountering unregistered voters than with passersby. But it can be a time-consuming and costly process.
ProGeorgia Executive Director Page Gleason says most of the coalition's groups used their limited resources to canvass at high-traffic locales — such as MARTA stations, grocery stores, or festivals — and persuade people, many of whom potentially were already registered voters, to head to the polls. NGP complemented the coalition's work, she says. Abrams' initiative got off to a fast start. According to Newsweek, her effort registered approximately 25,000 people in its first three months.
The investigation started with a single complaint. A Butts County election official reported that some canvassers were illegally telling voters they were required to re-register for the election. The complaint was filed on May 5, six months before Election Day, and prompted Kemp's office to launch a small-scale probe into NGP the following week.
The secretary of state's office didn't receive another formal complaint about NGP for months. But other problems, though officially unreported, continued elsewhere. Before the May primary, longtime Muscogee County Elections and Registration director Nancy Boren says two of her employees were asked at a Columbus, Ga. grocery store if they wanted to become paid canvassers for $11 per hour. The NGP workers were unaware they had approached election office staffers, Boren says. Her employees asked for more details about the gig.
Boren says, "[NGP employees] said, 'You can make $11 per hour, but you have to turn in a certain number of voter registration forms each week. If you don't turn in that number, you don't get asked back. If you're asked back the next week, and you meet your number again — I hate to use the word quota — maybe you'll get a ride to work, too.'"
Brad Jones, a Savannah State University student who worked as an NGP canvasser, expressed concerns to local TV reporters about the legitimacy of the initiative's practices in late May. He said the operation had poorly trained canvassers, improperly collected people's personal data, and instructed registrants to vote at a nonexistent polling precinct. The allegations prompted the NAACP's Johnson to hold a press conference, where he reiterated the group's protocols, effectively distancing his organization from NGP's work.
"If you see a volunteer with those five letters, NAACP, you can count that they are well trained and they can hold voter registration information in strict compliance with the law and they can assist every citizen with the right to vote," Johnson said at the Savannah press conference on June 4.
Abrams, who explained her NGP role as a founder and fundraiser, told Savannah-based CBS-affiliate WTOC that "every organization that hires people and wants to do the best work [has] quality control issues."

At Abrams' behest, NGP staffers first met with Kemp's office in early June. During the meeting the secretary of state's chief investigator, Chris Harvey, suggested NGP could improve its protocols. The conversation was "cordial, professional, and pleasant," he says. NGP leaders pledged to implement employee background checks, increase training requirements, and add stringent quality control procedures. NGP continued to have a working relationship with Kemp's office throughout the summer.
Formal NGP complaints subsided for two months. Around the last month of NGP's voter registration drive, which ended Sept. 15, six different election registrars filed complaints relating to 29 applications. Kemp's office received reports detailing forgeries and canvassers telling residents about voter re-registration requirements — both of which are illegal and can artificially inflate new registrant figures. Fulton County Registration Chief Shauna Dozier, whose office didn't file an NGP complaint, found forms with missing names, missing signatures, and illegible handwriting. Dozier offered to hold a free training session for NGP canvassers, something most groups proactively schedule themselves, she says. But Ronnie West, NGP's statewide field director, declined.
On Aug. 22, NGP leaders briefly met again with the secretary of state's office, but complaints continued to trickle in from across the state. Harvey says something had changed, however. He wasn't just seeing isolated problems in different counties. Multiple reports were emerging out of the same election offices — a sign of a larger problem.
"It reached a tipping point in my mind," Harvey says. "We got enough complaints from enough counties of confirmed forgeries. This was something that we needed to look at on a much larger level."
On Tues., Sept. 9, Kemp slapped both NGP and TSD with a subpoena demanding that all of their documents be turned over in one week's time. He also informed elections officials in Georgia's 159 counties about the "significant illegal activities" found in the initial investigation — a message that initially raised eyebrows among his critics. Five more county election officials responded with new voter fraud complaints by the end of the next day.
As NGP wound down its voter registration efforts that same week, Abrams launched a public relations battle against the secretary of state's office. She had already been catching flak from news reports for her ties to Democratic U.S. Senate candidate Michelle Nunn — Abrams served as an informal adviser and donated to Nunn's campaign — all while running a nonpartisan voter registration effort. With supporters in tow at the Sept. 17 press conference, Abrams fought back. The state rep questioned Kemp's motives for launching the probe. She also criticized his office's "slow internal processes and a potentially flawed matching system." During her remarks, she pointed to 13 stacked plastic boxes with white, pink, and turquoise lids, filled with more than 51,000 pieces of paper. Each one, she explained, represented a Georgia resident who wanted to vote, but potentially couldn't because his or her application had gone unprocessed.
The NGP investigation quickly morphed into a proxy war for Democrats and Republicans who were already entrenched in two grueling statewide campaigns. Some Democratic politicos believe the National Republican Senatorial Committee played a behind-the-scenes role in turning the voter registration investigation into ammo that then-Republican U.S. Senate candidate David Perdue could use against Nunn. Kemp's office denies involvement with the NRSC. An audio recording surfaced from a July speech Kemp gave to Gwinnett County Republicans, cautioning them about newly registered minority voters who could swing the state's upcoming elections. Political donors pulled out their checkbooks to fund the skirmish. Almost $700,000 flowed into Abrams' PAC, including a half-million dollar check from Democratic financier George Soros. Another $64,400 came to her personal account, following the press conference. She ran unopposed for reelection in her district.
 
A few hours after NGP's Sept. 17 press conference, State Election Board officials held a public emergency hearing regarding the investigation. Harvey said the subpoena was needed to look into more than 25 forged voter registration applications — fewer than one percent of the overall forms NGP said it submitted. Moral Monday Georgia advocates protested during the presentation by silently standing throughout the room with pieces of tape placed over their mouths. Kemp dismissed speculation about attempts to stall voter registration.
The voter suppression accusations are believable. Kemp has a track record of allegedly blocking access to the polls. Five years ago, investigators for the secretary of state descended upon the 3,850-person town of Quitman, Ga., to look into alleged voter fraud after an election resulting in the first-ever African-American majority on the Brooks County Board of Education. State officials charged 12 people with a string of felonies. Those charges ultimately were dropped last December.
Kemp has also refused to comply with the National Voter Registration Act in the past. State agencies, which by law are required to offer residents who receive public benefits the opportunity to register to vote, weren't doing so for years. The secretary of state's office agreed to enforce that mandate only after the NAACP and the Coalition for the Peoples' Agenda filed a lawsuit in 2011. In addition, his office made errors that ultimately purged more than a thousand people from Georgia's voter rolls in 2012.

NGP's allegedly missing applications escalated into a national controversy. Kemp reiterated that county registrars, not his office, were directly responsible for processing all applications. The press, including CL's editorial board, lambasted Kemp for a dereliction of his duty.
"We were criticized for being on a witch hunt, but we handled this case just like we do with any other complaint," Kemp says. "People were calling me a racist and a vote suppressor — that bothered me a lot. That's not the case. It's very hypocritical for people to say that."
Kemp's office received five other voter registration complaints apart from ones directed at NGP in 2014, according to an open records request. After brief investigations, none of them led to charges. Kemp spokesman Jared Thomas says those figures are consistent with annual complaint totals in recent years, making NGP an anomaly, he says. Final NGP complaint numbers are unavailable due to the active investigation. But at an Oct. 7 meeting, Kemp told State Election Board members that they had so far found 50 fraudulent applications and 49 suspect applications.
CL has made repeated requests to view the thousands of unprocessed applications to confirm their existence. NGP denied each request, citing rules from Georgia's election code, specifically Section 183-1-6.02, protecting voter registrants' personal information. Transmittal forms — receipts accompanying voter registration applications that don't include personal information — for the unprocessed applications were also requested. NGP declined that request as well, citing the many hours it would take to compile the forms. In lieu of the requested documents, the organization shared five affidavits, plus a document listing 10 other examples, of new NGP registrants who either had not had their names added to the voter rolls or had experienced major difficulties in the process.
The voter registration deadline was Oct. 6. In a series of letters sent that week to the secretary of state's office, Julie Houk, Lawyers' Committee for Civil Rights Under Law Senior Special Counsel, claimed that more than 40,000 NGP registrants had not yet made it onto the voter rolls or pending lists. She requested a meeting with Kemp to resolve the matter. C. Ryan Germany, Kemp's general counsel, declined to arrange the discussion, in part due to NGP's threatened litigation.
With no resolution in sight, the Lawyers' Committee filed a lawsuit on behalf of New Georgia Project and the NAACP. The suit demanded that Kemp and Chatham, Clayton, DeKalb, Fulton, and Muscogee counties, all of which are strong Democratic bases where NGP says it collected the most applications, immediately add tens of thousands of voters onto the state's rolls by any means necessary. The lawsuit claimed that 56,001 of NGP's more than 81,606 applicants had not been placed onto the secretary of state's eligible or pending voter lists. The number of disputed registrants fell to about 40,000 after NGP settled with DeKalb and Chatham county officials before a hearing in Fulton County Superior Court.
Throughout October Abrams made speeches, conducted interviews, and appeared on national television to discuss how unprocessed applications had fallen into a "black hole." Others joined the fight. Georgia Democratic congressmen John Lewis, Hank Johnson, and Sanford Bishop staged a press conference in support of Abrams' efforts. The Lawyers' Committee filed an open records request, and eight activists went to jail following a sit-in inside Kemp's office.
NGP's legal effort stalled during a two-hour hearing on Oct. 28. Fulton County Superior Court Judge Christopher Brasher, appointed by former Republican Gov. Sonny Perdue in 2006, tossed out the petition because it was "entirely devoid" of evidence against the secretary of state or local county registrars. Brasher declined to hear testimony from people whom NGP had registered, but who weren't added to the voter rolls, and instead urged them to cast provisional ballots. The judge said secretary of state and county officials abided by the law. As a result, they weren't required to testify under oath about their procedures.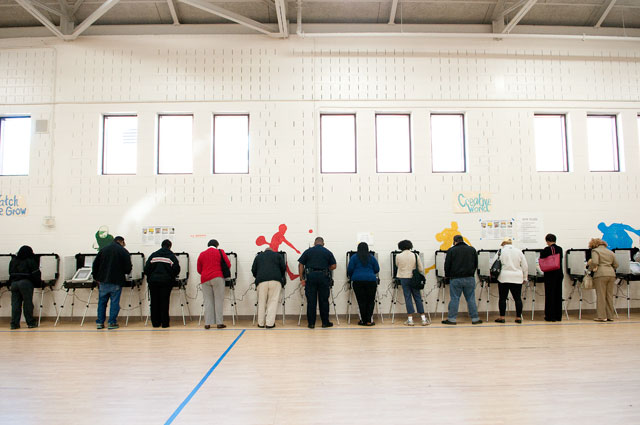 Bob Kengle, co-director of the Voting Rights Project at the Lawyers' Committee, wrote in a statement that, "The Secretary of State's operations have been shielded from scrutiny. ... This lawsuit was a lost opportunity to prevent [minority voters'] disenfranchisement."
No appeal was filed in the week before Election Day. On Nov. 4 political observers anxiously waited to see whether voters whom NGP had registered, but who didn't officially make it on the voter rolls, would be turned away at the polls. According to one lawyer, who observed the election process and awaited calls about potential legal problems once the polls closed, no disenfranchised voters reported formal complaints in person that evening.
"Nothing out of the ordinary," Kemp says. "The process worked."
NGP attorney Dara Lindenbaum says the lack of formal complaints with the secretary of state's office is unsurprising, given the lack of a clear reporting process. "Additionally, voters — particularly [first-time] voters — often feel too intimidated, embarrassed or uncertain to file a formal complaint," she stated via email.
Kemp spokesman Thomas says the complaint process is easy, no matter one's prior voting experience.
NGP partnered with 866-OURVOTE, a national nonpartisan voter protection hotline, which nationally received more than 18,000 calls on Election Day. The Lawyers' Committee logged 2,007 calls from Georgians that day, including a variety of different complaints; some related to voter registration, others related to run-of-the-mill problems such as long precinct lines. NGP and the Lawyers' Committee continue to look into potential Election Day problems, Ufot says. But, to date, no NGP registrant has filed a lawsuit.
"It's a fundamental, basic American right to vote," Rev. Warnock said in an interview with The Intercept three days after the polls closed. Judging by Georgia's abysmal 34-percent voter turnout, down six percentage points from the last midterm election in 2010, few seemed to care about that right. Georgia remained redder than ever despite two viable statewide candidates in Nunn and Jason Carter, and the biggest voter registration effort in two decades.
"If 2008 was insufficient to turn out minority voters, the events of 2014 weren't going to do that," University of Georgia political science professor Charles Bullock says. "Getting people who are politically apathetic involved is difficult. [NGP] may have been a higher-profile effort that spent more money. But there are the same kinds of challenges."
Determining the exact number of NGP's voter registration applications is difficult, even months after the election. Here's what we know: The total number of NGP registrants falls between about 49,300, according to Kemp, and about 86,000, according to Ufot. Two weeks after the voter registration deadline, Kemp reported more than 39,300 NGP registrants had made it onto the voter rolls, another 10,000 or so applications were pending, and almost 6,500 were deemed ineligible or invalid. Ufot, who's currently analyzing the election voter file, declined to share the number of registrants whom the group either landed on the voter rolls or who got to cast ballots.
Abrams missed her initial six-figure registrant goal even under the best of circumstances. NGP's well-funded, high-profile initiative may not have performed better than past grassroots efforts to register minority voters. According to Democratic database VoteBuilder, 2014 showed little to no progress among potential minority voter registration compared to average annual gains in recent nonpresidential elections.
One Democratic strategist and former Abrams staffer says, "[New Georgia Project] underperformed what was done in 2010. Absolutely nothing was done in 2010. It's hard to grasp how unsuccessful her effort was, given the amount of money raised."
Not everyone sees last year's registration results in the same light. ProGeorgia and its partner groups, which are also crunching the final election numbers, don't know yet how many new registrants ultimately cast ballots last year. But ProGeorgia's Gleason says their efforts alongside NGP had a huge impact in a midterm election that favored Republicans throughout the nation. "Democratic candidates may not have won, but we saw trends that showed we changed people's voting behaviors," she says.
Numerous Democratic strategists say Abrams, who was focused on NGP, abdicated her most important role as Georgia House minority leader. By prioritizing her initiative, they say, she missed opportunities to win back seats in the lower chamber. The House minority leader has traditionally worked with candidates, donated to campaigns, and run attack ads against opponents. According to Democratic campaign sources, support plummeted in 2014: Mailers proved ineffective, fundraising commitments vanished, and Republicans in potentially competitive districts ran uncontested. Even some strong Democratic incumbents managed to squeak by with only razor-thin margins.

The biggest consequence stemming from NGP's operation dwarfs the concerns regarding Abrams' political prospects, her group's results, or the party's progress. Multiple sources say that Abrams, in filing a lawsuit that potentially distracts from her voter registration numbers, could jeopardize voting rights advances. If the missing applications don't exist, one state lawmaker says, Abrams will have undermined the very people her initiative sought to uplift.
"This is something that I've been worried will break, because it completely substantiates the false, hyperbolic idea of rampant voter fraud that's used, in my opinion to chill and suppress voter turnout," one Democratic operative says.
The Gold Dome is no stranger to voter suppression tactics. Following a historic push by officials in left-leaning counties to allow Sunday voting in Georgia, state Rep. Mark Hamilton, R-Cumming, has introduced a bill to scale back early voting from 21 days to 12 days — all under the guise of mandating Sunday voting in every county. There's fear that Republican lawmakers could use NGP's alleged voter fraud as a reason to push additional legislation to further restrict voting rights.
The voter fraud investigation continues. Harvey is sifting through thousands of, in his words, "messily organized" NGP documents. The initial investigation looked only at NGP application complaints submitted by county officials. It wasn't until after the election that investigators began scouring documents to identify new voter fraud suspects. Harvey is still awaiting straggling pieces of information from NGP.
"It's not like we're going to be able look at each single application with a jeweler's loupe," Harvey says. "We're looking for specific individuals that may have been more involved ... identifying key players in the whole investigation."
The open investigation will last at least several more months, Harvey says. No NGP workers currently face voter fraud charges. According to state law, each falsified voter registration application could result in a felony charge such as forgery, making false statements, false voter registration, or providing fraudulent information. A single felony charge could result in a maximum sentence of 10 years and/or a $100,000 fine.
New Georgia Project appeared to be a one-off blitzkrieg to send people to the polls. Abrams has since decided that NGP will stick around. The operation says it plans to continue making inroads with unregistered minorities to strengthen voting rights through the 2016 presidential election and beyond.
"As we continue to develop our future plans, our core mission will focus on registering and engaging the hundreds of thousands of unregistered [African-Americans], Latinos and Asian Americans in the state, while maintaining a dialogue with the citizens we registered last year," Ufot writes.
Transparency and a road map for how NGP will move forward should be a given, considering the stakes, namely the 2016 presidential election, and the financial support that will be needed to register voters on such a massive scale. Abrams and Ufot reiterate NGP's compliance with state and federal law. Ufot says the initiative will continue to do so when it reports all required information to the IRS on its 2014 990 forms. At the appropriate time, Ufot says that information will be released.
"If everything was cool, lay the numbers out there," one senior Democratic operative says. "If New Georgia Project says, 'We did a bad job, here are the lessons we learned,' or that there was an anti-Democratic headwind, that's fine. But sitting on it sends a bad message."
In a Huffington Post column from Nov. 3, Abrams urged Kemp, whom she dubbed "the CEO of Voting, Inc.," to operate his "business" with more transparency and accountability to better serve his "citizen shareholders." Abrams, unafraid to speak her mind in a heated campaign season, has turned noticeably quiet when the same requests are being made of her organization.
The Nunn family, which used its political clout to steer donations to Abrams' nonprofit, is reportedly among those who seek answers, according to one Michelle Nunn campaign source unauthorized to discuss the matter. Former Nunn campaign manager Jeff DiSantis declined to elaborate further on the potential accounting.
"As part of the effort to bring positive change to our state, we know every organization, including the candidates' campaigns, the Democratic Party, and voter engagement and mobilization groups, [is reviewing] efforts to assess what worked well and what can be improved," DiSantis wrote in a statement on behalf of Nunn.
Democratic Strategist Tharon Johnson — who's worked campaigns for President Barack Obama, Congressman John Lewis, and Atlanta Mayor Kasim Reed — says the groundwork needed to help a presidential candidate win in Georgia must start now. To do so, he says, top Democratic officials need to work together to register more voters.
"We cannot wait until 2016 to start registering voters in Georgia if we want national Democratic candidates to take us seriously," Johnson says.
If the clock's already ticking for the next election, an assessment of last year's election can't come fast enough. Abrams is assuming that voters, party members, and donors should believe in NGP's integrity without the initiative proving its merits. But her decision to wait roughly a year to disclose basic information could prove detrimental well beyond her political ambitions. With pivotal presidential and statewide elections on the horizon, Abrams, effectively the CEO of Voter Registration, Inc., now faces her biggest business decision.