WRAS student DJs accuse GPB leadership of violating open records laws
Fresh Loaf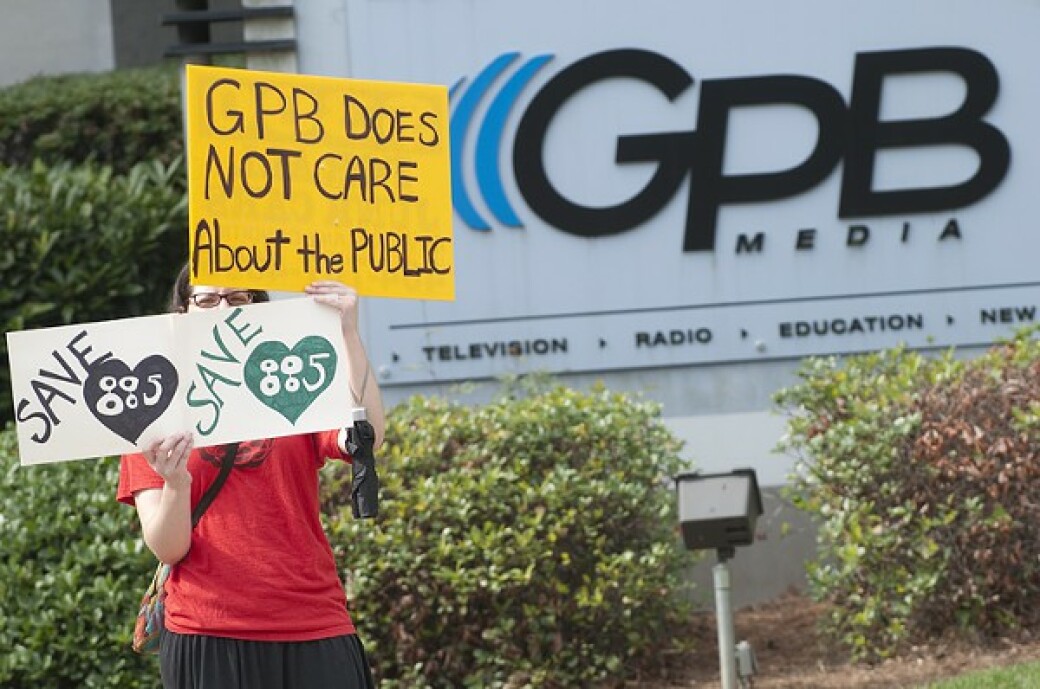 Opponents of Georgia Public Broadcasting's takeover of WRAS-FM (88.5), the influential independent radio station formerly run by Georgia State University students, continued their fight at GPB's first board meeting of the year by questioning the deal's merits, slamming the state media network's leadership, and accusing its top official of trying to sidestep transparency laws.
At yesterday's Georgia Public Telecommunications Commission board meeting, WRAS general manager Alayna Fabricius questioned whether Atlanta residents benefitted from GPB more than when GSU students entirely programmed the station. According to Nielsen audience numbers, Fabricius said that 88.5 FM's listenership had dropped more than 25 percent — from 76,300 cume, the total number of people tuned into a station for at least five minutes each day, in May 2014 to 54,400 cume in December 2014. She said those figures show a clear lack of interest in the state media network's programming that has, in turn, negatively impacted GSU students.
"It's obvious that Atlanta doesn't want or need a second NPR station, especially since WABE has switched to an all-news format as of January 2015," Fabricius told the board. "GPB's policy of duplicating NPR programming that's already being heard on WABE serves no public need. And it diminishes opportunities for artists to have their music heard on a local broadcast station."
GPB President and CEO Teya Ryan, who tried limiting the number of GPB-GSU deal critics to just one person, eventually allowed multiple GPB-GSU deal opponents to address the board after some pushback from the deal opponents. According to WRAS promotions director Hannah Frank, GPB officials have responded to open records requests related to the GPB-GSU deal with an "uncooperative" attitude — particularly through printing computer files rather than providing digital copies of documents. She also accused Ryan of skirting open records requests by using her personal email address to conduct official GPB business.
"This use of a personal email account has no basis for convenience or access," Frank told the board. "All of us have access to our work email from home, meaning that the only possible reason for such behavior is to keep those messages out of an open records request in what appears to be a deliberate attempt to hide information from taxpayers who pay for GPB's operations."
CL has obtained copies of three different emails, originally received through a GSU open records request, that show Ryan and other GPB officials use their personal email for GPB matters.
WRAS deal opponents are now considering asking Georgia Attorney General Sam Olens to look into potential legal violations of the state's Open Records Act. Ryan, when asked by CL to address the use of her personal email for GPB matters, declined comment. However, she sent along a statement that spoke to the state media network's larger mission:
As a media organization serving the entire state of Georgia and neighboring states, GPB creates content and develops educational initiatives that are beneficial to our audiences. To continue to be successful, we must always be looking forward. That is what we are doing with 88.5 FM. We are committed to our partnership with Georgia State University to provide learning opportunities for college students and deliver programming that is fresh, innovative and stimulates important conversations about issues. We've already seen success with programs like 'On Second Thought' with Celeste Headlee launched last fall and 'Political Rewind' and 'Two Way Street' with Bill Nigut. We're forging ahead with ideas on how to create the best public radio available and not looking back.
In a separate statement, GPB Board Chairman Michael McDougald praised Ryan for her leadership in expanding the state media network's services, launching new initiatives, and partnering with Mercer University and the Macon Telegraph to launch the Center for Collaborative Journalism. In response to a GPB-GSU deal opponent's call to kick Ryan off GPB's board, McDougald doubled down in his support for Ryan.
"Each of these initiatives is about creating opportunity for students," McDougald said in a statement. "Ms. Ryan's development of the partnership with Georgia State University to broadcast GPB Radio programming has been completely above board, and the intent is once again to create learning opportunities for students and Georgians through the highest quality public broadcasting programming. On a personal note, it is my observation that she has led the organization with great integrity and fairness while developing these initiatives."
GPB's next board meeting is scheduled to take place on April 15.
Note: This story has been updated to correct an error. Fabricius said that WABE changed its news programming in January 2015, not in 2014, and originally published.