Opinion - Pimp our highway, please
The Downtown Connector needs a face-lift, but it can't become a facade
Last week, two civic booster groups asked residents a puzzling question: How can we pretty up the Downtown Connector, that asphalt atrocity snaking through our fair city?
Officials from Central Atlanta Progress and the Midtown Alliance aren't talking about installing new exit signs or adding yet another lane to the already monstrous interstate. Much to my surprise, they're thinking big. Imagine curated public art, flowing ivy and modular planting systems adorning the bland, grey retaining walls. Vivid light installations on bridges and underpasses. Or even lush urban forests, bike trails and promenades overlooking the interstate.
Officials say this face-lift, which would likely be funded with donations from private foundation or federal funds, could give Atlanta's "front door" a much-needed makeover and boost the city's appeal — especially among the nearly 350,000 drivers who use I-75/85 every day, coming as far as Canada. More than 60 percent of those motorists, according to civic boosters, are travelers merely zipping through the city.
What they see now while they languish in gridlock is depressing. Graffiti tags. Monolithic parking decks and trash. Homeless sleeping under overpasses. Change that environment and you change the impression, which gives us a better shot at enticing people to hop off the interstate and spend cash. The right fixes could show off the creative spirit of Atlanta.
The transit-phile in me wanted to scoff. Beautifying our interstate, which opened as a six-lane highway slicing the city in two in the 1950s and has since doubled in size — that's very Atlanta, ain't it? If impressing commuters and potential tourists is the goal, then revamping MARTA's Five Points station or chopping the stalactites that hang from some transit station's ceilings would seem better places to start.
But judging from the pitch officials presented last week, I'm almost ashamed to admit I was impressed. So long as they invest in local artists and veer away from the usual corporate worship we've come to expect — "Home Depot" written in bushes, anyone? — a vivid Connector could boost our civic pride, earn Atlanta some good press, and delight the occasional Alabama family on their way to wherever it is Alabamans spend their vacations.
The civic groups, which are private nonprofits, have every right to spend their cash the way they see fit. Their past initiatives have arguably done more to improve the quality of life in their respective neighborhoods than the city and state ever could. Downtown's streetscape improvements and Midtown's focus on creating a corridor of dense development arguably would never have happened had the groups never pushed for — and funded — those projects. But my biggest concern about sprucing up the Connector is that it could create a facade. Behind the murals and flowing ivy walls remains a city that still has myriad problems. Once tourists exit the interstate, they'll encounter potholes, panhandling, gridlock, crime, vacant storefronts, cracked sidewalks and a slowly crumbling transit system that the rest of us deal with every day.
That's why one of the possibilities, which is more pie-in-the-sky than anything else, appealed the most to me and at the kickoff workshop last week: Building pedestrian plazas over portions of the interstate to create new greenspace. Such a move (which, granted, would be very expensive) would help reconnect the city and heal the damage the Connector has caused over the years. It's a move that would delight residents and impress visitors.
Sure, motorists might have no clue about the marvelous park above them. But how much better off would Atlanta be if we create a Potemkin village to briefly impress rubberneckers on their way to somewhere else?
More By This Writer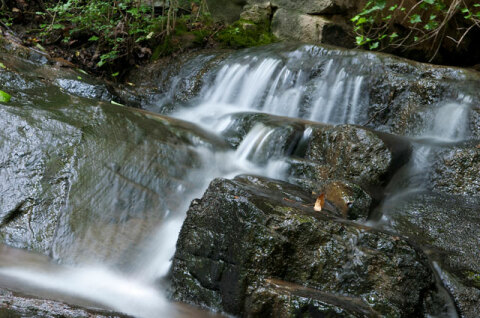 Monday October 21, 2019 03:39 pm EDT
Explore the outdoors and commune with nature without leaving town |
more...
Wednesday January 18, 2017 08:43 pm EST
Guns, health care and some good old-fashioned edumacation |
more...
Wednesday January 18, 2017 11:21 am EST
CL's news editor says farewell and thank you |
more...
Thursday January 12, 2017 06:46 pm EST
Governor taps the oldies to talk about Georgia's present and future |
more...
Tuesday January 10, 2017 05:21 pm EST
Plus, a massive redevelopment opportunity awaits in Decatur |
more...
Search for more by Thomas Wheatley