Opinion - Ruth Stanford speaks on Zuckerman Museum censorship
'What happened in the past can help us understand who we are as individuals and as a society'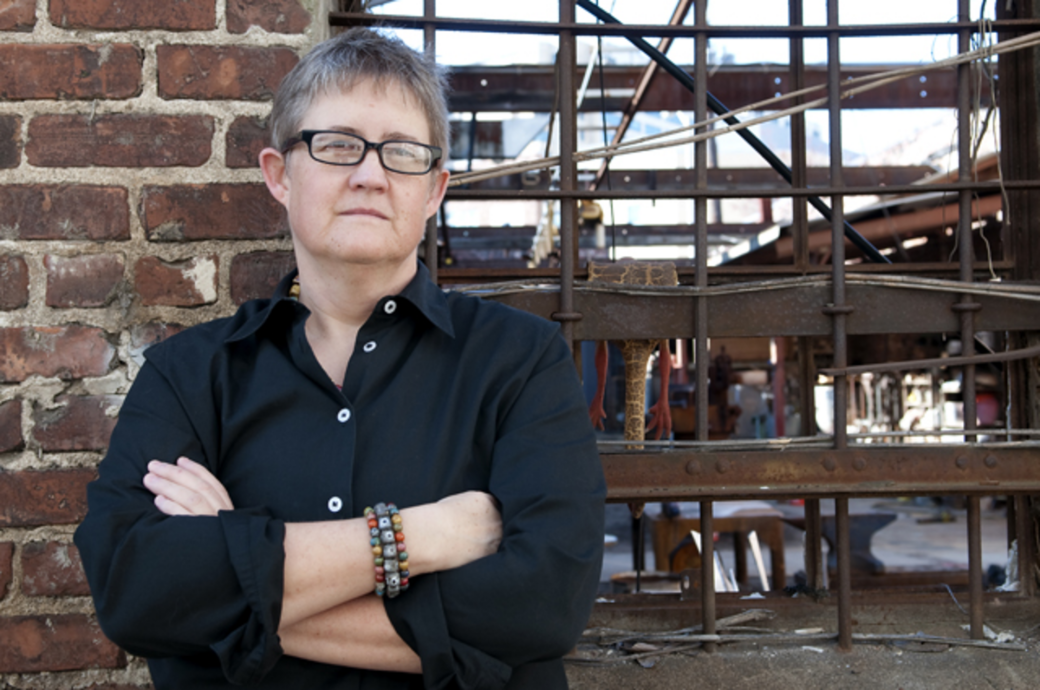 I have always felt that, as an artist, I have a great deal of freedom. When Kennesaw State University President Daniel Papp on Feb. 28 removed my work "A Walk in the Valley" from the state school's Zuckerman Museum the day before it opened because it "did not align with the celebratory atmosphere," I was handed a responsibility — both as an artist and as an educator — to stand up for freedom of speech, one of our nation's fundamental ideals. I take that responsibility seriously.
My goal, once it became clear that this was a simple act of censorship, was to respond honestly to all inquiries, to correct misinformation and misperceptions when I encountered them, and to make no unconsidered decisions or declarations — basically, to let the situation speak for itself. It was clear to me very quickly that this issue would become much bigger than the work. I knew that voices would be heard. Lots of voices.
Because the lens of censorship has distorted my work for those who may never have the opportunity to see it in person, I first want to clear up some misperceptions. "A Walk in the Valley" is not about lynching. And it did not honor a white supremacist.
The Zuckerman Museum curators offered me an opportunity to respond to the Corra Harris homestead based on their knowledge of my work, which deals with history and place. The piece was my investigation of a beautiful woodland with a complicated legacy that extends to the present day.
I struggled with this commission and decided to proceed, knowing that whatever risks I took, I was willing to take for the sake of dialogue.
An explanation of "A Walk in the Valley" written by the Zuckerman Museum curatorial staff — which was to be displayed on the gallery wall near the piece — sums up the controversy:
"This installation is Stanford's response to Corra Harris and her former home in Bartow County, thirty miles north of Kennesaw. Harris is a southern writer who lived and worked in Georgia until her death in 1935. She achieved recognition with an autobiographical novel, The Circuit Rider's Wife, published in 1910, and went on to write nineteen books, numerous articles, and short stories, and hundreds of book reviews.
"In 1899, Harris wrote a letter about a Georgia lynching that was published in the New York City-based weekly magazine, The Independent. The editors, taking advantage of the sensational nature of her remarks, asked her to contribute on a regular basis, thus substantiating her identity as an 'apologist' and simultaneously launching her career as a writer. In 2008, Harris' fifty-six-acre homestead, In the Valley, was given to Kennesaw State University."
This difficult history tainted KSU's decision to accept the land. But it was a history I had to address in the work commissioned by the Zuckerman Museum. No honest person — whether an artist, academic, or university president — could comment on such a legacy without acknowledging it in full, and the work I produced included text from the 1899 letter. My work also acknowledged the beauty of the land, the mystery of found objects, the grace of some of Harris' other writings, and even the texture of the air in the homestead chapel.
Harris meant every word of her 1899 letter, a profane, ignorant, and inhumane explanation of lynching. She also was a fan of the work of W.E.B. Du Bois. I struggle to wrap my head around those two conflicting truths, but I know for certain that there is something I can learn about myself and perhaps the world we all share from trying.
And the viewers who choose to take the journey with me — to pause, consider, and reflect on what I present — maybe they can learn something, too. I am not interested in dictating what anyone should get from my work or even what the specific takeaway message should be. I only want people to try. Papp, bless his heart, missed that point.
In the weeks before the opening I popped in and out of the museum, itself still under construction, while I brought nearly a year's worth of thought and reflection on Harris and her property into its final form.
During the daytime, when you pass through the museum lobby, you can see the silhouette of Kennesaw Mountain in the distance. I looked at it every single time I passed by the window. I don't know much about the battle that happened there. And still, I looked every time.
Somehow, even without knowing the details of a specific story, I sense that what happened in the past can help us understand who we are as individuals and as a society. And more important, it can help us determine who we want to be in relation to ourselves and others.
My work has never before been censored. KSU is trying mightily to play this out on its own terms. There is currently discussion that the university wants to reinstall the work. Some might say that by allowing KSU to do so, I would play along with the puppet master.
I acknowledge that interpretation and, respectfully, offer an alternative. Restoring the work to its place in the gallery and its context within the show would allow the viewers to form their own opinions about the work — uncensored and unmediated. As it should be.