Gothic redux
Sofia Coppola imagines female desire in 'The Beguiled'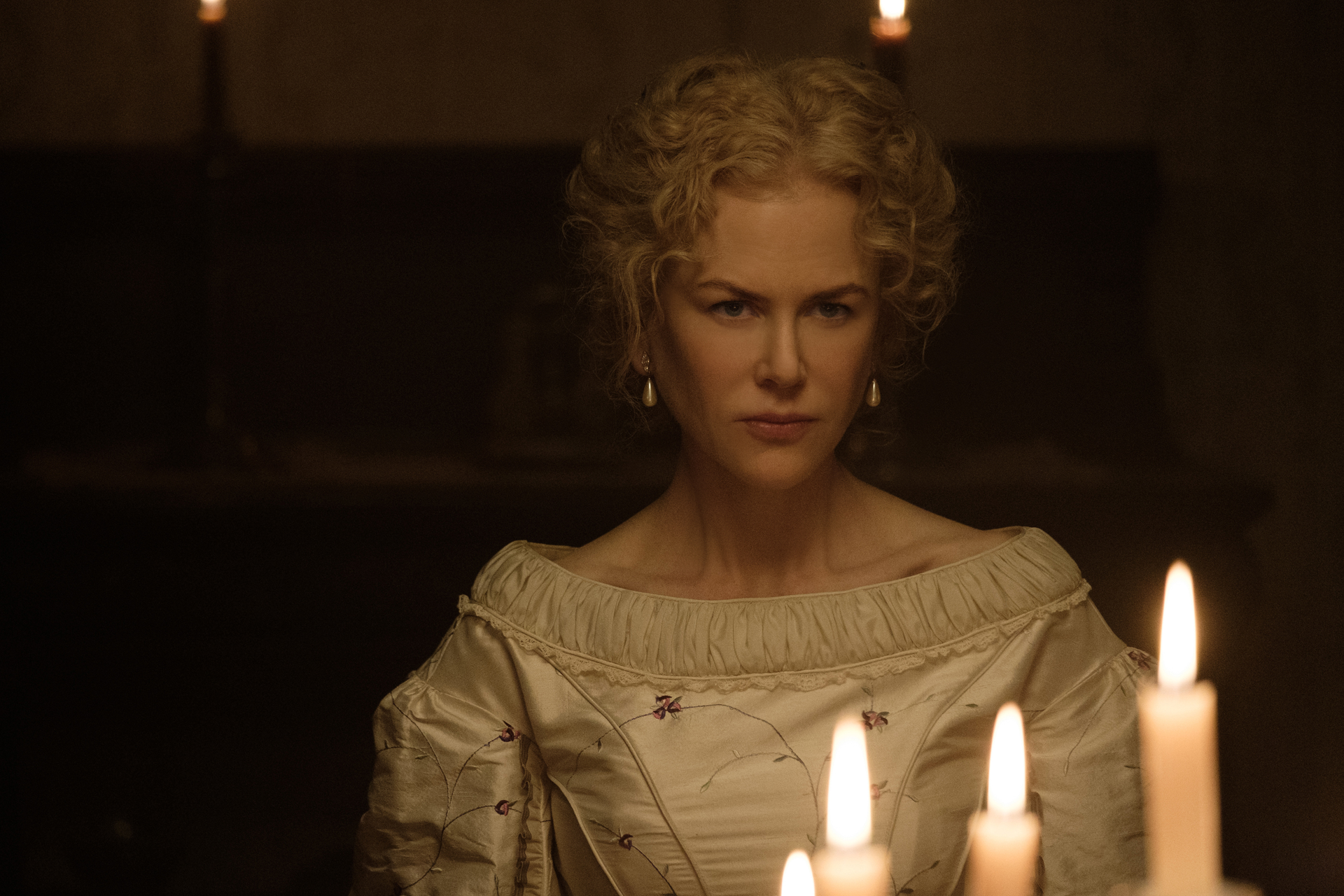 In the waning days of the Civil War, as depleted Confederate troops retreat, dragging their wasted numbers through 1864 Virginia, a waylaid, wounded Union soldier separated from his ranks finds shelter in an isolated girls' school: the Miss Martha Farnsworth Seminary for Young Ladies. Nursed back to health by the gentle ministrations of these lonely girls and women cut off from the gift of male company, the man finds himself less a patient and more a captive, vied over by these genteel women for whom his presence becomes provocation.Written by Thomas Cullinan in 1966 and made into a film in 1971 by consummate '70s workman director Don Siegel (
Dirty Harry
),
The Beguiled
has been dusted off, bathed in golden candlelight and given a distinctly girl-power spin in Sofia Coppola's remake. Winner of the best director award at the Cannes Film Festival (the second for a female director since the award's inception) Coppola has placed female desire front and center in her reinterpretation of Cullinan's story. As in her macabre ode to male beauty and sex
The Virgin Suicides
, Coppola returns to the difficult pull between repression and desire that has challenged women through the ages, but certainly challenges the well-brought-up specimens of Southern womanhood in
The Beguiled
. A powerhouse lineup on the order of
The Women
,
Steel Magnolias
and Francois Ozon's
8 Women
, Coppola's cast Nicole Kidman, Kirsten Dunst, Elle Fanning dramatize the lust and coping mechanisms that arise when the complicating force of a debilitated enemy solider, John McBurney (Colin Farrell), is introduced into their exclusive circle of femininity.Discovered in the woods like a wounded fawn by the naturalist and lover of all living things Amy (Oona Laurence), John hobbles into a kind of estrogen Eden buffered by Spanish moss and brambles from the nightmare of war. Placed in the catbird seat in the well-appointed music room at this Virginia seminary, John gives the distinct impression of licking his lips at the prospect of a Merchant Ivory convalescence. But his desires are soon crowded out by the greater, and more ambitious desires of his keepers. John, in a nutshell, is no match for these lilting, delicate feminine creatures with the mettle of French Resistance fighters and the lusty soulfulness of Sophia Loren.
The Beguiled
is a blend of Coppola's twin interests in froth and the fraught. Her aesthetics come courtesy of fashion magazines, a teenage internship at Chanel and the trappings of her Paris berth, and she remakes
The Beguiled
in a palette of Ladur̩e mints, millennial pink, lilacs and seafoams in Miss Martha's atmospherically cloistered women-centric institution. But
The Beguiled
's plumbing of the complexities of human behavior and relationships can be seen in her recent rock-solid
New York Times
tally of her favorite films of the 21st century, including:
Force Majeure
,
The White Ribbon
,
Under the Skin
and
Fish Tank
.Centered on female experience at various stages, from the provocative but still innocent teenager Alicia (Fanning) to the tremulous, lovesick schoolmarm Edwina (Dunst) to the fully ripe Martha Farnsworth (Kidman), Coppola identifies with all of them (Coppola is herself closest to Kidman's age). Her film finds equal merit in the middle-aged Martha's longing for her dead husband as it does in the littlest girl Amy's pre-sexual vision of John as a best friend and fellow nature lover who appreciates the world's birds and turtles and living things as much as she does. Whether you're 12 or 40, John in Coppola's hands is first and foremost a total dreamboat. Coppola says she chose Farrell for his universal appeal to women and gay men. As Greek director Yorgos Lanthimos discovered in
The Lobster
, Farrell is an actor who can play vulnerable without losing his inherent hunkiness. Even when things take a dark turn in
The Beguiled
and John falls from favor with the ladies for his "acting out," Farrell and Coppola never lose sight of his woundedness or his humanity. He's as lost in the fog of war as they are, an Irishman cut off from his country as a paid Union soldier not too different from these women cast away from their countrymen, fearful of attack from their own Southern soldiers and mourning the lost world of men until the glimmer of hope John arrives. John never becomes a monster, just a tragic, raging man whose libido and pride end up backing him into trouble's corner.But
The Beguiled
is not just an expression of Coppola's interest in strong-willed but vulnerable women and atmospheric romance-licked settings out of a Grace Coddington
Vogue
spread. Her film is also revisionist to the core, a chair kicked out from under the very different in tone and sexual politics of Siegel and Clint Eastwood's vision of Southern nights circa 1971.Siegel's
The Beguiled
was very much a product of its hairy-chested times and exemplified some of the he-man fixations of hard-boiled male directors of that era like Sam Peckinpah and fellow auteur Eastwood (see his rapey
High Plains Drifter
for the definitive knuckle-dragging view of "no means yes?۝). Siegel's Southern gothic is a hopped-up universe of alternately repressed and oversexed women, a men's magazine come to life. Wedded to the conventions of the gothic, in Siegel's interpretation of
The Beguiled
, female sexuality is the resident monster in the attic.Vincent Canby, writing in a
New York Times
review at the time, called Siegel's hothouse horror "a sensationalistic, misogynistic nightmare." Female desire in Siegel-country is a raging, vindictive force threatening to consume the fraught man in its crosshairs, in this case John McBurney (Eastwood), whose recuperation and possibly his life is threatened by the spook show of female sexual jealousy.
No value assigned
Like some smutty drugstore paperback come to life, Siegel's cast of women includes a tarty, vindictive teen vixen played by Eastwood's real-life paramour (Jo Ann Harris). There's the sexually precocious prepubescent 12-year-old (Pamelyn Ferdin) who John flirts with and kisses passionately in some of the film's ickier moments. And raising the cinematic bar for tightly wound sexual repression is headmistress Martha Farnsworth (Geraldine Page) who is natch the kinkiest of them all. In the ultimate backwoods Southern , Martha is revealed to have once had a "thing" for her own brother and harbors baroque sexual fantasies of three-ways. Siegel's
The Beguiled
reserves the most respect for the black slave Hallie (Mae Mercer) who John treats as an equal, sexually joshing with her as she with him (both are captives of a sort, after all), even though the film's biggest taboo may be a desire he can't possibly act upon.While Coppola extends the hand of friendship and understanding to both her male and female characters in her version, Siegel seems eager to paint the human race with a typhoid brush in his grindhouse
Beguiled
. More antihero than hero, flashbacks reveal John's cowardice and homicidal instincts, a man who fought dirty on the battlefield and fights dirty in sex, too.Nostalgia and time's passage tend to soften retro hokum and make us tickle the chin of knuckle-dragging sexual politics and filmmaking kitsch past. But it's pretty clear in her reconceptualization that Coppola has a purposeful revisionism of Siegel's jaundiced view on her mind. Just as a new generation of directors invested the creaky, sagebrush Western with moral darkness and political and social urgency in the revisionist Westerns of the '60s and '70s,
The Beguiled
suggests the gender revisionism that happens when a female director tackles a male tome. Slate's Matthew Dessem speculated that Coppola's
The Beguiled
might be the equivalent of Mary Harron's own revisionist take on Bret Easton Ellis' serial killer yarn
American Psycho
.Female sexual repression is not a sickness in Coppola's version, but a circumstance, the war-time reality of husbands and potential mates dead or off fighting coupled with the impossible demands of Southern womanhood. In Coppola's
The Beguiled
, John's presence unfurls a melancholy longing, a sense of long-suppressed desire that squarely places Coppola's version in the female camp. That painful divide between desire and self-control plays out in a scene where Martha washes an unconscious John soon after his arrival at the seminary, Coppola's camera lingering over his body until Martha is forced to break the spell and flee temptation. What comes through in the scene is the painfully sequestered, forbidden dimension to desire for these women. They are not fully human because they have been forced to pretend their entire lives that their only desire is for whist and French verb conjugation. It's a scene laced with equal parts poignance and electricity, an appreciation of male pulchritude to bookend Jill Soloway's comparable examination of female lust,
I Love Dick
.And rather than a foil to these women, in Coppola's version, John is not anxious to leave his cream puff divan or these soft, nurturing women ministering to his heart and health. He longs to stay as their gardener tending the rose bushes and earning his keep as the man of the house, deserting the brutal world of men and surrendering to this paradise of women. While Eastwood's John longs to escape his house of harridan horrors, Farrell sinks deeper and deeper into this eiderdown of sex and surrender.If the women in Siegel's
The Beguiled
live in a bubble of their director and producer's feverish imagination, then Coppola's women inhabit their own ideological snow globe as well, one where race doesn't penetrate. Despite being filmed at the same Napoleonville, Louisiana, plantation, Madewood, where Beyonce's own mantra of empowerment "Lemonade" was created, sisterhood is powerful, but lily-white in Coppola's South. The solitary evidence of the rationale for the Civil War, the housemaid Mattie in Cullinan's novel and Hallie in Siegel's adaptation, is nowhere to be seen in Coppola's film. Instead, she seems most adept at handling one social issue at a time, a feminist-inflected vision of female strength, resilience and agency, but one cut off from the politics of the day.

Like other visions of a sugar-dusted Southern womanhood, ultimately, Coppola's belles are steel magnolias forced to show their mettle when times are tough. How you view the difference between Siegel's and Coppola's rendition of The Beguiled may very well depend upon how you view female desire. Siegel imagined The Beguiled's theme as "the basic desire of women to castrate men." In Coppola's hands, sexual desire is part of female humanity and agency, even when society demands that that humanity be tamped down and hidden far, far away inside oneself, never to be revealed.
The Beguiled: 4 stars.??Directed by Sofia Coppola. Stars Nicole Kidman, Colin Farrell. Rated R. Opens Thurs., June 30. At area theaters.