AFWF dishes worth the road trip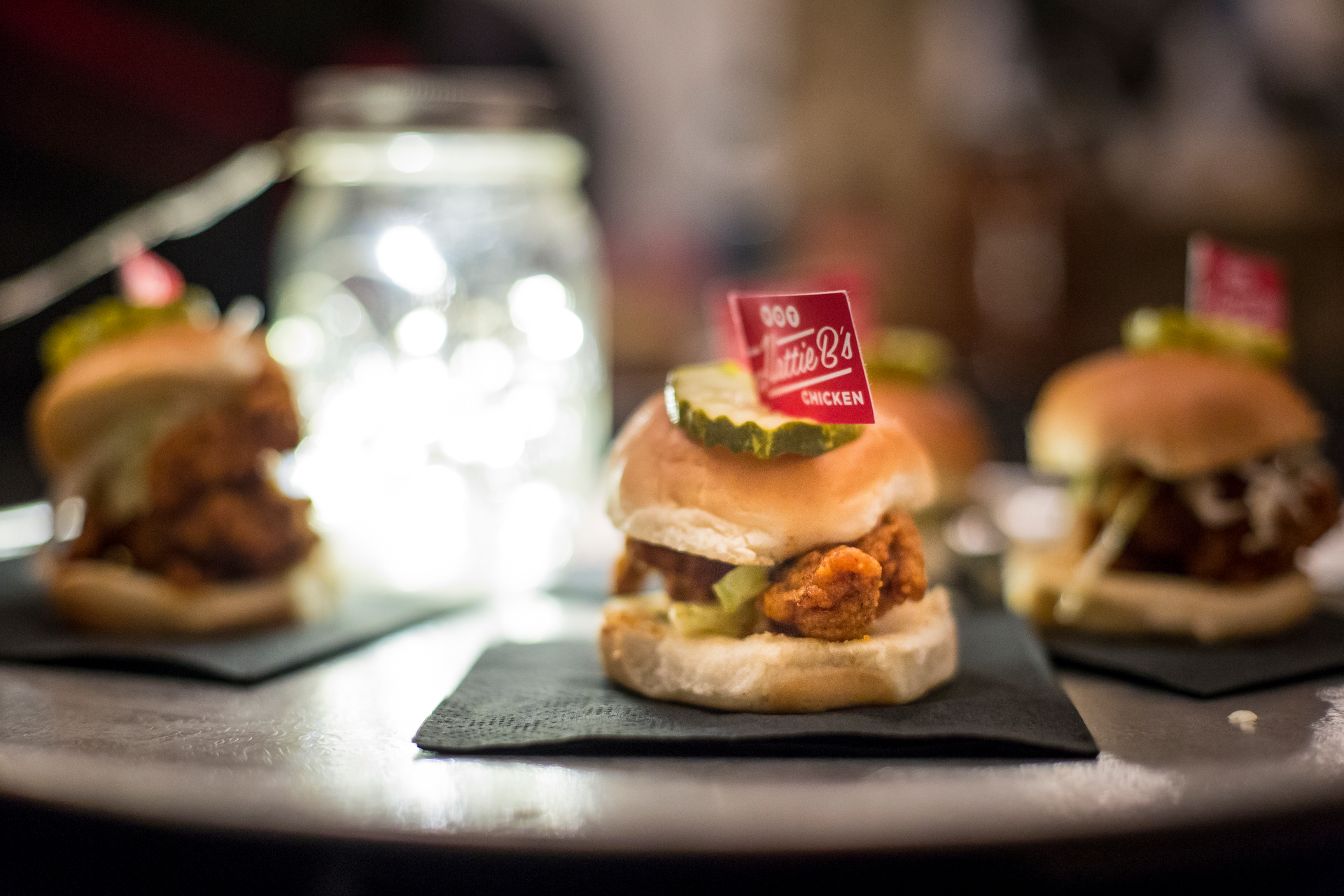 Like a second line down Peachtree Street, the annual Atlanta Food & Wine Festival has come and gone with a hoot and a holler. Despite the rains and the heat, thousands showed up to celebrate the South with a three-day extravaganza of feasting, drinking, education and merriment. This year's fest played heavily on the theme of road trips, and the many culture-rich culinary offerings available to us from D.C. to Texas. Since we're eating nothing but lettuce for the rest of this week, we decided to reminisce a bit with a roundup of our favorite out-of-state tastes from the weekend. These dishes are worth the road trip.
No value assignedThe dish: Hog's head hash
Where to find it: Buxton Hall Barbecue in Asheville, North Carolina
Is it the deep-rooted Southern tradition that makes this hash so great? Is it pitmaster Elliott Moss' ability to use every part of his prize heritage pigs? Or is it the fact that confit bits of offal are slow simmered with kitchen spices and vinegar sauce to form a thick, tangy meat gravy you can eat with a fork but will probably prefer to scoop up with a ladle? Whatever it is, this stuff is worth the drive. 32 Banks Ave. Asheville, N.C. 828-232-7216. www.buxtonhall.com.
The dish: Appalachian stack cake
Where to find it: Milton's in St. Paul, Virginia (opening soon!)
The tale of the stack cake goes back centuries and into the kitchens of hardscrabble mountain families all over Appalachia. Chef Travis Milton makes his from a recipe passed down over generations, which he calls "my family tree on a plate." The result? A super-moist, cloud-soft layer cake made with apples and Red Hots (yes, the candy cheaper than cinnamon; but don't even think about subbing in Hot Tamales). Milton hopes to honor and elevate Appalachian cuisine with a trifecta of long-awaited Virginia restaurants, the first of which opens this summer at the Western Front Hotel in St. Paul. In early 2019, he'll open two more Shovel and Pick and Simply Grand at the historic Sessions Hotel in Bristol. Keep your eye on this guy. 3025 Fourth St., St. Paul, VA
No value assignedThe dish: Quail crepinette
Where to find it: Easy Bistro in Chattanooga, Tennessee
Plated for the masses with the tweezered approach of a Michelin-starred restaurant, this beautiful and delicate dish lingers in memory. Chef Erik Niel and his wife Amanda run their Chattanooga restaurant with a focus on Niel's Louisiana roots and quality seafood, but also boast a knack for butchering that comes through here. Almost creamy Anson Mills Carolina Gold rice is topped with a brush of green tea smoked Manchester Farms quail with matcha and benne seed glaze. It's impossibly tender with subtle smoke and a clear representation of the South's bounty. 203 Broad St. Chattanooga, Tennessee. 423-266-1121. www.easybistro.com
The dish: Shrimp and grits
Where to find it: LOLA in Covington, Louisiana
After evacuating New Orleans post-Katrina, chefs Keith and Nealy Frentz moved to Covington, Louisiana and opened LOLA to showcase fresh, locally sourced Louisiana fare. They've been at it now for over a decade, scooping up tons of awards on the way. Their shrimp and grits was a highlight of AFWF's kickoff Louisiana lunch the rich and creamy grits and succulent shrimp balanced by a sprinkling of crispy chicken cracklins on top. 517 N. New Hampshire St., Covington, Louisiana. 985-892-4992. www.lolacovington.com.
No value assignedThe dish: Birthday cake cinnamon roll
Where to find it: Fluff Bake Bar in Houston, Texas
This should be the first treat you grab when you arrive in H-Town. Baker Rebecca Masson aka "The Sugar Fairy" whips up unexpected treats that evoke a sense of whimsy and this gem is no exception. Soft dough encases a gooey cinnamon filling while the smooth cream cheese frosting on top is studded with rainbow sprinkles for a true party effect. 314 Gray St., Houston, Texas. 713-522-1900. www.fluffbakebar.com
The dish: White Stone oysters
Where to find it: White Stone Oyster Company in White Stone, Virginia
Raised in a sustainable aquaculture farm in the Chesapeake Bay near the mouth of the Rappahannock River, these oysters are plump, meaty and fill their deep-cupped shells. White Stone founder Tom Perry and his chef liaison Phil Valliant have garnered an elite customer base of Washington, D.C. chefs, many of whom call these sweet, low salinity oysters some of the best on the East Coast. 804-729-5745. www.whitestoneoysters.com
The dish: Nashville hot quail
Where to find it: Hattie B's in Nashville, Tennessee
Happiness is multiple days of hot sliders in the AFWF tasting tents. These palm-size treats of crisp fried hot chicken style quail came nestled in squishy buns and topped with vinegar slaw with a cool AF pickle outside the bun. The flavor of the moist and tender quail came through the blast of spices while the sliver of cuke cooled the palate for the next treat. Hattie B's first Atlanta location is slated to open in Little Five Points by the end of this year (hooray!), but right now you'll have to head to Nashville to get your fix. 112 19th Ave. S. Nashville, Tennessee. 615-678-4794. www.hattieb.com.
No value assignedThe dish: Salted honey caramel
Where to find it: French Broad Chocolates in Asheville, North Carolina
This diminutive bite, paired with cheese and beer, rested unassumingly on a wooden tray. Inside the square enrobed in rich dark chocolate was caramel made of grass-fed cream melded with wildflower honey. On top, a ribbon of grey sea salt. It's sweet and buttery, chocolaty and salty all at once. A true close-your-eyes-moment that can be found again at Jael and Dan Rattigan's adorable chocolate factory and lounge in Asheville's Pack Square. 10 S. Pack Square. Asheville, North Carolina. 828-252-4181. www.frenchbroadchocolates.com.
No time to travel far? Soothe yourself with this local offering:
The dish ??_ er, drink: Pan Piper cocktail
Where to find it: Empire State South in Atlanta
During a captivating seminar on low alcohol cocktails, this exquisitely balanced and flavorful cocktail stood out among all the drinks imbibed over a spirit-filled weekend. Star mixologist Kellie Thorn combines botanical gin with an aromatized Chenin-based wine with slight vanilla liqueur and orange bitters. It's at floral, delicate and mildly bitter, with herbal richness to spare. 999 Peachtree St. NE. 404-541-1105. www.empirestatesouth.com.
---