Sevendust's Lajon Witherspoon speaks!
The Atlanta-bred vocalist reflects on inspiration, the band's origins, and revisiting 'Home'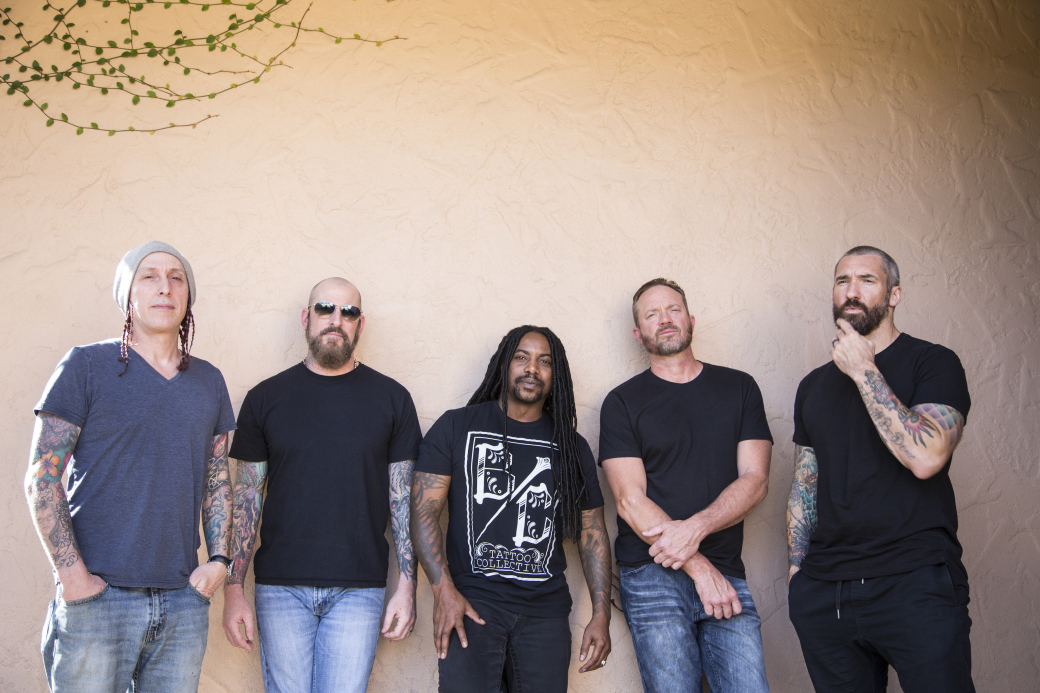 HOME: Atlanta-bred nü Metal mavericks Sevendust return to the group's original stomping grounds for a three-night stand.
Originally known as Rumblefish, then Crawlspace, Sevendust emerged from Atlanta's music scene in the mid '90s and has had continued success ever since. With its bottom-heavy brand of melodic metal fronted by the soulful crooning of Lajon Witherspoon, Sevendust established itself at now-defunct local clubs such as the Wreck Room, the Cotton Club, and the original Masquerade before touring the world with some of rock and metal's biggest names. Having released its 12th album, All I See Is War, earlier this year, the band returns to the Masquerade for three shows concluding with a New Year's Eve performance of the group's 1999 sophomore album Home. Just before a California rehearsal to prepare for these shows, Witherspoon took a few minutes discuss the new album, the band's longevity and what the future holds for Sevendust.
Atlanta's music scene was a lot different when Sevendust started out. As you come home for a three-night stand at the Masquerade, what's your take on the current state of the city's music scene?
I haven't lived there in over 10 years. Morgan [Rose, drummer] and Vinnie [Hornsby, bassist] are still there. I can only talk about what I see on television, when I have time. It looks like the rap scene is doing real well; T.I. and those guys, The Real Housewives of Atlanta and all that stuff's rocking. You think about a band like Mastodon that comes out of Atlanta. We grew up with those guys and I think the scene is still kicking. With bands like that coming out of Atlanta, and a few other bands that I've seen, it still seems like it's pumping, man. You have a place like the Masquerade, that has moved and is still able to hold that name, that integrity, and bands still come through and play and have that energy. Something's still happening there. It's great.
When you got that first big break on the Mortal Kombat soundtrack in 1996, then the success of your self-titled album in 1997, did you anticipate releasing your 12th album more than two decades later?
Not at all. I would have never thought we would have had a career that has lasted this long. In this frugal world of the music industry we're in, I will never take for granted how lucky and blessed I am to still be doing it. And I feel like there's still so much for us to do, especially with us being able to recently go back over to Europe after not being there for 11 years, to rebuild that relationship and to have more chances of expanding the band. It's a good thing.
WIth your latest album, was there a conscious effort to replicate anything from previous albums or take things in a new direction? What was the mindset going into this album?
Just to work with [producer] Elvis Baskette. He said, "I don't want you guys to try to do anything different. I would like to hone you back in. Let's go back to some old-school Sevendust and not be afraid to get back to that sound that we originated from." Which I don't think we were ever afraid of, but I think with any band you try to evolve and change each time to do something different. It was really cool to work with Elvis and for him to kind of police the band in a way where you don't have to go too far and just do what you do. That's what we did. It was incredible just to work with him. He was almost like a sixth member of the band. I'd love to work with him again.
How did that relationship come about?
We've known him for years and years and always wanted to work with him. We finally had the chance to, from him working with Tremonti and Myles [Kennedy] and even Limp Bizkit, back when he worked with those guys. There's a little community of us that have been hanging out ever since the Creed days and Elvis has always been around. We've been brothers, so it was a relationship we just needed to put together.
What was your approach to this album, lyrically? Did you have some ideas going in or did things develop as the music was being written?
We took a year off because you can't write about the same stuff all the time if you're always on the road. It was really good for us to take a break and to be daddies, husbands, brothers, uncles, and go through things that everyone goes through in life instead of being on that tour bus and doing the same thing every night. You have to have something to write about and I feel like life is the only thing that inspires me. After a while, you have to get back to tangible stuff like cutting the grass, having my wife yell at me because I didn't take the trash out. Those kind of things are what are real to me and that's what makes life go 'round. You have to have those types of experiences to continue to have energy to write, if that makes sense.
It makes sense, though I can't really imagine Lajon Witherspoon cutting the grass.
Oh, I love to cut the grass.
Sevendust is no stranger to ballads as each album typically has one or two slower songs. On this album it's the song "Not Original," which other members of the band have said was inspired by Stranger Things, a show that happens to be filmed around Atlanta. What's the story behind that song?
That was something that Clint [Lowery, guitarist] came up with with Stranger Things. I felt like the "Not Original" part of that song was what made the song so original. The truth and the honesty behind it is what made the song, to me, stand out more than anything else. I feel more like the song is about being in a writer's block position, not having anything to write about and not feeling original any more in the eyes of the people. Just kind of being old and passé.
Tell me this: I remember growing up in Atlanta and reading Creative Loafing. Is this the article that'll be in the back, and at the end of it where we get bashed?
Actually, I think this one will be online. I know you guys have been outspoken in other interviews about feeling like you weren't really supported by Atlanta until you had made it past the local scene.
Yeah. I don't think they believed we were out on tour with Metallica back when we were young. No one ever believed it until we came back and had a record deal. But that's just how it was back in the day. I don't think they expected us to get signed out of the Wreck Room, when the people from TVT Records thought it was a strip club, which was next door to the Wreck Room, and they accidentally came in and saw us play. It took us a year to sign a deal. We said we weren't ready at the time. What a dream come true. That label put us on the map and I thank them to this day for starting the roots of our career. If it wasn't for TVT, I don't think we'd be where we're at right now. And if it wasn't for Atlanta we wouldn't be here. If it wasn't for us all meeting in Atlanta, Georgia, playing at the Wreck Room, the Cotton Club, the Scrap Bar, the Roxy. I remember all these places and being in love with these venues. It was what kept us going. It was my energy. It was our own little Hollywood. We'd go into Charley Magruder's and we were stars then. I had my first shot of Goldschläger there at 21. They were like, "It's got gold in it, man!" Guess what I did. I went straight to the bathroom and threw it up.
I think that's what most people do with Goldschläger.
Exactly! I was like, "You've got to be kidding me. I've been waiting for this? Guess what. I ain't doing that again." I like Jäger now, but I think that's the college girl inside me that I missed.
We left from the Midtown Music Fest and never came back to Atlanta for a year because we were on the road. We signed a record deal and we couldn't believe it either. We came back to our apartments and stuff was gone, some of us didn't have homes any more. We signed that record deal and it changed our lives.
You've gone on to weather numerous trends in rock and metal while other bands that came up around the same time are no more. To what do you attribute your longevity?
Moderation. Having faith. I believe in prayer. I believe in having good people around you, having a dream, and music being the thing that changed my life. I wouldn't want to do anything else.
What can fans expect from these three shows to close out 2018? I noticed some local opening bands. Was that intentional?
Yeah. Of course. We definitely wanted to have some friends of ours come out and make it fun. We've got three shows. The first two nights are deep cuts, then the third night we're doing the whole album Home. We haven't played some of these songs in, like, 50 years. Fortunately, we do play a few of these songs. So, it won't be as hard as it seems. I think we need to go over three songs or so. But it's crazy. You think about some of these songs and we're like, "I forgot we recorded that song." So, we'll see what happens on New Year's. I have Madame Mayhem doing the song "Licking Cream" with me that Skin from Skunk Anansie did with me. It's going to be fun.
After ringing in the New Year at the Masquerade, what does 2019 have in store for Sevendust?
We'll be going back over to Australia and New Zealand. We'll also be heading out on a tour with Tremonti, Cane Hill, and a couple of cool bands that I'm looking forward to in February. There's a big tour being talked about after that, but I don't know if I should say anything about that yet. I'm looking forward to getting back in the studio and writing again, and working on my solo thing. -CL-
Sevendust plays Heaven at the Masquerade with Almost Kings and Madame Mayhem on Fri., Dec. 28 ($40 adv. 7 p.m.), with Otherwise, Madame Mayhem, and Killakoi on Sat., Dec. 29 ($40 adv. 7 p.m.), and with Cane Hill, Madame Mayhem, and Shallow Side on Mon., Dec. 31 ($45 adv. 7 p.m.). Masquerade. 75 MLK Jr. Drive SW. 404-577-8178. www.masq.com.
---