LISTENING POST: Filk, faeries, nerd core and swing — when sub-cultures collide at Dragon Con
A little something geeky for Dragon Con ears
THE EIGHTIES TRANSFORMED: Cybertronic Tree, a Canadian cover band performing mostly Eighties rock staples while dressed as Transformers, returns to Dragon Con on Sat., Sep. 3, at the downtown Hyatt.
Once again, something Dragon Con this way comes. The 2022 edition of the internationally renowned pop culture, science fiction, fantasy and gaming convention, which takes place annually over Labor Day weekend in Atlanta, runs from Thursday, Sep. 1 through Monday, Sep. 5.
Among the multitude of events and activities during Dragon Con is the hugely popular downtown parade, which features children and adults with more costuming time on their hands than one might have thought possible dressed up as the object of their favorite fantasy. This year's cavalcade kicks off at 10 a.m. on Saturday, Sep. 4, at the corner of Linden Avenue and Peachtree Street and runs about a mile south on Peachtree. The rest of the con-action occurs at five host hotels — the Hyatt Regency Atlanta, Marriott Marquis, Hilton Atlanta, Westin Peachtree, and Sheraton Atlanta — and at AmericasMart Buildings Two and Three.
Live music has always been a component of Dragon Con. The inaugural event in 1987 featured Jonn Serrie tinkling space music on a keyboard while wearing a NASA flightsuit and fantasy/sci-fi author Michael Moorcock fearing no reaper with Blue Öyster Cult's Eric Bloom, the two men having previously collaborated on a number of the band's songs. In subsequent years, the convention has hosted an eclectic mix of bands drawn from genres favored by the majority of attendees, particularly rock, metal, Celtic rock and dance/swing/surf.
This year's concert lineup includes 16 "mainstage" bands, plus a performance of Rocky Horror Picture Show by Lips Down on Dixie, in the Hyatt and Marriott hotels. Another 14 bands will perform on the daytime Concourse stages in the Hyatt and Westin hotels. Access to all bands are available to Dragon Con badge-holders. Check the Dragon Con website for the latest scheduling info.
Thu., Sep.1

10:30 p.m. Dust Bowl Faeries at the Marriott — Billed as a "dark cabaret" quintet from upstate New York, Dragon Conners will be charmed by the Dust Bowl Faeries' gothy burlesque vibe including the promise of fiery baton twirling.
11:00 p.m. Wakefire at the Hyatt — A Celtic rock band from Michigan, Wakefire describes its music as "a mix of Celtic Rock, Baroque Pop, Americana, folk rock, and what we have coined Bohemian Cabaret." If rocking reels and jigs and sea shanties played at ramming speed sound like your cuppa mead, Wakefire is your jam.
12:00 a.m. Bathroom of the Future at the Marriott — Self-declared purveyors of "nerd rock for punks or pop punk for nerds," Bathroom of the Future wins best band name at Dragon Con 2022, if nothing else. Another product of Michigan, the group's head-banging ditties are entirely forgettable, but fun to jump around to.
12:30 a.m. Thrillkiller at the Hyatt — Hailing from Baltimore, Thrillkiller is a rock band so deeply mired in the 1980s, word on the street has it that all of their music is created by a flux capacitor.
Fri., Sep. 2

8:30 p.m. Atlanta Swing Orchestra at the Hyatt — Steeped in the tradition of the swing bands of the 1940s and 50s, the stated goal of the Atlanta Swing Orchestra is a laudable one: "Play the big band American song book and do it well enough to continue this great tradition into the new millennium."
12:00 a.m. Aurelio Voltaire at the Marriott — A Dragon Con veteran, musician, author, actor Aurelio Voltaire mixes goth-drenched folk-rock, comedic horror shtick and spooky storytelling to create a compelling one-man show.
12:00 a.m. September Mourning at the Hyatt — As one branch of a multi-media project launched by New York-based Emily Lazar in 2009 headbanging death metal band September Mourning exists mainly to recount the story of a human grim reaper/antihero comic book character. Expect lots of leather, blood, angst and screaming.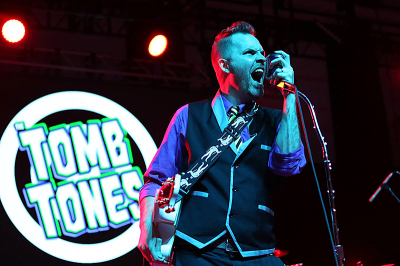 1:30 a.m. The Tomb Tones at the Marriott — Not to be confused with The Tombstones, Kyle Ransom (vocals/guitar), Carl Sin (bass) and Brent Cognito (drums) are The Tomb Tones, a new Atlanta-based band specializing in "horror rock 'n' roll," which combines elements of rockabilly, surf and punk to create a hip-shaking retro-vibe.
1:30 a.m. Vision Video at the Hyatt — A descendant of Eighties bands such as the Cure, The Smiths or Bauhaus, Vison Video is led by Athens resident Dusty Gannon, who served in Afghanistan, an experience that informs much of Vision Video's material. Now working as a paramedic, Gannon also maintains a popular social media alter ego, Goth Dad.
Sat., Sep. 3

11:00 p.m. Cybertronic Spree at the Hyatt — A Canadian cover band performing Eighties rock staples and derivatives thereof while dressed as Transformers, Cybertronic Spree is an established fan favorite making a return visit to Dragon Con.
12:00 a.m. mc chris at the Marriott — Nerdcore rapper mc chris (Chris Ward) brings his trademark, high-pitched gangsta vocalizing (an acquired taste, to be sure) back to Dragon Con. Ward's resume includes writing, producing and voice acting for Adult Swim programs such as Sealab 2021 and Aqua Teen Hunger Force.
12:30 a.m. Rocky Horror Picture Show by Lips Down on Dixie at the Hyatt — A Dragon Con regular since 2002, Lips Down on Dixie is renowned on the local cult film scene for staging performances of TRHPS at venerable venues such as the Plaza Theatre and Starlight Drive-In.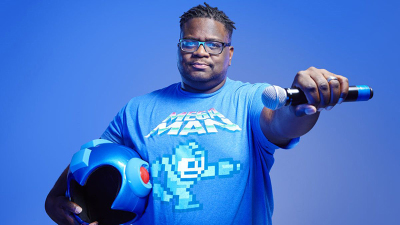 1:30 a.m. Mega Ran at the Marriott — Nerdcore rapper, chiptune DJ, record producer and former Philadelphia middle school teacher Mega Ran (Raheem Jarbo) returns to Dragon Con with a unique blend of material combining gaming and hip-hop informed by comic books and pop culture.
Sun., Sep. 4
12:00 a.m. Jason Charles Miller at the Marriott — The founder of industrial metal band Godhead, Jason Miller now performs country rock or what one reviewer described as "metal meets Merle Haggard." His latest album includes co-writing credits with Blackberry Smoke's Charlie Starr and Lynyrd Skynyrd's Rickey Medlocke.
1:30 a.m. Raspberry Pie at the Marriott — An R&B/funk dance band from Orlando, Raspberry Pie is the single most perfect embodiment of the song, "Play that Funky Music (White Boy").
1:30 a.m. Crüxshadows at the Hyatt — Another Dragon Con veteran, Crüxshadows is a dark wave/synth-pop band from Jacksonville, Florida specializing in angsty, gothy kraut-rock for fraught times.
In addition to the mainstage bands listed above, a cornucopia of live music is scheduled throughout Dragon Con at different venues and stages. At press time, the bands confirmed for the convention include Foot Pound Force, a quartet of actual rocket scientists from Huntsville, Alabama; Mikey Mason, a stand-up comedian turned musician; Valentine Wolfe, a goth metal duo from Greenville, S.C.; and Tom Smith, who leads a herd of filk bands (filk sounds like folk music, but most of the songs are parodies of or somehow related to science fiction and fantasy TV shows, films and games). —CL—
Dragon Con sells a variety of ticket packages or "memberships" ranging from a five-day membership for $160 to single-day and multi-day memberships costing $20 to $130. All memberships — up to and including day-of — must be purchased online at Dragoncon.org.