Event Scheduled
Shugah Munny
Sunday September 18, 2022 08:00 PM EDT
Cost: Free,
From the venue:
DJ Dazzlr | *THAMOVIE* | Mothman Moth Band More information
Featuring
We take three meaty chunks of psychedelic salami, ground up with some tangy blues and one thick mater. We douse that in rockabilly relish, dip it in our boogie-all-night batter and funky-fry it up nice and crispy-like. SERVED ON TOAST WITH JAM. |
more...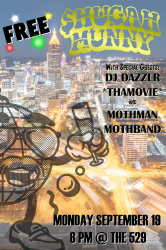 Shugah Munny is a funk prog rock band based in Atlanta |
more...