Tuesday November 19, 2019 06:30 pm EST
Community, Community::Benefits, Community::Public Agenda, Community::Support Groups, Community::Volunteers, Free Events
As a part of our celebration of the 71st anniversary of the signing of the Universal Declaration of Human Rights, we partnered with Love Beyond Walls to host a program in discussing ending homelessness in Atlanta and what we can do to get there.

The Center and Love Beyond Walls invite the commun...
Free [
click here for more
]
Saturday November 30, 2019 02:30 pm EST
Arts Agenda, Arts Agenda::Visual Arts, Community, Community::Public Agenda, Community::Support Groups
The Exquisite Uterus Project is back at MODA! 

With reproductive justice continuing to be under attack here in Georgia, we're once again joining forces to make our voices heard and to make a difference. This is not your usual protest, however. Instead of taking to the streets, we'll add our vo...
$35-$40 [
click here for more
]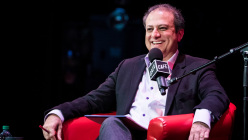 Wednesday December 4, 2019 07:00 pm EST
Community::Lectures, Community::Public Agenda
Featuring special guest Sally Yates Sally Yates is a 27-year veteran of the U.S. Department of Justice, where she served as Assistant United States Attorney and rose to become U.S. Attorney in Atlanta, Deputy Attorney General and Acting Attorney General. As Deputy Attorney General from 2015 through ... Sold Out [
click here for more
]