Price: $10 with Side
Sanctified Soul on a roll, our combo includes: Sanctified Soul on a roll, our combo includes: Signature Meatloaf topped with Tomato Brown Sugar Reduction, Creamed Collard Greens, and served on a brioche bun. Sweet Potato Fries, Sweet Potato fries drizzled with our signature cinnamon lemon cream.
PARLAY's Lineup for ATL Burger Week: 4/19/21-4/25/21. We are a food truck - (678) 562-7162
Monday 4/19 PARLAY @PREPAtlanta
PARLAY's Home Base 12-5pm
3795 Presidential Pkwy, Atlanta, GA 30340
Tuesday 4/20 PARLAY @Atlantucky
Atlantucky Brewing 1-8pm
170 Northside Dr SW, Atlanta, GA 30313
Wednesday 4/21 PARLAY @Eastpointfarmersmarket
East Point Farmers' Market 4-7pm
1590 Ware Ave, East Point, GA 30344
Wednesday 4/21 PARLAY @TenAtl
Blues, Bourbon, & Cigars 8pm until...
495 Flat Shoals Ave SE, Atlanta, GA 30316
Thursday 4/22 PARLAY @METATL
MET ATL Business Complex 12-6pm
680 Murphy Ave SW #4150, Atlanta, GA 30310
Saturday 4/24 PARLAY @AfroSocaLove
Afro Soca Love ATL 11am-6pm
351 Marietta Street Northwest, Atlanta, GA, 30313
Sunday 4/25 PARLAY @AliatLakewood
Food Truck Sundays 12-6pm
1800 Jonesboro Rd SE, Atlanta, GA 30315
All Events are Weather Permitting and Until Sold Out**
We will provide updates if there are any schedule changes.
Buy it here: parlaysavorysaloon.com
array(1) {
  [0]=>
  string(4) "1380"
}

About the restuarant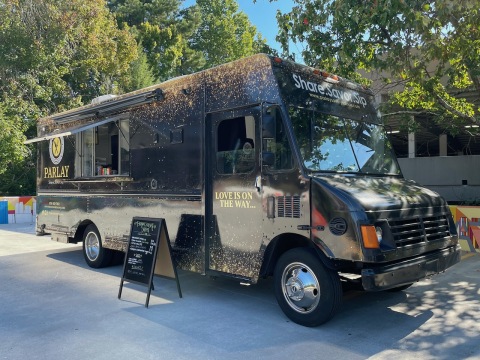 Hours
Monday: Closed
Tuesday: 9:00 AM – 6:00 PM
Wednesday: 9:00 AM – 6:00 PM
Thursday: 9:00 AM – 6:00 PM
Friday: 9:00 AM – 6:00 PM
Saturday: 9:00 AM – 6:00 PM
Sunday: Closed
Return to the Burger Menu