ISSA BACK 2 SCHOOL DRIVE: 21 Savage talks with a fan outside of Club Libra on Aug. 6.
21 Savage?

21 Savage is an Atlanta based rapper. He first got noticed in Atlanta for his 2015 recording "The Slaughter Tape" before going nationwide with his album Savage Mode released in 2016.
In May, 21 Savage, born Shayaa Bin Abraham-Joseph, reached gold record status when his Savage Mode EP sold a half-million copies. In July, 2017, he earned a third platinum certificate when "Red Opps" from the Free Guwap mixtape (following "No Heart" and "X" feat. Future from Savage Mode) topped a million sales.
It's no secret that 21 Savage was in and out of juvenile detention centers during his school days. It's reported that he expelled from middle school for gun possession, and was even shot multiple times later in life. His gang affiliation with the Bloods is also fodder for many of his most popular songs. In "Red Opps" he chants the lyrics, "I just bought a pistol it got 30 rounds in it/Pull up at yo momma house and put some rounds in it." But the message he had for the kids in the crowd on Sunday was: "Stay in school. Do your homework. Eat right."
One look at the tall, lanky man from the eastside with a dagger (maybe a sword) tattooed on his forehead, and it's understandable he scares the fuck out of some people. He's a Blood, so naturally, he's often seen wearing red. Oh, and he's been shot more than a few times. His musical content, like his style, is menacing, raw, and downright frightening. Take the lyrics to his single "Red Opps" for instance, with a chorus that showcases the gritty street appeal that's drawn sold-out shows in both Atlanta and New York.
21 Savage's Atlanta Connections
Born October 22, 1992 most likely in the United Kingdom. His mother is Dominican.
21 Savage attended Dekalb County and was thrown out for gun possession. He then went to various Atlanta area schools before dropping out and completing his
He references the "21" to a street gang in Decatur. , and his songs often refer to his past in East Atlanta's Zone 6.
21 Savage was arrested by ICE agents during the Super Bowl festivities in Atlanta on Feb 3rd.
News About 21 Savage
Tuesday March 12, 2019 12:54 pm EDT
News Headlines March 8, 2019 |
more...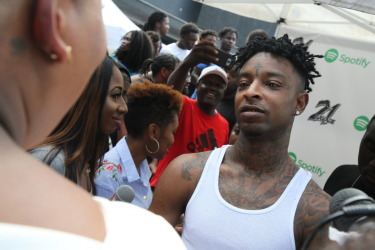 Tuesday August 8, 2017 10:15 am EDT
The Eastside rapper gives back to the community that raised him |
more...
Tuesday July 11, 2017 05:23 pm EDT
With 'ISSA,' the Atlanta rapper's real world experience collides with mainstream success |
more...
Thursday June 16, 2016 04:00 am EDT
Atlanta's 'Slaughter King' is leading the city's gangster music charge |
more...
Monday June 22, 2015 09:05 pm EDT
The Atlanta rapper introduces a world of cooking dope in Givenchy threads. |
more...
Tuesday April 5, 2011 04:01 am EDT
The unintended irony behind the reunited post-punk band's Middle Eastern dirge |
more...


Alias