Baraonda Ristorante & Bar
Bustling spot for Neapolitan-style pizza, pasta, grilled Italian specialties, wine or cocktails before a show at the Fox.
Thursday November 6, 2014 07:00 PM EST
This veteran Midtown Italian restaurant offers a dinner and tasting of Balvenie and Glenfiddich scotches. Scotches sampled will span a range of ages from 12 to 21 of different blends and barrels. Expect scotch-themed dishes like scotch cured salmon, and mussels in fennel scotch broth and venison ste... [
click here for more
]
Sunday September 14, 2014 08:00 PM EDT
Chef Costanzo Astarita and the team at Baraonda will host a benefit dinner for the James Beard Foundation's scholarship program. Astarita will use the dinner to draw an interesting comparison between the North Georgia and Italian piedmonts. The multi-course dinner will feature dishes like expresso-r... [
click here for more
]
Tuesday October 22, 2013 08:00 PM EDT
Branching from it's roots in wine, Italy is beginning to create beer made specifically to be enjoyed with food. Baraonda's beer dinner will feature five of these brews, which will be paired with food from the restaurant's chef/owner Costanzo Astarita. For reservations call 404-879-9962 or e-mail bar... [
click here for more
]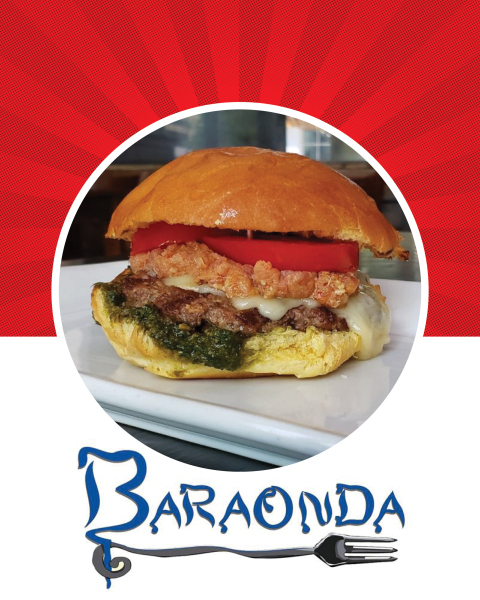 Baroanda
Burger topped with basil cilantro pesto, provolone cheese, and served on a n'duja brioche bun.
710 Peachtree Street Atlanta, Georgia 30308
|
more...