ISKCON Atlanta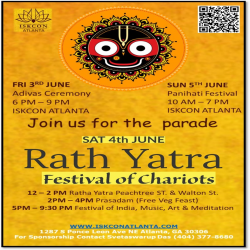 Saturday June 4, 2022 12:00 PM EDT
Rath Yatra is a symbol of unity, brotherhood, and peace. Thousands of people participate in this yatra and get good fortune by pulling the Lord's chariot. It is stated that anyone who takes part in the Rath Yatra would be blessed with pleasure and riches.
Activities:
Friday, 3rd June 2022:
Activ... [
click here for more
]
USER SUBMITTED
Saturday May 14, 2022 04:00 PM EDT
Celebration of appearance day of Lord Sri Sri Narsimha Dev.
Fire Yagna Abhishek Workshop Kirtan Feast
[
click here for more
]
USER SUBMITTED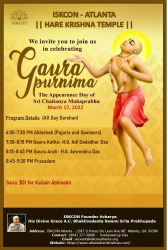 Thursday March 17, 2022 08:00 AM EDT
Sri Gaura Purnima is the auspicious appearance day of Sri Chaitanya Mahaprabhu who is also known as Gauranga due to His golden complexion. This year we are celebrating the 535th anniversary of Sri Chaitanya Mahaprabhu's appearance on March 17, 2022.
Program Details
All day Darshan
6:00 pm - 7:00... [
click here for more
]
USER SUBMITTED
Hours
Monday: 4:30 – 5:00 AM
7:30 – 11:30 AM
12:15 – 1:00 PM
4:00 – 7:30 PM
Tuesday: 4:30 – 5:00 AM
7:30 – 11:30 AM
12:15 – 1:00 PM
4:00 – 7:30 PM
Wednesday: 4:30 – 5:00 AM
7:30 – 11:30 AM
12:15 – 1:00 PM
4:00 – 7:30 PM
Thursday: 4:30 – 5:00 AM
7:30 – 11:30 AM
12:15 – 1:00 PM
4:00 – 7:30 PM
Friday: 4:30 – 5:00 AM
7:30 – 11:30 AM
12:15 – 1:00 PM
4:00 – 7:30 PM
Saturday: 4:30 – 5:00 AM
7:30 – 11:30 AM
12:15 – 1:00 PM
4:00 – 7:30 PM
Sunday: 4:30 – 5:00 AM
7:30 – 11:30 AM
12:15 – 1:00 PM
4:00 – 6:30 PM