Amalfi Pizza
Amalfi Pizza is a traditional Neapolitan pizzeria centered around two 6000 pound wood-burning brick ovens imported from Italy. Authentic Italian menu that includes Neapolitan-style pizzas as well as appetizers, salads, pasta dishes and traditional desserts made from simple fresh quality ingredients from the Campania region of Italy and cooked at temperatures in excess of 900 degrees in approximately 70 seconds.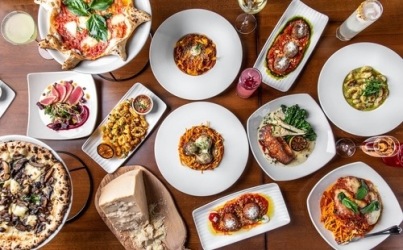 Monday February 14, 2022 05:00 PM EST
Categories: Valentine's Day
Amalfi of Buckhead offers romantic one-night-only prix-fixe style menu for two. $160. Includes three courses of exquisite Tuscan cuisine for two and a bottle of Prosecco.
3243 Peachtree Rd NE Ste A, Atlanta GA, 30305. Valet is available, as well as complimentary garage pa... [
click here for more
]
USER SUBMITTED
17 Andrew Young International Blvd NE
Atlanta
,
GA
30303
(404) 228-7528
amalfipizzaatl.com
Pizza
Hours
Monday: 11:30 AM – 9:00 PM
Tuesday: 11:30 AM – 9:00 PM
Wednesday: 11:30 AM – 9:00 PM
Thursday: 11:30 AM – 9:30 PM
Friday: 11:30 AM – 10:00 PM
Saturday: 11:30 AM – 10:00 PM
Sunday: 4:00 – 9:00 PM