See our
guide to COVID-19 in Atlanta
(this page last updated )
East Atlanta Village Farmers Market
An annoying thing about farmers markets: being forced to get up early (like, before noon) on a weekend morning. By operating 4-8 p.m. on Thursdays, the EAV Farmers Market eliminates the necessity to get up at a normal human being hour on a Saturday. You'll find locally grown produce, homegrown art, and occasionally music. The market runs April-December. Ready your reusable tote bags.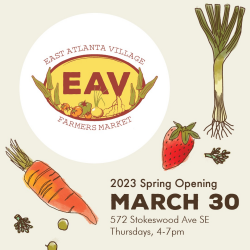 Thursday March 30, 2023 04:00 PM EDT
The EAV Farmers Market is BACK!
With extended hours (4-8pm) and full lineup of 20+ farmers & vendors, educational chef demos, live music, good community vibes!
Join us for opening day festivities and every Thursday after that for fresh local fruits and vegetables, bread and baked goods, dinner optio... [
click here for more
]
USER SUBMITTED
572 Stokeswood Ave. S.E.
Atlanta
,
GA
30316
(404) 919-3619
cfmatl.org
Farmers Market
COVID-19
Hours
Monday: Closed
Tuesday: Closed
Wednesday: Closed
Thursday: 4:00 – 8:00 PM
Friday: Closed
Saturday: Closed
Sunday: Closed