Glover Park Brewery
Website: Steps away from the Marietta Square, Glover Park Brewery is the realization of a desire by Marietta natives Sam Rambo and Hank DuPre to create a space in our community where folks can gather and kick back with a great selection of locally crafted beers. When they brought Sweetwater Brewing Company co-founder, Kevin McNerney into the fold, they knew they had something truly special brewing.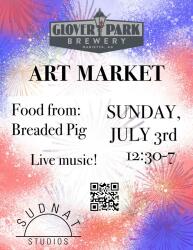 Sunday July 3, 2022 12:30 PM EDT
Categories: Beer
Join us in celebrating 4th of July with a local popup market, food by Breaded Pig, live music, yummy beer & fireworks! Fun starts at 12:30pm!
[
click here for more
]
Saturday October 16, 2021 12:00 PM EDT
Marietta's Glover Park Brewery celebrates the return of their traditional Oktoberfest Marzen called Holy Schnitzel, loaded with Munich malts. [
click here for more
]
Hours
Monday: Closed
Tuesday: 4:00 – 10:00 PM
Wednesday: 4:00 – 10:00 PM
Thursday: 4:00 – 11:00 PM
Friday: 4:00 PM – 12:00 AM
Saturday: 12:00 PM – 12:00 AM
Sunday: 12:30 – 7:00 PM