See our
guide to COVID-19 in Atlanta
(this page last updated )
Fritti
Riccado Ullio's younger, hipper sibling to next-door Sotto Sotto offers bold salads, fried seafood, and thin-crust, rustic pizzas with exotic toppings. Atmosphere, service, and wine list are notable as well.
Atlanta's palate has been elevated by many new (and primarily suburban) pizza practitioners who've opened up shop in recent years. But no pie in town has our hearts and mouths so completely infatuated as FRITTI, which has us coming back over and over for the classic and authentically Italian regina ... |
more...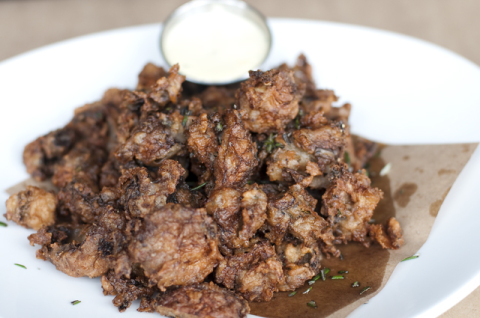 Slices of earthy cremini and portobello mushrooms are lightly battered in rice flour, deep fried, and served with a zesty garlic aioli sauce for your dipping pleasure. Oh, and don't forget the light drizzle of truffle oil to complete this plate of shroomy bliss. $8. STILL THE ONE: Fritti's Funghi Fr... |
more...
309 North Highland Avenue Northeast
Atlanta
,
GA
30307
(404) 880-9559
frittiatl.com
Restaurant
COVID-19
Hours
Monday: 12:00 – 11:00 PM
Tuesday: 12:00 – 11:00 PM
Wednesday: 12:00 – 11:00 PM
Thursday: 12:00 – 11:00 PM
Friday: 12:00 PM – 12:00 AM
Saturday: 12:00 PM – 12:00 AM
Sunday: 12:00 – 10:00 PM