Horizon Theatre Company
Horizon Theatre Company
An intimate 200-seat theater. A gift for sparkling comedy marks this scrappy Little Five Points playhouse, dedicated to finding intriguing new voices in Southern theater.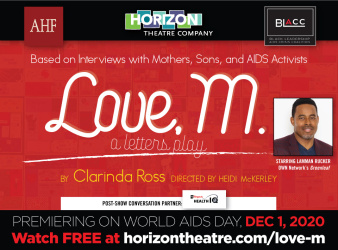 Tuesday December 1, 2020 07:00 PM EST
In recognitation of World AIDS Day,Horizon Theatre, the Black Leadership AIDS Crisis Coalition and AIDS Healthcare Foundation bring to the virtual stage Love, M., a powerful story about mothers, sons, and AIDS activists during the early days of the AIDS crisis. The premeiere stars actor and activi... [
click here for more
]
1083 Austin Ave. N.E.
Atlanta
,
GA
30307
(404) 584-7450
horizontheatre.com
Performing Arts Theater
Hours
Monday: Closed
Tuesday: 12:00 – 5:00 PM
Wednesday: 12:00 – 5:00 PM
Thursday: 12:00 – 5:00 PM
Friday: 12:00 – 5:00 PM
Saturday: 12:00 – 5:00 PM
Sunday: Closed