See our
guide to COVID-19 in Atlanta
(this page last updated ) Open, offering contact-less pickup and delivery
San Francisco Coffee Roasting Company
The Va-Hi location (there is also one in Candler Park and Poncey-Highland) has an elegant interior that exudes comfort and convenience. The smell of beans roasting on-site is lovely, too. Good muffins, quiche, and occasional sandwiches.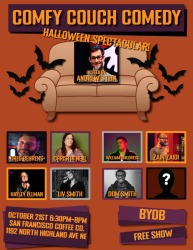 Friday October 21, 2022 06:30 PM EDT
Come and enjoy a costume party/standup comedy show at San Francisco Coffee Co in Virginia Highland. BYOB, food and drink available for purchase, and show is free to attend! Costumes are encouraged!
[
click here for more
]
Friday July 15, 2022 06:00 PM EDT
Come on out to San Francisco Coffee in VH (1192 North Highland Ave) for a free standup comedy showcase with some of Atlanta's best comedians! July 15 at 6pm! Lots of parking in the lot across the street or behind the coffeehouse. BYOB- lots of food and other drinks to purchase! [
click here for more
]
USER SUBMITTED
Monday April 15, 2013 08:00 PM EDT
San Francisco Coffee's Best Barista Contest and Silent Auction celebrates the art of coffee making while raising funds to benefit the new Atlanta Children's Therapy Space at the nonprofit Conley Center - Care, Counseling and Psychotherapy. Rich aromas and fierce competition collide as eight of Atlan... [
click here for more
]
Hours
Monday: 7:00 AM – 5:00 PM
Tuesday: 7:00 AM – 5:00 PM
Wednesday: 7:00 AM – 5:00 PM
Thursday: 7:00 AM – 5:00 PM
Friday: 7:00 AM – 5:00 PM
Saturday: 8:00 AM – 5:00 PM
Sunday: 8:00 AM – 5:00 PM