College Park Food
Hattie Marie's BBQ, Downtown College Park
---

By KEVIN C. MADIGAN
When he was a little boy in Ghana, Paul Mensah loved his mother's cooking. She not only prepared and served the family typical local dishes, but also taught her son how to cook them, instilling in him a life-long appreciation of his native cuisine.
Jollof, awakye, banku, fufu, and other traditional Ghana dishes — they are all on the menu at Mensah's Home Taste restaurant on Old National Highway in College Park. Mensah came to the United States 27 years ago, and when deciding to open his own eatery, knew just what to name it. "We call it Home Taste — when you taste the food, it's just like you're back home in Ghana," says the affable owner and chef. "When people from Ghana visit us here and they taste our food, they know it's the real thing — just like their mom used to make."
For Ghanians feeling a bit nostalgic for their homeland and its unique cuisine, Home Taste does the trick. Mensah is also proud of the authenticity of his offerings. "It's organic, fresh food! We cook everything fresh. We don't do it like others do — they cook it halfway and then heat it up," he says.
Home Taste is a family business that follows tradition. "I have a fiancée here and she knows how to cook too, she's very good. She's from the Ashanti tribe, and they cook better than all the tribes," admits Mensah, laughing. "I brought my daughter in when she was six years old and taught her how to cook too."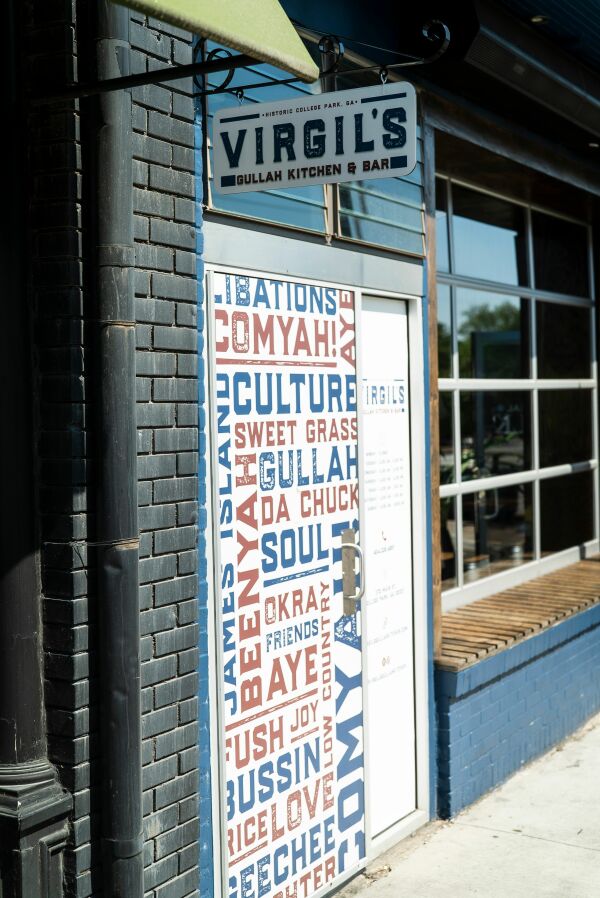 Another College Park family affair is Hattie Marie's BBQ on Main Street. Opened in 2017, it's owned by Ramona Griggie and her husband Willie, who named it in honor of his late mother. She was a food lover and baker who ran a catering business in Port Arthur, Texas. The restaurant's menu features the same meals she cooked for family gatherings.
Ramona Griggie is a successful entrepreneur herself, having started Express Smile Atlanta, a teeth-whitening service that soon made her an Instagram sensation as well as a lot of money with a little help from the celebrities who quickly endorsed the product. Her son, Juwan Thompson, attended Woodward Academy in College Park, after which he attended Duke University, becoming a running back for the Blue Devils. Thompson followed up college football by signing with the Denver Broncos, the team that trounced the Carolina Panthers to win Super Bowl 50.
"The whole street just gives me a happy vibe," Ramona says on the Clearly College Park podcast discussing Main Street. "I wanted to be there. I feel 100 percent safe at my business — that was very important to me — and it's growing. New businesses are coming in every month, everybody supports us, and you just can't ask for a better location. I wouldn't want to be anywhere else." She is also mulling over the idea of starting another venture or two in the area.
Next door to Hattie's is Virgil's Gullah Kitchen & Bar, where the Gullah Geechee culture of the lower Atlantic coast, from North Carolina to north Florida, is featured. Even the menu reflects the patois of that region's people. The late Virgil F. Smalls, a South Carolina native who loved to cook and for whom the restaurant is named, is depicted on a large mural in the colorful interior, serving as spiritual inspiration for his son, Gee, and son-in-law, Juan Smalls, partners and owners of the restaurant.
"There's a reason it's called Virgil's," Juan acknowledges. "These are all family recipes that were handed down, and we aim to be as authentic as possible, just like you're eating in our home kitchen."
Prior to Virgil's opening in July 2019, the pair used social media to their advantage, soliciting suggestions on beer and liquor, and involving the community in the overall planning process. "Then when we opened we had a special neighborhood preview that was well-attended," remembers Juan. "We were welcomed by locals right away. The city and its residents have been amazing, to put it simply. They've been really supportive, and the (College Park) city officials have been great, too, giving us information and assistance. I'm kind of surprised, because in the city of Atlanta you don't have that kind of support or access."
Their social media presence continues to be lively, with active accounts on Instagram, Twitter, Facebook, and YouTube. They also run a nonprofit, The Gentlemen's Foundation, "that provides scholarships and services to gay, bi, and trans black folks," Juan notes.
"I love Virgil's. It's nice having different styles of food to choose from so close to each other," says Ken Kirschner, a mathematics teacher at nearby Woodward Academy, who eats out quite a bit. He is also fond of The Real Milk and Honey and its award-winning shrimp and grits. "Knowing it won on Chopped is one thing; actually eating it is a whole different level of learning how good Southern comfort food can be!"
The Real Milk and Honey, an all-day brunch spot, is owned and operated by chef Sammy Davis, Jr. (yes, that's his name) and cocktail whiz Monique Rose. The two met while working at rapper T.I.'s now defunct Scales 925 restaurant. Davis has also served as personal chef to rapper Lil Wayne and singer Jill Scott.
---
Where to Eat in College Park
---
College Park, GA Neighborhood Guide - Restaurants and Food