Late nights, early mornings
The co-working market in metro Atlanta keeps on expanding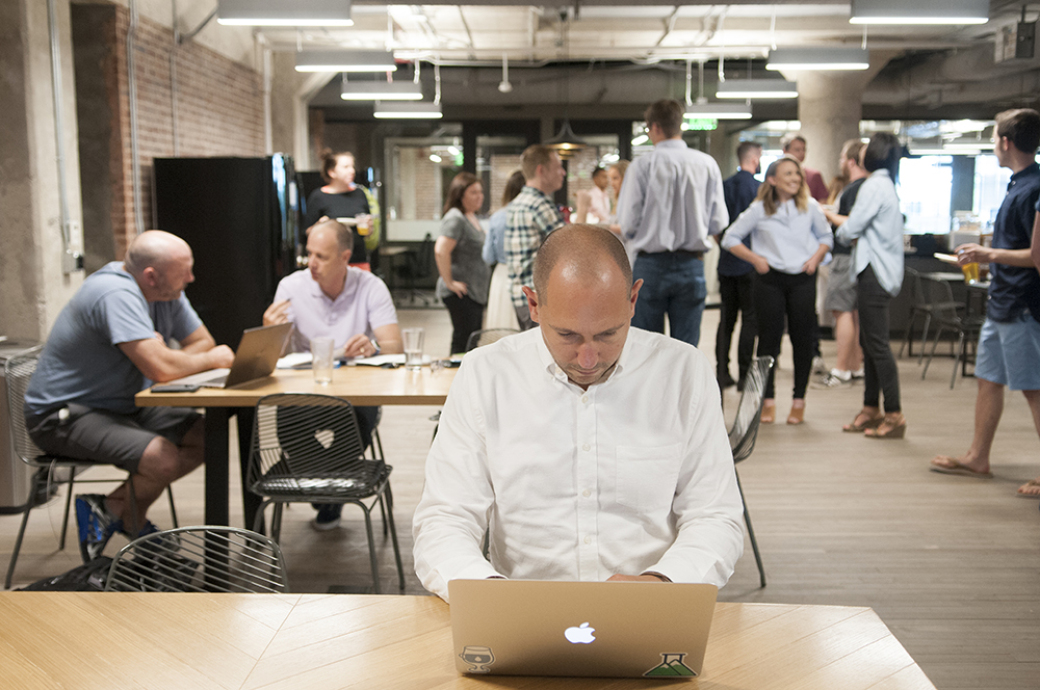 In 2008, Ana Robbins started what would eventually become Jewish Kids Groups, an independent social network of Hebrew schools. Now, the organization has five locations across the metro area offering classes for preschoolers through seventh graders. To manage and continue their growth, she moved JWG's administrative offices to Industrious at Ponce City Market 14 months ago.
Before the move, Robbins says she and her team were "co-working virgins." Now, she can't imagine ever going back to a traditional office setting. "We design social change and have a blast doing it," she says. "It was important to us to find a workspace that supported our organization's insanely driven leadership. By taking care of all our needs, the crew at Industrious position us for maximum impact every day."
Jewish Kids Groups is one of scores of burgeoning Atlanta-based companies and startups going the co-working route in light of the rising cost of rental prices in the city. Though these workspaces have dotted the metro Atlanta map for a while now — the longest running is Strongbox West, which opened its doors in 2009 — the last few years have seen even more, including national and niche players, enter the market.
The New York-based Industrious, for example, launched in Midtown in 2014. After opening at PCM in 2015 with one floor, it expanded to a second floor earlier this year, bringing its total space to 55,000 square feet. The company is also pre-leasing for two new locations: one in Buckhead and another in West Midtown's Stockyards development.
The demand is certainly there, thanks to Industrious' sleek, modern design (think glass-walled offices and lots of lighting) and focus on hospitality. (Robbins gushes: "They remind us to get Mother's Day cards in the mail in time, have every flavor of La Croix stocked, and we never ever have to deal with printer jams.") And not only are local businesses taking advantage of this high-end space — and the ability to use a general membership at any Industrious location across the country — but so are national brands, such as Spotify and General Motors' car-sharing business Maven.
"It's just an appealing space to so many different industries," says Lexi Irvin, Industrious' Ponce City Market community manager. "A 60-year-old attorney can come and bring his clients here, and a 22-year-old developer could also feel energized in the same space."
Now that Atlanta is getting to be more saturated, though, Irvin says "it's very important as new players emerge on the scene to differentiate themselves, and that has to be apparent. You have to be able to walk someone through your space and point out what makes you different."
Another, albeit much smaller, co-working space that's come onto the scene recently is TILA Studios. Launched in May and located two blocks from the East Point MARTA Station, the 2,000-square-foot visual arts incubator offers work and gallery space specifically for female artists. TILA can accommodate up to 13 practicing artists in residence, though its membership is about 60-strong.
Executive Director and visual artist Tiffany LaTrice says part of the reason she opened TILA Studios was because she yearned for a space where she could participate in the kind of critique she received in graduate school. So, she took a page from the tech industry, where "collaboration can inspire innovation," she says, and created a place where female artists can practice their work (each studio comes with a drafting table and storage space for supplies), nurture one another in professional development, and get the opportunity to produce their own solo show in the onsite gallery.
"Historically, our work has been considered a hobby, not as fine art. I'm trying to debunk that myth," LaTrice says. "That's where my angle comes in. Having that kind of opportunity can really penetrate the art industry and give women a platform to build their portfolio ... to enter into the art world."
LaTrice says she knows she can't compete with a player like WeWork, another national brand (with plans to open its third location in Midtown). And while Westside's Goat Farm is comparable to TILA Studios in that it's a haven for artists, she has the whole "women's only" thing going on.
"When women come and work in our space, they know it's authentic ... and they know it's run by someone who gets them. And that's where I'm able to pull people in. It's because I am currently practicing and working in the same space and world that they operate and exist in. Those commonalities and that mutual understanding make TILA even more inviting."
---