Peter Conlon, according to former President Jimmy Carter
The former president weighs in on his time and friendship with Music Midtown co-founder Peter Conlon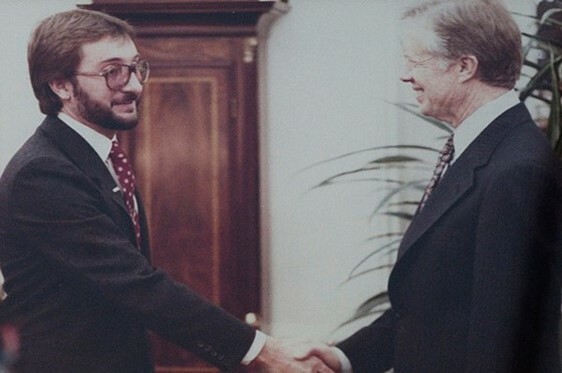 Courtesy Peter Conlon
PRESIDENTIAL HANDSHAKE: A photo of Conlon (left) and President Jimmy Carter hangs on the wall in Conlon's Buckhead office.


In honor of this week's CL cover story, "Music Midtown's leader speaks: A behind-the-scenes look at the history of Peter Conlon's Atlanta music machine," former President Jimmy Carter took a few moments to reflect upon his time working with Conlon during both of his presidential campaigns. In the late '70s Conlon dropped out of law school to work as an intern for the Carter administration. Later, he took on the role of national fundraising director during Carter's second presidential bid. Their friendship has only grown throughout the years, so much so that the former president says Conlon is like a member of the "Carter Clan."
Was there something about Peter's character that struck you when he came to work as an intern and later as a National Fundraising Director for your administration?
Peter was an integral part of our team. He was diligent and efficient in a demanding and important job critical to our campaign. He brought the same innovative and incisive spirit that has later made him such a success.
How has Mr. Conlon's work made a significant cultural impact on the city of Atlanta?
Peter has made Atlanta a more enjoyable place to live and visit. His exciting concerts in a variety of venues have brought joy to both me and my family and are treasured memories for those who have attended.
Do you have a favorite memory of a time you spent with Mr. Conlon, or was there a moment that the two of you spent together that revealed something about his character and his personality?
Peter has always been very thoughtful and considerate to invite me and my family to many wonderful events. He went as my guest to the Musicares award ceremony for Bob Dylan in February 2015. I think my favorite times are when Peter invites me to perform on stage with Willie Nelson. Peter is almost like a member of the Carter Clan, always generous and thoughtful.
EDITOR'S NOTE: Questions have been edited for clarity.